With our PMA membership and brand-new Product Marketing Core (PMMC) certification (amongst other resources on offer!), we're always keen to offer PMMs the tools they need to excel in their role.
"But what's the difference between the two - are they not the same thing?"
A burning question on the lips of many, and a question we're keen to put to bed: while the two are product marketing focused, they're not the same. Both bring their own unique benefits to the table.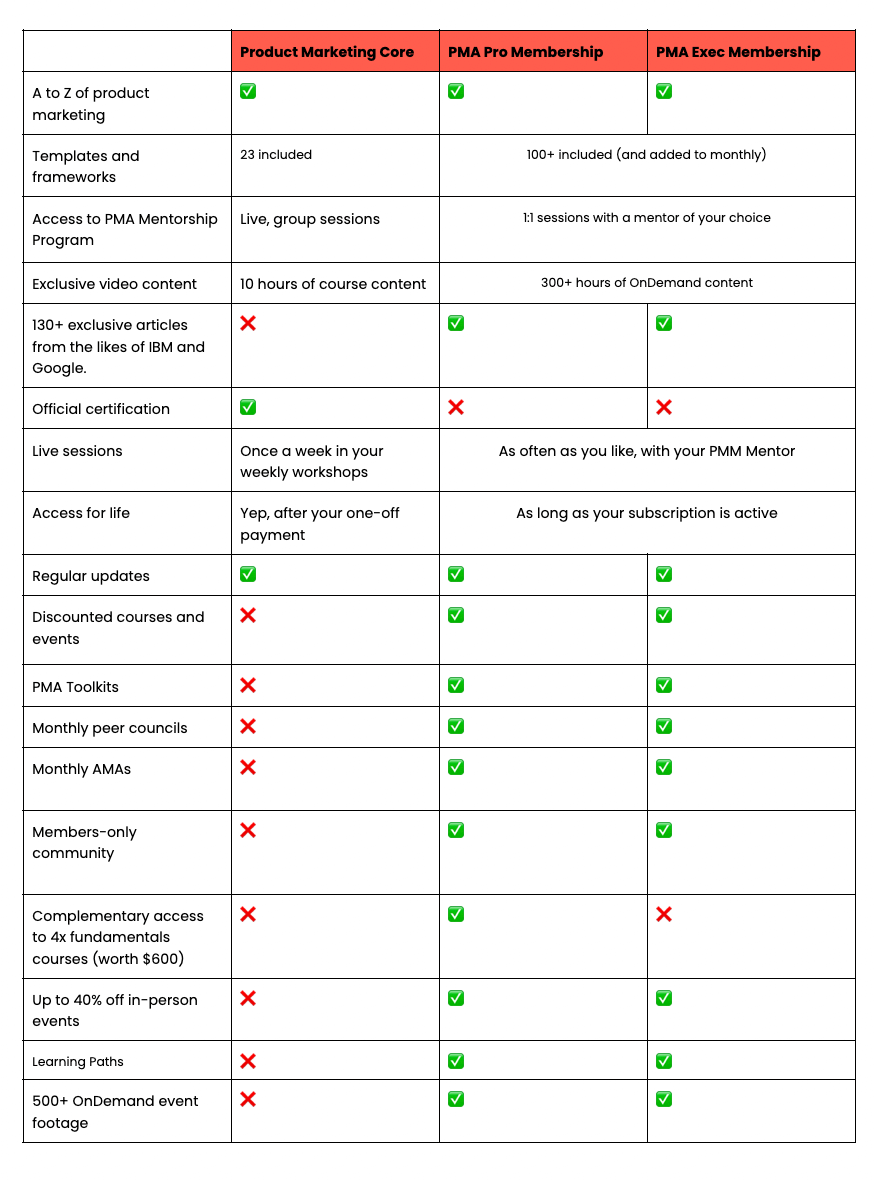 So, let's take a look at the two in more detail:
Product Marketing Core
Product Marketing Core is our certification course, offering PMMs of varying expertise the perfect platform to build their product, refine knowledge, and improve career prospects.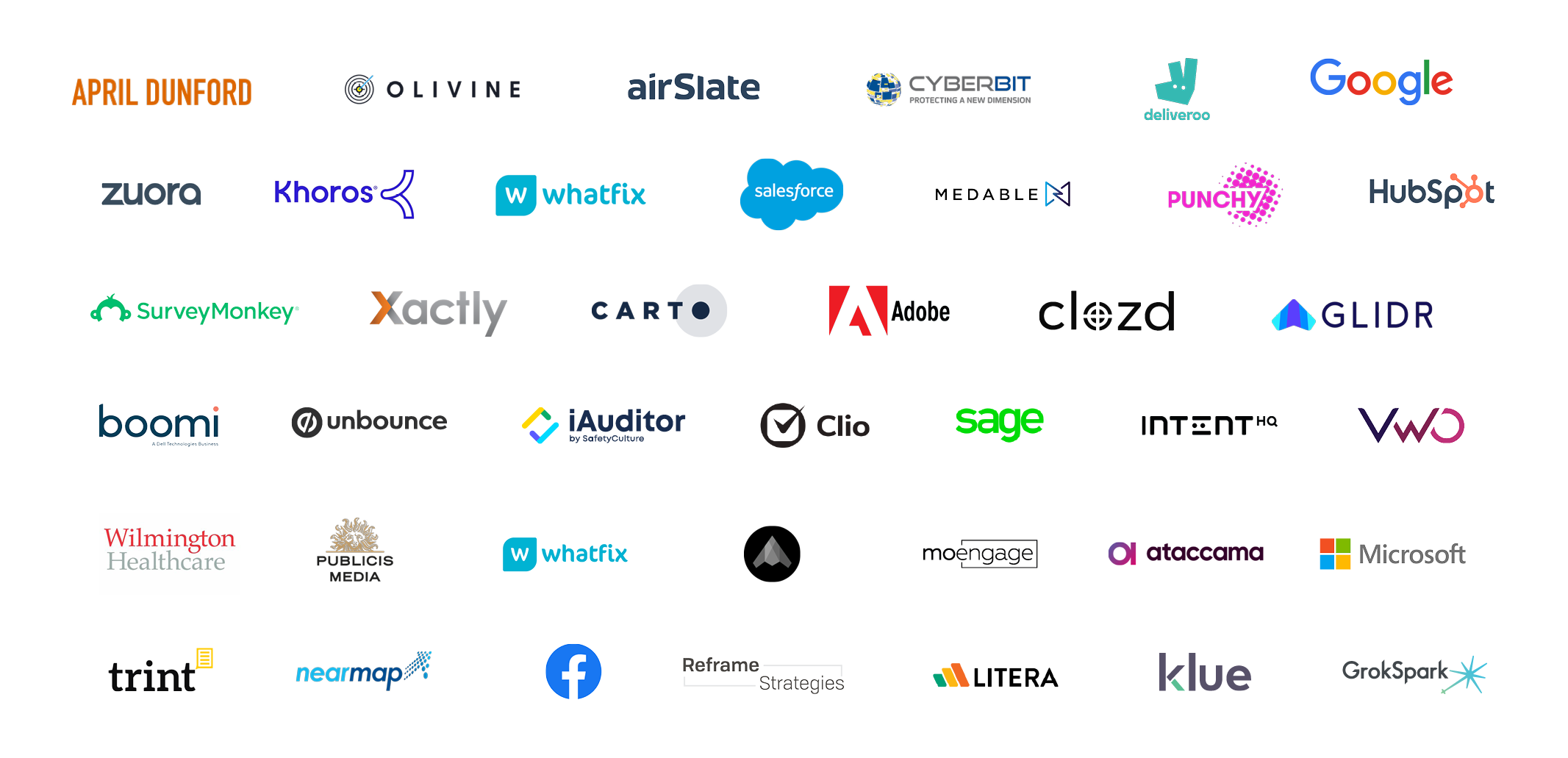 Built with stellar brands such as Facebook, Google, and HubSpot, PMMC offers expert, comprehensive learnings on core areas of product marketing, including buyer personas, positioning and messaging, go-to-market strategy, and much more.
Check out the full curriculum >
With a total of 11 modules, encompassing 68 chapters, PMMs can be assured they'll be provided with a thorough insight into all key areas.
At the end of each module, a short, multiple-choice exam allows you to test your level of understanding, with a PMM certification awarded (providing each exam's tackled successfully!).
Given the quality of content on offer, we have no doubt you'll pass with flying colors. 😉
Better yet, you'll be able to match the benefits of an online, self-paced course with the perks of live, online conversations with our weekly workshops. They happen every Thursday, they last an hour, and they're your opportunity to ask questions about the course content and how to apply it to your set-up.
Traci Campbell, Director of Product Marketing at First Orion, is one of the many fans of the course and said:
"PMA has done an outstanding job putting together a strong curriculum that is easily consumable and highly relevant across career levels and industries. Anyone who is either considering or already immersed in a career as a PMM would be smart to enrol."
We've toiled day and night, and even filmed the course twice (no, we're not kidding), so it's pretty darn sweet to see the hard work has been worth it! But this isn't our first foray into PMM content. No siree.
We also have memberships available for PMMs with a thirst for constant access to a stream of specialist insights - and jeez, have they come to the right place.
PMA memberships
Product Marketing Alliance is the pinnacle of product marketing content and our membership plans shower members with a daily dose of PMM magic - and then some.
We've got the juice on the must-have product marketing material, and boy is it sweet.
Membership benefits include:
130+ exclusive articles covering everything from delivering product marketing strategies for freemium products to building data-driven win-loss strategies.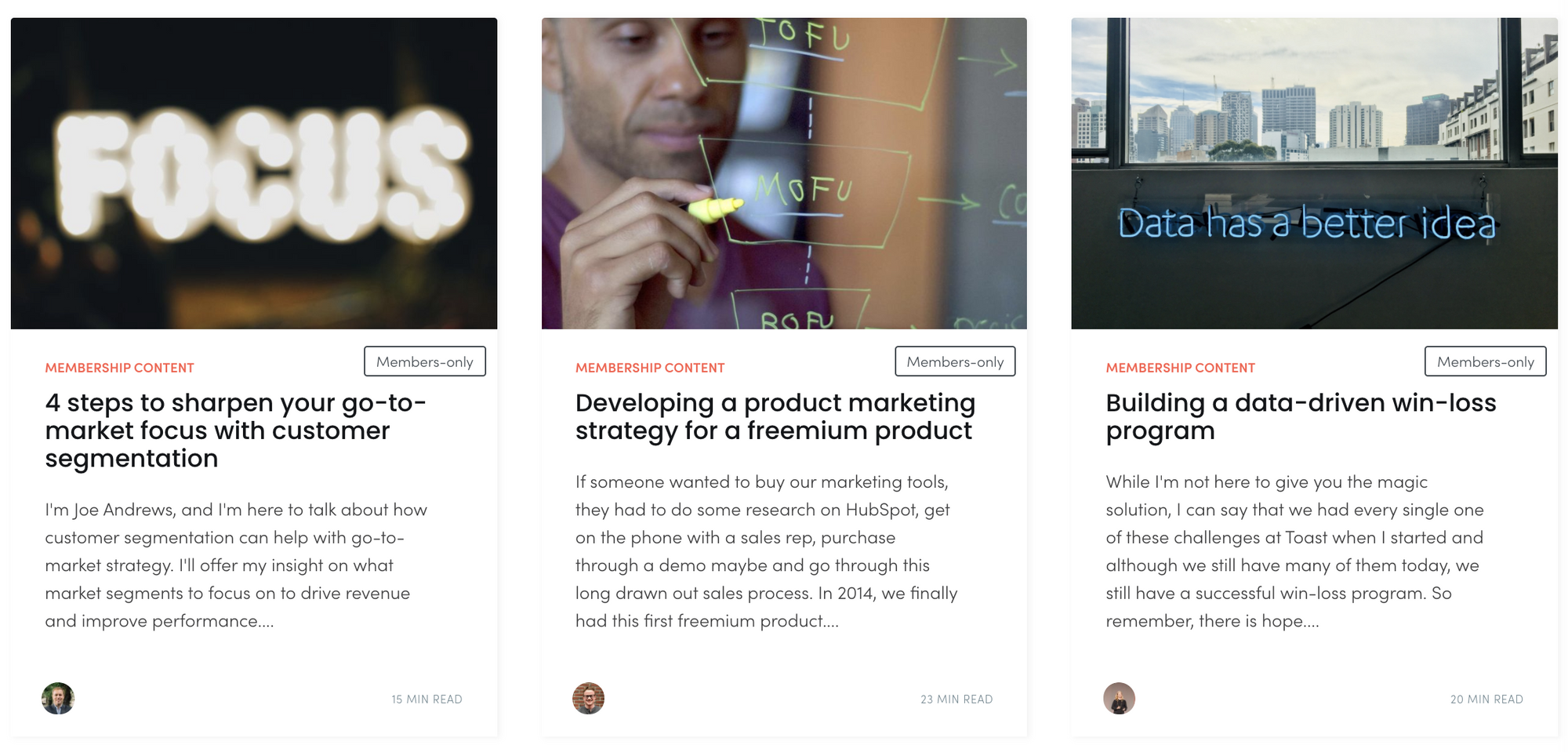 500+ PMM Summit videos on-demand - new footage is uploaded five days after every Summit and there are already 100s of hours waiting for you.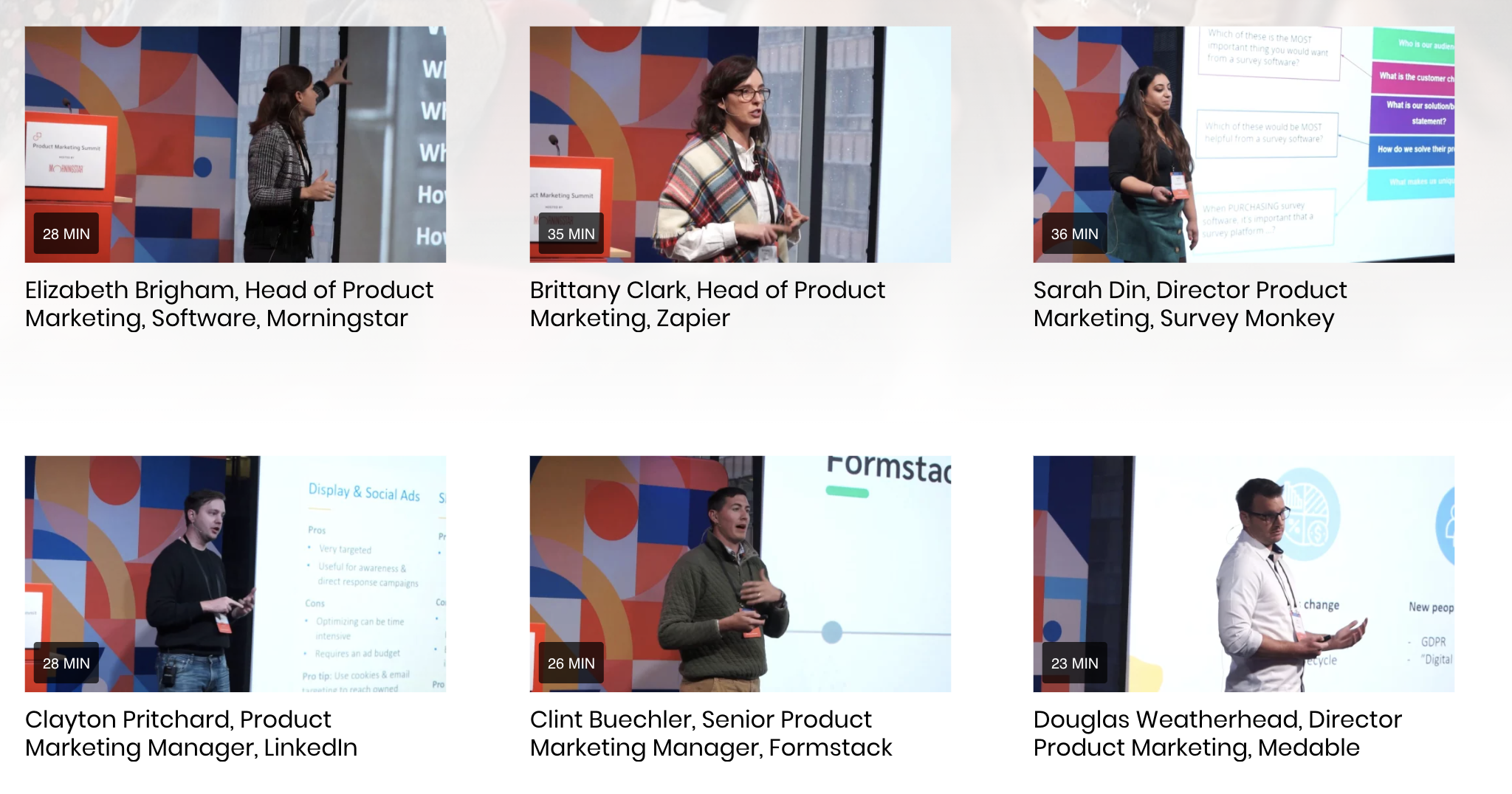 100+ templates and frameworks covering buyer and user personas, win-loss interview question master lists, go-to-market strategies, messaging hierarchies, and more.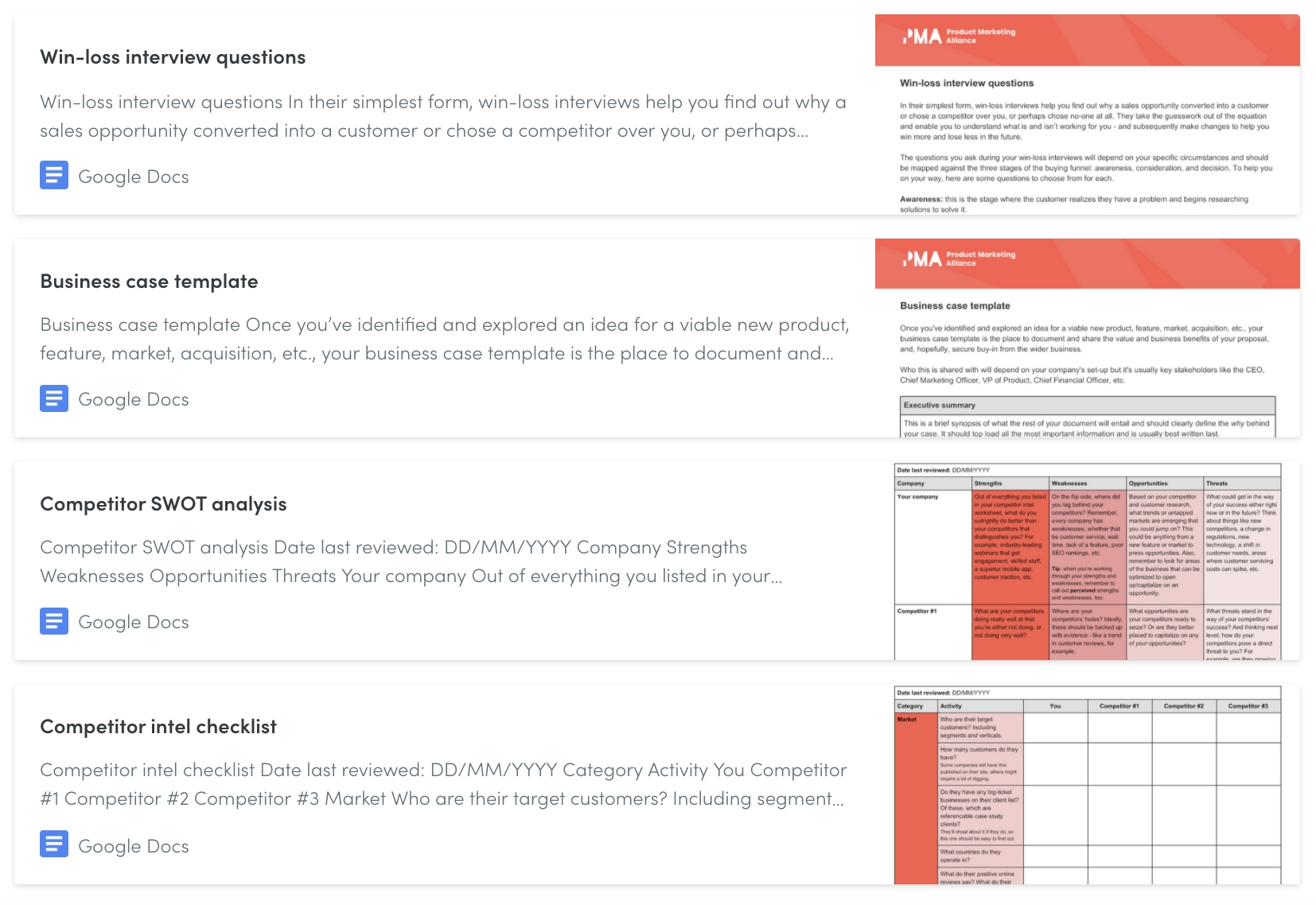 Access to product marketing mentors from some of the world's biggest brands - and the option to become a mentor yourself.
And that's only skimming the surface - there's plenty more epic content to sink your teeth into.
Check out the membership plans >
Brace yourself: it gets better…
Product Marketing Core and our membership goes together like Tom & Jerry, Batman & Robin, and Mario & Luigi. Once you've tried one, you'll wanna weave your way into the other.
Each has been designed to make sure you reach the peak of your practice; after all, FOMO is a royal pain in the ass, so why not have the best of both worlds?
And better...
Already got an annual membership in place? Seal your spot on our PMMC with a 10% reduction, and pop the $130 saving in your pocket.
Already gifted yourself our certification, that's great news! And it's about to get even better. Sign up for our annual membership plan for $199, a saving of 20%.
Ready to spread the word?
So, now you know the difference between our membership and PMMC, how'd you like to spread the good word to your fellow PMMs, and earn some cash?
Our PMM-certified affiliate program gives you the opportunity to earn 10% per certification sale, so if your friend signs up for Product Marketing Core following your personal link, you'll receive $130.
No cap. No gimmicks. Just cash.
How much you earn is up to you.