Wondering what the difference between our Pro and Exec membership plans is? Wonder no more. Here's a side-by-side breakdown for you. 👇
Let's look a little closer at the two…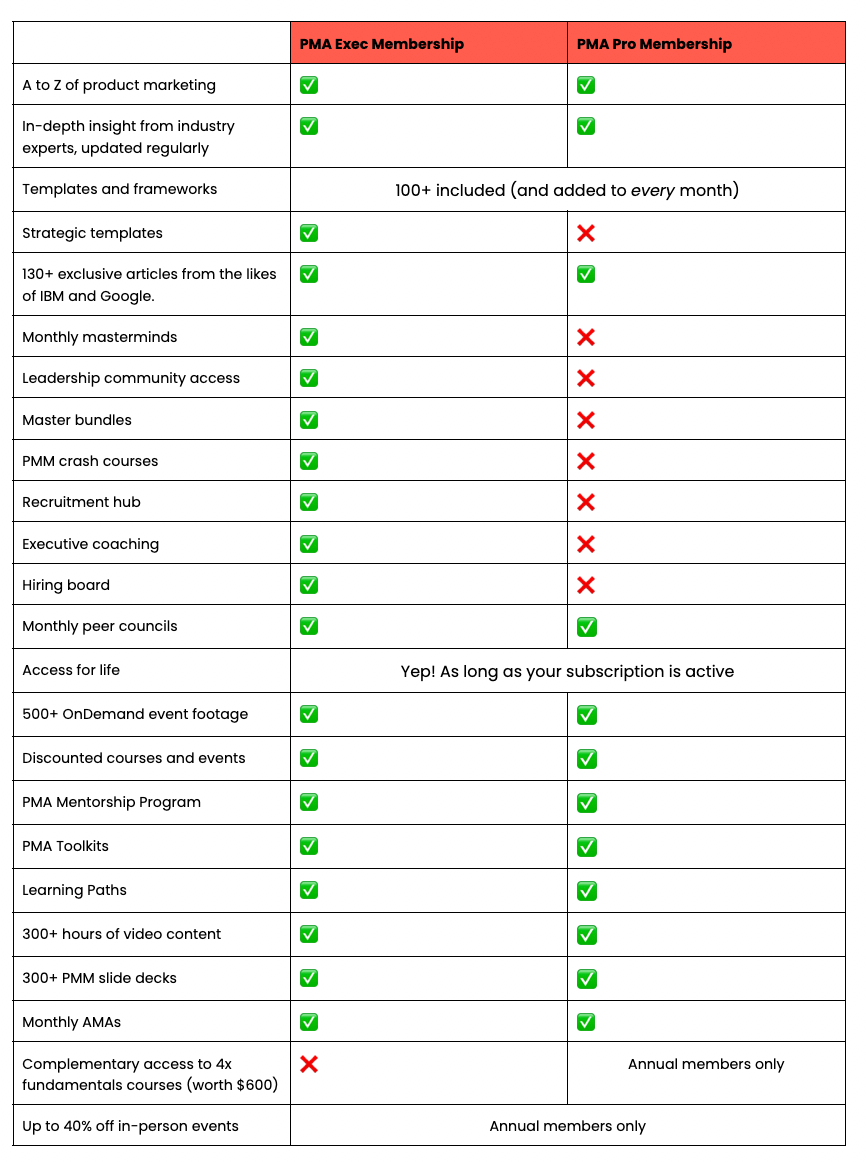 ---
Brief overview
Our Exec plans connect product marketing leaders with the resources they need to continue leveling up and learning from PMMs at the same career stage as them.
If you're the only PMM leader in your org, you might not have people internally you can bounce ideas off, solve problems alongside, and strategize with. Our Exec Membership plans are a dedicated, safe, and exclusive haven for all of this.
Who are they for?
These plans have been built with Heads, Directors, and VPs of Product Marketing in mind.
However, if you're currently just outside of these roles, you likely have your sights set on these roles, or perhaps you're already taking on some of the responsibility. If this sounds like you, these plans will help you speed up the learning curve, plug any gaps, and upskill.
What can you expect to get from these plans?
More ideas, innovation, and collaboration. Better strategies. Unparalleled personal and professional growth.
What are current members saying about these plans?
"The PMA Executive membership is amazing. I've spent more than a decade in PMM, and I still found much of the content interesting."
Prashanth Krishnaswami, Global Head of CX & Marketing - Customer Service & Contact Center BU at Zoho Corporation
"This community has the MOST resources of any paid community I've joined. The most in terms of volume (there are so many excellent resources), and the most in terms of actually being valuable. I always recommend PMA to marketing friends."
Erin Rosintoski Lewis, Director of Product Marketing at Intellum
Apply for Exec membership
---
Pro Membership Plan
Brief overview
Our Pro plans are the ultimate resource for product marketers at any level to learn from the best of the best (we're talking Google, LinkedIn, HubSpot, Drift), up-skill in any area of the craft, and tap into a never-ending flow of tried + tested case studies.
If absorbing awesome insights, streamlining your learning curve, and accessing an industry-standard framework is for you, so are our plans.
Who are they for?
There's quite literally something for everyone in here. If you're right at the start of your product marketing journey, our Pro plans provide you with quite literally everything you need to excel in every area of the job.
If you've got a fair few years of experience under your belt, you'll have a constant flow of new and trending tactics and topics - and let's be honest, the product marketing landscape never stays still.
If you're in a leadership-level role, they provide you with a bunch of resources to learn from other leaders - however, if this is you, we really would recommend checking out our Exec plans, they contain everything our Pro plans do - plus a whole load more tailored to leaders specifically.
What can you expect to get from these plans?
A never-ending flow of tried, tested and recommended tactics to help you learn from the leading product marketing lights in the world, fast-track your professional development, and accelerate your career trajectory.
What are current members saying about these plans?
"An hour a day of PMA content is a game-changer for me. I really feel like I am learning a lot from the member-only content. It's worth way more than what we are paying for it."
Mathew Sedze, Product Marketing Manager at HubSpot
"I'm constantly impressed by the community and resources available. This is speeding up my development and giving new ideas for how to contribute to my peers and my company."
Bradley Harrad, Cluster Product Marketing Manager at OVHcloud
Become a Pro member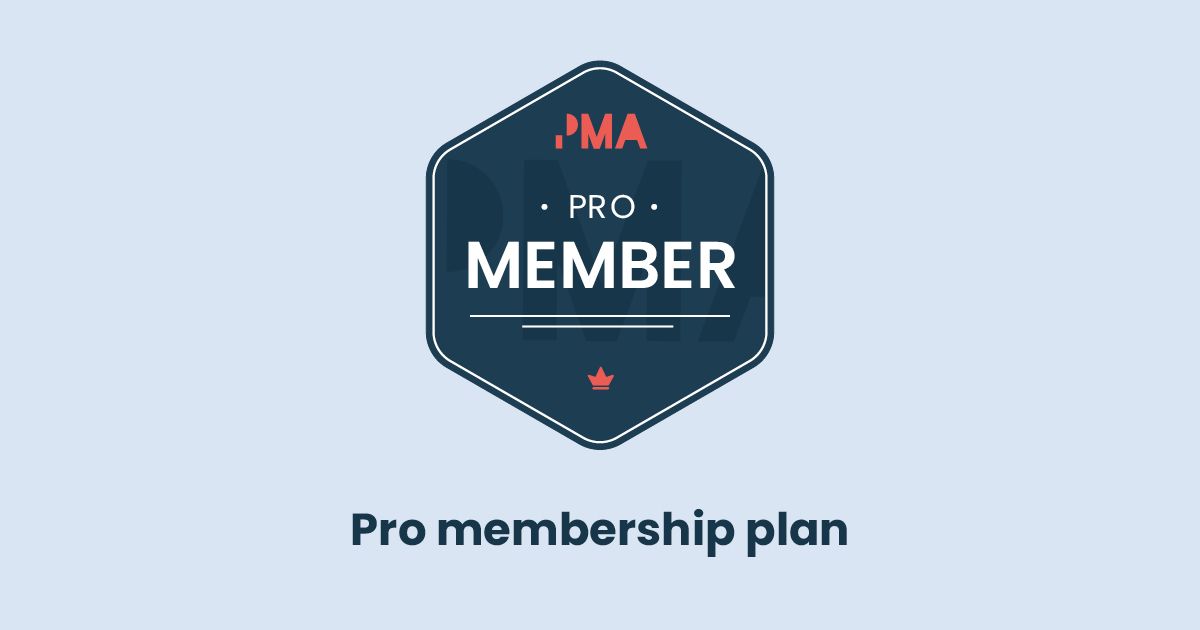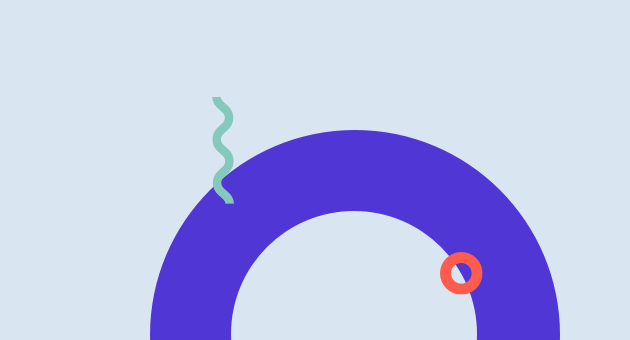 ---
What exclusive features are included in the PMA Exec Membership?
A whole bunch of 'em!
Sign up for the PMA Exec Membership and not only will you gain access to the perks included in the PMA Pro Plan, but you'll also access additional features, including:
🧠 Monthly masterminds: exclusive and intimate tables of 8-10 PMM leaders meeting once a month, for one hour, to discuss topics such as pricing, analyst relations, and team structures.

🤝 Leadership community: join a private Circle community for members to discuss anything they like, without prying eyes.

🎁 Master bundles: presentations, guides, and templates around core topics, like strategies, metrics, and more.

🛠 Strategic templates: a bank of frameworks on everything from VRIO analysis to change management, to support your strategic initiatives.

🔖 PMM crash courses: PMM leaders don't necessarily do the doing anymore, but they need to be able to support those that...do. This section provides in-depth, refresher guides on everything from research and OKRs to personas and sales enablement.

🤝 Recruitment hub: support and streamline recruitment with sample interview questions, interview tasks, job descriptions, templates, and presentations.

👨‍🏫 Executive coaching: for an additional cost, get 1:1 coaching sessions with professional coaches and C-suiters, and get answers to your questions, concerns, and/or roadblocks.

🎓 Hiring board: recruit top-tier talent with exclusive access to our scholar program graduates. With new candidates added every quarter, the stream of talent will never run dry.

🔥 Peer councils: monthly gatherings with your very own, intimate pod of product marketing leaders to connect, strategize, and collaborate.
Think of your Exec Membership plan as an extension of your team. Always there to set you up for personal and professional success, as Lorena Martinez, Head of Evergreen, Product Marketing at Mindvalley discovered.
"I love the idea of having a virtual room full of the brightest brains in the industry making product marketing better for everyone. Thanks to PMA for creating this program and giving us the possibility to learn from each other and showering us with relevant content and learning resources for us to never stop growing as marketers."
Apply for your Exec membership