Product marketing is the driving force behind getting products to market - and keeping them there. Product marketers are the overarching voices of the customer, masterminds of messaging, enablers of sales, and accelerators of adoption.
PMMs are responsible for a variety of deliverables and are a fundamental part of the product lifecycle.
They're the masterminds behind making product features appeal to the senses, whether that's through email marketing, webinars, and other marketing functions, and are some of the world's most accomplished plate-spinners, playing a crucial role in ensuring products appease the company's target customer.
In six very simple circles, the role looks a bit like this: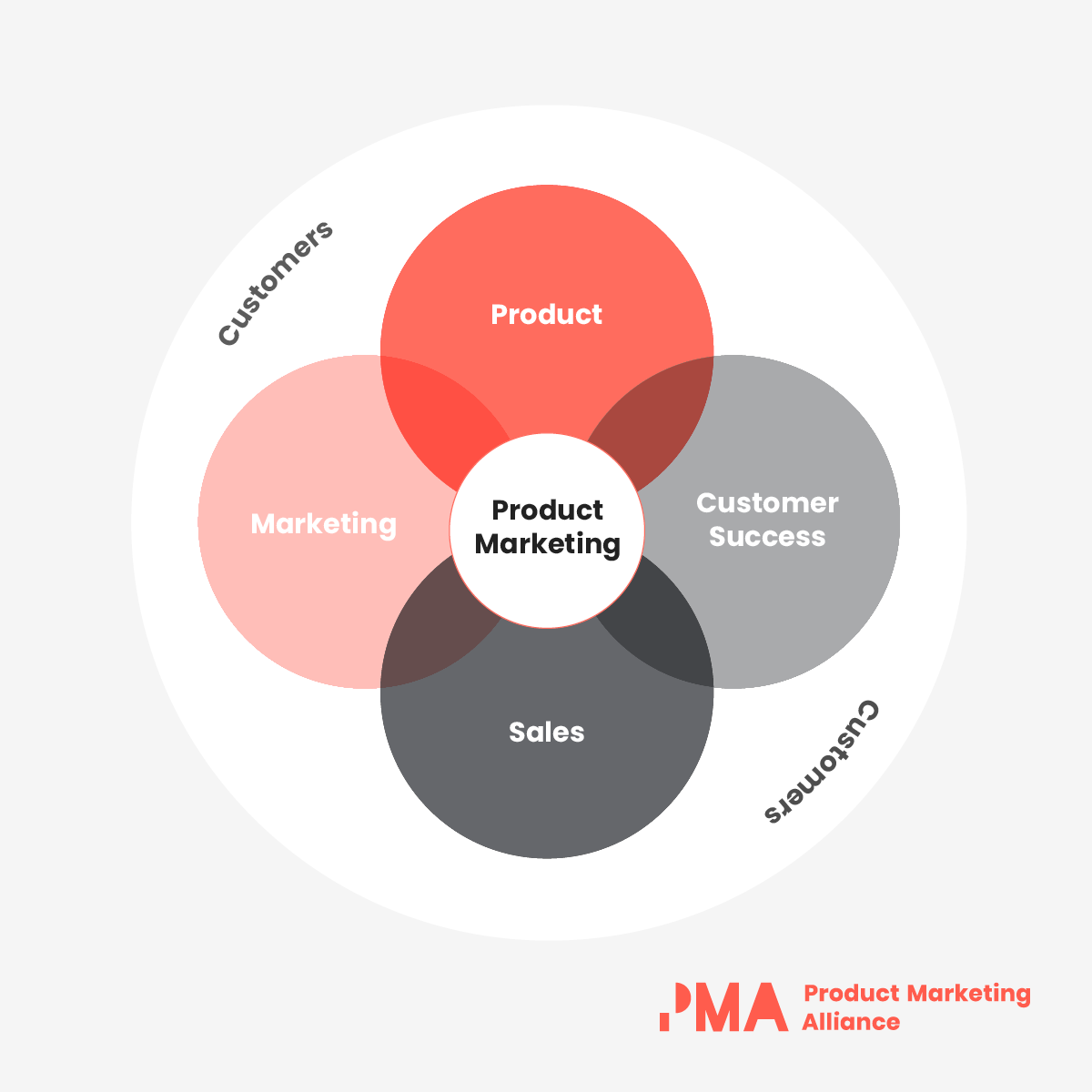 The Product Marketing Framework
Product marketing sits at the heart, the intersection, and the core of all successful companies. PMMs collaborate with key teams such as the marketing team, sales, customer success, and plays a critical role in helping the business achieve its goals.
It's vital and exciting - but it can be a little complicated, but this is where the Product Marketing Framework comes in:
Our Product Marketing Framework covers all the necessary areas required to navigate the product marketing journey, from A to B to C to D... the list goes on.
The framework defines five fundamental phases of product marketing: discover, strategize, define, get set, and grow. We recommend familiarizing yourself with the full framework to really get to grips with each of the moving parts.
But in the meantime, here's a whistle-stop tour:
Discover - This is the stage in which you gather the info and insight to turn your assumptions into an educated hypothesis. Customer feedback and sussing out the competition are just two of the key elements involved - and they're both product marketing gold dust. ✨
Strategize - Whether it's product-market fit, your GTM plan, or your pricing, strong product marketing always comes with a strategy.
Define - This is all about identifying your personas and applying what you garnered from your discovery stage to shape customer journey and communications.
Get set - Here, it's time to harness all your hard work thus far with training, sales enablement sessions, and marketing campaigns so your team is equipped to take the GTM by the horns and run with it.
Grow - This is where your post-launch process needs to kick in, to ensure your product continues to flourish and evolve in its market.
What's the difference between 'traditional marketing' and product marketing?
A marketing team focuses on customer acquisition and converting prospects into fully-fledged customers.
They also promote a company, an existing or new product, or a brand and ensure the consistency of the marketing message.
Product marketing, on the other hand, focuses on marketing to customers, driving demand and adoption, all with the goal of creating happy, successful customers.
Product marketing is the process of bringing a product to market and overseeing its overall success.
Product marketers are focused on understanding and marketing to customers. They drive demand and usage of the product, focusing on processes such as product positioning, sales enablement, product messaging, buyer personas, metrics, meeting customer needs, and product demos.
A product marketing team is integral to creating a deep understanding of a product's value to the target audience and generating brand awareness.
What does product marketing do?
Our 2020 State of Product Marketing report revealed that only 5% of product marketers are 100% sure that the role of product marketing is fully understood.
So, let's try and clear this up.
Done right, in a nutshell, product marketing...
Represents the voice of the customer - before, during, and after launch,
Clearly articulates a product's value in a way that resonates with the market, and
Drives product adoption and advocacy.
When it comes to a definitive definition though, you could say there's no such thing. At the 2019 Product Marketing World's London Summit, Alicia Carney, Global Product Marketing Manager of Growth at Deliveroo, gave this definition of product marketing:

"The glue that brings disparate stakeholders together. We create scalable, personalized customer experiences to drive growth, profit and satisfaction."

Spot on, right? Well, in 2019's Top 50 Product Marketing Influencers report, we asked people "If you had to sum up the role and value of a product marketer, what would it be?" and got seven different answers:

"The ultimate role of a PMM is to liaise between the product engineers and the end-user. PMMs should be an expert on the user and their needs. Great PMMs champion the voices of all users and celebrate and elevate diverse perspectives. During the go-to-market process, PMMs should own the launch plan, working to make the product a reality for all users."
- Marvin Chow, Vice President, Global Marketing at Google

"It's responsible for the customer journey and what message is presented at each part of the journey."
- Aaron Brennan, Director of Product Marketing at airSlate

"Product marketing is responsible for taking a product or solution to market by building the Go-To-Market strategy and driving its execution via differentiated product messaging and launches, thought leadership and awareness, demand-gen support as SME and sales enablement."
- Anand Akela, Product Marketing Leader at Nutanix

"The role and value of product marketing is to express the distinct value of our solutions to customers. Expression of value."
- Carol Carpenter, VP of Product Marketing at Google Cloud

"We translate the business objectives, market opportunities and portfolio of offerings into a cohesive, audience-centric buyer journey. Our team is the voice of the market who listens to buyer needs and delivers that insight across Boomi."
- Div Manickam, Director of Portfolio Messaging (Product, Industry, and Solutions) at Boomi

"Product Marketing is the voice of the sales organization and the voice of the client in the product development and release process. If you're a product marketer and not spending lots of time talking to your field and lots of time talking to your clients, get out there! We can't create product messaging, sales enablement or campaigns in a vacuum. Everything we turn out as a product marketing group needs to be created with our customer at the center and serve to inspire them about the possibilities of using our technology to better serve their customers."
- Meghann York, Vice President of Product Marketing at Ticketmaster

"It's the product marketer's job to imbue meaning into the corporate masterbrand through its product portfolio - building equity that adds value to the masterbrand and differentiates the product brand from its competitors. Good product marketing simplifies and targets a product such that its pipeline creation actions are more successful; and ultimately speeds pipe closing and product growth toward a more rapid trajectory."
- Priya Doty, Vice President, Product Marketing at IBM Z and LinuxONE.
And here's April Dunford's definition:

All 100% right, but none like-for-like the same. That's not to say we need a unified definition, of course, but the point we're kicking off with is that product marketing can vary - a lot - from company to company.
Aaron Brennan actually spoke a bit about this in our Product Marketing Salary Survey:
"Product marketing changes from place to place or it is incredibly executional for other teams and not a strategic position. When you go from one organization that has the view of product marketing as a writer to another company that wants it to be more of a marketer driving leads, it feels like you don't know what the role actually is and that's a frustrating feeling.
"I do think it's cause for concern because product marketers have turned into the everything role that takes on a lot of responsibility across the organization with no real foundation. They become a catch-all without any real view into "why is this being done" but not being the subject matter experts and unless organizations can truly understand the product marketing role, they'll lose out on great talent that could be very strategic to an organization and help it grow."
What is the role of product marketing?
A product marketer's responsibilities never fade and they're at the heart of products and customers before, during, and after launch. Our 2020 State of Product Marketing report uncovered the most common tasks they work on:
Product positioning and messaging (93%)
Managing product launches (85%)
Creating sales collateral (74%)
Customer and marketing research (71%)
Storytelling (60%)
Reporting on product marketing success (60%)
Content marketing (55%)
Website management (35%)
Onboarding customers (28%)
Product roadmap planning (27%)
And in comparison to 2019's findings: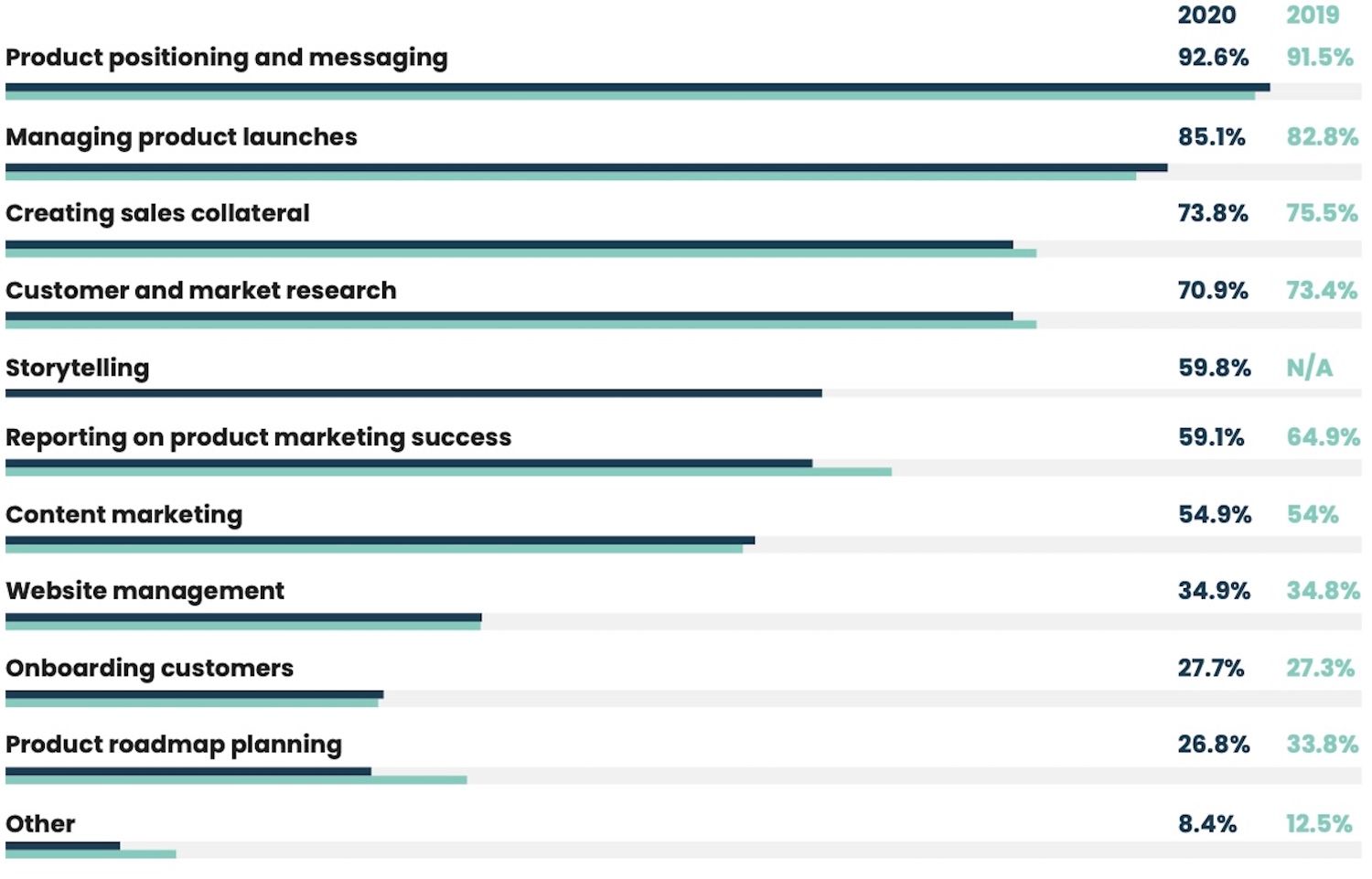 As we touched on a little earlier though, the role varies from industry to industry, company to company, and product to product, so what's a priority for someone else might not necessarily be one for you.
What do we mean by that?
For one product marketer, creating sales collateral might make up 60% of their job and for another, it might account for just 25% of it. Because the role is still relatively new, many organizations are still finding their feet with it, which is one of the main causes of ambiguity.
So, let's drill down into each of those responsibility areas in a bit more detail.
1. Product messaging and positioning
Having a great product is...great, but what's not so great is trying to convince an entire market to buy it with one, blanket message. It just doesn't cut the mustard and that's where product marketers are instrumental.
The aim of messaging and positioning is to understand what does and doesn't make your market tick and then frame your product in a way that resonates. In terms of templates, there are two pretty common, industry-wide documents that help with this: messaging hierarchies and positioning statements (spoiler, we have frameworks for each in our membership plans).
Collectively, these answer important questions like:
Who's the product for?
What unique problems does it solve?
Why's it different to the competition?
How does it benefit our audience?
Useful resource: How to create and maintain product positioning
2. Managing product launches
Whether it's a small-scale feature update or a full-blown new product, launches are the cornerstone of the product marketing position.
We all know the iceberg analogy, right? Well, product marketers are the people responsible for that pristine tip effortlessly sitting above the water - all the while juggling the chaos that lies beneath.
The word 'intersection' is used a lot in product marketing and that's because it's exactly where the role sits, at the intersection of many departments - like sales, product, customer success, finance and engineering - ensuring each is up-to-speed, pulling their weight, and enabled.
Useful resource: 6 steps to shape your next GTM strategy
3. Creating sales collateral
Sales collateral comes in all sorts of forms and the extent of what's required will largely depend on the type of launch.
For example, a small feature update that only impacts a subset of existing customers might only need a tiny wording update on the website and brief huddle with Sales and Customer Success to share the details.
A new product, on the other hand, might require the whole hog - demo videos, battlecards, fresh messaging and positioning, completely new webpages, sales training - the lot.
If you're new to the industry one thing worth bearing in mind is that creating powerful sales collateral is one half of the battle, getting customer-facing teams to actually use them is the other, so don't overlook your delivery - useful article to help with that below.  👇🏻
Useful resource: 22 sales enablement tools for product marketers and How to get salespeople excited about your launch.
4. Customer and market research
Next up is the pre-work. Before, during, and after any type of launch, there's research to be done.
Who's the target market?
What are their requirements?
What are their defining features?
What do and don't they like about our product?
Why did they choose the competition over us?
How do they think we can be even better?
What nice things do they have to say that can be turned into a case study?
After all, without any of this, you're as good as whacking your finger in the air and seeing what sticks.
Now, when it comes to customer and market research there are a few different brackets: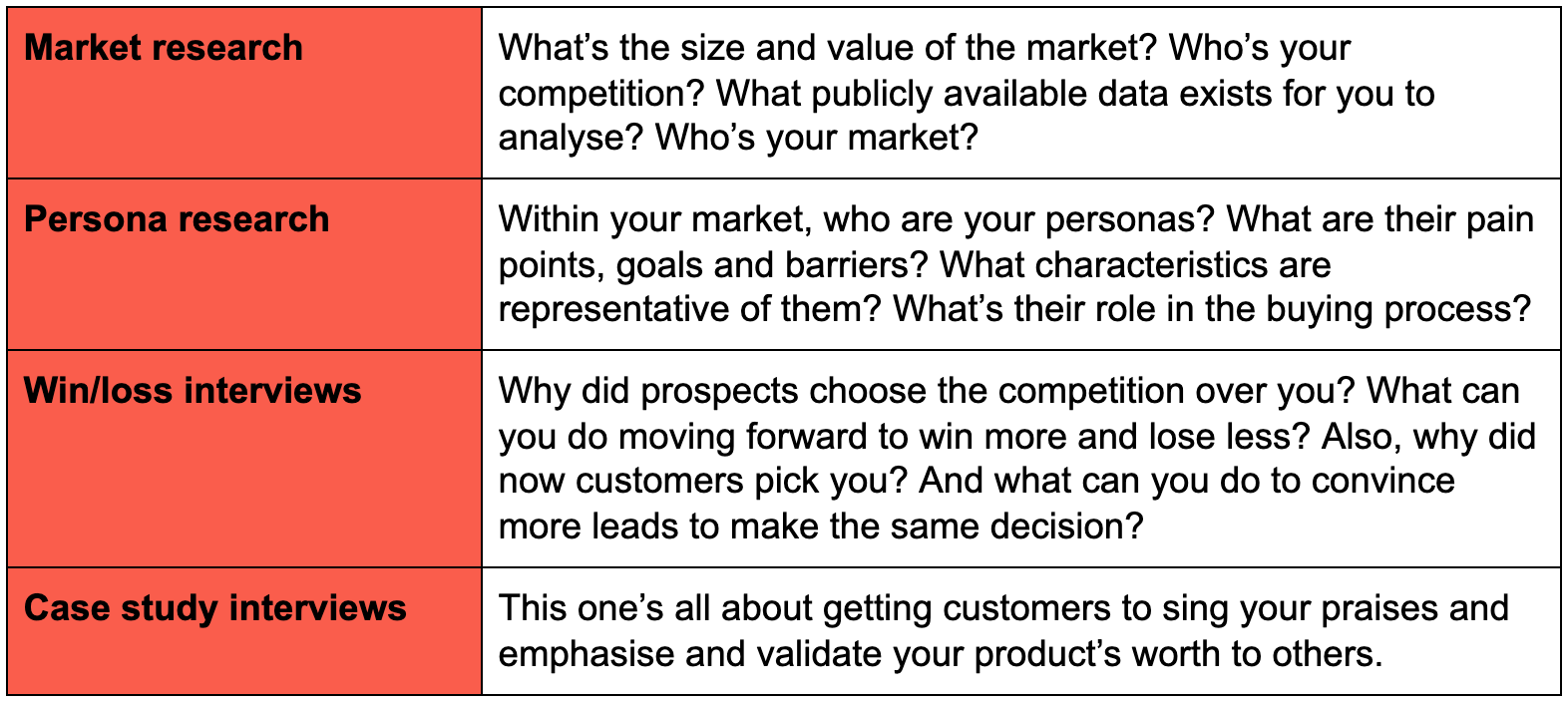 On top of all this, there's competitive intel too, which, in Layman's terms, is the act of keeping on top of your competitors - i.e. positioning changes, price increases or decreases, new products or features, different marketing channels, etc.
This process is crucial in establishing yourself as the market leader and maintaining customer retention rates.
Useful resources: How to create buyer personas and How to conduct win-loss interviews.
5. Reporting on product marketing success
You could say KPIs are a bit of a grey area in product marketing - lots of people have them, many also don't. To give you a flavor of what you're looking at though, here are a few examples we've come across on Slack and in our podcasts:
Number of daily, active, and/or monthly users,
Overall revenue goals,
Win rates,
Usage of product marketing assets,
Sales confidence - i.e. how confident the sales teams are in pitching your product,
Marketing-qualified leads (MQLs) and sales-qualified leads (SQLs), and
Customer satisfaction - using things like NPS scores.
For more on metrics check out this article.
6. Content marketing
Content marketing could be anything from blogs, whitepapers, and case studies to social media posts, product guides, and sales one-pagers.
We touched on it a little bit earlier, but the amount you'll need to channel your inner-wordsmith will depend on the company's setup. If there's a team of copywriters built-in, odds are, you won't need to take ownership all the time.
Anyway, naturally, some product marketers feel more comfortable with their copywriting skills than others and we've seen a fair few requests for course recommendations around this - here are a few we shared in a round-up a few months ago.
Useful resource: 11 quick and easy tips to improve your writing
7. Managing the website
There'll be exceptions, of course, but it's rare that product marketing will be responsible for a company's entire website. Instead, this is more a case of making sure:
New features and products are reflected across the site,
Elements relating to messaging and positioning are up-to-date and working,
Everything is optimized - i.e. user experience (UX) and product usage, and
In-app messages are scheduled and doing their job.
To name just a few.
8. Product roadmap planning
There's no use sugarcoating it, some product marketers have a better deal than others when it comes to this but in theory, the customer and data-driven intel you gather should help shape product roadmaps.
For example, if you identify a meaningful percentage of customers crying out for feature Y, should and when will this be penciled into the pipeline? Or, if it's already been decided product Z will be released in July, what tasks do you need to complete to be ready for that launch?
Although Go-To-Market strategies are the product marketer's blueprint to success, the product roadmap is the overarching guide - after all, without that, you've not got anything to launch.2
9. Onboarding customers

What happens after you bag that brand new customer? Nothing? Then they might not be around as long as you'd hoped. First impressions count and a solid onboarding process ensure everyone gets off to a good start and has everything they need to rinse all the value out of your product.
When it comes to the crunch, the mechanics of this will largely depend on the type of product you market - a B2B SaaS product will look very different from a B2C consumer goods product, for example. Focusing on the former, here's a cadence framework from Intercom: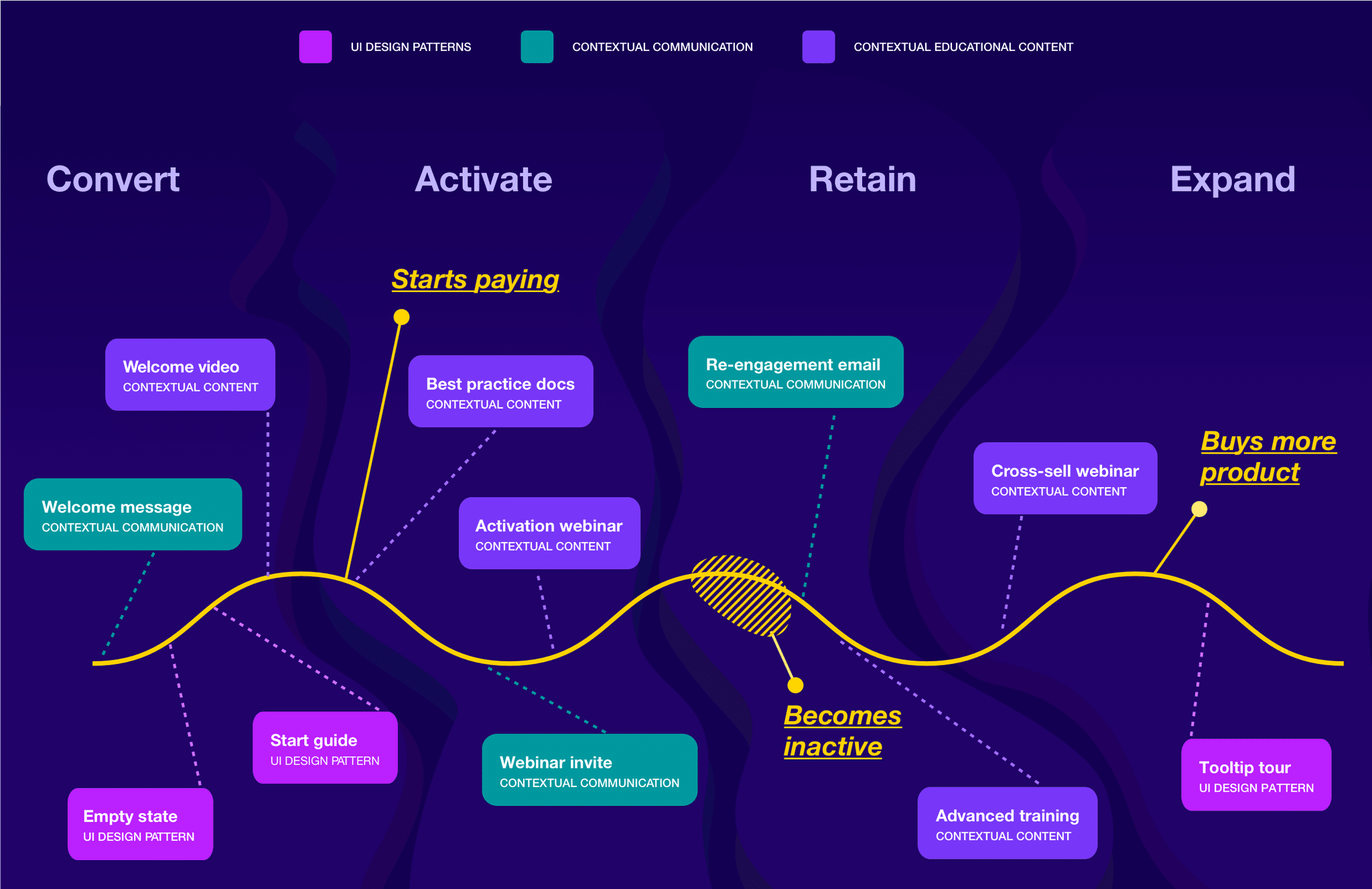 Other equally important responsibilities given in our State of Product Marketing report include: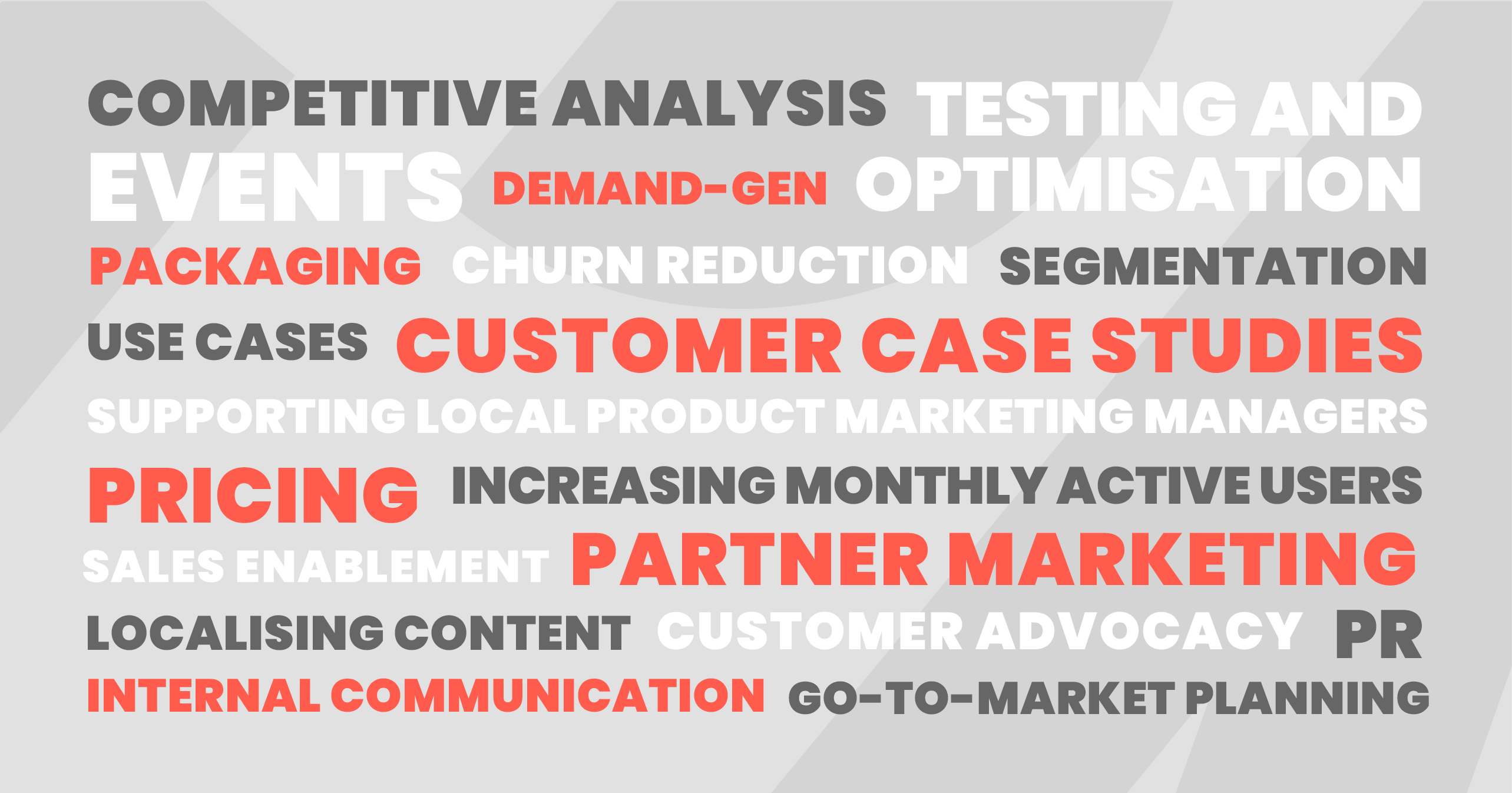 Does the perfect product marketer exist?
As part of our 2020 State of Product Marketing report, we asked a few industry experts what they think the key ingredients are for the perfect product marketer: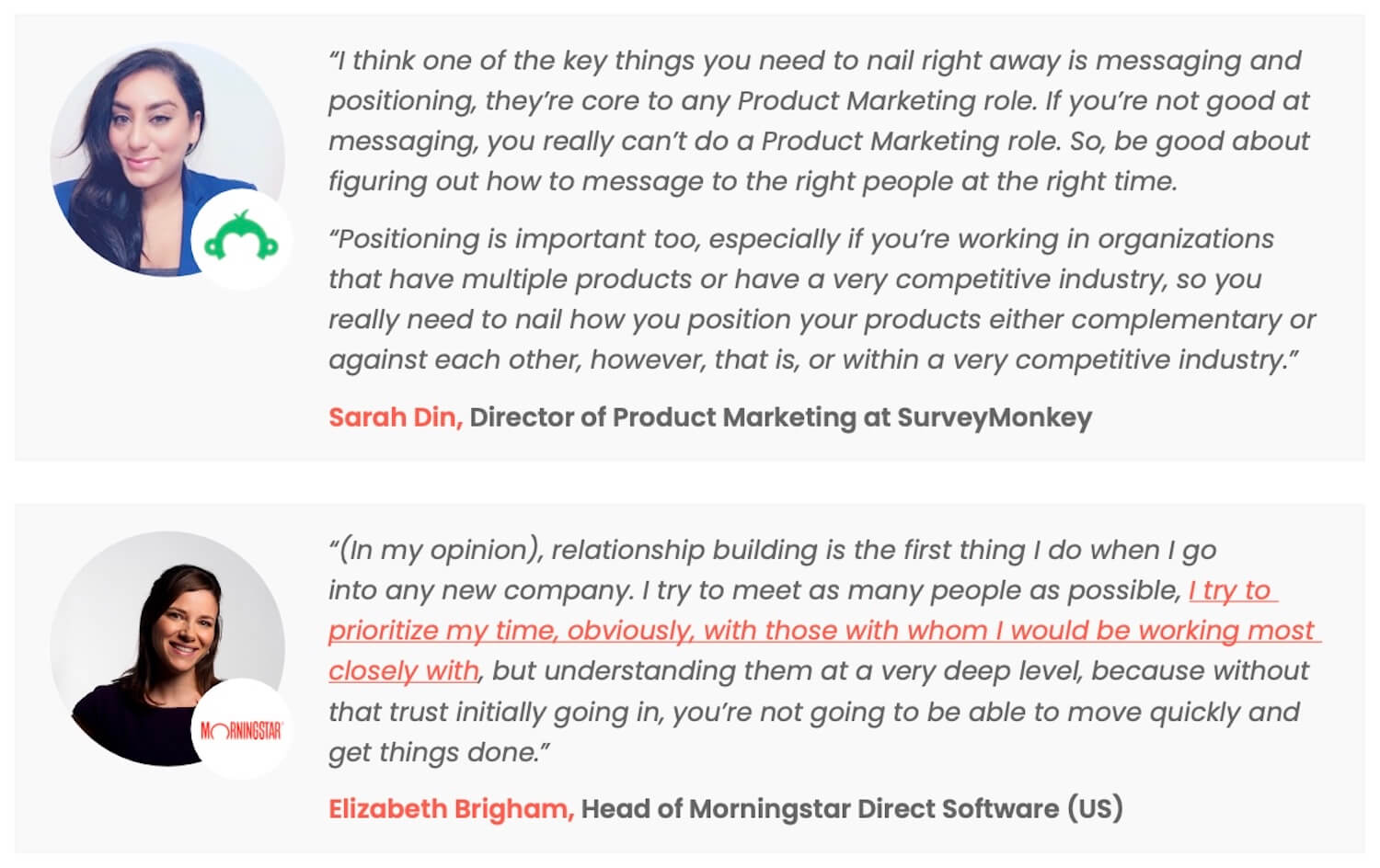 Why is product marketing so important?
Who better to answer this question than Product Marketing Alliance Founder & CEO, Rich King:
"In this day and age, it's all too easy for companies to quickly spin up products and rival their competition with the same feature set, and even a similar story. IF no or low-code is the future though, product marketing is the antidote - if you you want long-term, sustainable growth that is, anyway.
"There's no doubt in my mind that product marketing should be the first marketing hire. PMMs aren't nice-to-haves, or an extra layer to add to the department down the line, they need to be the foundation of the product and marketing team's growth plans because they're the ones advocating your customers and ensuring company outputs are in-line with market needs."
We also spoke to Elizabeth Brigham, Head of Product Marketing (Software) at Morningstar, and she summed this up perfectly, so in her words, not ours, here's why:

"There are quotations out there that say anywhere between 80-90% of new businesses fail, whether that's a startup, new product line or new business being launched within an existing company.
"Some of those reports went back and asked CEOs or others within the C suite, well, why do you think you failed? The number one answer that comes back is product-market fit, and the way I break that down is by saying, well, you've got a product and a lot of people might think this is the cool, new shiny thing and a lot of times what I've seen, especially in smaller, more nascent companies, is the founder or person who built it had that problem and then tries to go find a market, whereas product marketing actually assesses the market, what sort of core competencies that organisation already has, and then pulls that empathy and understanding of the market into what should we go build, because we fundamentally understand there's an acute pain point going on for which people are willing to pay for a solution, and that is truly the value that a product marketing manager brings to the table.
"It's taking down the risk or lowering the risk of investing a lot of money, whether it's in people or product development or acquiring something new, and de-risking that investment"
👏🏻
What is a product marketing strategy?
A product marketing strategy guides the positioning, pricing, and promotional campaigns for your new product.
Strategizing is important because it supports you from the initial concept phase to a fully-fledged launch. It also helps you and your team establish which audience(s) and markets to market your product to.
How do you get into product marketing?
The beauty of product marketing is there's no such thing as one, set path and this is something we've been asking as part of our Product Marketing Insider podcasts. Without fail, this is how the conversation goes…
Us: "What did your journey into product marketing look like?"
PMM: "Oh, I had quite a windy route into the role."
Although by no means a prerequisite or requirement, some of the most common backgrounds we hear are:
Product
Marketing
Sales
Customer Success
Project Management
Engineering.
If you're looking to transition into product marketing and you're currently at a company that has the function built-in, our advice would be to try and shadow some of their work and get as much practical experience as possible - as well as reading up on some industry resources too, of course.
Shameless but obligatory plug: our podcasts, resources, and blog are full of lots of info for newbies and experts alike.
Elsewhere, here are a few really in-depth reading materials to get you going:
Fancy yourself as a product marketing pro? Get PMA certified 👇