The Product Marketing Salary Survey 2022 revealed product marketers with a product marketing certification earn $7168 more than those without a qualification, before tax.
So, why not explore our suite of world-class courses, and embark on your own product marketing-certified journey?
The role of product marketing is fast, agile, strategic, tactical, varied, and evolving. It sits at the intersection of organizations and is an integral piece of the product puzzle - to deliver that value though, there's a lot to master.
Enter the PMA product marketing certification journey. Right on cue.
Our collection of courses has been expertly crafted and created to help you achieve your personal and professional goals, whether you're just starting out or a PMM aficionado.
🔥 Excel in every area of the PMM discipline
💡 Learn from the industry's leading lights
🧠 Apply tried and tested methodologies to your product
👊 Deliver real impact at your organization
🪜 Work your way up the career ladder
🧱 Build hard and soft skills - and everything in between
🤝 Create a shared understanding of the role
So, let's take a look at that journey in a little more detail...
---
Understand the A-Z of product marketing
Product Marketing Certified: Core

From research to optimization, Product Marketing Certified: Core explores the fundamentals of the PMM craft and with PMMC in your pocket, you'll have a richer understanding of the what, why, and how of every product marketing principle.
96% of participants have said they'd recommend the certification to others. What's more, 31% of product marketers with ambitions of developing their careers felt they could lead projects more successfully after having completed the course, while 31% felt more confident in their role once equipped with their newfound knowledge.
It covers everything from research to OKRs, pricing to positioning, and Jobs-to-be-Done, to optimization, messaging, and Go-to-Market.
Whether you're new to the industry or a seasoned PMM, B2B or B2C, physical or SaaS, by the end of this course, you'll have all the knowledge and tools you need to effectively and successfully attract and retain more customers.
Perhaps you're a would-be PMM harboring ambitions of transitioning into the industry. Well, 43% of those looking to move into product marketing did so following 0-3 months of the course - not bad, right? 😏
Who's it for?

If you're looking to transition into the industry, it'll arm you with that all-important foundational layer of intel to hit the ground running.
If you're relatively new to product marketing, it'll up-skill you in areas you might not have quite so much practical experience.
If you're a product marketing veteran, it's a great refresher on current trends and potential new practices. And for everyone, it's an awesome opportunity to learn from senior-level PMMs from some of the world's biggest businesses.
Safe to say, Gabriele Dane, Product Marketing Manager at Amazon, is a fan of Core:
"This course is everything a product marketer needs to navigate our incredibly cross-functional and rapidly evolving discipline. It explores the unique role of PMM in a way that has simply not been done before."
What's more, with the certification available in a variety of formats, you're certain to find something that ticks the boxes:
Not sure if Product Marketing Certified: Core is for you...? 👇

Master the art of key product marketing principles
Product Marketing Certified: Masters

Once you're up-to-speed with the all-encompassing essentials, our suite of Master's courses is the perfect tonic for drilling really deep into the finer details of each and every module covered in Core and more.
Here are some of the certifications we've got on the shelf right now:
Who's it for?

Anyone with a solid understanding of the product marketing landscape who wants to improve their understanding of quintessential product marketing topics.
These Master's courses will provide you with a comprehensive, step-by-step guide of everything you need to know to go away and create personas, narratives, segments, and so on, that deliver real, bottom-line business impact.
Built using only the latest trends and proven practices from PMMs all over the globe, you're guaranteed to walk away with new ideas sure to revolutionize your current approach.
Here's what Igor Kranjcec, Head of Marketing at Mediatoolkit, had to say about our persona course:
"One word. WOW!!!! And I mean WOW! I wish I had this when I built personas the first and second time. It would shorten the cycle of making them by weeks. Months."
And for good measure, here's what Ashley Herbert, Head of Product Marketing at Recruitee, had to say about the narrative design course:
"I thoroughly enjoyed this course!! It was sooo helpful. Not only were you able to dig further into the process that he went through at HubSpot but he also ran through a case study at another company he worked with and gave clear examples of how to execute on something like this internally and externally. I can't wait to use this with my own company!"
There are plenty more courses available that'll help you master the product marketing craft. 👇
The Mastering Product Marketing bundle
Want access to a never-ending flow of our jaw-droppingly great Masters courses on tap? We've got a subscription for that.
Become an end-to-end product marketing powerhouse, nail your strategic value, and master every aspect of product marketing with the ultimate course subscription.
From research to competitive intelligence, to positioning, to sales enablement, to storytelling - and more, the Master's bundle covers every key PMM principle and once you subscribe, for an annual fee, you'll unlock all past and future courses forever (well, for as long as your subscription is active).
With a Masters subscription, the learning really never does stop.
Who's it for?
Anyone with a solid understanding of product marketing's fundamental principles. New to PMM? This subscription will expedite your learning curve - exponentially. Experienced PMM?
This subscription will revolutionize your way of working, arm you with systematic approaches, and equip you with the tried and tested strategies from some of the world's best-known brands - year-round.
Establish and refine your leadership credentials
Product Marketing Certified: Leadership

Product Marketing Certified: Leadership is built specifically for product marketing leaders, by product marketing leaders.
This OnDemand certification is packed with eight in-depth modules, delving deep into everything from product marketing strategies, building & scaling PMM teams, and budgets, to product-led growth, pricing, data visualization, and analyst relations.
You can expect expert insights throughout from Director and VP-level PMMs at organizations like G2, Unbounce, Hotjar, and more, as well as tons of case studies, use cases, and action plans throughout.
Who's it for?

Aspiring, new, or longstanding PMM leaders. If you're already a Head of, Director, or VP of Product Marketing (or equivalent) this course will equip you with everything you need to be the most effective and impactful leader you can be.
Whether you're strategizing or nurturing talent, it's oozing with top-level tips from start to finish - based on the tried, tested, and proven methodologies from the 1,000s of leaders in our community, naturally.
If you're working towards becoming a PMM leader in the future, Product Marketing Certified: Leadership will provide you with a blueprint of where you need to develop, and what gaps you need to plug, to make that leap into leadership and extradite your career progression.

Product Marketing Manager Leadership Accelerator
Our Product Marketing Manager Leadership Accelerator has been designed to empower product marketing leaders, and help them make the jump into coveted C-suite roles.
Built with leaders at the likes of Amazon Web Services, LinkedIn, G2, Uber, and Unbounce, the program will help you tap directly into their tried and tested tactics, strategies, and methodologies and put all that intel into building your killer strategy.
By the end of the eight-week program you'll:
💪 Be more informed, confident, and impactful in every aspect of being a great product marketing leader.
🏅 Have all the knowledge, tools, and skills needed to build and scale a gold-standard product marketing team.
💡 Be equipped with endless leadership insights from the likes of LinkedIn, Shopify, Hotjar, Unbounce, and more.
📈 Supercharge your career growth by arming yourself with everything you need to crush your current role, as well as what's expected to progress into the C-suite.

How does the course journey work?
We won't pigeonhole you down a set path or force you to take one course before you can advance to another, however, this is the route we recommend: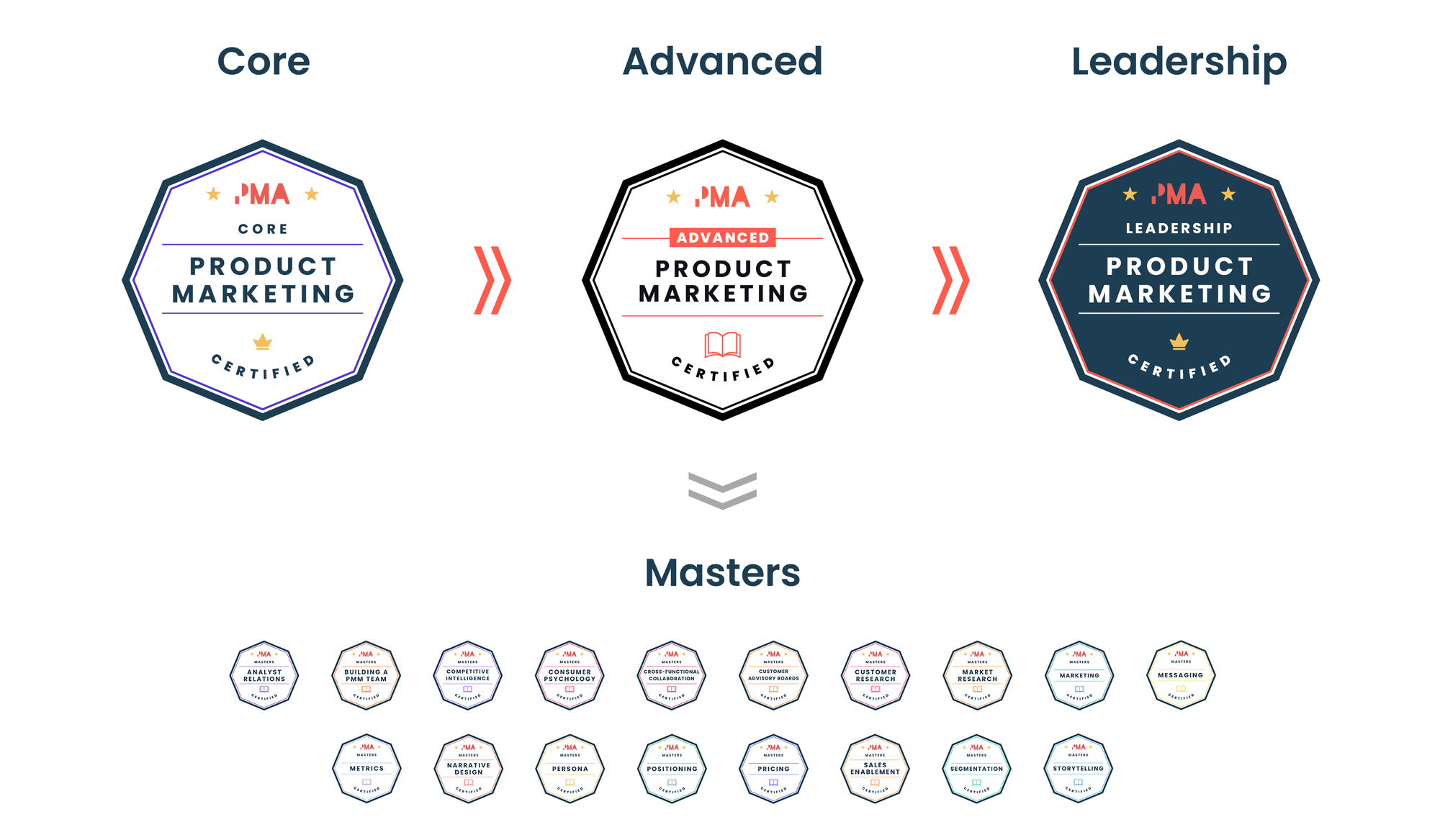 Core sets you up with all the essentials. Masters goes into incredible depth on each of those essentials covered in Core. Leadership sets you up to build, scale, and strategize at the highest level.
However, if you want to dip your toe into a handful of the Masters before you embark on Core, that's A-okay with us.
---
All of our courses are built with...

We've teamed up with product marketing powerhouses to build our courses. We're talking organizations like:


Add to that, they're trusted by PMMs from some of the world's biggest brands: