From customer advisory boards and personas, to customer segmentation, there are a whole bunch of tricks you need to master to stand out in the increasingly competitive PMM crowd and fulfill your potential.
The good news? There's a raft of product marketing courses out there designed to help you do just that. While we're not brazen enough to say "we're the best on the market", we'll be diplomatic and say, "we're in the top one". 😎
As the old adage goes: "you never stop learning", and these words ring true in the world of product marketing. Whether you're in the early stages of your PMM career or a seasoned professional, there are always new ways to improve your existing skills and level up your knowledge.
We've done the research and compiled a list of the best product marketing courses so you can skip straight to the learning. 👇
"Hold the phone - a significant number of these are PMA courses?" 🤔
Well, what can we say? We just can't keep our finger off the pulse and we're ALWAYS on our A-game. It's a way of life. 🤷
Without further ado, here's our recommended product marketing courses to guide you throughout your product marketing journey...
---
Product Marketing Fundamentals
Udemy Course
It's the million-dollar question, with a million different answers; the PMM role is notoriously tricky to pin down and define.
Product Marketing Fundamentals clarifies the ins and outs of the product marketing function to ensure you understand the essentials of an exciting and multi-faceted role, which is fast becoming a core element of organizations large and small.
By the end of the course, not only will you understand how to successfully get products to market, you'll know how to keep them there, and how to convey the role of product marketing to other internal teams.
Register and get access to 3 hours of:
Instructor-led presentations on everything from product marketing frameworks to the product manager and product marketing relationship.
In-depth guest footage from product marketing experts from organizations like Lyft and  TikTok.
Industry-standard frameworks to guide your day-to-day duties and career progression.
Discounts for continued professional PMM development and product marketing certification opportunities.
Take Your Place
---
Product Marketing Certificates
PMA's very own product marketing certification program, Product Marketing Core, serves up a slice of PMM fundamentals - and then some. 🔥
A course comprising 11 modules, 68 chapters, and 10+ hours of learning, Product Marketing Core is the perfect ally for industry newbies and seasoned practitioners alike, with unmissable insights whether you're B2B or B2C, physical or SaaS.
With OnDemand, part-time, or one-day options available, the course has been designed to cater to you, irrespective of your requirements.
The weapon of choice for brands such as Facebook, HubSpot, Microsoft, Adobe, and TikTok, (to name a few 😏), Product Marketing Core continues to serve up the goods and equip product marketers with the tools they need to succeed.
We've even gone international and rolled out a version in Mandarin - 我们就是那么好 (we're that good).
Wanna make up your own mind? Check out how we compare against Pragmatic.
Get Certified
Product Marketing Core: OnDemand
Product Marketing: OnDemand gives PMMs the chance to study at their own pace, en-route to securing a coveted product marketing certification, subject to passing each end of the module exams.
Wanna delve into the curriculum all in one go? No problem. Rather work through the curriculum at your own pace? You got it.
With optional coursework and live weekly workshops providing additional knowledge to consolidate understanding, you couldn't ask for a better platform to improve your product marketing skills.
Just ask Farhan Manjiyani, Technical PMM at Rav who thinks PMMC is "an incredible course". 👇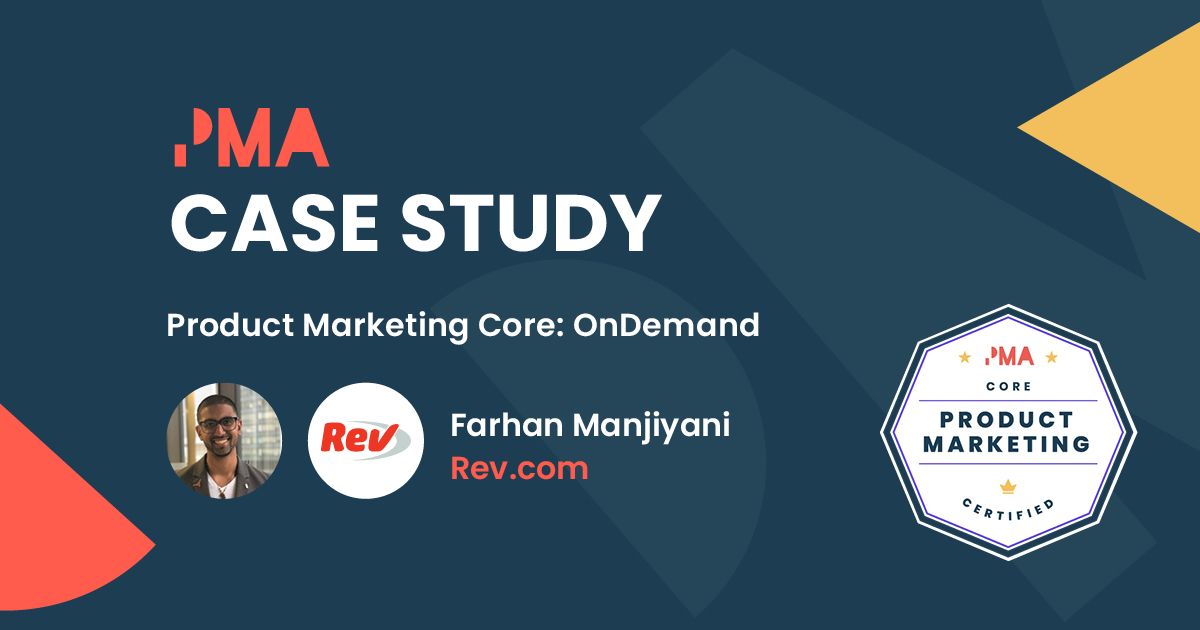 Get Certified
Product Marketing Core: Part-time
Product Marketing Core: Part-time delivers the same curriculum as the OnDemand option - with a twist. 😉
Classes meet virtually for 2.5 hours every week, for four weeks, with each session covering 2-3 modules, plus Q&As, exams, and coursework.
Following each session, you'll be given optional, extra materials, and will have the chance to join weekly workshops every Thursday for additional group mentor calls.
After week four, you'll be Product Marketing Certified (providing you pass the exams!).
It's the same in-person experience, all online.
Get Certified
Product Marketing Core: Full-time
Don't wanna wait four weeks to become PMMC certified? No problem, 'cause with our full-time program, you can get your hands on the coveted qualification in one day.
Enroll in this course and you'll virtually meet for a one-off, full-day certification session.
During class, your instructor (a PMA expert in residence), will take you through each and every module included in the Product Marketing Core certification, before you round things off with an exam at the end to put your new skills to the test.
Wanna ask questions? No worries. You'll get plenty of opportunities to ask your tutor for advice and take part in group activities.
After the day's over, you'll be given access to all the lectures on-demand, as well as 2+ hours' worth of bonus footage - perfect for refreshing your memory further down the line.
And it gets even better. You'll also get infinite access to workshops every Thursday, where you can get additional support from group mentors and fellow PMMS.
Pass all the exams, and you'll round off the day with a shiny, new PMM certification to parade around.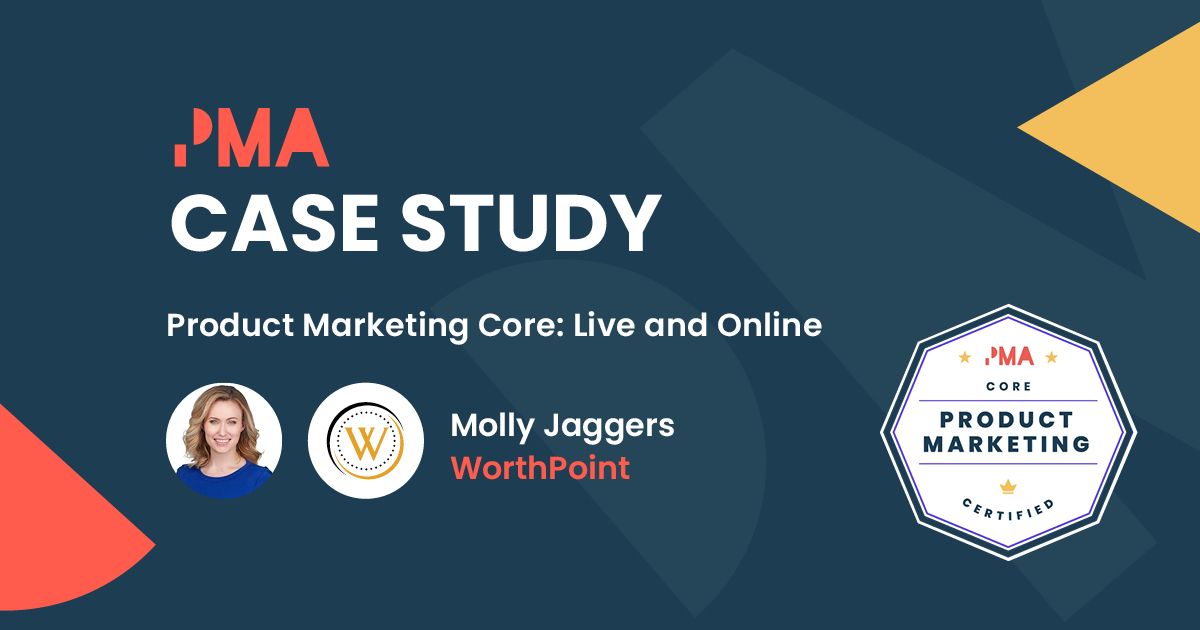 Get Certified
Product Marketing Core: Teams
It's vital that any PMM team is always singing off the same hymn sheet if it's gonna nail its short and long-term goals - enter Product Marketing Core: Teams. 👋
Product Marketing Core: Teams will arm your PMM function with all the tools and knowledge they need to revolutionize your company's efforts, and most importantly, attract and retain customers for your business.
Wanna take your teamwork to the next level? Wanna stay in the loop with up-to-date product marketing fundamentals and set your entire team up for success?
Who doesn't, right? 🤷‍♂️
Get everyone in your product marketing function certified through our industry-leading, fully comprehensive course.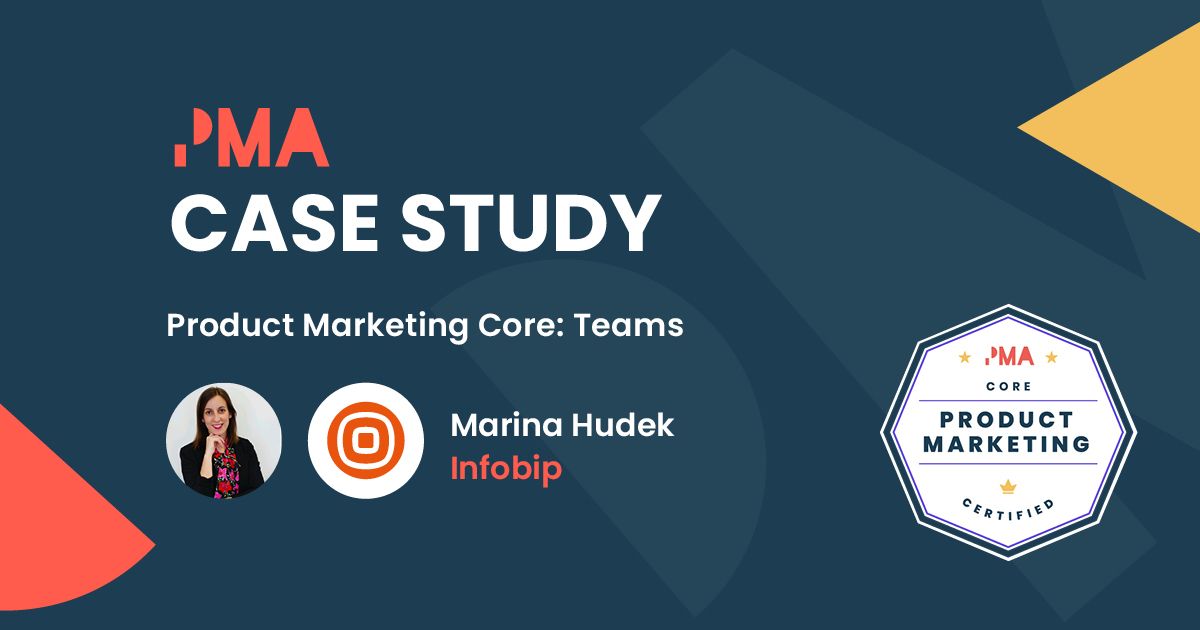 Get Teams Certified
---
Product Marketing Masters courses
Customer Advisory Boards Certified
Keen to improve your understanding of customer advisory boards?
Join Bree Bunzel, Head of Global Customer Marketing at Dropbox, as she shares her must-have insights and experience to help you solidify your understanding of Customer Advisory Boards.
⏰ 3+ hours of content
👩‍🏫 13 chapters
📕 46 exam Qs
🧠 5 expert-led discussions
🛠 3 exclusive templates
👨‍💻 100% self-paced
🔖 Official certification

Unsure how to get business buy-in from key stakeholders? It's all here. Dunno how to source ideal CABs members? It's all here. Struggling to prepare an awesome agenda? Yep, you got it - it's all here. Plus so much more!
We've included every minute detail, every morsel of information, every fundamental topic to ensure your next (or first!) CAB has the AI factor - action and impact.
180 minutes. 1 expert. Endless takeaways.
Get CABs Certified
Segmentation Certified
Looking for a course that'll help you hone your focus on the fundamentals of segmentation?
Look no further.
Join Tamara Grominsky, Chief Strategy Officer at Unbounce, an expert in segmentation, with a breadth of experience in bringing new products to market, positioning existing products for expansion, and driving sustainable revenue growth at high tech companies.
👩🏼‍🏫 5 modules
📙 26 chapters
📝 7 activities
🛠 10 templates
⏰ 3 hours of content
🔖 Official certification
👨🏼‍💻 100% self-paced
This course will equip you with a tried and tested framework to build value-based segmentation by identifying your best customers, discovering the value they seek, and how much they're willing to pay for that value. By the end, you'll have everything you need to use segmentation as a key lever for growth.
Get Segmentation Certified
Narrative Design Certified
Narrative design plays a critical role in product marketing - if you don't have an exciting story to tell, you ain't gonna grab the attention of your customers. Period.
Narrative Design Certified serves up all the tools you need to, and a whole lot more, to help you deliver a killer narrative and create a story that'll blow your audience's socks off.
… 🧦… 👈 Look, there they go!
👩🏼‍🏫 3 modules
📙 23 chapters
✅ 57 exam questions
📝 2 activities
⏰ 3 hours of content
🔖 Official certification
👨🏼‍💻 100% self-paced
Whether you're a startup founder on the lookout for that all-important funding, a Product Marketing Director harboring hopes of transforming your company's positioning, or a solo PMM looking to blow away marketing leadership with your storytelling skills, this course is your golden ticket to the most cutting edge approach to storytelling and positioning methods on the market.
Get Narrative Design Certified
Personas Certified
Every PMM worth their salt will tell you personas can make or break your product. So, it would make ZERO sense to consider skimping on an area where there's no room for error, right?
Personas Certified packs a host of practical tips, real-life case studies, and expert advice you need to create, use, and execute game-changing personas into one knockout course. 🥊
Think we're bluffin'? Igor Kranjcec, Product Marketing Lead at Lemax enrolled in the course and was blown away by the resources and level of expertise on offer:
"One word. WOW!!!! And I mean WOW! I wish I had this when I built personas the first and second time. It would shorten the cycle of making them by weeks. Months."
You heard the man… 👇
Get Personas Certified
---
Product Marketing: Leadership
PMM certification for leaders
A product marketing team without a kick-ass leader is like a soccer team without a world-class striker: good, but not great.
Featuring lectures from guests from the likes of LinkedIn, Adobe, HubSpot, Unbounce, and more, Product Marketing: Leadership focuses on the indispensable skills you need to master to lead with authority in the PMM industry, with lectures honing in on essential topics, such as:
💰 Pricing
📊 Budgets and impact
📝 Product marketing strategies
💪 Structuring your PMM team
🤝 Analyst relations
🥅 Goals
⓵ Prioritization
Whether you're new to a leadership role, an experienced senior figure, or have aspirations of spearheading a team in the future, Product Marketing: Leadership hones in on what you need to know to position, launch, and nurture products, as well as motivate your team.
Register Your Interest
---
Break into product marketing
PMM Hired
Any product marketer with their sights set on the top will have their ambition set firmly on how they can progress to the highest possible level.
After all, you don't wanna stay in the same position forever, right?
Built with orgs like TikTok, Amazon, and Google Fiber, PMM Hired offers an awesome bank of career resources designed to help you climb the product marketing ladder and achieve your dream role.
Whether you wanna transition into product marketing, make the next step from your entry-level position, or make the leap to VP of Product Marketing, PMM Hired has everything you need to develop your career prospects, including sample interview questions, mock interviews, exclusive content, monthly career-focused workshops, and career advice from industry-leading experts.
Reach the peak of your powers.
Get PMM Hired
---
Product Marketing Corporate Training
Product Marketing Enterprise delivers a variety of flexible, bespoke training options for PMM teams, management, and entire organizations to upskill, refresh or align organization-wide skills critical to the product marketing function.
Whether you've got skills gaps to fill, need to normalize the role of product marketing across your org, provide continuous learning opportunities, or unite everyone in your team onto a single narrative, Product Marketing Enterprise offers a string of learning options to guide you and your colleagues in the right direction.
The beauty of the course? You can tailor content to your specific needs, and choose from a selection of modules to suit your brand, including:
🧭 Positioning & messaging
🕵🏼‍♀️ Competitor intel
💰 Pricing
📈 Research & metrics
💼 OKRs
🤑 Go-to-market
📖 Narrative design
💪 Sales enablement
👀 Research
📈 Optimization
💁🏽‍♂️ Personas
Megan Liken, Product Marketing Specialist at cPanel has reaped the rewards of the program and waxed lyrical about its benefits. 🔥
"This certification program has been extremely validating for the team and has really shifted our perspective on how we work. The course has helped all of us start speaking the same language, rally around the same goals, and has assisted in standardizing some of our processes. What's really exciting is we have begun receiving buy-in from the rest of the company and collaboration with the Product teams is becoming more seamless!"
+ Product Marketing Core: Teams
It's vital that any PMM team is always singing off the same hymn sheet if it's gonna nail its short and long-term goals - enter Product Marketing Core: Teams. 👋
Build Your Program
---
Product Marketing Consultancy
PMA Consult
You know it, we know it, heck, we all know it - PMMs will bend over backward to bring a success story to life. 🤸
With PMA Consult, our consultants provide you with the knowledge, experience, and bandwidth to develop your strategy and enhance your product.
Need advice streamlining your go-to-market strategy and product launch strategies? We've got your back (even when it's bending backward).
Unsure how to analyze, develop and iterate your voice of customer process and strategy? Don't sweat it.
Seeking support in optimizing your sales and product adoption funnels? You're in the right place.
Whatever your requirements, our product marketing aficionados are well-versed in supporting a string of companies to turn their dreams into reality, from humble startups to thriving international organizations like Google and LinkedIn.
Ready to transform your fortunes?
Book Your Consultation
---