There's a fairly well known saying that "product managers put products on the shelf and product marketers get products off the shelf", and it rubs a lot of product marketers up the wrong way because it's so inaccurate.
The difference between Product Management and Product Marketing
The work a product marketer does begin much, much earlier than a product makes it to the self, and companies who don't adopt this approach miss out big time. Product marketers are the pulse of the customer and without their input into the product roadmap, there's no guarantee the products and features that are brought to market are actually what your customers want, and if it's not what people want - or what enough people want - it's not going to get off the shelf full stop.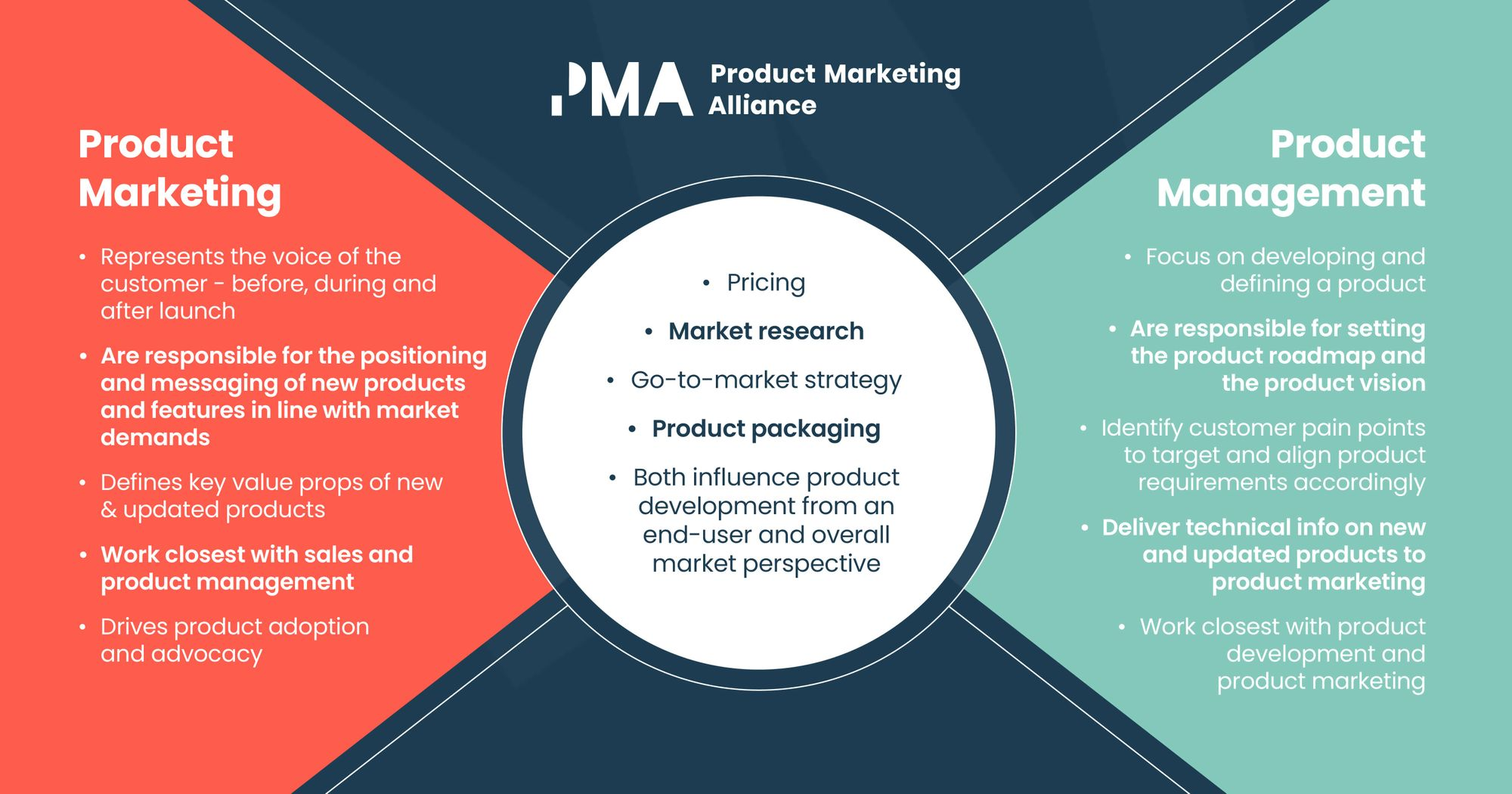 Separating the two roles
There's a lot of ambiguity around both roles, so you can be forgiven for confusing Product Managers (PM) with Product Marketing Managers (PMM), many, many people do.
There are certainly some similarities, PMs and PMMs are all-rounders, who can effectively work across product, marketing, and sales. Both are responsible for product launches and both roles need to coordinate different teams within an organization to ensure that the product release is successful.
But what is the difference between a Product Manager and a Product Marketing Manager? Well besides the extra M? The simplest explanation would be... Product Managers are responsible for helping create and define a product, while Product Marketing Managers are responsible for leading the product's go-to-market. Now we've skimmed the surface, let's take a closer look at both of their responsibilities, starting with that mysterious creature...the product marketing manager.
Product Marketing Manager
Product marketing is the driving force behind getting products to market - and keeping them there. Product marketers are the overarching voices of the customer, masterminds of messaging, enablers of sales, and accelerators of adoption. Here are a few of their main responsibilities:
A Product Marketing Manager is responsible for:
Positioning and messaging for new products and features
Conducting competitor analysis and market research
Empowering the sales team with clear value propositions
Setting up marketing campaigns for demand generation
Being the internal voice of the customer
Outlining the benefits of product features using customer-facing messaging
Developing a deep understanding of the market and competitors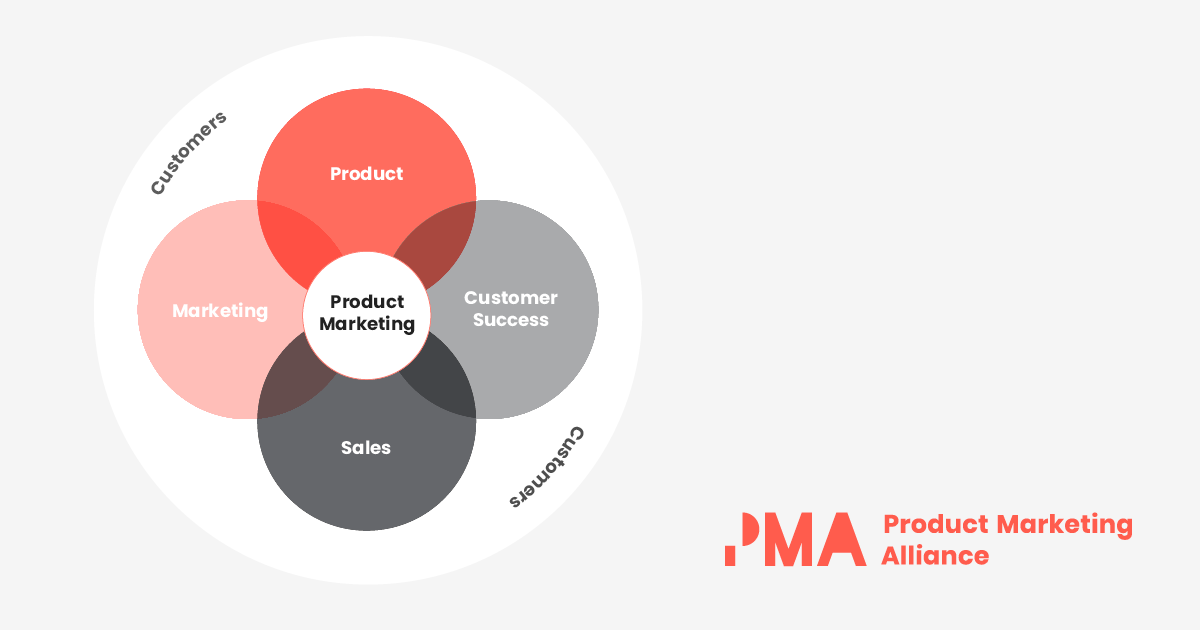 Product Manager
Product managers are masters at organization, strategy ninjas, and roadmapping wizards. Their roles often include marketing, forecasting, and profit and loss.
Their main responsibilities include:
Setting the product roadmap
Identifying customer pain points to targets
Defining features to build through user-stories or jobs-to-done.
Develops a deep understanding of competing products and technologies
Makes sure the company ships the right product
Product manager vs product marketing manager
So, to summarise product managers are responsible for developing and defining the product, while product marketers are the voice of the customer - before, during, and after launch. We've outlined the differences and the crossover in this handy graphic for your viewing pleasure.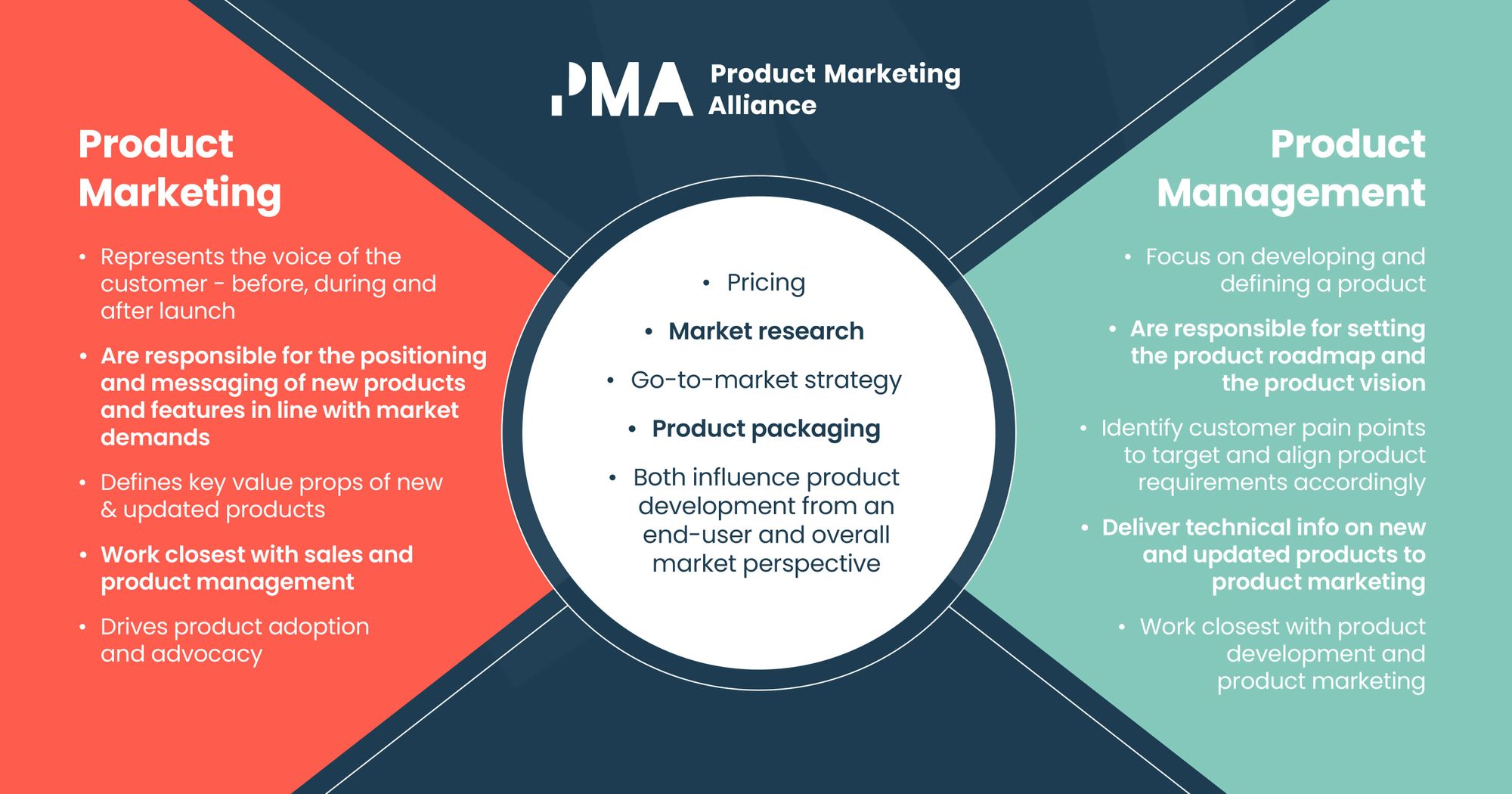 What product marketing is saying
It's well-known within the industry that a PMM's role can massively vary from one company to the next and because of that, it's notoriously tricky to nail down a definitive list of responsibilities, so we asked the community how they would define the role.
Alicia Carney, Global Product Marketing Manager of Growth at Deliveroo, summarises it as "the glue that brings disparate stakeholders together. We create scalable, personalized customer experiences to drive growth, profit, and satisfaction."
Marvin Chow, Vice President of Global Marketing at Google, defines a product marketer as the "liaison between the product engineers and the end-user. PMMs should be an expert on the user and their needs. Great PMMs champion the voices of all users and celebrate and elevate diverse perspectives. During the go-to-market process, PMMs should own the launch plan, working to make the product a reality for all users."
And Carol Carpenter, VP of Product Marketing at Google Cloud, succinctly describes the role and value of product marketing as "to express the distinct value of our solutions to customers. Expression of value."
And, in this year's State of Product Marketing Report, we asked 2,000+ product marketers to list their main responsibilities: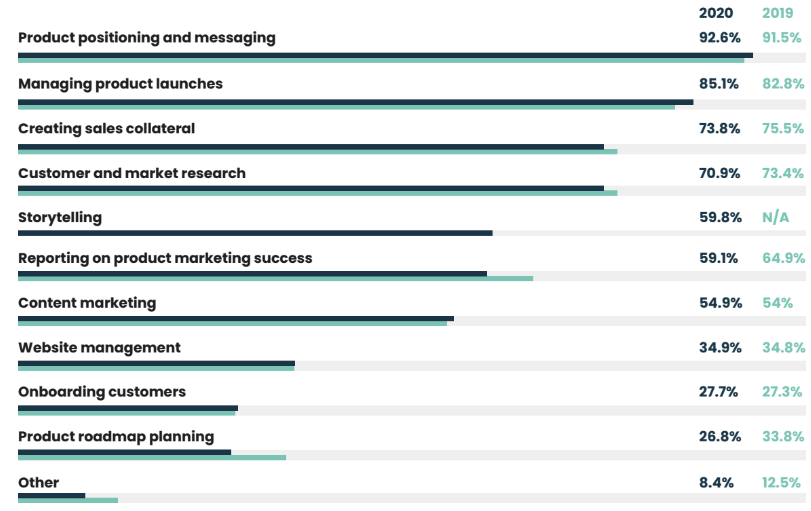 In many smaller companies or start-ups, the role of PM and PMM overlap or sometimes merge, so one single person is responsible for both product management and product marketing. In an ideal world, the two would be clearly defined and able to focus on both of their respective skillsets, but it's understandable that the two would crossover, after all, there is one thing that's pretty consistent across both of these roles. The customer is at the heart of everything they do.