There's a fairly well-known saying that "product managers put products on the shelf and product marketers get products off the shelf," and it rubs a lot of product marketers up the wrong way. Why? Simply, because it's inaccurate.
What is product marketing?
That's right, we're taking it back to the basics just to give you a fully-rounded picture. Product marketing is all about getting the word out about a new product or service.
The product marketing manager (PMM) is responsible for driving demand and adoption of products by promoting them to customers. They focus on the marketing strategy, positioning, messaging, and campaigns that introduce a product to its target audience.
In essence, product marketing managers act as the voice of the customer. They ensure that the product messaging resonates with users and compels them to buy.
What's the difference between product management and product marketing?
The work of a product marketer begins much, much earlier than a product makes it to the self, and companies who don't adopt this approach miss out big time.
PMMs are the pulse of the customer and without their input into the product roadmap, there's no guarantee the products and features that are brought to market are actually what your customers want, and if it's not what people want – or what enough people want – it's not going to get off the shelf full stop.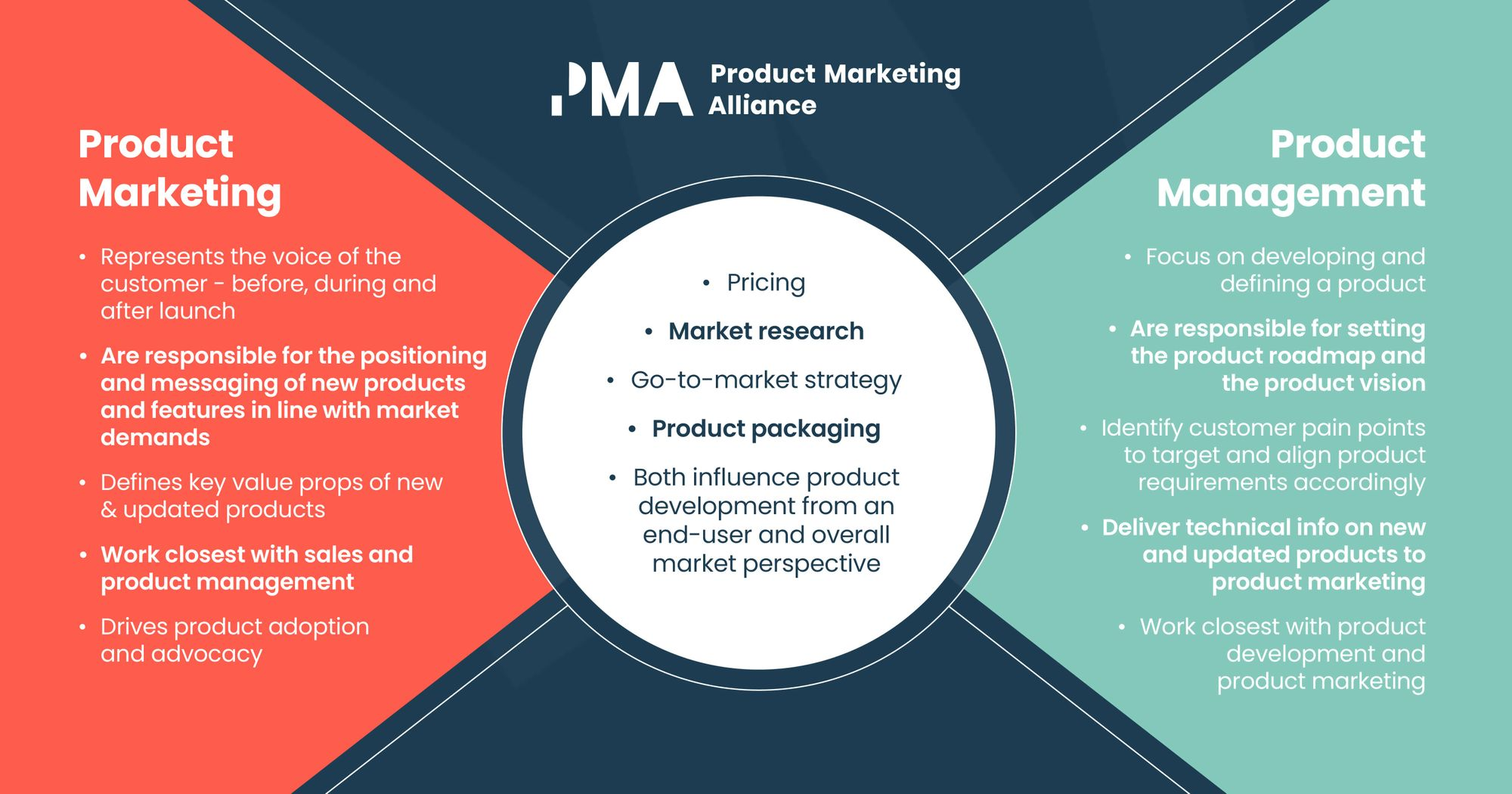 Product management and product marketing: Separating the two roles
There's a lot of ambiguity around both roles, so you can be forgiven for confusing product managers (PM) with product marketing managers, many, many people do.
There are certainly some similarities, PMs and PMMs are all-rounders, who can effectively work across product, marketing, and sales. Both are responsible for product launches and both roles need to coordinate different teams within an organization to ensure that the product release is successful.
But what is the difference between a product manager and a product marketing manager? Well, besides the extra M? The simplest explanation would be... product managers are responsible for helping create and define a product, while Product Marketing Managers are responsible for leading the product's go-to-market strategy.
Now we've skimmed the surface, let's take a closer look at both of their responsibilities, starting with that mysterious creature... the product marketing manager.
What is a product marketing manager?
With product marketing being the driving force behind getting products to market – and keeping them there, PMMs handle a wide range of strategic planning and tactical execution related to product launches.
They're the overarching voices of the customer, masterminds of messaging, enablers of sales, and accelerators of adoption.

What does a product marketing manager do?
PMMs bridge the gap between products developed and success in the market. They ensure sales and marketing are aligned on what problem the product solves and how to articulate its benefits.
A PMM is responsible for:

What is a product manager?
Product managers are masters at organization, strategy ninjas, and roadmapping wizards. Their roles often include marketing, forecasting, and profit and loss.
What does a product manager do?
The product manager owns the strategy and roadmap for a product. They set goals based on customer needs, market analysis, and business objectives. As the subject matter expert, the product manager guides engineering teams to build solutions that solve customer problems.
Their main responsibilities include:
Product manager vs. product marketing manager: Key takeaways
So, to summarize, product managers are responsible for developing and defining the product, while product marketers are the voice of the customer – before, during, and after launch.
We've outlined the differences and the crossover in this handy graphic for your viewing pleasure.
How to become a product marketing manager
If you're keen to venture into the world of PMMs, here are some tips on how you can get started.
Get a relevant educational background
Degrees like marketing, business, and communications provide a strong foundation. Coursework focused on marketing fundamentals, consumer behavior, competitive analysis, market research, and data analytics are extremely useful.
Complement with certifications
Specialized certifications can help you stand out. Options like Pragmatic Institute's product marketing certification or Product Marketing Alliance certification validate your expertise.
Internships and entry-level roles in areas like marketing, sales operations, content writing, or product management allow you to develop relevant hard and soft skills.
Understand your target industry
It's valuable to gain some early experience in your chosen technology sector or target industry. Build knowledge of the competitive landscape, buyers, and business challenges.
Sharpen abilities like positioning, strategic planning, market analysis, communication, and cross-functional collaboration. These will serve you well as a product marketing manager.
Highlight program successes, campaign results, sales enablement wins, and launches you contributed to. Demonstrate you can strategize and execute product launches skillfully.
Connect with product marketing managers in your company. Offer to assist with launches and projects to gain hands-on experience.
By following these tips, and gaining relevant, valuable skills, you'll be well on your way to transitioning into an engaging, rewarding career in product marketing. The role leverages marketing savvy, strategic orientation, and cross-functional collaboration to successfully bring new products to market
What product marketing is saying: Expert insights
It's well-known within the industry that a PMM's role can massively vary from one company to the next and because of that, it's notoriously tricky to nail down a definitive list of responsibilities, so we asked the community how they would define the role.
Alicia Carney, Global Product Marketing Manager of Growth at Deliveroo, summarizes well:
"[Product marketing is] the glue that brings disparate stakeholders together. We create scalable, personalized customer experiences to drive growth, profit, and satisfaction."
Marvin Chow, Vice President of Global Marketing at Google, defines a product marketer as:
"[The] liaison between the product engineers and the end-user. PMMs should be an expert on the user and their needs. Great PMMs champion the voices of all users and celebrate and elevate diverse perspectives. During the go-to-market process, PMMs should own the launch plan, working to make the product a reality for all users."
Carol Carpenter, VP of Product Marketing at Google Cloud's succinct description:
"[The role and value of product marketing is] to express the distinct value of our solutions to customers. Expression of value."
And, in the 2023 State of Product Marketing Report, we asked product marketing maestros to list their main responsibilities: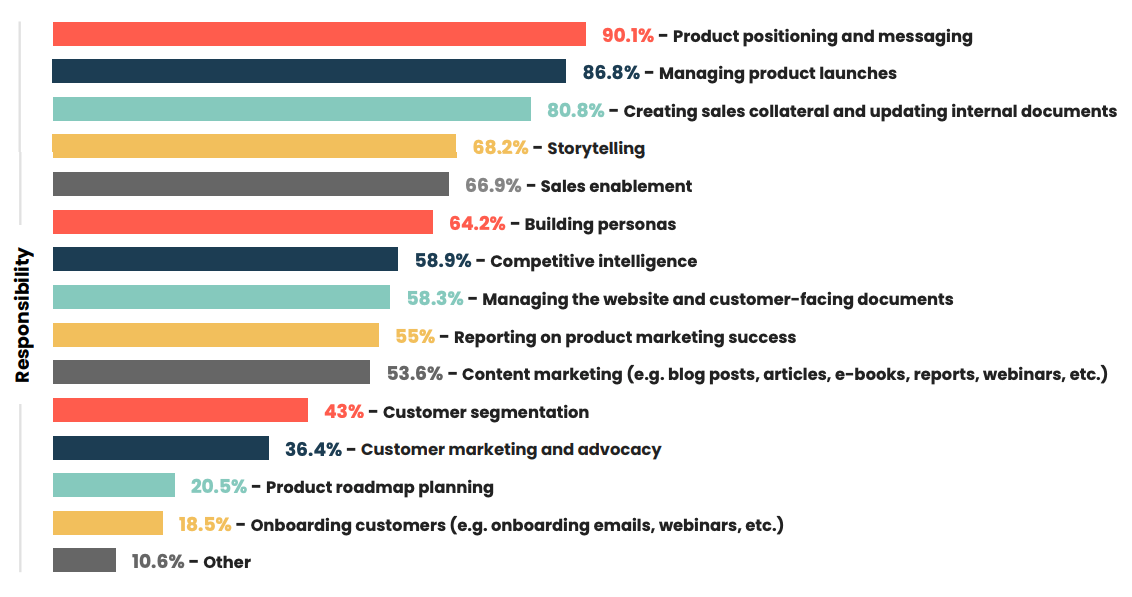 As was the case in 2022, product positioning and messaging were the main responsibilities of a product marketer, with this option selected in 90.1% of instances.
In many smaller companies or start-ups, the roles of PM and PMM overlap or sometimes merge, so one single person is responsible for both product management and product marketing. In an ideal world, the two would be clearly defined and able to focus on both of their respective skill sets, but it's understandable that the two would crossover.
After all, there is one thing that's pretty consistent across both of these roles – the customer is at the heart of everything they do.
Let's recap: Here are the key differences between product managers and product marketing managers
Like night and day, product managers and product marketers bring complementary powers to the table. PMs are the master strategists, charting the product roadmap by moonlight. PMMs are the sultry voice of the customer, marketing mavericks by daylight.
Though different in focus, their partnership is key. PMs excel in the left-brained duties – organization, forecasting, and roadmapping. PMMs rule the right, connecting stakeholders and crafting killer messaging.
In startups, roles meld in the craze of creation. But mature companies know that understanding the uniqueness of PM and PMM duties brings success.
For all their differences, product managers and product marketers share a north star: The customer. PMs map the path ahead based on customer needs. PMMs ensure the customer's voice is heard through launch and beyond.
Together PM and PMM can propel any product to prosperity. For once united behind the customer, no obstacle nor challenge will block their way.