The product marketing role is continually evolving, with practitioners being tasked with a variety of roles and responsibilities.
While product launches, customer and market research, customer onboarding, and product storytelling are all amongst the remit of a modern-day PMM, product positioning, and messaging remain the areas that experts are devoting the most time to, with 90.1% of respondents in the State of Product Marketing Report 2023 earmarking product positioning and product messaging as their core responsibilities: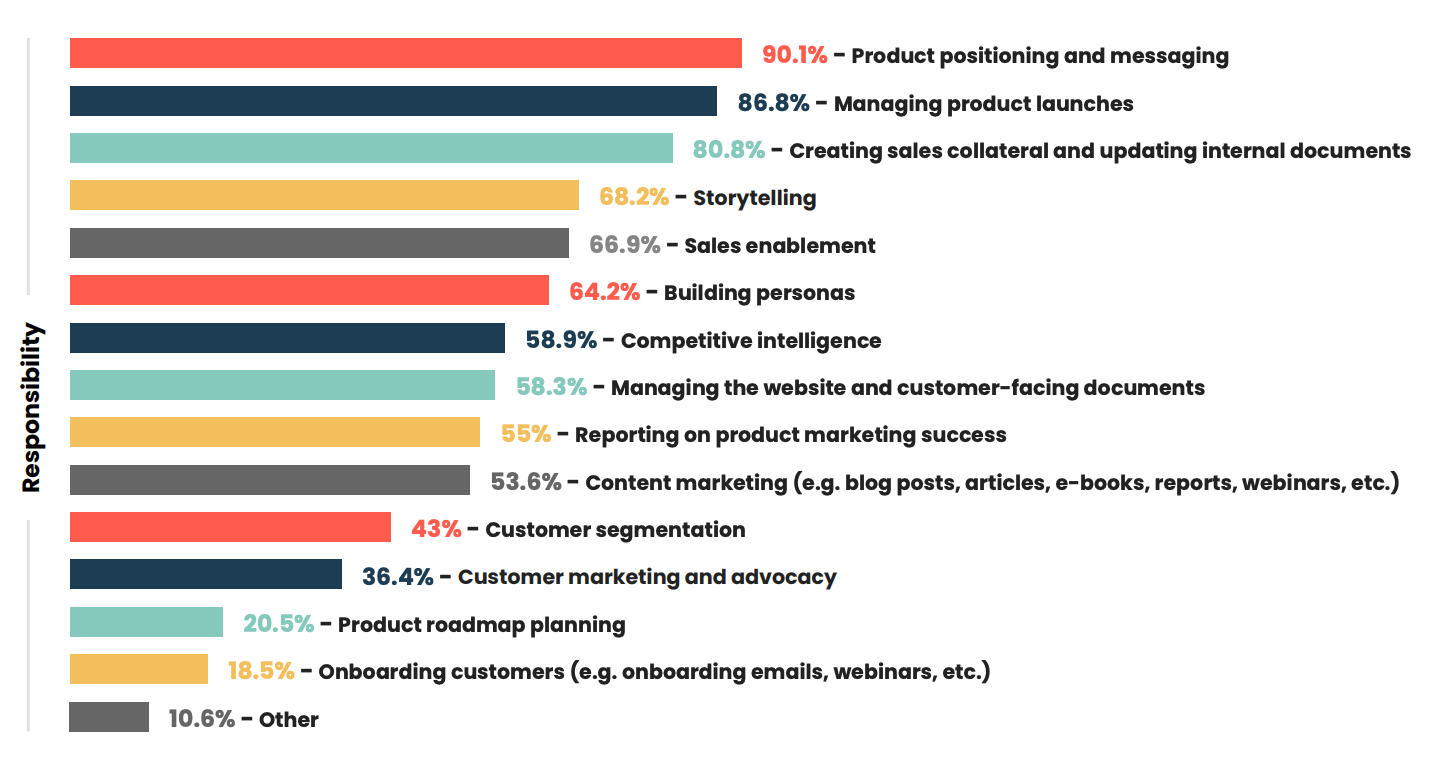 If product messaging doesn't resonate with your customers, you're prone to customer churn, while adoption rates could take a hit if you fail to position your product in an increasingly competitive marketplace.
Such is the importance of these areas, this piece will address the following:
What is product positioning?
What is a product positioning statement?
Why is product positioning important?
The relationship between product messaging and product positioning
How to create compelling product messaging
How can I position my product?
Examples of product positioning from top brands
Two key approaches to product positioning
What influences how a product is perceived?
Product messaging and positioning resources
What is product positioning?
Product positioning refers to how a product or service is perceived by consumers in relation to competing offerings. It involves defining where a product fits in the market and creating an identity that resonates with target customers.
Effective product positioning is crucial for differentiating your offering and influencing purchase decisions. It establishes your product's value and gives customers a reason to choose it over alternatives.
What is a product positioning statement?
A positioning statement is a concise description of your target customer, the problem you address, and your unique solution.
An effective statement serves as an internal compass for product development and an external guide for sales and marketing communication.
Here's a simple formula:
For [target customer] who [need/desire/pain point], [product name] is [product category] that [key benefit], unlike [competitor], our product [differentiation/USP (unique selling point)].
Here's an example from Coca-Cola:
"For quality beverage seekers, Coca-Cola offers a wide range of the most refreshing options. Each creates a great experience for customers when they enjoy a Coca-Cola brand drink. Unlike other beverage options, Coca-Cola products inspire happiness and make a positive difference in customers' lives, and the brand is intensely focused on the needs of consumers and customers."
This positioning statement framework helps you distill the essence of your product and who it serves into a concise, memorable message that resonates with customers.
Why is product positioning important?
There are several key reasons why product positioning should be a priority:
Increases brand awareness
Product positioning helps cement your brand identity in the minds of customers. It creates memorable associations that set you apart from competitors. The more distinct and consistent your positioning, the greater your brand awareness.
Attracts the right customers
Clear positioning that resonates with your target audience helps attract qualified leads. With the right positioning, customers will recognize how your product solves their needs and why you should be their only go-to.
Drives sales
When customers understand the unique value of your product, they're more likely to purchase it. Accurate product positioning ensures your product is seen by the right audience, ensuring your product's truly appealing, which drives people to take action.
Commands higher prices
Effective positioning can justify charging premium prices. Customers will perceive greater value in a product that solves their problems exceptionally well.
Builds loyalty
Satisfied customers tend to stick with brands that meet their needs – if it ain't broke, don't fix it. Positioning helps align your product with customer wants, driving retention and loyalty.
Guides product innovation
Established positioning provides direction for product development and new feature prioritization, enabling you to focus your efforts on enhancing defined areas that you know provide consistent value.
The relationship between product messaging and product positioning
Product messaging and positioning work hand-in-hand to create a consistent, strategic brand narrative that resonates with target customers. While positioning defines where a product fits in the market, messaging is about conveying that positioning through expertly crafted marketing communications.
For example, if your positioning centers on superior performance, messaging can showcase real customer stories, expert reviews, competitive comparisons, and more, to back up that premise.
Effective product positioning provides critical grounding for messaging. It crystallizes what makes your product one-of-a-kind and the specific customer needs it fulfills. This core essence should be infused throughout external-facing messaging to ensure consistency.
Without clearly defined positioning, messaging risks becoming disjointed and diluted across campaigns. Of course, getting positioning and messaging aligned requires collaboration between product, marketing, and sales teams. But when done effectively, it ensures every customer touchpoint reinforces what makes your product special.
How to create compelling product messaging
During her appearance on Product Marketing Insider, Ashley Wood, Head Of Product Marketing at LANDR Audio Inc. gave her insights on how PMMs can refine their product messaging.
What does powerful messaging look like?
"I think it's clear above all else, we have a tendency, especially for working on a product and just internally in general, to assume if people have heard about this function or this feature, that they understand the brand as a whole.
"And that's why empathy is such an important quality to have in a product marketer. Powerful messaging addresses the who, the why, the what, and the how. The why really is about helping them solve a problem, identifying what is, what your differentiators are, and the how being your features and functionalities.
"I play this really annoying game with my PMMs where I'll just ask, 'So what?' until we've gotten to the core of the problem that we're solving.
"Your products are evolving, your competitors are evolving, and more importantly, your users are evolving. It's possible that you outgrow your messaging. I think it's important that you're always checking that it's still resonating with your audience, whether that's through A/B tests, user interviews, and performance metrics."
How can product marketers develop existing messaging?
"The more time you spend with users understanding their goals and their jobs to be done, the easier it is to build the messaging that resonates.
"When it comes to evaluating it and making sure that you're always combining the quantitative and qualitative data, typically quantitative findings will signal that there's an issue and then you can dig in a bit further with qualitative findings, mostly through user interviews and focus groups."
How do you highlight USPs in your messaging?
"Working on messaging without being crystal clear on the positioning is a mistake. I really like April Dunford's framework for positioning. We use that document as a home base so we have a lot of clarity on who our competitors are in each space, how we're unique for each of them, and who cares the most about the value that those unique attributes bring.
"Once that's set in stone for the moment we use it to come back to, and when we create messaging, we say, "OK, does this line up with our positioning document? Does this line up with our user personas and our segments?"
What challenges have you faced when creating messaging?
"The biggest challenge probably comes to narrowing down exactly who cares the most about the value you're providing. We have a tendency to want to communicate with as large an audience as possible.
"However, I think what usually ends up happening there is that your messaging talks to everyone without actually talking to anyone because you've watered it down so much that it's generic and therefore, it doesn't resonate with anyone.
"Establishing strong positioning that everyone internally is aligned on is the key to crafting successful messaging. In my opinion, when you know exactly who your product is serving, and why it's the best position to solve that problem, messaging becomes a lot more instinctual."
Which common messaging mistakes do you often see?
"One of the most common mistakes I see is when messages are so big that you don't understand what they do and who they're for.
"At Lander, there's no shortage of people who could benefit from our products. But having to take a step back and communicate that to a product manager that's spending all of their time trying to make this the most usable product for as many people, I'm letting them know, 'I know, all of these people could care about it or should care about it, but this is the group of people we have the best shot of converting.'
"I think a common internal mistake is not clearly communicating your audience segment to internal stakeholders."
How can I position my product?
Understand the market landscape
Research your industry, competitors, customer needs, and the strengths/weaknesses of existing offerings. This context will inform your positioning.
Identify your target customers
Determine who your product is for by analyzing the right data: Demographic, geographic, psychographic, and behavioral, and then use this data to create valuable buyer personas.
Determine your value proposition
Pinpoint the primary value you provide to target customers. How does your product uniquely satisfy their wants and needs better than alternatives?
Find your differentiation
Highlight the stand-out qualities and benefits only your product delivers. This distinction forms the crux of your positioning.
Craft your brand story
Shape a compelling brand narrative that weaves together your value proposition, differentiation, product attributes, and customer perspective into a positioning statement.
Test and refine
Validate your positioning with target customers through surveys and interviews. Adjust messaging based on feedback to find the right fit.
Integrate across touchpoints
Consistently convey your positioning through marketing materials, sales interactions, product packaging, website content, ads, and more.
What are some examples of product positioning?
Let's take a look at some effective product positioning from leading brands:
HubSpot
Positioning statement:
"Since 2006, HubSpot has been on a mission to make the world more inbound. Today, over 100,000 customers in more than 120 countries use HubSpot's award-winning software, services, and support to transform the way they attract, engage, and delight customers. Composed of HubSpot's CRM, Marketing Hub, Sales Hub, Service Hub, CMS Hub, and Operations Hub, HubSpot gives companies the tools they need to grow better."
HubSpot positions itself as a global business with a wealth of solutions – it's been around for a good while, which emphasizes that it's trustworthy. Not to mention that it's used by a wealth of customers across the globe. The positioning statement focuses on customers, and their success, and showcases that its products are made to scale.
Amazon
Positioning statement:
"For consumers who want to purchase a wide range of products online with quick delivery, Amazon's a one-stop online shopping site. Amazon sets itself apart from other online retailers with its customer obsession, passion for innovation, and commitment to operational excellence."
Amazon dominates the digital retail market by clearly positioning itself around addressing customer pain points – quick delivery, an abundance of products, and innovation. It highlights its commitment to customer convenience and weaves its core values into its positioning statement.

McDonald's
Positioning statement:
"McDonald's is a leader in the fast-food industry, with quick, friendly service and consistency across thousands of convenient locations. McDonald's' dedication to improving operations and customer satisfaction sets it apart from other fast-food restaurants."
McDonald's doesn't have a niche target audience – it caters to people globally, offering a diverse range of options depending on where you're situated. Its positioning statement highlights the qualities people often look for when deciding on a brand they want to buy from – "do they have my best interests in mind?", "are they offering value for money?", "do they have something unique to offer me?". This positioning statement highlights its customer-centricity, speed, and convenience – everything you typically want from a fast food restaurant.
Nike
Positioning statement:
"For athletes in need of high-quality, fashionable athletic wear, Nike offers customers top-performing sports apparel and shoes made of the highest quality materials. Its products are the most advanced in the athletic apparel industry because of Nike's commitment to innovation and investment in the latest technologies."
Nike has staked its reputation on innovation and quality. Its messaging emphasizes committing to these key values and uses language that resonates and focuses on what buyers want – functional apparel that's also fashionable. Nike also partners with celebs to increase its brand image and inspire trust from its target audience.
What are two common approaches to product positioning?
Attribute-based positioning
With attribute positioning, brands highlight a specific product feature, technology, or capability as the key differentiator. This focuses on functional or technical strength, e.g.:
Longest battery life
Healthiest ingredients
Innovative materials
While sometimes effective, attribute-centric positioning has risks: Competitors can eventually emulate technical capabilities, nullifying the uniqueness, or customers may not care about a particular attribute.
Benefit-based positioning
Benefit positioning centers on the value, solution or experience your product provides customers. The emphasis is on meaningful customer outcomes versus technical specs.
Examples:
Enhanced confidence
Greater peace of mind
An easier life
Benefit-based positioning connects far better emotionally. It focuses on satisfying customer needs and desires, not just product features, forming the basis for deeper relationships and loyalty.
What influences how a product is perceived?
Brand reputation: An established, reputable brand signifies quality, durability, and the ability to satisfy wants. New entrants often lack this implicit trust.
Fits with self-image: Customers are drawn to product brands that align with the values they hold or how they wish to be perceived by others.
Peers and influencers: Product perceptions are heavily swayed by recommendations from family, friends, experts, and influencers we follow. It's no secret that word of mouth is one of the strongest marketing tools out there.
Aesthetic appeal: Visually pleasing and tactically satisfying products are perceived as superior – great design enhances sentiment.
Marketing messaging: Product messaging and positioning shape perceptions by highlighting benefits and capabilities. As we've touched on already, effective marketing elevates a product's status.
Pricing cues: Higher prices imply quality manufacturing, exclusivity, and prestige. If customers are looking for a high-end product, they'll look for a high-end price; if they're seeking something cost-effective, they'll want that to be highlighted.
Emotional appeal: Products that make customers feel good and address emotional needs, beyond just functionality, garner affection and loyalty. Brands that provide emotional appeal in their messaging resonate with their target audience.
User experience: Hands-on interactions determine if a product meets expectations. And if you can provide superior, seamless experiences, you can boost the favorability of your product.
Let's recap
Product positioning shouldn't be an afterthought. It's a fundamental driver of brand awareness, customer acquisition, and product adoption.
Defining an authentic, memorable brand story that taps into customer desires, speaks to their needs, and elevates your product above alternatives is worth the investment. Consistently reinforcing your differentiated value and purpose through aligned marketing and experiences will win over customers.
Product positioning done right provides focus and direction to help your offering reach its full potential.
Product messaging and positioning resources
There's a breadth of vetted and tested templates and frameworks available in the PMA membership designed to improve messaging and positioning within your organization: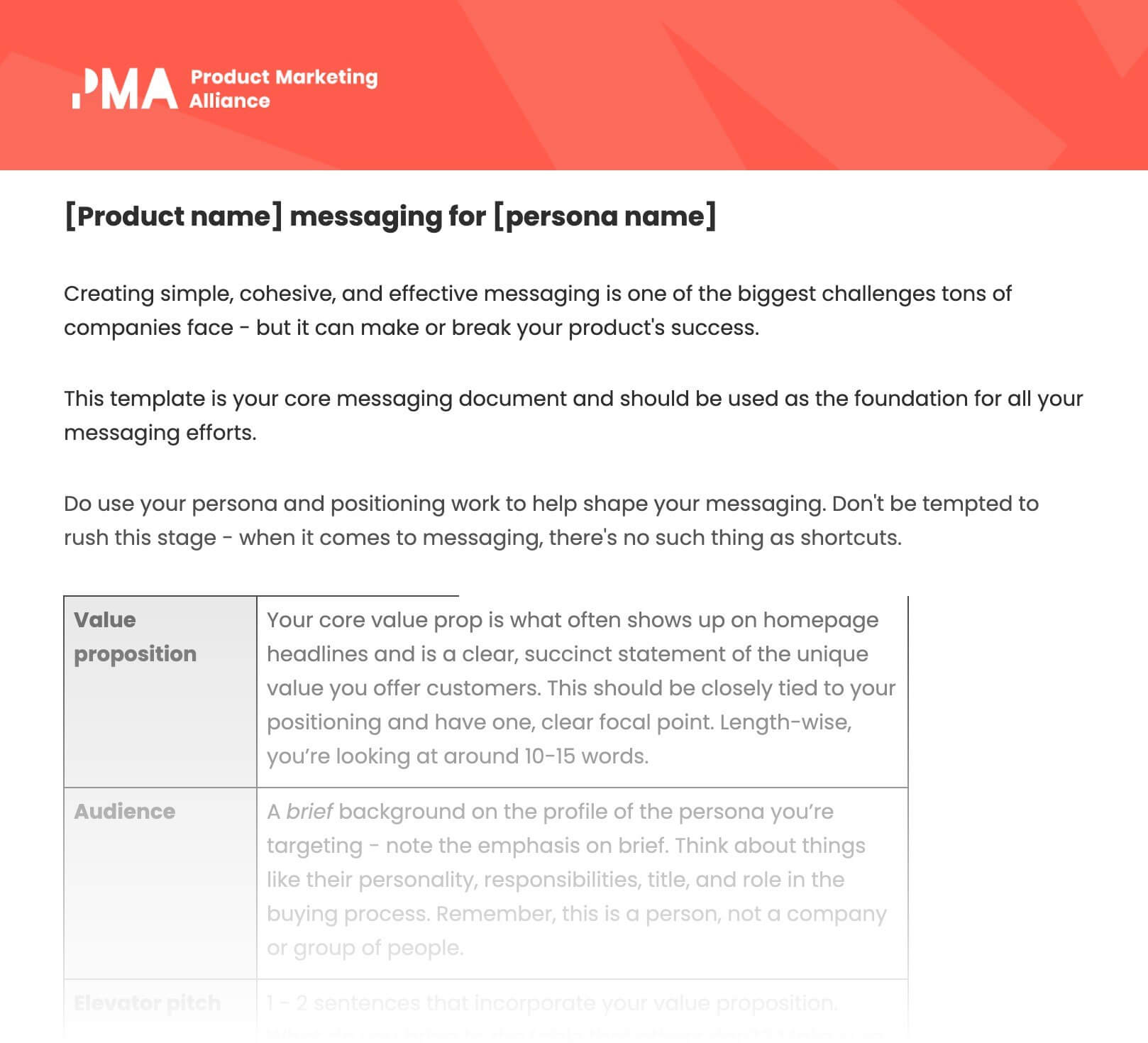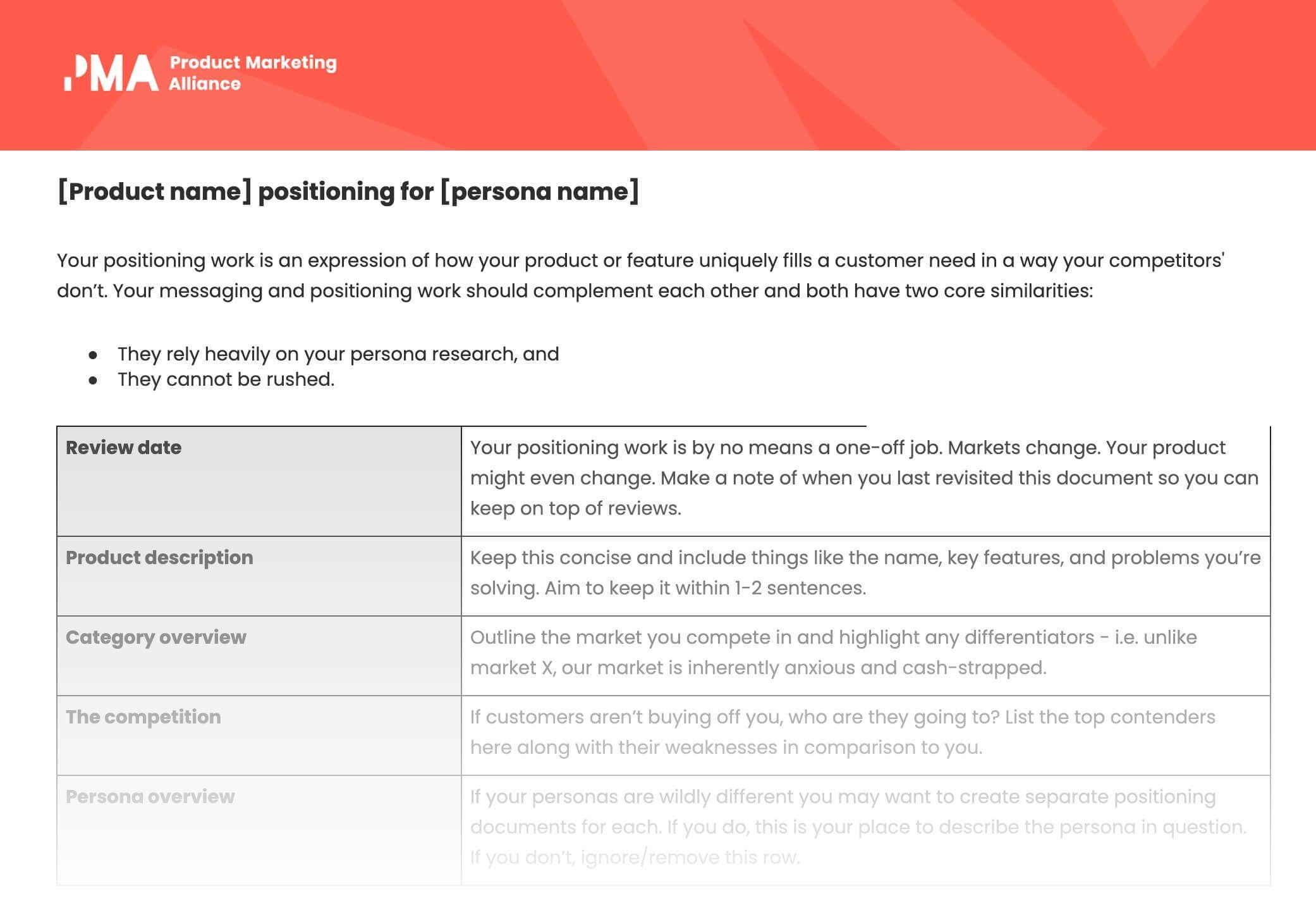 We've also got specialist courses available covering the essentials you need to refine your practice.
Positioning Certified helps you find your place in the market, make yourself heard, and differentiate your product.
✅ Understand why positioning is so important.
✅ Know how to position for growth.
✅ Appreciate the role of teamwork when positioning your product.
✅ Understand the correlation between positioning and cross-functional areas.
And there's more! Messaging Certified features everything you need to create messaging that compels action, articulates your product's value, and captures your market's attention.
By the time you finish, you'll:
✅ Know how to build foundations for solid messaging and customer engagement.
✅ Be able to get maximum impact from your messaging frameworks.
✅ Be a pro at drafting, layering, and reviewing your messaging.
✅ Understand how to work more effectively with copywriters.
✅ Know how to validate your messaging with prospects and customers.
✅ Understand message synching and why it matters.