The topic of product marketer to product manager ratios is always a hot one in the Slack community. We're often asked what the golden number is, so we took to LinkedIn and our ever-informative Slack channels to talk to Product Marketers and find out.
Of course the golden ratio isn't always the actual ratio PMMs are working with day-to-day, so we polled 349 of LinkedIn followers for a better idea of ratios across all kinds of different organizations, and here's what we found.
Product marketers rarely outnumber product, so the number 1 below represents PMM. As you can see from the results, the ratio stands firmly at 1:4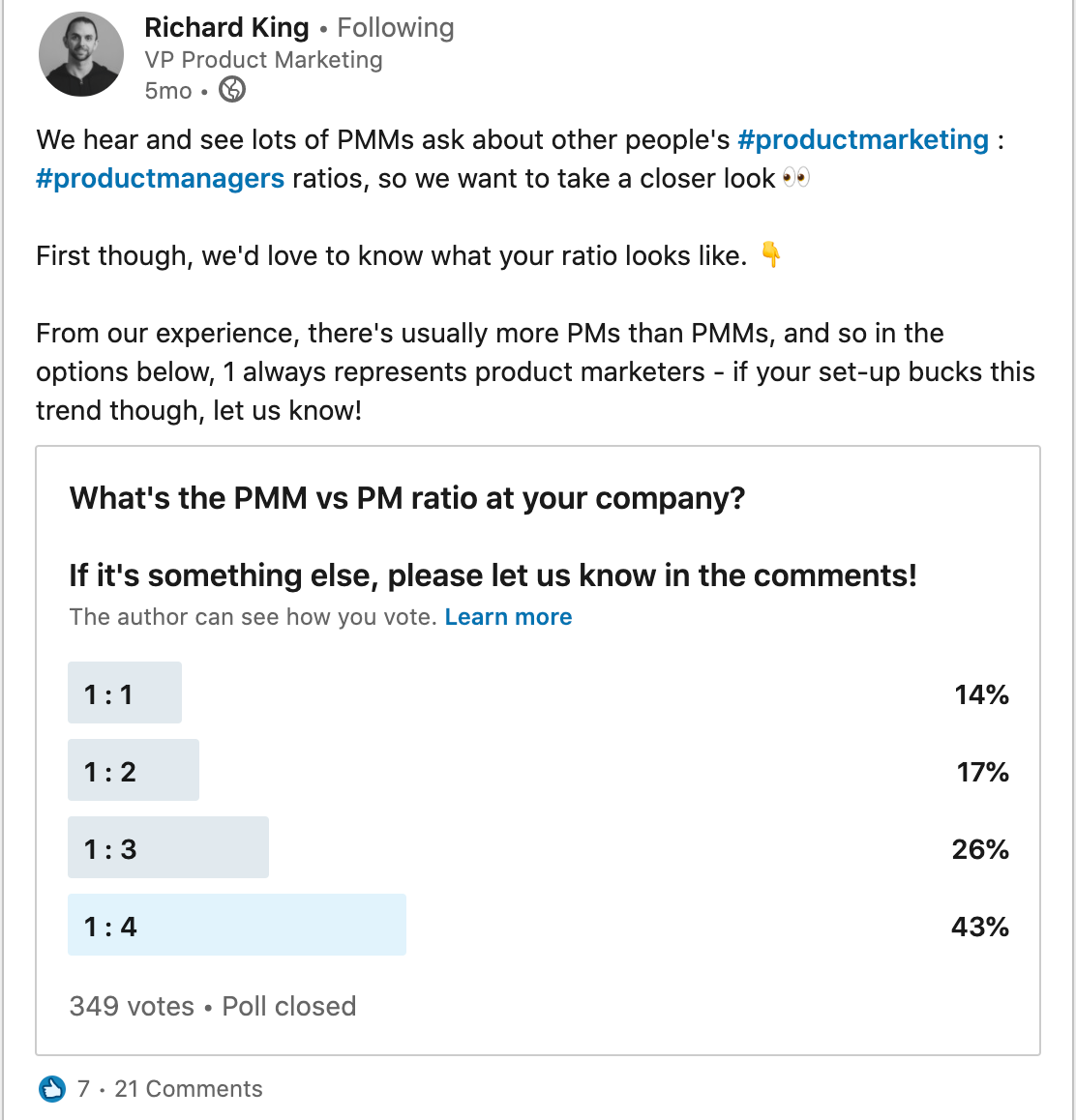 What's the golden ratio?
The general consensus from our PMMs is that 1:2 would be their ideal ratio depending on the size of the company, while 1:1 is the dream.
We'll let them explain why…
"Our ratio is about 1:2. Which works well. I think it depends on the size of your company though and what you want to accomplish. I'd recommend aligning PMMs to the routes that drive the market. Meaning... if it's by product or solution or segment or vertical, etc" - RJ Gazarek, Senior Product Marketing Manager at Atlassian
"I think really successful companies have a ratio close to 1:1, and that is how ideally it's supposed to be. For a lot of companies I think PMM is an afterthought." - Erin Nevruz, Senior Product Marketing Manager at Bill.com
"At GitLab we have a rough ratio of 1:1. That's 1 PMM to 1 Technical PMM, and roughly a 1:3 ratio of PMM:PM. AR, Customer References, Competitive, and Partner Marketing are also all functions that sit in product marketing." - William Chia, Senior Product Marketing Manager at GitLab
"Our ratio is 1:4. However, I've spoken with many PMM peers at other companies and I've come to realize that the best bet is around 1:2 for larger products. Some products deserve more attention than others and therefore, less PMM support." -  Jordan Cullen, Group Product Marketing Managing at Esri


What about the big hitters?
Michael Leibovich, Senior Director of Product Marketing at AppFolio put together this handy graphic which he shared in our Slack channel and researched himself, by looking up the company on LinkedIn and running a query by job titles. Not ultra scientific, but certainly directionally accurate. As you can see, it includes the big hitters like Facebook, Apple and Microsoft, and the golden ratio... 1:2.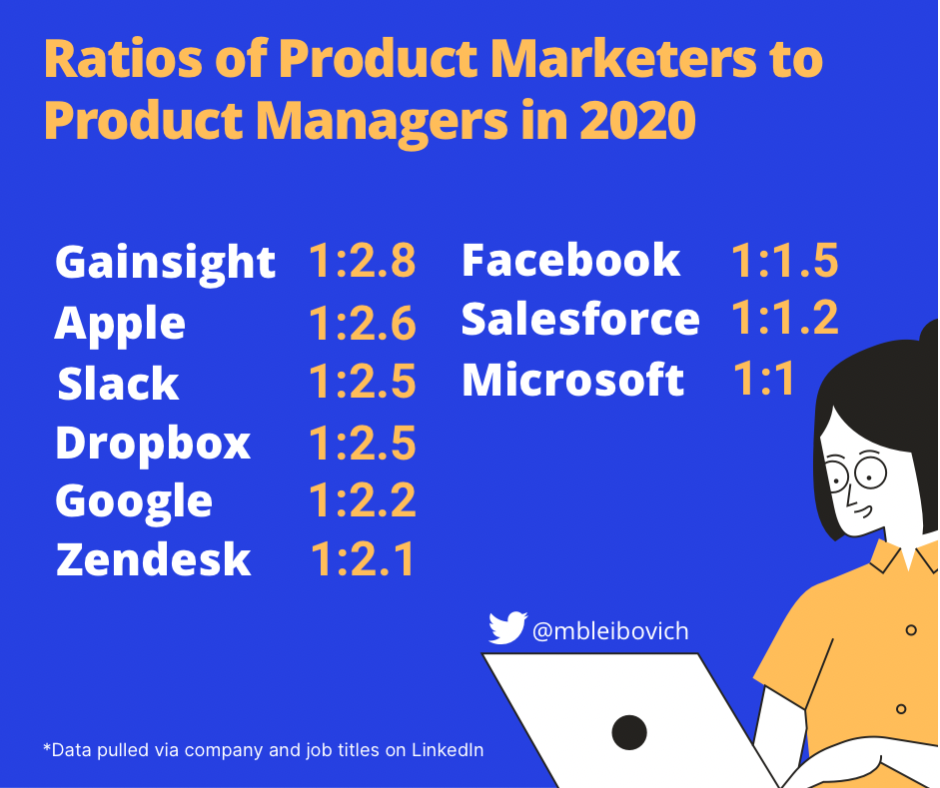 Let's hear it from the average
Let's hear from some anonymous PMMs about how the average ratio affects them on a day-to-day basis.

"In my company there's one PMM to every 3-4 PMs. While these are seemingly average, I find both ratios to be inefficient for the larger organization. They need PMMs to focus more on the solutions, which would reduce the number of senior PMMs and have associate PMMs or project managers for individual products." - Senior Product Marketing Manager working in Cybersecurity
"1:5 is working well for our team size, but I think the situation would be very different for a larger organization." - Start-up PMM
Flying solo?
Being the only PMM on the team, or indeed the organization, certainly seems like a common situation from our findings above, but how are PMMs establishing themselves and their role in companies new to the function?
"What's worked for me is implementing the framework written in the book called 'First 90 Days'. I think this is the most powerful book any person can leverage for any role. Each organization is unique but this book set me up for success by understanding our current issues and working with my CEO to ensure we are aligned with what we needed to accomplish." - Ali Mamujee, Vice President of Product Marketing at Mercatus
"I never really documented anything in particular but what helped me the most in the first weeks was to dive into the data and understand the product fully before taking any actions. I then worked towards introducing a data-driven approach for the whole tribe (we work agile and I am part of a tribe). This meant that I created tons of reports that I shared with the whole tribe and based on them we derived ideas and conducted impact estimations. Looking back at it now this was probably the most helpful thing to do for me." - Anja Obermüller, Head of Product Marketing at Runtastic
With the average product marketer overseeing five or more products, the ratios tell us that as a department product marketing is still severely understaffed in many organizations.
Div Manickham, Director of Portfolio Messaging at Dell Boomi, highlights why 5 + products are excessive and can be damaging to PMMs:
"This is a classic less is more scenario. PMMs are asked to do more than it's sustainable in my opinion. We need to be realistic and prioritize efficiently. If we are not careful, our PMM team members will face burnout sooner than we can imagine. It's the company's responsibility to make sure we are focused on the right priorities and to add team resources and budget to support business needs. In my experience, adding more than 2 products is unrealistic and we had to reprioritize based on business needs and even paused supporting a few products because of resource constraints. With the spectrum of responsibilities for PMM, it's easy to think one individual can manage it all - we as PMM are great at multitasking and always ready to put out the next fire, but that's not fair for sustained growth. We are considering looking at functional responsibilities vs product-focused PMMs to meet top business needs."
Our most lopsided ratio was 14 product managers to 1 (one!) product marketer, when do they find the time to sleep?! It's likely there's a lot of crossover when it comes to numbers like those, with product managers taking on PMM responsibilities like persona development, messaging or segmentation, which is why a clear delineation of the roles of product marketing and what it can bring as a function is more important than ever.
What's your ratio? Let us know in the comments below!