Within the world of product marketing, there are many potential career avenues to explore. Many product marketers begin their careers as Associate Product Marketing Managers, before moving up the ladder to Product Marketing Manager (PMM), Senior PMM, Director of Product Marketing, and even to the lofty heights of VP of Product Marketing.
But you can't begin your expedition without the right knowledge.
So strap yourself in as we cover everything from how to break into product marketing management, the key skills needed for career progression, and to how to choose your next product marketing role.
---
What does a product marketing manager do?
Product marketing managers (PMMs) are responsible for driving a range of functions that are critical to the product lifecycle. They're typically charged with developing messaging, positioning, and go-to-market strategies that best communicate a product's value proposition. In this sense, the PMM acts as the voice of the customer, providing critical market and audience insights that influence product design and development.
The core responsibilities of a PMM generally include conducting market research, developing product messaging and collateral, planning launches and campaigns, creating pricing strategies, and providing ongoing market feedback to inform product evolution. According to our State of Product Marketing Report 2023, 90% of PMMs are responsible for product messaging and positioning, and 87% manage product launches.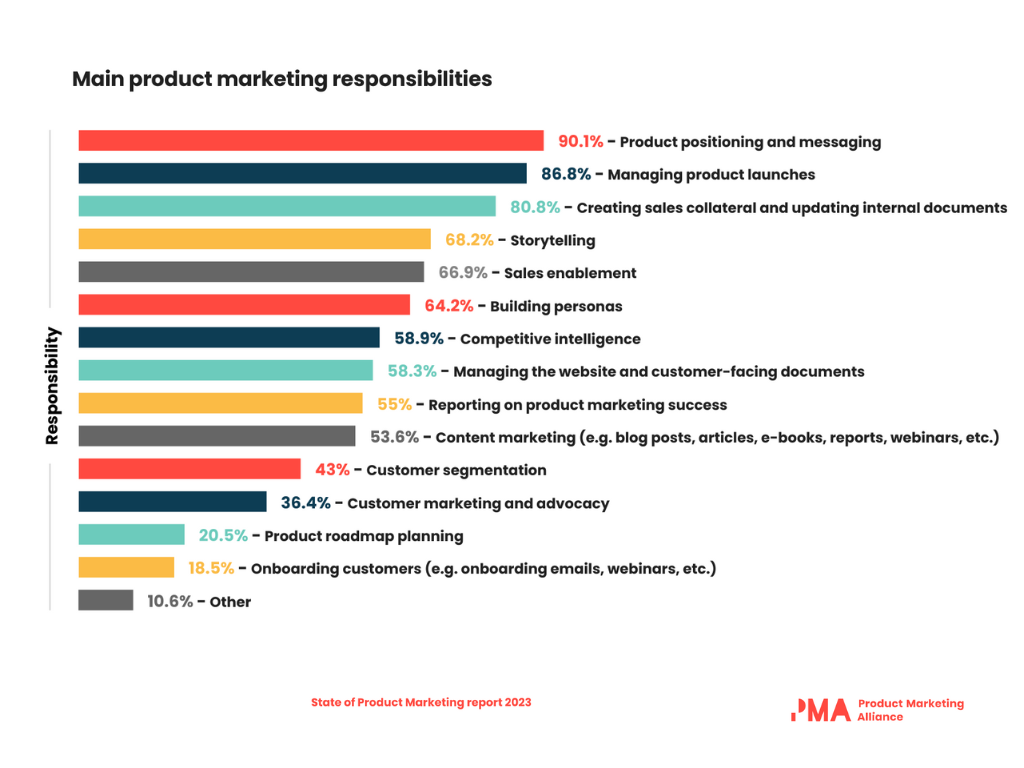 Product marketing managers serve as the connective tissue between product, sales, customer success, and the executive team to align priorities and make sure all stakeholders understand how the product delivers value to customers. Effective PMMs exhibit a blend of marketing, technical, analytical, and communication skills that they use to translate an understanding of the customer and market into compelling stories that drive product adoption.
How to become a product marketing manager
So you want to become a product marketing manager, but don't know where to start? Here are some tips to help launch your PMM career.
Gain experience in related roles
Many product marketers start in adjacent fields like marketing, product management, sales engineering, or consulting. These roles build hard and soft skills that translate well to product marketing management. Look for opportunities to work on campaigns, technical projects, or strategic planning.
This experience demonstrates analytical, creative, and communication strengths needed for a product marketing manager role.

Make a move internally
Some land product marketing roles by transitioning from other departments in their company. One way to start this process is to offer to collaborate on content or events; getting involved shows initiative and builds those essential skills. When a PMM role opens up, you'll be the first that comes to mind.

Get certified
Consider getting certified in product marketing through reputable brands like Product Marketing Alliance (there are dozens of courses – general and specific – to really boost your PMM game).
Certification shows you're invested in understanding the PMM role, its frameworks, and best practices. It also expands your network to include fellow aspirational product marketers you can learn from.

Join product marketing groups
Active membership in product marketing associations and online groups – like PMA's Slack community – provides networking and continuous learning. In the same vein, follow PMM LinkedIn groups to network and stay on top of trends and tips.
Joining bustling communities and delving into specific social groups will enable you to fully immerse yourself in all things product marketing.
The skills you need to progress as a product marketing manager
Advancing as a product marketing manager requires you to continually manage and build your skill set, honing these skills unlocks certain abilities to access excelled career growth regardless of seniority, education, or experience.
Leadership skills
As a product marketing manager, you will lead a team and be responsible for driving the success of your product or product line. Strong leadership skills are non-negotiable. You'll need to inspire and motivate your team to excel.

Strategic thinking
PMMs need to think strategically about the entire product portfolio. You'll be responsible for aligning product marketing with the company's overall business objectives. The role demands constant decision-making – which messages to test, what channels to use, which segments to target first, and so on.
Strategic thinking also means strong prioritization – understanding business goals, measuring results, and evaluating ROI. It takes practice to get it right!

Market research
Deep market analysis becomes even more critical as you ascend to the role of a product marketing manager. You should be able to identify market trends, customer needs, and competitive threats to formulate effective strategies.

Cross-functional collaboration
Working with various departments within the organization is a crucial aspect of this role. You'll need to collaborate with product development, sales, and marketing teams to ensure that your product succeeds in the market.

Data analysis
Data-driven decision-making is the norm in the world of product marketing management. Proficiency in data analysis tools, and the ability to derive insights from that data, is more than fundamental.

Other key skills for product marketing progression include:
Messaging and positioning: You'll have to craft compelling narratives that connect products to customer needs.
Communication: This means speaking to people within your team, and outside of your team, and explaining strategies and complex ideas clearly.
Curiosity: Always be inquisitive! Ask smart questions to uncover both customer insights and cross-departmental understanding.
Organization: Juggling multiple projects and launches successfully is part and parcel of the PMM role.
Empathy: Understand user and buyer perspectives deeply – and don't forget to be empathetic towards people you work with, everyone has their own workload and different things on their plate.
Product orientation: Become a true expert on the products you market and the market itself.
Is a product marketing manager a good career choice?
The role of product marketing manager has become highly sought after in recent years, especially with the rising expectations of consumers. Product marketing is fast-paced, dynamic, and challenging but can be equally rewarding.
The job requires working across multiple areas and lets you make a creative impact on your work.
No one can tell you if being a PMM is the right career path for you, but if these things sound right up your street then it might be time to take the plunge.
And what about salary? Money talks, after all! Use our salary calculator for more insights or take a look at one of our product marketing salary reports to get the juicy details on the average salaries for PMMs globally.
The product marketing career path
Product marketing roles and what to expect
There are lots of roles within the PMM career path, here is a glance at what a product marketer's career progression might look like:
Associate Product Marketing Manager
Associate PMMs are entry-level product marketers who manage one or two work streams of one product launch and are closely supervised by a PMM or senior product marketing manager.
Experience: One to three years

Product Marketing Manager (PMM)
PMMs manage all the work streams that go into a product launch and receive some supervision from a manager. At this stage, they will have more responsibility and will be expected to have most of the key skills to be a PMM pro.
Experience: Three to five years

Senior Product Marketing Manager
Senior PMMs work on product launch strategies and manage launches while having minimal supervision. At this point in your PMM career, you should be comfortable with most tasks involved in product marketing and you may be asked to supervise others.
Experience: 5-10 years

Director of Product Marketing
Directors help to create strategies for multiple product launches, manage the launch calendar, and represent the PMM team across functions. This role will also involve managing a team of PMMs.
Experience: 10-15 years

VP of product marketing
The VP of product marketing manages multiple teams of PMMs who launch products and is the key stakeholder representing the function within the organization. This role may also involve speaking to external stakeholders.
Experience: 15+ years
Example product marketing career path
How to pick your next product marketing job
With demand for product marketing managers at an all-time high, you're in the driver's seat when evaluating your next career move. Here are some tips for picking the right product marketing role:
Go with your gut
Choose an opportunity that excites you and aligns with your long-term goals. Don't just chase the flashiest job title or brand name.

Fill experience gaps
Look for roles that build skills where you lack real-world experience. Is it owning a launch or sales enablement? How about user research? Consider your areas of interest and find a position that will tick these boxes.

Team size matters
Do you want to be the lone PMM or part of a team? Both offer advantages and growth. Choose which team size best suits you based on your learning preferences.

Company stage
Early-stage companies provide lots of exposure but move fast. Enterprises offer more resources but can be bureaucratic. Assess your risk appetite.

Industry appeal
Make sure you're passionate about the product and industry. B2B vs. B2C PMM roles differ, so choose one that fits your interests.

Choose your manager
Vet your hiring manager carefully. Ensure you'll have a mentor who can develop your PMM talents.

Talk to customers
Get hands-on with the product. Speak with users to ensure you connect with its value before accepting any role.
By evaluating roles strategically against your skills and interests, you can land a PMM job that you love, and that accelerates your career growth.
How to launch your product marketing manager career: Pro tips
Self-assessment
Take an honest look at your skills and identify the gaps. Do you need to improve your leadership abilities? Are you well-versed in market research techniques? Assess your strengths and weaknesses (and the opportunities that can arise out of either).

Skill development
Once you've identified the areas that need improvement, invest in developing those skills. Consider taking courses, attending workshops, or seeking mentorship from experienced product marketing managers.

Immerse yourself in the product
Becoming a true product expert lays the foundation for success. Set up regular demos and training to understand the product inside and out. Chat with devs and support teams to get their unique perspectives. Dogfood the product yourself to experience the onboarding and key workflows. Know it better than anyone else!

Build your network
Networking is invaluable in any career transition. Attend industry events, join relevant LinkedIn groups, and connect with professionals in product marketing management. You never know when an opportunity might arise.

Listen more than talk
The best insights come directly from users and customers. Listen in on sales calls, pore through feedback, and have 1:1 conversations to soak up how customers describe problems and your product's value. Let their words guide your positioning and messaging.

Show Initiative
Don't wait for a promotion to start acting like a product marketing manager. Take on additional responsibilities, demonstrate your leadership skills, and showcase your strategic thinking within your current role.

Immerse yourself in all things PMM
Join PMM groups on social media, attend events, and read books and blogs. Surround yourself with the language and best practices. Follow leaders in the field who inspire you. Connect with other aspiring PMMs to learn from each other.

Seek feedback
Ask for feedback from your superiors and peers. Constructive criticism can help you identify areas for improvement and demonstrate your commitment to growth.
The path to becoming a successful product marketing manager isn't one-size-fits-all. But set yourself up for growth and start with curiosity, initiative, and a customer-first mindset. Opportunities to develop the required skills will follow.
The product marketing manager crown is waiting for you
Becoming a product marketing manager is a challenging but rewarding journey. It requires dedication, continuous learning, and a willingness to step out of your comfort zone.
But, honing your leadership skills, becoming a strategic thinker, and developing a deep understanding of the market, can successfully make this transition your own and take your career to new heights.
---
Have you heard about PMM Hired?
At PMA we pride ourselves on our ability to keep our fingers on the pulse of what will serve our amazing community of hard-working and positive-minded PMMs.
PMM Hired has been created alongside brands such as IBM, Amazon, and Etsy to provide a rich resource of information, advice, and tools to assist all PMMs in their professional lives, regardless of what career stage they're currently at.
PMM Hired puts you in the driver's seat, empowering you to gain the skills you need to progress and land your dream job at your dream company.
So what's stopping you from taking the next step and forging a successful, fulfilling, and lucrative career in product marketing?
Tap into PMM Hired today to access the tools you need to take your career to the next level.