Buyer personas are an integral part of any product strategy - existing, new, or pending. If done right, they equip you with the tools you need to effectively market to specific audiences in a way that resonates with them, targets their touchpoints, and increases conversions.
What is a buyer persona?
Buyer personas are semi-fictional characters that represent your typical or target customer.
The idea of a buyer persona is to create a profile of your ideal customer as though they were a real person, it's not enough to just invent these characters, they need to be fleshed out by research, validated by real customers and consistently updated as you learn more about your customer base.
Different people will take out your product or service for different reasons, so, usually, you'll need a few different personas to cover each cluster.
There's no gospel list of what sort of information must be included - this will normally vary from business-to-business, but some fairly standard details include:
Age,
Demographic details,
Profession,
Goals,
Pain-points, and
Buying behaviours.
What are negative personas?
While a buyer persona is a representation of your ideal customer, a negative persona is a representation of who you don't want as a customer.
Maybe this is a student who's only engaging with your content for research purposes or customers who are just too expensive to acquire (because of a low average sale price or their unlikeliness to repeat a purchase).
Developing a negative persona means you're aware of who you're not trying to attract with your marketing strategies.
By creating buyer personas - both regular and negative - you'll save time and focus your efforts on the customers you really want to attract.
The benefits of buyer personas
It's easier buying gifts for your best friend or partner than it is for a stranger, right? You know their likes and dislikes, you know the kind of gifts they'll have use for, or the kinds of gifts they'll  get a kick out of. Customer personas work the same way, by knowing what your customer wants and needs, you can present them with content targeted specifically to their wants and needs.
Gain a better understanding
Once you know the background of your personas, you'll gain a better understanding of where your customers are spending time online, where they get their news and which social networks they use. This means you can offer them valuable content in the format and channels they frequently hang out in.
Consistency across the board
Personas create a specific understanding of each target group in your company, and if they're  used across the board, members of teams from different departments will immediately know which customer group you are referring to and tailor their message accordingly.
As with any type of marketing, personalization is key, and all this helps to shape how your sales and marketing teams encourage people to buy your product.
Personas help your engineers keep end-users in mind as they're building out any products or features, which is key in making sure you're building a product people actually want.
They're important for your support team because personas help them understand why a customer bought your product in the first place, as well as what's important to the customer, which will help enormously.
Better leads
Once you know which persona leads to your ideal customer, you'll also know which leads your marketing and sales team should be spending the most time on. This allows you to allocate your time and money to the channels that are the most efficient in attracting your ideal customers, and saves times filtering out unqualified leads.
A step-by-step guide to creating buyer personas
To be truly effective your personas need to be built with real information from real people - using your gut instinct just won't do. And remember, creating personas is all about understanding audiences you already know want to buy from you; not people you wish would buy from you.
Step 1: conduct some thorough research

Start by sifting through your records to see what kind of information you've already got on your customers. It's really unlikely you'll stumble across everything you need to build a robust persona, but at the very least it'll give you a jump start.
Some other outlets to gather information include:
Adding relevant fields into any forms on your website;
Speaking to your sales teams - they're talking to these people day in, day out after all;
Introducing useful questions to your onboarding process; and/or
Inviting existing customers for a face-to-face or over-the-phone interview - this option will usually provide you with the richest information.
Tip: if you're struggling to get people to say 'yes' to an interview start by making it clear it's not sales-driven, give them flexibility around days and times, and think about adding an incentive.
If you're picking up insights from several different sources remember to create some sort of forum for it all to be collated - it doesn't need to be complicated, something as simple as an Excel spreadsheet with clearly defined headings would do.
How many people do you need to speak to?
Unfortunately, there isn't really a set number for this. The more the better, but, as a rule, for a persona to be considered credible you should aim for between 5 - 10 matching patterns.
Step 2: understand your aims
The two core areas you should be aiming to understand are:

What problems people are trying to solve, and
What they want to achieve.
This kind of intel is gold dust for your marketing efforts because it enables you to relate to their motivations and tailor-make your proposition to their wants and needs.
As well as A and B above though, get around a table at the outset and have a think about anything specific to your business that would come in handy - the last thing you want is to realise you missed something key later down the line.
Step 3: ask the right questions
There are endless questions you could ask, but here are a few ideas to help you hit various touchpoints and create a holistic picture: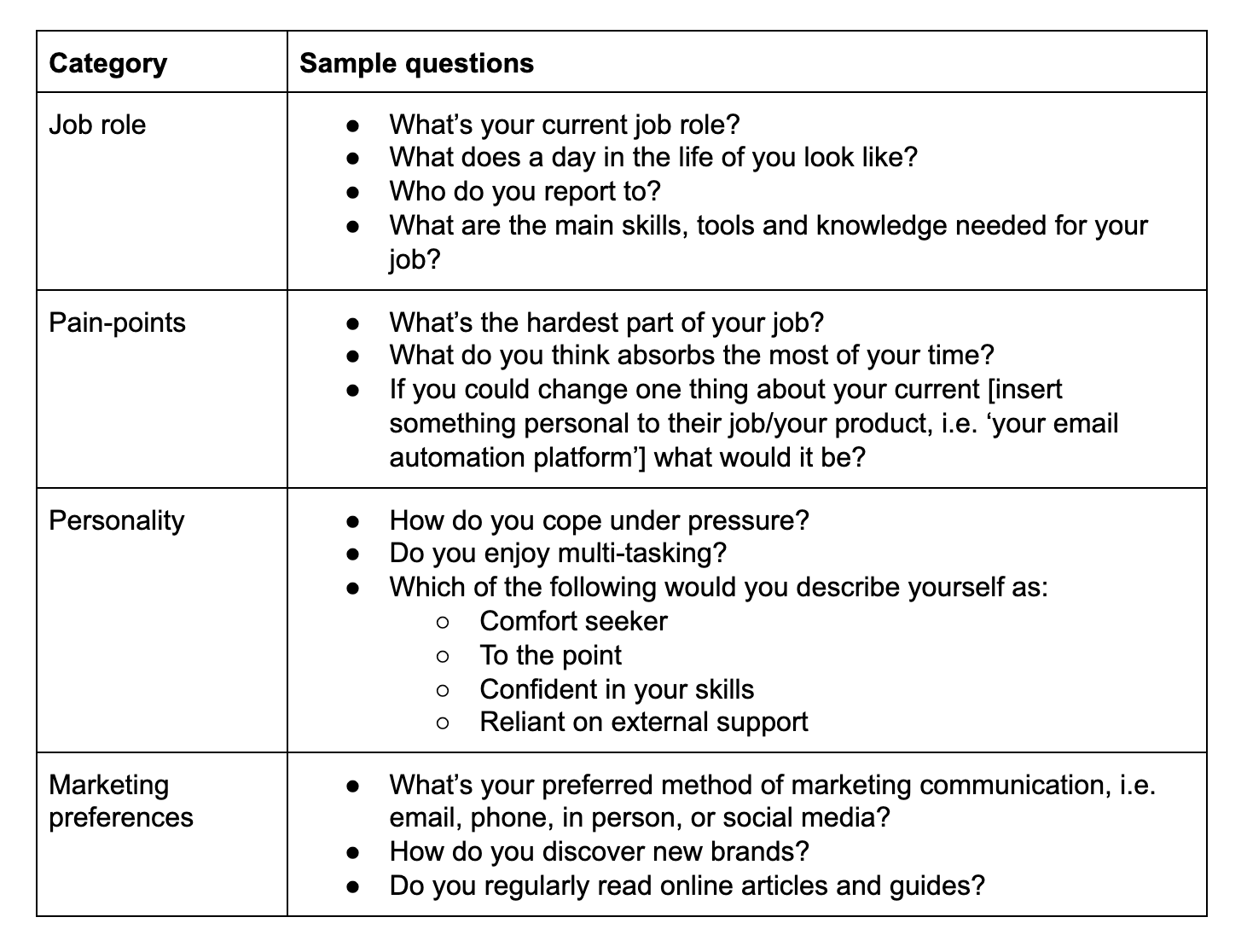 Step 4: collate your learnings
Okay, so by this point you should have insights coming out of your ears. To turn them into something actionable and meaningful start by grouping common characteristics - it's incredibly important not to rush this stage or make any hasty generalisations.
Go through everything with a fine toothcomb and only solidify an assumption if you've got enough evidence to go off.
To help you get from A to B, here's an overview of the types of areas you'll want your personas to cover:
Job title and decision-making authority
Gender, age, and geographic location
Communication preferences
What they're struggling with
Their overarching aims
How your product or service helps
How you should position your marketing messaging.
What this looks like in practice...
Sticking with the email automation example, one of your buyer personas might look like this: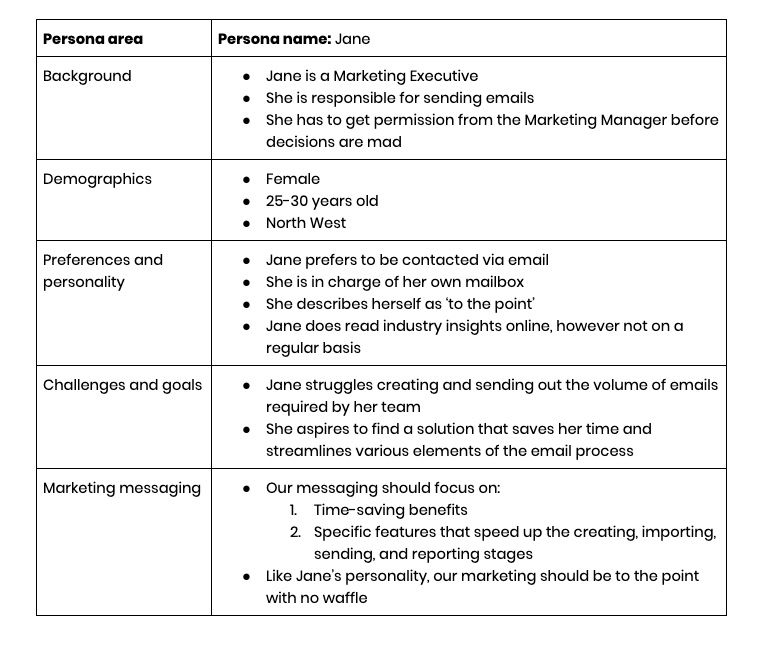 Example of buyer personas
Once you've consolidated your interviews and identified trends, you need to input all that information into persona documents that can be shared with other internal teams. There's no right or wrong when it comes to the format, but here are a couple of examples to get you started.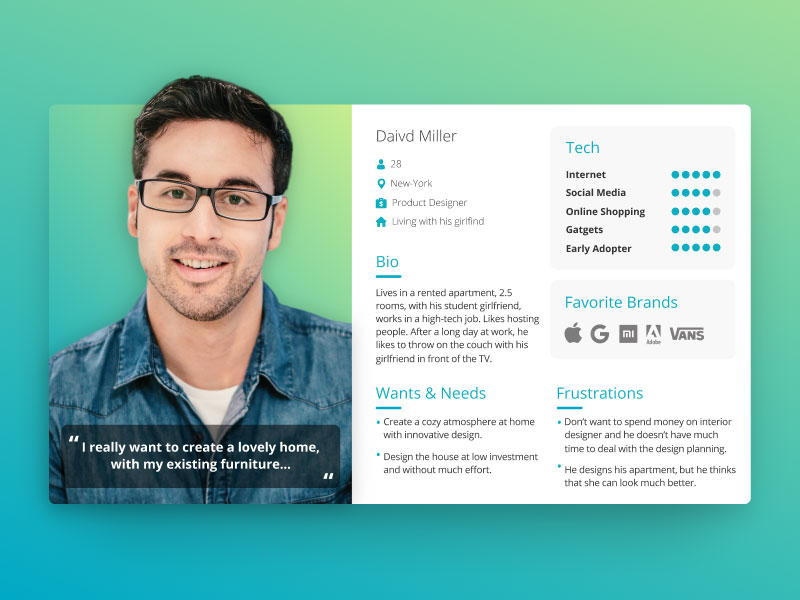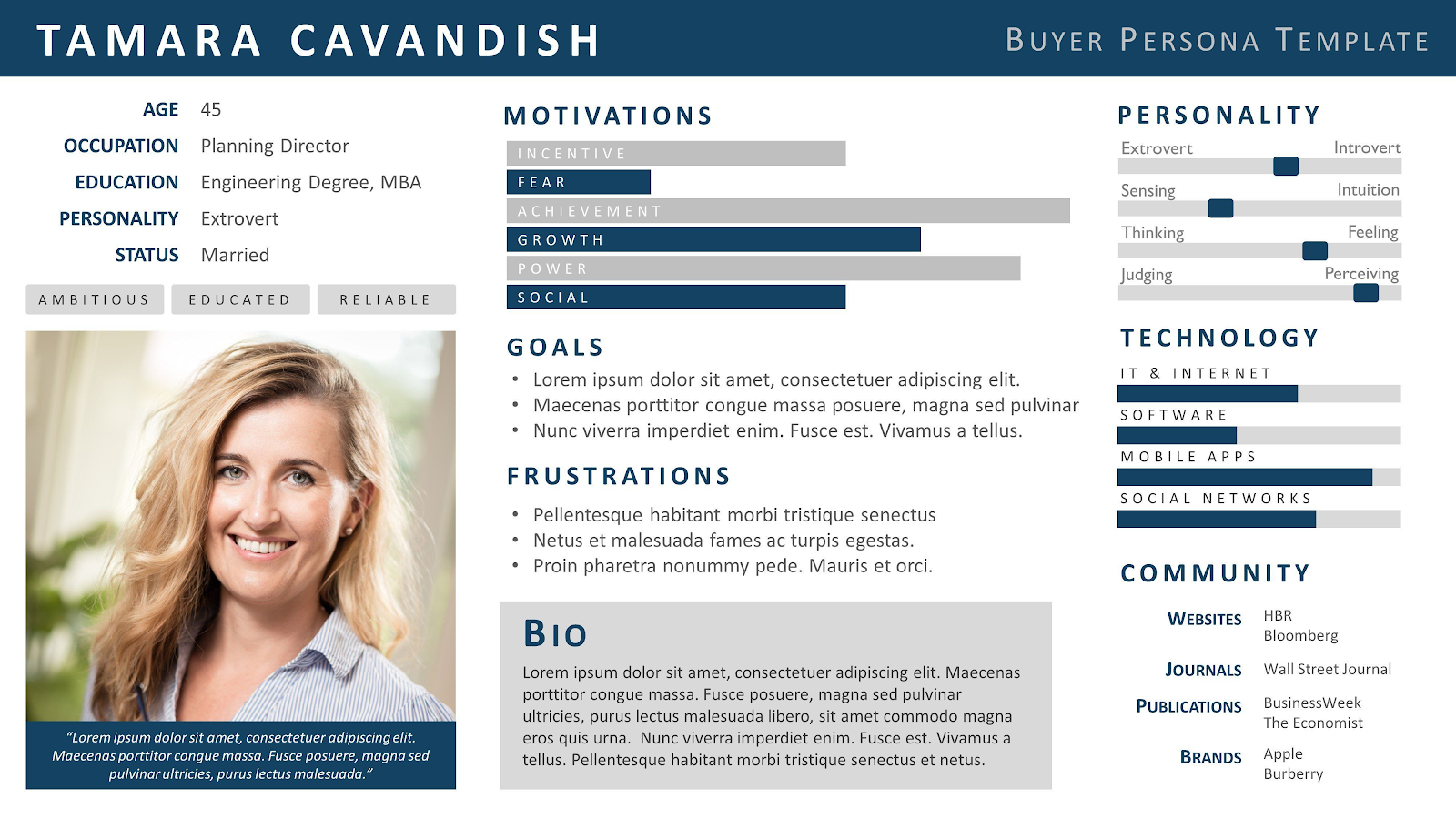 How to use your buyer personas
So now you have your personas ready, you need to know how they're going to shape your campaigns and plans, not just for yourself but for teams outside of product marketing.  
So, let's take a look at some of the areas your personas can be used.
For you as a product marketer, buyer personas should feed into any sales enablement collateral like battlecards and sales scripts, product or feature launch assets - like landing pages, blogs, onboarding flows, and product demos.
Personas should also be mapped out against any upcoming products or features to ensure they properly align and that products are being made FOR your buyer personas, not the vague idea of who they might be, which is why it's really important to bring your product counterparts into the process early.  
Different personas might require different positioning and will almost certainly require different messaging. So, you might also want to track metrics against individual personas, rather than collectively, to understand how each performs in isolation.
Buyer personas are an important guideline that can give your sales team quick answers to frequent questions, they can greatly impact how they liaise with customers and handle complaints. But never forget that salespeople build relationships with clients, not just templates. Your sales teams will need to differentiate pitches, whether that's over the phone or via email.
Your buyer personas are designed to give you an idea of what your ideal customer will respond to, so it makes perfect sense that you'd use this information when you're creating content that encourages a response. Plus, with the information you already have, you'll be able to develop more valuable content for your intended audience.
This strategy should be used when you're creating content email marketing campaigns, blog posts, video content, and/or landing pages.
Buyer persona template
The contents of buyer personas will vary greatly from industry-to-industry and product-to-product, but some fairly standard components of a B2B persona include things like:
The customer's role in the buying process
Their job
Who they report to
Company information
Demographics
Why they will and won't buy
Communication preferences
In the B2C world, you're looking at components like:
Income
Age
Job
Location
Personality
Interests
Emotional drivers
Here's a taster of our buyer persona template, which you can fully access in the member's area.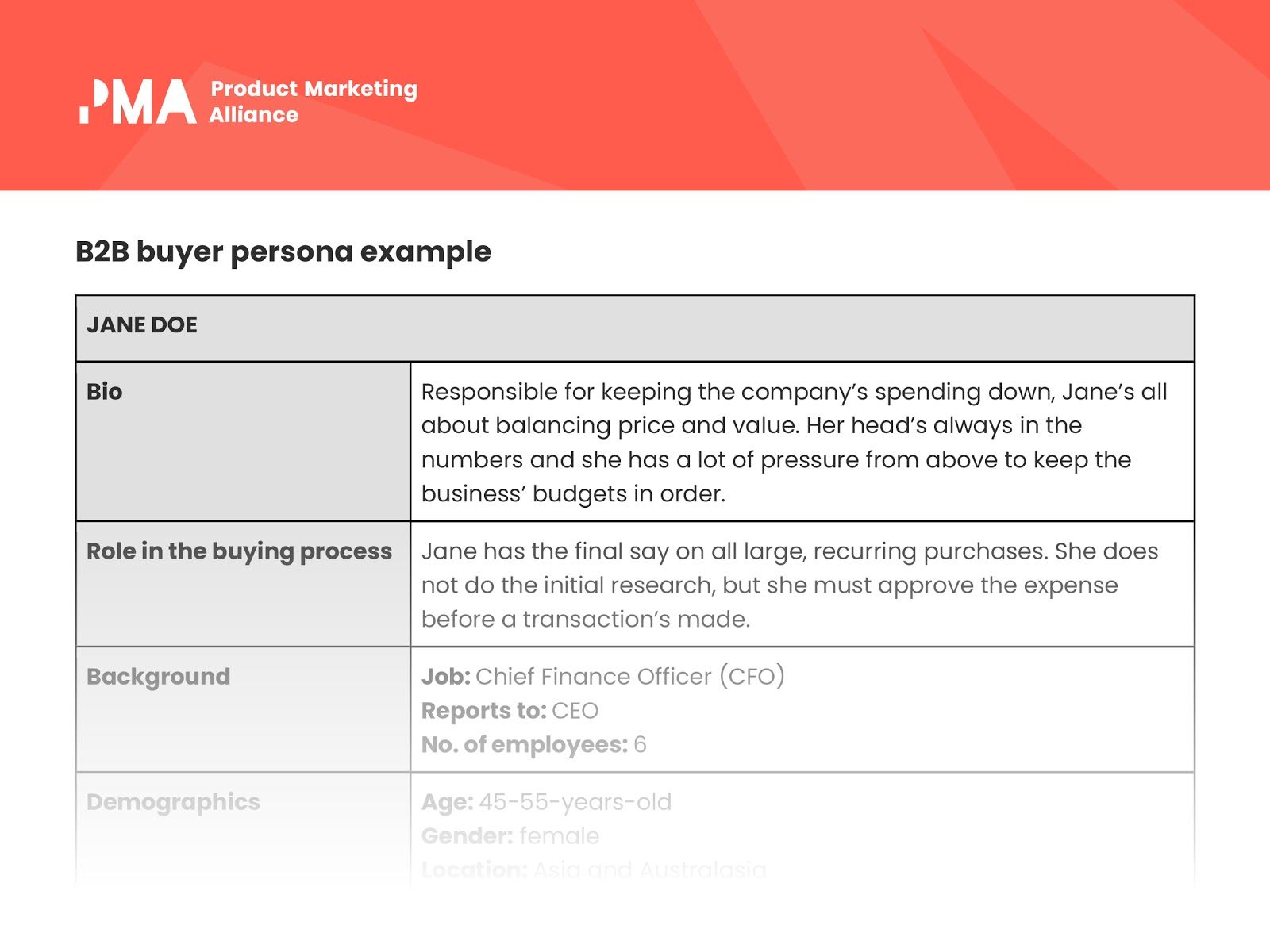 How to keep the momentum going
Establishing your personas is the first half of the battle, maintaining the momentum and applying it to your efforts is the other.
To make sure new customers are funnelled into the right persona it might be a good idea to incorporate relevant questions into your online forms and/or sales calls, then any future cross-sell campaigns can be targeted more effectively.
And to get the most out of your personas, remember to:
1. Share your findings with the business.
2. Divide your campaigns (like emails and social ads) into separate persona pots and tweak their elements accordingly.
3. Train customer and prospect-facing colleagues on how to adapt their language to resonate with their recipient.

If you'd like to learn more about buyer personas, and access a range of resources, templates and frameworks, why not get certified with our Product Marketing: Core [on-demand] course? You can learn in your own time or with a live PMM expert on our Product Marketing: Core [Live + Online] option.