Defining an entire organization's product marketing strategy is no easy feat, but what if we told you we had just the ticket to give you a helping hand? 😏
What if we had a place where you could share ideas with fellow execs, solve each other's problems, and strategize behind closed (virtual) doors?
What if we had a hub reserved exclusively for PMM execs?
Designed with product marketing leaders in mind, we've built the ultimate membership area, designed to support those at the top of their game.
It's a service tailor-made for people just like you... 🔥
---
What's included in a PMA Exec Membership?
You might be asking yourself: "I've been considering investing in a Pro Membership - will an Exec Membership really make that much difference?"
Yes! You bet your bottom dollar it will. 😎
Subscribe and unlock a range of features reserved for the eyes of PMA execs, including:
🧠 Monthly masterminds: exclusive and intimate tables of 8-10 PMM leaders meeting once a month, for 1-hour, to discuss topics such as pricing, analyst relations, and team structures.

🤝 Leadership community: join a private community, exclusively for members, to discuss high-level topics without prying eyes.

🎁 Master bundles: presentations, guides, and templates around core topics, like strategies, metrics, and more.
🛠 Strategic templates: a bank of frameworks on everything from VRIO analysis to change management, to support your strategic initiatives.

🔖 PMM crash courses: PMM leaders don't necessarily do the doing anymore, but they need to be able to support those that...do. This section provides in-depth, refresher guides on everything from research and OKRs to personas and sales enablement.

🤝 Recruitment hub: support and streamline recruitment with sample interview questions, interview tasks, job descriptions, templates, and presentations.

👨‍🏫 Executive coaching: for an additional cost, get 1:1 coaching sessions with professional coaches + C-suiters and get answers to your questions, concerns, and/or roadblocks.

🎓 Hiring board: recruit top-tier talent with exclusive access to our PMMC certified scholar program graduates. With new candidates added every quarter, the stream of talent will never run dry.
🔥 Peer councils: monthly gatherings with your very own, intimate pod of product marketing leaders to connect, strategize, and collaborate.
👉 Courses: brush up on the core pillars of everything from positioning to sales enablement with free access to our Fundamentals courses.
"The PMA Exec Membership is amazing. I've spent more than a decade in PMM, and I still found the content interesting."
Prashanth Krishnaswami, Global Head of CX & Marketing - Customer Service & Contact Center BU at Zoho Corporation
---
Join PMMs from orgs like:

---
Are Pro Membership perks included?
You didn't think we were finished there, did you? 😉
Become a PMA Exec member and not only will you get access to everything we've just laid before you, but you'll also benefit from allll the features from our hugely popular Pro Memberships too, such as:
🤩 Weekly exclusive content featuring insights from PMMs at orgs like IBM, Google, and Amazon.
🎬 OnDemand footage from all of our events
🛠 A growing bank of 50+ templates, including sales scripts, business case templates, messaging frameworks, and a whole lot more
💰 Discounted access to courses and events
📚 Access to our expansive collection of industry reports
🧠 Advice from uber-experienced PMMs as part of the PMA Mentorship Program
🛠 Access everything you need to gear up for your next big project with our PMA toolkits
👨‍🏫 Continue your professional development weekly with product marketing learning paths
What can we say - we just love spoiling you rotten. ❤️
"Just to say that this community has the MOST resources of any paid community I've joined. The most in terms of volume (there are so many excellent resources), and the most in terms of actually being valuable. I always recommend PMA to marketing friends."
Erin Rosintoski Lewis, Director of Product Marketing at Intellum
---
Your pillar of PMM support 💪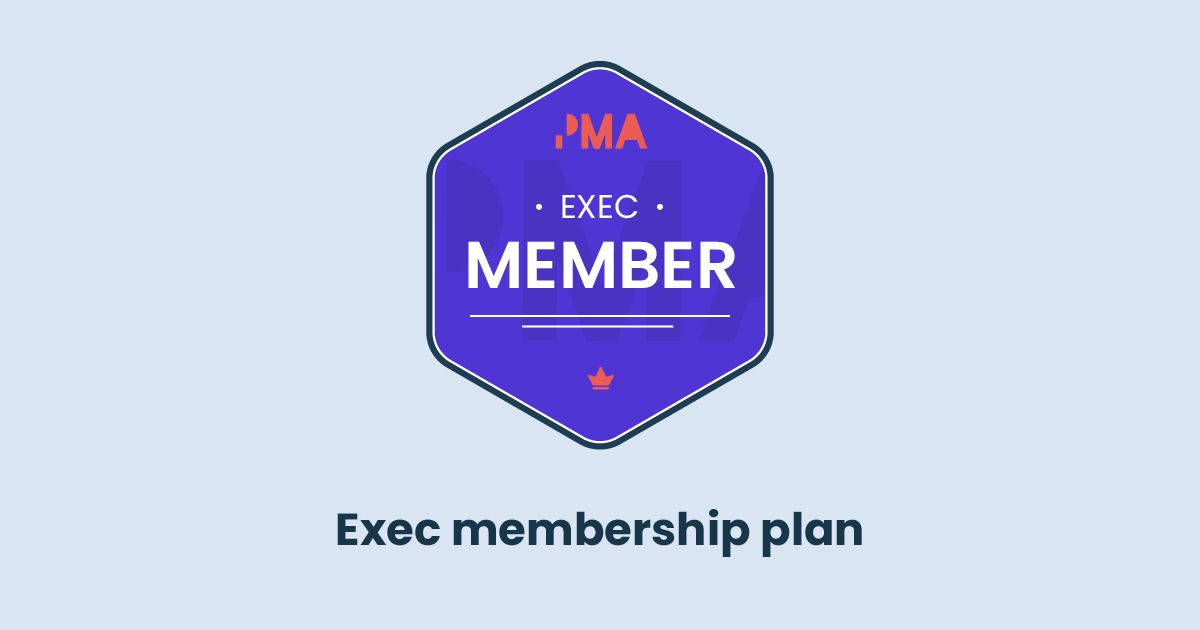 You know it, we know it, every executive knows it - defining an entire organization's product marketing strategy can be an unenviable task.
Well, not anymore - with a PMA Exec Membership plan, you'll get ongoing support to help alleviate the burden and improve your output.
Got a question or problem? The answers are there for you.
Wanna upskill? Have at it.
Wanna hear how other leaders are strategizing and innovating? Be our guest.
And when the time comes to take the next step in your career, you guessed it, your PMA Exec Membership will be there as a springboard to success.
Think of your Exec Membership plan as an extension of your team. Always there, setting you up for personal and professional success.
"I love the idea of having a virtual room full of the brightest brains in the industry making product marketing better for everyone. Thanks to PMA for creating this program and giving us the possibility to learn from each other and showering us with relevant content and learning resources for us to never stop growing as marketers."
Lorena Martinez, Head of Evergreen, Product Marketing at Mindvalley
---
How this membership will benefit you
Where shall we start? 🥵
Sign-up, and you'll significantly widen your network in one fell swoop, and given you'll be mingling in the crème de la crème of PMM circles, you'll be:
💡 Basking in bright ideas by the bucketload
🧠 Embracing endless innovation
🤝 Collaborating with key practitioners
📊 Plotting scintillating strategies
🚀 Achieving unparalleled growth
It's the bee's knees. A humdinger. Real hot stuff.
---
FAQs
Q: How long will I have access to the content?
A: Forever. Once you've signed up, providing you keep your subscription active, all the content, frameworks, templates, videos, and slides are yours to access as much as you want, for as long as you want.
Q: What's the difference between an Exec Membership Plan and Pro Membership Plan?
A: Here's a breakdown for you:
Q: I'm not a Head of, Director, or VP of Product Marketing just yet - but I'm working towards it. Will these membership plans still be suited to me?
A:  Absolutely! Although this membership plan has been built with product marketing leaders in mind, we're well aware those who haven't quite reached that notch on the ladder will have their sights firmly set on it - or even be taking on some of that responsibility already.
If you're not in a leadership role just yet, an Exec membership plan will help you speed up the learning curve, plug any gaps, and upskill.  
Q: Can I request for something to be added?
A: Sure. We're always looking for ways to improve what we've already got so if you can't see something you think would be useful, let us know and we'll see what we can do.
Q: Is the PMM Certification included as part of my membership?
A: Afraid not. These are larger commitments and require a lot more resources at our end so they're priced separately. However, you can reap the benefits of discounted rates.