The 2020 PMA's list of Top 100 Product Marketing Influencers is a great step in elevating the cohesiveness of the role/function of PMMs. And Kudos for their not just identifying names, but asking each individual for their 2021 predictions - as this is a reasonable proxy for the direction of the practice as a whole.
I was curious to see what these leaders identified as important, so I took a somewhat non-scientific (and slightly objective) approach to assessing and summarizing the 80-or-so predictions referenced in the report.
But first, three very qualitative overall observations struck me as I read through the report:
Executive Importance: The overwhelming tide indicated that more of the C-Suite was beginning to place the PMM function as a new, centrally-important role to strategy, and that more early-stage companies are looking to hire PMMs as early, senior leaders.
The Covid Impact: There was a dominating sense that the "new world" of Covid was creating both challenges and opportunities for PMMs. In general PMMs had to think more digital in their GTM motions, and needed to get more intimate/focused with customer messages.
Executive Background: A small but persuasive set of predictions included seeing more requirements for C-level execs (especially CMOs) to have a PMM background.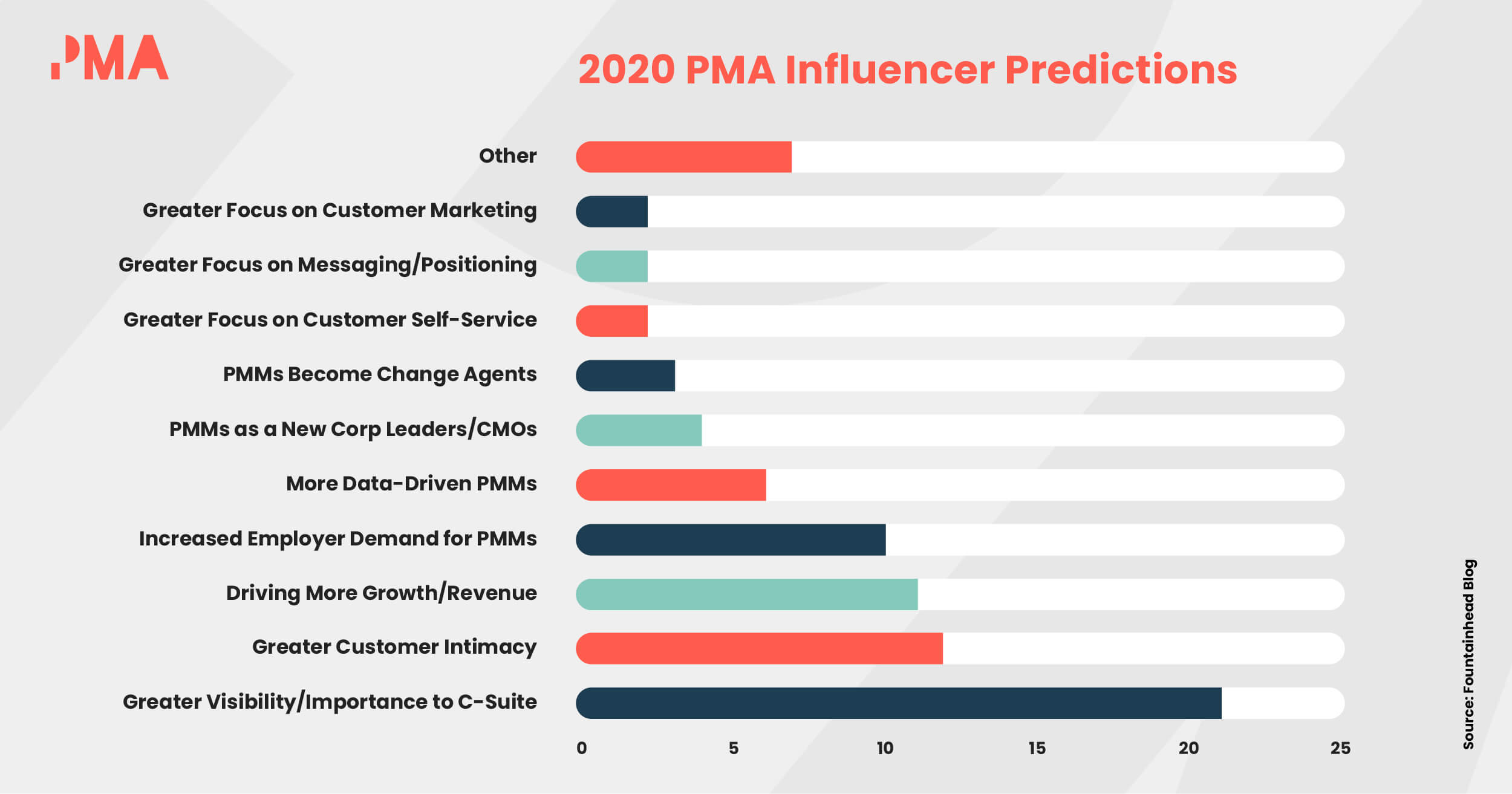 The following is a relatively non-scientific attempt to summarize the 2021 predictions from PMM Influencers.  Some offered no predictions, a few offered more than one. In categorizing the responses, I've also tried to add some "color" and detail:
Greater PMM visibility and importance to the C-Suite
This 2021 prediction rang consistently among the influencers. Often it read that PMMs would either become part of the C-suite or senior leadership, and that it would become a major strategic influence within senior leadership as it grows in importance/relevance to company success.
Greater customer intimacy / centricity
With Covid-19 and the shift away from physical events, and with the advent of new marketing technologies/platforms, there was also a clear prediction that PMMs will help with customer intimacy and personalization. This includes understanding the customer journey, new forms of communication channels, better understanding of buyer behaviors, and driving improved customer loyalty.
Driving growth & revenue
Predictions also showed that the PMM function would become more central to driving product-led growth, customer engagement, and recurring revenue.  In the unsaid was that driving growth was no longer solely in the domain of demand gen and sales.
Increased employer demand for PMMs
Another consistent prediction was the rise in popularity and demand for the PMM function across all industries/technologies. Consistent with observation #1, the belief is that more senior management would be looking to hire their first (if not expand) their PMM teams as the role becomes more central to sewing-together marketing, sales, and product management.  
PMMs become more data-driven
Six specific predictions cited that PMMs become more data-driven, in understanding market dynamics, customer behavior, and in monitoring marketing outcomes. In the unsaid were hat-tips to newer marketing tools for measuring customer sentiment, competition and sales enablement.
PMMs as new corporate leaders / CMOs
Consistent with observation 1, there was the sense that more senior leadership would have a PMM background, or that a PMM background would be an increasingly positive trait for senior leadership - including being a required background for future CMOs
PMMs become agents-of-change
A few predictions focused on how PMMs help drive marketing innovation, influence new types of pricing/packaging, and generally drive change within the marketing organization.
Greater focus on customer self-service
While only two predictions focused on self-service, they were a strong combination of simplifying the customer journey and responding to the new covid world, where trials and freemium products will help reduce customer adoption friction.
Greater focus on messaging/positioning
Additional attention paid to PMMs returning to the basics - finely tuning messaging and positioning to help differentiate products in crowded markets, and to micro-target customer segments and needs.
Greater focus on customer marketing
Related to the prediction above, there were predictions that resources targeted for Customer Marketing would increase - including better ABM, more customer references, and improvements in contextually-relevant value propositions.
Thoughts? Comments? Curious to hear the community's reactions to these.
Leave them here!