We're constantly being marketed to by advertisers and brands. In fact, did you know that the average American is exposed to 4,000-10,000 ads per day?
We're seeing ads everywhere, in every channel imaginable, from computers, phones, TVs, radio, and buses and even in other more subtle ways, such as social media influencers posting about a product or service.
Given the sheer number of ads and messages from companies, breaking through the noise is tough. Getting someone to engage by posting a comment or sharing the ad poses an enormous challenge for brands.
There are some campaigns, though, that not only get people to engage but also encourage people to talk about the ad and the campaign with their network.
They share it with their friends in a Facebook message, on Twitter, or with colleagues in a Slack channel. The campaigns that manage to do this at scale end up becoming a topic of conversation.
You probably know some examples: Spotify's wrapped campaign, The Old Spice Man, or Dropbox's referral offer (500 MB of free storage every time someone signed up with your referral code).
B2B examples, however, are harder to come by. This may be because B2B audiences are usually more targeted to a specific persona and don't have the same type of advertising budget as a B2C company.
In this article I'm going to go over 3 B2B companies that were able to cut through the noise and become the campaign that people talk about, or in other words, that went viral.
Each of these companies achieved virality in different channels: OOH (out-of-home), TV, and TikTok/Twitter.
I'll focus specifically on the following case studies:
What good is Bad Data? Segment's OOH campaign in 2019
Segment's a Customer Data Platform. If you're not a data engineer or growth marketer, this might not mean anything to you, but in short, they help companies manage their customer data with data infrastructure software.
It's worth noting that this is a technical product for a technical audience. In late 2019, Ilan Cedillos and Maya Spivak from Segment's marketing team came up with a brilliant idea for an OOH (out-of-home) ad campaign. What if they had a billboard that had the wrong city on it?
The first one to launch was in San Francisco off of I-80E which said, "Good morning, LA!"
At the bottom of the headline the tagline said, "What good is bad data?"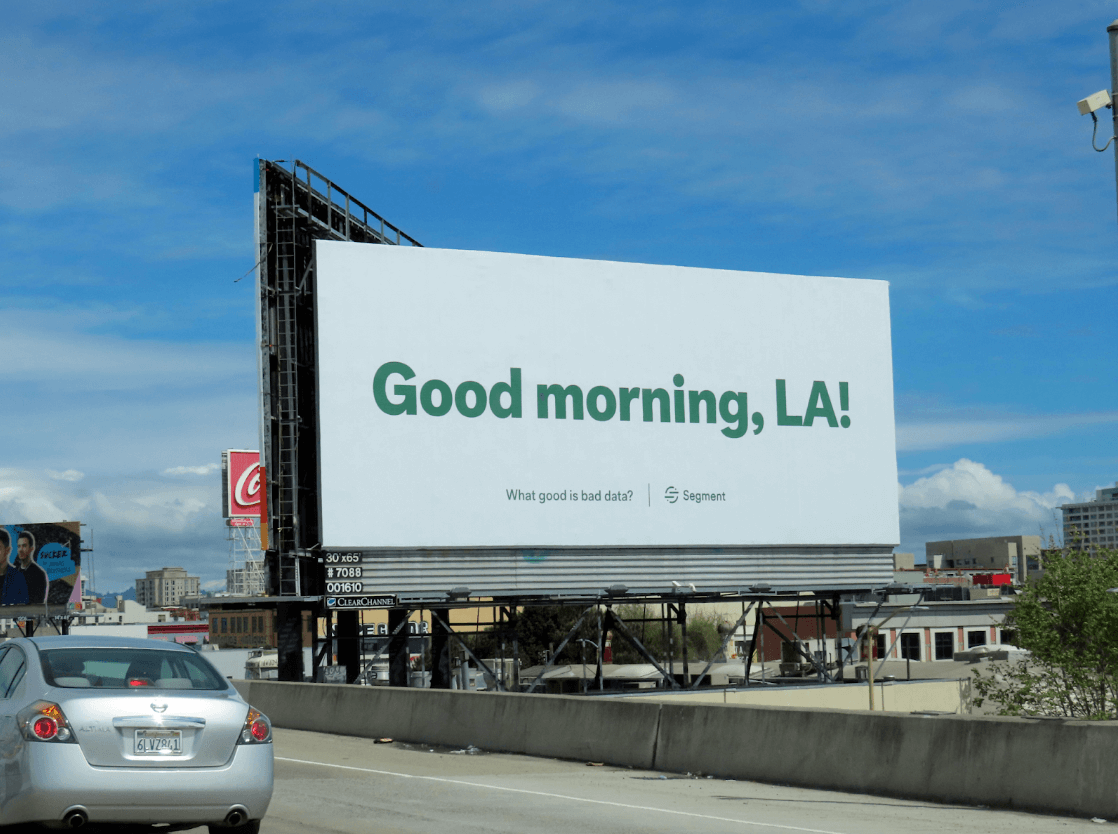 If you're confused by this, don't worry. Many people were also confused. People started tweeting, writing on Reddit, and posting pictures on Instagram. People who had no idea what Segment did were talking about this strange ad on the highway.
This billboard in San Francisco had a twin billboard strategically placed in a rival city, Los Angeles. The one in LA said "Good morning, SF!" Similarly, there were billboards in Austin ("Dallas"), and New York ("Boston"). There were also ads on top of taxi cabs.
Scott Michael Foster, a Hollywood actor with nearly 200,000 followers posted on his Instagram after he saw the LA ad. One of the comments said, "We've got one in Austin that says San Antonio 😂 I simultaneously hate their marketing and think it's genius."
However, probably the best validation that this campaign worked was not only from a famous Hollywood actor and his followers, but from prospects who talked about this campaign during sales calls.
Gong's Super Bowl commercial (2021)
The next example comes from the world of TV advertising. In 2021 Gong decided to launch a Super Bowl commercial.
You may've heard of Gong. They have a suite of sales tools that record and analyze sales calls. Gong is a marketing powerhouse with over 200,000 followers on LinkedIn.
However, in 2021, Gong had little to no experience with TV ads. Very few B2B companies decide to spend their ad budget on TV. For a B2B company to buy a TV spot in the Super Bowl was almost unheard of. Doesn't a 30-second spot cost millions of dollars?
Udi (ex-CMO at Gong) strongly believes in going big. And what's bigger than a TV commercial during the Super Bowl?
Udi and his team decided to go for it - a Super Bowl ad - but they didn't want to spend millions of dollars. They wanted to see if they could somehow avoid paying millions of dollars for the TV spot.
They learned that Super Bowl ads come in different shapes and sizes. There're options given to regional stations that sell to regional advertisers. These regional TV spots sell for a fraction of the cost of a national spot.
This was perfect. Gong didn't need a national spot, they just needed to air the ad where their customer and prospect base was living. In 2021, this was mostly in the Bay Area, which was one of three key markets Gong identified along with New York, and Seattle.
Because people usually start talking about the Super Bowl and the ads about a month before the actual event, Gong used this to their advantage and started to release teasers about it around a month before to build excitement.
When the ad was finally aired on TV, many people thought (myself included) that this was aired on national TV, which was exactly what Udi was hoping for - to give the impression that they spent millions of dollars on this ad campaign.
Udi, of course, didn't disabuse anyone of this assumption/belief. Droves of people shared the ad on LinkedIn and other social media channels making it hard to escape. In fact, everyone was talking about Gong on LinkedIn for days and weeks (before and after the actual event).
The total cost of this strategy was quite modest (a 6 figure budget according to Udi) which included everything from media, creative, to digital support. During the week of the Super Bowl, Gong created more pipeline than any other week up to that point.
What was originally positioned as a long-term brand play, impacted revenue significantly.
AI Drake & The Weeknd song (2023)
For the last case study, I'll talk about a more recent example with different channels: Tiktok and Twitter.  
Unless you haven't been online or watching TV this year, you've heard of AI tools like ChatGPT and Midjourney. It seems like everywhere you look, people are talking about generative AI tools.
One of the more mind-blowing examples of AI I've come across recently is AI-generated music.
There's AI Kanye singing Hey There Delilah, and AI Michael Jackson singing I Feel It Coming, but the song that has broken through and gone viral is one by AI Drake and the Weeknd, called "Heart on My Sleeve."
It's been shared so much, it's spooked the major music labels - causing the song to be removed from Spotify, Apple Music and other major platforms. The story has even been picked up by the New York Times. Some have called this a "modern Napster moment."
For a few days, this song went viral on Twitter and TikTok, racking up millions of views. The interesting tidbit about this story is that this comes from a creator known as ghostwriter who only has 4 videos on his profile and wears a white sheet and sunglasses.
There's only one link that directs people to this website: https://laylo.com/ghostwriter. If you haven't heard of Laylo, you're not alone. Laylo is a CRM platform for musicians and other creators. It has fewer than 20 employees and <$10M in funding. It is also a YC-backed startup.
Now, I can't be 100% sure that Laylo is behind this. They also would probably never want to admit it, but Mitchell Cohen advanced a convincing theory that Laylo is behind 'Ghostwriter' and the viral AI song "Heart on My Sleeve."
If Laylo is behind this (which I think is more than likely) for someone to know when the next Drake AI song drops, they would just need to sign up using Ghostwriter's Laylo link (on TikTok). Ghostwriter currently has 150k followers on TikTok.
What other B2B marketing campaigns have you seen go viral?
These B2B campaigns from Segment, Gong, and Laylo had such a strong reaction that people stopped to take a picture or post something on LinkedIn, or Twitter.
This is exactly the reaction marketers want but is elusive and hard to accomplish. Sometimes it's down to good timing and appealing creativity, but usually, these campaigns hit a cultural nerve.
What B2B examples have you come across that made you share them with your friends or colleagues? Let me know in the comments.