Download the deck here >

In this article, I'm going to share a few lessons I've learned from developing a product marketing strategy for Etsy's mobile app over the past year. I hope that it will be useful to anyone creating an app marketing strategy from scratch, or anyone thinking about growth in general.
When I started working at Etsy, I was on the B2B side of the marketplace, which is our community of incredibly talented sellers. Etsy has about 2.3 million active sellers, and my job has been to drive adoption of the new features that the product team builds to help the sellers grow and increase their sales on the marketplace and just thrive. But about a year ago, I also took on the job of promoting the Etsy app to our current 42 million active buyers, along with future potential buyers. I think it was an interesting opportunity for me because even though I was on the B2B side of the marketplace, my users were never really big companies.

In fact, 80% of Etsy sellers or businesses have one business of one person. And 97% of Etsy sellers run their shops from their homes, so my B2Bs were never really big companies. They were users or people like you and me, but with a real talent for crafts and the goal to turn their passion into a business. This is one example today of where the frontiers between B2B and B2C are very blurry, so I was able to reuse some of the skills that I learned in my first year at Etsy and apply them to the consumer side.

So, why is it important to grow usage? At least for Etsy, I can think of four reasons and I'll go into detail for each one of these points.

First, the shopping journey is getting more and more complex.
Second, the majority of Etsy buyers are on mobile.
Third, apps can provide a better shopping experience than desktop or mobile web.
Fourth, it's easier to stay top-of-mind with an app.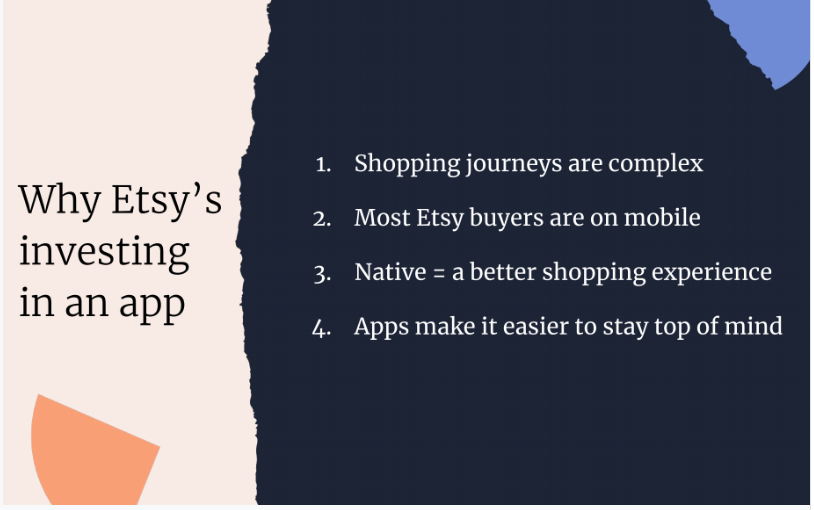 The shopping journey is getting more and more complex.

You can't just focus on desktop or on the app, you have to think about the buyer journey across all different channels and devices and then optimize for it. Users really switch from one device to another depending on the time of day and what they're up to. They can start comparison shopping on their laptop or desktop during their lunch break, and then they can be browsing on mobile web at night on their couch, watching TV, and then they can purchase something and track their shipment in the app a few days later, so you need to optimize for that.

You can't just focus on desktop or on the app, you have to think about the buyer journey across all different channels and devices.
The majority of Etsy buyers are on mobile.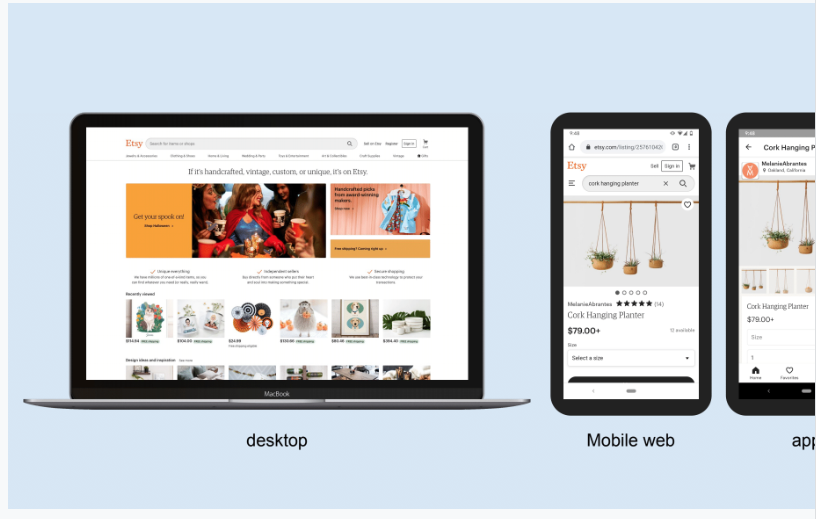 Actually, 58% of Etsy's gross merchandise sales (GMS) is done on a mobile device such as a tablet or a smartphone. Etsy's conversion rate is higher in the app than on mobile web or desktop, and the majority of our most frequent buyers are using the app.

Apps can provide a better shopping experience.

63% of people expect brands to use their purchase history to provide them with personalized experience, and 59% of people expect brands to personalize experiences based on their reported favorite items. The nice part about the Etsy app, or really any app for that matter, is that unlike on mobile web, users can stay signed in to the app and their information is stored, which means that it's easy for us to take users' interests into account to build personalized recommendations and get them excited about our items. I think it's also easier for users to keep track of their favorite items in just a few taps in the app.

Once users have installed your app, it's easier to stay top-of-mind.

The Etsy logo on your homescreen gets a place, which is important because it helps with recall, and the app gives you a channel to nudge your users directly in their phone by sending them push notifications that bring them right back in the app. Think about it - your phone is always in your pocket. And for people like me, it's literally always in your hand. So these are some of the things that I had in the back of my mind when I started thinking about the product marketing strategy for our app.

What was interesting for me when I took on this role was that we introduced our mobile app way back in 2010, but Etsy had always considered its products as an ecosystem that evolved together versus going out of our way to promote the app specifically. This means that I had a blank slate to build my own product marketing roadmap, which was super exciting for me. But at the same time, how do you promote an app which you know is great? Firstly, Etsy is not an app-only product. It's not Uber - you can't really order a car from your laptop, but you can definitely purchase a dinosaur costume on your laptop so you don't really need an app to make a purchase on Etsy. Second, how do you promote an app that is not new - it's not a shiny brand new app, and so TechCrunch won't talk about it. And third, the product team was at a point in the cycle where they'd been doing detailed iterations of the buyer journey, which means that for now, there's no crazy, sexy, flashing new features that you can build campaigns around. But still, you really have to make an impact. So what do you do? It's not really an easy task, right?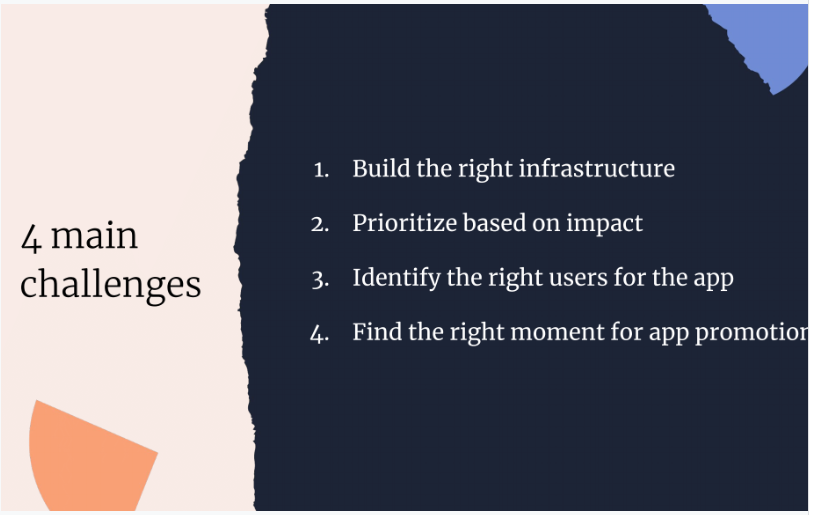 I was given two goals. First, drive incremental downloads, and second keep app users engaged. It was pretty much mission impossible. So when I started thinking about the app, I was up against four main challenges:
The first challenge for me was the infrastructure, I really needed to ensure that I could target the right users and track the performance of our marketing efforts.
The second challenge for me was to decide where to start and what ideas would have the highest impact while understanding the investments that were needed to make them happen.
The third challenge was around our users. I needed to understand who the app was for - was it all users or some of our users, and if so, who were they? I wasn't sure, and I needed to figure it out.
Then I had to find the right moment in the buyer journey to encourage users to download the app and to keep them engaged. Was it for brand new users or users who've already been purchasing on it? Again, I needed to figure that out.

I learned a few things along the way, and that's what I'm going to share with you now. First, you need to make sure that you have the right product and analytics infrastructure in place. I worked with the internal teams and we partnered with external leaders in the industry to help with tracking and end-to-end experiences. I wanted to have the right infrastructure in place to help drive incremental downloads and retain our users.

There is no such thing as a growth strategy that you can't measure.
As a reminder, there is no such thing as a growth strategy that you can't measure. Even if it's basic you have to be able to quantify impact with numbers you trust to justify any growth investment. Some of the things that I'm going to be talking about may sound like table stakes, but it's easy to forget how you can have a real impact with pretty straightforward tactics if they're executed well. And if you're the first PMM hire in a startup you may want to have that on your list.

You have to be able to quantify impact with numbers you trust to justify any growth investment.
One thing that we started using was deep links, so that all links from our marketing emails branded the app for users when they opened links from their mobile device. When we launched the deep linking, we saw a double digit percent increase in conversion rate, which was huge for us. We also implemented a feature on the etsy.com mobile page that allowed desktop users to text themselves a link to download the app directly on their phone. With this, we don't lose desktop users interested in the app, and we can easily track how many downloads we get from this specific tactic. We actually get a decent number of app downloads each day from this, and they're highly-qualified, high-intent users.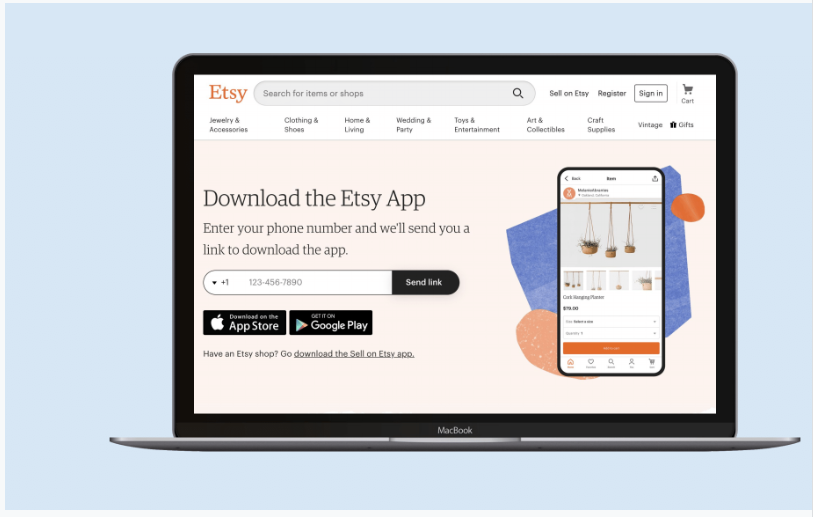 We also added a section dedicated to the app in the footer of our homepage, which I know may sound pretty basic, but it actually drove a tonne of downloads. This was really unexpected for us because we thought that no one would scroll down to the bottom of the homepage, but it's been a great example of a high impact, low effort kind of project.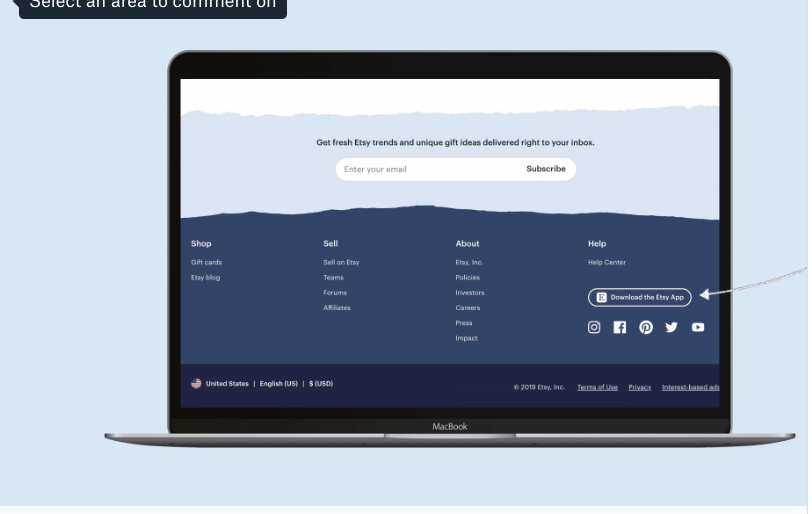 It's easy to forget how you can have a real impact with pretty straightforward tactics.
We also worked very closely with the analytics team to understand the value of an app user. I think it's one thing to drive app downloads, but you also want to make sure that it's worth all your investment. You don't want to be spending money on marketing tactics to drive users to the app store and then realize that they will never use your app or never buy anything in the app. So you need to understand what incremental value (in our case, it's GMS) you get from a user who downloaded the app versus a similar user who didn't, to understand your return on investment.

You also need to understand what the nuances are based on the tactic you used to acquire the user. For example, a banner in an email campaign versus a paid marketing campaign on Facebook. Sometimes you have to take a short term hit to gain long term value, and introduce friction in the shopping journey to drive app downloads that will have a positive return on investment long term. I think the punch line here is to make sure you don't invest heavily in a given channel only to discover later that you segment users who are not a good fit for your product in the first place.
Once we had the proper infrastructure in place, I worked with our research team to understand who the app was really for and the best way to target those people and communicate the benefits of the app to them. I learned why our current app users downloaded the app and why they were using it to get some of the key value propositions to use in my marketing campaigns later on; I learned who our app users were to know what users I should go after in the future; and I learned why Etsy buyers who didn't have the app actually did not have it - were they not aware that we had an app? Or maybe they just didn't like it, so they deleted it. Or maybe they were just not into shopping apps in general, maybe they were just not into apps in general. That helped me understand who to not go after - the people that I didn't want to bother with my app campaigns.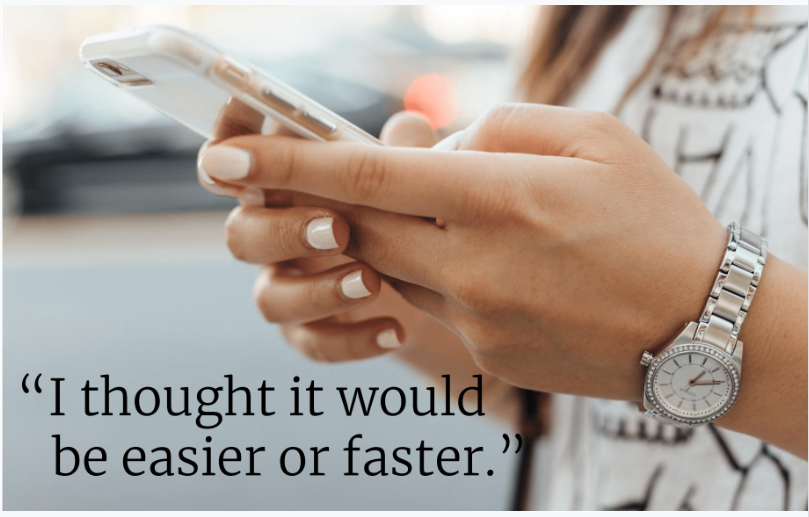 The number one reason our users downloaded the app was because they thought it would be faster or easier. And so I created the key value prop: promote the things that are faster in the app on mobile web banners, which has been performing really well, and I'll show you an example later on in this presentation.

I also learned that buyers prefer using the app compared to other platforms for lots of actions beyond buying things. They like to save items for later, they like to 'favorite items', they like to create lists of favorites, they like to create a card sometimes just to save an item but not necessarily to purchase it right away, they like to take screenshots to share with their friends and family. So they do a lot of actions beyond buying. I also learned that buyers preferred to use their desktop and laptops to compare multiple items on Etsy. They actually open different tabs and then switch from one tab to another to compare different items, or they compare Etsy items with items from other sites. And so I created the key value prop: when you browse, search and shop from Etsy, the app will offer you daily inspiration based on your interests. It's like having a personal shopper in your pocket and that has been doing pretty well.

I also learned that buyers prefer using the app compared to other platforms for lots of actions beyond buying things.
I also learned that long term event and gift planning can form habitual visiting, which is super interesting. One of our buyers said in a research session, "I was on my long commute. This is a daily ritual for me as a bride planning her wedding." So we started looking at signals to figure out when a buyer showed interest in items in the wedding category to then target them with a given ad download campaign, so just for them.

Long term event and gift planning can form habitual visiting.
I also thought, and it was maybe naive, that 100% of our most engaged buyers should have the app but that's actually not true. Apps have long been viewed as the de facto platform for engaging your customers, but even among the most loyal customers, apps need to earn their spot with real estate that's limited and precious on the phone. And actually, I think that if an active buyer who started buying on Etsy four years ago doesn't have the app, chances are they really don't want to have the app on their phone, so there's no need to waste your time or ad campaigns targeting them - you will likely bother them more than anything else. And we'll talk about those kinds of backfire effects in a bit.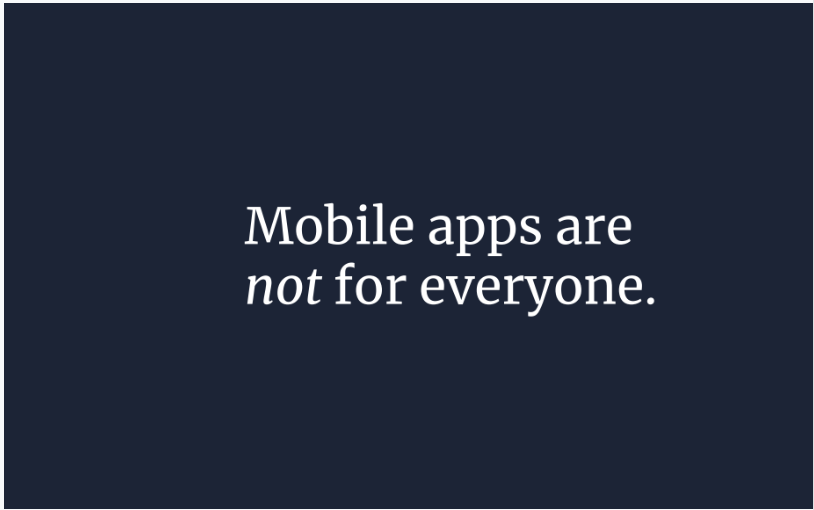 Google research shows that 87% of people say that they can be loyal to a brand without having its app on their phone. In fact, 53% of smartphone users do not have their favorite brand's app installed on their phone. Mobile sites really fulfill customers' need to learn about, engage with, and make purchases from a brand without needing to resort to an app necessarily. In fact, two in three people say they can achieve the same goal on a brand's mobile site as they can on its app. I talked to an Etsy buyer during one of our research sessions, and they said that they didn't want to install the Etsy app because, even though they were a good buyer, they didn't want to be tempted to buy too much on Etsy, too often. I thought that's too bad, but I guess it's fair enough. It's probably going to be hard to convince this user.
So all these learnings helped me understand who our app users were, how to talk to them and get them interested in the app and how to target them properly. Now that my research was done, I had done my homework and I knew who to go after and who not to go after; I was ready to craft my first marketing campaigns.
My first goal was to get at the 'top-of-mind' for our target users. In order to do that I had to optimize places in the buyer journey to get users into the app store. Here are some examples of the tactics that I put in place.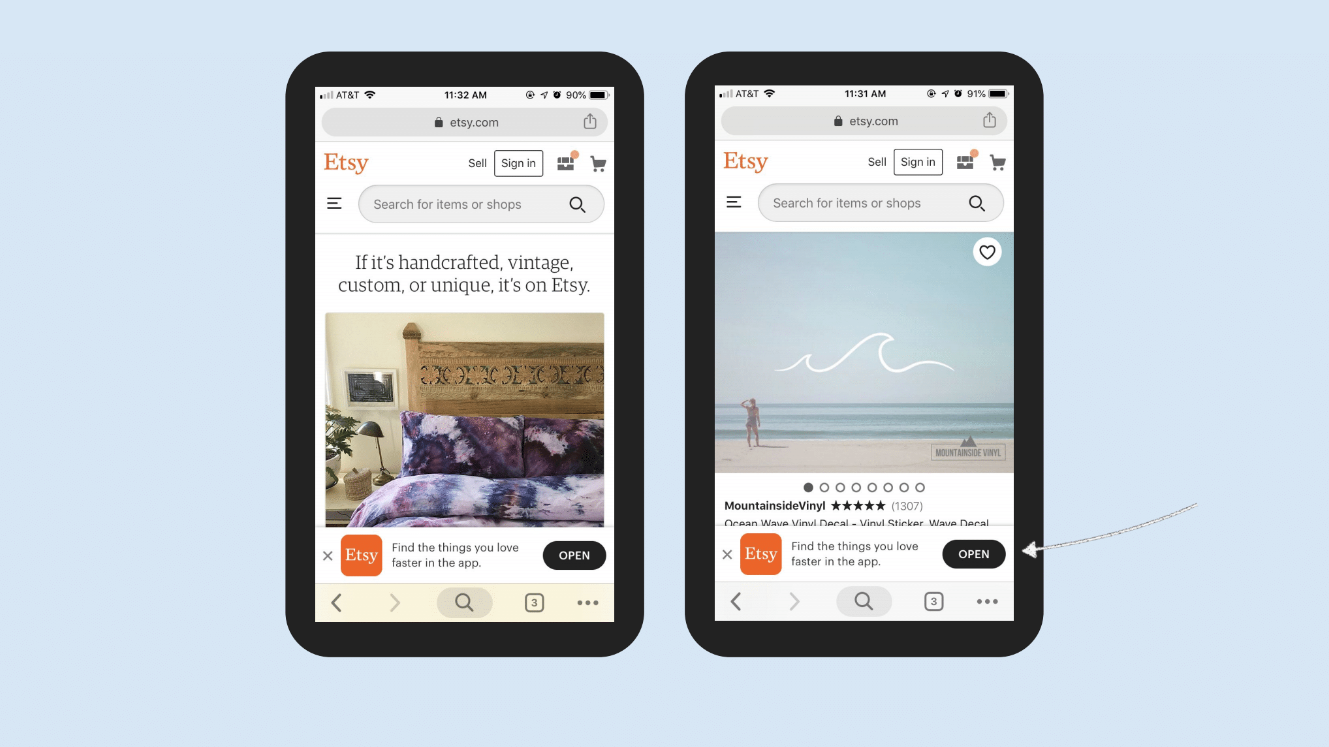 We'd experimented with mobile web banners to find the sweet spot where you only show banners to users who are potentially interested in downloading the app. The goal was really to reduce friction because every time you add something to your screen, you increase it and by default you may hurt your conversion rate. So you want to make sure that you only show the mobile web banners to the people who are potentially interested in the app.
Another thing that you need to do is find the right mobile web pages to show the banner. Perhaps a home-screen listing page, but, for instance, you may not want to show mobile web banners on the checkout page because users are just so close to buying an item you don't want to distract them from completing a purchase. Something that works is to show a banner after they completed their purchase, and say something like, "Thank you for your purchase. Maybe you can track your shipment in the app. Download the app here."
We've also been promoting the app in most of our marketing lifecycle and transactional emails. Honestly, it was surprisingly tough to ensure that the app was promoted consistently across a complex set of emails, but the payoff was worth it. In the picture below, you can see an example of a section of a marketing email that was dedicated to the promotion of the app.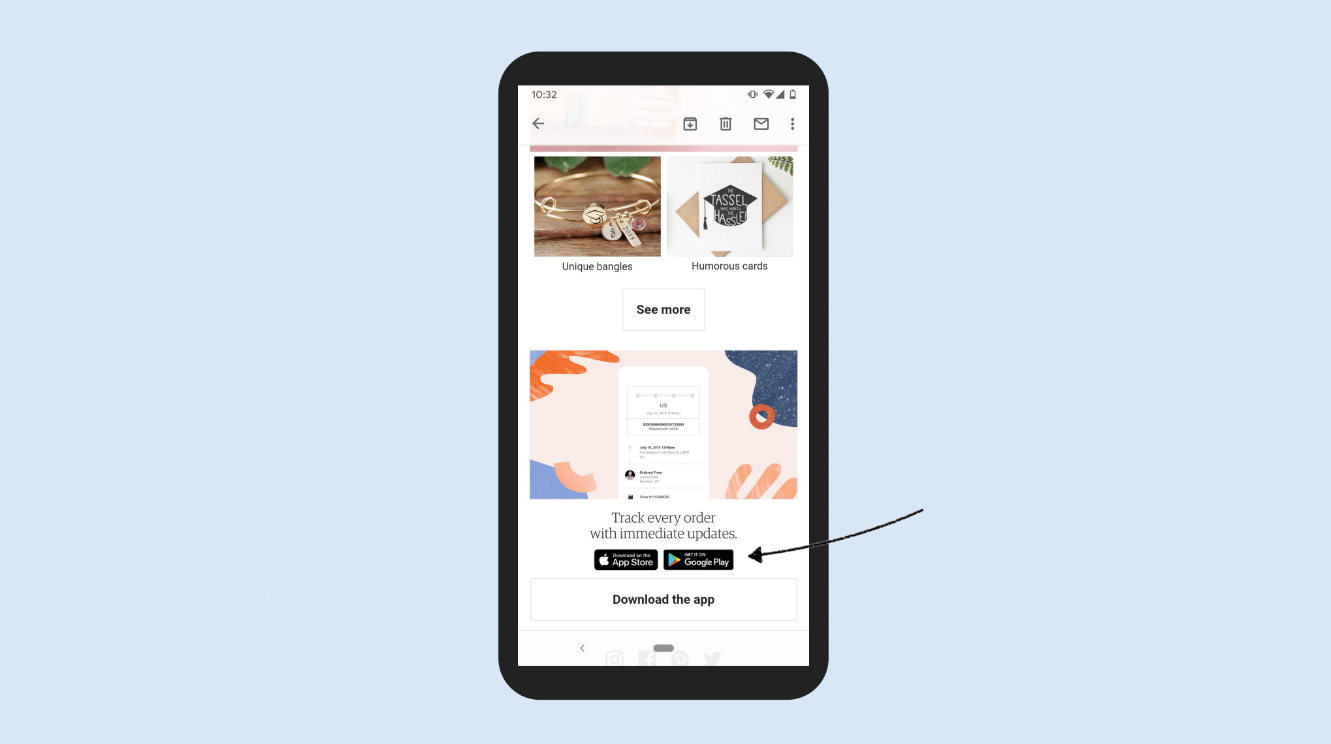 We've also launched dedicated app install campaigns. It's part of our welcome email series for brand new buyers. We also designed a similar version of this email for the holidays. It says "Download the app to track your holiday deliveries". Another thing that you can do is to work with your customer support team to upsell and promote your app in your support emails, and also on the phone.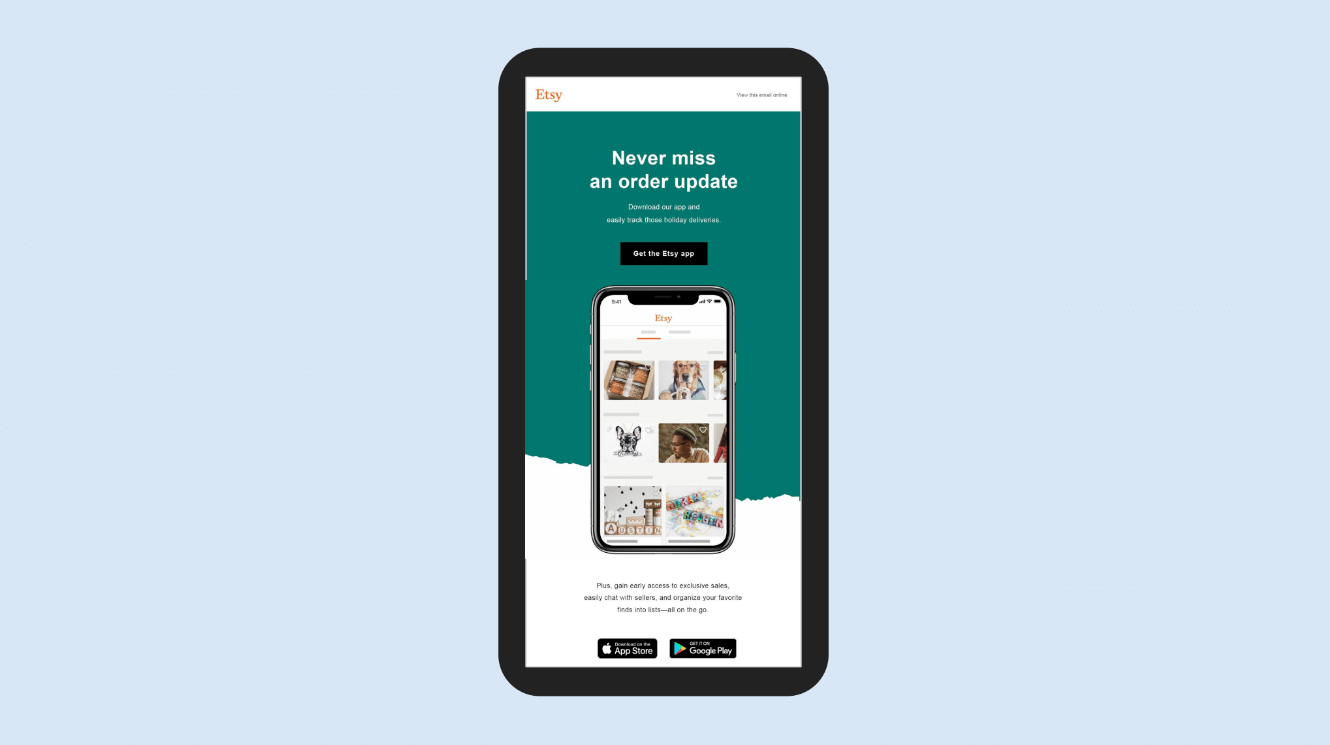 So, now that you've successfully driven your users to the app store thanks to your beautiful marketing campaigns, you want to make sure that you don't lose them and that they actually download the app. Here are five things that really worked for us:
First one is to update your assets in the app store regularly.
The second one is to optimize your app store presence.
The third one is to add a good promotional video if you can, and if you have the budget for it.
The fourth one is to manage reviews and user feedback if you have the bandwidth.
And the last one is to nurture your relationship with Apple and Google.

First, you need to regularly update your assets in the app store to make sure that it feels seasonal and fresh, and use screenshots to sell your app's benefits. You have to always keep in mind that your app store assets are the showcase of your app and your brand, which means that they have to be consistent with your other channels and platforms, from your websites, your mobile web experience, to your set of emails to your social media presence. All of it needs to be consistent. I think that a common pitfall is to set up your app store presence and then just forget about it. So keep that in mind.

Second, you need to work on your app store optimization (ASO). It can get pretty technical, so you may want to work with an external partner - one of the industry leaders if you can - or even an external agency if you have the budget for it. We didn't have it, so we did it ourselves. One tip that I can give you is to start by encoding as many relevant keywords in both your titles and subtitles, and compare your keywords with those used by your competitors.

Third, add a promotional video to demonstrate the features, the functionality and the user interface of your app. I think that videos are a great way to quickly show what your app is about, and they're an important part of your app store optimization strategy. Videos can help improve your conversion on the app listing and then get users more engaged once they've installed the app. There are some technical differences between videos in the Apple Store versus the Google Play Store. For instance, for the Google Play Store, you need to create a YouTube video, so keep in mind that you have to create different types of videos. I won't bother you with the details, but I will just say that you should always follow Google and Apple's recommendations and guidelines.

Now that your users have your app installed on their phones, you may think, 'great, my job here is done,' but that's not true. Actually, you're just getting started. Simply downloading the app is not enough to ensure usage. You need to really compel app downloaders with enticing reasons to come back and use the app once they've downloaded it. Acquiring new users can be relatively easy, but the hard part is really to make sure they are retained and come back to your app. In fact, 25% of all apps are used only once before they get uninstalled by the users. And on average, mobile apps lose 77% of their daily active users within the first three days after being installed, so you really need to act quickly to make sure that right away, after they install the app, users find some value in it. In the next 30 days, the number jumps to 90%.

One easy way to keep your users engaged and to bring them back to the app is push notifications, but I think you need to keep in mind that sending a push notification is a privilege, and you should never abuse it. Otherwise, users will be tempted to delete your app right away, and uninstall it without thinking twice. I remember Jane Butler, who's a managing director at Google, said at the conversion summit in New York, "Put the consumer at the heart of everything you do - remember that you're competing, not just with the other folks in your category, but with the best experience that consumer has ever had." So don't spam your users with push notifications.

Also, iOS and Android have made it easier for users to quickly opt out of an app's push notifications. So, one strategy that we implemented was to add these interstitial screens: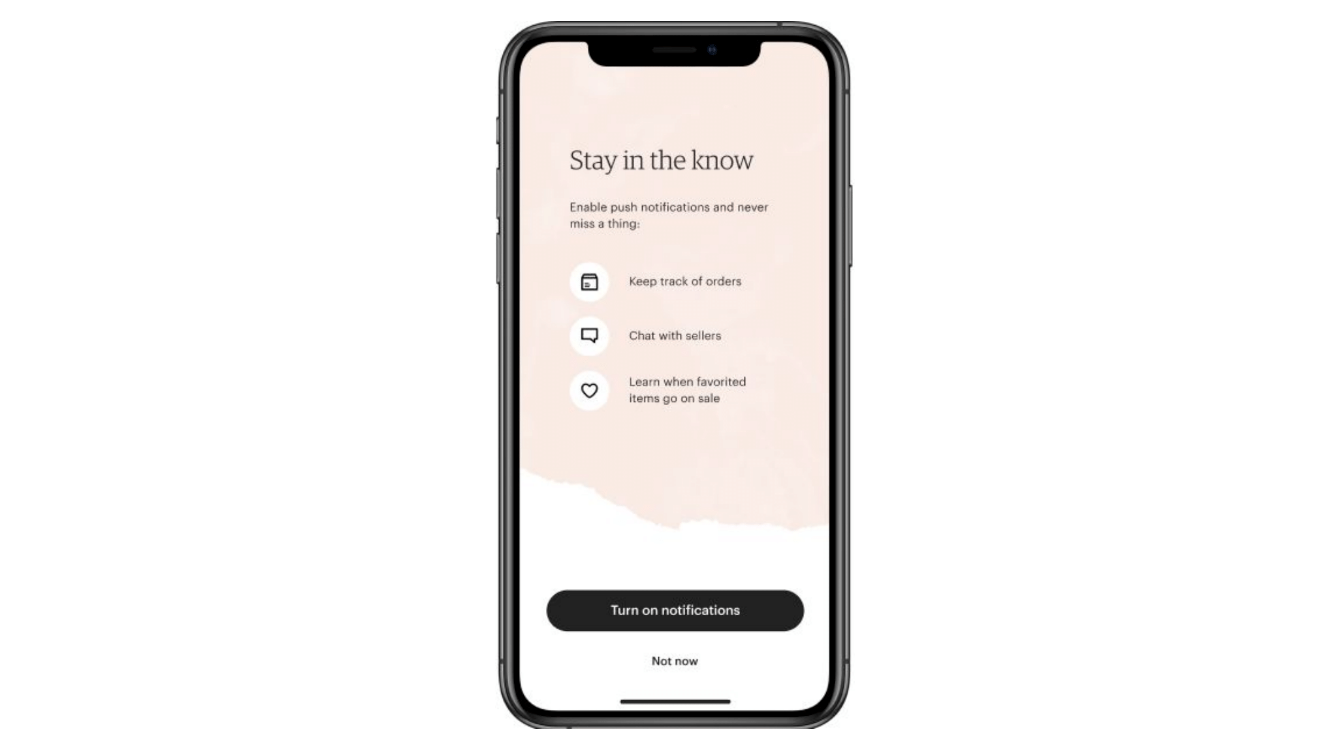 To ask iOS users for permission to send them push notifications before it was even asked at the system level - you know when the system requires you to ask if we can send push notifications? And so that way we avoided being blocked from sending push notifications forever, in case we could offer value on to the user later on. So if users tapped on 'not now', then we would not send the request at the system level, and we would ask again a few weeks later.

Another great example to keep users engaged with your app is to give them exclusive features, that desktop and mobile web don't have, or exclusive access to app-only products, features or sales. Actually, last year Etsy gave our app users early access to the Cyber Week Sales. That was a really big success for Etsy, and so we're going to do it again this year. However, I think you have to be careful - 63% of people say that when a brand forces them to download the app to access a deal, they can easily delete the app shortly after. And people really voice their frustration when a download is necessary for a deal, especially when they're not ready for that kind of commitment - when they have your app on their phone, it's become a more permanent relationship. So, I think there's a balance to strike when building awareness, to ensure that you're not turning people off with your app.

Fourth, you need to manage reviews and user feedback if you have the bandwidth, because you need to keep a good rating to get a chance to get featured by Apple - apps with a rating of lower than four stars are not really featured by Apple ever. And this is why working with the average rating should be one of the fundamental parts of an ASO strategy for everyone who wants their app to be featured by Apple and appear on the main app store tab. At Etsy, we can't respond to every review - we don't have the bandwidth to do that - so we prioritize reviews with the lowest star ratings, like the one star reviews, or reviews from users who are mentioning a technical bug. They then know that you're working on addressing the issue. At Etsy, we actually have one customer support member who's dedicating some of her time each week to respond to negative app reviews. And not to brag, but today Etsy's app rating is 4.9 with 100k ratings in iOS, so we're pretty happy about that.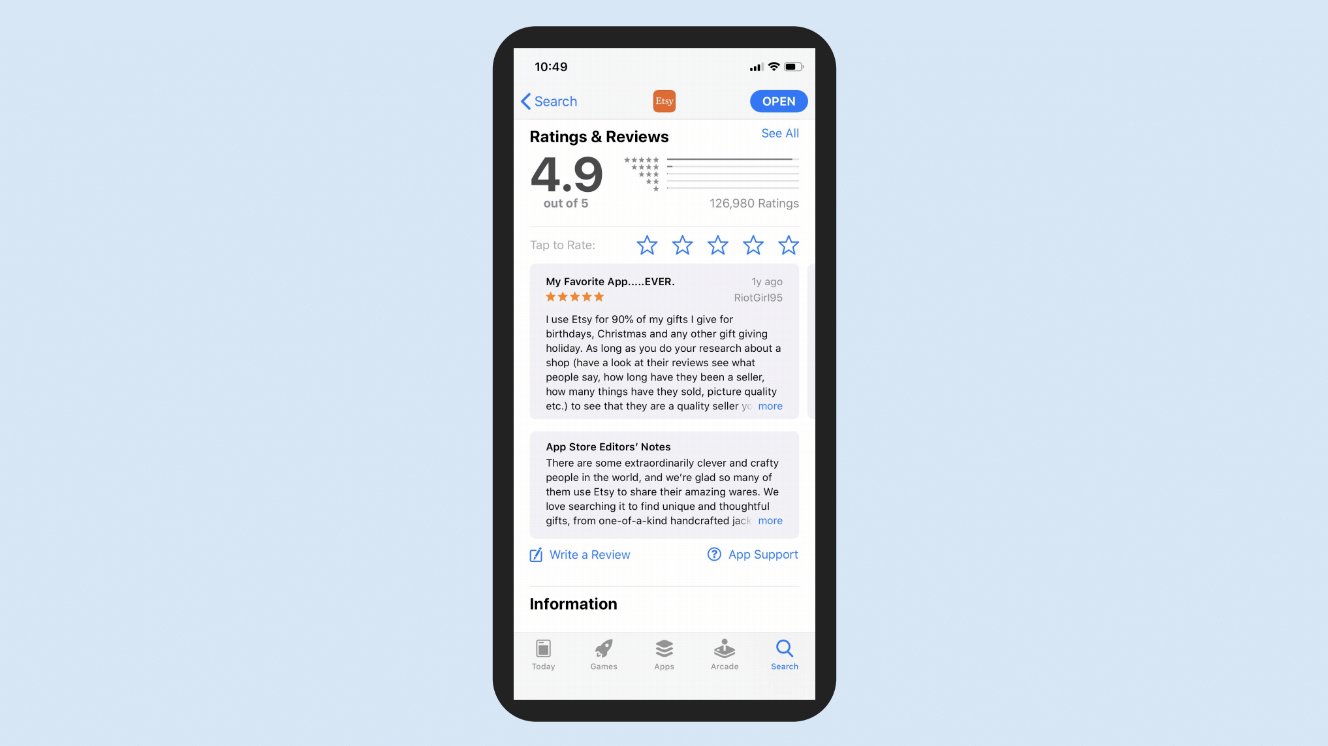 Lastly, speaking of Apple, I really encourage you to nurture your relationship with Apple and Google if you can, to leverage free promotion and potentially get featured in the app store, or in their marketing comms.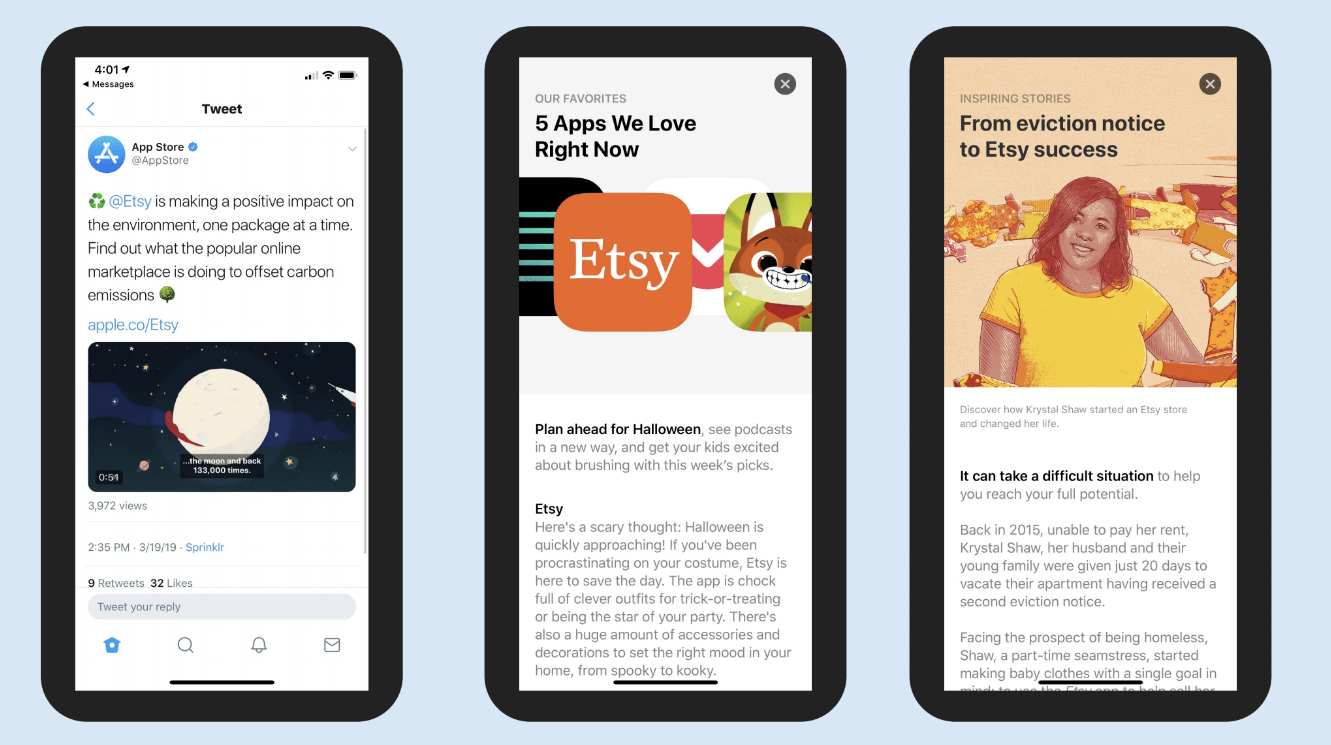 Every time Etsy gets promoted by Apple, we see a huge number of impressions for our page in the app store. An app store features apps that help show up their platform, to make Apple look good and acquire more users. So you need to make sure you're contributing to what Apple is trying to achieve at a platform level. And try to be unique if you can. Apple likes to highlight apps that offer something that's new, whether it's an innovative feature or a different user experience. To be different, you also have to know your competition. So try to sneak in and look at your competitors apps page in the app store regularly. Actually, Etsy gets featured by Apple regularly, we've been promoted on their social media and in different categories on the app store.

Apple likes to highlight apps that offer something that's new.
Really great growth strategy tends to lean into what's really special about your brand and what makes Etsy really special is our community of sellers. I mentioned it at the beginning of our presentation. I promoted some of the new features launched by the product team that make it easier for buyers to get to know the people who make beautiful things on Etsy. For instance, we've added a brand new recommended shop section in the Etsy app in the homescreen, just to help buyers discover new and relevant shops based on their past search history so it's easier for passionate sellers to be discovered in the app and discovered by more engaged buyers. In my book, that's a win win for everyone.

Here's a summary of the five most important things to remember from this presentation:


First, build the right infrastructure - it's really important to be able to track the performance of your marketing campaigns.
Second, target the right people.
Third, don't neglect your app store presence - it is really important, especially if you want to be featured by Apple and Google.
Fourth, the exclusive app-only perks can help. But that's not enough and
Five, little tweaks and updates can go a long way as we've seen in this presentation.

So now I expect you all to grab your phone, download the Etsy app, and start your holiday shopping! I hope that you found this article helpful, and you can always connect with me on LinkedIn - I would love to talk with you.