The world of creating product content: it might seem synonymous with creating a data sheet to support a new feature, launch, or product. As long as you've got the facts of a product captured in a PDF format, you're good-to-go...right?
In reality, the fundamentals and processes for building product collateral requires crucial collaboration throughout the organization -- and it's not drastically different from what's needed to succeed in product marketing.
Creating meaningful and useful content requires working alongside your most important stakeholders, testing with a small group for feedback and necessary iterations, then shipping, measuring, and reviewing to make sure all stakeholders are aligned.
Let's look at some data points that confirm the importance of product collateral:
You can probably guess at this point that content, and alignment on said content, is an important factor for the marketing and sales teams to work together -- which is why our focus is on creating, rolling out, and handing over the tools for the best collaboration.
How to create useful content

1) Organize your questions and goal for the product collateral. Before meeting with any stakeholders, I've found it helpful to start organizing the goal and my thoughts in a single location. A personal creative brief works wonderfully to ensure all answers are organized, like the example below: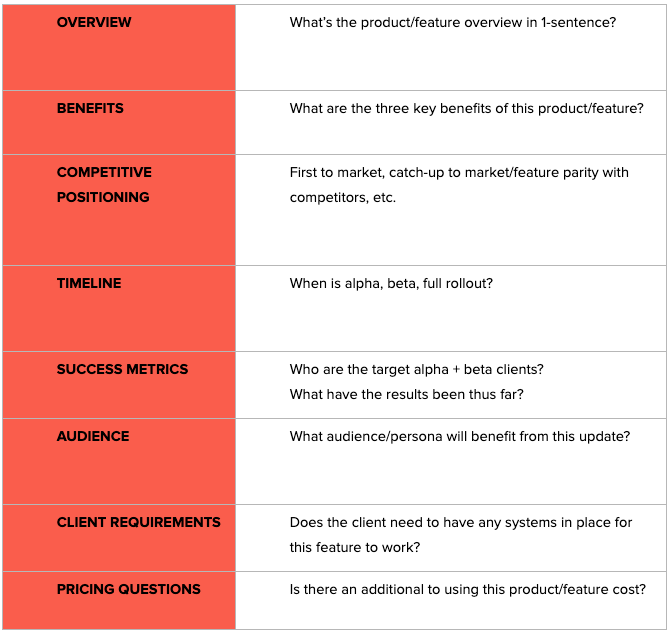 2) Consider the product team are your co-CEO in capturing key information. Are you the first-to-market with this launch or do you need help to find a way to frame that you're playing catch-up? As the product team is -- yes -- closest to the product, they'll have the information to get the most nuanced information.

3) Design for readability. Work with marketing to design the one-sheet. Some of the best examples include the rule of thirds: quick high-level overview, details on how the product or feature works with a supporting visual, and if possible, a case study or quote from a beta client that reinforces your claims.

4) Test with the Sales team. Testing is not just for email subject lines. Bring your sales team into the product collateral creation process to get their feedback on the utility of the document. Some questions to ask:

Is this collateral easy to read?
Is this collateral addressing real pain points of the audience, or are we giving information that is too general?
Are there questions that have come up in relation to this product or feature that we should be elevating on the page?
Is the CTA correct?

Sales is on the front lines and understands first-hand what messaging resonates. See what they think is more informative -- this may help your product collateral strategy moving forward, too.

5) Communicate (then communicate...and communicate again) that the piece is completed. Take advantage of different mediums to get the point across. Email and Slack threads are a great place to start, but what about joining your Sales team meeting to walk through the document? Ask whoever is running the meeting if you can join the agenda for 15 minutes to share what was created and where it lives. If it's a series of documentation you'd like to reinforce, holding a product marketing lunch & learn is a great approach, too.

If you remember nothing else (3 key points):

Define the goals and audience as you're preparing the piece. This is the first thing that should be completed before any of the writing

Collaboration across teams is necessary for strong content  -- start with product to confirm the messaging is strategic, work with marketing to design, and test with sales to ensure it's addressing real problems with real people.

Over-communicate a piece has been created. In the age of "always on" - emails, Slack messages, and even printed content can be lost in the shuffle of every day.