Like a number of us, I was affected by the impacts of the coronavirus. But not unlike you, I know this is not the time to panic but an opportunity to refine my interview skills, polish up my resume and continue to push forward in hopes of securing my next role.

When going through the interview process, you will likely have to present on several topics that might include presenting:

Your GTM plan and strategy
Your first 90-day plan
An effective content strategy
On how to put together a successful win/loss program.

For this article, I will focus on what I believe equates to a successful 90-day plan.  Before you get to this point in the interview process, you have likely had several interviews where you gained a better understanding of the role within the company, the opportunity, or challenges that lay ahead and have a better understanding as to where you would focus your time if given the opportunity.

This is where the hard work begins.

This is where you can demonstrate how you would approach your first 90-days in the role.

Think about how you would organize your thoughts and make a strong case for your employment.

You are not only evaluated on your ability to put together a comprehensive and articulate 90-day plan. Your delivery, execution, and overall presentation skills will put under a microscope as well.
The presentation will likely be 15-20 minutes in length. Be prepared to answer questions and be specific in your response. This will show you have prepared and put in the effort to demonstrate exactly how you will react in certain situations.  

Remember, everything you do is being evaluated and critiqued. Make sure you make eye contact through the presentation. Prepare your talk track. You don't want to appear as though you are reading from a script.
The first thing I recommend is to create your presentation outline. My recommendation is seven core slides.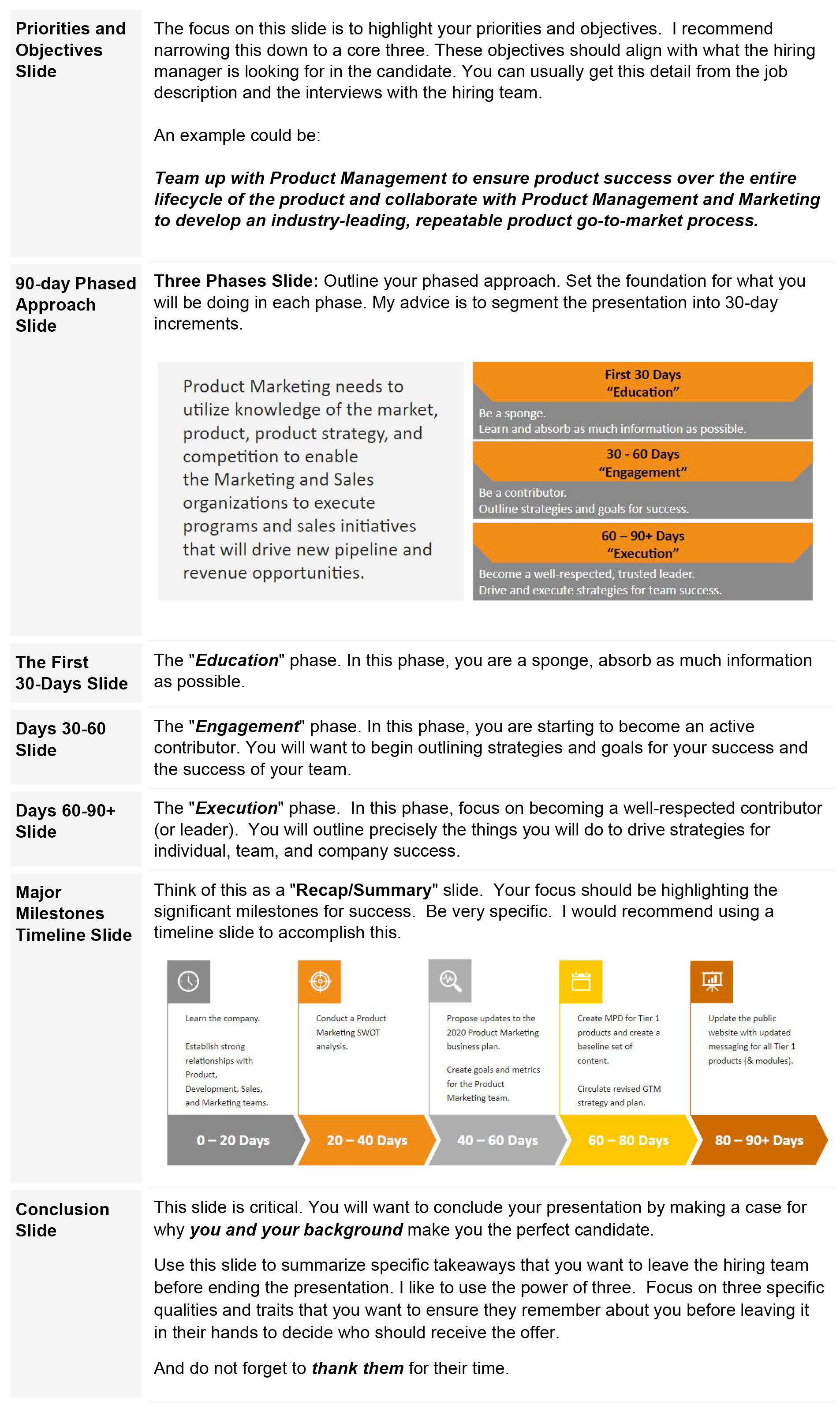 Now let's dive a litter deeper.  

Within slides three through five above, this is where you can set yourself apart from the competition.  Be very specific as to what you will be doing. Again, this detail will prove that you understand the role, the company and that you gleaned enough detail from the interview process to highlight items specifically mentioned as gaps, needs, and critical responsibilities.  

For each of the "phases" listed above, break down the slide into four categories: Learning, Personal, Initiative, and Performance goals.  Under each category, you will need to demonstrate you understand the position and vital responsibilities required of the role. Remember, your goals will look much different in the "Education" phase than in the "Execution" phase.
Upfront, you will have more learning goals than performance goals.  As you progress through your first 90 days, your initiative and performance goals will become more extensive, and your learning goals less prominent.
To summarize, the purpose of this activity from the employers' standpoint is to:
Evaluate your knowledge of the role
Evaluate your presentation and delivery skills
Narrow down the candidate pool from roughly three candidates to the person who will receive the offer.
Creating a 90-day presentation that will land you that job offer is not easy; it takes time and should demonstrate why you are THE person for the role. Keep this in mind, and you will ROCK this exercise.