A snippet from the sequel to 2019's rip-roaring report
There's a whole host of questions surrounding product marketing, many of which tend to be swept under the carpet.

Last year, we lifted the figurative blanket, dusted off the cobwebs, and confronted the skeletons that'd gathered in the product marketing closet.
The result? The State of Product Marketing Report 2019, a meticulous insight into the views of product marketers - the good and bad, the naughty and nice.
We're not one to massage our ego, but we're gonna give ourselves due credit - the response was pretty darn awesome.
Some of the findings in the report filled us with optimism, while admittedly, others made us shudder. So, we decided to dip our toe back into the waters of product marketing to see if product marketers in 2020 could shed some light on how the landscape looks now.
Here's just a snapshot of some of our findings from the eagerly-awaited follow-up: the State of Product Marketing Report 2020, which it brought to you by the team here at PMA, in partnership with Kompyte.
Proof sequel's really can surpass the original.

Why is the report important? 🤷‍♂️
We lifted the lid on the state of product marketing last year, and some might say: "why repeat the process?"
Product marketing is on the up. Period. Even since we wrapped up last year's report, more people are transitioning into the industry, and more businesses are reaping the benefits of our expertise.
And who can blame them - it's an awesome way to earn a living, right?
As time goes on trends change and being the nosey bunch we are, we wanted to take a peek at any significant changes.
Add to that, the response from the 2019 report was awesome, and we were inundated with requests for a follow-up.
What you guys want, you guys get.
So, who did we speak to? 📣
Last year, we spoke with over 600 product marketers in preparation for writing our 2019 report. This year we ramped up our efforts, rolled up our sleeves, and pushed the boat out even further, surveying over 2,000 PMMs from every corner of the globe, across a berth of industries. We couldn't have cast the net further.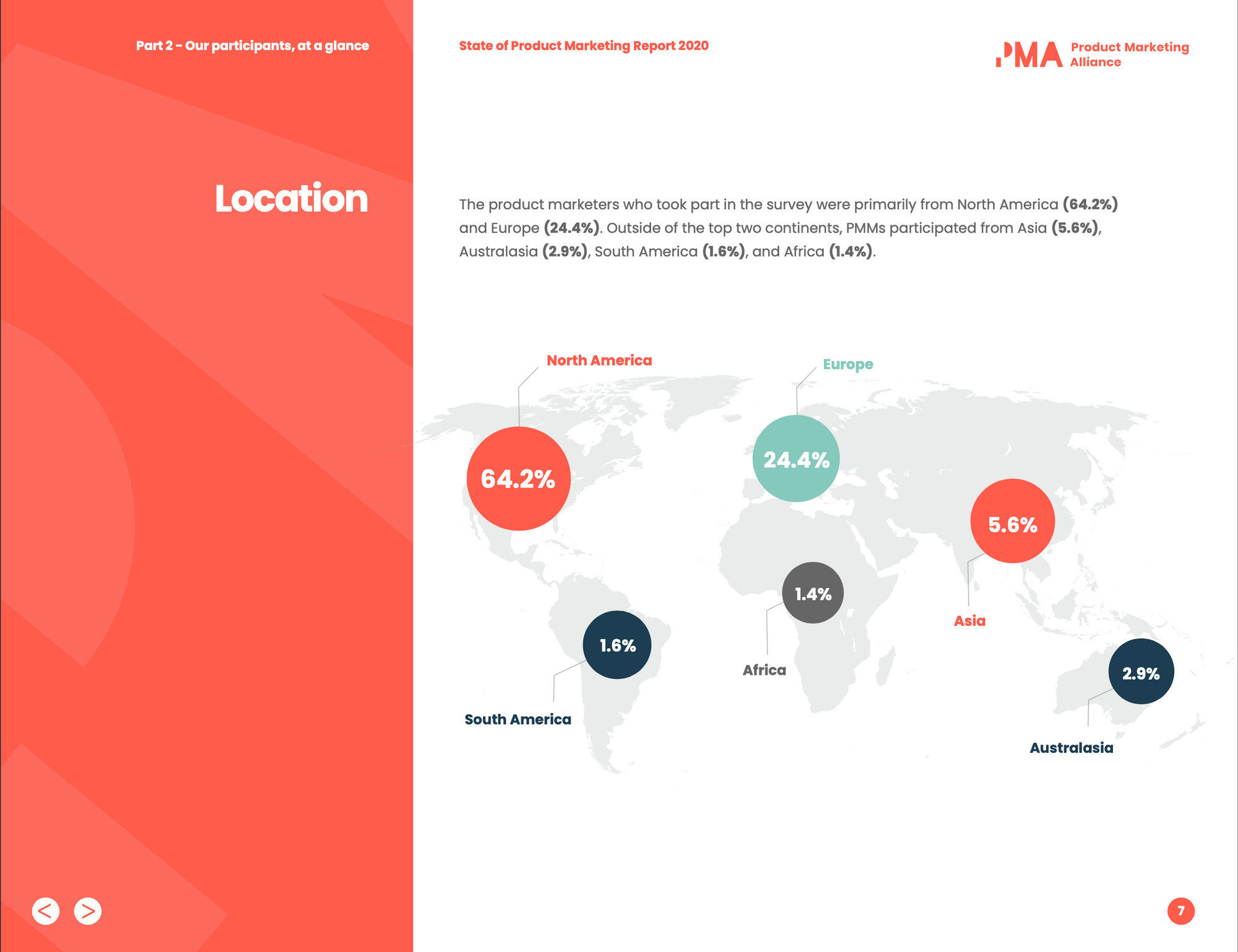 Our reward? A trawl of golden insights surpassing our wildest expectations.
What's ours is yours; here's a selection of the pearls of wisdom we uncovered:
Our belated meeting invites have arrived! 🎉
In years gone by, invitations to leadership meetings haven't been extended to members of the product marketing team.
Perhaps they were lost in the mail - who knows?
We'll let bygones be bygones, given over half of the product marketers surveyed (59%) said a member of the team was flying the PMM flag in leadership meetings, with a further quarter saying the honor has been bestowed upon them "most of the time."
Ever the perfectionists, we decided to look at who didn't make the cut, and 51% of people not in attendance had been in the field for three years or less.
The moral of the story? Earn your stripes and you shall be rewarded!
It's not always a team game
Q: What do Tiger Woods, Roger Federer, Floyd Mayweather have in common?
A: They weren't part of a team. When it came to the crunch, they were on their own.
And after speaking with product marketers, this is also the case for over one-fifth of people taking part in our survey (21.2%) who said they were the only member of their product marketing team.
A pretty tough ask, considering the cross-functional nature of the PMM role, don't you think? When we peeled back the layers and delved a little deeper, we found the average size of a product marketing team is dependent on a company's stage of growth.
For example, early pre-product-market fit companies had two people in their product marketing teams, on average, while late growth/scale-ups were averaging nine.
But rewinding to the initial statistic, is it A) fair B) realistic to expect a product marketer to work to their optimum potential if they're the sole representative within a product marketing team?
An over-emphasis on product support? 🤔
Apparent unrealistic expectations being leveled at product marketers also reared its head when we asked how many products they support at their organization.
Last year, we asked product marketers how many products they support, and let's just say we hope they had strong shoulders, with product marketers supporting 5+ products.
In the hope the workload had alleviated, we asked the same question this year, and there had been a slight increase in the number of people who said they support 5+ products - it went from  32.8% to 33.1%.
We know product marketers are modern-day superheroes, but 5+ products are somewhat excessive, as highlighted by Div Manickham, Director of Portfolio Messaging at Dell Boomi, who said:
"This is a classic less is more scenario. PMMs are asked to do more than it's sustainable in my opinion. We need to be realistic and prioritize efficiently. If we are not careful, our PMM team members will face burnout sooner than we can imagine. It's the company's responsibility to make sure we are focused on the right priorities and to add team resources and budget to support business needs.
"In my experience, adding more than 2 products is unrealistic and we had to reprioritize based on business needs and even paused supporting a few products because of resource constraints. With the spectrum of responsibilities for PMM, it's easy to think one individual can manage it all - we as PMM are great at multitasking and always ready to put out the next fire, but that's not fair for sustained growth. We are considering looking at functional responsibilities vs product-focused PMMs to meet top business needs."
Don't worry (be happy)☺️
As with any rollercoaster ride, it'd be boring if there weren't some twists and turns along the way!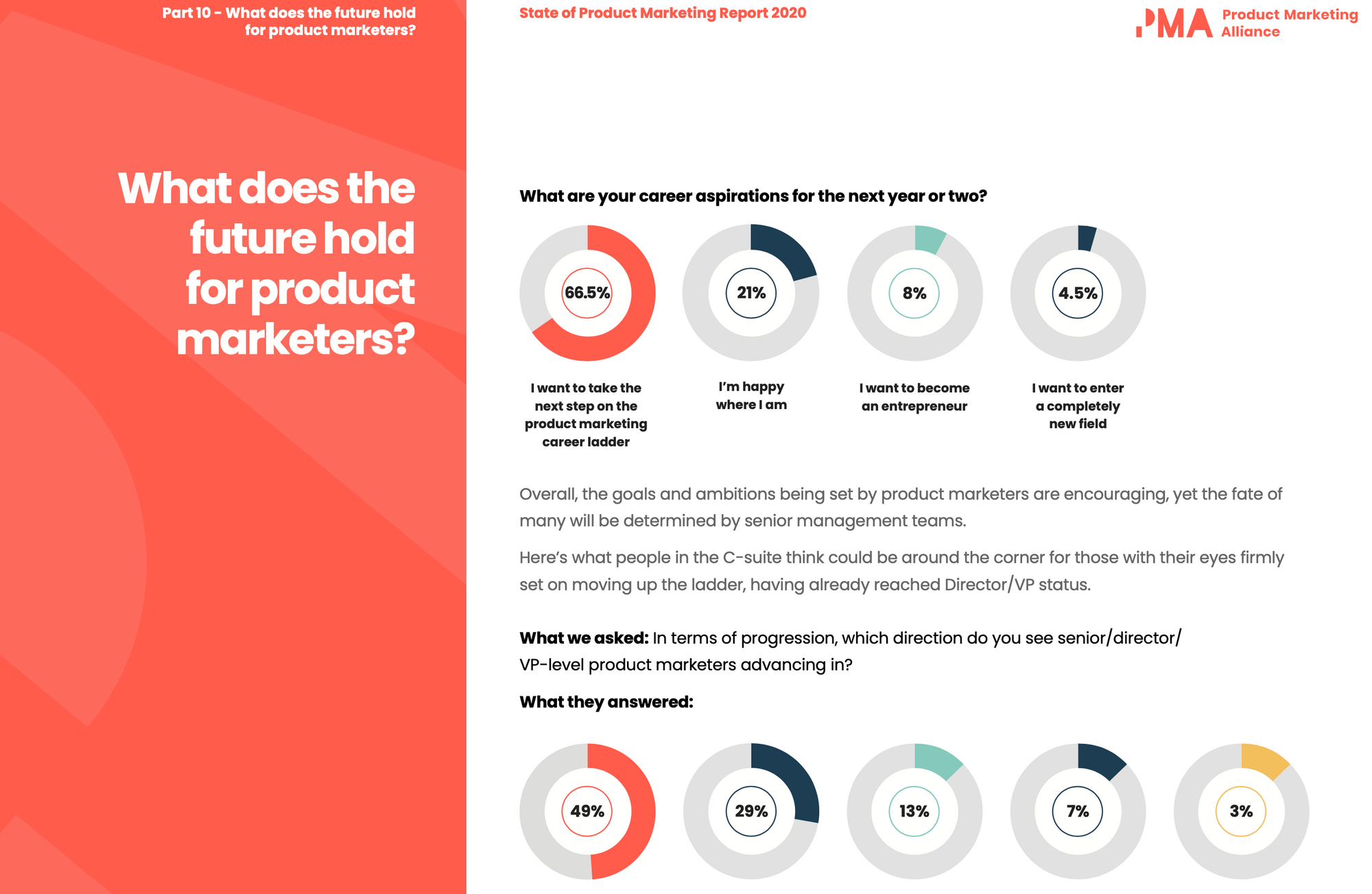 For every apparent setback, there's a whole heap of positives that have emerged since our 2019 report, so much so, when we spoke with product marketers on what their future holds, they weren't deterred by the challenges the role can throw in their direction, from time to time.
Quite the opposite.
Being a product marketer is a white-knuckle roller coaster ride in itself; 95.5% of product marketers said they're strapping themselves in for a long-term ride, such is the excitement of the role.
Just 4.5% wanna hop off early and dive into another profession - wimps. 😉
That ain't all we found out… 👀
Like a good movie trailer, we've whet your appetite, now it's time for you to check out the flesh and bones of our full report.
Wondering whether PMMs feel valued? Maybe you're keen to see if companies are loosening their purse strings for product marketing budgets? If they are, where's the cash being invested?
The answers to the burning questions singeing the lips of product marketers are within touching distance, in your State of Product Marketing Report 2020.
Be careful. It's hot. 🔥