In this article I'll discuss how product marketers can distill customer data into actionable insights, giving you three separate examples of three different ways product marketing can have a pivotal role in an organization; by using data to solve a business or customer problem, to inform a marketing campaign, or to champion customer innovation.

My name's Francisco Bram and I'm the VP of Marketing at Albertsons Companies and former Head of Global Product Marketing at Uber Eats.
I'll be focusing my attention on:
I want to start off by talking about how product marketing has evolved to become a critical role in a 21st-century organization to really drive innovation and champion the customers internally.
Reaching 50 million people has accelerated in the last 20 years
If you look at the pace of change, it has accelerated at a level that adoption of new products or services far outpaces the adoption of 50 or even 100 years ago. For example:
It took 68 years for airlines to reach 50 million passengers.
It took 62 years for automotive companies to reach 50 million drivers.
It only took six years for Uber to hit 50 million monthly active riders.
That's because technology in the last 20 years has accelerated the adoption of products and services. But equally, it has also accelerated the change and the evolution of product marketing.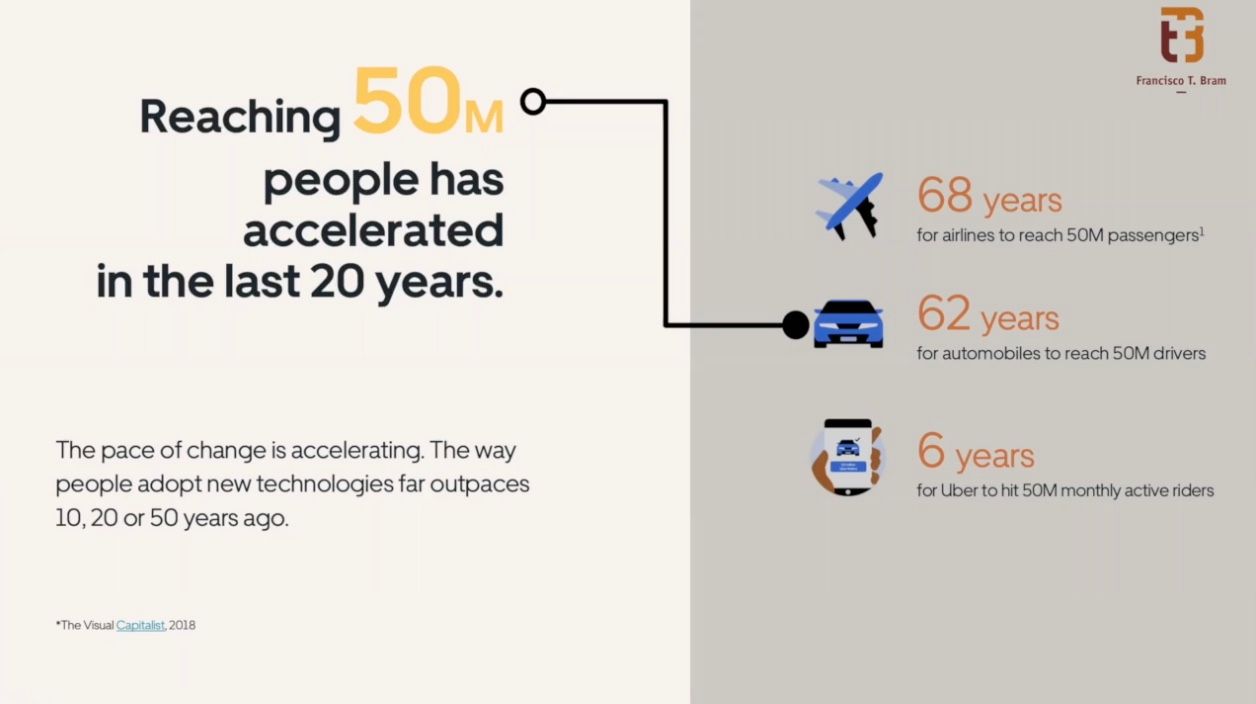 It started in 1845
If you look back at the early beginnings of marketing in the United States, it really started with Tiffany's product catalog. That marked the beginning of marketing, and the true definition of product marketing, where you would feature a product with a value proposition and price.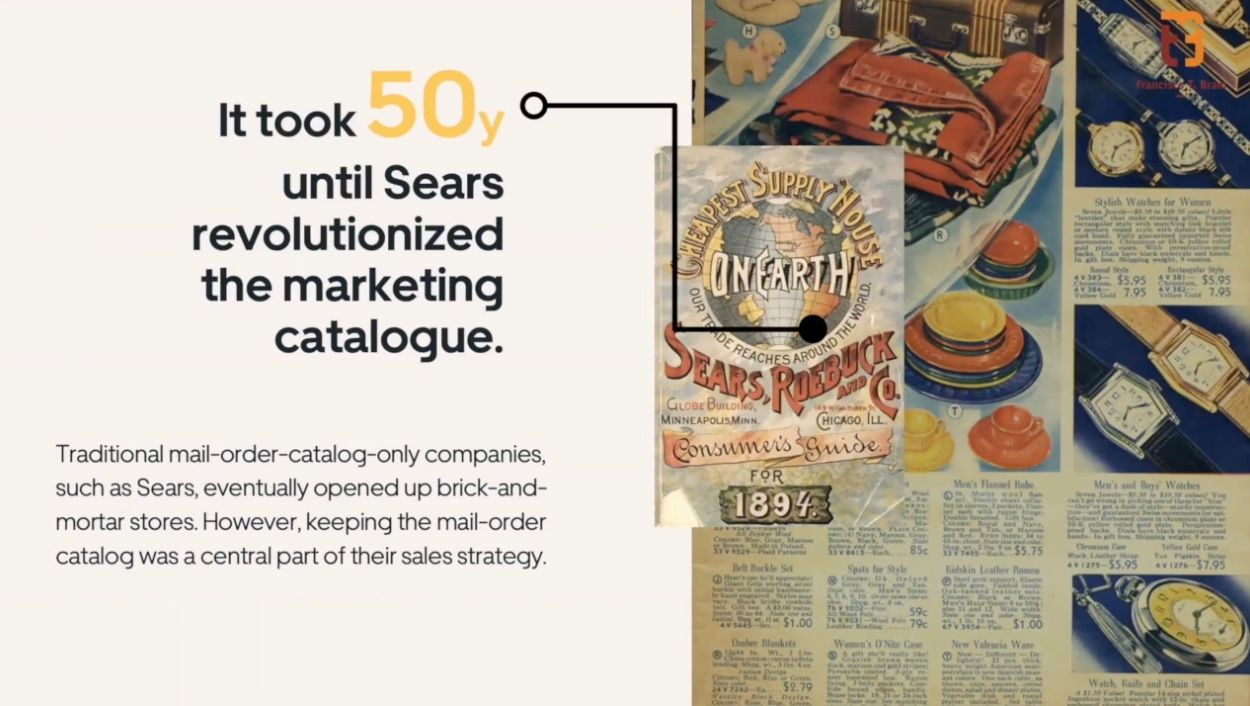 The evolution of marketing
If you look at the evolution of marketing, it took another 50 years until you saw a new way to do marketing with print ads.
Then radio ads came along, TV ads, telephone marketing, and SMS text messaging; it always took one, two, and in some cases, four decades to see true evolution in marketing.
However, the 90s saw the introduction of the internet, smartphones, and then SEO, SEM, social media, and wearable technologies - and this changed the scope of the field.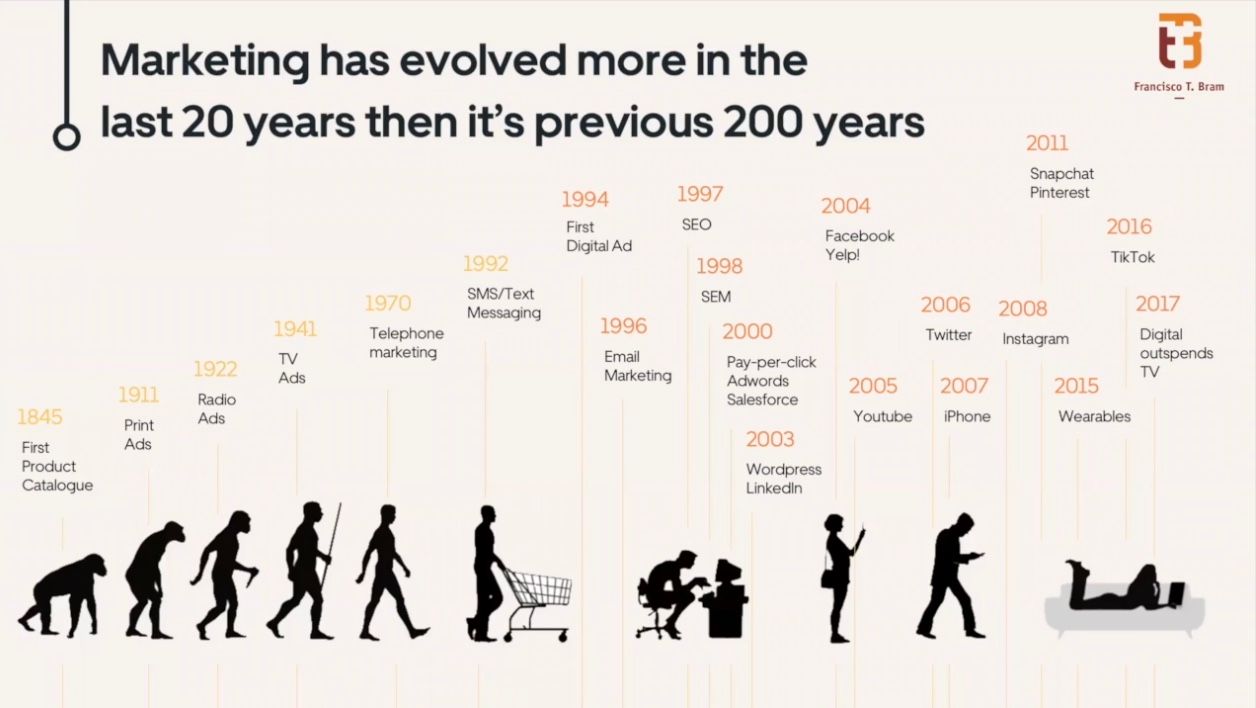 Marketing has become highly specialized
Today, there are so many different channels that the traditional marketing manager role or product marketing manager role no longer applies, you need hyper-specialized marketing managers to be owners of the different content and channels that exist out there.
Where does product marketing fit in?
So where does product marketing fit in and all of this? How does the function of product marketing evolve to keep up with all this pace of change?

Honestly, I believe product marketing is probably benefiting from all of this evolution and all this change. Product marketing is now a critical function in any organization, driving upstream marketing, as well as downstream marketing.

We always say product marketing has two functions being the voice of customers and helping to extract actionable insights from a lot of customer data by working with data science, UXR, sales, or even product management.

But then once you have all of that data, you want to help develop a solution, a service that truly is aligned with what the customer wants and needs. And you want to be able to communicate that very effectively.

That's when you do your second part of the role which is the downstream product marketing, working with marketing research, analytics, performance marketing, with paid channels, own channels, with CRM, and even PR and media to raise awareness.

The conductor
Product marketing is really the conductor of this entire orchestra that is composed of very hyper-specialized musicians. If they all play at their own tune, you just get a bunch of noise, which is very common in multiple companies out there where you get tonnes of ads, and none of those ads mean anything to you.

Either the service isn't right, or the way they communicate to you isn't right. It's really up to the conductor, i.e. go-to-market architect, which is really under the product marketing function.

That falls into the role of bringing all these different data insights together, building a robust go-to-market plan, and briefing the different teams on how to execute and thrive with a consistent tone of voice and visual language.

So more than ever, product marketing is a critical role in any organization.

I'm excited about it because not only is demand high but also the responsibility that falls under product marketing is increasing.

The agenda
What I want to talk to you about in this article is how product marketers can distill customer data into actionable insights.
I'm going to give you three separate examples of three different ways product marketing can have a pivotal role in an organization:

Using data to solve a business or customer problem.
Using data to inform a marketing campaign, or
Using data to champion customer innovation.

My product marketing mission statement
I'm going to talk about all three but before I do, I want to ground all the examples in what I call my product marketing mission statement.

In product marketing, we work tirelessly to earn our customers' trust and business by solving their problems. We use data to understand them, communicate and delight them.


Product marketing: solving a business problem
Let's start with the first one, we use data to understand them.

Healthcare
If we look at the healthcare market, an entirely different segment than you would ever associate Uber with, you would find that it's highly costly, about $7.7 trillion is spent in healthcare, the majority of that money is spent on preventable chronic diseases.
Transportation is a barrier to care
If you investigate further, this is what our data was telling us, about 72% of older adults, their number one need for transportation is getting to medical appointments, because older adults are the ones who have the most chronic diseases, and are the ones who need more frequent medical visits.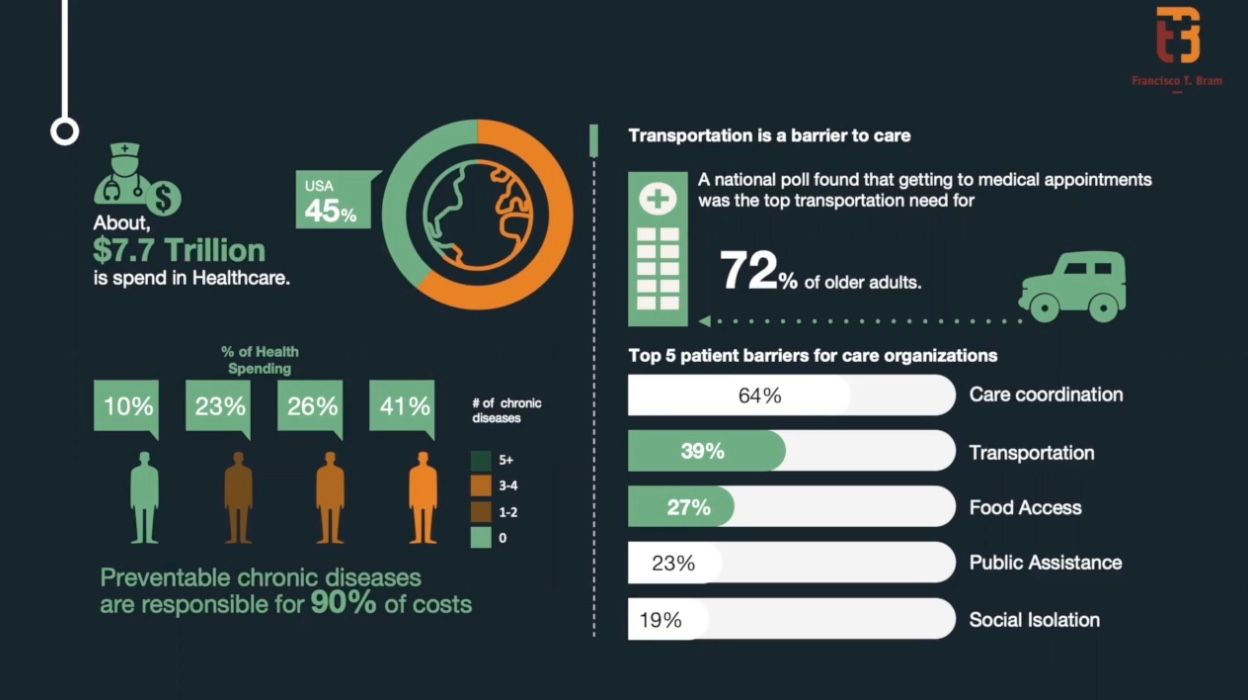 We also found by further investigating and talking to healthcare providers that the second and third biggest reason for being able to offer care to people is transportation and food access.

These are two areas that Uber has clearly built this strong tech platform around transportation and around food delivery. With these insights and opportunities in mind, we were able to launch Uber Health.
Introducing Uber Health
Uber Health was launched over three years ago, and the goal of Uber Health was to offer healthcare providers the ability to organize rides for people that did not have access to transportation.

Flexible booking options
Our goal is to remove transportation as a barrier for people to get care. So healthcare providers can integrate Uber Health with the electronic health records, they can schedule a ride either directly to the electronic health record with Cerner, for example, or they can just use our dashboard and organize that ride for your next medical appointment and you will get that information being sent to you over a text message.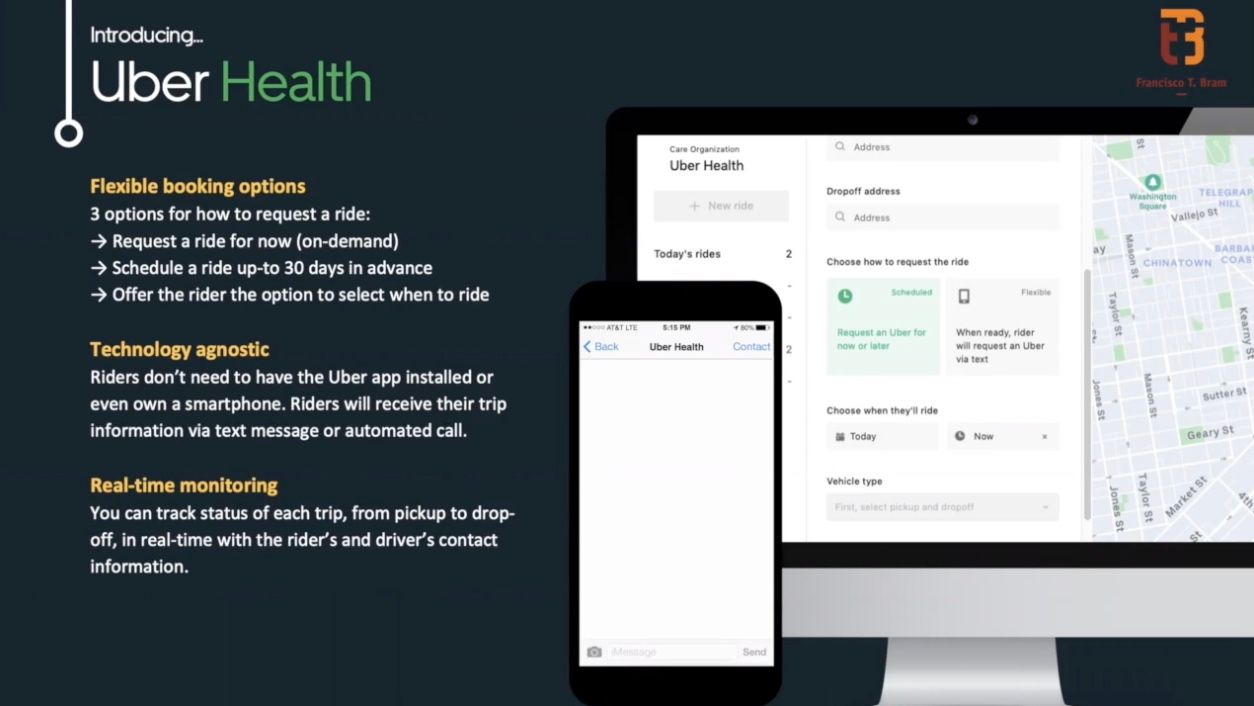 Technology agnostic
We wanted to make this technology agnostic, meaning we knew the elderly population is some of the users that will actually benefit the most from this particular service. We wanted to make sure we don't require them to have a smartphone, we don't require them to be able to know how to use the Uber app.
As long as you have a cell phone, you will get a text message that will send you all the information you need to learn about your appointment with the hospital; when you're going to be picked up, who's going to pick you up, and when they're gonna drop you off.

Real-time monitoring
The hospital can actually track that in real-time so they know if a patient is going to make it or not, if they're on their ride, if they're going to come to the particular appointment.

Because we knew that up to 30% of patients miss medical appointments every year, that costs about $190 billion a year. $190 billion a year is spent ineffectively because patients are missing their medical appointments.
Challenge
Here's another problem we encounter. After we launched UberHealth which was a very successful product we found a lot of customers were complaining that they never received the information about their medical appointment.
Insight
We decided to talk to these particular customers and we've learned many were saying they never got a text message because they only have a landline number, or they only provided the landline number to the hospital.

So when the hospital contacts them, they contact them through the landline number. I know it seems mind-boggling that in today's world, a lot of them don't have a cell phone but this is still the reality.
Validation
We wanted to validate these insights and so we worked with a third-party vendor to check all of the numbers we had on the platform that was provided to us by healthcare providers to verify whether or not these numbers were a landline or cell phone.

Again, this is all obviously used so we can uncover a particular insight that can drive product innovation. We found out that 10% of all the users provided a number to their hospitals. However, some people didn't have a cellphone or had only provided a landline number.
Solution
So, we launched a solution that allows these particular users to get an automated call when an appointment is scheduled. This lets them know when the ride has been organized, who's going to be picking them up, and when.

This way we solved this problem, again, by really deep-diving into the data, understanding what the root cause could be, talking to customers, validating it, and then building a solution for it.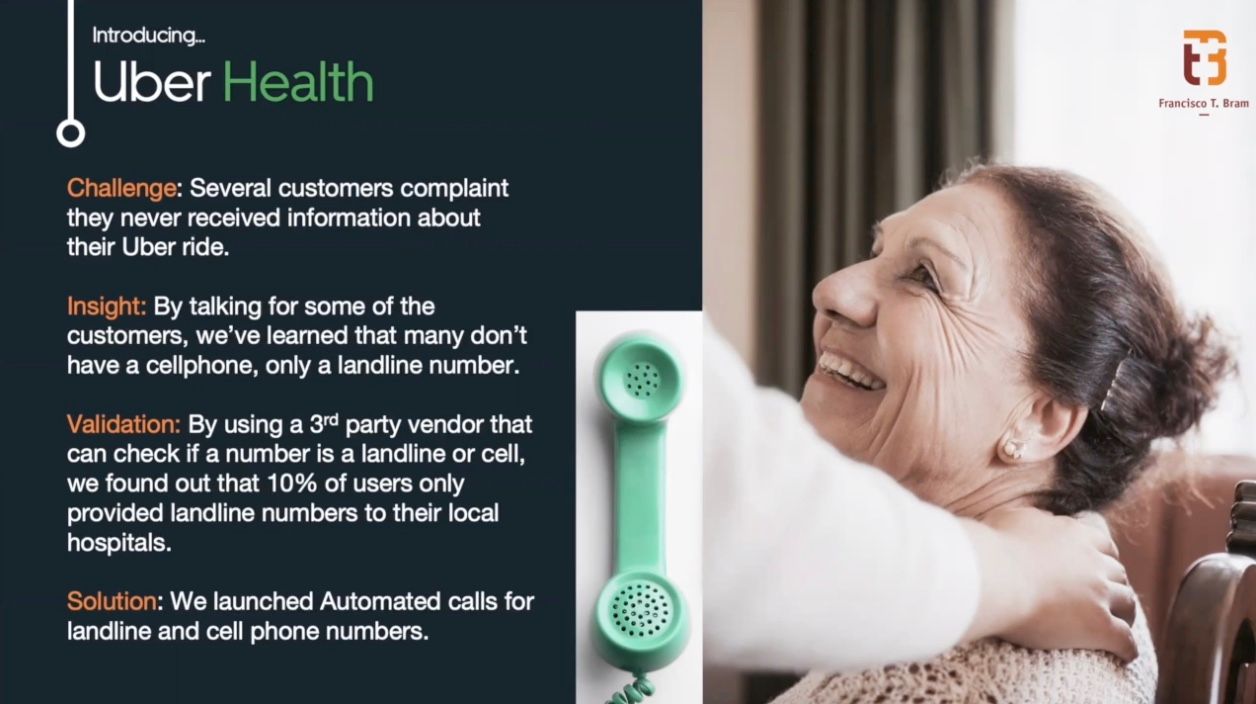 Product marketing: informing a marketing campaign
We also use data to communicate. We wanted to be able to leverage insights to communicate value more effectively.

How do we leverage these insights to inform our marketing campaigns? Here's an example.
Uber Eats
We've talked to a lot of merchants on our Uber Eats platform and we found out that 75% of restaurants said they would have to close their business if not for Uber Eats during the pandemic. And some partners actually saw a 40% increase in their business because of delivery.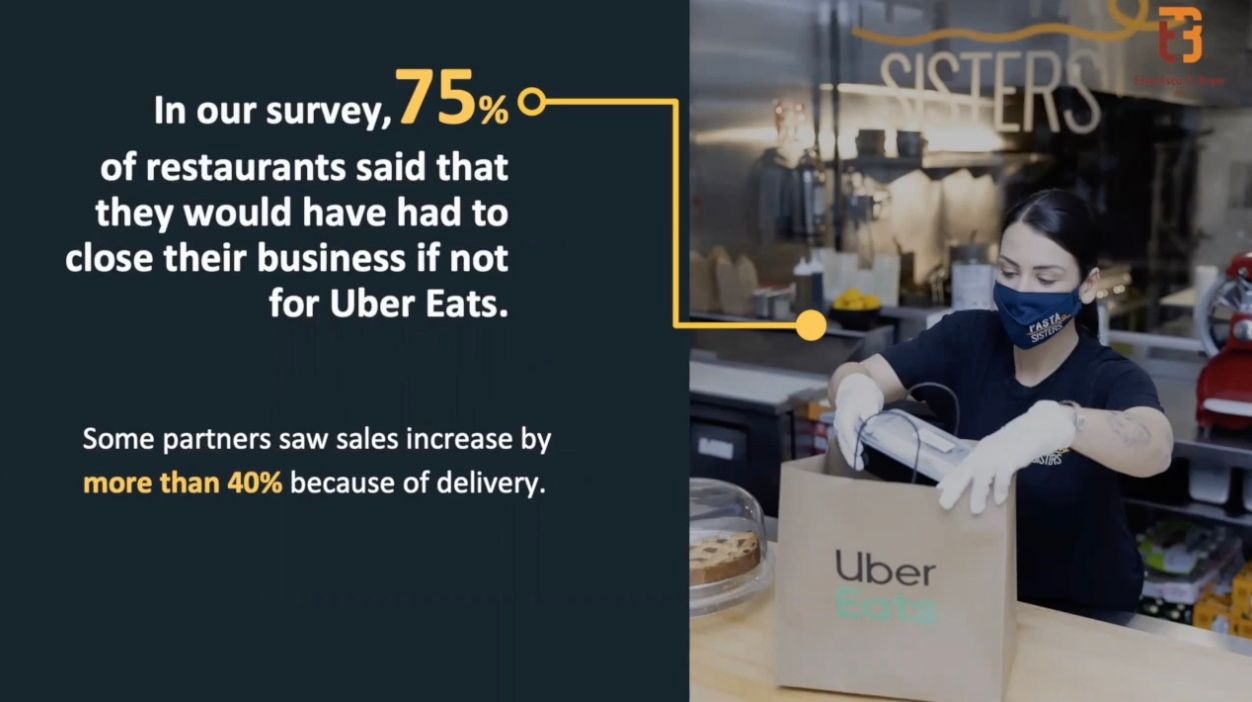 Nevertheless, a large portion of small and medium restaurant owners still don't trust delivery companies.

These are the ones who are actually struggling the most. In the US, for example, 110,000, restaurants, small restaurants, being the ones that struggle the most, closed or permanently shut down.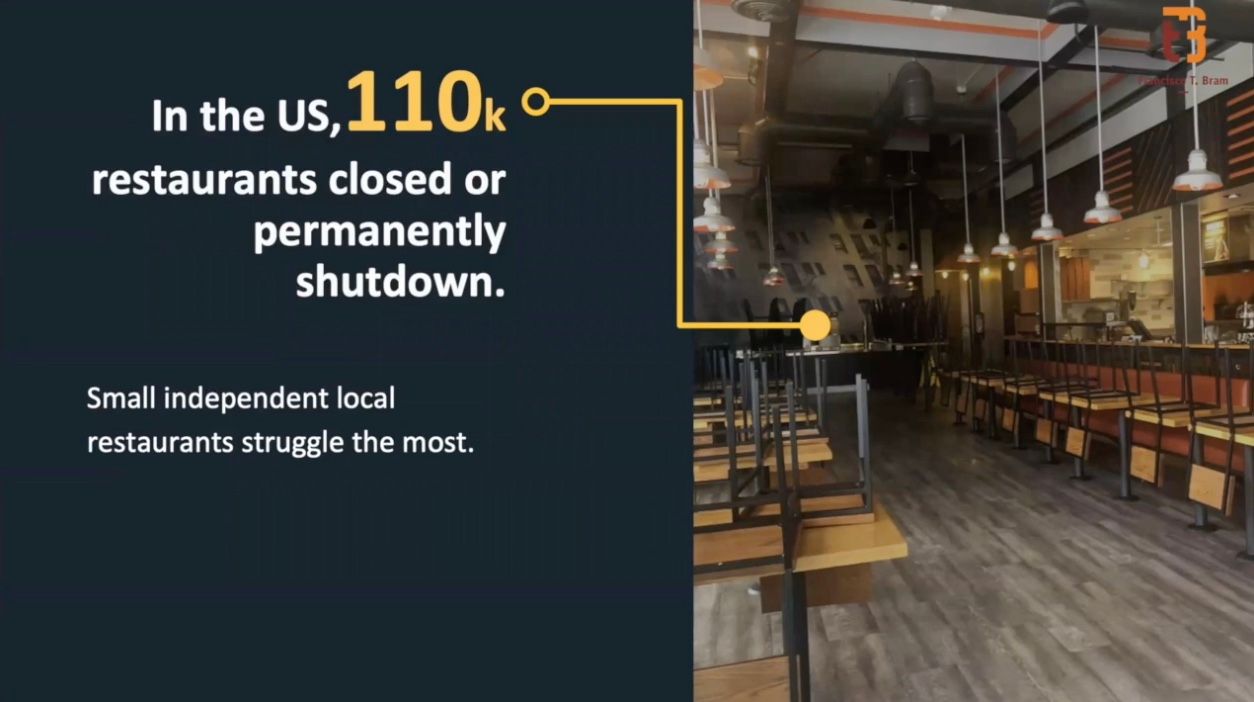 Key insights
When we talked to them, they were very clear:

They don't believe third-party delivery companies care or prioritize their small business needs.

They don't believe they are in control of their business when they join our platform because they basically have to pay a bunch of fees and they're stuck with a particular pricing plan.

They also don't believe we have their best interests in mind, because we control all the customer information, and they don't know who their customers are.

Also, they don't believe we care about them, because we don't spend enough time educating them on how to build a brand online. This is an issue since we found out 60% of restaurant owners don't have a college degree and those that do, are not specialized in digital marketing and how to build a brand online.

These are really important insights we used to then inform our marketing strategy.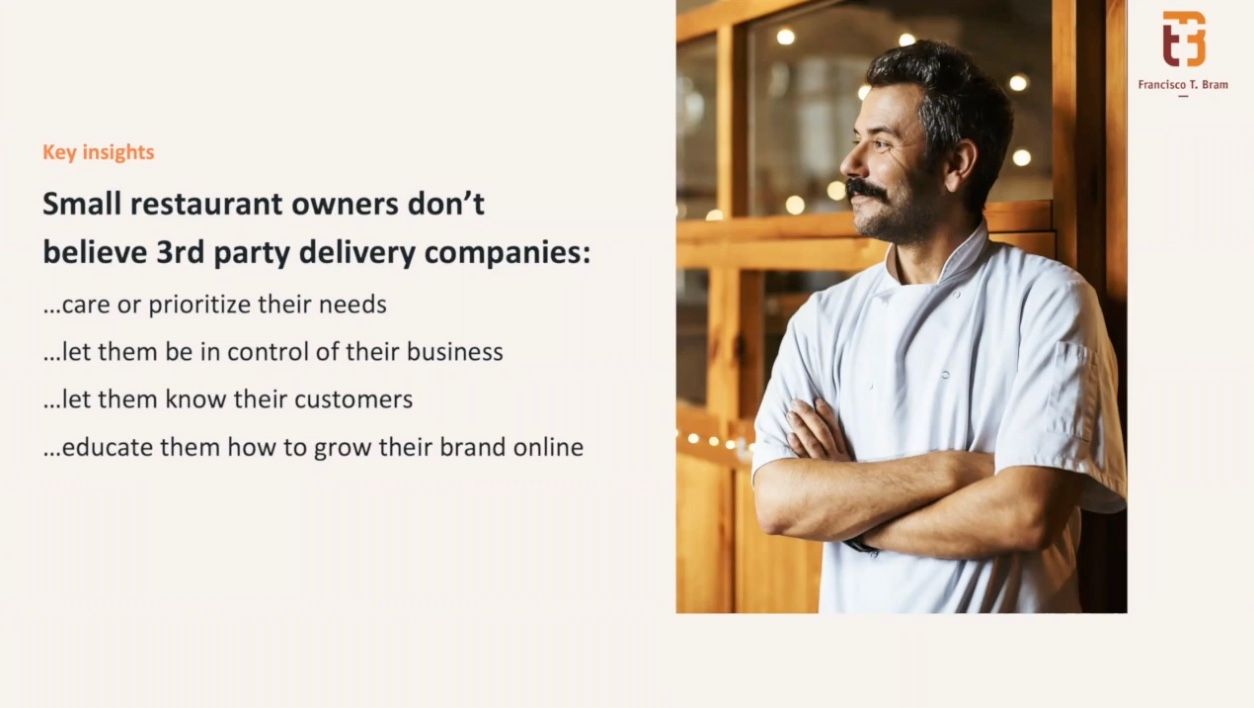 They have told us what they need and how we can help
We wanted to build a series of commitments that would give them more financial support, will drive more demand for local restaurants, small local independent restaurants, we would build more ways for them to connect with their diners and know who their diners are and then spend more time and effort educating them and helping them build an online brand.
Marketing strategy
Here's a strategy we put together, every single chapter in this particular strategy is built on key customer insight.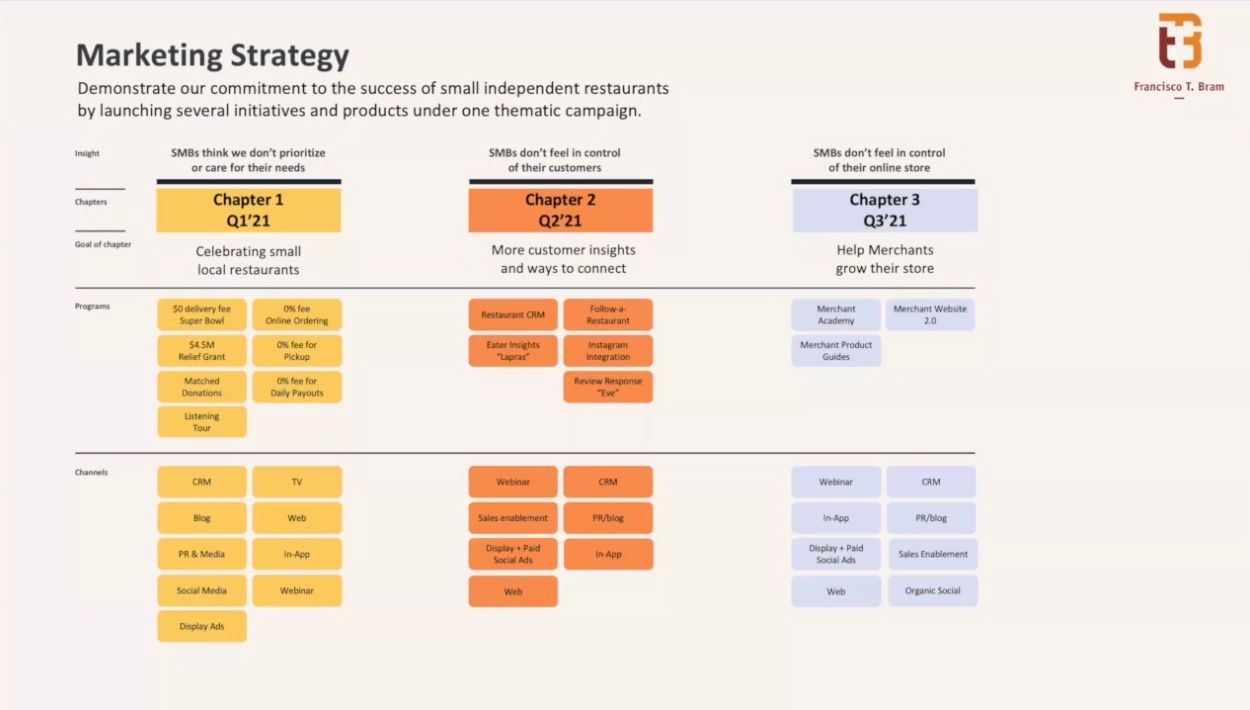 Chapter one, they don't believe Uber cares or prioritizes small independent restaurants. So let's build an entire program initiative in Q1, focusing on celebrating small local restaurants.

Chapter two in Q2 is grounded on the insight that they don't feel like they're in control of their customers. So let's build new solutions, launch new programs that will help them connect with their customers better.

Chapter three, they believe they're not able to build a brand online because they don't have enough education or the opportunities to learn. So let's build ways to help them educate and really be successful online.

We put this strategy together, we worked with product, with marketing, with a bunch of other teams, and we ended up putting together a thematic approach to bring all of these chapters into one theme, one visual element.
The strategic route
The strategic route was to celebrate the culture that local restaurants add to the economy and to the community.

We're here for the tastemakers. We're here for the food truck hustlers, five-star chefs, and one-woman operations. We're here for the hottest table in town, bodegas down the block, and line cooks crackin' at the crack of dawn.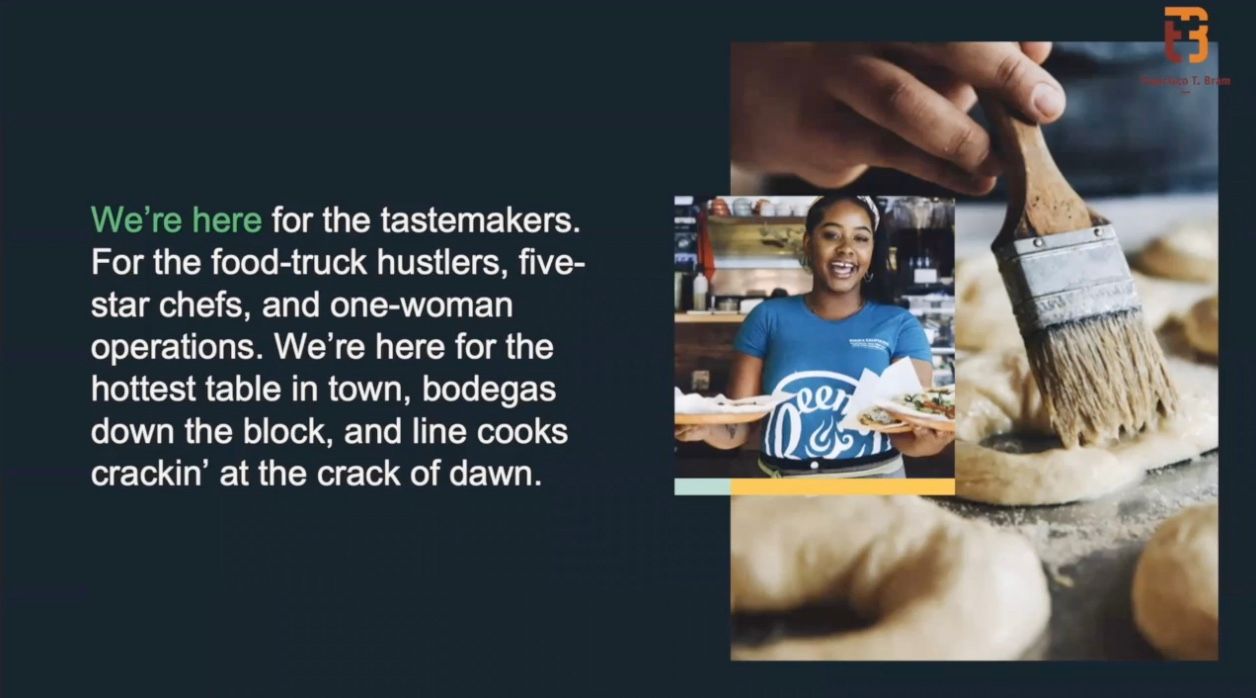 We're here for the folks that can't stop, won't stop, opening their doors when we need them most, and crafting our go-to dishes in a made-to-go world.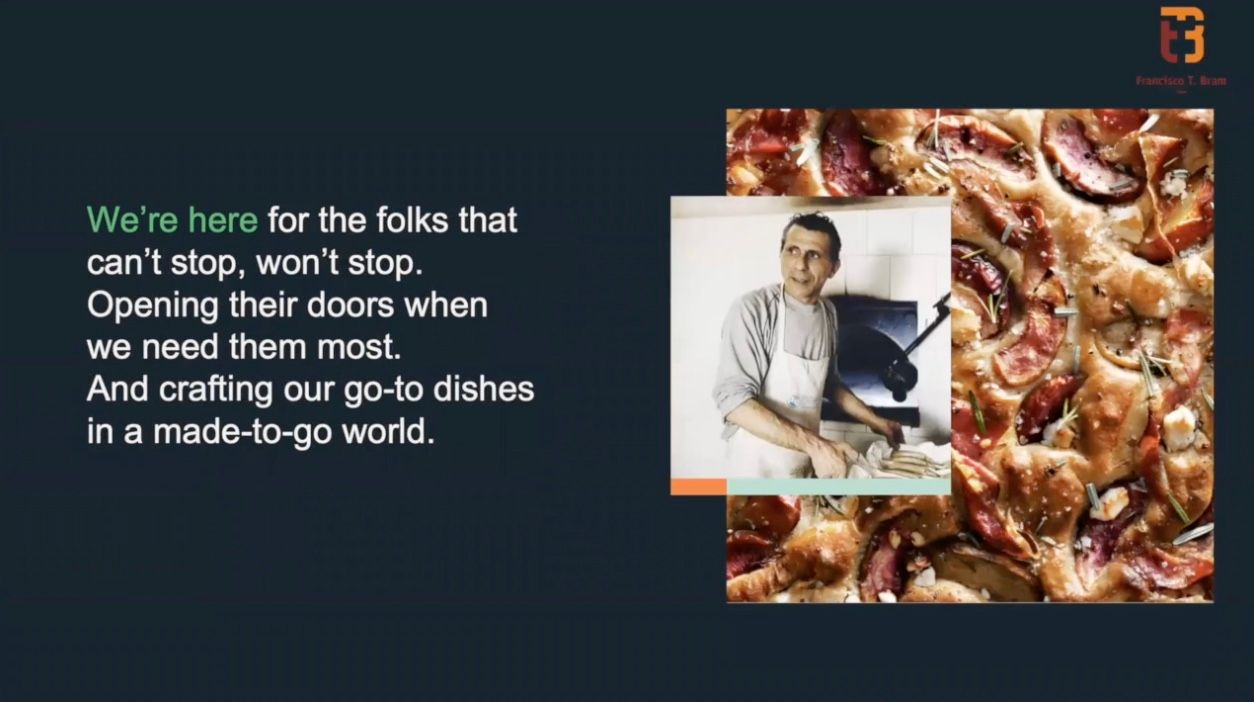 We're here to say thanks. To bring you local delivery that puts local restaurants first. With better margins for you, more insights from us, and quicker ways to connect with fans right around the corner.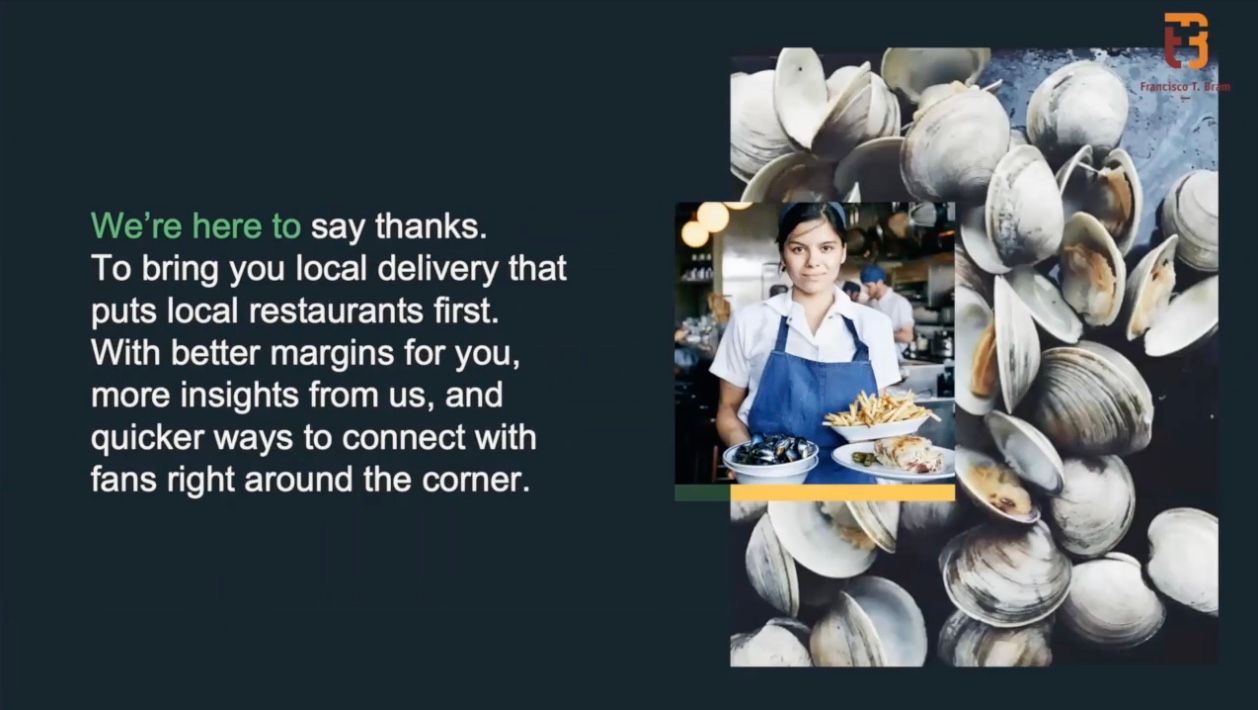 Because at Uber Eats, we're here for local flavor.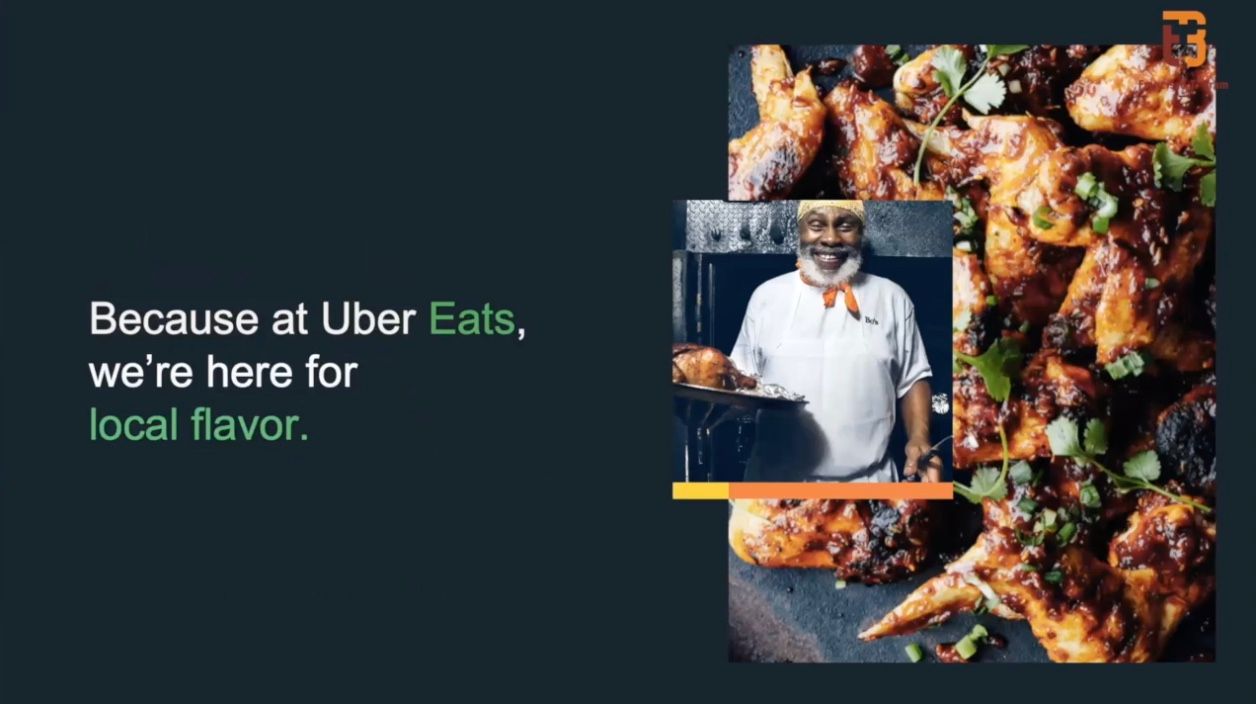 Chapter 1: Celebrating small local restaurants
The whole idea of this campaign was to drive demand for local restaurants - eat local; local, small, independent restaurants. Let's feature the restaurant tours, the restaurant owners, the chefs, the cooks, and even the people at the front packaging your food.

Also feature their menus, their dishes, make that come to life to show we are here to celebrate local.

SuperBowl
We worked very closely with the US and Canada consumer teams and the US and Canada consumer teams were already planning on a campaign around SuperBowl. We thought this is a great opportunity to bring these insights and help craft this narrative.

We wanted to harness the excitement around the SuperBowl to help bring people together, champion local restaurants, and boost orders for them.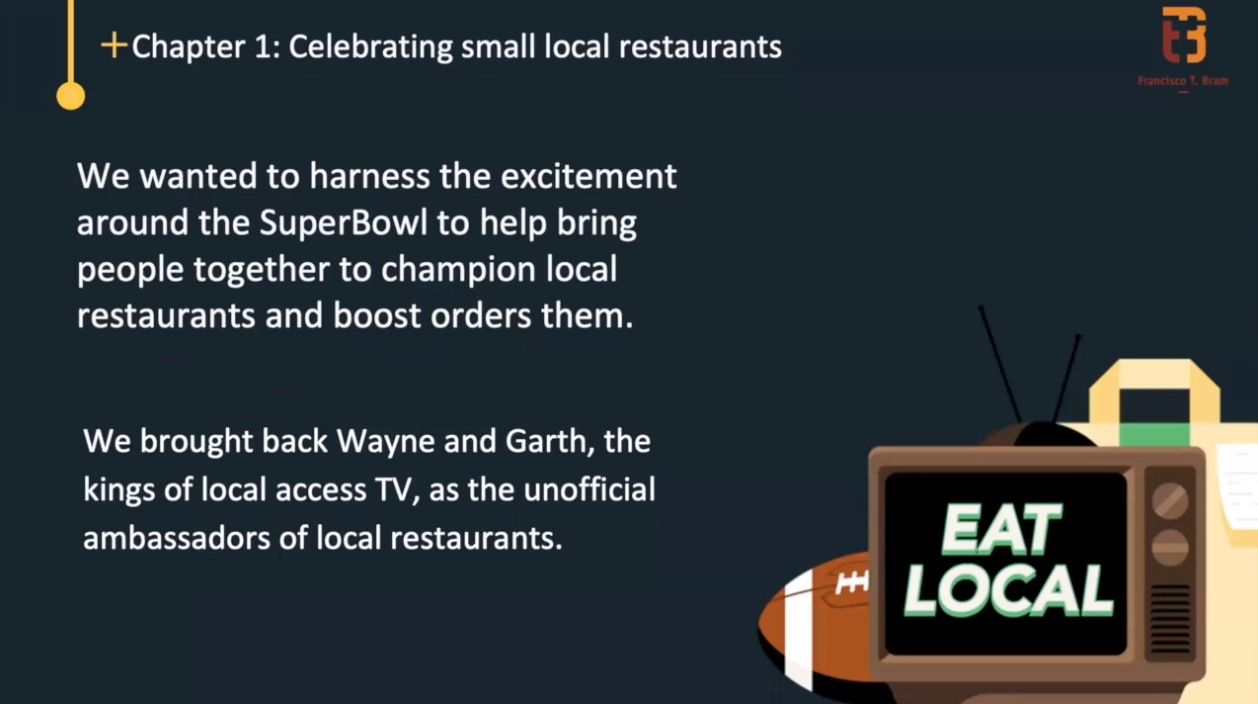 Wayne & Garth
We brought back Wayne and Garth from Wayne's World, the kings of local access TV so they could be the ambassadors for local restaurants as well.

$0 delivery fees
We promoted $0 delivery fees so if you would order throughout the week of SuperBowl from local restaurants, restaurants will not pay Uber Eats a single dollar.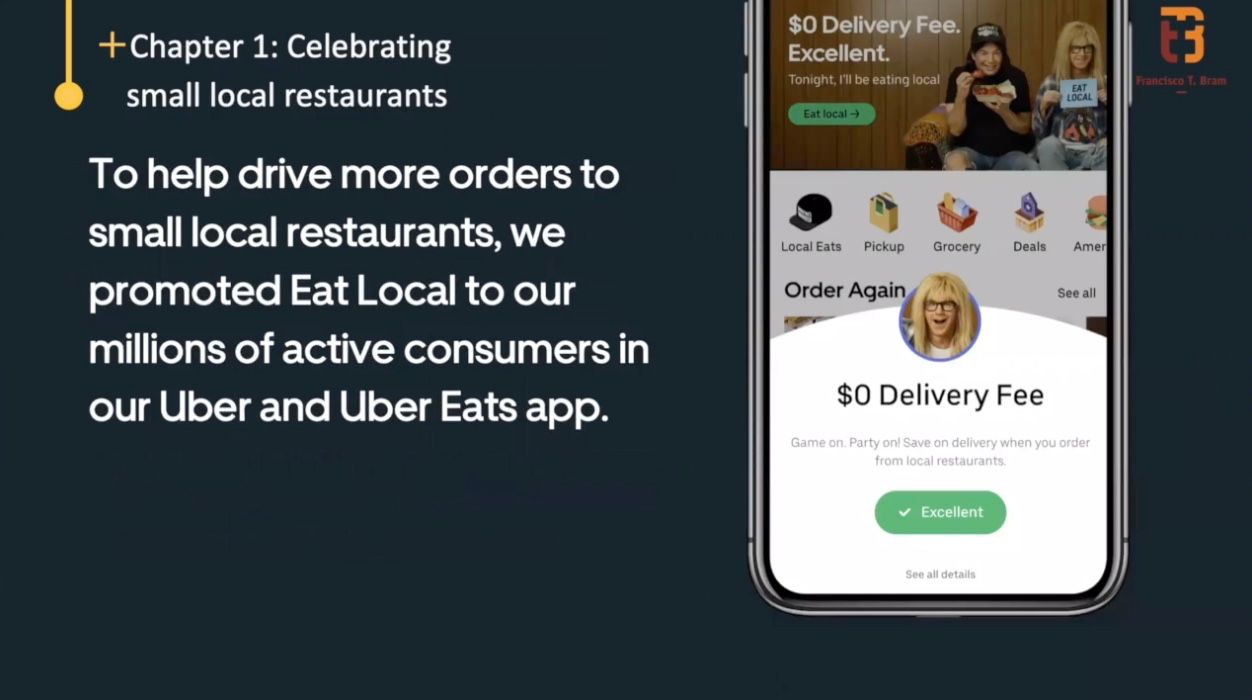 We did it so that we can drive more demand and we got about 7.5 million impressions across the board for just some of these local initiatives.

We were also able to feature Eat Local across our app, so we worked very closely with the product team to really make sure that we have Eat Local categories clearly displayed in top categories when browsing through the app. We wanted our users to clearly see the multiple ways they can order from local restaurants.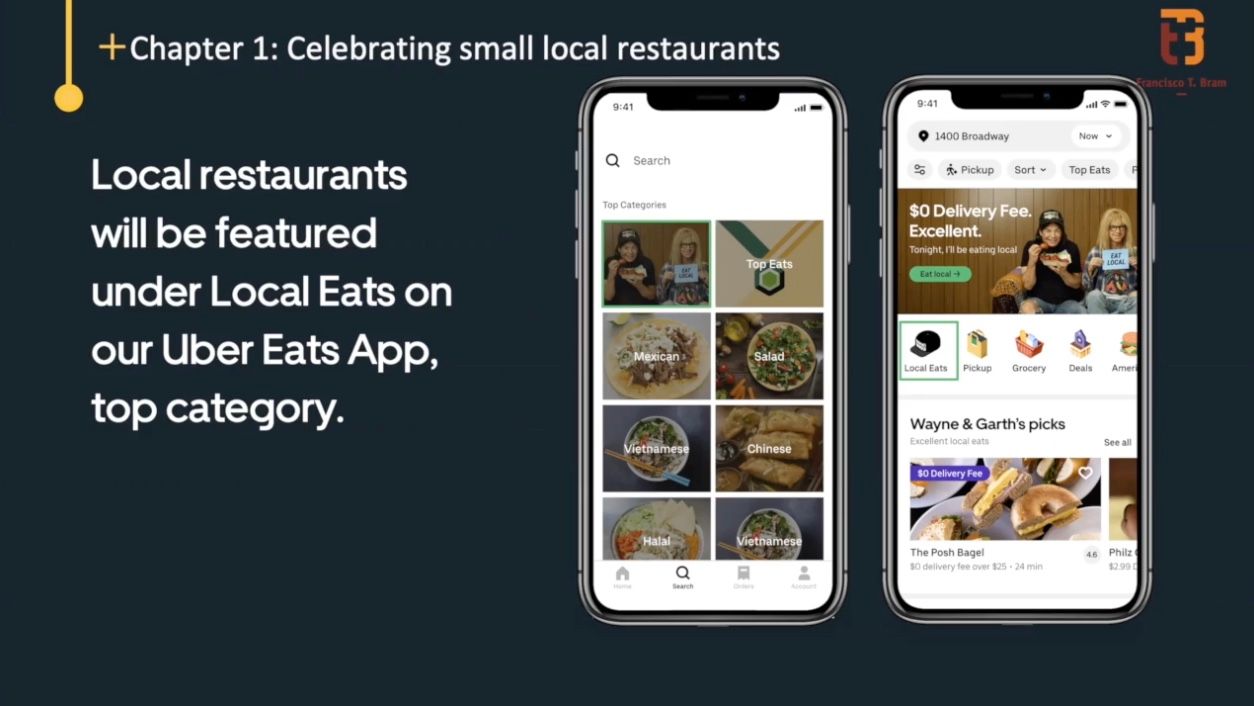 Digital Ads
We, of course, ran multiple ads, and we did an NFL display takeover, we ran our SuperBowl commercial, which you can find on YouTube.

2+ hour advert
But then we also wanted to build a two-hour-long version of the advertisement online, the SuperBowl commercial.

Two-hour-long because we wanted to make sure we feature in the credits every single local restaurant on our platform, that relies on our platform to deliver food to you.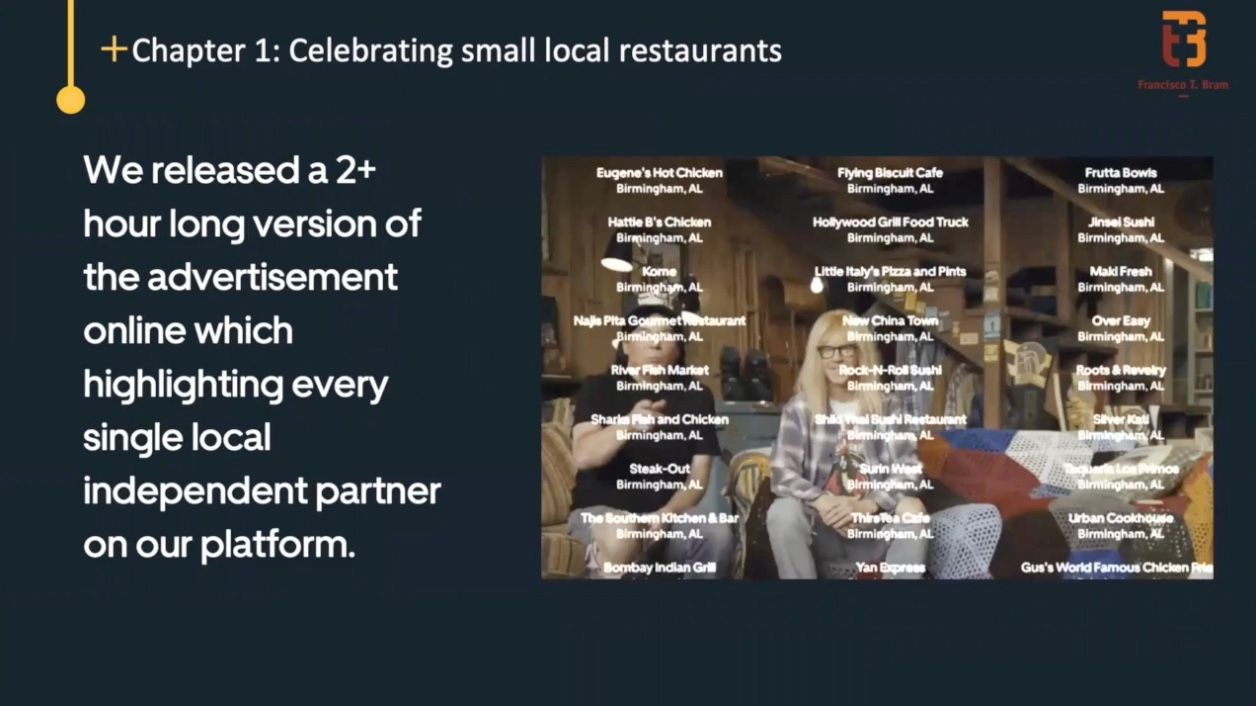 We wanted to make sure that we not only leveraged this platform, but we also brought in a lot of celebrities to champion and sponsor independent partner restaurants. We made sure people became familiar with all the different restaurants we have on our platform and how they can help them.

£20 million Eat Local initiative
We also launched a lot of initiatives to financially support them, we had a financial aid of $4.5 million, where we were able to help 1000s of restaurants that needed financial support, as well as black-owned restaurants.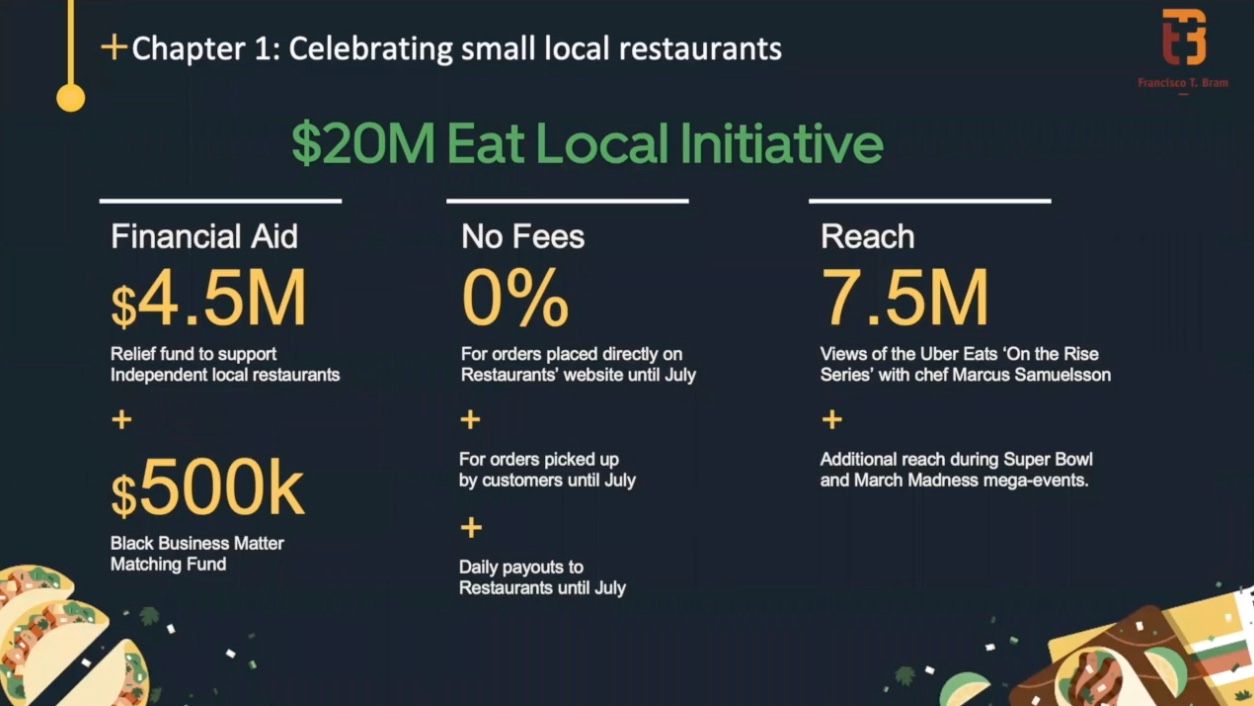 We also waived a lot of fees for the first half of this year. So if they wanted to embed Uber Eats directly onto their website, any order that was placed on their website through July, was done at zero cost, we would not charge these local restaurants.

We also wouldn't charge local restaurants for any orders that were picked up by customers directly, even if they were placed on Uber Eats. We wanted to make sure they can get paid out every day because of course, they're cash strapped.

So we waived all the transaction fees, which normally we have to pay the bank to transfer money on a daily basis. We were able to waive those as well through July.

All of this shows we are here to really truly support local restaurants. But we didn't stop here.

Chapter 2: Helping restaurants connect with diners
Chapter two was all about how do we connect them with their customers, their diners? How do we bring them closer together?

Giving restaurants more information
By providing them more information about how frequently they shop from them, by providing them more information about their typical preferences when they order from you. Giving restaurant owners more insights, so they can build a true digital hospitality experience.

We've launched these insights across our order management tablet, and also the manager app they can use to manage their online store.

It was very successful, we started getting a lot of consumers sharing their experience with restaurants that were appreciating how frequently they order from them. Here's an example.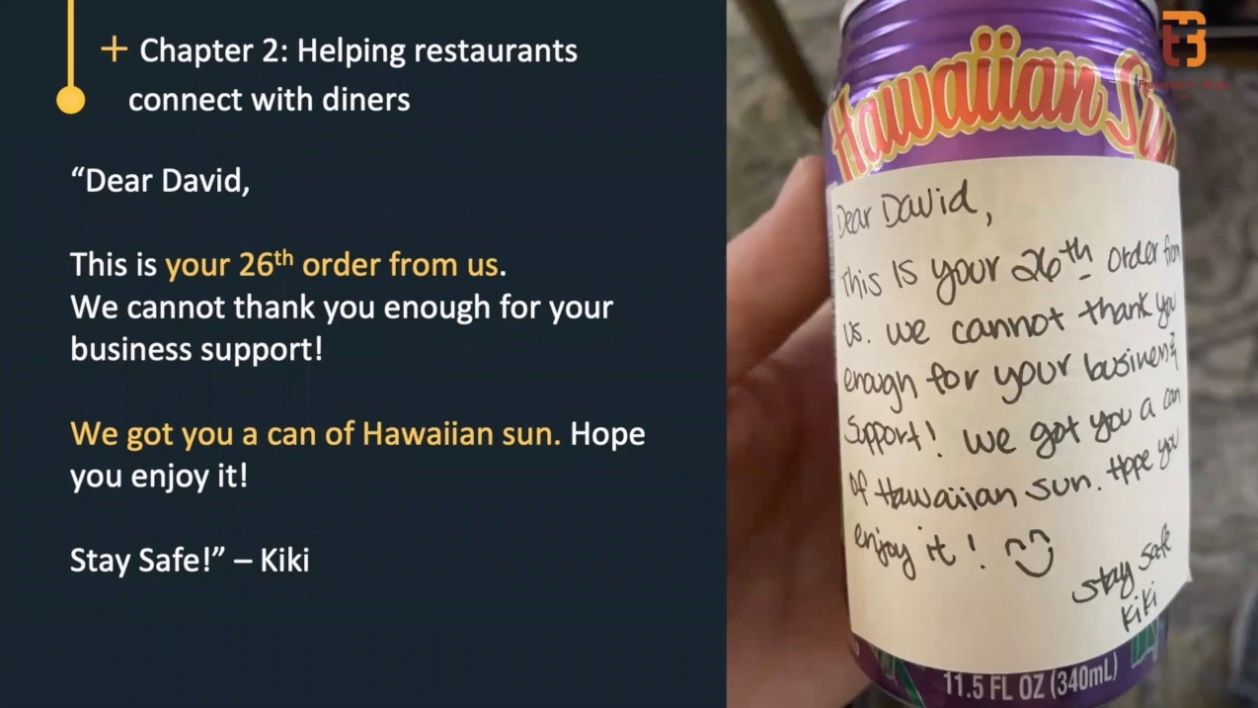 Here's a restaurant that basically said "David, this is your 26th order from us, we cannot thank you enough for your business support, we got you a can of Hawaiian Sun, hope you enjoy it".

So they offered a complimentary soda to this particular customer and wrote a personalized note because of the information we were able to provide them on the behaviors and the frequency of the orders from this particular customer.

Really, truly showing we were helping build this online community. But we knew that we needed to also remove friction.
Instagram integration
A lot of these restaurant owners already had built a following on Instagram, they already had people following them on Instagram, and they already had a lot of great photography on Instagram.

So, how do we facilitate all of that so they don't have to build a new following on Uber Eats and create new photography for Uber Eats?

We're able to now enable restaurants to integrate their Instagram account directly on Uber Eats. So you as a consumer can actually open the Uber Eats app and those restaurants that did this integration.
It's optional and free, and you'll see photos from their Instagram account, open Instagram directly on Uber Eats, see their menus, and start to follow them on Instagram.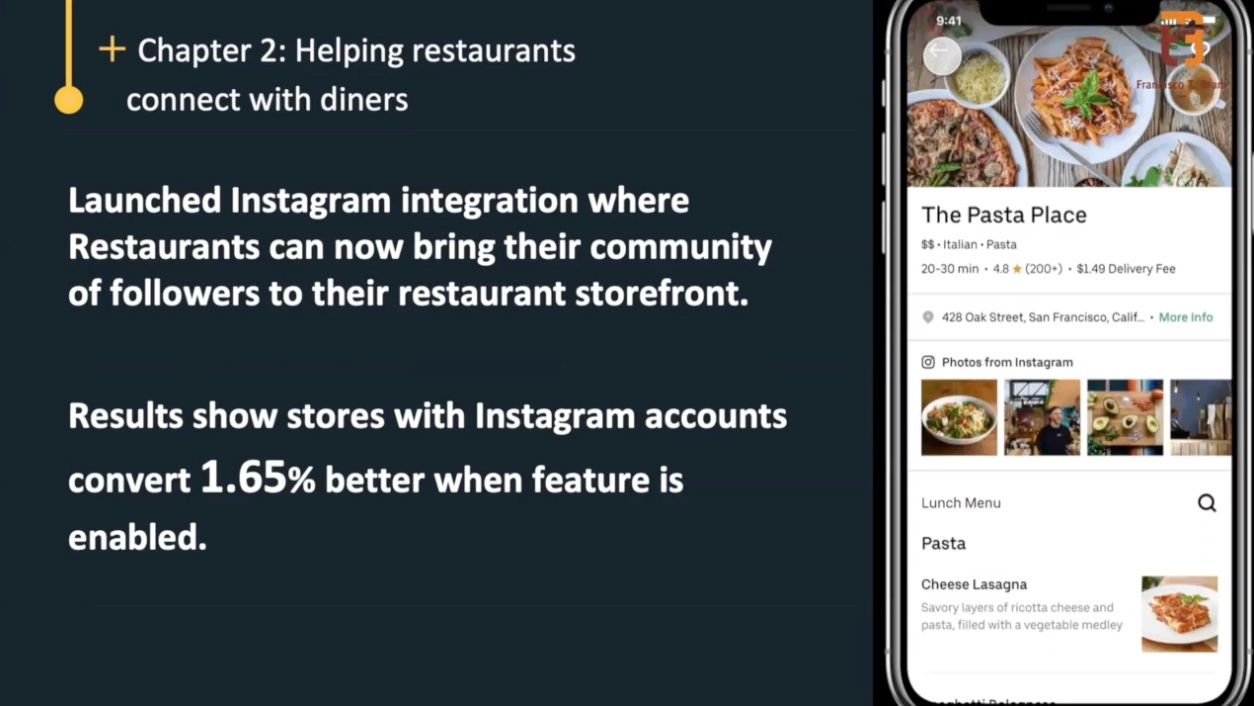 We brought these two elements together so they can continue catering to their followers in a frictionless way.

Uber Eats Stories
But we also added a new feature to Uber Eats, so now on Uber Eats restaurant owners can also launch stories. With stories, they can connect with their diners directly by promoting special menu items.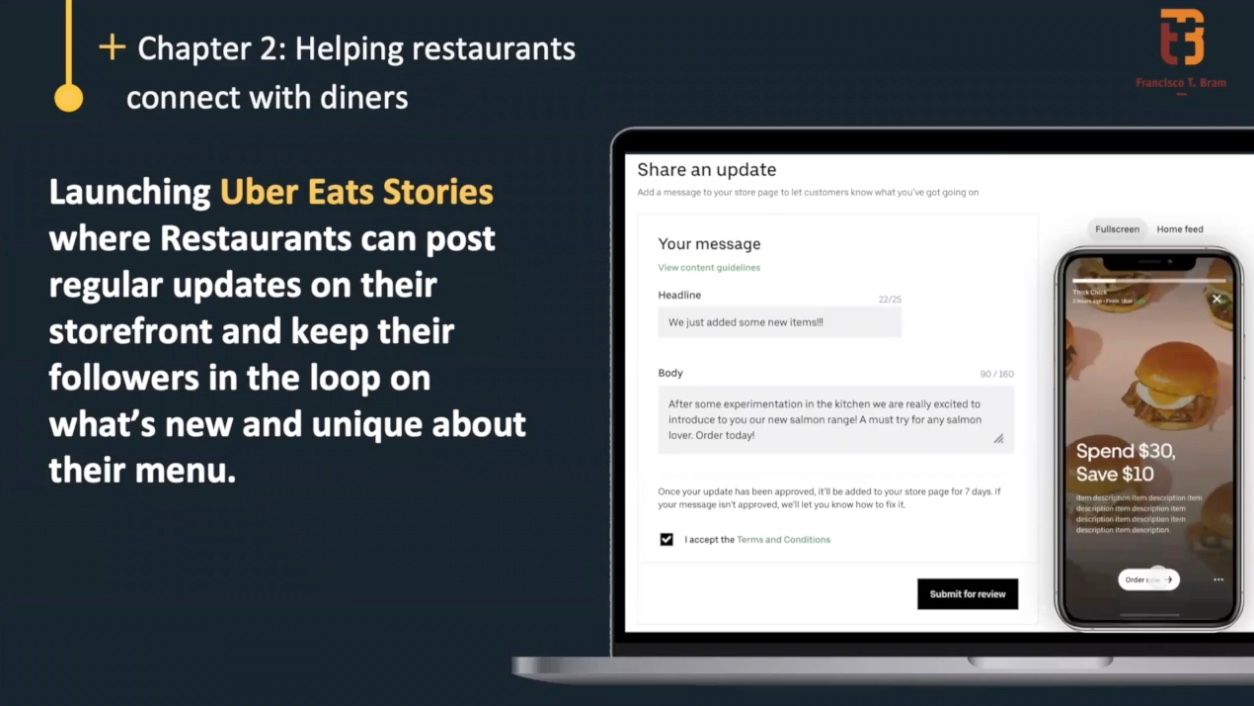 They can promote special holidays, here's a few examples of that.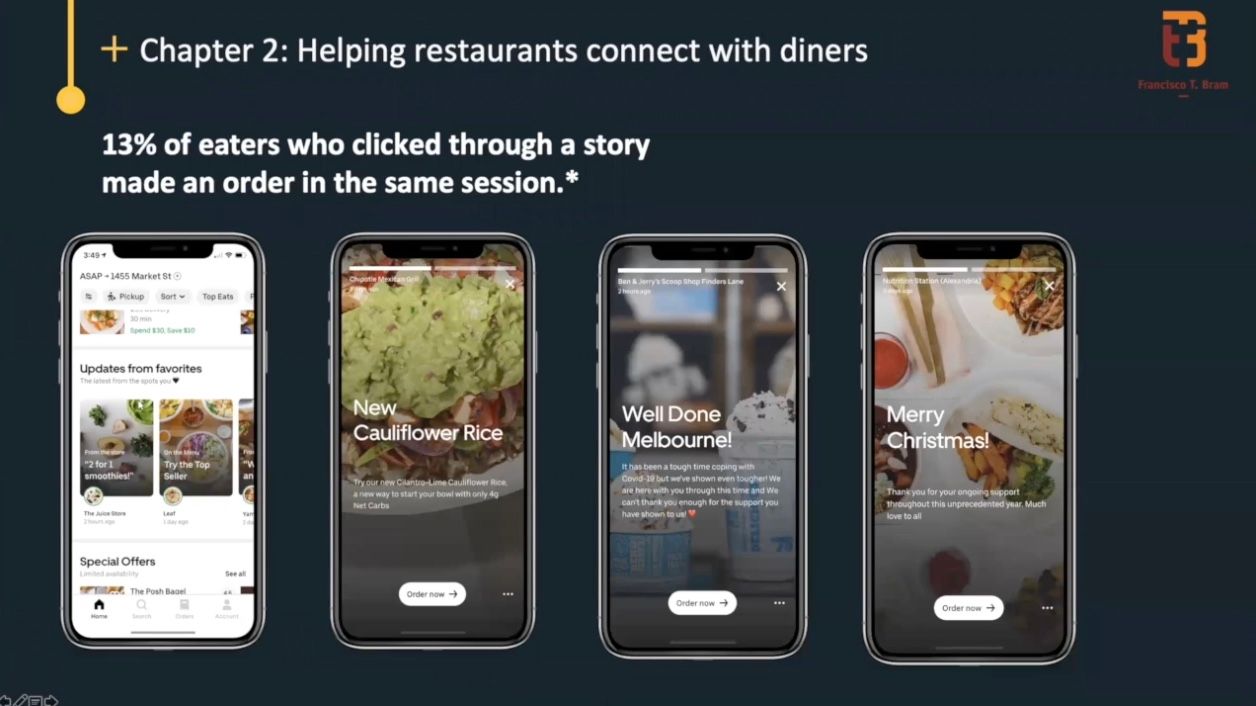 You will see on Uber Eats some restaurants will run stories, where you can learn about new promotions, they can tell you about a new menu item, this story will run for free for seven days, then they can also celebrate a particular moment like we're past COVID, or they can actually celebrate, for example, a holiday.

All of this is complimentary. But what we found is that when restaurants ran stories, about 13% of eaters that actually saw a story ended up placing an order directly from that story, which is really incredible, because again, this is all free for these particular restaurants.

We're helping them build these relationships and help drive more revenue for them as well. This is how we brought those features and functionality to life. Again, under that theme of celebrating local restaurants.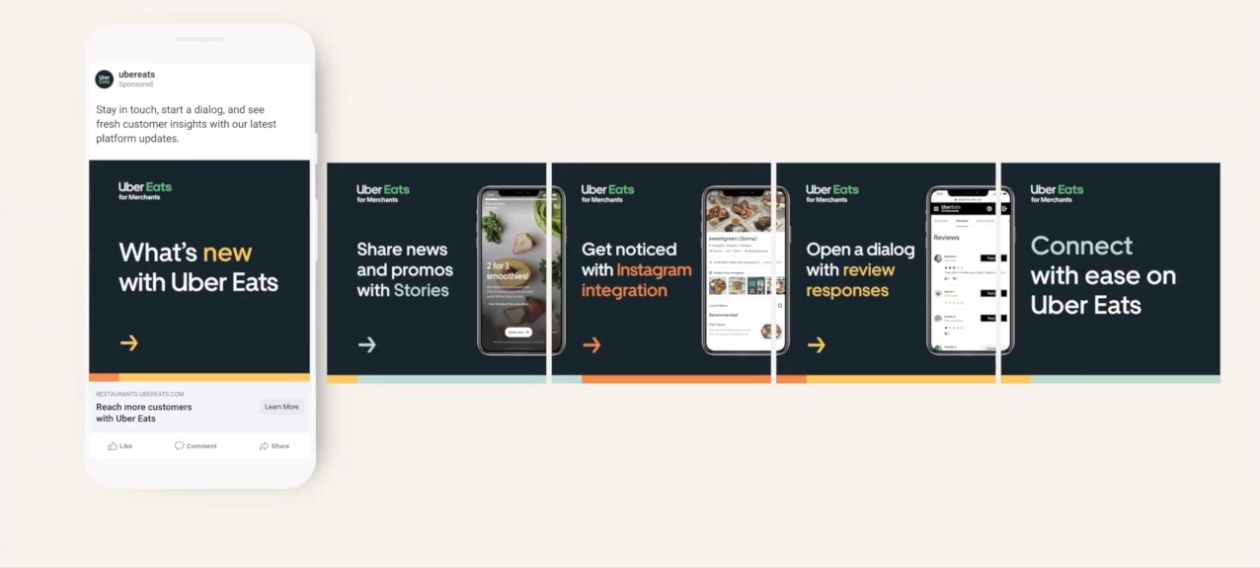 We built social ads, like this particular one which is a carousel, we want it to feature their dishes so these are actual photos from local independent restaurants that we took and we featured across all of our different ads.

But we didn't want to stop there.

Chapter 3: Education and learning
If you remember the other insight was we don't spend enough time educating them because they don't have college degrees or they don't have education in online marketing. So we wanted to help restaurant owners.

On the Rise
We started off in February and March with what we called 'On the Rise' series, which is featuring black-owned restaurants.

We worked with celebrity chef Marcus Samuelsson and he traveled across the United States making these very short snippet videos which you can find on YouTube and he basically brings the story of these local businesses to life where you can find them on Uber Eats and order directly from them.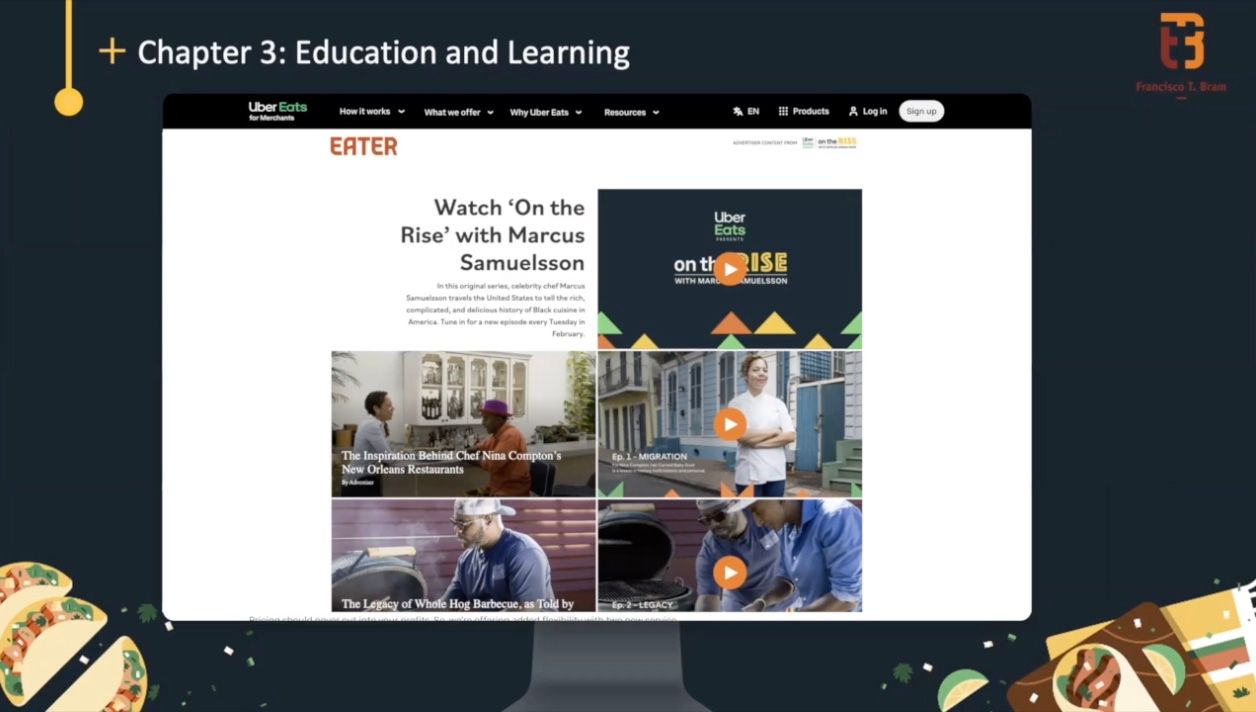 Merchant Academy
We're also launching what we call Merchant Academy, where you can learn as a restaurant owner how to:

Build your menu,
Optimize photography to drive engagement,
Run advertisements to create more views to your online store on Uber Eats,
Use promotions to convert views into first time sales, and
Use a loyalty program to convert first-time sales into recurring sales.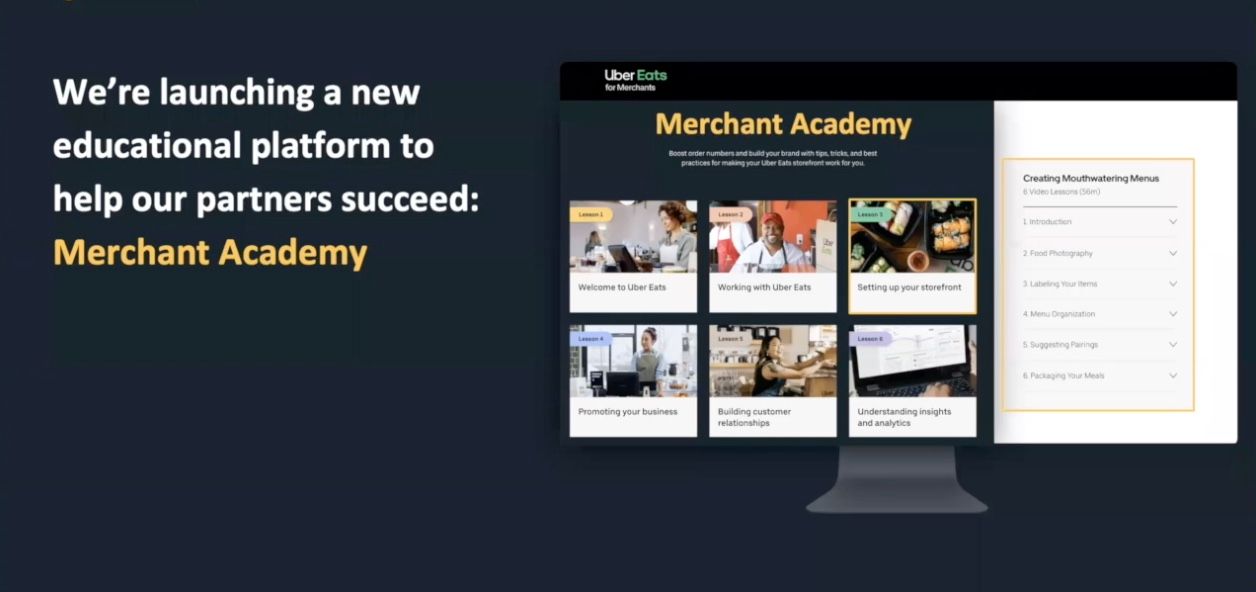 Really building an entire platform to help restaurant owners be successful, making it very easy for them to create an online store, promote it, and drive business.
Product marketing: championing customer innovation
Finally, we also want to leverage data, not just to understand customers and solve a problem, communicate and inform marketing, but also build a solution that delights customers ultimately.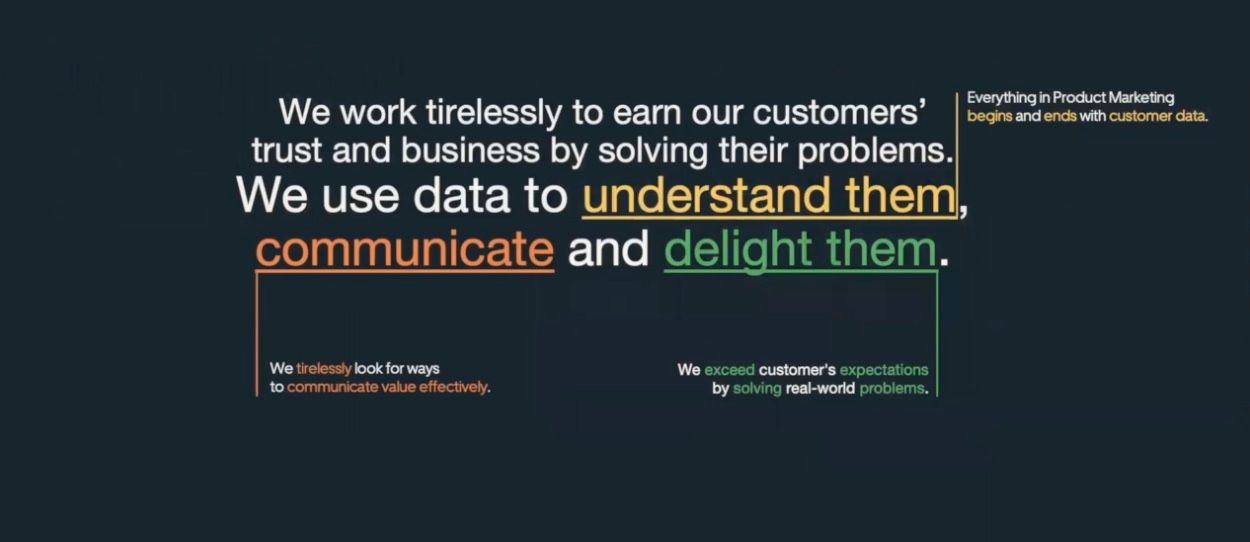 Certify SpendSmart
I really love this example because it brings home the true function of product marketing. How do we champion customer innovation? It really starts with grounding everything you do in a key insight.

That insight for me in 2018 was that Uber was the most expensive vendor in 2018 and 2019. We got this insight, and we wanted to explore it because Uber is known for being a consumer-driven company.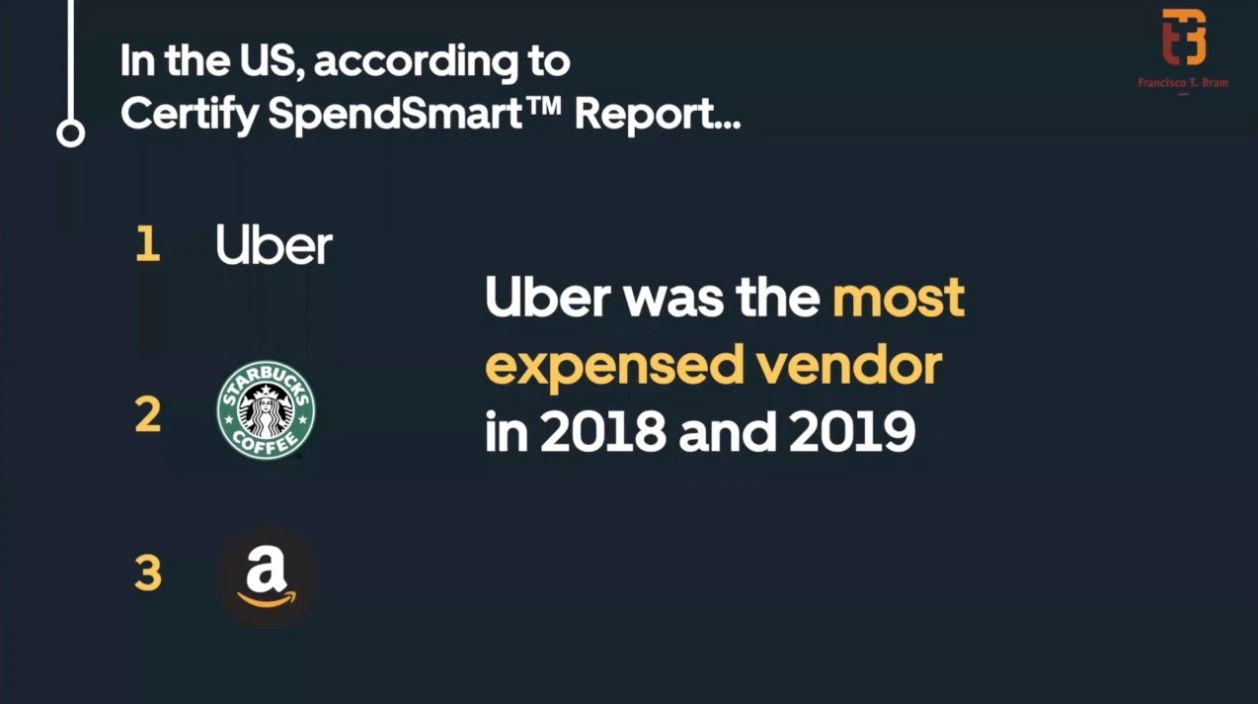 If Uber is being expensed more than Starbucks and Amazon, that means there's a large section of the consumer population that is likely using Uber in a work-related setting - what we call business consumers.

We wanted to know how large this segment was, and how big they are for Uber.

Used our internal data to model our target audience

Which riders have a corporate card on file?
We went to data science, which was the first team that worked with us. We wanted to look at all of the riders on our platform that have a corporate card on file.

Because if they are using Uber, they're paying for the trip so we can tell from the first five numbers of your credit card, it's called the BIN number, if it's a credit card that it's used for personal reasons or for corporate reasons.

Which riders behave like business travelers?
But we also knew that not every business consumer is traveling with a corporate card, they might be traveling with a personal card and getting points and then getting reimbursed by the company.

So we wanted to look at behaviors. We wanted to look at how many of the riders on our platform travel from airports to hotels, hotels to office spaces, have international rides, and then build what we call the business traveler lookalike model.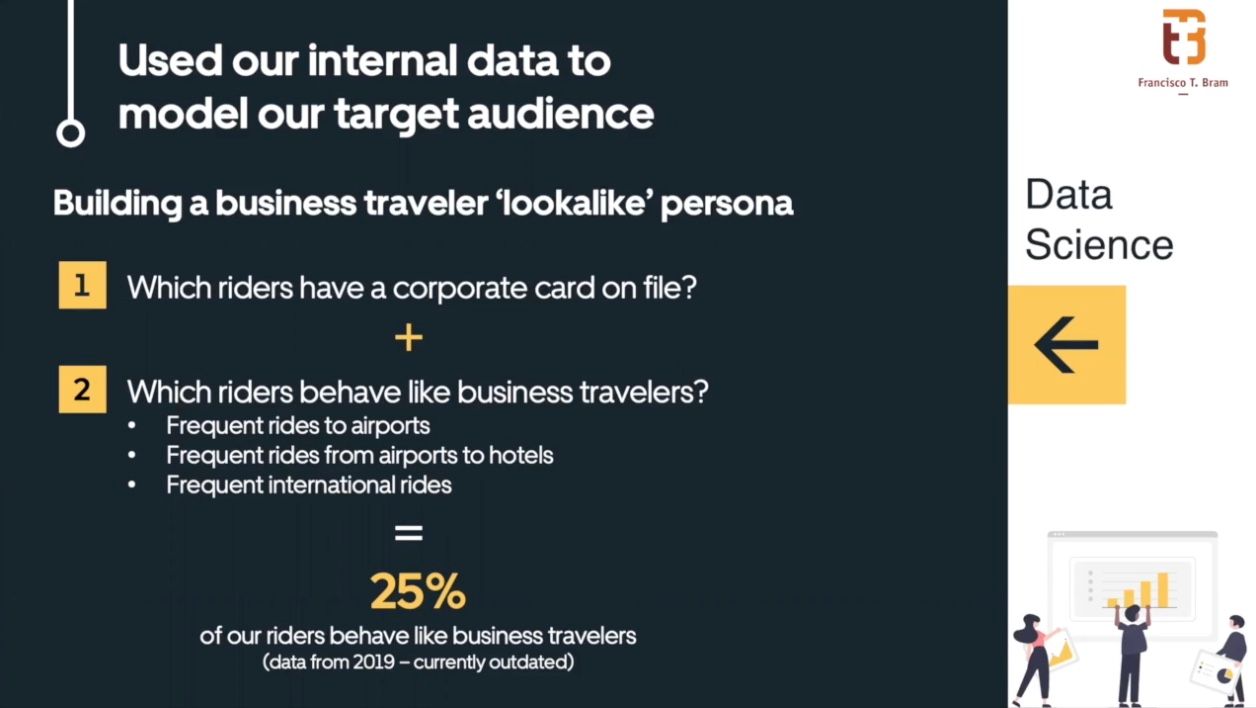 What we were able to find is that 25% of our riders on our platform behave like business travelers. This was a key input from us because this is the high-value segment for Uber. We needed to understand how they are and how they behave.

Listened to our users to map their travel journey and product experience
We worked with UXR to build a journey map, looking at the different stages of pre-trip, on-trip, and post-trip, what they're doing, feeling, thinking, deciding, what problems they have that we can leverage as an opportunity to launch a new feature or service, and what channels they use to communicate.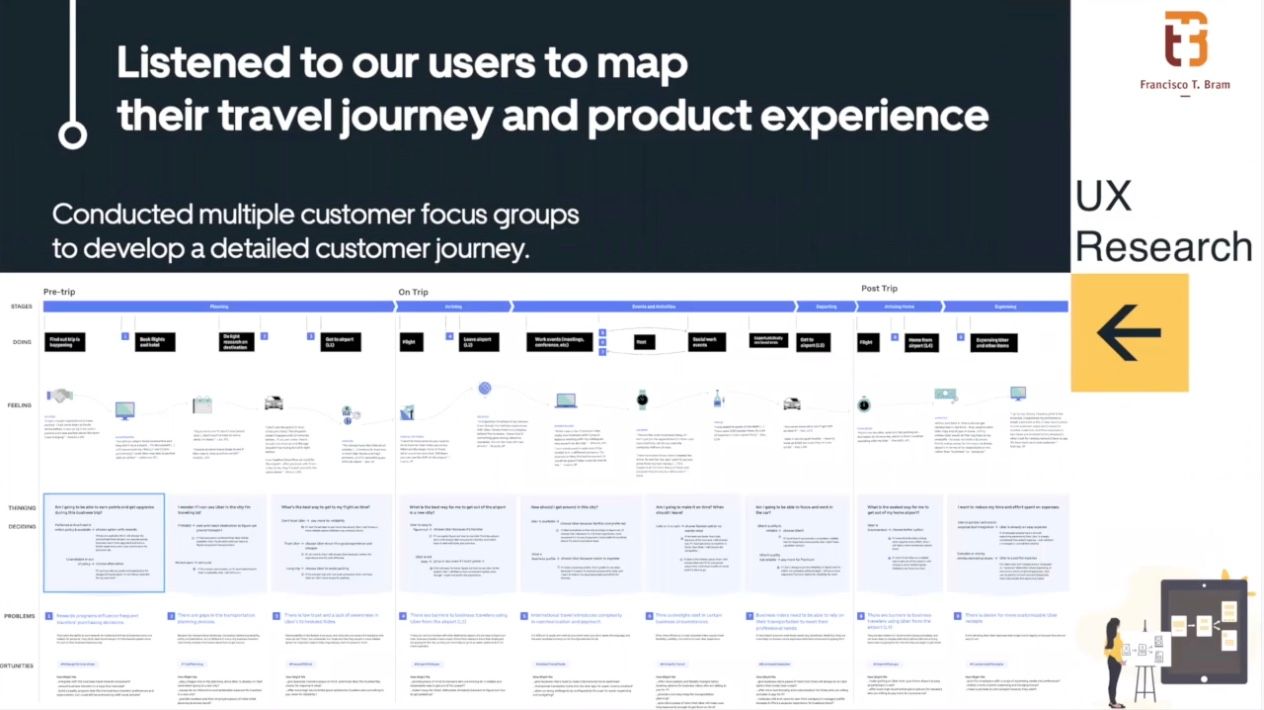 With this information, we were able to get a very clear understanding of what the top needs for them were.

Researched customer behaviors to identify marketing personas
We were also able to then deep dive and build personas, that's when we worked with marketing research, to really understand the different persona types.

Jet setters
Road warriors
Locals
Techies+newbies.

Jet setters were like C-level people that travel on the company's dime. They were basically spending a lot of time traveling business class flights and hotels and they're not price sensitive.

Road warriors are consultants, sales, engineers.

Locals are someone who walks, also uses Uber, but uses Uber within the confines of the city like lawyers or accountants.
Techies and newbies are new entrants to the workforce, that for example, look at business travel as a perk. They have this notion of 'bleisure', which is business and leisure, they combine the two.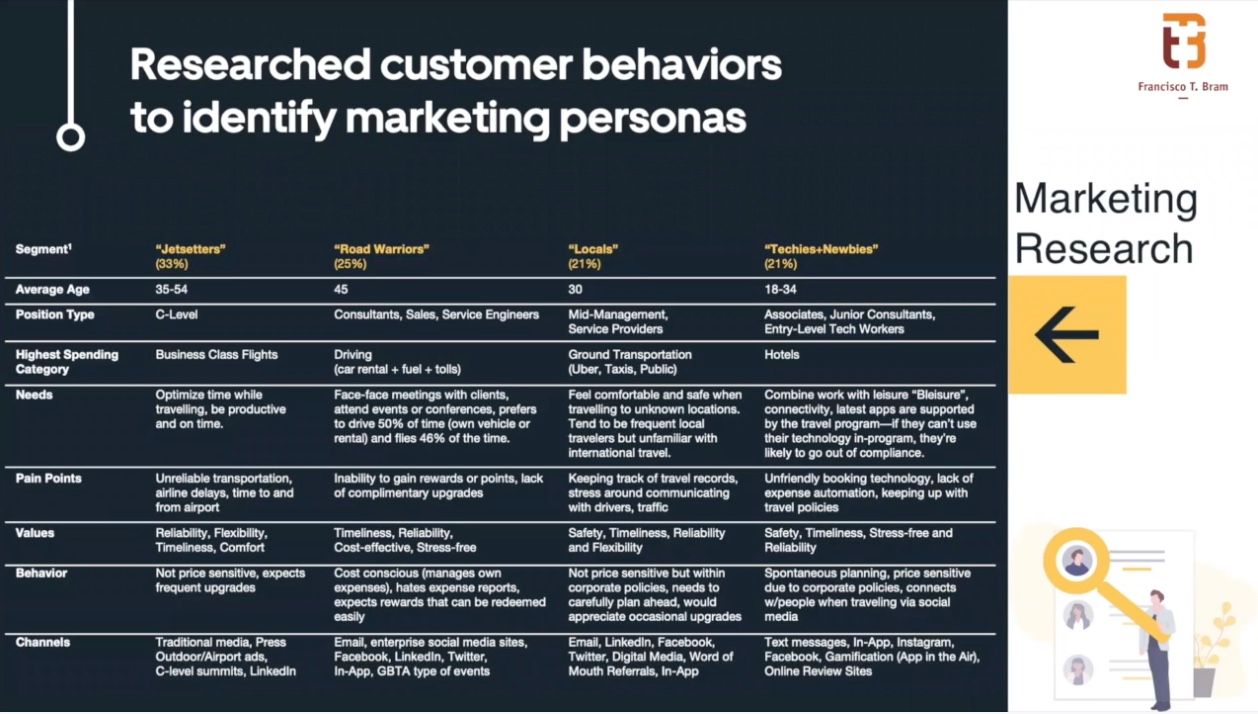 With this in mind, we built detailed profiles around each persona, from the jet setter with the different frustrations, pain points, attitudes, and behaviors, the channels they used to communicate as well as the road warriors, the locals, and the techies.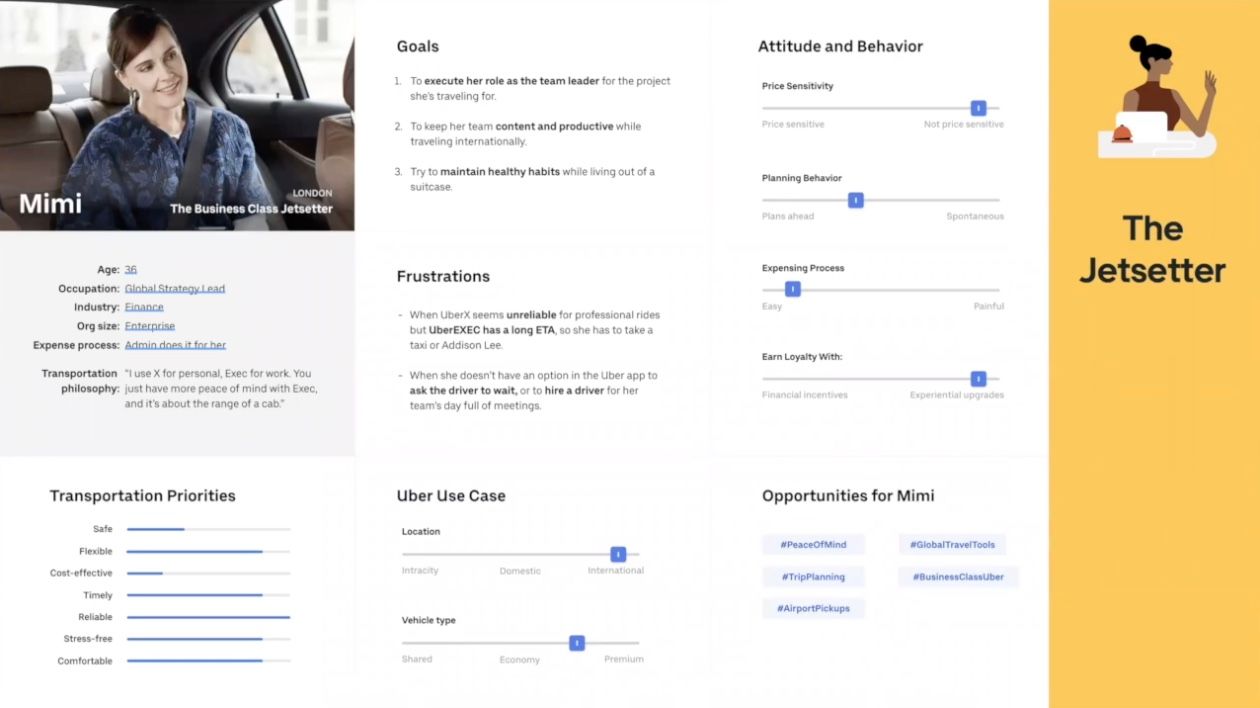 With all this information, we were able to understand that there were several things we could address with a new portfolio of solutions.

Our highest valued audience was sitting inside a black box
Starting off with we looked and identified that American Express was one of the most commonly used corporate cards on file and they care a lot about points as business consumers.

Partnership with American Express
So we partnered with American Express, and we launched the program where you can actually use the American Express card for work rides and get double points.

Business profiles
We also created a business profile where you can actually automatically connect your receipts to your Concur or Certify so every time you travel with Uber, all those trips are automatically expensed so you never have to spend time on Fridays running your expense receipts, which was another pain point we were told we can address.

Uber Comfort
Then they wanted to be also picked up outside the gate, and not have to go to the parking garage to get an Uber because they're on a time schedule. They want to also be able to personalize their ride, get extra legroom.

And they want to be able to also do all of this in the comfort of a vehicle that is newer and has a higher rated driver and they're willing to pay for it. So we positioned Uber Comfort for this particular audience.

They get extra legroom and you can actually customize your preferences and say what kind of climate you want, you can have quiet mode so that you don't have the radio on or the driver talking to you so you can really focus on work, or even just resting from a long trip. And in many airports, you get picked up right outside your gate.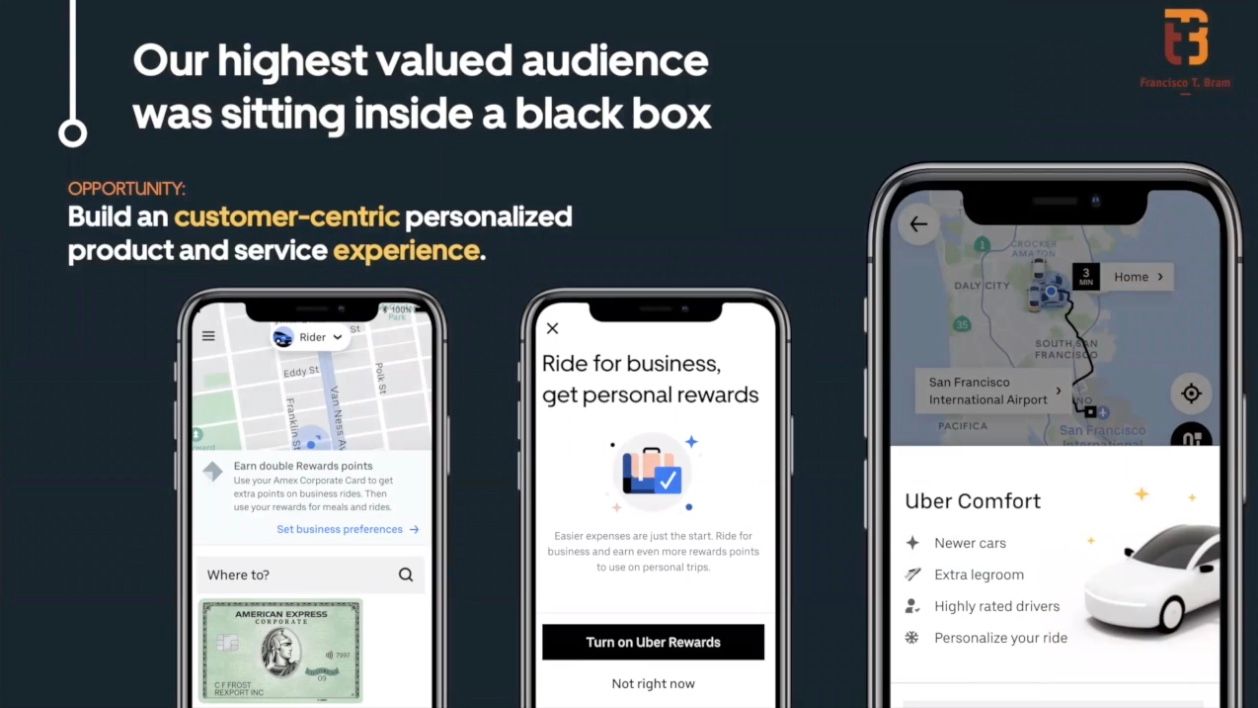 So we launched Comfort, but we also wanted to test the value proposition.

A/B messaging experimentation can help determine what narratives perform better
We ran a lot of experiments working with marketing analytics, testing different messages. For example, we did A/B testing on what message should we go with, for the US versus Brazil versus Mexico?

We tested one message which was "earn points while traveling for work" with treatment group A, with treatment group B we tested "keep work and personal trips separate" and then we have a control group, which is the baseline to compare the impact of A/B.

What we found is obviously A and B, both of them performed better than the control group, which is a good sign. But then we learned that treatment A worked 20% better in the US than B and treatment B worked 32% better in Brazil and Mexico, meaning 30% more engagement in Brazil in Mexico than A.
So we knew that for different markets, we had to go with a different type of value proposition.

A/B testing can also help determine investment in creative resources
We also knew if we should invest in photography or illustration because we also tested the same value proposition with different groups.

The only difference was one had a photo associated with a value proposition, one had an illustration. We were able to find out on average, across the different markets, illustrations performed better than photography.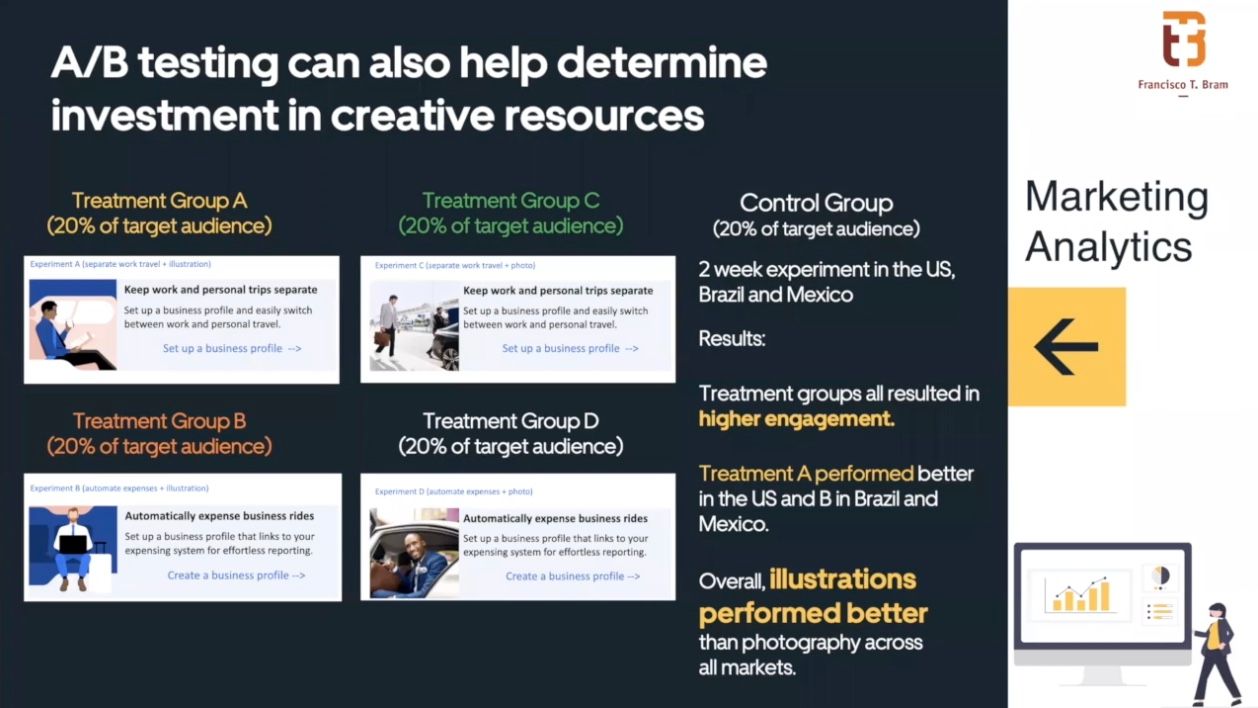 This is really important for us to learn because we can save on unnecessary costs of a photoshoot and can speed time to market as well.
Not only did we drive net new profiles but we generated incremental business
All in all, with this campaign, we were actually able to drive a lot of engagement, we brought 4.5 million new business profiles to the platform. We increased business trips by 14%, billings by 16%, and bookings by 16%.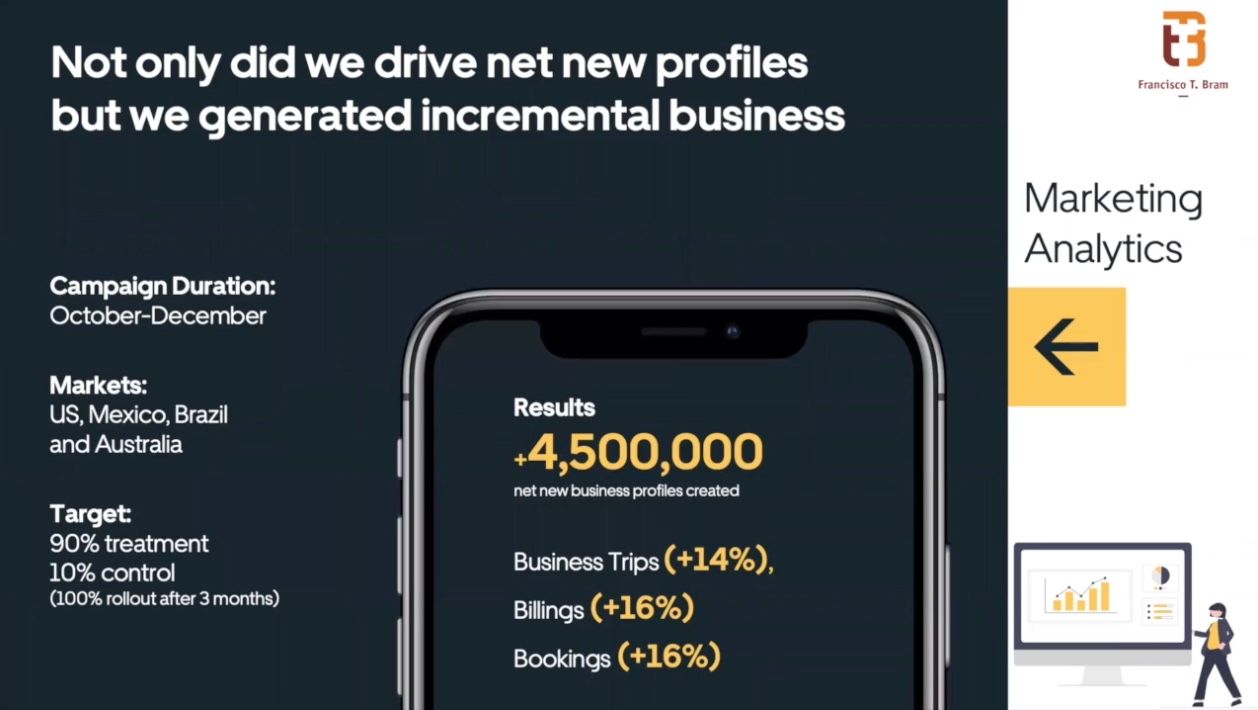 The success of all of this is because we grounded all of our work in true customer insights. That's really what I want to leave you with.
Key takeaways
Product marketing more than ever plays a pivotal role in driving innovation and being the voice of customers. We really play quarterback between the upstream marketing teams and the downstream marketing teams.
Relentless pursuit of the marketing truth
To do our job effectively, we always need to start with the customer's truth. Never stop learning about your audience, data is your best friend.

I love this quote, "Even when you're marketing to your entire audience or customer base, you're still simply speaking to a single human being at any given time".
Content is king
Once you have that marketing truth, you need to build content that is grounded in that truth and experiment on it. Content is really the atomic particle of all digital marketing.

So it's not just about good storytelling, I love the quote on this too, it's about telling a true story well, grounded on those customer insights.
...and engagement is the queen
Once you have that, you then focus on the right channels to propagate that message. Never stop expanding on your channels because a great marketing strategy is a true story unfolding across all possible touchpoints.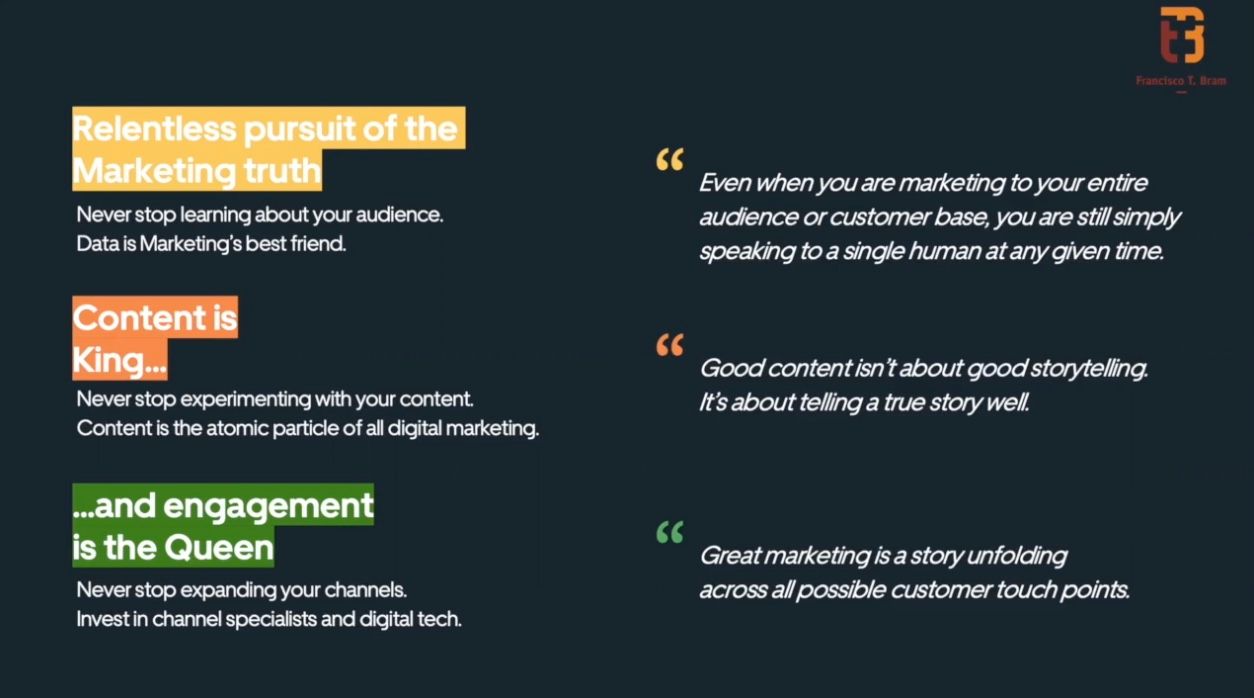 I'll leave you with these three tidbits of knowledge. I hope you found these examples interesting and helpful.

Thank you.