The State of Product Marketing Report 2022 survey is open for business!
The upcoming report will feature a treasure chest of transferable findings you can apply to your day-to-day practice to enhance your credentials.
That said, without your feedback, it's merely a pipedream…
In preparation for our latest write-up on topics such as OKRs and metrics, product marketing skills, recommended tools, and much more, we're turning back the clock and revisiting the 2021 report to whet your appetite.
Check out our recap of last year's findings, including insights into:
2021 key findings
Most PMMs (still) report directly to Marketing: When we asked product marketers who they report to, 62% answered with Marketing.
A majority of product marketing functions are made up of teams of 2-4: 42% of survey participants said there are 2-4 people within their team of PMMs.
Nearly 1 in 5 product marketers never speak to customers: When asked how often they or their team speak directly to customers, 19% said they never do and instead, rely on feedback from other teams.
34% of PMMs support five or more products: It seems product marketers are still spinning a lot of plates; a significant number of PMMs support 5+ products simultaneously.
15% of product marketing teams don't have OKRs in place: A notable quantity of PMMs are working without any objectives or key results to measure their success.
A lack of time, money, and understanding is still ticking PMMs off: When asked about their pain points, product marketers cited low bandwidth, tight budgets, and poor comprehension of the PMM role as top contenders.
Most of the product marketing budget is spent on software and tools: Almost 4 in 10 PMMs said that their function's budget is allocated to upgrading its tools and software.
The product marketing role is still being misunderstood: When asked if other teams and stakeholders within their org understood what product marketing does, only 4% of PMMs said they believed this to be totally true.
🎧
Product Marketing Misunderstood
hones in on knowledge, techniques, and stories you can use to amplify your
role
, establish your
authority
, and elevate your
strategic value
.
Get your copy
and learn how to apply product marketing principles to
your role
and give your colleagues the ultimate 'aha' moment.
Get to know the participants
Hundreds of product marketers from all corners of the globe took part in 2021's survey.
A majority of our respondents were from North America and Europe, with most - regardless of location - operating under the job title of Product Marketing Manager. Most respondents were part of a function marketing to B2B customers, with a majority supporting a SaaS product.
Almost the same number of survey participants had 1-3 years of experience in product marketing as those with a decade or more in the industry. Most respondents are looking to take the next step in the PMM career journey over the next five years.
In terms of the organizations, the product marketers came from, almost all spanned the mid-growth to enterprise spectrum, with a notable number of early post-product-market fit companies in the mix.
Computer software and information technology services proved to be the most popular industries, whilst product-first was the most commonly identified company culture.
Location
As was the case with the 2019 and 2020 reports, the vast majority of this 2021's participants were from North America (66%).
Their counterparts could be mostly found across the pond in Europe (27%), whilst others spanned Asia (4%), Australasia (2%), and South America (1%). This is pretty close to 2020's geographical spread.
Oh, and let's not forget our lone respondent in Africa - we see you and we appreciate you!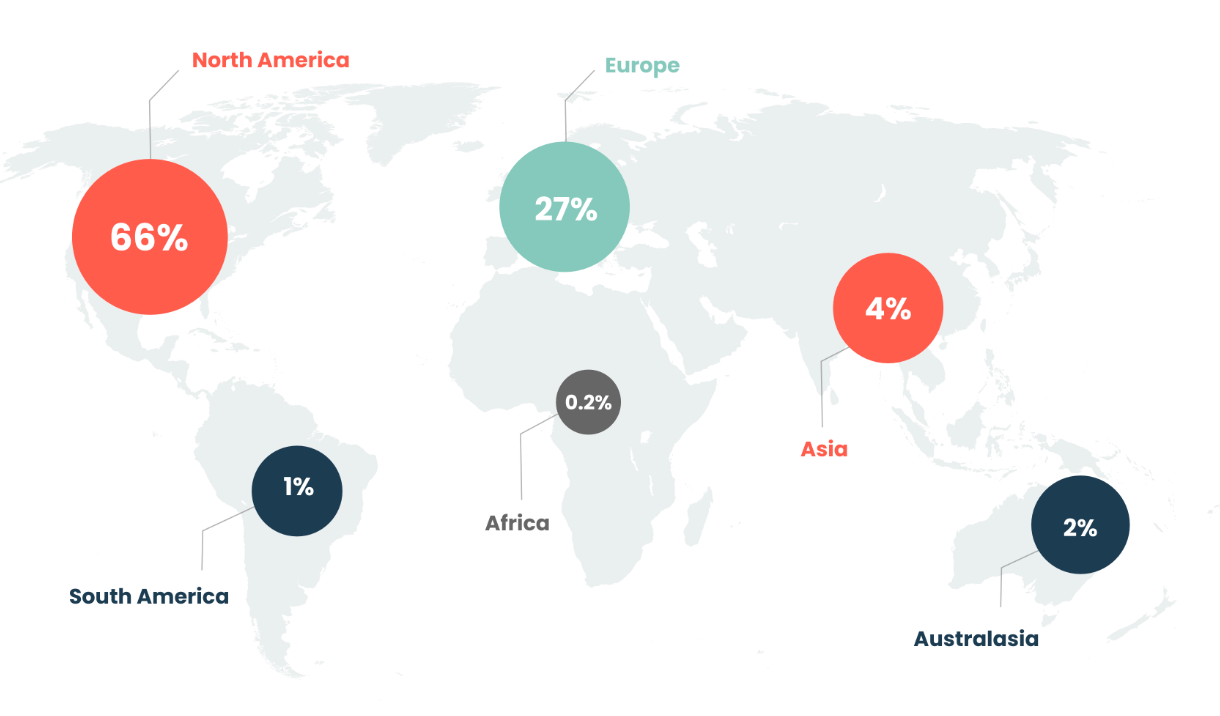 Experiences and roles

Current role

Most of our participants are currently working under the title of Product Marketing Manager (33%).
However, our experts also included a range of Senior Product Marketing Managers (18%) and Directors of Product Marketing (17%), as well as (People) Managers of Product Marketing (5%), Associate Product Marketing Managers (3%), VP of Product Marketing (4%), and Principal Product Marketers (2%).
That said, there are ever-present grey areas surrounding the PMM role. Of the 19% who answered 'Other', roles included Product Marketing Advisor, Director of Marketing, GTM Strategy Manager, Customer Marketing Manager, and VP of Revenue.
These findings consolidate our theory that the product marketing role is still ambiguous, enigmatic, and increasingly diverse.
This also suggests that companies are either struggling to find a dedicated place for PMMs within their organization and shoehorning the skills under a more traditional umbrella or that the PMM role itself is expanding into something more complex and varied.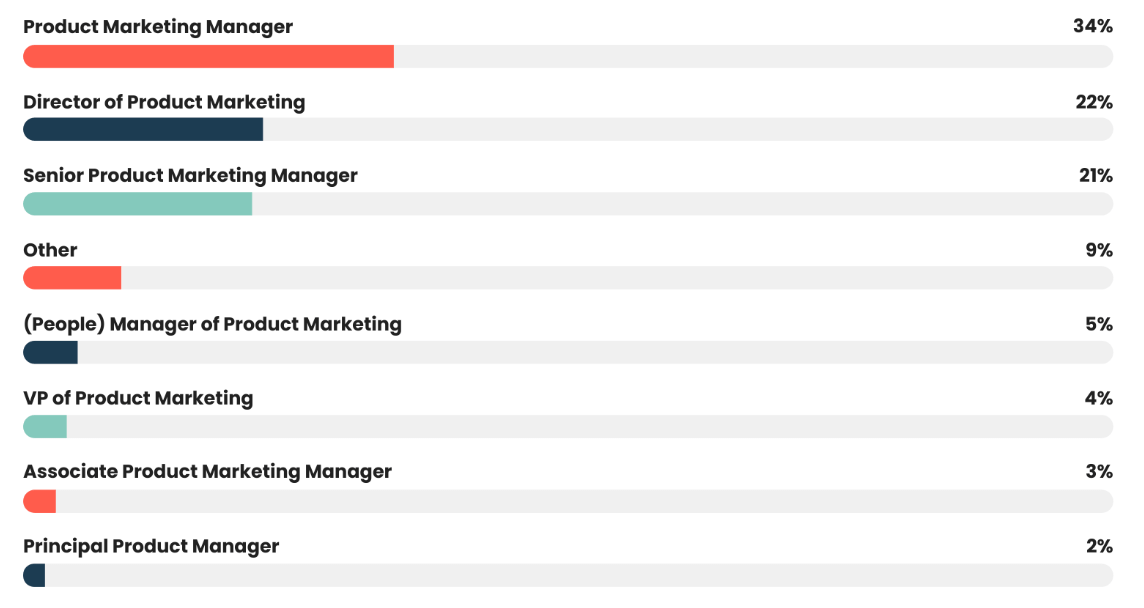 Level of experience

As well as hearing from experts on various rungs of the PMM career ladder, we also saw participants come from a wide variety of experience levels. Some were newbies, while some were seasoned professionals.
The majority have been working in product marketing for 1-3 years (26%), closely followed by a quarter who've been in the industry for 5-10 years (25%). Those with 3-5 years experience (23%) and 10+ years under their belts (20%) made the results an almost equal four-way split, divided only by the 6% who've been working in a PMM capacity for less than a year.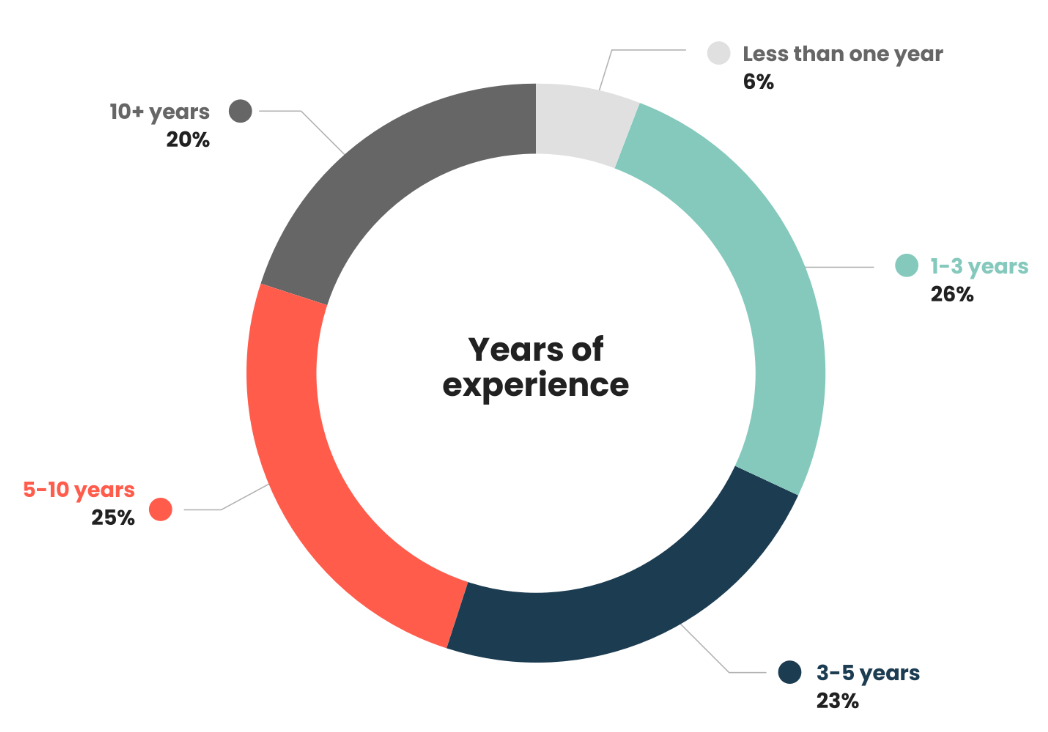 Previous roles
We know by now that the role of the product marketer can be wildly diverse and ambiguous but it seems the backgrounds of those in the industry are equally eclectic.
The PMMs we surveyed came from a variety of seniority levels, company stages, and company sizes but not all had longstanding careers in product marketing. Many originated from other sectors, one as far-flung as an ex-Burger King Line Cook.
That said, we were able to spot a handful of prominent trends and categorize the responses accordingly:
Marketing - This made up the largest portion of respondents and included the likes of Content & Brand Manager, Director of Marketing, Marketing Communications Manager, and Marketing Coordinator - just to name a few.
Sales - This umbrella covers those who had previously worked in a sales-centric role before becoming a PMM, with roles including Director of Sales, Sales Enablement Specialist, and Sales Associate.
Customer - This group encompassed PMMs who had a history in customer-facing roles including Senior Manager of Customer Experience, Customer Relationship Manager, Customer Marketing Manager, and Client Success Manager.
Product - This segment included people who had previously occupied roles such as Regional Product Specialist, Product Manager, Product Engineer, and Product Strategist.
Other - This is where our Burger King Line Cook sits, alongside several other previous job titles that didn't fit into the main categories outlined above. These included a Realtor, a TV Producer, a Documentarian, a Waitress, and a Proposal Writer.
Mirroring 2020's findings, a majority of our 2021 respondents had previously worked in roles within the marketing sector pre-PMM, which further proves the theory that this trajectory is a natural progression.
When we asked PMMs about their career ambitions, we found it interesting and extremely encouraging to see that 63% said they wanted to take the next step on the product marketing career ladder or were quite happy in their existing PMM role (28%).
Only 4% expressed an interest in exploring a completely new professional field, with reasons including wanting to "write less", wanting to "use skills in a way that is appreciated more", and wanting to start their own business.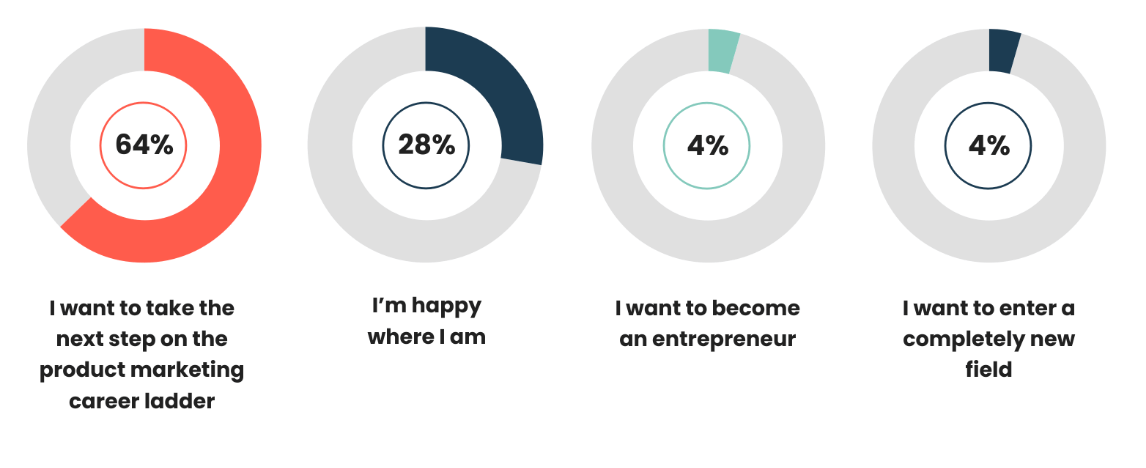 Company type

Who were the customers?
A vast majority of our respondents worked within product marketing functions supporting business-to-business (B2B) services (80%), while 4% work in a business-to-customer (B2C) capacity, and 16% work across both.

What were the products?
The products being marketed followed an almost identical pattern to 2020, with most PMMs supporting a SaaS product (75%), 5% working with a physical product, and 13% combining both.
Of those who selected 'Other' when asked what type of product they market, answers included services such as on-premises software, consultancy, insurance, e-learning, and human resources.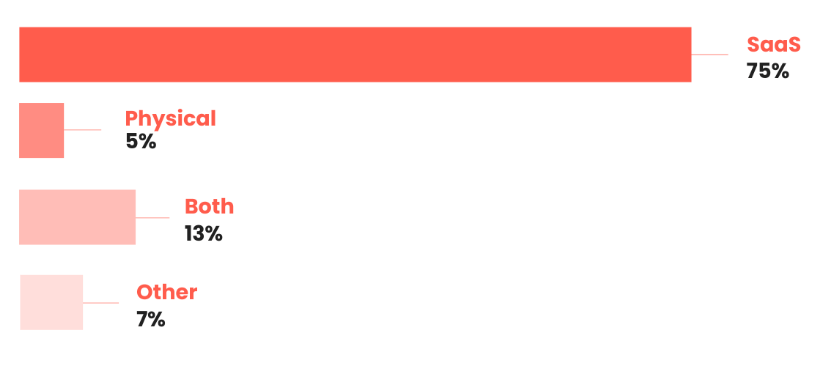 Stage of growth
Again, 2021's split between company growth stages wasn't vastly different from what we saw in 2020.
Those from mid-growth companies with established go-to-market teams dominated the responses at 33%, which was fairly close to 2020's 37%. The most significant change is the decrease of late/growth scale-ups from 37% in 2020, to only 24% in 2021.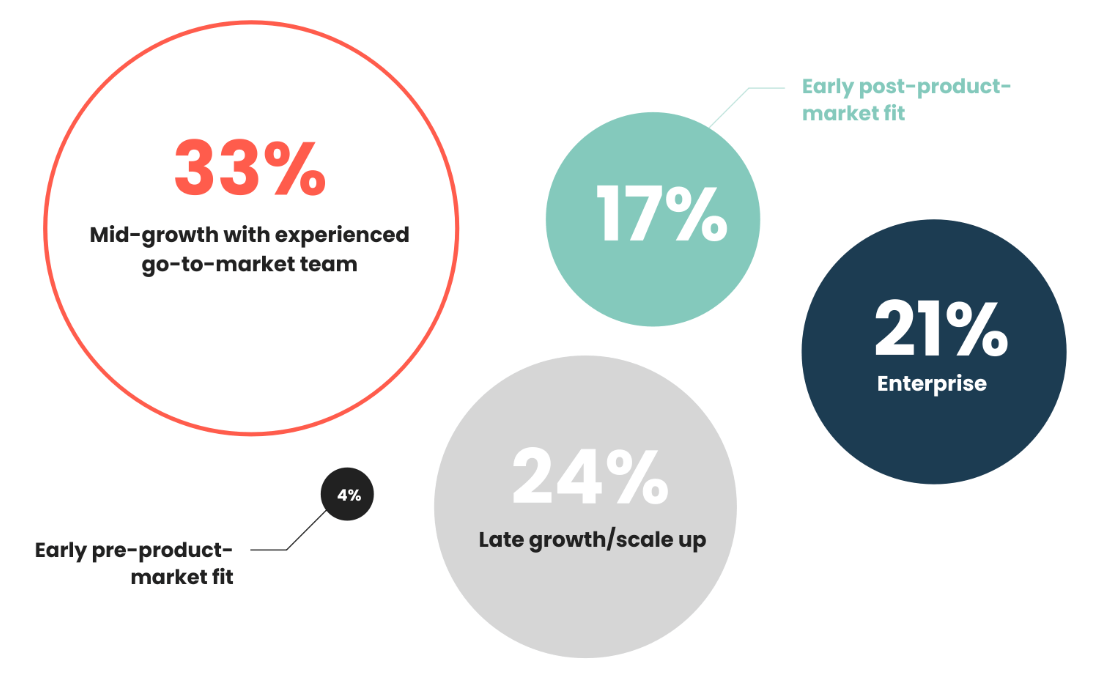 NB: A small number (1%) of participants selected 'Other' when asked what stage of growth their company was at, with answers including "supporting companies at early pre/post-product market fit" and "alignment of established brands and products, post-merger".
Education
Almost all of our survey participants (98%) went to college to study some form of further education but as we found in 2020, the areas of study identified were broad and diverse. Most studied areas within marketing (32%), which makes sense when paralleled with our finding that a majority of 2021's respondents had previously worked in roles within the marketing sector pre-PMM.
Other areas of study identified were business (26%), economics (11%), finance (3%), and product design (1%).
What was most interesting, however, was the significant increase in those who answered 'Other' (47%) - a sharp incline on 2020's 17% who answered the same. This suggests that more and more people are having their heads turned by the product marketing profession, no matter what their educational background.
Of those who did answer 'Other', the most popular areas of study by a long shot were within the field of journalism and communication; engineering; computers and computer science; psychology, and literature.
There were even a whole plethora of science-based courses in the mix, including biotechnology, cognitive science, neuroscience, and biology.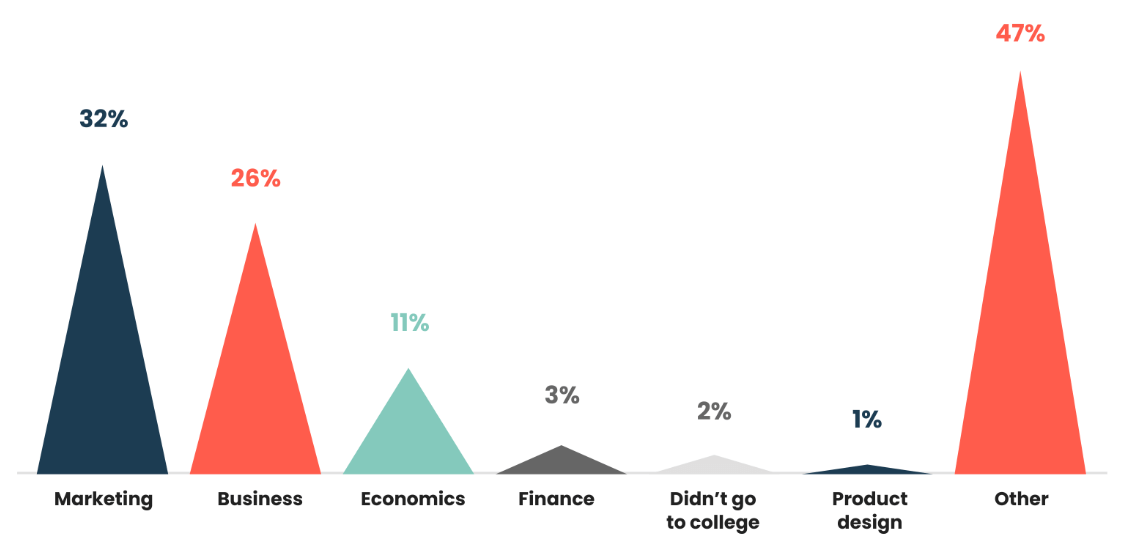 Which industries were PMMs working in?
In 2020, we celebrated the progression of PMM presence across 83 different industries but in 2021, it seemed the profile of product marketers grew even further.
Our participants came from 150 different industries, suggesting that the product marketing function is increasingly viewed as a necessity, as opposed to a luxury.
Based on 2021's findings, a majority (30%) of product marketers are working within the Computer Software industry, whilst those in Information Technology & Services (18%) were not too far behind.
Other industries included (but were by no means exclusive to) Marketing & Advertising (7%), Financial Services (5%), Telecommunications (3%), Human Resources (2%), Hospital & Healthcare (2%), E-learning (2%), Computer & Network Security (2%), and Market Research (2%).
The full spectrum of responses also encompassed the likes of Accounting, Hospitality, Pharmaceuticals, Aviation, Maritime, and Law Practices.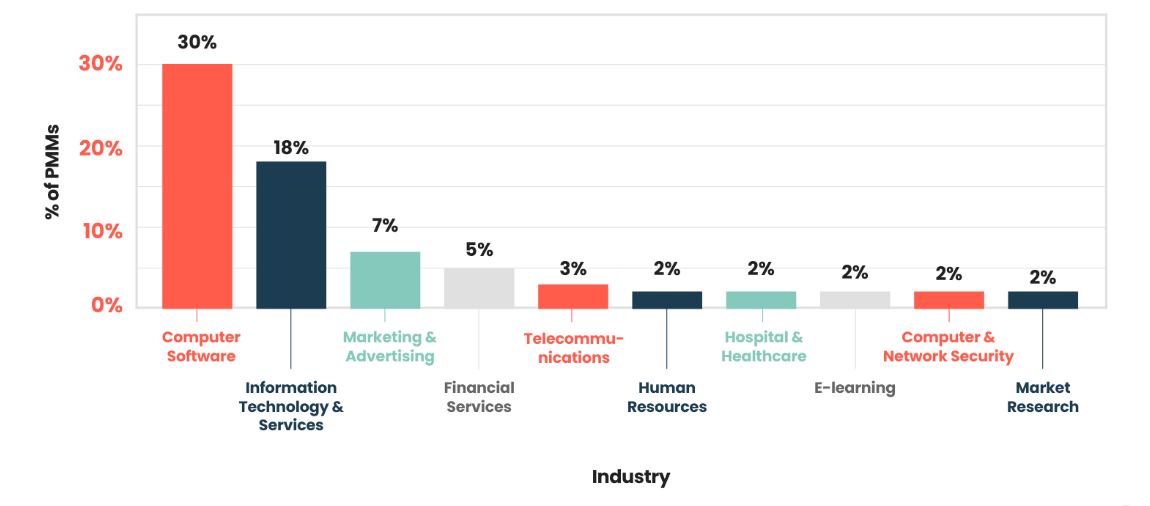 Company culture
Most of the product marketers we spoke to were from product-first companies (39%), followed by sales-first (28%) and customer-first (25%). Only 4% of participants were from a company with a marketing-first culture (4%).
2020's results revealed very similar trends, with small shifts here and there this time around. Where we've seen the most notable difference is in the decrease in customer-first companies between 2020 (32%) and 2021 (25%). This correlates with findings we'll unpack later on how almost a fifth (19%) of PMMs never talk to the customer.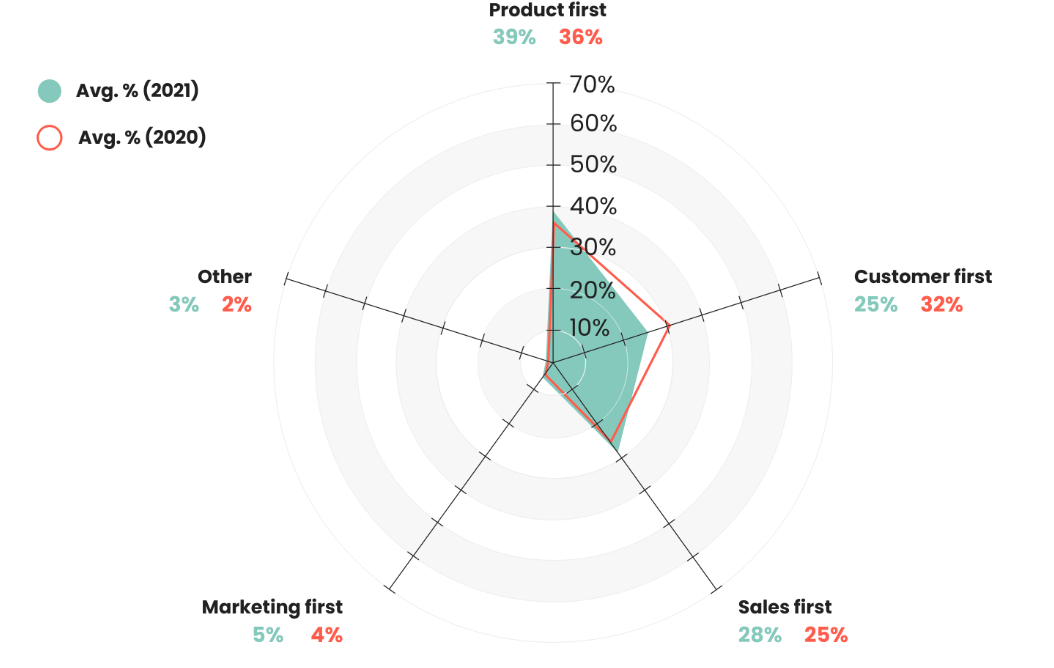 NB: Participants who responded with 'Other' identified their company culture as being 'employee-first', 'engineering-first', 'people-first', 'content-first', and 'teams-first', with some saying they're in a transition period between multiple factors. One PMM also honestly shared that they were "still figuring it out".

We also asked some of our product marketers why internal company culture is so important and what they do to foster a positive culture and great employee relationships within their orgs.

Here's what they had to say:
"Company culture is critical to our approach simply because, without the space to push back and say no to some of it, we wouldn't be here long." - Laura Foster, Senior Director of Product Marketing at Innovid
"Company culture is super important to attract talent but also retain talent. Innovating together on different levels creates in my opinion a positive culture where there's an open way of communication and where teams work cross-functionally together. This way you understand each other better and you grow trust." - Marieke Rodenrijs, Head of Product Marketing at Quinyx
"Positive and supportive company culture helps collaboration, which ultimately fosters innovation and growth. It's not just a corporate effort, but it is a shared responsibility with employees. You hire nice and competent humans, you give them a way to collaborate both informally and formally, you care for their mental health and personal growth, and you have some great foundation for success in return." - Silvia Kiely Frucci, Senior Product Marketing Manager at Castor
How product marketing had changed from 2020 to 2021

The changing product marketing landscape

The COVID-19 pandemic has made history, with the world contending with a global health and economic crisis. The pandemic catalyzed shifts within product marketing, leading to things like new patterns of customer behavior and the opening of opportunities via remote working.

Pandemic aside, the product marketing industry is also showing no signs of slowing in terms of progression and improved reputation, with more vertical growth and increased awareness of the value of investing in the function.

Our experts shared their thoughts on how product marketing has developed over the last year or so:
"Product marketing is finally growing vertically, adding depth and differentiation to its umbrella of responsibilities. In 2019, product marketing was identified as a multiple hat role and now there are clear and documented job descriptions: customer marketing, product marketing for sales enablement, etc." - Silvia Kiely Frucci, Senior Product Marketing Manager at Castor
"Customer behavior has changed. Therefore, all business functions have had to adapt their approach toward the customer. Cross-functional collaboration has also changed as a result. This has all been a test of the company's culture.
"Companies with strong cultures have pulled themselves together for their customers. Others have struggled a bit. But this past year has been the strongest testimony for how ordinary employees around the world can come together and do extraordinary things for each other and for customers." - Prashanth Krishnaswami, Head of CX and Marketing, Customer Service & Contact Center BU at Zoho
"In February, a recruiter told me "this is the year of product marketing." She was right. So many amazing opportunities have opened up for product marketers across the country, especially with the rise in remote working options." - Anna Daugherty, Product Marketing Manager at Stoplight
"It's been a truly rewarding experience. I get huge levels of satisfaction seeing how far we've come in just a few quarters, and it's encouraging to see the wider industry see the value of investing in product marketing. Plus, more first-time product marketing hires mean an even bigger PMM community!" - Louise Dunne, Product Marketing Manager at Linnworks
How the PMM role has evolved since 2020

On the back of a turbulent and challenging year full of change, which saw many product marketing functions having to pivot and adapt like never before, we also wanted to delve deeper into how product marketing has changed through the pandemic.
Here's how it looks through the lens of our interviewees:
"I think in the wake of COVID-19 and a year of lockdown, enterprise decision-makers are less swayed by the traditional trappings of an account-based marketing program since they weren't allowed to see sales reps in person. As a result, decision-making was forced to be much more remote, fact-based, and reduced to solving core challenges.
"Solving core challenges - by speaking cogently and passionately about the benefits of your products or services - is where product marketing shines. Therefore, I think sales organizations might rely more on PMM than they may have before."  - Erik Mansur, VP, Product Marketing at Crayon
"The name of the game in 2020 was agility. In early 2020, the vast majority of us had to throw out our planned approaches entirely and move as fast as we possibly could to respond to the market in real-time. It was a make-it-or-break-it-time for PMMs, one that required us to make decisions at the drop of a hat, without becoming too attached to any one approach.
"Our team was tapped outside the bounds of our traditional GTM model, to do financial market research, stand up product vision, and rewrite company positioning. In short, we moved from being thought of as purely tactical doers to more strategic thought-leaders." - Laura Foster, Senior Director of Product Marketing at Innovid
Roles, responsibilities, and team infrastructure

Role within the company
When it comes to where our product marketers are positioned within an organization and to who they report, 2021's findings were almost identical to 2020. Most PMMs report to Marketing (62%), while others report to Product (15%), directly to the CEO (11%), or Business Development (3%).
Of the 10% who responded with 'Other', alternative answers included 'Customer Success', 'Commercial Director', 'Strategy', and 'Global Director'. Common answers also covered a vast portion of the C-suite, such as CCO, CRO, CMO, CTO, CSO, and CPO.
There was also a handful of PMMs who worked independently and reported to nobody.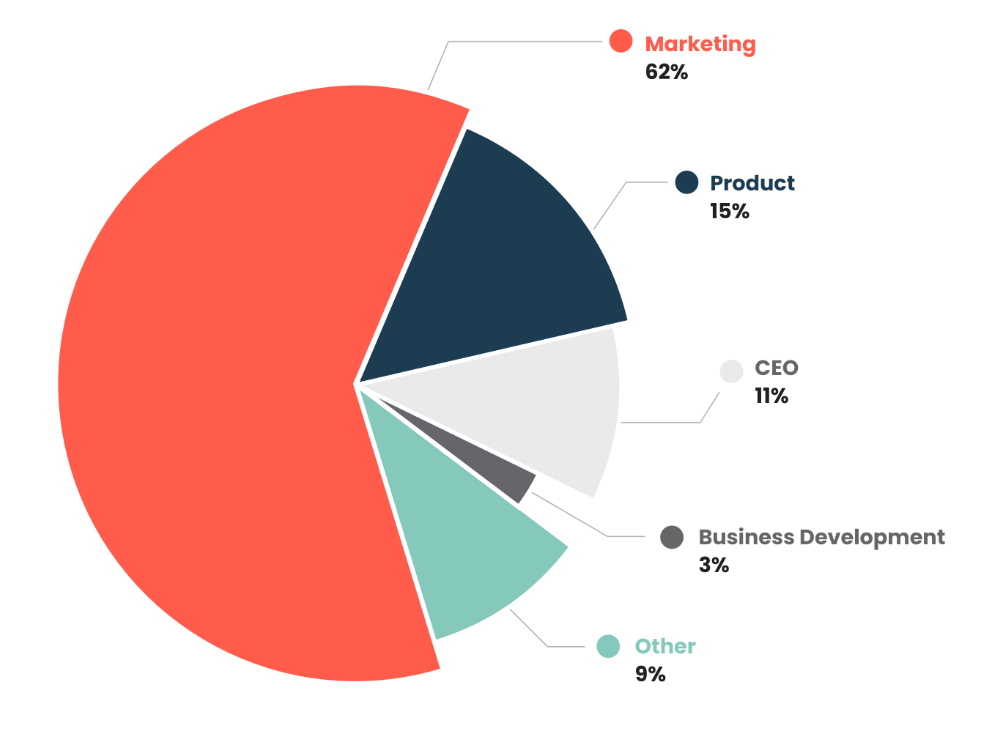 How many people form a product marketing function?
When we did some investigating around how big product marketing teams are, we found that the exact same percentage of PMMs are working solo (21%) as in 2020. In other product marketing functions, there are teams of 2-4 (42%) and even some with 5+ PMMs working their magic (35%).
Another close parallel with 2020's findings was the number of product marketers working in teams of 10 or more (13%).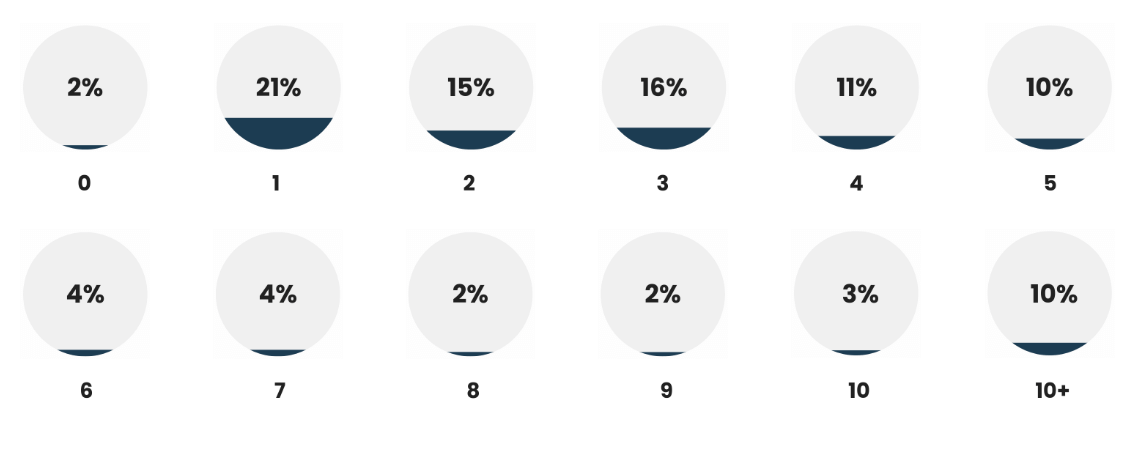 Delving deeper, we wanted to find out more about the product marketing:product management ratio.
The responses revealed that for most of our participants (19%), the ratio is 1:3. Other common product marketing to product management splits included 1:1 (9%), 1:2 (15%), 1:4 (11%) and 1:5 (10%).
These were the top five most popular responses so, as you can see from the relatively low percentages, the full spectrum of findings was widely diverse, with other answers including 2:1, 3:5; all the way up to ratios of 4:20, 5.30, and 7:4.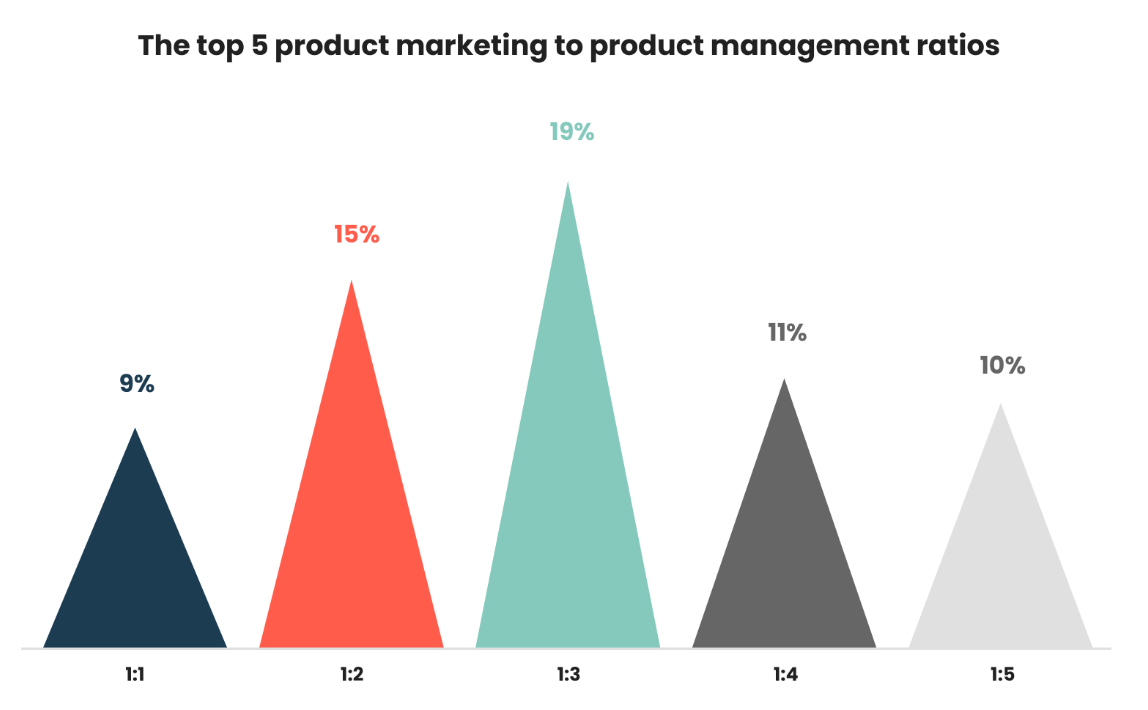 How are product marketing teams structured?
When it comes to the structure of product marketing teams, statistics can provide an interesting overview but to provide you with even more valuable insight, we asked our experts to share exactly how the function is organized within their respective companies:
"In my company, we have product teams for every solution. That consists of a Product Owner, Product Marker, Product Analyst, Tech Lead, and Developers. Every Product Marketer has a Product Marketing Lead that they report to. Product Marketing Leads report to a CMO." - Daria Gogoleva, Senior Product Marketing Manager at Xsolla
Product Marketing rolls up to Marketing, namely the CMO. Within Product Marketing, there are Visual Design, Customer Marketing, and Product Marketing teams or individual contributors. - Erik Mansur, VP, Product Marketing at Crayon
"I am the sole Product Marketing Manager (for now) and I report to the CMO. A Content Marketing Specialist reports to me. Sales and Marketing all report to the CMO, which helps align our efforts. We also have a Communications Manager, a Lifecycle Marketing Manager, and a Sales Enablement manager, creating one of the most structured and coherent teams I've ever worked with." - Anna Daugherty, Product Marketing Manager at Stoplight
"Our product marketing department is made up of me in a Product Marketing Manager role and two Product Marketing Executives who I line manage. The team reports into the VP of Marketing, who in turn reports into our CEO." - Louise Dunne, Product Marketing Manager at Linnworks
"Our product marketing team is composed of a handful of team members who are aligned to our core product line of business. The team reports to myself, the Senior Director, and I report to our CMO." - Laura Foster, Senior Director of Product Marketing at Innovid
"Our Product Marketing team is part of the Global Marketing team with its own product marketing stream. As a Head of Product Marketing, I report to the CMO and the team reports to me." - Marieke Rodenrijs, Head of Product Marketing at Quinyx
The responsibilities of a product marketer
You don't need us to tell you that product marketers tend to wear a lot of hats and spin a lot of plates; it's a super cross-functional role with many different facets and responsibilities.
As with 2020, product positioning and messaging (92%), managing product launches (79%), creating sales collateral (78%), customer and market research (72%), and storytelling (60%) were the top five PMM responsibilities cited.
In fact, the only real diversion from 2020 was the addition of customer marketing, which stole a considerable 40% of the votes. This wasn't something we covered in our 2020 report but something we'll certainly continue to spotlight as customer marketing continues to move more into focus.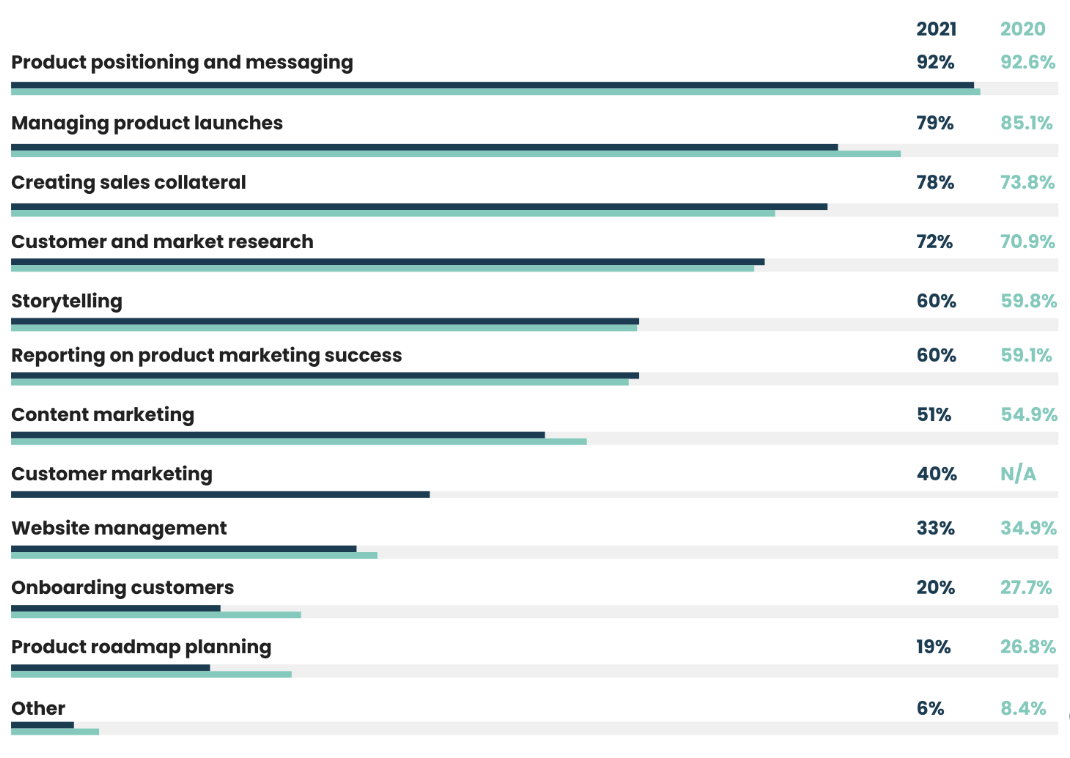 NB: Of those who selected 'Other', 'Competitive intelligence' and 'Sales enablement' were two of the most common areas of PMM support, alongside others including 'Campaign strategy', 'Packaging and pricing', 'Value messaging', and 'Analyst relations'.
How many products are PMMs supporting?
In 2020's report, we found that 33% of product marketers were supporting 5+ products, and in 2021, the figure is marginally higher again (34%).
The number of PMMs supporting 5+ products has climbed incrementally over the past three years (2019-2021), so we can probably expect this trend to continue into 2022.
That said, with the verticalization of the PMM role and the rise in first-time PMM hires identified by our experts when asked how the landscape has changed over the past year, this could be set to change.
In 2022, we might see more hands-on the product marketing deck within orgs and as a result, see PMMs supporting fewer products but with more focus and support.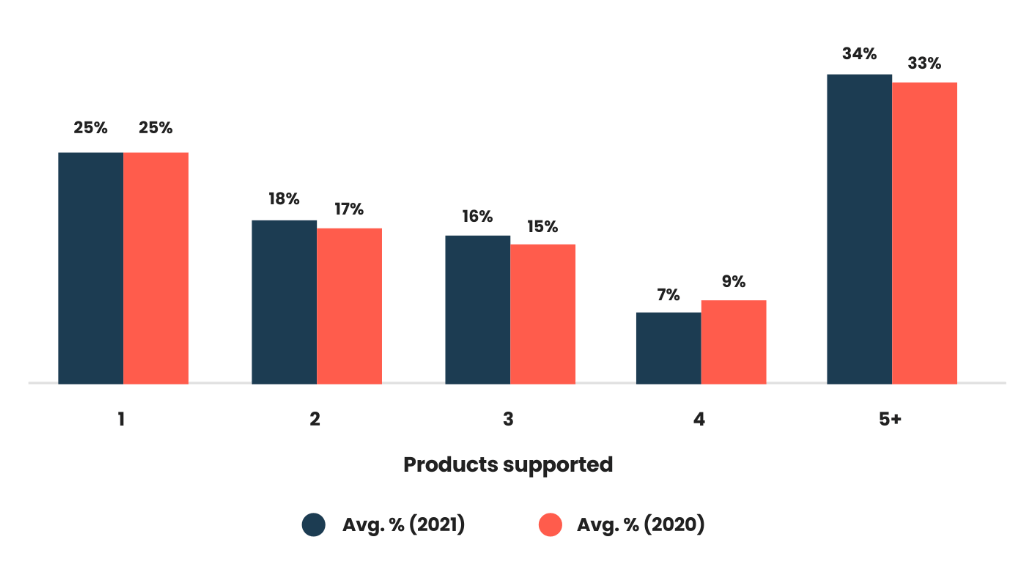 How product marketers collaborate with colleagues
When asked which team(s) they work most closely with, a vast majority of product marketers said Product (89%), with a similar amount also responding with Marketing (85%) - but there should be no great surprises there, right? In fact, it's interesting to note that 11% and 15% of PMMs don't work closely with Product and Marketing, respectively.
With the role of the PMM being such a cross-functional role supporting so many other functions within a company, it comes as no surprise that survey participants also cited a number of other teams they work in close proximity to.
Over three-quarters (77%) report working closely with Sales, whilst just under half (44%) directly support Customer Success.
2021's findings are almost identical to 2020, with the exception of Engineering. It seems that over the past 12 months, PMMs have distanced themselves slightly from this department; in 2020, 20% of product marketers said they worked closely with Engineering but in 2021, only 13% said the same.

NB: Of the 3% who responded with 'Other', alternative answers included 'Finance', 'Customer Support', 'Client Services', 'Research & Analytics', and 'CS Enablement'.
We also asked PMMs: On average, outside of your product marketing team, how many internal people are you interacting with each day?
The verdict: Most PMMs are interacting with five internal colleagues on a daily basis (26%), whilst nearly a quarter (24%) are working with 10 or more.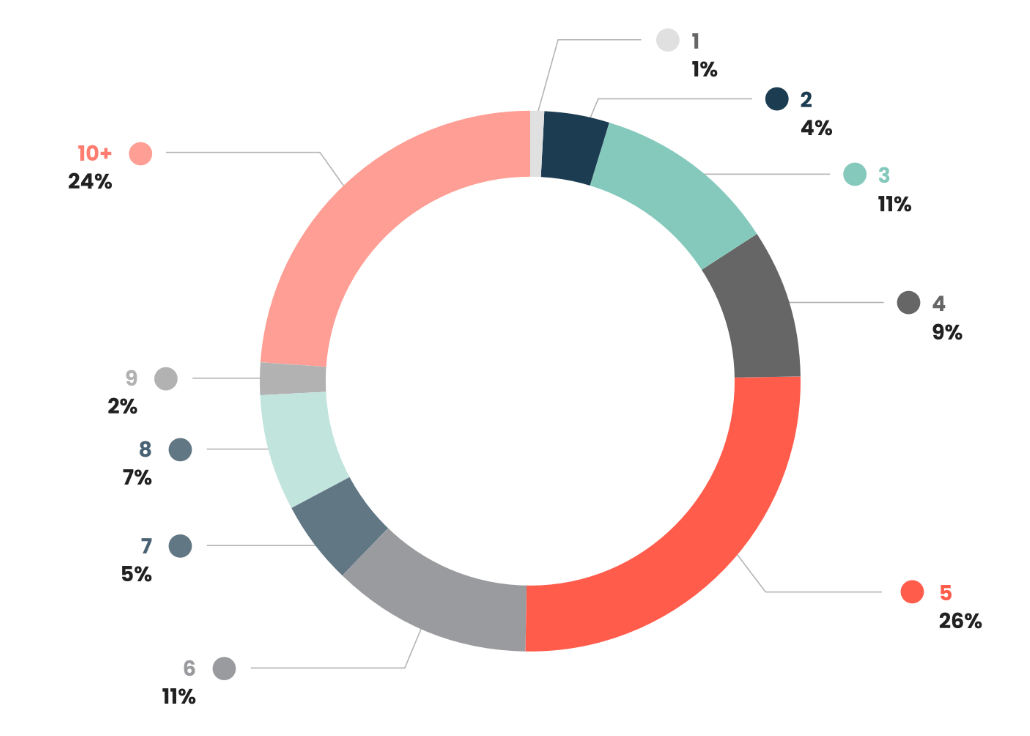 Due to the nature of the product marketing function, we can't imagine there will ever be a time when PMMs aren't interacting with a number of other internal teams. After all, it's the duty of the product marketer to connect all of the moving parts and ensure they can work together as one well-oiled machine.
The importance of cross-communication between teams
No matter the level of the role, the size of the company or the stage of growth, there's one thing that unites product marketing functions all around the world and that's the paramount importance of cross-communication with other teams within the organization.
Here's what some of our contributing experts had to say on the matter:
"To develop a cohesive GTM strategy, and align teams around it, we must first be great at using other teams' unique insights and objectives to extract a holistic picture. You'd be amazed how often Feature X is a core selling point for sales, yet a suboptimal/deprioritized product experience causes headaches for support, and nobody knows. Just like with customer insights, internal insights start with discovery chats with your various stakeholders." - Derek Osgood, Founder & CEO at Ignition
"This is quite obvious for me. The product marketing role is about collecting and sharing expertise. For example, insights from customer success might help to craft better sales pitches.
"Another example: insights from sales might help to polish an ideal customer profile, and might help marketers develop materials that cover all possible concerns and questions of prospects, or educate customers on topics." - Daria Gogoleva, Senior Product Marketing Manager at Xsolla
"I think that product marketers need to be available and ever-present amongst other teams of colleagues. Companies too often shove their PMMs off to the side, effectively making them into a glorified sales enablement team. Product marketers are natural collectors and disseminators of information, so clear lines of communication between PMM and other departments can only be a good thing.
"If done properly, product marketing could be looked at as a focal point between key revenue-driving departments and can serve both as a conduit of information between those groups, and as a source of truth for the entire organization on topics like messaging, packaging, pricing, and more." - Erik Mansur, VP, Product Marketing at Crayon

How close are product marketers to the customer?
Product marketers representing the voice of the customer (VoC) is a recurring motif across the role but just how close are PMMs to their audience?
We asked our survey participants how often they (or their team) speak to customers and it seems the general consensus was pretty much in line with 2020's findings.
The majority of product marketers we spoke to said they or their team speak to customers a handful of times each month (37%), whilst others opt for 2-3 times a week (12%), once a week (12%), or every other week (6%).
At opposite ends of the spectrum, 6% are in touch with their audience on a daily basis, while 19% said they never speak to customers - a slight decrease from 21% in 2021.
What success metrics are PMMs being measured on?

Objectives and key results (OKRs) remain a common discussion point amongst PMMs as clarity and understanding of the topic are still yet to be universally defined.

Due to the nature of the product marketing profession, attributing efforts to specific performance and success metrics can be tricky; it's hard to pinpoint product marketing's contribution to revenue and the bottom line. That might explain why 15% of our participants don't currently have any OKRs in place at all.

For those who do have some metrics to answer to, generating new revenue was the most common, with 50% of participants citing this as an OKR they're measured against. Increasing marketing qualified leads (40%), increasing win rate (35%), customer retention (35%), up-selling customers (34%), and sales confidence (31%) were also popular.

Around a quarter of PMMs are also measured against cross-selling customers (24%), increasing website traffic (24%), active users (23%), and asset utilization (23%) respectively. This is another demonstration of how vastly diverse and multifaceted the role of the product marketer is.

Increasing win rate, up-selling customers, and boosting sales confidence were all higher up the priority list in 2021 by a small margin while increasing sales qualified leads, cross-selling customers and increasing website traffic were all slightly lower down the ranks when compared to 2020.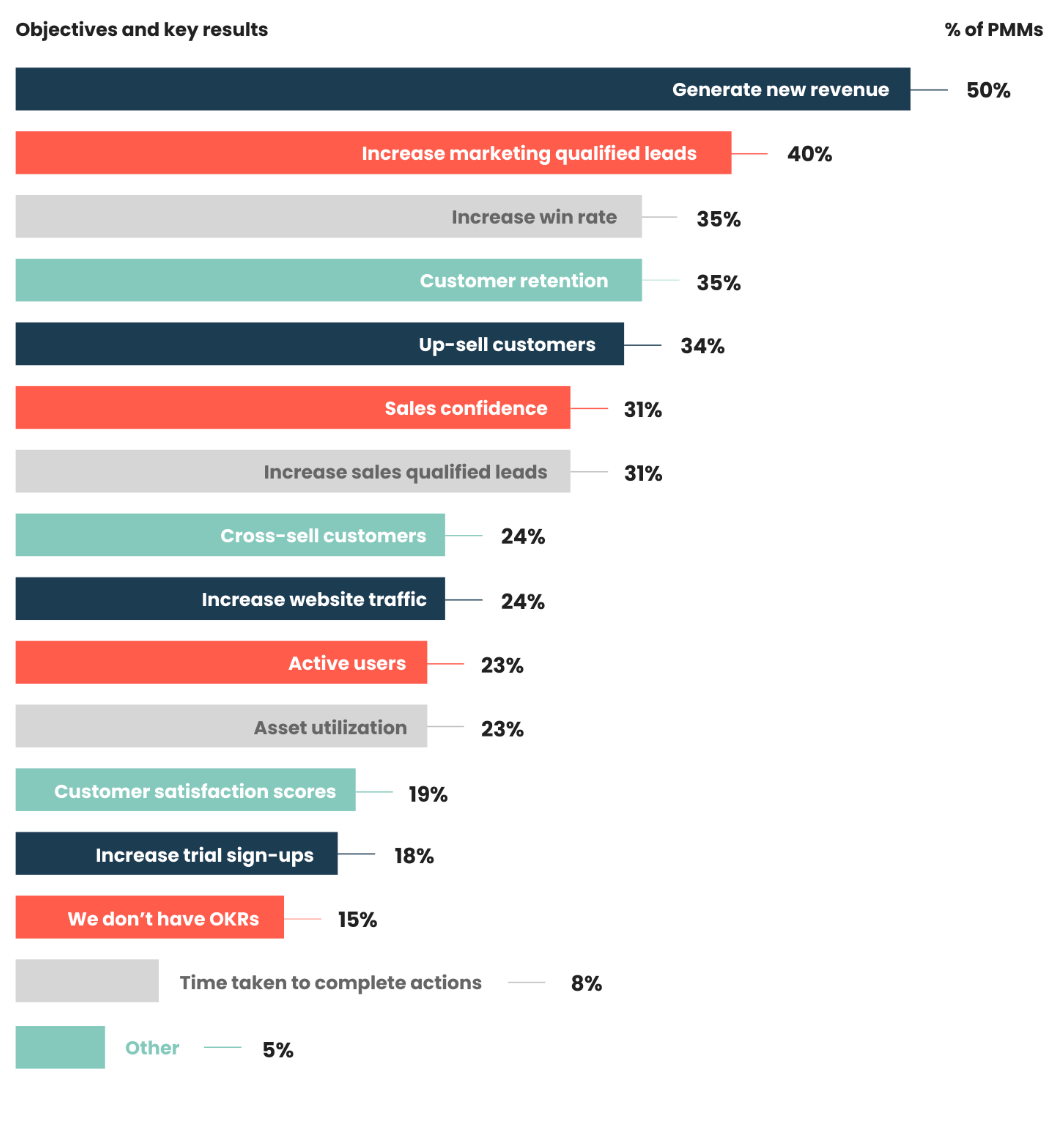 Of the 5% who answered 'Other', responses also included a mix of quantitative and qualitative measures, such as 'Perception and general feedback', 'Feature adoption', 'Product-market fit', 'Media mentions', 'SEO rankings', and 'Launch communication metrics'.
We asked some of our interview contributors why measurable OKRs were so essential to the performance and output of product marketing.
This is what Daria Gogoleva, Senior Product Marketing Manager at Xsolla had to say in response to 15% of participants having no OKRs in place:
"It is a big struggle for my company too. We tried to implement KPIs several times but many attempts ended in failure. It's difficult as the product marketer's role is so cross-functional. However, I believe that KPIs are urgently needed for everyone who cares about the effectiveness of their work. Many companies have a North Star metric to which everyone in a team contributes indirectly.
"But if we talk about direct KPIs, it might depend on the project. For example, if we need to launch a new product page, and our goal is to increase the conversion rate of that page, first, it's an ongoing project that requires testing hypotheses. Second, the conversion rate might depend on so many things: a copy, design, lead magnets, and even the quality of the traffic. Different people work on these different things and share a project KPI, including a product marketer."
The best bits and most challenging parts of the PMM role
What product marketers love most about their job
PMMs are an uber-passionate lot and that's what we love most about you. But what do product marketers love most about what they do? Here's a snapshot of the responses from our survey respondents:
"The well-rounded view of the company, and input on the strategic direction of position, message, and company."
"I love the challenge of learning all the intricacies of my target audience, market, and industry on one hand, and my product on the other - creating a route to go forward where before there was only fog. I also love the collaborative aspect of it - getting to work with experts from so many different fields and learning from them."
"I love crafting key messages when the product is still in development and seeing that impact the output."
"Competitive analysis and finding differentiators - getting down to the true differences. Talking with customers to hear the stories. Telling success stories."
"That feeling when you're talking to a prospect about the value of your product, and their eyes light up like, 'where have you been all my life?!'"
"That I am helping our company to be the best it can be by providing the company the insight and data on how we should position ourselves."
"Being at the intersection of everything - I love being in the middle of it all and working to make sense of it."
The most common pain points product marketers are facing
It's clear to see that there are plenty of facets to love about the product marketing role but as with all industries, a PMM can't escape the inevitability of pain points.
The general consensus of 2021's findings ted the following as the most common issues amongst product marketers right now:
Misunderstanding or lack of internal understanding about what product marketing does
PMMs having a lack of authority and influence
Unrealistic deadlines
Limited resource (in terms of both budget and team headcount)
Too little time and bandwidth to get everything done
So, although things are clearly moving in the right direction for product marketers, there is still a heap of work to be done to make life easier (and more productive) for PMMs.
Let's take a look at some of the most irksome traits of the role that popped up over and over again throughout our survey responses:
"Lack of understanding about the strategic role that Product Marketing plays and how it is different from traditional Product and Marketing roles."
"Smooth and efficient cross-team collaboration - we are getting better all the time, but coordinating plans and execution still takes an excessive amount of time."
"Our product and engineering teams do not commit to deadlines more than 30 days out. Makes it impossible to plan."
"I'm overloaded, I don't have time for most of the things I want to do. I definitely need a team."
"Getting brought into projects too late and trying to catch up or work towards unnecessary timelines."
"There are two: resources & company structure. The company structure is not very transparent and it does not support the product marketing function, nor does it set it up for success. This is amplified by the lack of resources."
Changes PMMs would like to see in the role moving forward
When we asked survey participants the one thing they'd like to see change about the PMM role, more strategic involvement, closer proximity to leadership teams and C-suiters, a better understanding of what PMMs do, and clearer role boundaries were all common responses.
Here's just a small selection:
"More clearly identified roles and responsibilities of what we own vs. what product and sales enablement and marketing own."
"That people don't overlap content marketing with product marketing roles. It's way too much for one person to handle writing all copy and content and enablement collateral AND doing market research, customer user testing, customer engagement, and release marketing."
"Being recognized more for their strategic capabilities, and not just tactical product launches."
"I'd like to see us brought into more upstream strategic conversations vs. getting looped in down the line."
"Better education for other departments on what product marketing is/does in an organization, and giving product marketing a better seat at the leadership table."
"Further definition of specific types of product marketing and having an associated core set of skills aligned to the type. Right now, it seems many PMMs would fall into the generalist category, but there's a huge opportunity to specialize in specific aspects of the function."

When asked if they, or a member of their product marketing team, get invited to leadership meetings, here's what PMMs answered: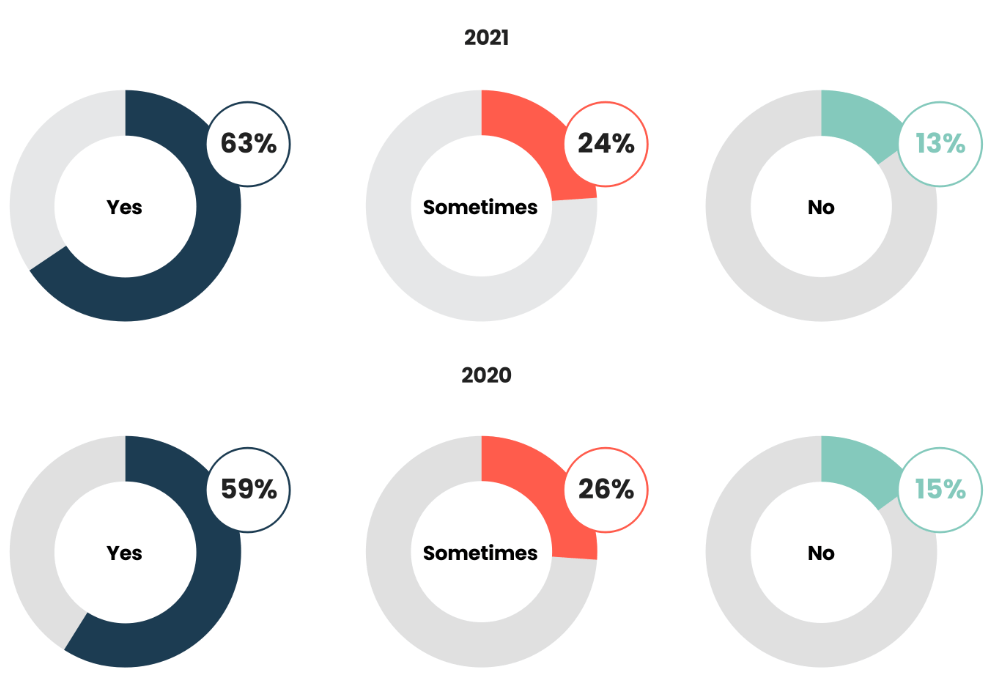 The product marketing budget and where it's being spent

Money can't buy the kind of drive and dedication that we see oozing from the PMM community but a solid product marketing strategy needs investing in if it's going to succeed.

In 2020, 47% of annual product marketing budgets were in the $0-250,000 range, with only 6% of teams having the luxury of $1million or more to play with. In 2021, most product marketing teams are working with an annual budget of $0-250,000 (67%), with 7% hitting the $1million+ mark.

When we went digging a little deeper into the results, we found that, unsurprisingly, those working with the $1million+ budgets were a mix of enterprise and late growth/scale-up companies.  

Those with more modest annual budgets of $0-250,000 were mostly mid-growth companies with established go-to-market teams, late-growth companies, and those in the early post-product-market fit category.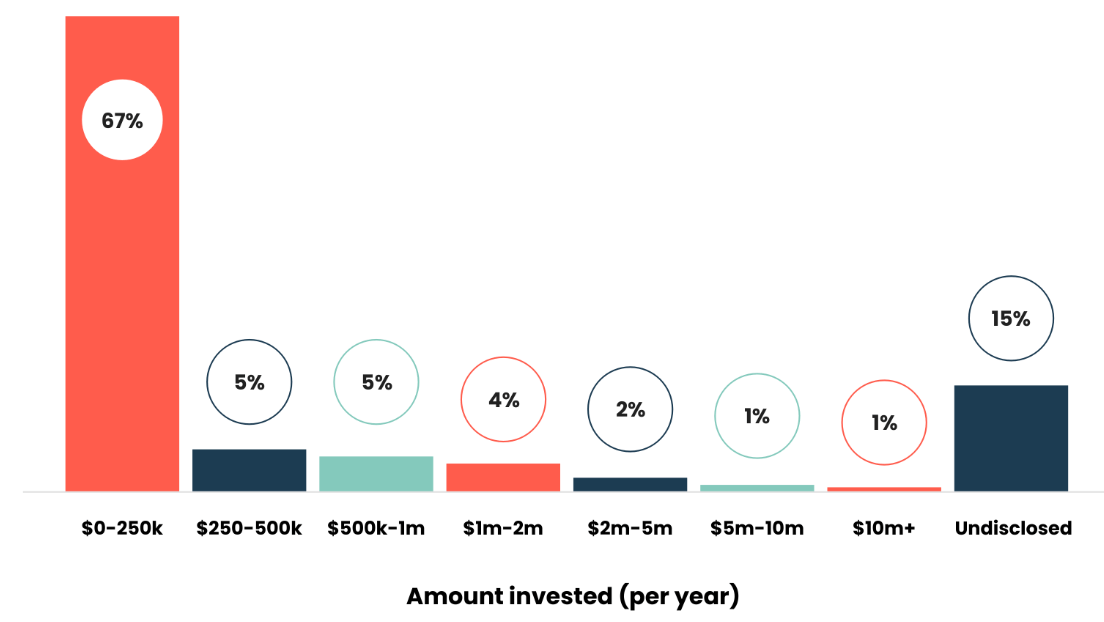 When it comes to where budgets are being spent, it turns out most of the money is being invested into software and tools (36%); content creation, including video (30%) and written content (25%); and paid advertising (26%).
Almost 3 in 10 (29%) say they don't have a budget. This is a concerning figure that we hope to see improve as understanding and appreciation for the role of product marketing continues to progress.
Only 14% say any budget is allocated to training and professional development. With 63% of PMMs looking to take the next step in their career in the not-so-distant future though, companies might need to start thinking about investing more in the upskilling of employees if they're going to retain talent.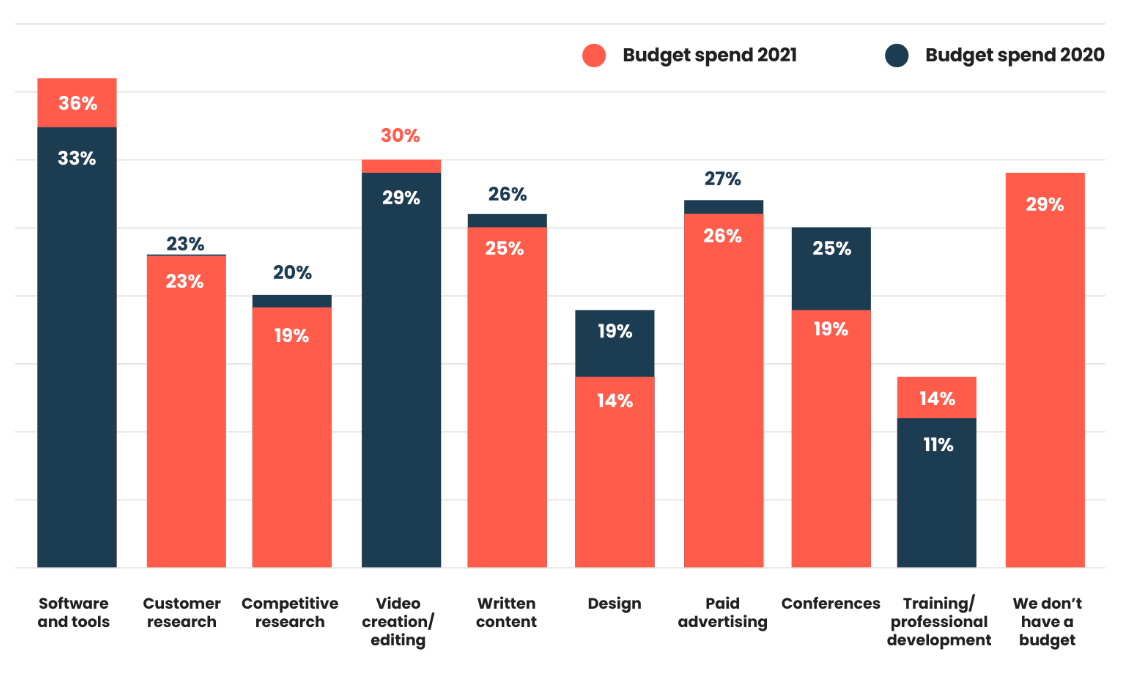 Alternative answers that fell under the 'Other' category included 'PR', 'Translations', 'Analyst Relations', 'Salaries', 'Demand Gen', and 'Lead Gen'. Another common reason was along the lines of: "Our product marketing budget isn't independent of the wider marketing budget".
There were also a considerable number of respondents admitting they "don't know" or were "unsure" what budget was allocated to product marketing and/or where it is being spent.
This might explain the 15% of undisclosed budgets; also suggesting there are still far too many PMMs in the dark about matters of money relating to them.
With software and tools being the top answer when we asked where the majority of product marketing budgets are spent, we wanted to know what tools our PMMs simply couldn't live without.
When analyzing the most popular responses, we were able to group our expert must-have tools into 10 clear categories: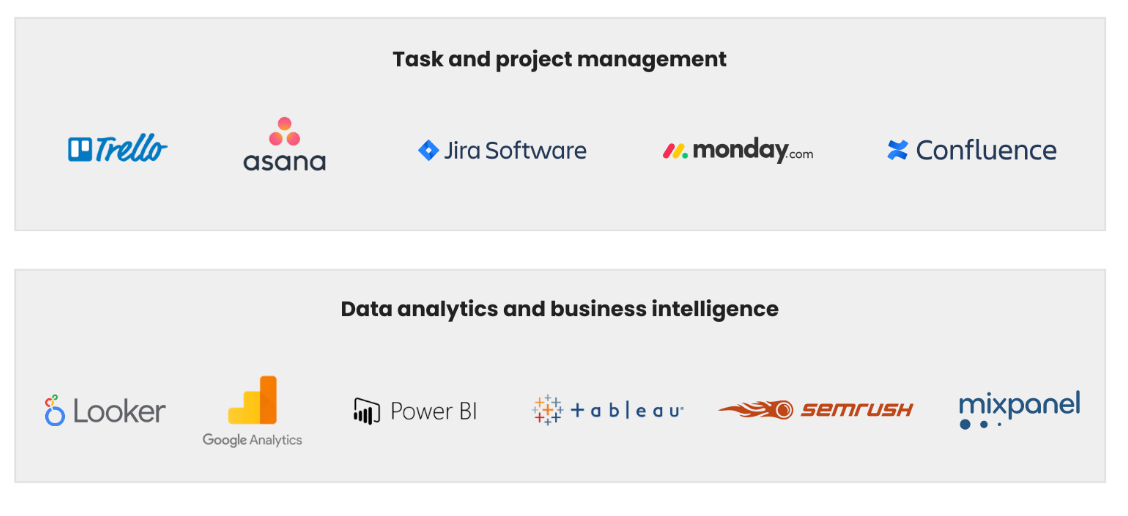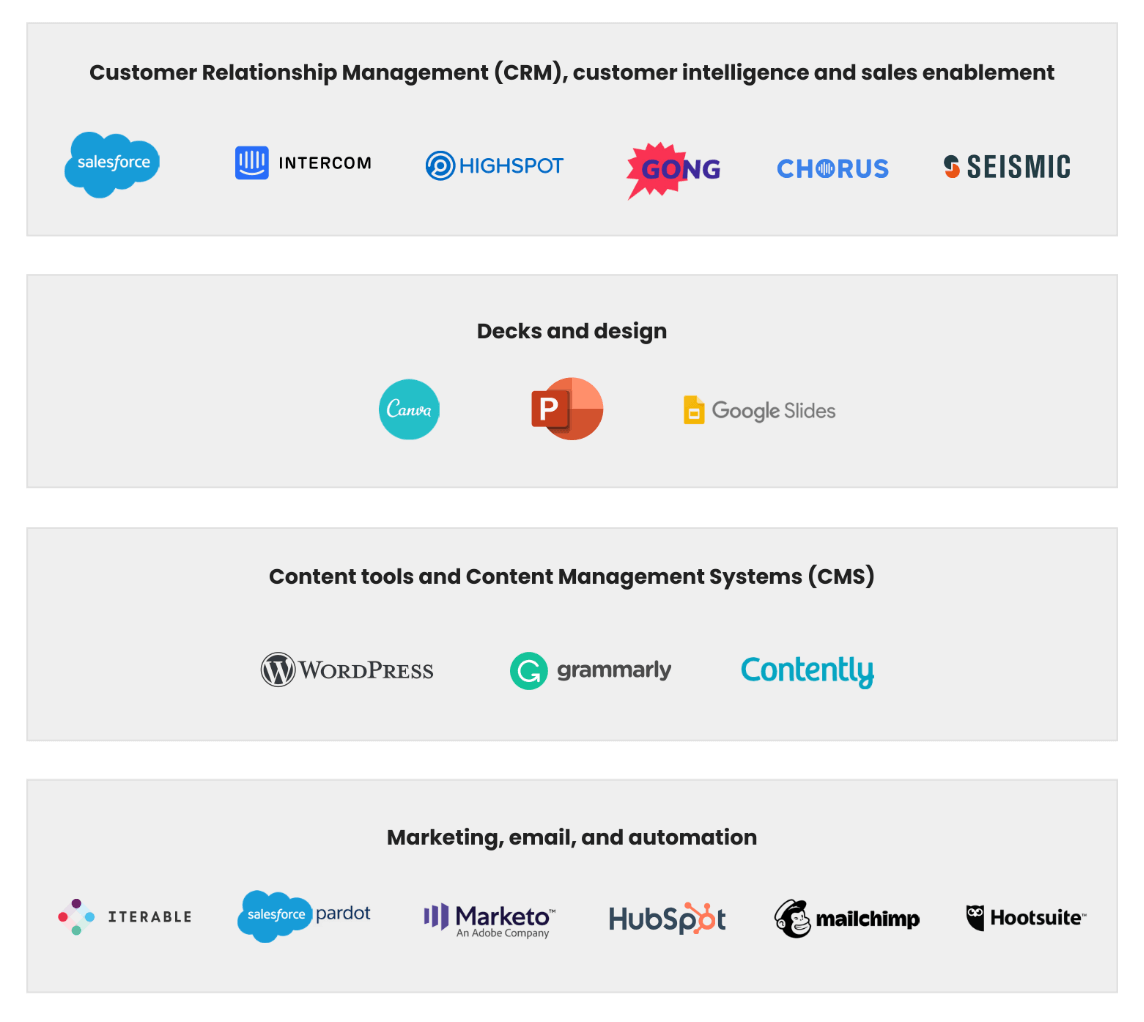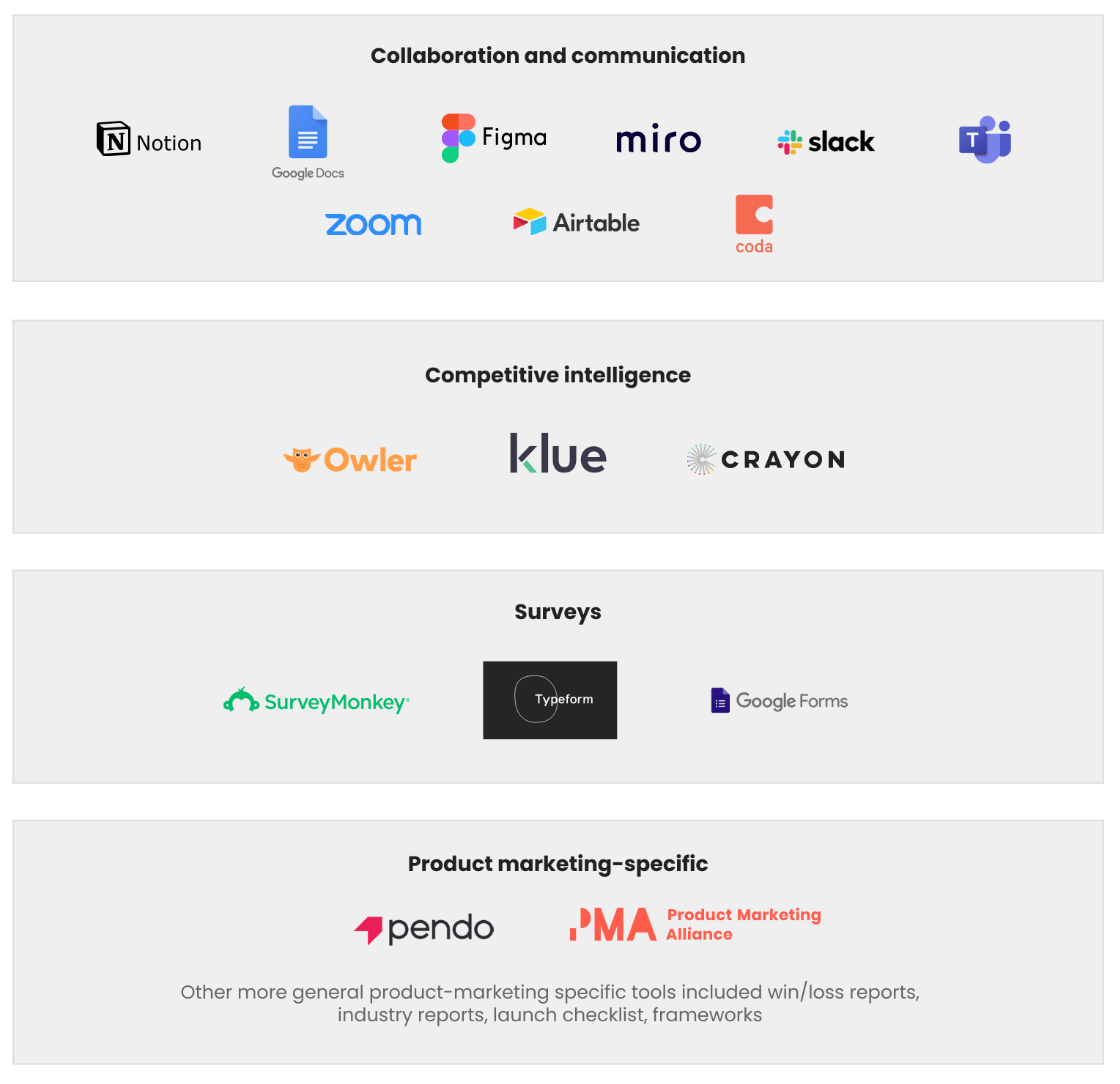 The value of product marketing as a function

Do people fully understand what product marketing is yet?

You could ask every single PMM on the planet what their definition of product marketing is and each would be a unique response. If it's so tricky for those on the inside to pin down, it's no great surprise then that there's still a massive amount of ambiguity and misunderstanding among external teams and stakeholders.

Let's take a look at how well PMMs think their colleagues understand the role of product marketing in 2021, in comparison to 2020's findings: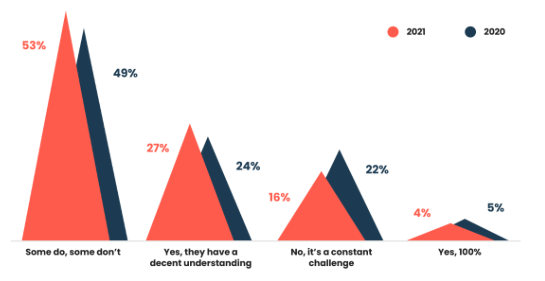 Although there've been clear improvements in how well the product marketing function is understood, there's still a fair way to go and this might be having a knock-on effect on how well valued PMMs feel.
We asked: On a scale of 0-10, how much do you feel your role as a product marketer is valued at your company?
We found: The results revealed an average score of 6.9/10, which was a very slight improvement on 2020's score of 6.8.

Do PMMs feel they're having the right impact?
Value and understanding are two major factors in how much impact a product marketing function is able to have within a company, so we lifted the lid on how influential PMMs feel when it comes to overall strategy and objectives.
We asked: On a scale of 0-10, how much influence do you feel you have on your company's goals and strategy?
We found: The findings represented an average of 6.2/10, which is slightly lower than 2020's average of 6.3.

We also wanted to gain a better insight into how much impact PMMs feel they're able to have on the success of the product(s) they're marketing. Given the nature of the role and how closely PMMs work with product teams, you might expect this score to be pretty high but it seems feelings on this are still middle of the road.  
We asked: On a scale of 0–10, how much influence do you feel you have on shaping the direction of the product(s) you market?
We found: The results accumulated an average score of 5.8/10, which was a marginal decrease from 2020's ranking of 5.9.
What skills make a rockstar product marketer?  
In the words of Mark Assini, Product Marketing Manager at Voices, a kickass PMM should be, "Three things: being an expert generalist (i.e. a jack of many trades, master of even more), a dynamic and concise communicator (i.e. saying a lot in as many ways but as few words as possible), and a compassionate stakeholder manager (i.e. knowing how to make friends and influence people)".
But what did our survey respondents say when we asked them what the most important skills are that have helped them succeed in their role?
Almost all respondents agreed that skill sets in collaborating with coworkers (78%), strong communication (77%), and creativity and problem solving (74%) had helped them master their craft.
These were closely followed by empathy and the ability to connect with customers (60%), and strategic planning and business skills (59%).
Here's the full breakdown of PMM qualities that our respondents believe separate the best from the rest: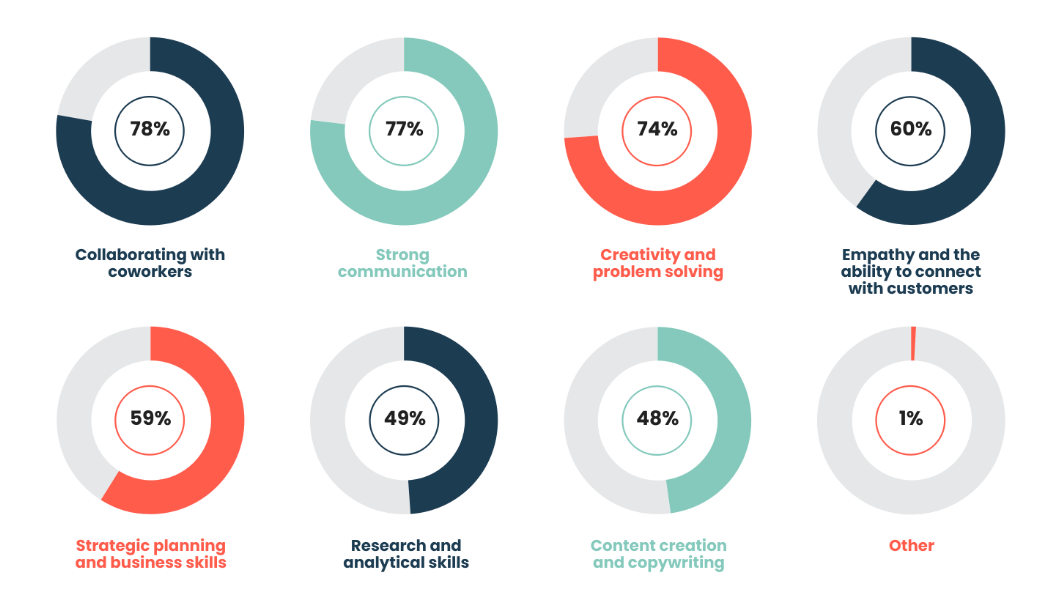 NB: Of the 1% who responded with 'Other', answers included 'Ability to connect with internal teams. Multitasking. Extracting information from people' and 'Ability to create a coherent story, as well as 'Product management experience' and 'Understanding what it's like to be in sales'.
They say it takes one to know one, so we lifted the lid on what some of our most senior interviewees believe it takes to hit rockstar PMM status:
"The first thing I look for when hiring a new PMM is someone who asks questions but wants to find the answers for themselves. I had a mentor early on in my career who told me to "Never ask her a question I could Google," and that has built the foundation for how I approach go-to-market and my day-to-day. Rockstars are hungry to learn, they aren't afraid to ask hard questions.
"It's their way of constantly looking to improve not only the quality of their work but of the work of everyone around them. Most of all, they should have a "Sure, I'll give it a whirl" attitude. After all, what we do isn't pure science, it's also art." - Laura Foster, Senior Director of Product Marketing at Innovid
"I think the ability to dive deep into everything, starting from understanding a customer and ending the product roadmap to content strategy creation. If the product marketing is done right, and none of the responsibilities are taken by other team members (like product analysts doing market research for a product owner), the rockstar marketer should dive into things like crazy and have the ability to switch context super quickly.
One other main thing is that a product marketer's mind should be very flexible and open to change as it's super easy nowadays to lose market share to competitors because of fixed and non-adaptive attitudes to changing market realities." - Daria Gogoleva, Senior Product Marketing Manager at Xsolla
"A rockstar product marketer is one that is empathetic to our customers and to our stakeholders and to our team. We are the voice of the market and need to bring forward use cases and business requirements. Our focus is to drive customer advocacy and success stories.
Our rockstar product marketer is a great storyteller, bringing different narratives together and telling the story that will make you feel and move you from a state of complacency and status quo to making change happen." - Div Manickam, Director (WW Services Marketing and Portfolio Management) at Lenovo
"A great PMM needs to be a phenomenal listener, a great critical thinker, and an accomplished and confident communicator. Listening is crucial because a PMM needs to gather as many data points as possible from as wide a range of sources as they can. Once they get the information, critical thinking skills will help them filter out any data that's superfluous, so they can narrow down and better conceptualize what the ideal deliverable for that information will be.
I use the term 'communicator' because not every great public speaker is a good writer, nor is the opposite true. Some PMMs are amazing in front of large groups, and others are better at writing their thoughts down for audiences to consume them via reading." - Erik Mansur, VP, Product Marketing at Crayon
Conclusion

The premise of the State of Product Marketing report is to assess the PMM landscape on a year-by-year basis - so what has 2021's installment taught us?
Although the situation isn't vastly different from 2020, or the year before, the upward trend for progression within the world of product marketing has continued. Things might be improving slowly but they're certainly moving in the right direction.
There are still professionals from a diverse spectrum of sectors having their heads turned by PMM opportunities; budgets are still being allocated and invested in the software and tools product marketers need to succeed; and the function continues to be increasingly respected by the upper echelons, right up to C-suiters and V-suiters.
Whilst we can conclude this report with feelings of optimism and positivity, it's important to realize that there are still waves that need to be made in order to elevate the role of the product marketer to the lofty heights it deserves.
We need to see PMMs in more leadership meetings. We need to see PMMs getting closer to the customer. We need to see PMMs having more influence much earlier down the strategy road. But hey, we're on the right track!
State of Product Marketing Report 2022 survey
Now you've reacquainted yourself with the findings from the 2021 report, we need your help as we prepare to kick start the process for 2022.
Share your insights and help us deliver a report that'll help familiarize you with the latest developments in the world of product marketing.
It'll take no longer than your coffee break to complete!