As many product marketers will testify, bringing a product to market is no piece of cake.
From conducting market research and forming your personas to completing competitor analysis, you need to follow a long process, before unleashing your creation on the world.
Some might say the release marks the end of the journey, yet this is only the start of a thorough process; you need to consider what is, and isn't working, to make your product even better.
Customer feedback and win-loss interviews are among the most effective ways to gain a firm understanding of how your product has been received, and how you can make changes, where needed.
And remember, customers and internal teams can both contribute to the stages, in equal measure; let's check out how you can gain the insights needed.
How to source customer feedback externally
We've said time and again: the voice of the customer is paramount. Surprise, surprise, we're not breaking the mold anytime soon; it's the key ingredient in the post-production pie, and you can't go without it.
Receiving feedback from your target audience can provide you with golden insights that'll give you essential information into what went well and which areas you need to improve, allowing you to refine your efforts in a bid to stay one step ahead of your competitors.
So, how can you secure customer feedback?
Pick up the phone
Sometimes, the tried and tested, no-frills methods are the most effective. 🤷‍♂️
While we can't promise every one of your customers will be willing to take part, when you do manage to speak with customers on the phone, this is a great source of qualitative data for your post-launch product analysis.
Calls allow you to ask your customer for their opinions, probe with follow up questions, and gauge their true emotions, by listening to vocal expressions, detecting hesitancy, and so forth. When a customer is on a call, it's much harder for them to pull the wool over your eyes and provide an answer lacking validity.
Sure, you may need to provide an incentive to convince them to pick up the phone in the first place, (a voucher goes down a treat), but believe us when we say the information you'll get back will be worth much more than a $10 Amazon voucher.
Inbound emails and surveys
Rather not pick up the phone? If the cat's got your tongue, inbound emails and surveys can also be used to generate wide-scale responses from customers.
Inbound emails are often used by companies given they're cheap. With little to no set-up involved in capturing customer feedback or survey responses, you can send an email to 1,000s of customers, and allow them to complete the feedback at a time to suit (within reason!)
Some customers freeze like a rabbit in the headlights when they receive a phone call asking for feedback, an email or postal questionnaire allows them to feedback under no pressure.
Such are the benefits of inbound emails and surveys, they're often used by some of the world's leading brands, with AirBnb, Netflix, and Slack all advocates of the approach.
Airbnb example
Netflix example
Slack example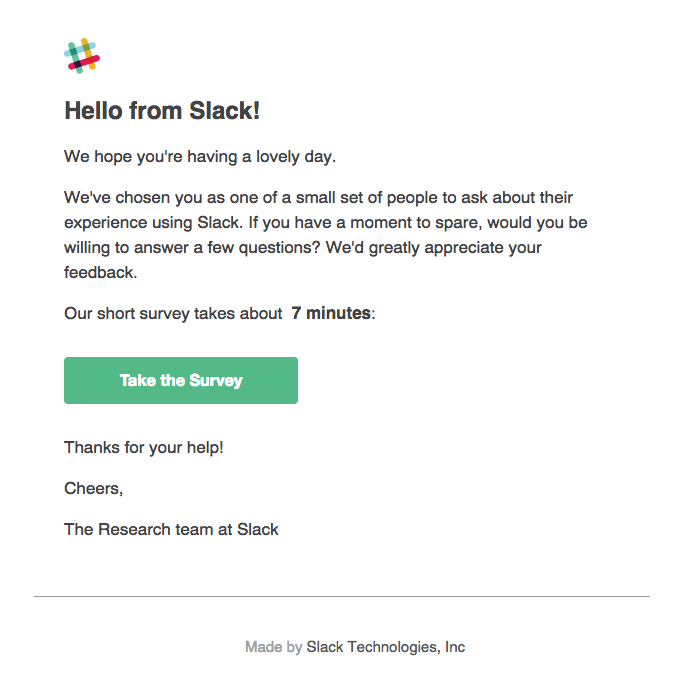 Win-loss interviews
There's no such thing as a product that'll please everyone, that said, you can invest your efforts into making your product as good as it can be, and that involves speaking to converted customers, as well as the ones that got away.
Win-loss interviews are invaluable when you're trying to improve your product, as the process gives you insights from both perspectives; in the case of your customers, which features make your product stand out above the competition? On the other hand, what dissuaded some to invest, and opt for an alternative?
The Apple and Android debate is the perfect example of two companies competing within a saturated market. Both crave the attention (and wallets!) of mobile phone users, and while they win plenty of customers, they'll also lose some of their prospects to their rival. Therefore, win-loss interviews will be used to establish why their target audience A) decide to choose their product, and B) opt to take their custom elsewhere.
The process is critical in identifying which features need to be implemented within a new (or existing product) to capture the attention of those who have opted not to buy a product. In this instance, an Android user may reveal they opted against an Apple due to a comparatively poor battery life. Therefore, this could be an area of focus as you seek to improve your product.
Similarly, win/loss interviews also inform you of the positive feedback, with converted customers divulging key information about why your product appealed to them, rather than the offerings of other competitors.
Customer advisory boards
Customer advisory boards allow customers to provide PMM teams with candid feedback about their product or service after it's been launched.
Admittedly, it can be difficult if customers are critical of your product, but the process is worth its weight in gold when you're trying to address what is and isn't working with your product. The process provides an open forum for your target audience to vent their frustrations, (or sing your praises!), providing you and your team with an indication of how they're using the product and its features.
Customer advisory boards could validate your assumptions, but perhaps more importantly, the feedback may reveal other features that have caught their attention, in which case, you can amend your collateral and product messaging and bring to the forefront of the minds of prospective customers.
Similarly, customer advisory boards can influence the product roadmap, as your customers may provide insights into additional products and features you need to develop to complement your offering.
Perhaps you're newcomer to the world of customer advisory boards? Or maybe you want to refine your existing knowledge? Either way, our episode of the Product Marketing Life podcast with Bree Bunzel, APAC Product Marketing Lead at Dropbox provides a whole host of actionable insights.
Discover who's involved in the process, how often they run them, what agenda they follow, and how they share their findings: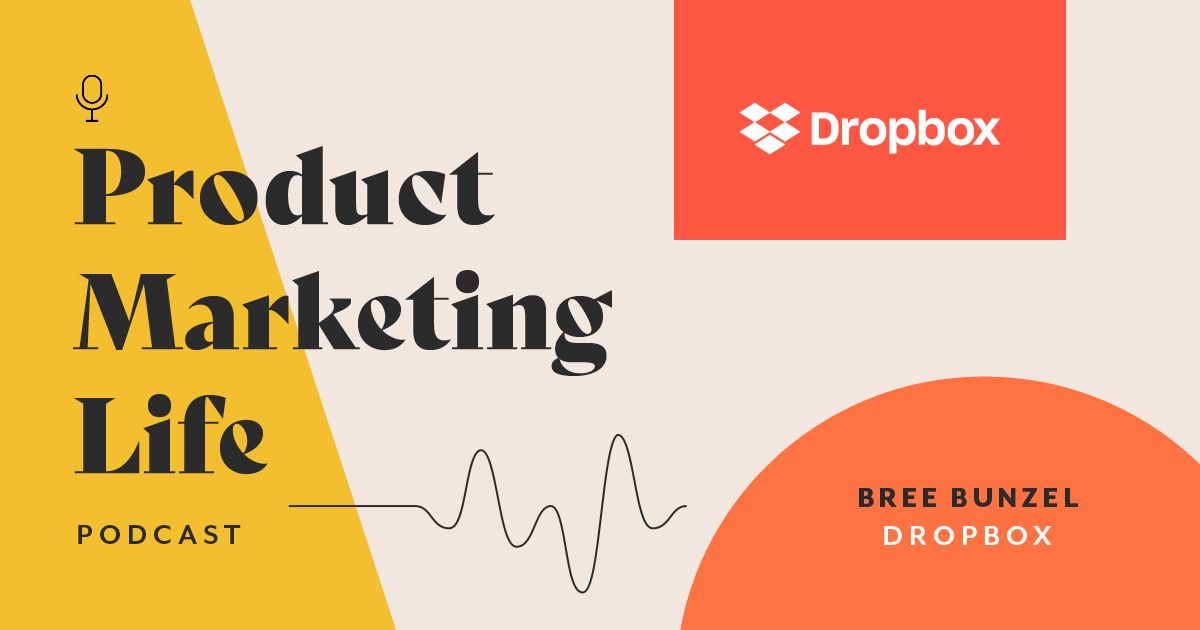 How to source customer feedback internally
There's no doubting speaking to your customers delivers essential information for product development. That said, there's also a whole host of insights sitting right under your nose that can guide your analysis, post-launch.
Sales representatives
Most companies selling a product have a sales team in place, and low and behold, every day, they're talking directly to the people you're desperate to get hold of - the customer.
If you're not asking your sales reps every question under the sun about how prospects respond to your product, then you're missing out on a huge opportunity.
Make the time to sit with your sales teams and ask thorough questions about prospect feedback: what do they like? Which features have emerged as being particularly popular? On the other hand, if your product isn't meeting pain points, why is this the case? Are they disgruntled with a particular feature?
Collate every piece of information and form a bigger picture of what the prospect likes, what the prospect doesn't like, and act proactively to give them what they want.
Some pretty popular methods to gather this kind of feedback include:
Biweekly/monthly feedback sessions,
Desk drops,
Surveys, and
Dedicated Slack (or similar) channels.
Customer success teams
The role of a customer success team is to form strong relationships with a company's customers, and ensure they're aware of their needs and experiences.
Given customer success spends time communicating with your target audience regularly gaining insights and maintaining relationships they're a beacon of knowledge and can provide you with an array of information you can use to address shortcomings and also hone in on features that have ticked the relevant boxes.
Customer service teams
First things first: let's clarify the difference between customer success teams and customer service.
Customer service is focused on rectifying problems that rear their head, in a bid to keep the customers satisfied and keep them from jumping ship and swimming to your nearest competitor. Unlike the reactive stance adopted by customer service teams, customer success implements a more proactive approach, channeling their efforts into understanding and supporting customers, to deliver desired business outcomes.
When you think about customer service teams, one word immediately springs to mind: Complaints.
While, on the one hand, no company in their right mind actively seeks customer complaints, when a customer service team's faced with a tetchy customer, it's for one reason, and one reason only, something isn't' good enough.
Speaking with the customer service team allows you to identify any negative customer experiences that've arisen since the launch of your product, before acting accordingly.
Sure, you can't please everyone, but if there's an issue that's repeatedly rearing its head, then it's apparent this needs to be addressed.
How trends influence your business
After collecting internal and external data, you'll need to assess any potential trends that may have emerged. And remember, a trend isn't one customer or sales rep saying jump and you saying "how high?" - it's looking for a pattern of a similar subset of your audience saying the same thing.
The data will give you an indication of the positives and the negatives of your product, influencing decisive factors moving forwards.
For example, after initially launching your product, you may've placed an emphasis on a particular feature as being your core USP in your marketing campaigns.
However, if your feedback comes back from your customers and the trends indicate A) your target audience are impressed by alternative features, or B) your USP has been identified as a flaw, rather than a benefit, your product marketing team can rectify the issue to improve the user experience, and also amend accompanying collateral and messaging, highlighting the features considered to be more valuable by the target audience.
Moreover, trends can also be introduced within collateral such as sales reps' assets. For example, battlecards should be revised to highlight the key differentiating features earmarked by now customers, as well as comparisons against your competitors, and so on.
The post-launch process is like a product marketing jigsaw puzzle; until you pop together all the pieces, you won't see the whole picture.
Want to learn more?
Product marketing is and always will be a customer-centric role. A core part of your job is to value the voice of the customer and advocate for their wants, needs, and pain points. It's your responsibility to make them feel heard. Therefore, customer marketing is an integral part of what you need to do to ensure that you're staying true to this.
The Customer Marketing Certified: Masters course has been designed to give you invaluable, practical insights into streamlining your customer marketing approach so that you can ensure that:
Your customers are happy,
Your products are the best they truly can be,
Your brand reputation is consistently positive, and
That you bring in increased revenue for your organization.
So what are you waiting for?
Sign up today