Implementing a video marketing strategy can seem like an overwhelming process. There are so many ways of using video in marketing that it's hard to know where to begin.
Most online guides give you a nice introduction on what video marketing is and how it can be useful, but fall short when it comes to suggesting specific tactics that marketing teams (including single person marketing departments) can implement immediately.
In this article, we'll discuss how you can optimize your video marketing program without huge budgets, and what will have the biggest impact at the beginning of a new video marketing campaign.
In our experience, most videos can be organized into three categories based on how they are recorded and edited:
Professional studio videos: Created with a film crew or agency.
DIY: Recording and editing footage yourself.
Video recording platforms (like Vocal Video).
Highly polished corporate videos (#1) look great and present your brand in a professional way, however, they are extremely costly to make and typically take months to produce.
To create a professional studio video, the usual approach is to hire an agency to put it together for you. This turnkey approach is an attractive proposition because it seems to remove the hard work from the process. In reality, it involves a lot of liaison with the agency team, a lengthy approval process, and generally a lot of input from your side.
On top of that, not all businesses have the budget for it. So, although it may be worth producing one or two of these high-end videos, it's unlikely you'll be basing your entire video marketing strategy on them.
The do-it-yourself approach (#2) is more affordable, but also requires you to schedule shoots with interviewees yourself, shoot the footage on specialized equipment, and, finally, edit it all together using specific software to create a high-quality video. If you have limited experience with all of this, in particular using professional video editing software like Final Cut Pro, the learning curve can be steep and lots of time will be wasted learning on the job.
To solve the problems with the first two approaches above, we created Vocal Video to be a video marketing platform (#3) to produce high-quality video marketing videos without expensive videography teams, without extensive editing software experience, and without coordinating video shoots with customers, employees, or other interviewees.
In this article, we'll suggest seven types of video to use in your video marketing efforts and give examples created using a variety of tools — including Vocal Video — that you can use to record or create videos to implement your brand's video content strategy:
We'll give you successful examples of each type of video, note how and where you can use them in your marketing efforts, and point out which metrics to look at to measure the success of your video marketing.
Finally, we've gathered tips and videos from experts on how to make each type of video.

Note: If you'd like to experience how using Vocal Video can help you quickly kick-off your video marketing strategy, even if you have no video recording experience, sign up for a free Vocal Video account.
Seven types of video to kick-off your video marketing
Before you jump straight into making marketing videos, it's worth taking time to consider what you want to achieve from your video content strategy.
Is your goal to increase traffic to your website? Increase engagement on your social media channels? Improve the conversion rate of your site or landing page?
In each of these cases, the approach you take, and the kind of videos you end up making will be quite different because each type of video we describe below is best used with specific content marketing goals in mind.
The following list gives you seven types of video (and examples) you can use to get started on your video marketing right away.
Testimonial videos/video reviews
Testimonial videos or online video reviews are a great place to start making video content because they provide your brand with immediate social proof in a way that engages your target audience.
Plus, they are a proven way of nudging your potential customers towards buying your products or signing up for your services.
Potential customers who watch this type of video content are actively shopping around to buy a product or service in your niche, so making testimonials a priority in your video marketing strategy is one way of seeing concrete results.
They are also much easier to produce and get ROI from than more complex video marketing campaigns.
Although you can opt to make a highly polished video testimonial using a film crew and take a day or more to organize an in-person interview with your happy customer, there are also simpler, faster, and more affordable ways to approach this.
Testimonial videos can be very quick and easy to make if you use an asynchronous recording and collection platform like Vocal Video.
We give you a full rundown of how to make a testimonial video or video review using Vocal Video below, but meanwhile, here are two examples of testimonials recorded using our platform:
Fellow.app: Review of App by Customer Experience Director
Fellow.app sent out a Vocal Video link to Tim Hill, Director of Customer Success at Gong.io to collect this video testimonial of his experience using the Fellow meeting productivity app.
You can see that the video is high-quality and pre-edited to include interstitial text slides with questions and additional information, Fellow.app's logos and colors, and background music.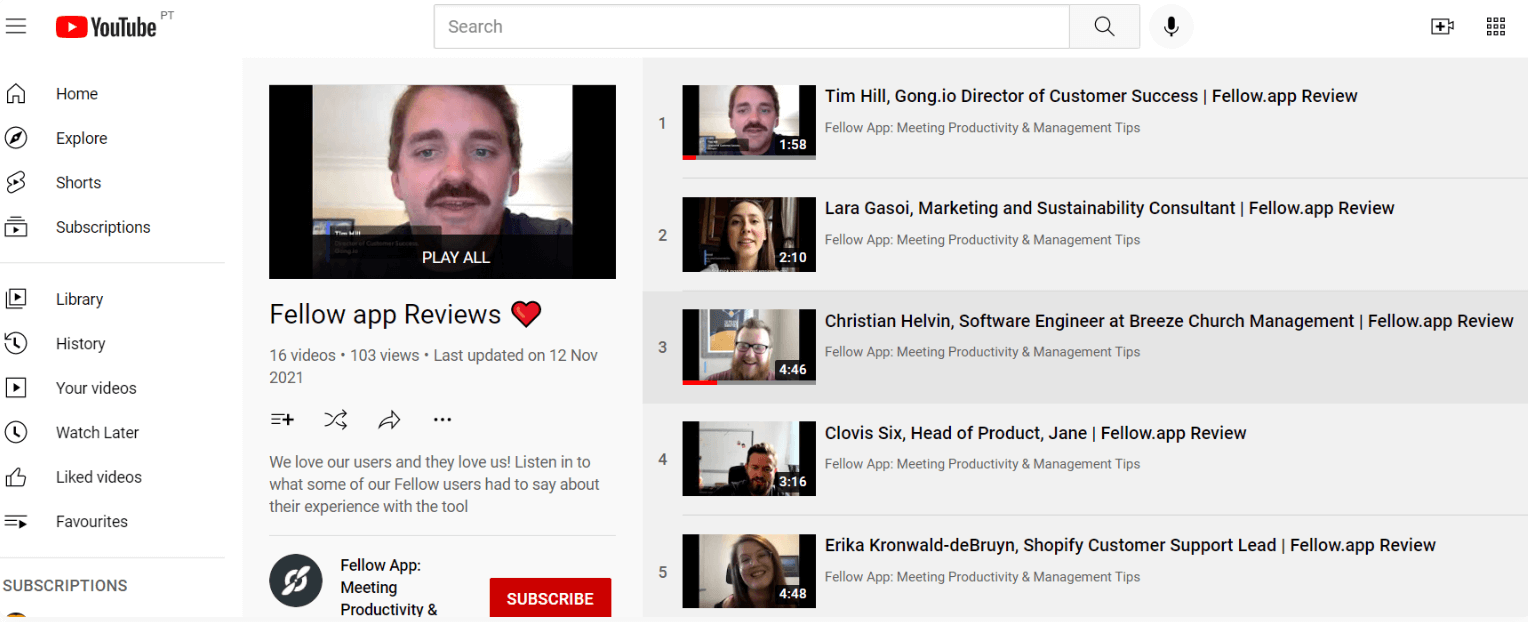 In another video marketing move that is worth emulating, Fellow.app has grouped all of its Vocal Video customer reviews on its YouTube channel so prospective customers can find them easily and view as many as they need to make a final buying decision.
Hunterz.io: Highlight reel of multiple customer testimonials
This short video highlight reel posted on Facebook by Hunterz.io — a platform that connects startups and freelancers with enterprise sales professionals — features several satisfied users of the marketplace.
This reel has been edited together from multiple Vocal Video testimonials recorded asynchronously on the customers' own devices (more on how this is done below).
A highlight reel works particularly well for this type of business because it showcases the variety of users that have benefitted from the marketplace, as well as giving a clear feeling of the extensive community that the platform has built.
Click to learn more about creating highlight reels in Vocal Video.
Where to use testimonial videos and video reviews
Your brand's YouTube Channel
Embedded on your website's homepage, signup pages, customer review pages, or landing pages
In email marketing
LinkedIn posts
Instagram Stories
Twitter posts
Facebook (and other social media platforms)
How to measure success with video testimonials and reviews
Testimonial and review videos are most often viewed by prospects who are somewhere close to the bottom of the sales funnel.
Prospects typically watch testimonials of past customers when they are in the buying or consideration stages, not to get exposed to a product category or do initial research.
This means that, simply by clicking to view this type of video content, users have already demonstrated intent to buy a product or service similar to yours and are now looking to be actively convinced of why they should choose you instead of a competitor.
Because this type of video has this high level of buying intent, we think one of the best ways to measure success of testimonial videos is by measuring their impact on the Conversion Rate (number of signups or sales after watching the video).
You can do this in a couple of ways. First, you can place them on your website or a landing page and measure the difference in conversion rate with and without the video (via A/B testing if you want to be precise or by just adding the video and seeing if you can observe a change in conversion rate in your website analytics from before and after the video was added).
You can also test a video's impact on conversion rate by testing it in a paid ad and measuring the total cost per conversion of that ad vs similar ads without the video.
For more detailed information on making testimonial videos and video reviews with Vocal Video, read our article: How to Make a Video Testimonial (with just your computer and common sense).
Explainer videos/product videos
Simply put, explainer videos teach your target audience how to do something or solve a problem. They can be directly focused on some aspect of your product/service, but can also explain a related task or problem.
Explainer videos are a great complement to your website FAQ page, or customer support information. When they're done right, explainer videos will reduce the number of times customers contact you with product-related issues.
Product videos are similar to explainer videos but focus more closely on showcasing your product/service's features rather than explaining the details of how your product works or troubleshooting problems with your product. They are more directly marketing focused.
Explainer videos are particularly useful for companies marketing complex products or services that are not straightforward to explain in text.
An impactful explainer or product video cuts through the complexity by providing engaging visuals to accompany an audio description of the product or service, without forcing potential customers to read long text-based descriptions.
One popular and straightforward way of creating explainer videos is to use an animated video creation platform. Some popular examples of these platforms include Animaker, Wyzowl, and Toonly.
How to create animated videos easily
If your budget allows, there are video marketing agencies that will create bespoke explainer videos on your behalf. These include Rednovius (animated medical explainer videos for doctors and patients), Craftoon (general video marketing, including animation), and Creamy Animation (specialized in animated video content).
Where to use explainer and product videos
On your website FAQ page
On your landing page
Across social media channels
We've posted a video with tips and explanations of how to create animated videos below, but here's one example for immediate inspiration:
UpSend: Animated Product Video for a Customer Service Platform
Customer service platform UpSend uses this animated explainer video to explain its product concept and benefits. It uses dynamic and engaging animations alongside a well-written script to keep viewers engaged and to simplify its product description.
How to make an explainer video: tips for success

How to measure success with explainer videos and product videos
The people watching these videos are likely to be browsing and may even be unaware that a product or service exists to solve this exact problem.
For videos that troubleshoot issues with your product, the viewer will likely already be a customer, but potential new customers may be interested in understanding any difficulties that might arise in using your product.
Because you're providing a lot of information in just a few minutes, it's important to check your explainer and product videos to make sure that you are communicating clearly and efficiently, and that they engage viewers, so they'll watch it until the end.
Explainer videos tend to be longer than product videos, but both need to take into account short attention spans. Rewatches will give you an idea of how clear the information is, as well as how interesting a specific product or feature is to your target audience.
The key metric to keep an eye on for explainer videos and product videos is engagement. This can be measured by keeping an eye on play rate (total number of times the video is watched), and time on page (how long each viewer watched).
Company culture videos/behind-the-scenes videos
Company culture videos showcase how your company operates behind-the-scenes.
This type of video gives you the chance to show the human side of your brand and the values that drive it.
Knowing more about what makes a company tick is increasingly important for new customers who want more information about the ethics, sustainability, and culture of companies that they buy from.
Company culture videos can also be used as recruitment tools to show potential employees what it's like to work with your company. Rather than listing benefits and describing what it's like to work with you, you can show them directly with a video.
The more authentic a company culture video is, the better. Potential customers and future hires want to see a genuine representation of the company and its employees.
Where to use company culture and behind-the-scenes videos
On your homepage
On your website Careers page
On your company LinkedIn page
In candidate email communications
Embedded in online job application forms
Across social media channels
Here's an example of a good company culture one from Grammarly:
Grammarly: A candid look behind-the-scenes
Note that although the production values of this video appear to be quite high, and it was probably put together by a professional video content agency, you can also produce similar videos if you record them yourself, or use a platform like Vocal Video to edit together a highlight reel of employee testimonial videos.
Check out Blueshift's jobs page for a good example of this: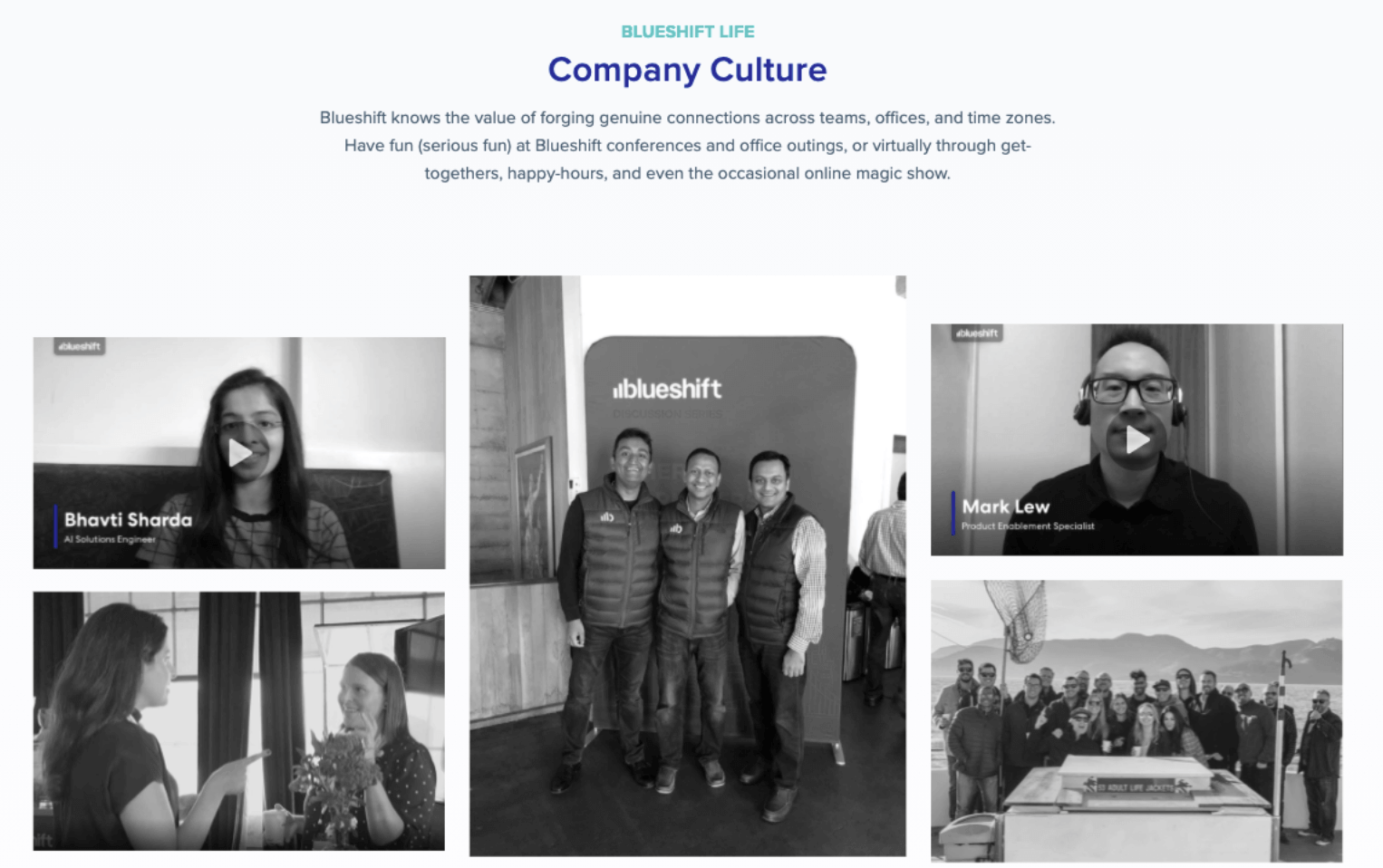 How to shoot high quality videos with your iPhone
Webinars
Live streaming webinars may not be the first option you think of when you start implementing your video marketing strategy, but if you record them, they can be a simple way to get started with video content marketing that doesn't involve time-consuming video shoots and complicated equipment.
Zoom and Google Meet, for example, both make it super easy to record online meetings and you can then use the entire webinar, or snippets of it, across your marketing and social media channels.
Sign ups to free webinars generate potential sales leads and can also establish your brand as an authority on a particular subject related to what you sell.
If you're a mattress retailer, for example, a webinar on how to improve sleep hygiene would be a way of raising brand awareness with new customers, while giving them useful information about getting a better night's sleep.
Where to use webinars
Attract sign ups by posting ads/video ads on social media
Host live video webinars online
Post pre-recorded webinars behind a paywall
Give away a free pre-recorded webinar in return for a newsletter sign up
How to run a Zoom webinar: quick set up and tutorial
How to measure success of webinars
Of all the types of video on this list, webinars may be the easiest in terms of measuring success. The number of conversions you get from each webinar is straightforward to measure.
UGC videos
User-generated content is valuable to your brand because it shows how real people use and appreciate your brand and its products. It's the ultimate in authenticity and social proof.
The key to using UGC in your marketing strategy is to know how to find it. There are a number of UGC aggregation tools you can use to find and collect video and other content from a range of social media channels; these include Taggbox, and Yotpo, for example.
Read more about UGC aggregators in our article: 7 Best Social Proof Software Tools to Increase conversions.
If you prefer to gather UGC together for yourself, encourage your users to use a specific hashtag that will make it easier for you to find and collect it.
The one downside of UGC that is created without any input from your brand is that you lose control of messaging. Some UGC may not be as valuable as you would like it to be because it isn't in line with your brand voice, brand guidelines, or just the overall goals of your current marketing efforts.
If you want a greater measure of control over the kind of UGC you collect, including valuable responses from users that are useful for your video marketing strategy, you can use Vocal Video to collect and record UGC in a more controlled way (many of our customers do this).
Specifically, Vocal Video guides your users via three to five well-designed questions. This keeps your customers focused on answering your questions and thus controls the overall messaging, making your user-generated content immediately more usable.
Read more: How to Use Vocal Video as a User-Generated Video Platform and Get UGC When You Need It
Where to use UGC videos
Attract sign ups by posting ads/video ads on social media
Host live video webinars online
Post pre-recorded webinars behind a paywall
Give away a free pre-recorded webinar in return for a newsletter sign up
How to measure success of UGC video content
Of all the types of video on this list, webinars may be the easiest in terms of measuring success. The number of conversions you get from each webinar is straightforward to measure.
We give you full details of how to create UGC using Vocal Video further down in this article, but here is one example highlighting how one of our Vocal Video customers used our platform to collect dozens of UGC videos:
Gideon Math and Reading: Posted Vocal Video link on Facebook to collect dozens of UGC videos
Tutoring company Gideon Math and Reading put out a general call for reviews and testimonials on their Facebook page (by posting a Vocal Video collector link directly in a post).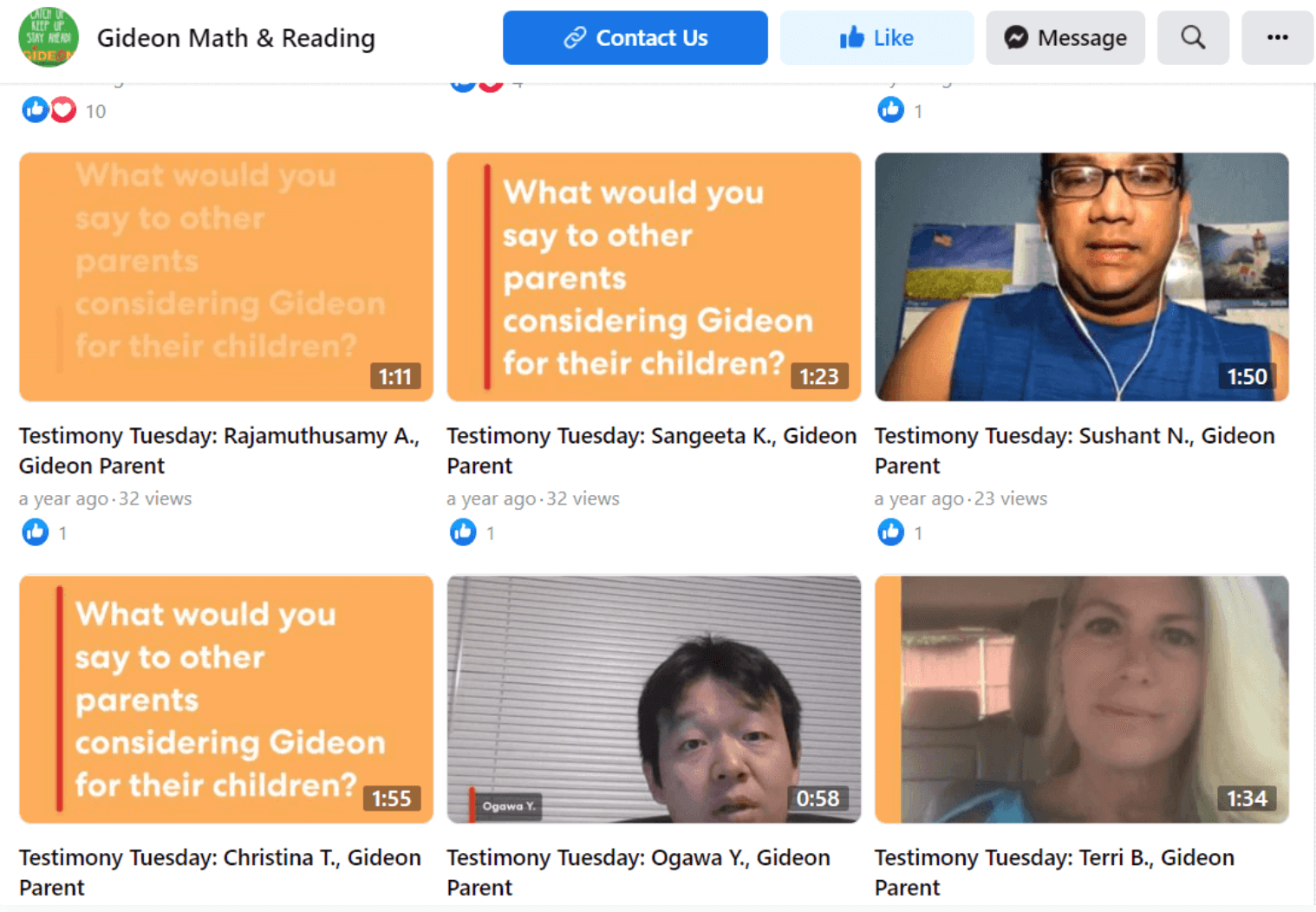 The result was that they collected dozens of reviews to use across their social media channels, YouTube channel, and website. The video content they collected was particularly valuable for their digital marketing efforts because the company guided users into giving great responses with the questions they asked.
Thought-leadership videos/expert Videos
Thought-leadership and expert videos, similarly to webinars, can be used to establish your brand's authority in its segment.
They can include keynote speeches from events, expert interviews, members of your team sharing insights, or invited speakers discussing a subject that is relevant to your brand or product. These types of video are often shared on social media and used to start a conversation about a topic related to your brand's industry or segment.
Thought-leadership videos are another type of video that Vocal Video can help you collect and record (see more information below).
Where to use thought-leadership and expert videos
On your website product pages
Embedded in event invitation emails
Event landing pages
Across social media channels
How to measure success of thought-leadership and expert videos
Thought-leadership and expert videos are perfect for top-of-the-funnel. As such, the total number of video views and conversions (this can be simply signing up for more information, or clicking-through on a call to action) will give you a measure of how successful each video has been.
Let's look at two examples of thought-leadership videos created using Vocal Video (more on how to record them below):
Google Cloud: Leaders share tips on getting started in AI
The speaker in this video is the VP of Product at Google Cloud. He uses this video to share his ideas of what the next year will bring for the Google Cloud AI product and give some advice to businesses starting in this field.
Click here to take a look at Vocal Video's template and example questions for thought-leadership videos.
Employee testimonials
Like Company Culture videos, employee testimonials are focused on communicating the values and culture of a company but exclusively with a view to attracting new talent.
To convince candidates to apply for jobs at your company, you interview your current employees about their experience of working and onboarding within your organization.
Where to use thought-leadership and expert videos
On your website careers page
On LinkedIn
On job application pages
Embedded within emails to candidates
Across social media channels
How to measure success of thought-leadership and expert videos
The number of candidates who apply for your job postings will give you a good idea of how successful your employee testimonials are.
Total video views combined with click-throughs to applications are a good measure.
Here's a great example of an employee testimonial video recorded and collected using Vocal Video:
Read more about recording employee testimonial videos using Vocal Video: Examples of Great Employee Testimonial Videos That You Can Create Yourself
How to use Vocal Video in your video marketing strategy
Vocal Video is designed specifically so that anyone, even with no previous video production experience, can create high quality testimonial videos quickly and asynchronously.
With Vocal Video, you don't need to hire a film crew, or arrange an in-person shoot with a customer. All you need to do is send out a Vocal Video link for customers to record a video testimonial on your behalf.
Compared to recording a video yourself, and all the video editing hassle that involves, Vocal Video is much more straightforward. It guides both you and your happy customers through the process of setting up and recording a video testimonial, and the final video is a high-quality video that is edited to your brand standards.
The customers you ask for a testimonial can choose exactly when they want to record their testimonial and it typically takes less than 10 minutes on any device, including smartphones, tablets, and computers.
They don't need any special equipment, lighting, or a microphone, they just point their device's camera at themselves, choose a well-lit spot and start recording their professionally-styled testimonial video.
Let's look at how that's done:
Build a video collector and send out a link
The first step is to build what we call a Video Collector. This takes just a few minutes using Vocal Video's Video Collector Builder, and is even faster if you select one of our 45 collector templates.
The builder prompts you to add:
Between three and five questions you want your customer to answer.
An optional incentive for recording a testimonial (gifts, discounts, donations, or Vocal Video's prize drawing).
Your logo, colors, and branding.
A welcome text or video message addressed to your satisfied customer.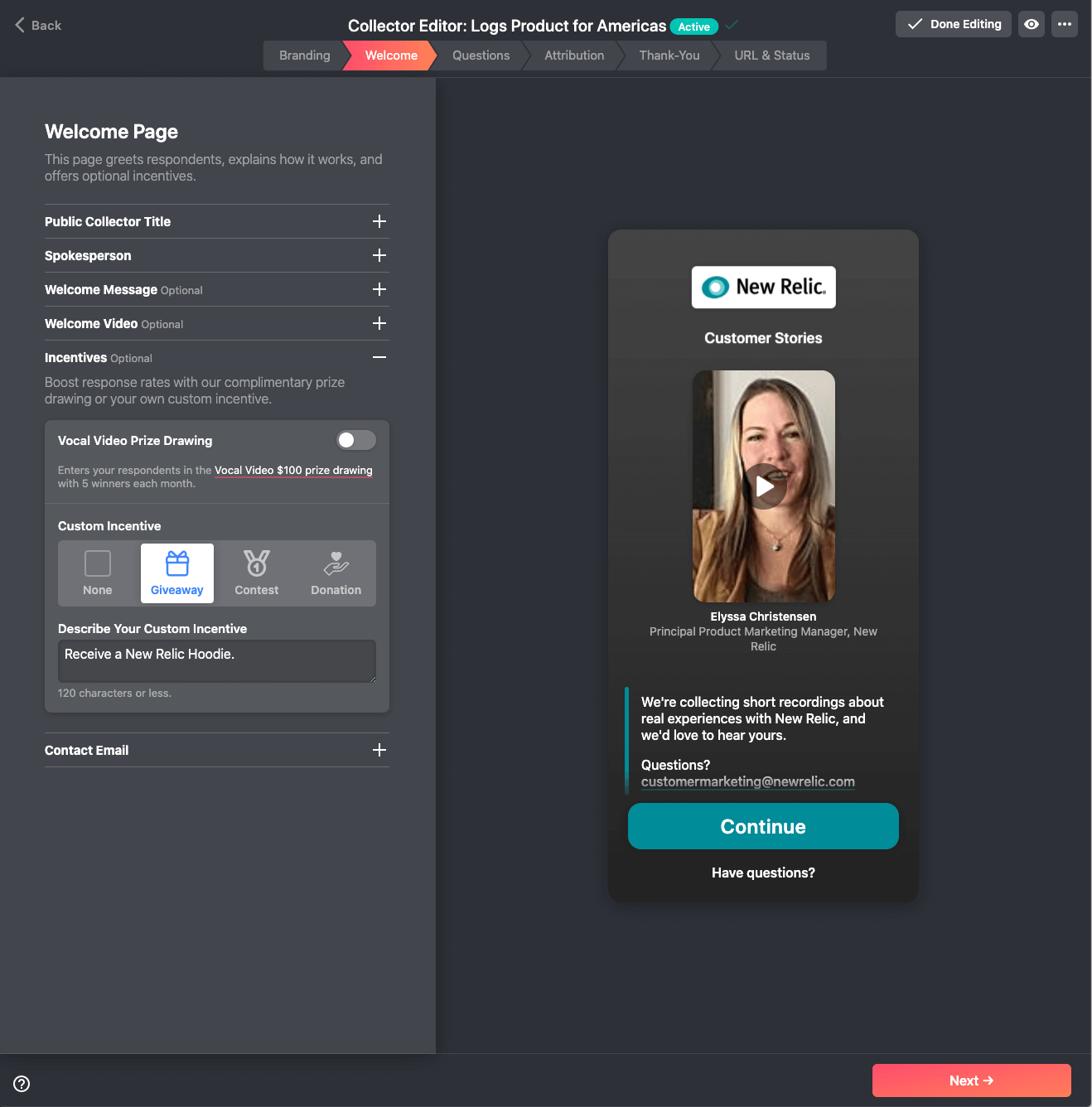 When you've done all of that, you send an automatically-generated Video Collector link to as many customers as you want.
You can send it by SMS, email, or post the link directly on social media. When they receive it, all they need to do is click to be taken to your Vocal Video landing page where the recording happens.
Customers never have to sign up for our services, download any apps, or do anything else before recording their testimonial, which makes the process as frictionless as possible and ensures a great response rate.
Click here to watch our 5-minute video for a walk-through of our video collector.
Step-by-Step: Vocal Video guides users to record a video
When they reach your landing page — hosted on the Vocal Video platform, but fully-branded to your company — the video collector guides your customers through their video shoot.
The collector provides tips on recording a good response, including:
Pick a quiet and well-lit place
Relax - You can redo any recording you don't like
Smile!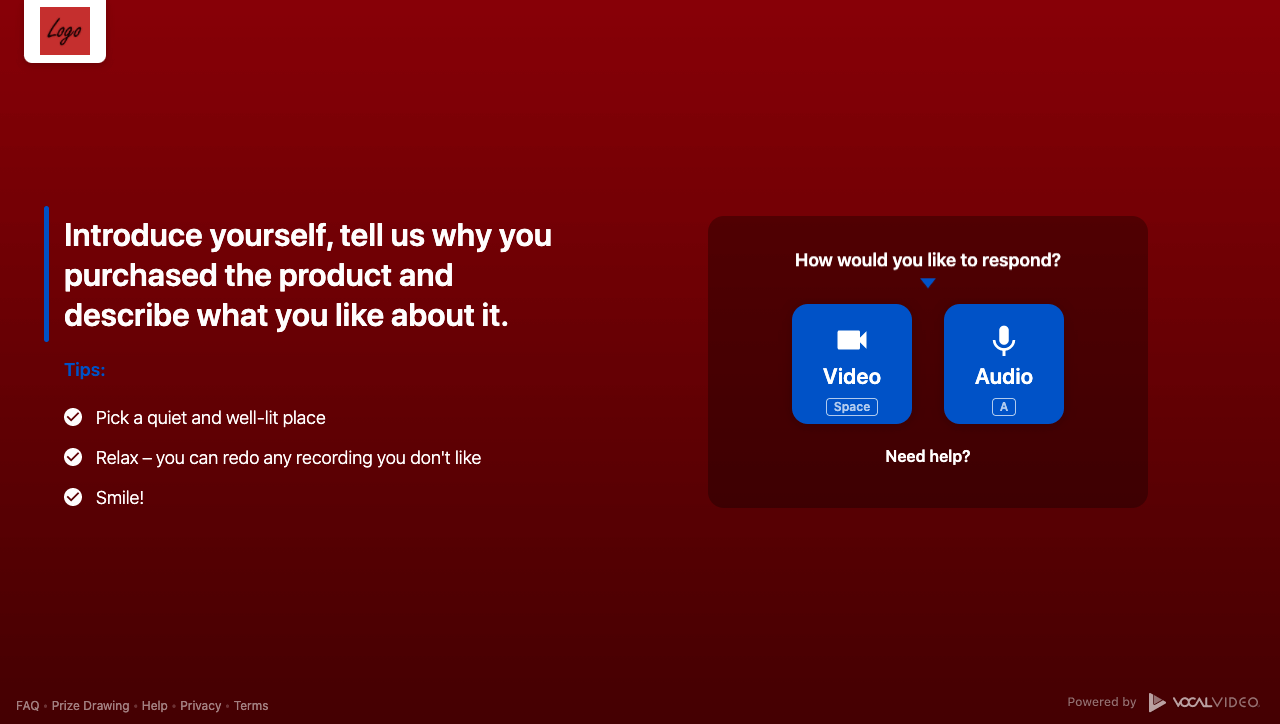 To start, all they have to do is click the record button and answer one question at a time. The collector gives them the opportunity to read each question and think about what they want to say before pressing record.
When they've answered a question, they can watch their response and re-recorded it if there's anything they would like to change.
In our experience, this improves the overall quality of the video and reduces the amount of editing you need to do later on.
When they've finished recording, your user clicks the 'submit' button and their video is sent to you.
Ready-to-use: Vocal Video automatically pre-edits videos
When the video arrives in your inbox, Vocal Video has already done the bulk of the editing work that you need, which means you don't need to use another professional editing tool and spend time perfecting the video content.
Our automatic editing process includes the following elements:
Title slides
Question slides
Your branding, colors, and logo
Animated transitions between responses and slides
Captions and a computer-generated transcript (great for readability and SEO)
Background music
A call-to-action
Even more impact: Use Vocal Video's in-built editing tools for additional video editing
The pre-edited videos are ready to use as soon as you receive them, but if you prefer to edit them further, Vocal Video provides a full suite of easy-to-use video editing tools.
These, like the rest of the Vocal Video platform, are designed to be used by a complete beginner, and you don't need to watch hours of video tutorials to work out how to use them.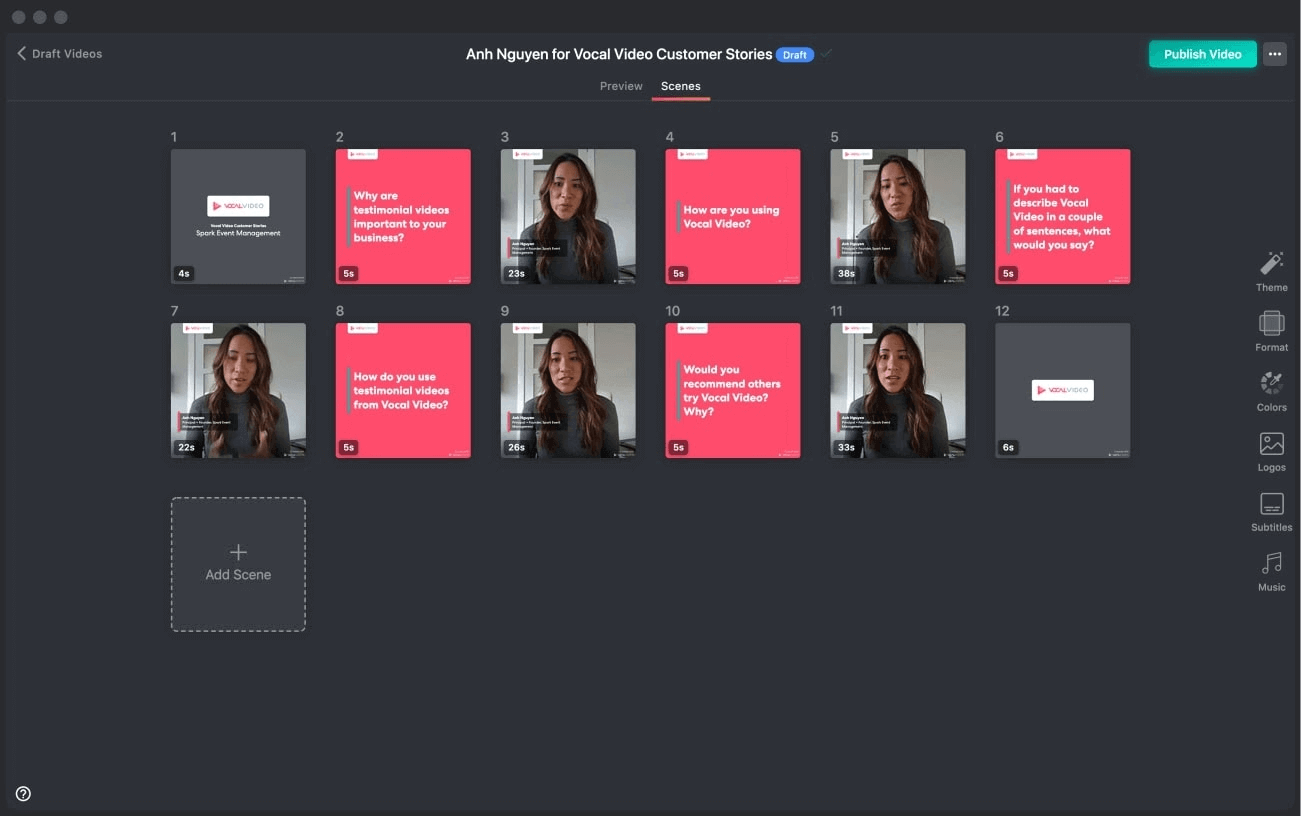 Using a straightforward drag-and-drop process, Vocal Video's editing tools let you:
Change the order of each video scene (or remove them).
Trim scenes and cut out long pauses or tangential information in speech.
Make changes to your colors and branding.
Change background music and adjust volume.
Edit the captions and transcript.
Create highlight reels from several videos.
Click here to read more about testimonial video editing in Vocal Video.
Limitless sharing: Vocal Video share links and embed codes
After you've finished editing your video, it's ready to share and use in all your marketing channels. Vocal Video automatically generates share links and embed codes for every video you create.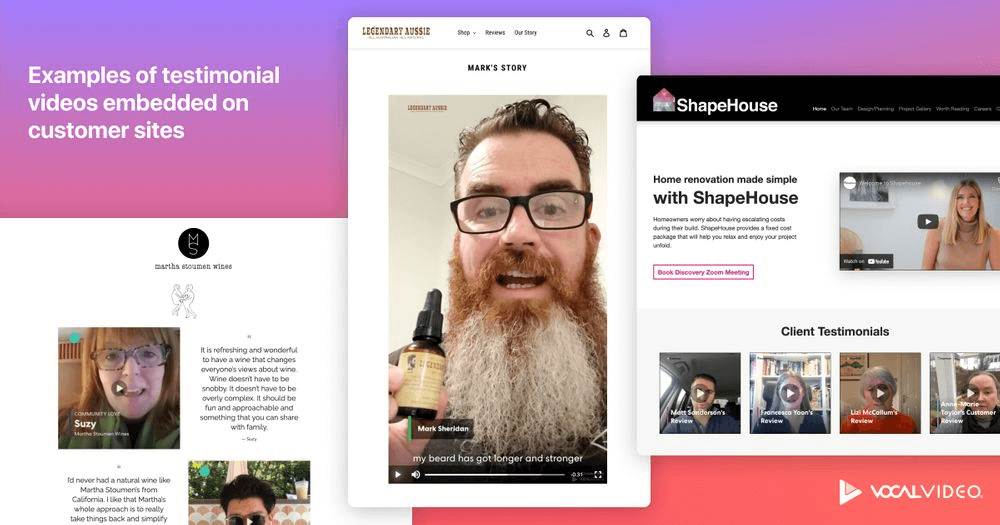 Click here to read more about sharing and embedding your Vocal Videos.
Want to try Vocal Video to kick-start your video marketing journey without complicated video recording and video editing tools? Sign up for a free Vocal Video account to start collecting and recording video content from your users.