In the world of product marketing, it's criminal to make decisions based entirely on assumptions and gut instinct; you can't afford to throw caution to the wind and embrace your inner maverick. After all, the smallest mistake could have the biggest repercussions.
Surveys are often considered the most effective way (along with face-to-face or over-the-phone conversations, of course) to get the feedback you and your PMM team needs from your customers to fine-tune and tweak your product to stay one step ahead of your competition, and contrary to common belief, these tools needn't cost you an arm and a leg.
We'd hate to see you land yourself in limbo, so we've popped together a list of the market's best free survey tools. That's right. You can reap the rewards of awesome software, step inside the mind of your customer, and gain access to invaluable insights absolutely free.
Here are the best free survey tools available to you that won't break your bank account.
Qualtrics
From brand tracking and pricing research to conjoint analysis and 360 feedback, Qualtrics employs a whole host of tactics so you can understand your customers, brand, and product like never before.
It uses advanced text and voice analytics to uncover insights buried deep in responses and incorporates AI and machine learning to give recommendations and route them to relevant people.
"We use Qualtrics for more complicated surveys and have also used them to field pools for us, do complex coding, and basic analytics. I would say it's the market leader on this and has deeper capabilities if you're doing more complex studies (breaking surveys into parts for different samples, conjoint or van Westendorf for pricing, etc.). The survey work we've done has informed our annual planning, fundraising, sales, and marketing strategy, and product roadmap - it's definitely an investment worth making." Kelly Esten, Lead Product Marketing at Toast
SurveyMonkey
SurveyMonkey is recognized as one of the leading survey tools available on the market, with its ease of use particularly appealing to small business owners.
While it's worth bearing in mind this tool isn't completely exempt from price plans, the free version does allow you to include 10 questions and collect 100 responses within each survey, and also gives your PMM team the option of creating and sending as many surveys as you see fit.
While SurveyMonkey is known mostly for its survey capabilities, it also offers added benefits of accepting online payments, analyzing NPS scores, and automatically generates new content and forms.
Delighted
Looking for a platform to distribute single question surveys? You'll be Delighted to hear we've an ideal recommendation.
Delighted uses the Net Promoter System® and multiple methods (like email, web, SMS, and link) to send single question surveys to your customers and present real-time results on your dashboard.
Typeform
Typeform has been designed with one aim, and one aim only: to help you get more responses from your forms and surveys by making them engaging, conversational, and well-designed.
Its templates cover everything from quizzes and polls to lead gen forms and online invitations, and you have the option to create personalized question paths, filter out irrelevant fields, and segment leads into your CRM.
SurveyGizmo
A platform offering unlimited surveys and questions, SurveyGizmo is an awesome tool readily available to product marketers.
While you can only collect 50 responses per survey, SurveyGizmo is super-handy, as it allows you to distribute surveys to targeted groups. For example, if you've recently launched a product and want to get feedback from people who've recently bought your offering, this can be achieved with the click of a button.Plus, with bonus features such as basic reporting, templates, and multiple question types to choose from, we'd say SurveyGizmo's free service is a pretty decent option!
HubSpot
Hmm, where do we start with HubSpot?
First things first, the platform covers a ton of areas - marketing, sales, service. You name it, the likelihood is, HubSpot has it covered.
And you guessed it, this even includes the ability to generate and distribute surveys to your audience; they really are the pen knife equivalent of product marketing software. Plus, your survey can be synced to trigger notification emails, prompting you to follow-up with your customers or alert your team to new leads.
"Hubspot has totally transformed the way we do marketing. Previously, we used specific specialist tools for each activity and we would then have a painfully manual process trying to tie the data together to take learnings. Now with Hubspot as our central marketing system, we can quickly get insight on both the performance of a campaign and how it compares against other campaigns - all from one system." Rebecca Taylor, Product Marketing Manager at GatherContent
Survey Kiwi
There's no doubting the potential benefits a survey can bring to the table - but any success hinges on receiving responses.
If your response rate is leaving a lot to be desired, check out Survey Kiwi. The tool includes a ton of customizable options, can be integrated with HubSpot, and has been built specifically for the customer.
With an average completion rate of 83%, this platform isn't to be scoffed at.
Google Forms
Ready for some great news? Google Forms doesn't have any paid versions.
That's right. Users can enjoy unlimited surveys, questions, and responses, without spending a nickel. And with a variety of custom designs and data export options at users' disposal, this is a cause for celebration.
Affordability aside, one of the main attractions amongst users of Google Forms is its usability, given it automatically syncs with Google Sheets.
The platform is also extremely popular amongst small business owners, as users can incorporate free skip logic, add photos and videos, and include collaborators, within a simple interface.
FreeOnlineSurveys
On the lookout for a quick and easy tool for your surveys?
Then sit up and take notice of FreeOnlineSurveys, a truly unique tool using the benefits of AI.
The tool analyzes what the user is typing, and makes suggestions not only for the question type, but also for the design, saving you invaluable time, effort, and resources.
Plus, features such as page logic, text piping, A/B testing, and the aesthetics of FreeOnlineSurveys only add to the user experience.
Once the tool generates the survey to collect the information you crave, you're free to use it as you please - the power is entirely in your hands.
Survs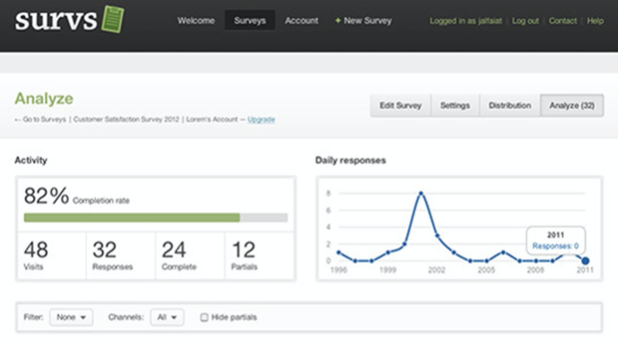 When you send a survey, generating maximum outreach is essential; let's face it, why speak to 10 people if you can speak to 100?
With Survs, users can create brilliant surveys, and also distribute them across a ton of channels, with options ranging from email, social media channels such as Facebook, Twitter, and LinkedIn, or website embedding.
When forming the basis of your survey, the survey maker takes core principles into account, such as skip logic, pre-filling answers, and piping, helping you provide a customized experience for your recipients.
As far as quantity is concerned, Survs allows you to pop together as many surveys as your heart desires, with responses capped at 200 at a time.
Polldaddy
A tool offering no end of surveys, questions, and responses, Polldaddy is an option well worth considering, particularly for users of WordPress, considering its seamless integration with the popular CMS.
Users do have the option to upgrade their package and pay to remove Polldaddy's branding, add custom CSS, export data, or access email support; if this is something you're interested in, prices start at $200 per year.
Survey AnyPlace

Question: Do people spend more time on their laptops, or their mobile phones?
Answer: We'd say the answer speaks for itself. 📱
Survey Anyplace places the emphasis on mobile accessibility and engagement. After all, with millions of people using smartphones, why publish a survey that's not mobile optimized?
Respondents are incentivized for participating, while innovative, unique means of communication are used to enhance the user experience and improve response rates.
In a world dominated by mobile devices, it's a platform that's seemingly ticking the right boxes.
Got a recommendation?
We've by no means even begun to skim the surface, as far as free survey tools are concerned, and with new options continually emerging to cater for the requirements of different types of businesses, we're always interested in hearing which tools PMMs use in their respective teams.
So, do you have a preference we haven't included in our list? If so, let us know in the comments below.
In the meantime, busied ourselves casting our expert eyes across a ton of tools and added the creme de la creme to our PMM Tech Stack, an extensive directory featuring the top product marketing top tools on the market.