Your manager asks you to recreate the company buyer personas. You spend hours researching and updating. They're shared in a sales meeting and placed in the company wiki.
Then, there they sit; no one reads them and no one seems to care. The sales team never seems to open them, the product doesn't reference them, and your content team members continue to write towards audiences that may not exist.
Sound a little too familiar? Creating buyer personas your company will use is a common challenge for product marketers. This article will dive into both persona creation and company adoption.
Creating engaging buyer personas
There are two steps here. Creating effective buyer personas, and getting your teams to use them. Personas need to be engaging from the start so internal teams are hooked.
Let's pull back for a sec to get a handle on the basics of personas.
What are personas?
According to PMA, "personas are a representation of your ideal customer." Personas can take one of two forms, for both the end-user and the buyer. This article will focus on the latter. Buyer personas help you understand the decision-makers that have a direct impact on your sales.
An article from Hootsuite states that personas should include: age, location, language, spending power, and patterns, interests, challenges, stage of life, and more. From there you can identify their pain points, goals, and ultimately how you can help.
Unsure where to start? Product Marketing Alliance has great templates for personas that make it easy to get started. And HubSpot has a nifty little tool you can try out.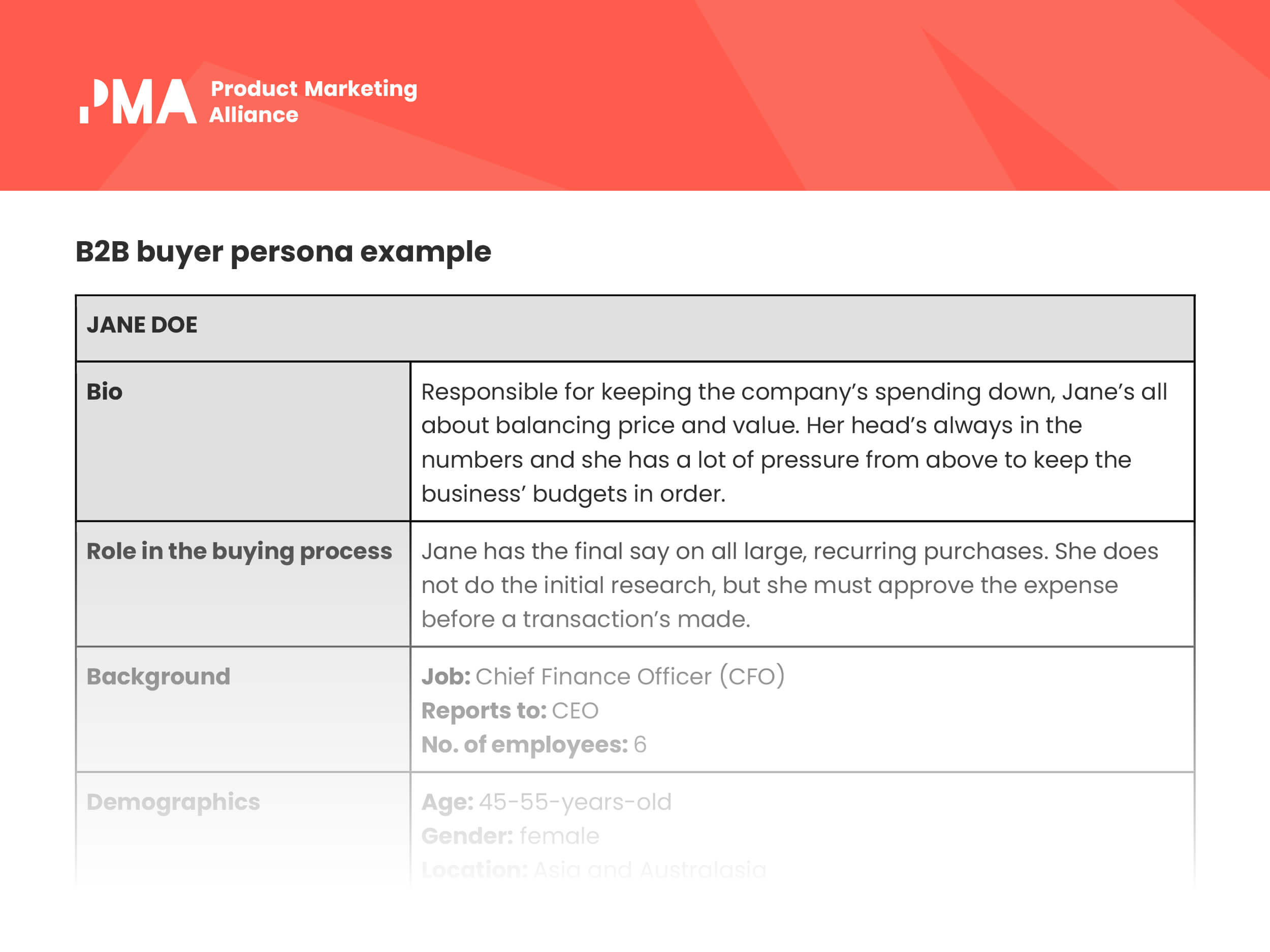 Tip: Putting a face and name to the personas is a great way to make them more engaging and memorable for your company. PMA has some example buyer personas that illustrate this idea well. "David" and "Tamara" become tangible characters for your company to target.
Personas shape company direction
If done well, buyer personas can become the cornerstone of your company's sales strategy. They go beyond the verticals or industries you serve and inform decisions on a personal level.
Maureen Jann, Co-Conspirator and Chief Marketing Strategist at NeoLuxe Marketing gave her perspective on the importance of defined buyer personas.
"If you don't know who you're building for, what are you doing? If you build for everyone, you build for no one. You should have a particular person you imagine.
"Speak to them, build for them, and get serious about it. So many companies are afraid of committing on that level because they want to be for everyone. I think that's a critical mistake."
Product marketers surely realize the truth in this; many companies want to be the Amazon in their industry - serving anyone and everyone they can connect with in many many ways. But this does nothing to differentiate your product. How can you be a perfect fit for everyone? The majority of the time you can't. By defining personas you provide direction for the entire company.
Of course, this isn't a static undertaking; personas will change. But shaping your product roadmap through defined personas is essential, and leadership and board members can better support and align on the vision.
Company adoption of buyer personas
Creating engaging personas is only half the challenge. Getting others to be their champion is where the real key to adoption lies. In the case of a B2B SaaS company, at a bare minimum, you'll want to involve sales, product, and marketing.
Personas can be used by:
Product marketing for sales enablement collateral, launch assets, positioning and messaging pricing strategy, objectives and key results, and analysis.
Sales to craft individualized pitches.
Customer success for customer conversations and handling complaints.
Marketing for campaigns, referrals, blogs, retargeting, web copy, etc.
Product to shape the roadmap.
According to Hubspot, interviewees for personas can be current customers, prospects, referrals, and third-party networks. The first three are opportunities to get your teams engaging and networking.
Set your sales teams to the task of the initial touchpoint by having them reach out to their networks. As a product marketer, you'll be conducting the interviews and completing the research, but you might as well use the interaction to your advantage. I want to make it clear here, persona interviews aren't sales-focused, you're using sales relationships to further your research and build a better connection.
All of this is to say that initial interviews are an easy way to include your sales team from the start. You're getting the sales team involved, energized, and aligned on the value of personas by bringing them in early and developing a partnership with them.
Tip: Buyer personas are often one of the dozens of materials made available to sales. When they need to focus on memorizing pitches, knowing which one sheet to send, and keeping up with product knowledge they may deem something like a buyer persona non-essential. Change that! Create examples that relate to their day-to-day. Show the team how buyer personas can be used to adapt pitches. Or demonstrate the types of real-life leads that match your personas.
There's a good chance your PMM team falls under marketing so the broader team should be experts on your personas. In the case this is not the reality it's even more imperative that product marketing is aligned every step of the way with marketing.
The marketing team should be using personas for everything, and that's not an exaggeration. Once you roll out personas you should expect everyone on the team to be an expert so their work revolves around the targeted personalities. Your web designer may want to adapt the website to mirror the personas, the design team may find it useful to alter their customer imagery to match, and the demand gen team will undoubtedly want to target campaigns towards them.
Product is often focused heavily on the end-user, but buyer personas are often as important, if not more so, for product to understand. A user may love the features available to them and develop loyalty to your brand, but if the buyer doesn't see value your company stands to lose out.
Your product team should be consulted and kept informed when building out personas and when they're building their roadmap. This will provide the team with a sense of ownership, and therefore, a stake in the personas.
Tip: Paint a picture of what defined buyer persons can do for roles at the company. How they will impact sales, marketing, product, customer success, etc. Successful companies do this with a handful of personas that assess every type of buyer - with an impact on every role at the company.
Getting buy-in from leadership
Getting teams outside of marketing to adopt personas can often be a challenge. Start by getting buy-in from senior leaders. Building interest within a company often comes from the top. If leaders are champions of your personas their teams are bound to follow. And if you can get your C-suite on board you're bound to see persona integration across the company.
"As a marketer, you have an opportunity. The challenge is that people don't understand what personas mean and why they're useful. It's a show, don't tell situation. If you're a marketer who has to present regularly you can connect with the sales leader and have them buy-in so you can collectively buy-in together.
"Then, you can infuse these personas in every step of the sales process. The leaders are going to set the example. So if you can't connect with leaders, oftentimes the marketer has to go out on a limb to help share and help people understand."
Maureen Jann, Co-Conspirator and Chief Marketing Strategist at NeoLuxe Marketing
A big part of this is as simple as keeping leadership involved. Let them know the need for personas and paint a picture of a company operating based on a cohesive buyer persona platform.
Imagine how the funnel could function -- your demand gen team targets your personas, your content marketing team writes for them, your sales team identifies leads as personas and pitches based on those assumptions. The result? A cohesive plan leadership is sure to appreciate. Once you've got their support, gaining alignment with the rest of the company will go easier.
Supporting buyer personas
Daniel Palay makes a great point in his article on sales-focused buyer personas. He shares a familiar ancient proverb: "Give someone a fish, and they can eat for a day. Teach someone to fish, and they'll never go hungry again." This is then followed up with his own, a little more based in reality -- "Give someone a rod and reel, with neither context nor instruction, and they'll return frustrated and hungry (and still asking for a fish)."
I must confess my first reaction to reading this was to laugh because it's so true when applied to sales enablement. It's incredibly important to support any materials you're putting out into the company and demonstrate why and how to use them.
To reference the example at the beginning of this article, your personas can end up forgotten and buried in a wiki if not made engaging and important to the internal users regularly. If I could pick one takeaway from this article it would be this -- be your personas' biggest champion, and lead others to this role by displaying why they matter to them.
As anyone in sales enablement, or any type of education, will tell you -- repetition, repetition, repetition. Once you've shared your personas repeat them and make them stick!
Some ideas to get you going:
Create training and test knowledge. Make it necessary for new hires and throw out questions on the subject when the opportunity arises.
Facilitate an activity that helps reinforce the buyer personas.
Find an incentive to inspire the rest of the company to become experts. It doesn't need to be monetary, even a callout in a company newsletter can be extremely effective.
Your personas may be incredibly engaging and exciting when they're first shared but by the next quarter, they're probably one of 50 updates different teams have had to memorize. So don't make them memorize them, help them integrate personas into their daily work. As Daniel Palay so accurately explained, context and instruction are at the core of what you're sharing.
Iterating buyer personas
Personas aren't set and forget material. Personas should be updated, or at least assessed for changes regularly.
"Change when anything big happens that's likely to impact the market. For example, coronavirus. A lot of people are seeing their market is changing and they've had to pivot their product to reflect that.
"Plan to review personas yearly, plan to review them after something big happens, plan to review them any time you feel like there's a shift in the market, you need to take a look at it and make sure that it's reflecting the people that you strategically need to go after, and that you are getting as customers."
Maureen Jann, Co-Conspirator and Chief Marketing Strategist at NeoLuxe Marketing.
As a product marketer, you should be continually seeking to improve the materials you provide. Personas change when the market changes, the industry changes, and at designated periods.
For many reasons, this is something product marketers find challenging to do, often for a lack of time when working on small PMM teams. But it's so important to do this and pass the changes on to the rest of the company.
As a product marketer, you're one of the most meaningful connections to the market and you have the opportunity to influence the direction of the company. By ensuring buyer personas are reflective of the current buyers you're ensuring sales, marketing, product, and leadership are building meaningful relationships and creating touchpoints that align with company targets and the needs of your customer.
Interested in learning more about buyer personas? Product Marketing Alliance has some of the best resources to get you started building buyer personas, and so much more.