Brand partnerships are an incredible opportunity to further leverage our existing associations with consumers, expand awareness of our brand via different categories, and ultimately drive incremental sales. At least, that's the hope.
During my career, I've been in the business of music for many years and (on the side) a guitar player to boot. However, first and foremost, I am a product marketer.
But as in life, there's no yin without yang. There's no Oasis without Blur. In The Beatles, there was no Lennon without McCartney. In the traditional world of guitars, there's no Gibson without Fender.
This product marketer more than pays attention to how both Gibson and Fender do their marketing. So, when Fender launched a co-brand partnership with denim stalwart, Wrangler, I did more than just prick up my ears - I picked up a pen.
In this article, I will discuss the virtues of brand partnerships, Fender's approach to portfolio management, how they use consumer orientation to target the next generation of players, and how analog brands are faring in the transition to the digital world.
The value of co-branding.

What is co-branding? Simply, it's when at least two brands come together for some form of limited-edition partnership in which they both work together and present themselves on a product.
You get the synergy of these two things coming together. In this case, Fender/Wrangler. We have Fender's undeniable legacy in music and the capability to deliver the spirit of rock and roll. Combined with the ruggedness and authenticity of Wrangler, it creates a very potent and attractive product offer.
After all, music has always been the yin to fashion's yang. More specifically, denim (Wrangler) has always been the go-to fashion choice for country and rock 'n roll artists and fans alike (Fender's domain).
We also have synergies between the two brands; Wrangler is able to operate at a mass level in retail and has all of those skills to be able to sell merchandise in unit numbers of millions, which Fender doesn't have in this channel. Meanwhile, Fender is an expert at crafting an aspirational iconic music brand based on their undeniable legacy in music history that started in earnest, when Leo Fender released his first production electric guitar in 1950.
Look at what the result does for both brands. For many co-brands, often, it's not quite so obvious what one might be getting out of it, but here, it's much clearer. Music and fashion are natural bedfellows, and as such, Fender will drive saliency for any aspiring guitar player, who no doubt will be wearing denim. For Wrangler, it's the opportunity to drive distinctiveness and preference in a cut-throat commoditized fashion category, and it positions them as a genuine fashionista choice vs Levi's, Diesel, et al.
Could it be that Wrangler just left the cowboys behind and, dare I say it, became cool once more?
And, of course, this partnership is destined to be a limited edition, leveraging the tactic of scarcity to drive sales. After which both these brands go back to their own corners when they're not involved in co-branding.
The evidence here, though, is that Fender is in the driving seat. With a recent and very successful co-brand with Lego that won plaudits and customers (I was one of them!) for the Lego Fender Stratocaster, I am sure this will not be the last significant co-brand that Fender does. Wrangler, on the other hand, may find it harder to find a more future co-brand suitor, so will have to make whoopee while they can.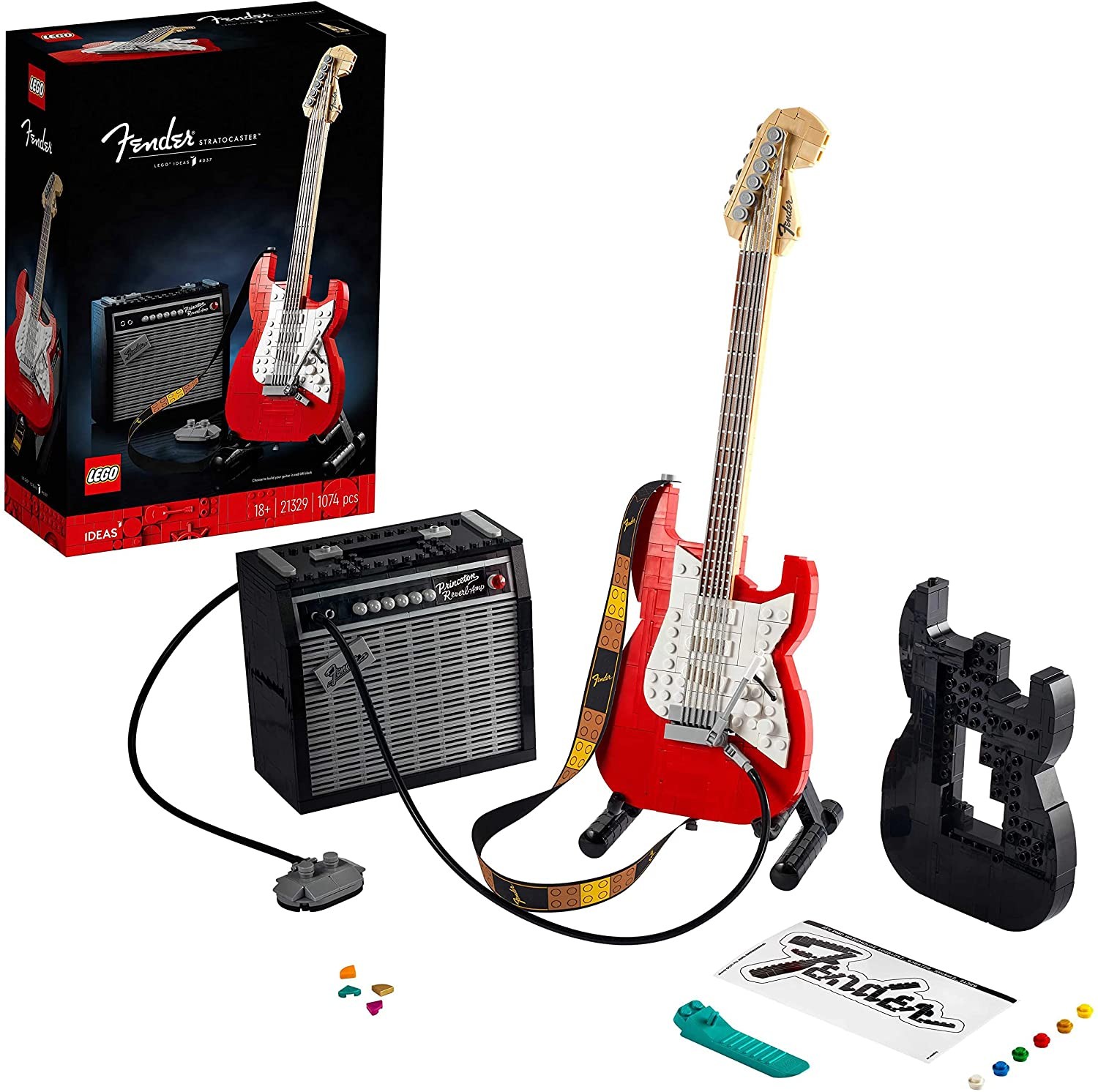 The yang
Of course, when we look at co-brands, we must take this in the context in which we are in as it relates to positioning. For Fender, this means a couple of things.
Differentiation and preference in the context of competing on two fronts:
Being distinctly different from their historical competitor, Gibson.
Driving consideration and preference from the slew of 'cheap' Fender-style 'copy' guitars that sell from anywhere from $65 to $1,000.
The first point for me is less of a challenge as both brands, Fender and Gibson, are already largely different from each other and have distinct guitar offerings for specific musical purposes or genres, with enough degrees of separation to be comfortable.
The challenge for Fender here is the second point. Namely, combating the myriad of cheap copy imports of their guitars from the far-east. Kudos to Fender in recent years as they have expanded their portfolio across price points to meet much of that competitive challenge, but they still need to drive preference for their brand.
And given Fender can't get their prices down to $65 like the budget brand Harley Benton, they should play their best brand attribute card: Authenticity.
There will only ever be one genuine Fender, the inventor of the Telecaster and Stratocaster guitar. Often imitated, never bettered.
But they need to continuously keep brand awareness high and establish a preference for their brand and products. All at price points that'll drive their business for future growth.
So, what of Gibson? I love both these brands, but Gibson has very much positioned themselves as serious rock and blues players by not having a Gibson USA branded product below $1,000. The cost base and detailing of their handmade instruments mean they realistically can't appeal to any market below this price point with a Gibson USA branded model.
But with a full order book and a long waitlist for their instruments, the immediate future poses little business risk, especially when the category is now worth a whopping $3.62 billion and is expected to grow at a compound annual rate of 7.3% from 2021 to 2028.
Could the long term look a little shakier for the preferred guitar supplier of AC/DC, Led Zeppelin, Guns and Roses, et al?
Therein lies the core issue for Gibson. As you'll read below, nearly ¾ of new players are aged 13-34, and this means they are digital natives, unlikely to initially spend over $1,000
Gibson's efforts to bring in new players seem to have evaded them somewhat, as their digital efforts are unremarkable. Not terrible, but unremarkable, given where the source of new players is coming from in a digital age. Unremarkable might turn into untenable at some point.
With that in mind, should Gibson be making more headway in the digital world?

The challenge of being an analog brand in a digital age
No one can pretend there are offline and online worlds anymore; it's all one homogenous blob these days. Online/offline life is now just 'life', and Covid has ensured that ten years of future convergence got consolidated into 24 months.
Analog brands struggle for relevance should they not have the digital chops to make the transition. This requires a deep understanding of how the balance of offline/online works in context and how it delivers value to the customer. And what could be more analog than a guitar? After all, rock and roll guitars were born in the 1950s, and by and large, the product of finely honed woods, metals, and very basic magnetic electronics has not changed since!
Fender has managed to make their guitars and, crucially, their brand relevant to digital natives. So, how have Fender beaten Gibson to the digital dollar?
Fender's New Guitar Player Landscape Analysis reveals that seven percent of the population in America between the ages of 13 and 64 started to learn the guitar over the past 24 months – a percentage that works out to be approximately 16 million people.
The survey – which Fender conducted following the sudden rise in Fender Play subscribers (Fender's branded online guitar tuition course) actually increased guitar sales in April 2020 – was commissioned alongside global data and analytics firm YouGov and included 10,644 individuals from across the country.
From a macro perspective, 62% of those surveyed revealed the Covid pandemic directly influenced their decision to pick up the guitar, with 77% of participants reporting that increased leisure time due to lockdown was spent playing and practicing.
The statistics, however, go far beyond merely identifying how many people picked up a six-string for the first time. The findings also revealed that 72% of new players were between the age of 13 & 34 – a statistic that points towards the enthusiasm among younger generations to start learning.
This can be somewhat attributed to the ever-evolving, digitally fuelled nature of today's music scene – according to the report, 58% of beginners looked to TikTok for inspiration, with 48% consuming weekly online guitar content.
It's a trend Fender has already capitalized on, having recently set up its official TikTok account.
Elsewhere in the study, Fender and YouGov distinguished the motivating factors behind people's guitar-playing journeys, with 67 percent of new players revealing they had full-time careers and saw the guitar as a hobby rather than a passion.
That percentage is broken down further into identifiable ethnic, age, and gender groups, with research showing women, teens, adults over the age of 40, and Black guitar players are all more likely to identify as "self-improvers".
Further micro-observations unearthed by the survey show that 38% of the 16 million players identify as Latine, emphasizing the need for a barrier-free guitar-learning experience for all backgrounds.
Guitars are clearly not just for rock and roll!
What do we take from all this? The success of Fender Play, Fender tune (great smartphone app!), and Find my Fender are all grounded in our legacy brand being market-oriented, understanding, then meeting the demands and challenges of analog players who live in an increasingly digital world.
For those about to rock (we salute you)!
So, there you have it. Two American heritage brands co-headlining a tour you didn't know you needed seems like a marriage made in heaven to this product marketer.
Fender states that "the collaboration is built around the defining black and blue lived-in denim uniform worn by rockers for decades", and this rocker can't disagree, but as a product marketer, it would allude to so much more.
The launch campaign features several notable faces from the music industry, including rock and roll progeny and acclaimed fashion model Georgia May Jagger, global recording artist and guitarist Orville Peck, and country artist Stephanie Quayle.
Not bad for an analog product from the 1950s. Fender (I salute you).
Stay safe. Look after one another.
Harvey.