It's a leader's job to ensure the members of their team understand and embrace their responsibilities to support the company to fulfill its objectives.
With product marketing leadership styles varying, we wanted to understand how product marketers are leading their teams.
In this piece, we'll address:
How do product marketers describe their leadership style?
Most of the respondents (80.6%) said they adopt a coach-style approach to leadership while 60.2% said they lead strategically.
NB: Respondents could select more than one option for this question.

Ali Hanyaloglu, Senior Director of Product Marketing at Akeneo, is a seasoned PMM practitioner and gave his perspective on what an effective leader looks like:
"Product marketing leaders can let their team members be 'entrepreneurs' for their respective areas, based on the goals and strategies we set as a company or team. This can help them grow in areas that they want to develop in their career.
"It also puts the responsibility on them to raise their hand when they need guidance and specific direction, and then take action from that. Our role as leaders is to rise to that coaching moment, remove obstacles, and champion them when they succeed in their entrepreneurial role."
Data vs instinct
We focused earlier on how OKRs, micro, and macro goals contribute to the success of a product marketing team. Nonetheless, there are undoubtedly times when we can have a propensity to follow our instinct, rather than the cold, hard facts.
This transcends into the world of leadership; in many cases, plans and actions are heavily informed by data, while in some other instances, leaders take a risk and trust their gut.
22.6% of respondents said they're guided by data when making key decisions. Encouragingly, just 8.6% said they make decisions based solely on instinct, while the majority (68.8%) rely on both.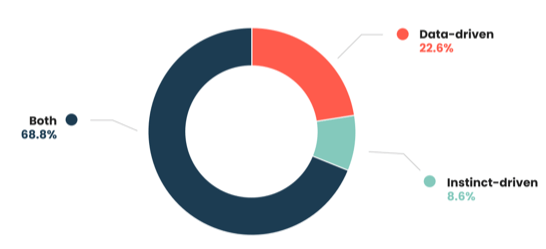 Phill Agnew, Host of Nudge, and Senior Product Marketing Manager at Buffer, gave his response to this finding:
"Ultimately, making a decision in product marketing shouldn't be guesswork. It's scary that almost 1/10 of key decisions are based on gut instinct alone. I imagine that number is even higher when looking at smaller decisions.
"In my view, as product marketing leaders, we need to educate ourselves to make decisions based on evidence, data, and science. We need to test our decisions wherever possible to get feedback on whether our call was right or wrong. Anyone can guess, the best leaders strive for better."
Essential leadership traits
There's no doubt that leadership roles are very much in demand, with many PMMs eyeing up positions as a VP, Senior PMM, Head of PMM, and so on -  but what do you really need to make the grade, cut the mustard, make the cut?
Some of the qualities identified by the leaders we spoke to included marketing experience, an entrepreneurial mindset, teamwork, and creativity, to name a few:
"Broad marketing experience and the ability to understand the correlation between business and marketing."
Geva Telem, Director of Marketing at Percepto
"The strongest leaders I have managed share a few common traits: they are self-starters (with entrepreneurial mindset), self-learners, and possess intellectual curiosity. They lead with empathy, are results-oriented, are persistent, and are effective communicators."
Hila Lauterbach, Senior Director of Product Marketing/Head of Department at SpotOn
"There is a need to have both a macroscopic view as well as a microscopic view of the products you manage.
"It's also important to be a team player and be able to work with your counterparts in product, engineering, and sales. It's a fairly lonely job being a PMM and it's important to be able to get along with everyone and get the job done."
Prateek Panda, Head of Product Marketing and Growth at Intertrust
"Vision, clarity, and defined parameters for the team members to be creative and problem solve."
Alina Fu, VP of Product Marketing at G2
"Adaptability; focus on execution; ability to present a compelling vision internally and externally; ability to simplify the complex; emotional intelligence."
Hally Pinaud, VP of Product Marketing at Podium
"Strategic holistic approach, empathy, and active listening - of users and your team."
Lorena Martínez Cure, Product and Lifecycle Marketing Manager at Parabol
"The technical experience with most functions and good coaching skills - my experience is PMMs are developed out of diverse functions; there is no one standard path to PMM, and it's too strategic a role to be the first job out of Uni.
"Therefore, a PMM functional leader needs to be able to support the technical growth of the team as well as the strategic growth of the company."
Marla Woodward, Head of Product Marketing at Attest
"Vision with ability to execute, ability to persuade, master of positioning, cross-functional collaboration"
Taylor Kessel-Salomonsson, Head of Product Marketing at Conexio
"Patience, adaptability, strong writing and communication skills, partnering approach with sales/product/customer success, macro thinking."
Sarah Lambert, VP of Product Marketing at Buckzy Payments Inc.
"A PMM leader has to be strategic - choosing what not to say and do is as important as choosing what to say and do. You also need to be insight-driven; without real insight into your target, it's impossible to be strategic. Those choices are impossible if you don't know why you are making them."
Gabrielle Tenaglia, VP of Brand and Product Marketing at Omada Health
"As a PMM leader, you need to make sure your colleagues understand your priority when you tell them you can't deliver what they need."
Maxim Garant-Rousseau, Head of Product Marketing at Relogix
"A product marketing leader needs to be great at prioritizing. More often than not, there are more things you would like to do than things you actually can do. Sometimes you just have to prioritize and say no. Due to that, great listening and communication skills also become crucial."
Aleksander Cardwell, Head of Product Marketing at SuperMetrics
"Leaders need to understand the execution steps to be realistic about what can and can't be accomplished but have to be able to manage a strategic goal (and not just tactical ones).
"You also need to have strong collaboration and communication skills to facilitate building and supporting cross-functional work to smooth pathways for team members to execute, as well as a strong understanding of the product/industry/buyer to keep an eye out for additional opportunities."
Paige Goodhew, Product Marketing Director at WELL Health
"The ability to both see/set the strategic vision while being able to work on the tactics as needed (seeing both ends of the spectrum), especially in a growth stage technology company."
David Hoeller, Director of Product Marketing at Flashpoint
💻
Sign up for
Product Marketing Leaders: Fellowship
, refine your leadership credentials and transform yourself into a C-suiter.
Learn more about the essentials needed to reach the upper echelon on the product marketing ladder, during our 8-week course packed with
40+ hours
of education,
14+
templates and frameworks, exclusive alumni, and much more.
Register now
Leadership tips
Whether you're an aspiring product marketing leader or an experienced practitioner with years of experience, there's no such thing as perfection.
Every PMM has room for improvement, so we asked our respondents for their number one leadership tip to help PMM peers enhance their credentials:
"Get an understanding of what product marketing means for the company."
Ralf Paschen, Chief Marketing Officer at Hadean Supercomputing Inc.
"I'd say be customer-centric and understand customer problems whether they're end-users or a team member within your organization.
"You also need to be authentic, trustworthy, and an active listener so you learn; don't hesitate to ask questions to improve your understanding.
"Finally, remember that it's okay to fail, so long as you learn from that failure."
JeriAnn May, Senior Consultant at Maple Marketing Solutions
"Lead with empathy, assume good intentions; if you're unclear about your peers' direction and decisions, make a phone call and simply ask 'Why.' You'll often be surprised by the answers and emerge as a more vital collaborator and a better leader."
Hila Lauterbach, Senior Director of Product Marketing/Head of Department at SpotOn
"Be empathetic, understand problems better with perspective from different angles, build an ability to get the job done."
Prateek Panda, Head of Product Marketing and Growth at Intertrust
"Be open to what background experience a candidate has - they don't always have to be a perfect fit for the role."
Alina Fu, VP of Product Marketing at G2
"Become great at simplifying the complex - this works with buyers and internal teams."
Hally Pinaud, VP of Product Marketing at Podium
"Know your market! Make sure you either have or develop domain expertise."
AVP of Product Marketing at TimelyMD
"Master multiple mediums: video, audio, text, presentations."
Brendan O'Neil, Product Marketing Manager at Robin
"Persistence. Product marketing is still often misunderstood - and you have to be the demystifier of PMM in two directions - to your direct reports, and (with them) to the whole company."
Igor Kranjcec, Head of Marketing at Mediatoolkit
"Give your team responsibility and empower them. Show them the finish line and give them the tools to get there."
Ishara Naotunna, Head of Product Marketing at Vetstoria
"Develop a team that is senior and with a high level of autonomy. There's little space for doers who aren't thinkers in product marketing."
Zachary Fox, Senior Director, Product, Customer & Partner Marketing, & BizDev at RD Station
"If you're in a start-up/scale-up. Prioritize. Do a few things well. It's all about impact, not activity."
Marla Woodward, Head of Product Marketing at Attest
"Don't try to get everything in one package - candidates with domain knowledge can be taught PMM, and PMMs with experience can pick up a domain.
"Build strong relationships with sales teams and push the company to adopt sales enablement tools like HIghspot. Build your own councils - customer council, partner council, field champs councils."
Sunaina Abdul Salah, Head of Data Warehousing Product Marketing at Amazon Web Services
"My tip would be to surround yourself with people who have strengths where you have weaknesses. As an individual contributor, your successes come from what you do yourself but as a leader, your successes come from what you do as a team."
Ashley Herbert, Head of Product Marketing at Recruitee
"Build relationships first! A lot of times you need to rely on people who aren't directly on your team for important work, so making great relationships, and having a reputation for being easy to work with, is key.
"When your team shoots a request across someone else's Asana board, you want them to go, 'awesome, we love to help the folks in product marketing, they do so much to help us.'"
Erin Rosintoski Lewis, Director of Product Marketing at Intellum
"Codify your culture and how you want to be known, then let your work speak for itself."
Sherrie Nguyen, Senior Manager of Product Marketing  - SMB at Indeed.com
How to improve your leadership skills
With leadership very much a quintessential skill for a product marketer, you need to be receptive to honing your proficiencies in the area.
This is where we come in. 😏
PMM Leadership Certified is your golden ticket to an embarrassment of insights that'll help you upskill your leadership credentials.
🔥 7 modules
📘 29 chapters
🛠 14 templates
⏰ 12+ hours of content
🔖 Official certification
👩‍💻 100% self-paced
With intel from product marketing leaders plying their trade at companies such as LinkedIn, Unbounce, and Shopify, you'll be leading with authority and confidence in no time.