If you've had your finger on the pulse recently, you'll have noticed we've been a busy bunch here at PMA HQ, with the  Product Marketing Festival wrapping up, and brand-new Masters certifications hitting the virtual shelves.
And that's not all. 😏
We've added yet another PMM course to the growing list of programs: Product Marketing Certified: Leadership. 🎉
Bowled over by the number of product marketing certifications we're throwing your way? 🥴
No worries - check out our quickfire comparison of how Product Marketing Core and Product Marketing Certification: Leadership differ.
Let's put some meat on the bones, shall we?
In this article, we'll answer a host of questions, including:
---
What is Product Marketing Core?
Product Marketing Core is PMA's very own certification program, focusing on the fundamentals you need to master to reach the peak of your product marketing powers.
We've teamed up with experts from some of the world's most recognizable companies, such as HubSpot, Google, and Facebook, to deliver a course brimming with expertise and crammed with knowledge.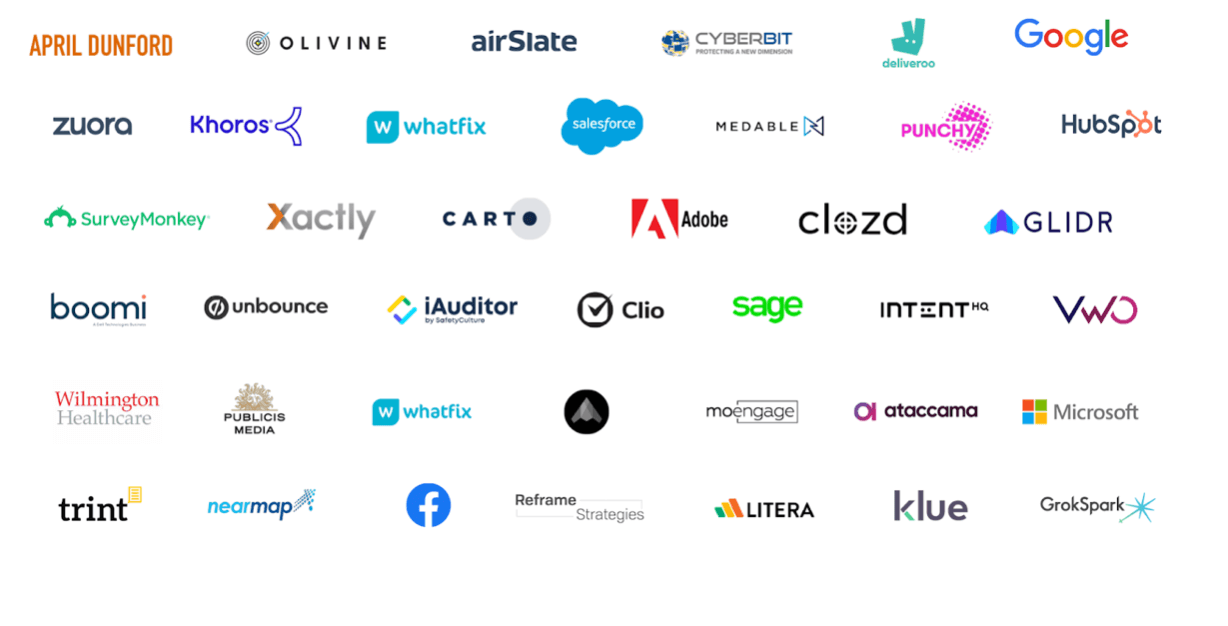 ---
What's included in the Product Marketing Core course?
A whole lotta bang for your buck - that's what. 😏
👩🏼‍🏫 11 modules
📙 68 chapters
✅ 87 exam questions
⏰ 10+ hours
🔖 Official certification
We would go as far as saying it's the best product marketing course on the market, but you'd say we were biased - so we'll get one of the many product marketers who've Got Certified to say it for us. 👇
"The information in this course is INVALUABLE. One cannot put a price on how much knowledge can be obtained from these lessons. There is no other program in the market that educates product marketers or aspiring product marketers on how to compile and synthesize market intelligence to effectively deliver solutions the market needs."
Louis Guerrero, Product Marketing Manager at Lyft
And if those words of endorsement aren't enough to make you sit up and take notice, here's why the rest of the product marketing community loves Product Marketing Core. ❤️
---
How many versions of the Product Marketing Core course are there?
It can be if you want it to be! 😏
There are four versions of Product Marketing Core:
Live and online [full time]
Live and online [part time]
On-demand
Teams
Product Marketing Core: Live and Online
Product Marketing Core: Live and Online courses are, you guessed it, virtual sessions delivered live by one of our experts in residence, who'll be on hand to answer any questions you may have as you work your way through the course.
In enrolling in the live and online sessions, you'll also get access to optional coursework, Q&A sessions, and workshops to supplement your learning from the course itself.
There are two variations of the course, with full-time and part-time options available. If you sign-up for the full-time intake, you'll have the opportunity to Get Certified in a single day, while the part-time course is spread across four weeks.
Get Certified
Product Marketing Core: OnDemand
Product Marketing Core: OnDemand is very much what it says on the tin: the full certification syllabus available for you to complete as and when you please, at a pace to suit your needs.
So, if you think the full-time route may be too much for you to tackle in one sitting, the part-time version could be too long, or you just don't dig the live and online vibe, the OnDemand course is right up your alley.
You'll have the same access to the same awesome curriculum, with the same coveted certification up for grabs when you pass each end-of-module exam. 🔖
Get Certified
Product Marketing Core: Teams
And last, but by no means least comes Product Marketing Core: Teams.
This version of the course is the ideal opportunity to get each and every member of your PMM team certified, heighten their collective knowledge, as teams at the likes of Microsoft, Twitter, and Adobe have discovered.

The course serves as the perfect platform to arm your team with all the tools and knowledge they need to revolutionize your company's product marketing efforts - just ask Megan Liken, Product Marketing Specialist at cPanel. 🤷‍♂️
"This certification program has been extremely validating for the team and has really shifted our perspective on how we work. The course has helped all of us start speaking the same language, rally around the same goals, and has assisted in standardizing some of our processes. What's really exciting is we have begun receiving buy-in from the rest of the company and collaboration with the Product teams is becoming more seamless!"
Get Teams Certified
---
What is Product Marketing Certified: Leadership?
Product Marketing Certified: Leadership is our brand-new course that'll give you the skills and knowledge you need to create a lasting, successful career as a product marketing leader.
We've pushed the boat out - and then some - to deliver the goods, recruiting established product marketing leaders from the likes of LinkedIn, Shopify, and Unbounce to share their expertise in a scintillating course comprising:
🔥 7 modules
📘 29 chapters
🛠 14 templates
⏰ 12+ hours of content
🔖 Official certification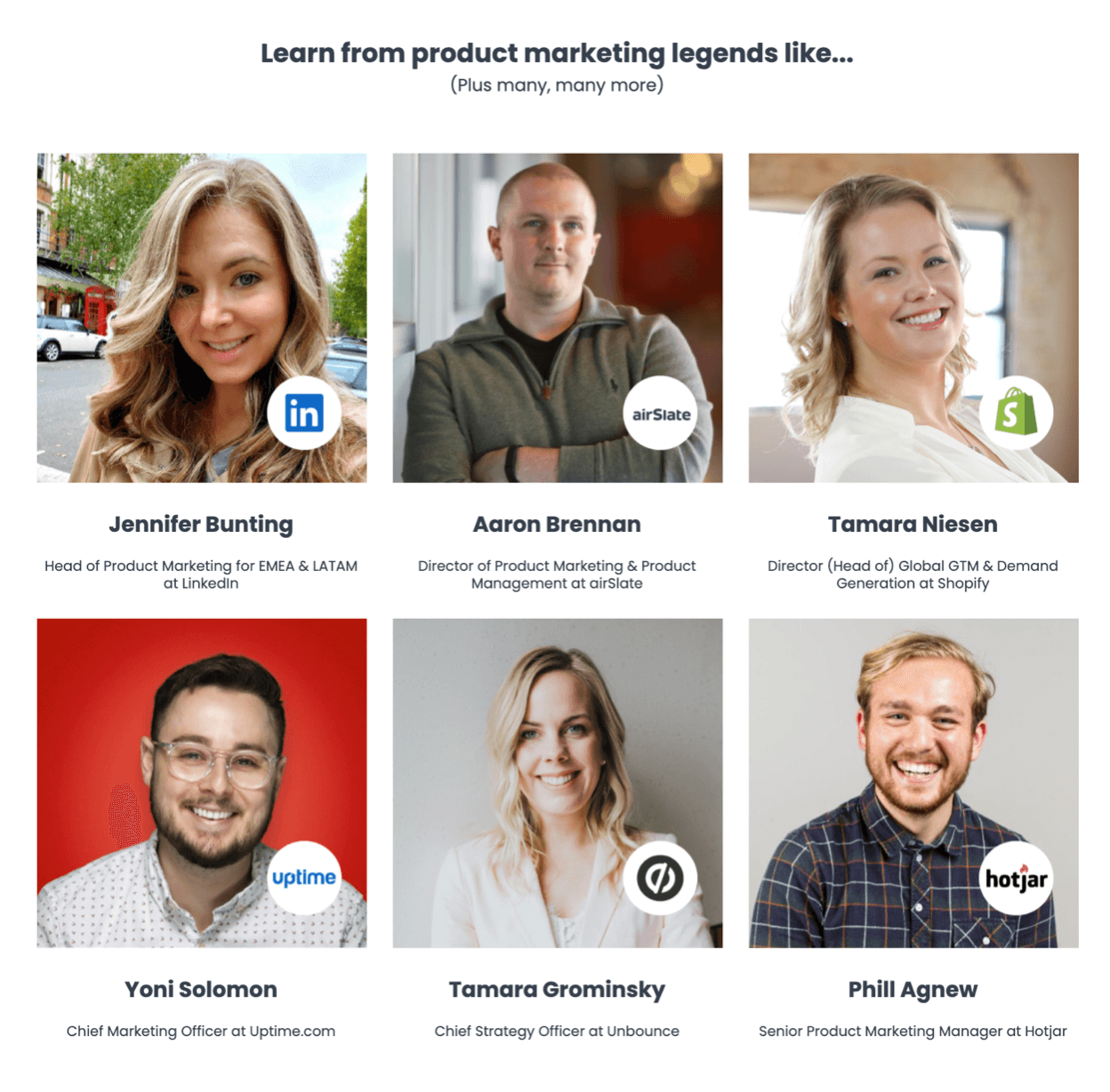 ---
How is the Product Marketing Core curriculum different from Product Marketing Certified: Leadership?
The Product Marketing Core curriculum focuses on a range of product marketing topics, including pricing, personas, market segmentation, etc.
On the other hand, Product Marketing Certified Leadership focuses exclusively on how to develop and refine your leadership skills.
We'll take you through the nuts and bolts of the topic, and by the time you're finished, you'll:
🔥 Understand what it takes to be a great PMM leader
🧱 Know how to build and scale your own team
👉 Understand how to successfully manage an existing team
📊 Know how to leverage data
🗣 Know how to become the voice of the customer
🙌 Increase your influence and standing within your organization
🎉 Enhance your knowledge of how cross-functional teams should work together
🔋 Supercharge and refine your strategic thinking
---
Is Product Marketing Certified: Leadership for you?
Are you a product marketer with dreams of reaching the top? Enroll in Product Marketing Certified: Leadership.
Have you already hit the heights of a leadership role, but wanna remind yourself of what's needed to consolidate your position at the top of the PMM pyramid? Enroll in Product Marketing Certified: Leadership.
Do you want to supercharge your career? Of course you do. 🚀
There's a pattern emerging here... 😏
Get Leadership Certified