As part of the State of Product Marketing Report 2021, we asked PMMs what they view as the top skills for an awesome product marketer: 78% said collaboration with coworkers, whilst 77% said communication is the most important trait.
We asked how product marketers are supporting their teams to see if these skills are being transferred to the world of sales enablement.
To establish whether this is the case, we've honed in on:
We'll also outline how you can improve your sales enablement knowledge to offer greater support for your team.
How do product marketers listen to the needs of their sales team?
To provide sufficient support for any department, you need to understand the needs of the people with whom you work - so, how are product marketers lifting the lid on the needs of their sales team?
In 2020, the overwhelming majority of product marketers (90%) identified the needs of their team by lending an ear and speaking with them directly.
While the figure has decreased slightly to ​​86.9%, this remains the preferred method of communication by some distance, with win-loss interviews (40.5%) coming in second place.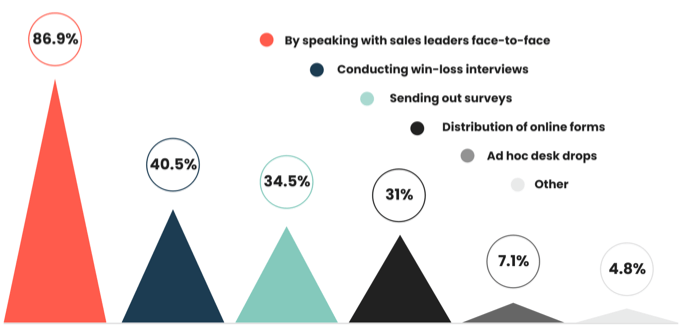 Respondents in the 'Other' category sought feedback during monthly drop-ins, listened to recorded Gong calls, used content audit metrics, and conducted outreach via Slack, while some said they sit in sales meetings.
"Any feedback is welcome, but without tracking the feedback systematically via some form so you can collect and analyze data, there's a lower chance of spotting patterns making it harder to introduce improvements. Same as with win-loss analysis, we need to work on systematic feedback collection in order to improve." Igor Kranjčec, Head of Marketing at Mediatoolkit
Roopal Shah, VP of Enablement & Services at Salesforce, adopted a more pragmatic approach, questioning the long-term sustainability of the method:
"This is great but long term, it's not scalable. This works when you have a diverse pool or programs like "Voice of Field" with a diverse group of sellers covering segments, verticals, regions, and tenure in place to gather feedback.
"Long term, you need more quantitative sources of field input such as surveys and skill assessments to ensure you are making data-driven decisions."

How often are sales enablement sessions held?
Sales teams are the lifeblood of millions of companies - if they're not consistently on top form, your prospects won't convert, and this plays directly into the hands of your competitors.
Sales enablement sessions are critical, because they serve as an opportunity for sales representatives to understand how your product works, how to position your product, your USPs (unique selling points), and identify rival products.
Given its undoubted importance in the sales process, how often are product marketers organizing sessions at their company?
The lion's share of the people we spoke with told us they conduct sales enablement sessions whenever a new product is due to launch (39.4%), an increase of 5.4% from 2020.
While it's encouraging to see this rise, it is marginal. As we said in our 2020 report, the companies with the best sales teams prepare their teams meticulously, and it'd seem there's some work to be done, with just 17.9% conducting weekly sessions, while monthly sessions have decreased by a huge 12% when compared to 2020's study.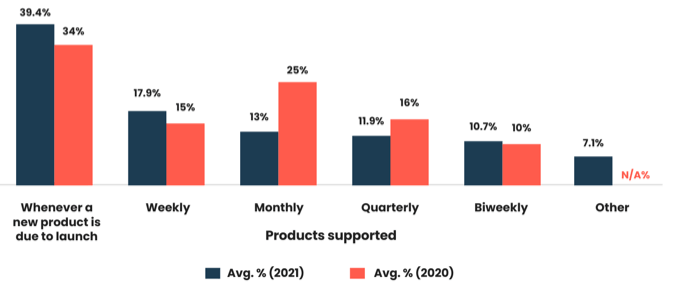 How is the effectiveness of sales enablement being measured?
Whether you're conducting sales enablement weekly or monthly, you need to know if the methods you're using are bearing fruit.
Half of the people we surveyed (50%) said they evaluate the effectiveness of their sales enablement activity by looking at asset utilization figures, followed by 42.9% who said they use surveys as their preferred method.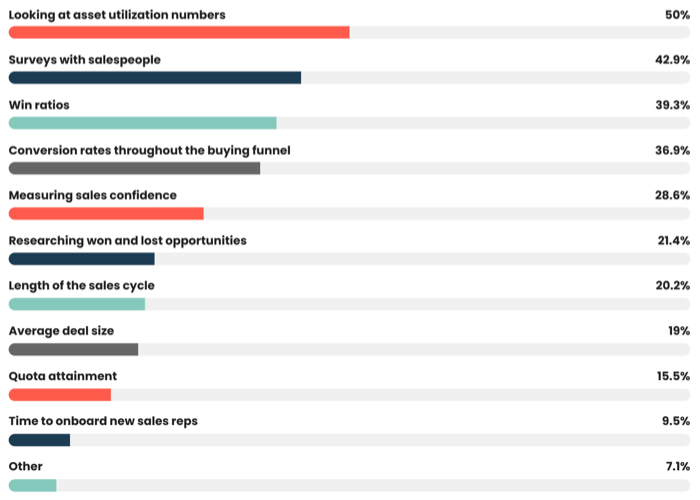 How often are sales enablement sessions reviewed?
The hard work doesn't stop with the introduction of a sales enablement team.
To maintain (and surpass) the standards you currently have in place, it's essential to review your current practice and make any necessary adjustments - but was this best practice being followed by the product marketers we spoke with?
The majority of respondents said they reviewed their sales enablement sessions monthly or quarterly (31%), an encouraging increase of 5.4% across 12 months.
In 2020, we were shocked to discover almost one-fifth (16.6%) of respondents said they couldn't remember the last time they'd reviewed their sales enablement. Encouragingly, this figure decreased by 50% when we asked the same question in 2021.
How engaged are salespeople?
Sales teams play a critical role in ensuring a product launch goes smoothly, but if your salespeople aren't engaged and fulfilled when weaving their magic, your conversion rate will suffer the consequences.
For the most part, sales teams answered in the region of 5-8, with an engagement rate of 6.1, a decrease from 2020, when the average engagement rate out of 10 was an 8.
While this could potentially be attributed to the COVID-19 pandemic, in which there have been significant changes in the ways sales teams have been hamstrung in the ways they've been able to conduct their business, it doesn't detract from the fact that salespeople need to be kept engaged to ensure they convert prospects into as many bonafide customers as possible, a point echoed by Igor Kranjčec, Head of Marketing at Mediatoolkit.
"Moving online could have influenced this decrease, but it's not something we can accept in the future. Remote is not an exception anymore, and it's here to stay, so it's on us who own sales enablement to find new ways to engage sales representatives."
The impact of the global pandemic on the engagement of sales representatives has also been touted as a potential cause for the dip in engagement by Roopal Shah, VP of Enablement & Services at Salesforce:
"I wonder how much was influenced by going remote this past year or two.  With that said, virtual training is not anything new nor something that is going away.
"There are a multitude of ways to keep your learners engaged virtually including gamification, flipping the classroom, and social learning to ensure that engagement and retention don't increase in this modality."

So, what advice do product marketers have for getting sales teams bought into their work and improving sales enablement sessions?
"We get them on board with the problem/weakness, updating them along the way of solutions we find."
Jack Preece, Product Marketing Executive at Linnworks
"Treat them as an internal persona and ask how we can best cater to their needs - while holding them accountable to use the resources they've asked us to create."
Eduardo Calegari, Marketing Operations Manager at Dejero
"Integrate sales feedback and requirements into your collateral."
Sai Anand, Marketing Analyst & Product Marketing at Zoho Corporation
"Drop-in on their weekly meetings, ask for feedback regularly, review their sales calls with tools like Chorus, answer their questions proactively on Slack, send out polls to the team, invite them into projects from the beginning, and set expectations on their role and output."
Eduardo Lopez, Senior Product Marketing Manager at FastSpring
"Product consistent content, join their calls to answer questions, and stay top of mind."
Melanie Grefsheim, Senior Product Marketing Manager at Gainsight
"Pilot new assets or approaches with a few sales reps to get feedback before going after the entire sales force."
Daniel Kuperman, Head of Product Marketing, Jira Align at Atlassian
"Organize a one-on-one with them, show them my thoughts and listen to their feedback to see if it's valuable or how it can be structured to be valuable to them. For me, it's what makes it easy to get their jobs done."
Omamuzo Samson, Product Marketing Manager at Curacel
"Get feedback from sales teams along the way. When training on existing products, we ask them what questions or objections they get from their customers and then create training content to help them overcome those objections."
Michelle Pannell, Director, Product Marketing & Sales Enablement at a4 Media

"Be transparent - explore the whys, always  communicate, listen to their input, and introduce  impact measurement."
Heatherly Bucher, Director of Product Marketing at Greenlight Guru
"Our goal is to maintain trust, transparency, and goodwill. For that, an internal communication strategy has been key.
"Maintaining and monitoring a central and public communication channel shows that we're open to feedback. Then delivering a regular cadence of updates demonstrates we've heard, cataloged, and actioned that feedback.
"When we keep up our end of the agreement to support each other, I've found that sales teams are more than willing to buy into our work - and further advocate for PMM across the organization too."
Monica Raszyk, Director of Product Marketing at Kontent by Kentico
"Engage the sales team in the storytelling. Challenge them through workshops to uncover the current gap/problem, which gives them hands-on confidence in leading the conversation toward the value of the solution."
Rebecca Byers, Senior Product Marketing Manager at CentralReach
"I communicate from the very beginning that one of my primary goals is to make them more successful and help them sell more, and communicate pre-launch about how new products/features will help them up-sell/cross-sell and make more money.
"I also attend sales meetings and proactively ask for their feedback on my work so they feel like their opinions matter; this increases the likelihood of them using the assets I produce for them, fostering a good relationship."
Nick Green, Product Marketing Manager at Thrive TRM
How to improve your sales enablement skills
As a product marketer, you need to understand the fundamentals of sales enablement to ensure you're in a position to provide your sales teams with the best possible support.
Sales Enablement Certified includes all the tools you need to design and launch impactful sales enablement programs.
Delivered by Sapphire Reels, Senior Manager of Portfolio and Integrated Marketing at Pluralsight, the certification will help you:
👊 Articulate the importance of sales enablement and sell it internally.
🔥 Design a sales enablement program from scratch based on business objectives and sales needs.
🚀 Launch and iterate on sales enablement programs.
🤑 Demonstrate the impact sales enablement can have on your business and revenue generation.
It's everything you need (and more...) to build and scale sales enablement programs at your company.
Get Sales Enablement Certified