Collaboration forms the basis of a successful product marketing team.
After all, the ability to successfully work within a team enables PMMs to pool their knowledge, resources, and ultimately optimize their overall performance.
A willingness to pull in the same direction and work with others reinforces healthy relationships and makes for a more productive working environment.
Despite research by ClearCompany revealing 75% of workers think collaboration is a quintessential part of their job, 39% of the sample said people within their organization don't collaborate enough.
We spoke with Holly Watson, Director of Product Marketing at Sprinklr, who offered her expertise to clarify the nuts and bolts of collaboration within an organization.
---
Q: If you're working to a long GTM cycle, how do you keep other teams engaged and up-to-date with your progress?
A: Communication is key. Outside of weekly to bi-weekly team calls, I'll use a few different items to ensure teams stay informed and engaged. With GTMs I use a Gantt chart to showcase the full project plan. This plan is shared with the team involved in the launch and is regularly updated. Smartsheets is a great tool for this, but if you can also easily use Excel. Furthermore, I create an executive report - usually, a PowerPoint slide - with a high-level summary of the status, next steps, blockers, wins, and any available resources are linked.
---
Q: How and how often do you report out on product marketing's OKRs? And at Sprinklr, is this a two-way street? I find that at our org, product marketing is generally quite good at being transparent but this isn't always reciprocated.
A: I can understand how this is frustrating, but it's great that your PMM team is already good at reporting your goals and results. Keep that going!
Sprinklr uses a system called W2HMO (What, Why, How, Metrics, Obstacles) that addresses the goals of each department. These are written statements/goals presented in a slide deck.
The first team to provide their W2HMO is our Executive leadership - so it starts at the top. With Executive alignment, every department to the individual will write and own their W2HMO goals. Each quarter all W2HMO plans are reviewed, updated, and adjusted as the year progresses.
To directly answer your question, plans are updated quarterly and yes, it is a two-way street. The W2HMOs force a cross-functional conversation so resources are optimized and any obstacles are discussed and collaboratively worked on to remove.
---
Q: Getting customer/prospecting-facing teams to knowledge share can be challenging. How do you manage those processes to extract the info you need regularly?
A: Great question. We face the same challenge but have made decent progress on evangelizing approved collateral, messaging, and communication across the organization. This takes some 'Change Management' effort, but it can be done.
For background, Sprinklr is a global SaaS organization with over 1500 employees that focuses on our solution for the enterprise. The need for tight communication and collaboration is key.
To ensure each department was getting what they needed, a Subject Matter Experts (SMEs) program was created. A representative from each department was assigned and aligned to one of our Products. This begins to shape a 'matrix org' but only in the terms of cross-departmental collaboration vs. management. Each SME team is led by the PMM through weekly calls, slack channels, and shared Google Drives. Sprinklr does use Highspot for asset management and publication of final/approved assets.
I've attached a screenshot of a slide I use to better articulate each SMEs responsibilities by project/discussion topic. Week over week our call topic changes based on what's at hand for the business. Having this matrix has helped clarify roles, expectations, and communication.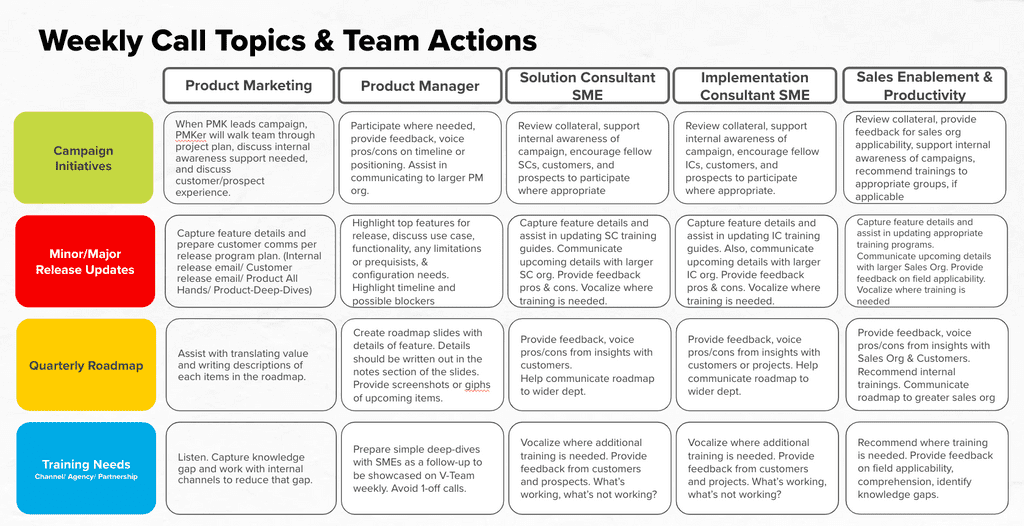 ---
Q: How has your approach to collaboration shifted in-light of COVID and now working remotely? Do you have any tips/advice on how to best pivot? I've been struggling with/missing those desk drops and water cooler chats.
A: This is such a great question as we all navigate this unpredictable environment. In general, I'm finding success with trying to maintain some semblance of a regular schedule, but I do find myself missing those water cooler chats too.
Sprinklr has adopted some new ways of working such as having each team schedule daily 15min check-ins. Engineers will refer to this as a daily stand-up, but during these 15min our conversations are generally whimsical and not always work-related. It's nice to have these on the calendar for a chance to break the solitude with some levity. I'd recommend scheduling this with co-works or cross-functional teams you work with regularly.
Additionally, we've always used collaborative tools such as Slack, Google Hangouts, and Google Drive. Team calls have now widely become video calls and many people are comfortable turning their videos on. This has been great because so much of that non-verbal communication is infused back into team meetings.
Another more general tip is to remind yourself that it's ok to take 5mins to yourself. Stand-up, stretch your legs if you can safely do so - take a moment outside. These breaks are necessary and a good way to reset yourself for the next project. I'd even say to check out the PMM slack channel for a brief moment as this community is here for each other.
---
Q: When you're rolling out a persona/messaging/battle card etc., 1) how do you deliver those kinds of assets? And 2) how do you measure departmental adoption?
A: This can be a challenge. Most recently, Sprinklr has adopted Highspot. This tool has been very helpful in sharing assets and resources while keeping it all organized and measurable. Highspot has an integration with Salesforce that our team is exploring now. The intention behind the integration is to increase the adoption and tracking of our material.
When new assets are available, we highlight them through a few different channels:
Marketing has a weekly, company-wide email that shares updates and available resources coming from the department. PMM has a specific section in this internal newsletter that we populate with new Highspot links
Highspot allows teams to have what they call "Spots". This is essentially a mini-landing page/web page within Highspot where we as a team have organized our material by-product. It's helped teams navigate here to find PMM approved resources.
The SME program I mentioned previously is helpful too as we can lean on our SME leads to share content when ready.
Joining monthly team calls and sharing resources is a great way to promote work, answer user questions, and encourage adoption.
---
Q: What tools do you use at Sprinklr to support collaboration? And do you use the same tools/apps for every department? Or do you find different teams have different preferences? For me, I've found that our marketing team is much more receptive to Basecamp but Sales just don't dig it and use Slack for comms, for us though, that means more apps than is technically necessary to keep up with.
A: The number of different channels available can be challenging. Sprinklr does a pretty good job of keeping to the main set of collaboration tools. These may include:
Slack
Google Drive
Highspot
Sprinklr is also a keen adopter of our platform, so we do use Sprinklr to manage our workflows, campaigns, and much more.
In terms of creating a feedback loop, we've found success in leaning into our SME program. I've mentioned this a few times now, but it is a great way for a representative of each department to be able to voice concerns and gather feedback from other departments.
Our SMEs meet weekly with Product Management and Product Marketing. Call topics rotate, depending on what's a priority for the business at a given point in time.
---
Q: In your experience what does the internal communication process for new product updates look like? Does PMM own everything or is there a tier for updates where PM owns communication (smaller updates) vs. PMM owning larger updates?
A: Our PM team and PMM team is very collaborative. In terms of managing comms, we have a few different methods we use.
A good example where the communication is possible more owned by the PMs is our release process for internal/employee onboarding. Sprinklr manages quarterly releases. Before pushing updates to production, or our client environments, we have an internal environment for employees to test, train, and get hands-on experience with the updates.
To manage this, the PMs will host a series of calls we've named "Product Deep Dives". Each call is company-wide, recorded, and hosted in Highspot for later reference. The PMs own this call, though PMM will assist in reviewing the content to ensure value messaging is infused, hosting dry-runs for practice and story arch development, and content check in terms of brand guidelines. The PMs own the deck creation, ensuring the demo environment is configured/ready, and presenting the material.
Along the same theme, PMM will coordinate with our Marketing Demand Gen and events team to communicate updates to customers and prospects are appropriate. For larger product launches, the GTM is heavily owned by PMMs.
---
Q: What's the difference between a product marketer's role/responsibilities when working at a smaller (200-300 person company) vs a larger one (1000+)?
A: In terms of how the role might vary by the size of an organization, this can depend heavily on a few different factors.
All in all, though, smaller organizations often require the PMM to be a jack-of-all-trades and wear multiple hats. In other terms, a smaller organization might require that their PMM team own everything from competitive intel, messaging and positioning, sales enablement, promotion/content strategy, asset creation, events, etc.
Larger organizations might have more capital to hire specialists that can focus on specific areas such as a CI (Competitive Insights) team, a Training team, or agency/design resources that have dedicated focuses on those respective parts of the business.
Depending on where you are in your career, both small and large organizations provide a great chance to learn and develop the necessary skills and talents to add to your toolbox.
---
Q: I'm curious if competitive intelligence is a core function of your team, and if so:
What is your approach? How is this responsibility organized/divided among people on your team?
What tools do you use to enable research/insights gathering?
What types of collateral and communication methods are most effective in enabling sales/customer teams?
A: Competitive Intelligence is part of our roles, but we do have a small, dedicated team for CI. Like most conversations I've seen, CI is a role that everyone needs to incorporate into their roles - no matter if you're in Sales, Success, or Marketing.
In terms of your more specific qs, let me try to address:
Approach: Ask questions to your Sales team. What are they hearing from their customers? What other solutions do prospects bring up? What common challenges are customers asking you to answer?
How is the responsibility organized: We do have the dedicated CI team, but we also leverage a Competitive Insights Spot on Highspot. This is a dedicated landing page where PMM and CI team can both contribute and share insights. Our Sales Enablement team will also take this content and host regular continuing education training sessions to keep our field teams up to date.
Tools: I tend to default to google searches and use reputable resources like Forrester, Gartner, eMarketer, Forbes, etc.
Communication: As well as the regular CE courses and Highspot 'Spot', another source, again managed by the CI team, is a weekly newsletter. We call it "5 Things". It's a weekly recap of the top 5 updates and competitive insights the CI team curates and publishes weekly to the entire company.
---
Q: What would you say is hindering positive and productive collaboration between product marketing and other teams in an organization that we should be avoiding or looking out for?
A: There have been a couple of sessions at the PMA conferences where individuals have stated "Product Marketing has a Branding Problem".
This resonates - and probably why we all find ourselves here in the community! The function of a PMM is still evolving. This means we, as early adopters, need to over-communicate what we do and what value we bring to the table. Find what channels work to promote work, highlight new resources, and communicate to your sellers - regularly.
In terms of collaboration, I've found it best to never really say "no". You might have to say "Yes, and...[xyz] initiative might be postponed" to manage bandwidth and team priorities, but allow yourself and the team the time to work on cross-functional projects.
Jump into projects, sales deals, and product development cycles and find areas you can add value. This helps build partners and advocates in other areas of the organization that can help promote the role of PMM. While working on these projects, you're able to infuse various processes that are more traditional to a PMM like a GTM process.
Finally, allow yourself and your teammates to iterate but still publish. Don't hold your work back because it's not "perfect". Frankly, it never will be. Iterating quickly allows you to gain momentum and see the adoption of material. As you gather feedback, work to incorporate that feedback and re-publish.
Build your next team with ease…
Whether you're the Head of Marketing, Product, or the company itself - building a dedicated product marketing team is both challenging and rewarding.
But one thing you must keep in mind is that it's also unavoidable. In order to drive organizational growth and success, you must build a solid foundation to work with and from.
The Building a PMM Team Certified: Masters course will teach you how to build and lead a high-performing product marketing team that accelerates growth and delivers greater alignment across your product, marketing, sales, and customer success teams.
By the end of this course, you'll be able to:
💪 Successfully and effectively secure executive sponsorship for a product marketing team.
📈 Prove to stakeholders how product marketing enables faster growth.
💰 Justify budget and organizational change for a new team.
⏰ Set goals and define what success looks like for your specific department.
🗺 Build a roadmap that'll give you a clear path toward a strong, happy, successful product marketing team.

Sign me up!