Award-winning scholar G. Richard Shell once said: "The first law of business: make the rules, or your rivals will."
However, before you can make the rules to keep your rivals at bay, you need to understand what it is they're doing, why they're doing it, and introduce measures to give you the upper hand.
Competitive intelligence is a critical part of the product marketing function. Not only does it help PMMs identify competitors, the process shapes pricing strategies, flags gaps in the market, and supports companies in identifying new industry and market trends.
These are a select few of the many reasons product marketers need to dedicate time, money, and effort to their competitive intelligence efforts. Neglecting the process paves the way for missed opportunities and plays into the hands of your market rivals.
Given the importance of the process, product marketing leaders often involve themselves in the process to ensure it's being executed properly.
Our State of Product Marketing Leadership Report 2022 addressed the role of leaders in competitive intelligence, and in this article, we'll focus on the influence they're really having on the process, namely:
We'll also treat you to a collection of competitive intelligence tips, and tell you how you can improve your competitive intelligence knowledge.
How often do leaders analyze their target market and adjacent markets?
With competition fierce, we wanted to understand how much time product marketing leaders are setting aside to analyze their target market and adjacent market spaces.
39.8% of respondents said they analyze their target market and adjacent market spaces quarterly, more than any other category.
Just under one-quarter of leaders (23.7%) said they complete the process monthly, 21.5% weekly, while 10.8% only analyze their market and adjacent market spaces on an annual basis. A small percentage (4.2%) selected the 'Other' option - here's what they had to say:
"We always analyze our target market and adjacent market spaces - it's a continual process."
JeriAnn May, Senior Consultant at Maple Marketing Solutions
"We complete the process as needed - mostly bi-annually."
Sophie Bussell Cheng, Senior Director of Product Marketing at ZoomInfo
"The process is completed on an ad-hoc basis, less than annually."
Zachary Fox, Senior Director, Product, Customer & Partner Marketing, & BizDev at RD Station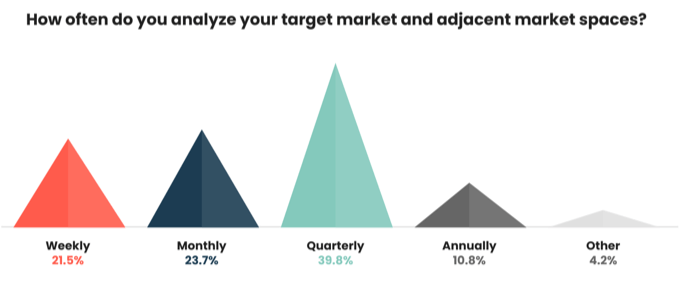 How often are indirect competitors being tracked?
Coke vs Pepsi, Spotify vs Apple Music, Chevrolet vs Ford - the market is full of direct competitors offering similar products or services within a target market.
But is enough attention being given to indirect competitors? I.e. products that are in a different category entirely, but may be seen as an alternative purchase choice?
While an indirect competitor may not offer direct competition now, it could develop into a direct competitor shortly.
Most of the leaders (33.3%) said they keep track of indirect competitors every month.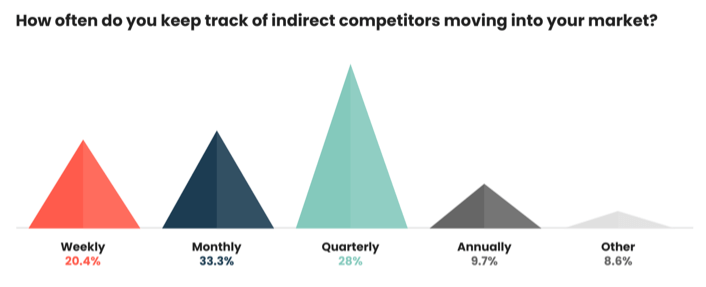 Erik Mansur, VP of Product Marketing at Crayon, offered his perspective:
"Both this result and the one that speaks to target/adjacent markets align with the growing need within mid-market and enterprise companies to maintain a broader view of their competitive landscape.
"High-growth organizations can no longer be concerned about only their direct competition—they need to keep an eye on those aspirational companies who may veer into their lane by expanding their product line or come further down-market. Or they need to pay attention to where there may be market opportunities that they themselves can take advantage of.
"In this way, the market and competitive intelligence tasks that PMMs are now taking on with greater frequency become that much more important to their company's strategic plans."

Are leaders planning on moving into an adjacent market?
When we asked those occupying leadership roles if they plan to move into an adjacent market in the near future: 54.8% answered 'Yes'; 45.2% answered 'No'.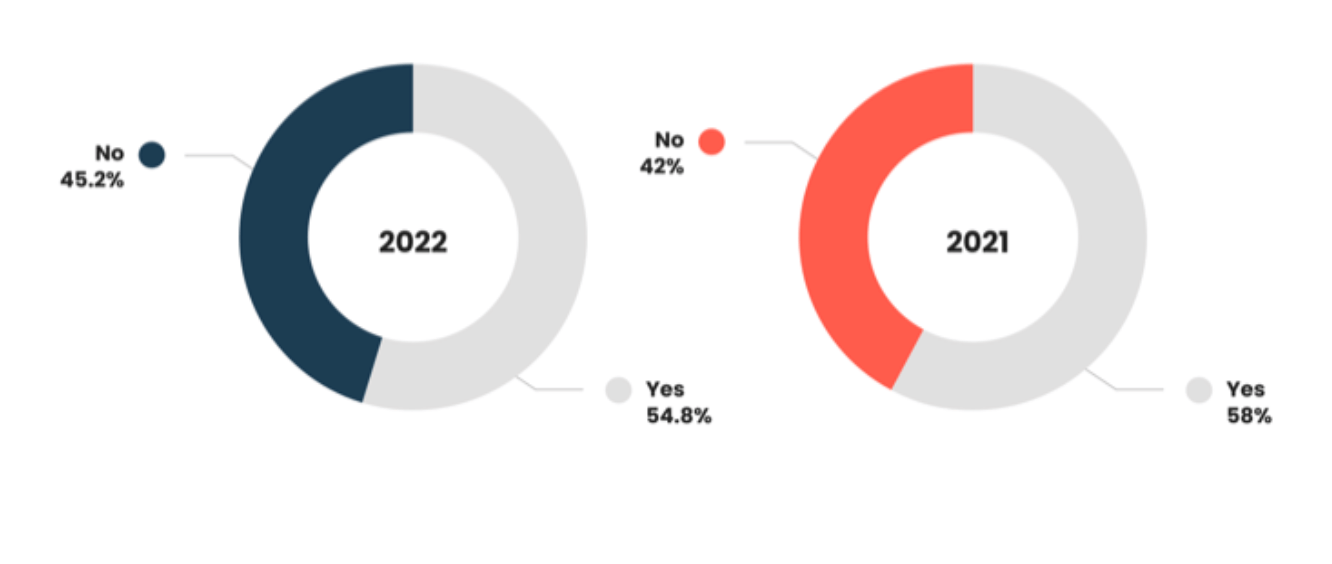 How are leaders differentiating their products?
Customers are attracted to products that are different and stand out in a competitive market. With communication essential to product success, we asked leaders about their processes for differentiating their products from their competitors.
"Our company focuses on connected TV advertising alongside our independence from media sales to foster interoperability with leading publishers and partners in the space."
Laura Foster, VP of Product Marketing at Innovid
"Our differentiation lies with our platform-based approach."
Vijay Sarathi Cherukuri, Associate Director of Product Marketing at Innovacer
"We use our technology (crawlers), unlike our competitors who often buy third-party data."
Igor Kranjcec, Head of Marketing at Mediatoolkit
"By identifying the entire API lifecycle, we can clearly articulate that Stoplight fits at the very beginning. On the other hand, market alternatives start in the middle of the lifecycle."
Anna Daugherty, Product Marketing Manager at Stoplight
"We look at the difference between the types of customers we have vs. the types of customers our competitors have.
"Then, we complete a big deep dive into our differentiators. When we go up against a competitor in a deal, we try to pair a few or more of our differentiators to each competitor's weak spot."
Erin Lewis, Director of Product Marketing at Intellum
"We analyze competitive messaging to call out why we are different, and ensure crisp messaging is carried out across all mediums."
Karen Crowley, Director of Solutions Marketing at Deep Instinct
"We focus on macro-level arguments pertaining to our product offering as a whole and its unique ability to solve customer problems, as well as the extras we offer outside of the product specifications."
Lara Dobson, Head of Product Marketing at Staffbase
"Our products are part of a complete solution/ecosystem where the client can solve all issues in the same platform. We provide an all-digital solution and offer great customer support."
Renata Zanquetta, Product Marketing Lead at Creditas

Competitive intelligence tips
Like their less-experienced colleagues, product marketing leaders can always benefit from tips and tricks from PMMs who've also worked on competitive intelligence at their respective company.
As part of the Competitive Intelligence Trends Report 2021, we asked PMMs for their competitive intelligence tips.
NB: Job titles may have changed since the publication of the report.

"Collaborate with all the other departments who have access to vital information."
Karen Bamford, Director of Product Marketing at Zivver
"Start with understanding why someone bought your product instead of the product offered by the competition."
Aastha Trivedi, Senior Product Marketing Manager at VWO
"Network a lot and up your social listening skills."
Jacqueline Basil, Senior Product Marketing Manager at AlgoSec
"Everyone in the company is very reactive about CI but it requires a level of discipline and practice to turn down the temperature on it."
Julian Dunn, Director of Product Marketing at PagerDuty
"Understanding win/loss analysis is the first step in completing great competitive intelligence."
Sara Kingsley, Director of Product Marketing at Securonix
"Do not overlook true social listening, even in B2B."
Davin Galbraith, Head of Competitive Intelligence at Sprinklr
"Use your tech stack to gather market signals from the competition."
Anaud Ganpaul, Director of Product Marketing at Achievers
"Competitive intelligence is one of the most important aspects of sales enablement. You might want to pay special attention to it - networking with the product dev and Sales teams is the best way to know the product innovations of your competitors."
Suchismita Roy, Senior Product Marketing Manager at SWZD
"Take marketing material with a grain of salt. Unless you see their product in action, don't believe the hype."
Katy Martin, Product Marketing Manager at Lacework
"Integrate competitive intelligence into your day-to-day through automations as best as possible."
Fiona Finn, Director of Product Marketing at Unbounce
"I think competitive intel is just as much about understanding what customers value as it is about knowing what the competitor does. You might identify a product gap with your tool vs your competitors, but understanding what needs this fills for the customer is essential."
Brittany Gaither, Product Marketing Manager at Benchling
"It is really easy to get caught in a feature parity race, especially if you're not the leader in your space. But hold fast to what you offer to your customers and focus your competitive research on understanding what will make you better instead of more similar to your competitors."
Jessica Muñoz, VP of Product Marketing at Liveintent
"If you're in the B2B space and struggling to find pricing, don't forget to check government supplier directories, which (depending on your country) have to be made public."
Matt Salter, Product Marketing Manager at photoSentinel
"Checking job descriptions can be a great resource for what a competitor is planning to do as well as backend platforms that they may use."
Marrika Zapiler, Director of Product Marketing at Audacy
"Collaborate across the organization - competitive intelligence is everyone's job."
Dee Houchen, VP of Product Marketing at Signavio
"Getting the information is not the #1 challenge. Rather, it is getting the insights to the people respective and getting the information read."
Jan-Eike Rosenthal, Product Marketing Manager at COYO
"Start a Slack channel and use it as a hub to share information between all departments. It's a game-changer."
Andrew McCotter-Bicknell, (People) Manager of Product Marketing at ZoomInfo
"Lean on everyone within the org. ProdMar is a primary R&R for competitive intelligence but everyone can contribute."
Katie Tankersley, (People) Manager of Product Marketing at Outbrain
"If the market is overcrowded, align your main efforts to monitor your main competitors in the space you want to emerge and the one considered by your mid-market customers (80-20 rule) so you can see the emerging trends and ensure you're not getting lost in the data noise."
Silvia Kiely-Frucci, Director of Product Marketing at Castor
Want more leadership insights?
Continue the conversation and network with like-minded product marketing leaders over at our free Slack channel. Click here to join >
---
How to improve your competitive intelligence

Competitive intelligence flags gaps in the market, improves products and services, and gives customers what they really want - so you need to know everything there is to know to perform to your potential.
Competitive Intelligence Certified will equip you with essential CI skills and by the end, you'll be able to:
✅ Build a tech stack for competitive intel
✅ Conduct win/loss and primary research
✅ Visualize your competitive position with a market map
✅ Enable sales and customer success to deliver crisp competitive positioning
✅ Bring CI to the table in strategy and product decisions
Sign up now, refine essential skills, and raise your CI game.