It's the time you have all been waiting for.
The Product Marketing Awards 2021 winner announcements.
This year we saw an unprecedented level of support and praise from those within our community. Across our 8 categories, we received 188 nominations compiled of more than 61,000 words outlining your product marketing excellence.
Thank you to all those who took the time to submit a nomination. You can check out who made the shortlist for each category here.
But for now, we're delighted to officially confirm the winner of the Product Marketing Newcomer of the Year Award 2021 is…
Amit Alagh, Senior Product Marketing Manager, LexisNexis 🎉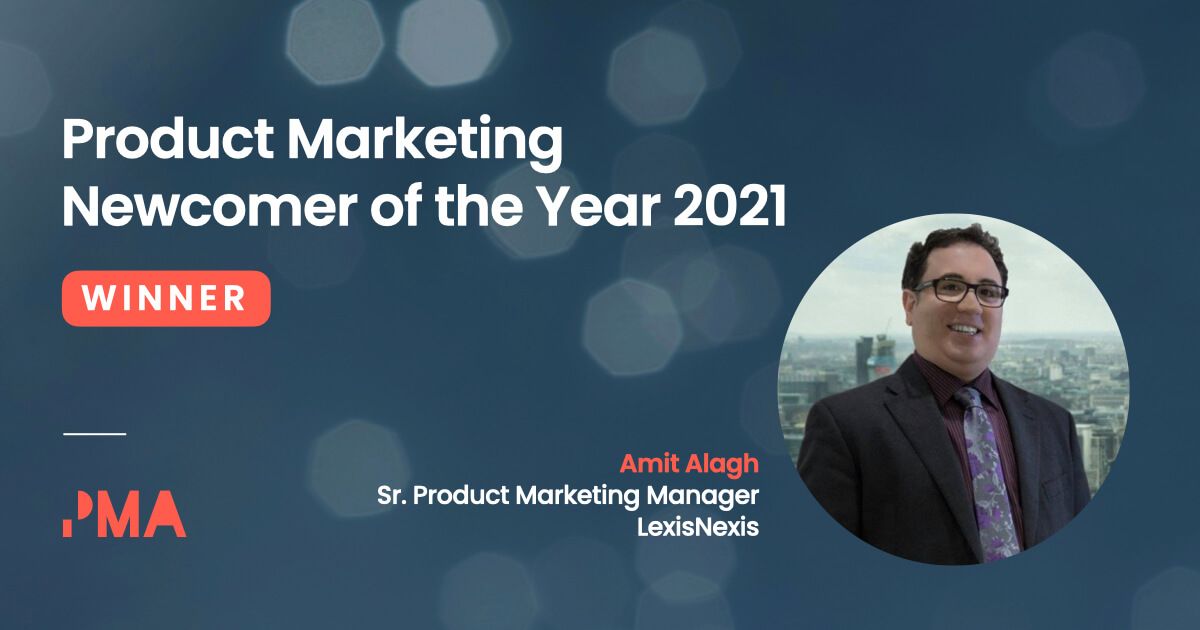 Having successfully transitioned into product marketing from product management Amit is finally in a position to capitalize on his passion for marketing, after years of honing his craft through side projects.
Here are just a few snippets from Amit's nomination that shows why he has been selected as our winner this year:
"I love the cross-functional nature of the role and the ability to work with different stakeholders. Additionally, as an intellectually curious person, I love understanding prospects, customers, and the wider market, working collaboratively with others to build solutions and messaging to meet these pain points." Amit Alagh
"Your deep knowledge of the subject as well as the understanding of what the users need (even if they did not know that themselves at the time) really took us to the next level of servicing our customers." Linda Damen, Kluwer Law International
"Unbelievably talented." Mike Smith, Wolters KluwerLegal & Regulatory US
"Amit is a true joy to work and partner with. He is a consummate professional with incredible knowledge of his product and his customer market. His efforts to understand and align his products with the sales process are incredibly thorough, ensuring that our sales organization has the resources and guidance they need to go to market successfully. His relationship-building is stellar, and as a result he is able to effortlessly partner with stakeholders across the business." Emily McCall, Wolters Kluwer


We would also like to say a huge congratulations again to those who made the shortlist:
Blanca Barthe Ramos, Product Marketing Specialist, ACI Worldwide
Joanne Zhang, Product Marketing Specialist, Quinyx
Iva Obrovac, Product Marketing Manager, Martian & Machine
Ashley Guerra, Product Marketing Manager, Accruent
Laura Curk, Product Marketing Manager, Achievers
And the excitement doesn't stop there - not by a long shot.
We're announcing one winner per day through September 24 and tomorrow we crown the Positioning & Messaging Maestro of the Year.
Best of luck to all the finalists for our next category!