In our next Member Spotlight, we touch base with PMA Ambassador, founding 500 member, and Technical Product Marketing Manager at Rev, Farhan Manjiyani. We tap into his journey into product marketing, what he thinks the future holds for the industry, and his advice on transitioning from sales to PMM. Plus, we find out how he got THAT nickname. 👀
"Across every stage of my journey, it's just been fantastic to be exposed to how many product marketers there actually are in the world, and how ubiquitous our challenges are, and how nuanced the journey is. We all pretty much face the same things in different flavors and different company sizes. I've met some incredible mentors through PMA." - Farhan Manjiyani
Sign up for your very own PMA membership so this interview doesn't give you FOMO.
Can't hang about right now? Bookmark this article for later and catch up with Farhan's episode on the Product Marketing Insider podcast. 👇
Sticking around? Let's get stuck in then!
---
Can you give us a whistle-stop tour of your career so far?
Farhan: I started off my career in tech sales in Hong Kong. So, three days after I graduated from university, I booked a one-way flight to Hong Kong because I wanted to be in FinTech and I just Googled top FinTechs of the world, and Hong Kong, Singapore, New York came up. I found a startup in Hong Kong, called the CEO, and said, "Hey, I want to work here, are you hiring right now?", and we worked out the logistics.
It was a fantastic experience but another company came along and acquired the startup and said to the CEO, "why are you paying this American so much money to do sales, I can find you someone for half the cost, either cut his salary or send him home". So, I asked for a plane ticket back home as my severance. I really enjoyed the tech sales world but I wanted to go and see what not building from the ground up really looked like in a mature organization.
So I found a growth-stage startup back in Austin, Texas, and was there for a little over a year and that's when I first got exposed to product marketing. There were these people that ran all sessions for us on personas and competitors and I was like, this is fantastic! This is so much fun. I just wanted to understand more so I sat down with the Head of Product Marketing and started talking my way into transitioning to that team. Then - this is a theme in my story - the company got acquired and the product marketing team went from three to 12 overnight. So, it was safe to say there were no new hires on that team for at least another year so I went looking elsewhere.
I had a friend that was building out a company in DC - it was decently staged, about 100 folks - and they were early in their go-to-market strategy, swimming upstream to the enterprise market. They wanted someone to build out the product marketing function, but sit in product and do that translation of technical to non-technical. So I was there for about a year and that was my first full product marketing role.
Then, about a year ago, when COVID started, the industry I was in took a big nosedive. Around the same time, I decided I wanted to come back to Austin, Texas and that's how I found my current company, Rav, and joined the product marketing team here.
---
Can you tell us more about your role at Rev?
Farhan: Rev is a speech-to-text company primarily, and the business started translating and transcribing human speech. Within that broader startup, we now have a new product that we're focusing on, which is machine-based transcription. That's the product that I focus on in my role. This product is in the very early stages so my job is to figure out what's repeatable and find the shortest path to 10X-ing this business. I'm on the product marketing team and I'm one of three product marketers within the broader startup.
---
How did you come by the alias of The Ops Guy?
Farhan: This was something that started very early in college. It was a title that was given to me that I just love so I just picked it up from there. It's a bit of a joke, in that I just really fell in love with Product Hunt. I used to spend so much time on there just looking at all the latest and greatest new tools, etc.
So, whenever any of my friends had a problem or we were taking a trip and we needed a solution to something, like a way to split expenses or plan our itinerary, I was always like, "Oh, have you heard of this app?" or, "Have you heard of this thing?". I just became known as the guy to go to if you have some sort of operations or software problem and it's just stuck since then.
---
What would your advice be to anybody else looking to move from sales into PMM, just like you did?
Farhan: I think in particular, where it fits really well is if you're in a product-led growth company, or a product-led company in general. Finding organizations where sales isn't as much part of the conversation, to me, is an easy win for product marketers, especially if you've come from that sales background.
Most of the time, your decision-maker is not going to be sales and marketing, or the real person you need to get bought in is on the product and engineering side, or the growth team - usually someone technical. You can come to the table saying, "I know you're building all sorts of amazing things and I also know your frustration is around why sales just sell this better, or more". You can tell them you understand and that you've been there so you know what they need, how they need it, and when they need it.
I think that peace of mind and that confidence you can instill is a great pitch for someone from a sales background. Get really friendly with your product marketing team right now if you're a salesperson and you're trying to get into product marketing. Go talk to your product marketing manager and say, you know, "I'm in sales, but I want to work on a project, I think we can do better with XYZ persona; I think there are some competitors that maybe aren't tier one competitors but it'd be helpful to have some extra info on them. And I know it's not a top priority for you but I really want to work on this project".
Then hopefully you'll be able to get feedback and direction, and then start building up your portfolio. Then you can go on to your next company and say, "Yeah, I'm in sales but look at all these product marketing projects I've already done!"
---
What do you believe makes a great leader?
Farhan: My personal philosophy is that it's a couple of different things. One is the ability to quickly identify the strengths and weaknesses of a team and bring everyone to the table. I think too often the approach to leadership is like, "I have to decide the priorities, and I have to tell people what to do". But those are always poor leaders, right? Those leaders don't earn respect and people don't buy into their decisions and will probably be upset in the process.
I personally think youth make fantastic leaders because most of the time, they already have the prowess and the energy to go in and give 110%. All they really need is someone to point them in the right direction. Sure, they're gonna need some coaching here and there. But ultimately, especially in the startup world where you need to move fast, iterate quickly, and take feedback all the time from ten different directions, younger folks today are really built for that.
They've been doing this their entire lives. They had no idea what they were going to do in college, but they got to college, they learned a hundred new things, and they're constantly pivoting, trying to find a North Star. You could take that exact same methodology and put it right into a company.
---
What ingredients do you think make a recipe for positioning and messaging success?
Farhan: This is something I'm still refining but there are a couple of things I've found really powerful. I think the concept of an internal press release has been one of the best things I've ever found on LinkedIn. It's the idea that, before the launch even begins, you write an internal press release within the company. Who is the audience? What are you going to talk about when this is over? What is the thing that you want to brag about most? And what are the proof points that are going to be included?
Then you parade this around the company and get buy-in from the other stakeholders, be it product marketing, sales, success, whoever. It means you can just make sure you have that unified North Star vision and that everyone is moving in the right direction. You can then get it in front of customers to get their feedback and you use the customers' words to build your messaging and position, whether you're using Gong or talking to sales.
I like to hear directly from the customers though because when you start with a blank piece of paper, you're doing yourself a disservice. You're sitting in a room with your team saying, "Oh, what do our customers actually want?" Well, why don't you start with your customers? I think when you make that switch, the messaging and positioning almost writes itself. When you listen to what your customers are saying about what's important to them and how they make decisions, the themes that should form your messaging and positioning become super, super clear.
So those are my two go-tos: the internal press release, and using your customer's voice to write your messaging and positioning.
---
What do you think the future holds for product marketing?
Farhan: I think product marketers are going to move more towards strategic advisors for top-line executives. I think companies that understand product marketing will typically give a product marketer a seat at that table. But the ones that don't, I think are starting to really feel the pain and kind of realize that the grass is greener on the other side when they see other Chief Strategy Officers that came from product marketing backgrounds. I really see that as the direction we're going.
---
Your job has taken you all around the world - where is your favorite place on the planet and why?
Farhan: It's so hard to choose! One of the most magical places I've been to is East Africa. I think Kenya, in particular, just made me so aware of some of the backward thinking that we have in the Western world about countries across Africa, especially within East Africa. The innovation, the structure, the resources, the development - it was all just really, really amazing.
And the cosmopolitan ethics too. People were so welcoming to me, this outsider, inviting me into their homes after the first time meeting and saying, "I'm having a barbecue this weekend, I'd love for you to come over". That just kind of permeated across the entire country. They were just really happy people and wanted to spread that happiness and share it with you. I love that!
---
How did you come to cross paths with Product Marketing Alliance?

Farhan: I found PMA on LinkedIn a little over a year ago. I'd just got this product marketing gig in DC and I was like, "okay, I'm building a product marketing function from scratch; it's my first product marketing role; I don't know anything". I didn't know best practices, standards, or anything. So I went looking for a community, resources - a little bit of everything - and found PMA. I went through the very first, original certification; I joined the Slack group; I became an Ambassador for the DC area, and then for the Austin area.  
Across every stage of my journey, it's just been fantastic to be exposed to how many product marketers there actually are in the world, and how ubiquitous our challenges are, and how nuanced the journey is. We all pretty much face the same things in different flavors and different company sizes. I've met some incredible mentors through PMA.
Wanna dig deeper into what Farhan thought of our OG Product Marketing Core: OnDemand certification? Have at it. 👇
(Spoiler: he thought it was "an incredible course". 😏)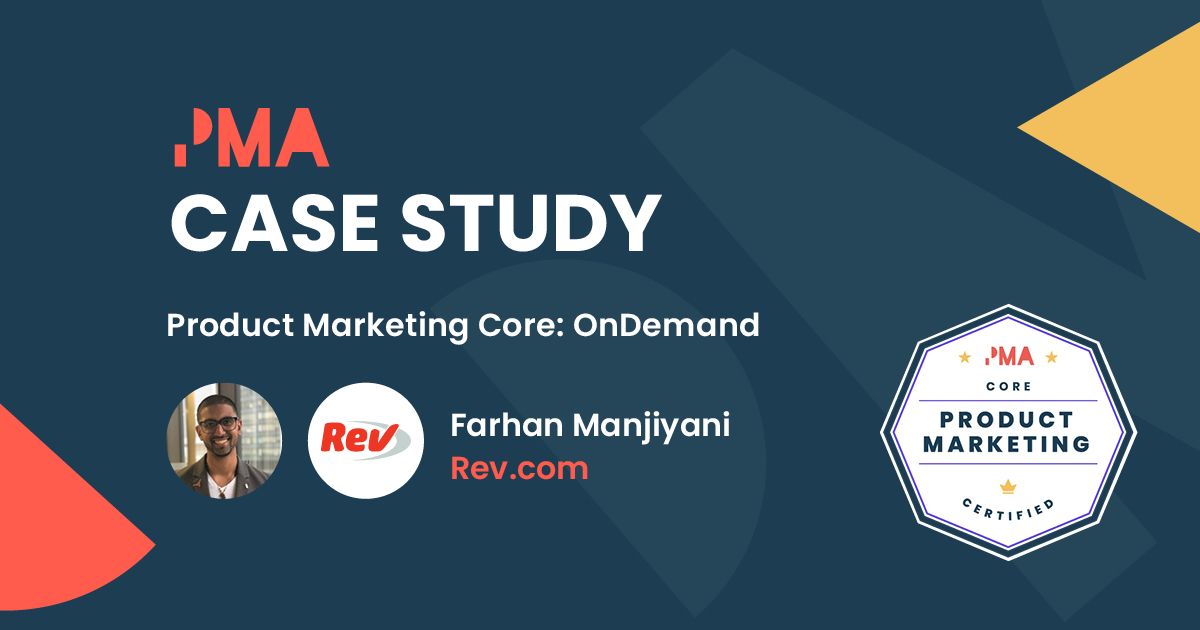 ---
What is your absolute favorite thing about being a PMA member?
Farhan: For me, it's the resources - the frameworks and templates that are provided to members, including the member-only content. I like being able to really break down someone's training and understand their challenges. It's great being able to understand how they got promoted to Manager or Director level, or even how they broke into VP, whether that's through PMMfixx or PMM Talks.
I've found it incredibly valuable to be able to break down those journeys and have actually reached out to so many of the speakers afterward, with some of them becoming my guiding mentors through my product marketing journey.
---
Fancy another? There's plenty more where that came from!
Catch up with Silvia Kiely Frucci, Senior Product Marketing Manager at Castor. 👇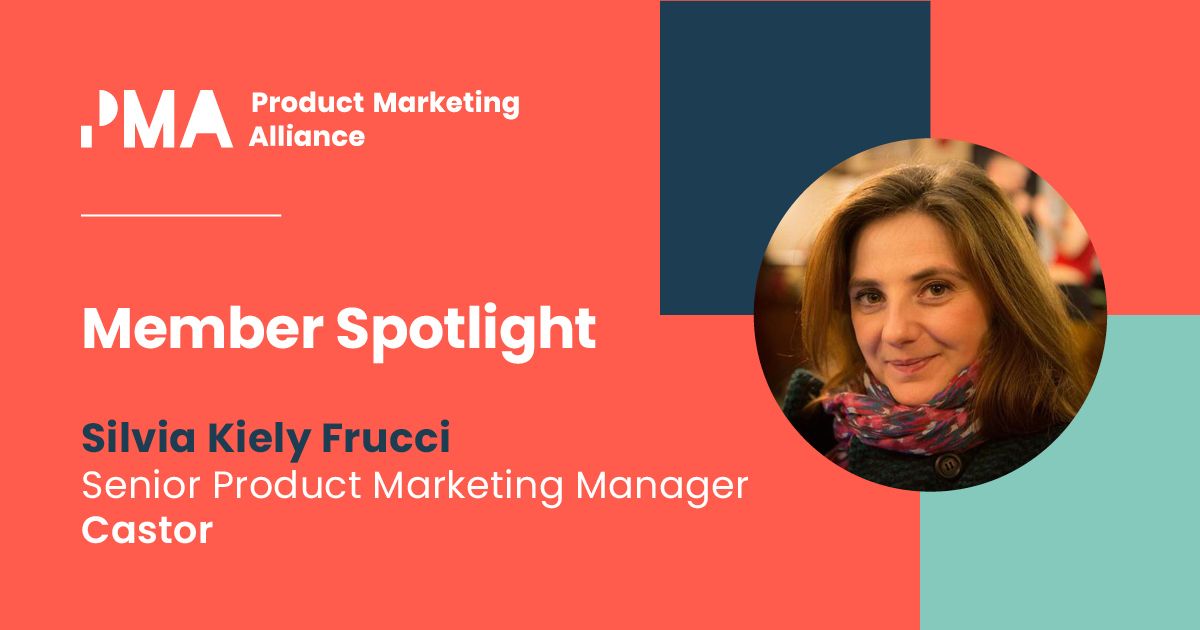 Stay up to date with all other PMA Member Spotlights to learn more about the people behind the PMMs.