PMA Pulse is the ultimate seal of approval for vendors who are crushing it out there in the marketplace, from PMMs who are using the products day in and day in out. Put simply, it's the definitive list of tools every product marketer should have in their tech stack from the people in the know and today we come bearing the results.
But first, here's a little bit about...
How it works
Unlike others, PMA Pulse believes in the wisdom of crowds. Predictive, market-based research lays the foundation of our results and our internal analysts are very much aligned with our product marketing community throughout every stage of the process.

So, the first thing to note is tools don't even make it to the PMA Pulse shortlist unless they've been used and recommended by a number of PMMs.

Once we have our list of tried, tested and vetted tools for each category, our internal analysts then go out and do something all product marketers are pretty au fait with - we talk to our community, AKA the users of these tools.

PMA Pulse is built for the people, by the people. That's our differentiator. Based on these conversations - as well as first-hand exposure - our analysts rank each tool based on a predefined set of criteria, using things like usability, accessibility, online reviews, business impact, and more.

The tools in the core of their category are by all accounts making epic waves in their market. They're used by product marketers, voted by product marketers, and rated by our product marketing analysts. It's the most authentic account of which tools on the market deliver impact by the bucketload.
The categories
We know product marketers wear many hats and because of that, use many tools, but we had to narrow it down to the five essentials.:
Competitive intelligence
Sales enablement
Project management
Customer onboarding
Customer & market research
The ranking system
Each category has a:
Leader: the overall winner of the category as voted for by PMMs and vetted by PMA
Trailblazer: the runner-up, hot on the heels of the leader, anything could happen next year
Challenger: comes highly rated by the community
High Flyer: a tool with a ton of potential
Recommended: a nod to a solid product recommended by our community  
Every product featured in every category gets the ultimate seal of approval, a PMA Pulse badge. Wear it with pride, use it to tell the world your product was tested, vetted and voted for by the best in the product marketing industry, a high accolade indeed!
Sales Enablement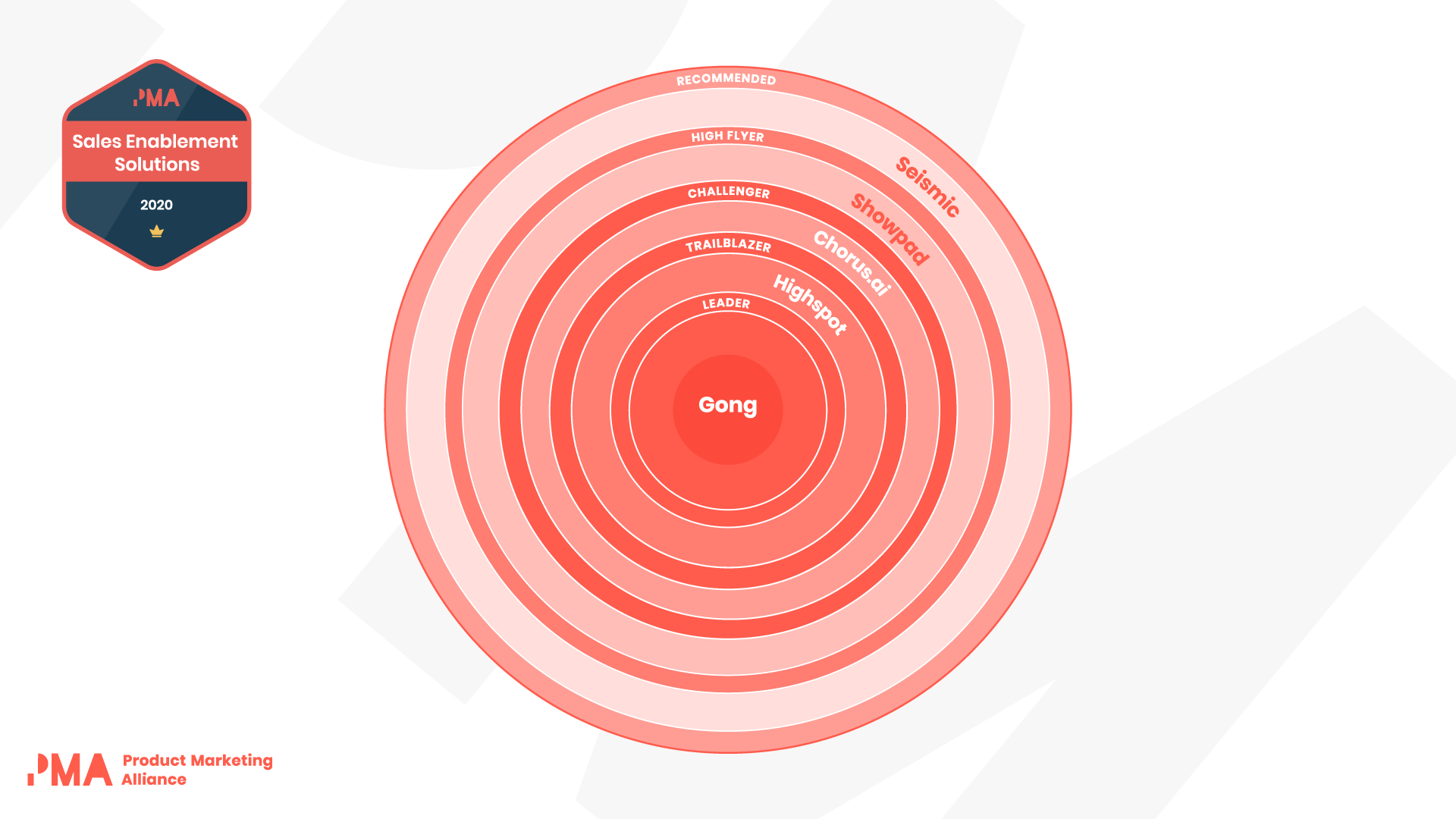 Leader

Gong took the top spot this year, thanks to its sharp transcription and detailed analytics.
Billed as the game tape for sales, Gong captures and analyzes every word of every sales conversation with surprising accuracy, giving you insights into the sales conversations that work so you can improve the ones that don't. It tells you what to talk more and less about - based on data, assembles multiple channels in one place - like calls and emails, and puts conversation intelligence at the heart of transforming how you go to market.
Here's why Trint favors it.
"You can set up keyword alerts for the products you own. You'll get alerts for when and how often it's brought up in conversation during opportunities and then you can go and playback how it was positioned - not just the content, but the tone of voice, level of engagement and salesmanship of the rep. If there's a lack of enthusiasm, there's a role that PMMs can play to highlight the value of the product with sales." - Phill Brougham, Product Marketing Manager at Trint
Trailblazer

A fan favorite for sales enablement, Highspot makes it easier for your reps to find the content they need - when they need it. It guides reps through how to use the assets to get the best out of them, keeps them connected and up-to-date, facilitates interactive training and guidance, and helps sellers stay up-to-speed with today's fast-moving buyer climate. All so you and your team can get the most out of every customer conversation.
Challenger

Do you ever wish you could clone your top sales reps? Well, you could say Chorus is one of the next best things. In brief, it reviews deals based on conversation metrics (like discounting, product and competitor mentions) and lets you know when and how often they were brought up so you can build a deal-winning cheat sheet.
High Flyer

As a complete sales enablement platform, Showpad delivers the right content, skills and conversation insights to maximize sales effectiveness and marketing impact. Showpad Content gathers and presents content in one, intuitive location so reps can spend less time searching and more time interacting with customers. Showpad Coach provides a dedicated learning environment for onboarding, continuous training and coaching, helping reps deliver excellent experiences and convert more customers. Both unequivocally make life easier for marketing and sales teams.
Recommended

Seismic utilizes AI and machine learning to discard the time and resource-intensive parts of the sales cycle and ensure sales and marketing teams have the information and insights they need, when they need it, without fail. Say bye to creating unused assets. Say bye to outdated collateral. Say hello to more customers, bigger deals, and happier teams.
"We mostly use Seismic for sales enablement and would rate it 8 out of 10. It helps our sellers with value based selling and we treat it like our product for our internal sellers. We saw 90% adoption with 6% of sales being daily active users." - Sapphire Reels, Product Marketing Manager at Pluralsight

Competitive intelligence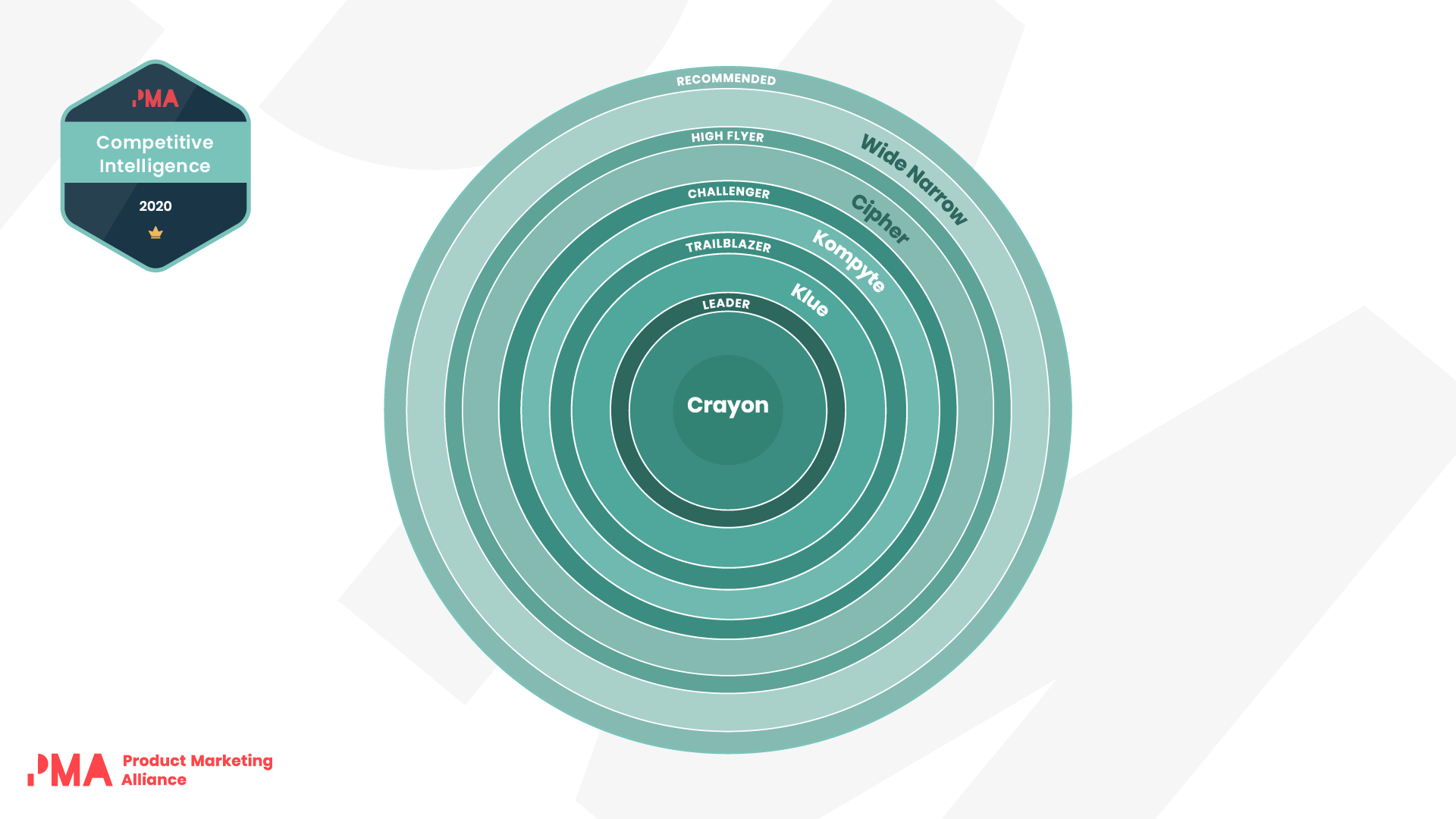 Leader

The undisputed champion of competitive intel tools, Crayon tracks more than 100 data types across 300m+ sources combined with internal intel gathering capabilities to give you an unbelievably robust view of your competitive landscape. Crayon also enables you to package and deliver insights to stakeholders through battlecards, dashboards, reports, newsletters, alerts, and more. Best of all, Crayon plays nice with others—boasting integrations with Salesforce, HubSpot, Slack, Seismic, and many more tools essential to the tech stack.
Impressed? So were HubSpot...
"We have a small competitive intelligence team that services several thousand end-users throughout the company, and Crayon allows me to quickly curate the insights scraped from the web alongside intelligence sourced within the company. Crayon's recommendations and automatic prioritization of insights saves me a ton of time in putting together my own CI assets including weekly CI newsletters, sales battlecards, etc. Gathering and managing internal intel is also super easy—I can simply send an email to my portal and Crayon automatically creates an insight." -Sam Rinaldo, Competitive Intelligence Analyst, HubSpot

Trailblazer

Klue helps companies collect and curate hard to find competitive intelligence, centralizing the best of what the web knows about your competition with the best of what your employees know into a single repository. Klue's approach to competitive enablement is attracting leading enterprise customers like Cisco, Tableau, Dell EMC, Red Hat, Shopify and Drift. It's the top platform for supporting enterprise teams to scale, enabling revenue teams with the real-time information to position and message to win competitive deals, and helping Product Marketers deliver trusted and actionable insights across the entire org.
"In today's dynamic competitive landscape, equipping sellers with the actionable competitive insights they need to compete confidently and win is a significant challenge. Cisco chose Klue to help us centralize competitive intelligence across our diverse global sales organization. Klue enables us to bring together market data, internal research and expertise which provides sellers and leaders alike a robust hierarchical repository of competitive data that's easy to search and distribute. And because it's accessible seamlessly through the sales tools they already use, it's extremely intuitive." - Stefan Eller, Director, Worldwide Competitive Intelligence at Cisco.
Challenger

Kompyte keeps you hot on the pulse of your competitors' every move by automating the repetitive parts of the research process (like keywords, promotions, price and feature changes) and compiling all the findings into one, easy-to-analyse place. After that, sharing the insights, incorporating them into your plans and measuring KPIs is painless.
"The multiple ways of accessing info has helped adoption of competitive intel for us. After a couple of months of deploying Kompyte, the number of requests for "Do you have info on competitor Z?" decreased since the answer was always "Have you checked Kompyte?" Once the sales team got into the habit they became pretty self sufficient."- James Allgood, Product Marketing Lead at Brightidea
High Flyer

Cipher Knowledge360® identifies new opportunities in the market, centralizes intelligence and automates competitive research by alerting you to updates and news in your industry. It pulls internal and external insights into one place, and provides you and your teams with pre-loaded battlecards, side-by-side competitor analysis, and much more.
Recommended

This one's all about analytical collaboration. Wide Narrow aggregates data from multiple services and sources, organizes it into categories and combines any data that ties together into summaries, enabling you and your colleagues to annotate your interpretations. It also comes with pre-made report templates to make design and distribution as simple as possible.
Project Management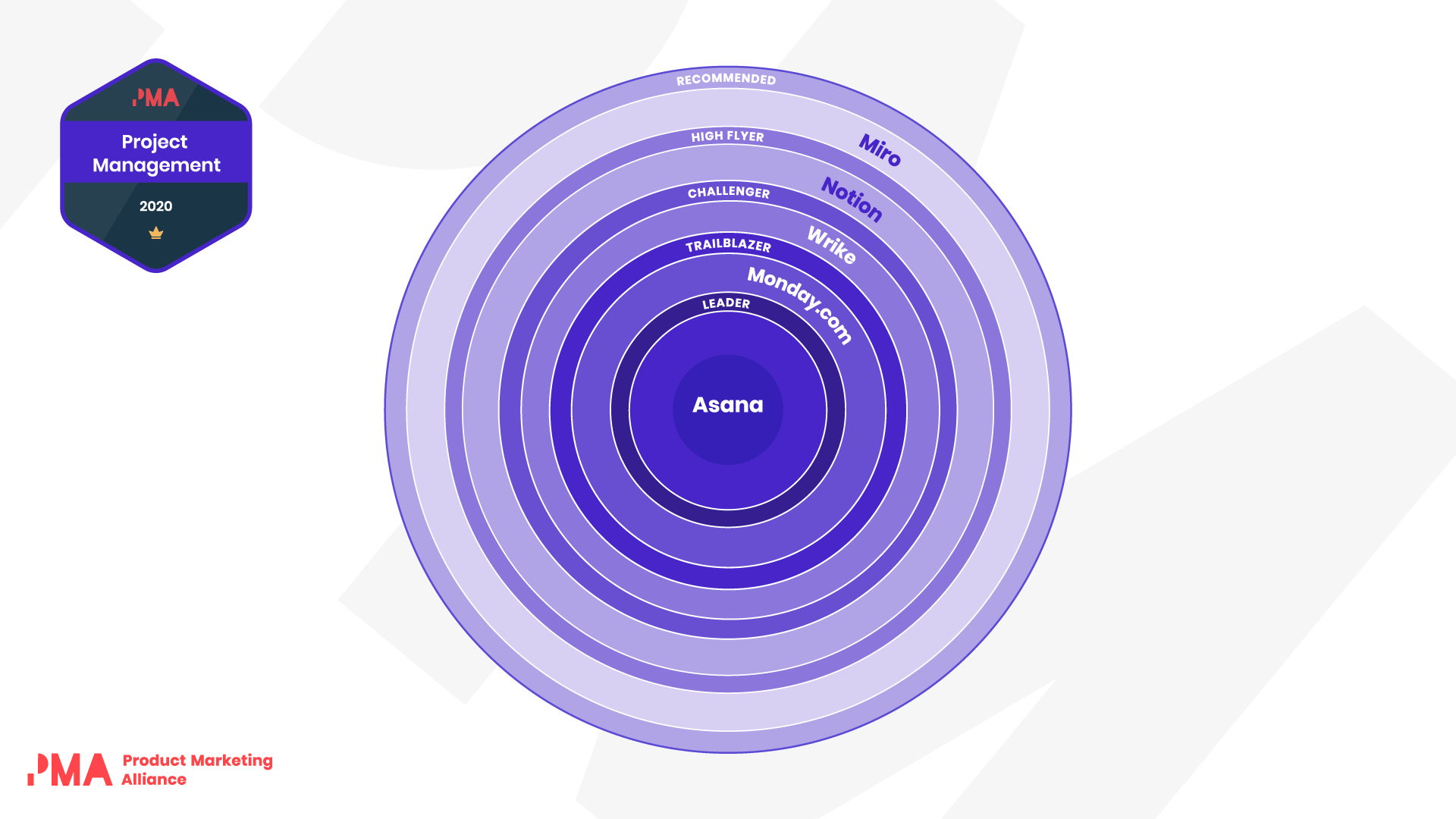 Leader

Favored by PMMs from big and small corporations, Asana's all about helping teams get organized, stay on track and hit deadlines, and it does this by providing a single place to store, detail and track project components. Within it, you can move tasks through various stages (like to do, in progress, started, waiting for approval and done), set timelines, see how busy your teams are, and get instant calendar access to everything that's going on.
Here's how it assisted Brightidea with their GTM project.
"Once you set up a GTM project it's easy to clone old projects for your next GTM. Once I had project templates for minor and major releases it was easy to spool up the next project by assigning dates for each task working backwards from the release date." - James Allgood, Product Marketing Lead at Brightidea
Trailblazer

monday.com is where teams get their work done. It's a visual Work OS where any team runs their projects, processes, and everyday work, fast. Teams create streamlined workflows by dragging and dropping boards, automations, dashboards and the external tools they already use - all within their Work OS.
With monday.com, teams become autonomous, gaining three benefits: 1) speed and agility; 2) transparency and alignment; 3) total ownership of work.
Over 115,000 highly effective teams choose monday.com to manage their daily work.
Challenger

Cloud-based Wrike addresses all things collaboration and project management. You can organize projects and tasks with progress boards, monitor and utilize resources more efficiently with things like Gantt charts, discuss and feedback on projects and tasks with full context (because everything will be in-app), and access interactive reports on workflow statuses.
High Flyer

Notion blends everyday work apps into one, providing components like databases, kanban boards, wikis, calendars and reminders. Users can connect these components to create systems for knowledge management, note-taking, data management, project management, and more. Use the systems and components individually or in collaboration with others.
Recommended

Whether you've got employees in Houston or Hong Kong, Miro makes teamwork easier, faster and more interactive. With an infinite whiteboard canvas, 150+ ready-made templates, digital sticky notes, freeform pen and stylus support, video chat with screen sharing, 70+ integrations and more, it's got visual collaboration solutions for any team looking to stay connected. Fun fact, Stephen Curry, Golden State Warriors, 2x NBA MVP and 3x NBA Champion is an investor.
Customer Onboarding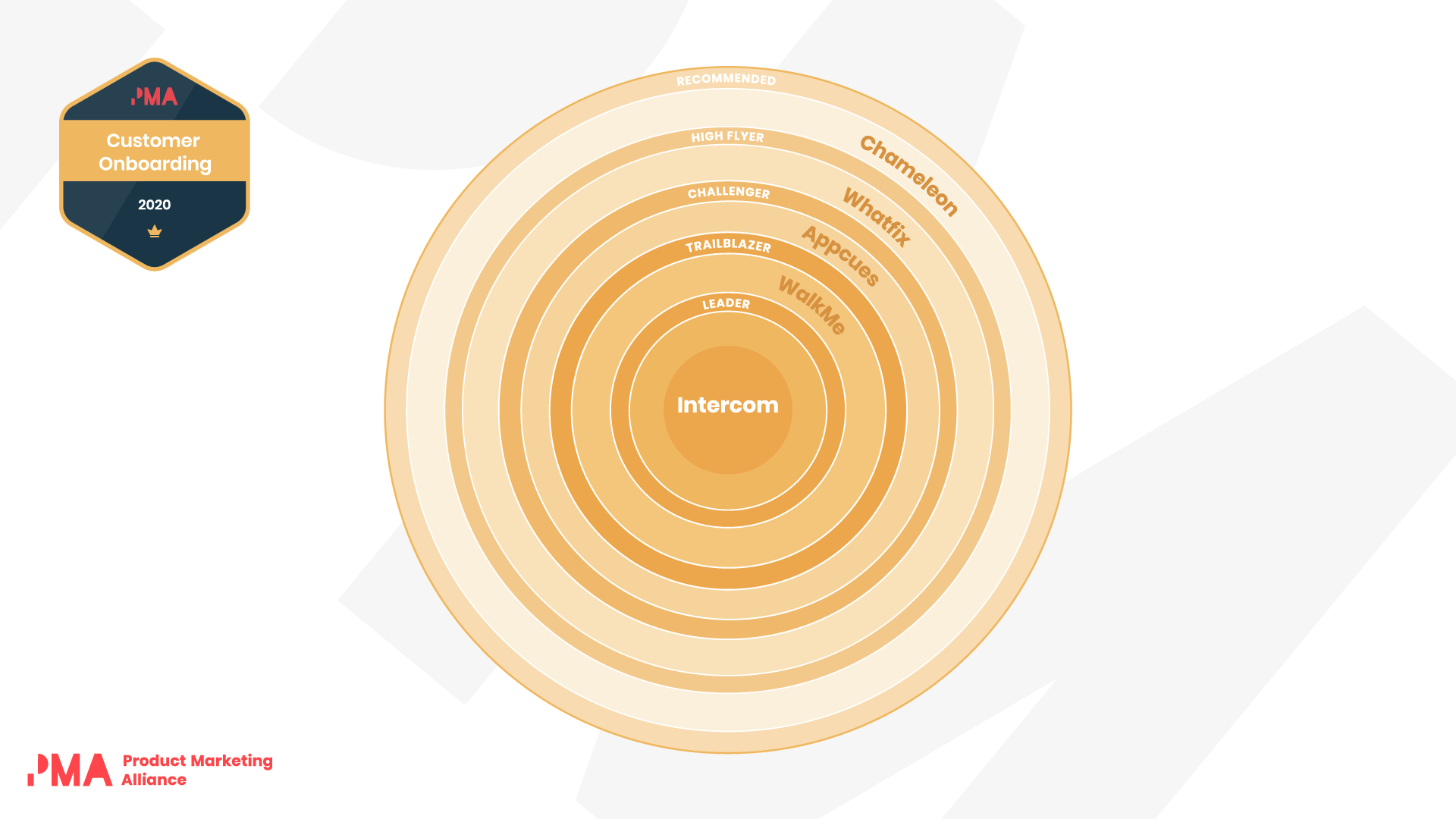 Leader

The undisputed communication giants, Intercom's chatbot and live chat features help qualify more leads. Their targeted messages help onboard and activate more customers, and their inbox automation and self-service support ensure personalization is on tap at scale.
Just ask Agorapulse.
"With so many integrations and customization options, Intercom is our go-to customer portal. As a PMM, I use it to keep track of who left what on NPS and review sites. I also use information from customer conversations I've had here to send feature requests to our product team."- Lisa Kalner Williams, Product Marketing Director at Agorapulse
Trailblazer

WalkMe detangles SaaS platforms so users can confidently glide through their journey and your teams can stay productive. How? By automating repetitive tasks, workflows and chatbots.  WalkMe guides customers through your product - step-by-step, contextually presenting users with relevant content based on things like their location, time, system and predicted behavior, and serving you with the information you need to drive future transformations - like which parts of your product are and aren't being used.
Challenger

Companies who have used this product-led growth platform have seen some pretty remarkable feature adoption, user retention and campaign response results. With Appcues you can set-up personalized onboarding experiences, collect actionable insights (like NPS scores and qualitative feedback), deliver in-product announcements and provide on-demand customer support.
"We're new to Appcues and we're loving the journey so far. We are currently using Appcues on a couple of our custom web applications with the objective of driving new product and feature adoption and tracking some basic metrics. It's intuitive to use and comes with the support of an excellent account and customer success team so you don't feel alone in the in-app notification journeys. Now, creating welcome flows and in-app guides are as easy as dragging and dropping a module on the relevant page and hitting that 'publish' button. We love it." -  Angela Catalan, Director of Product Marketing at Nearmap
High Flyer

Whatfix helps users work their way around your product self-sufficiently and helps you deliver great customer experiences with less manual input. It lets you build step-by-step walkthroughs with zero coding, create segments, set-up condition-based walkthroughs, auto-generate various content types (like PDFs, videos and slideshows), schedule alerts and announcements, and analyze how people use your product.
Recommended

With surveys, tooltips, tours and launchers, Chameleon improves product funnels by reaching out to the right people (with segmentation), at the right time (via triggers), in the right place.
Use Segment to install in three clicks, or manually implement a JS code snippet with help from your developers. Chameleon plays nicely with single-page apps and different frameworks (e.g. Angular and, React).
Customer & market research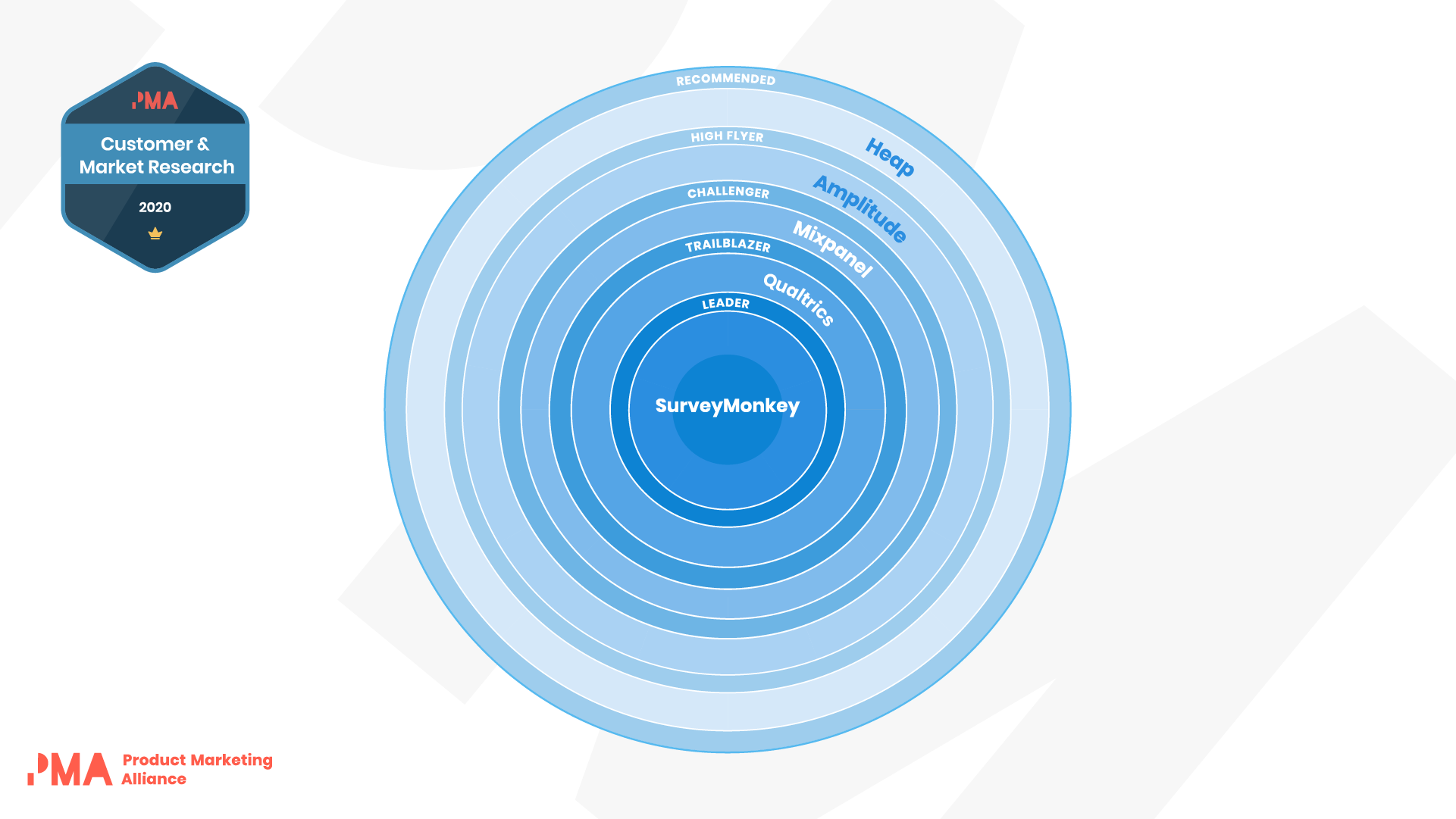 Leader

With 98% of the Fortune 500 using SurveyMonkey, it would take a lot to knock this powerhouse off the leaderboard. Although it's known mostly for its advanced survey capabilities, from accepting online payments and capturing feedback to analyzing data at scale and automatically generating new content, SurveyMonkey offers so much more. It's undoubtedly the swiss army knife of PMM tools.
"Transform your best data points into a narrative, and distribute it across different areas of your business. SurveyMonkey made it so much easier for us to do that with this opportunity, and streamlined the process from conception to execution." - Aliza Edelstein, Director of the Product, Partner & Content Marketing, Brex

Trailblazer

From brand tracking and pricing research to conjoint analysis and 360 feedback, Qualtrics employs a whole host of tactics so you can understand your customers, brand and product like never before. It uses advanced text and voice analytics to uncover insights buried deep in responses and incorporates AI and machine learning to give recommendations and route them to relevant people.
"We use Qualtrics for more complicated surveys and have also used them to field pools for us, do complex coding and basic analytics. I would say it's the market leader on this and has deeper capabilities if you're doing more complex studies (breaking surveys into parts for different samples, conjoint or van westendorp for pricing, etc.). The survey work we've done has informed our annual planning, fundraising, sales and marketing strategy and product roadmap - it's definitely an investment worth making." - Kelly Esten, Lead Product Marketing at Toast
Challenger

Mixpanel hand-delivers real-time data so you can see how it performs against key metrics over time, pinpoint trends, understand what's causing them and employ initiatives to engage, retain and convert. It uses things like correlation analysis and look-alike modeling to dive into the numbers and then prompts you to set improvement goals and create and test your hypothesis.
High Flyer

Amplitude's Behavioral Analytics Platform goes deeper than just clicks and views to paint the complete picture behind how people interact with your product. It also identifies which personas are most likely to become power users, takes important product paths apart to help improve midstep conversions, and gives you the tools you need to pinpoint growth opportunities. In tandem with this, Amplitude Engage provides assets to personalize users' experiences and act on the patterns they've shown. With it, you can push or schedule segment-specific campaigns in-app and monitor engagement, conversion and retention data on-the-go.
Recommended

By automatically capturing web, mobile and cloud interactions (like clicks, submits, transactions and emails), Heap lets you retroactively analyze the data needed to identify and act on information, such as: where are people dropping off? Which channels are and aren't working? Which parts of the product are putting people off?
The right tech stack
Having the right tech stack in place is crucial to developing any web-based or mobile product, but you don't need us to tell you that. The technology landscape is vast and ever-evolving and with so many options out there it can be hard to know which tools actually deliver. Which is why we set out to make that process easier with peer vetted recommendations you can trust.
Using something awesome that you couldn't live without and don't see it ranked? Sound off in the comments! Or better yet, enter it in next year's PMA Pulse, speaking of which...
How do I get involved in next year's PMA Pulse?
Make a product (or improve one) so awesome, our community drops your name all over our Slack channels and submits you for vetting in phase two.
If you make the shortlist we'll invite you to submit an application which includes:
A detailed description of the problem your product solves
Five testimonials
Proof of what makes your product different than the rest
A breakdown of what's changed/improved feature-wise since last year
Access to the product or a 1:1 demo so we can experience it first-hand
The rest is up to our panel of experts.