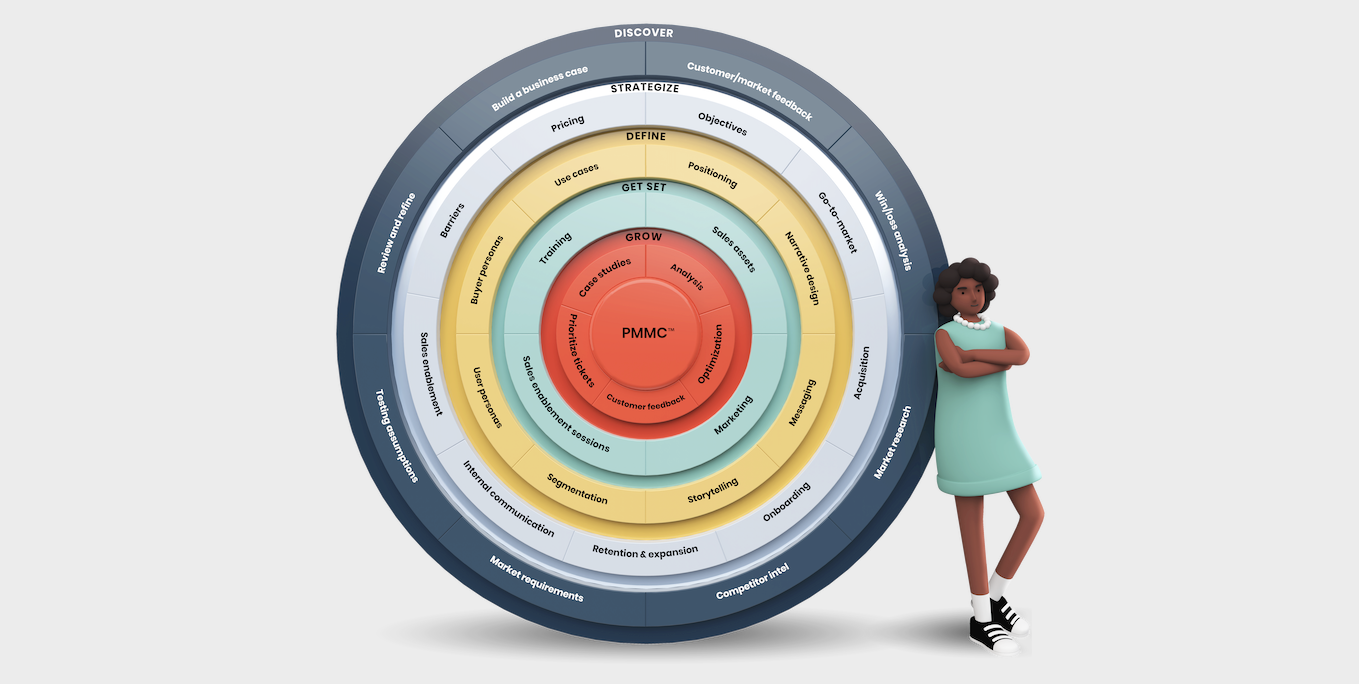 Looking to get certified? Torn between us and Forrester? Need a little reassurance that Product Marketing Core is the course for you? Well, you've come to the right place.
Until you've taken the course for yourself, you'll never truly understand the value Product Marketing Core has to offer, but here are just some of the highlights of us versus Sirius.
What PMA brings to the table
👩🏼‍🏫 11 modules
📒 101 chapters
⏰ 19+ hours of content
✅ 128 exam questions
👋🏻 1 live session a week
🛠 20+ templates & frameworks
🔥 CPD and CIM certified
🔖 PMMC® certification
"Being a top product marketer means continuously looking for ways to enhance your knowledge and skills. Developed with input from several experienced product marketing professionals, Core will show you the blind spots in your go-to-market strategy and offer you the tools and a blueprint to help you successfully launch any service or product."
Francisco T. Bram, Former Head of Product Marketing at Uber & Uber Eats
PMA & Forrester side-by-side
We hate to have to do a like-for-like comparison, in some ways, it's like comparing apples and oranges, but we want to do our course justice and save you some precious hours poring over course brochures (just like we had to do to put this table together).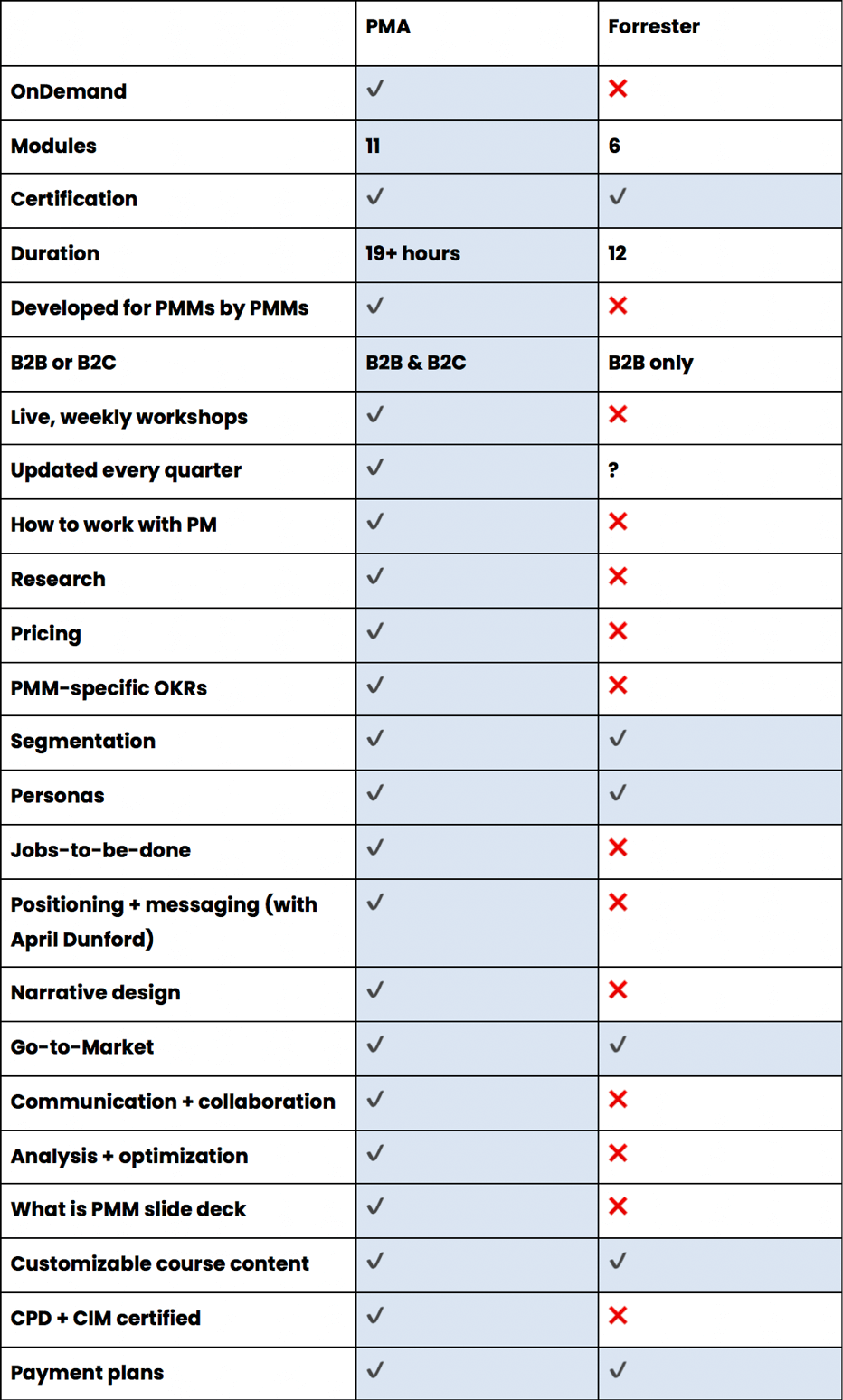 And the reasons don't stop there. With a community of 25,000+ PMMs (the biggest in the world, by the way, 💁🏼‍♀️), we have exclusive and unlimited access to the burning questions and problems product marketers are facing today - and, of course, all this intel is fed into our course content.
Speaking of course content,  here's an outline of everything you'll cover in every module of our course…
Product Marketing Core curriculum

Plus, throughout our curriculum, we'll take you through the PMA framework:
"Taking the PMA course was the best thing that happened to my product marketing career in 2020." - Princewill Ejirika, Group Digital Brand Manager at Tolaram Group
So, to sum it up, let's compare and contrast…
What you'll learn - PMA
As a result of becoming PMA certified, you'll learn:
How to truly embody the voice of the customer
How to master the art of getting products to market - and keeping them there
How to roll out, test, and iterate everything you do
The what, why, and how of every product marketing principle
What you'll learn - Forrester

Segmenting buyer audiences based on buyer personas
Positioning and messaging from Portfolio Marketers
Creating an effective sales enablement and product launch program
Team certification

PMA - For teams of 6+ we can build a course tailor-made to meet the challenges within your company. We'll provide a dedicated portal where you can control the course and exam content so it's of most value to your team - and have your own branding, too.
"Product Marketing Core is one of the most comprehensive and crucial courses that any product marketer or someone willing to join product marketing needs to complete. Its extremely robust structure, very cohesive and well explained frameworks are essential to PMM success within any business.
"At the end of the course, you will be a confident product marketer with strategic, analytical, research, and storytelling skills. Very highly recommended!"
Karim Zuhri, Global Head of Product Marketing & Research at SafetyCulture
Instructors

If your or your team decides to take the course live and online, they'll be learning from our PMA experts in residence…
Guest speakers

Taking the OnDemand course? Learn from industry-leading guest speakers like:

- April Dunford - CEO at Ambient Strategy
- Mary Sheehan - Group Manager, Product Marketing at Adobe
- Marcus Andrews -  Director of Product Marketing at Pendo.io
- Sarah Din - VP of Marketing at Builder.io
- Natalie Louie - Head of Marketing at MobileCoin
- Kyle Poyar - Partner, Expansion Platform at OpenView
- Misha Rangel - Director, Enterprise Product Marketing at Veeam Software
- Darlene Samer - Head of Blueprint Team, Center of Excellence, Sales Readiness at LinkedIn
Trusted by some of the world's top product marketing teams...

Here's a taste of just some of the product marketers', organizations, and teams who've already trusted us with their certification:

"PMA covered every inch of product marketing in a robust, yet digestible, format. The mix of presenters, resources, and evaluations kept me engaged throughout. The best part is, I was able to take it at my own pace and now have a wealth of resources available to me on demand. THANK YOU, PMA!"
Gwendolyn Smith, Director of Product Marketing at Transunion
So, with the quality on offer there for all to see, there's only one thing left to do...