The team have only been together half a year
Award was a "huge honour" for all
SurveyMonkey, Morningstar and others provided stiff competition

G2 trio Yoni Solomon, Aubyn Casady and Gina Carr picked up Product Marketing Team of the Year at last month's PMM Summit in San Francisco.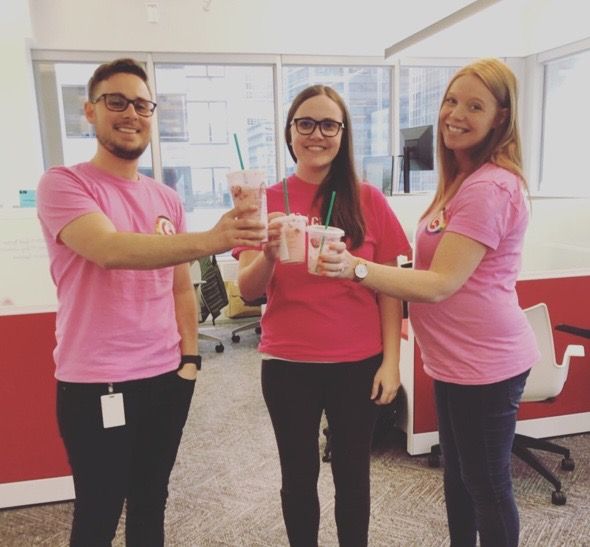 Remarkably, the formidable three have only been a team for six months, but that hasn't stopped the "small and mighty" group churning out weekly launches.

Speaking of the award, Gina, who started at G2 four years ago as Customer Success Manager, said:
"I think a lot of it's the validation that people recognise what we're doing and that it's working really well. I love this team, so it's nice to see that's beneficial not only for us but for the company."
Yoni, who leads the Product Marketing team, added:
"It's amazing industry validation to see the stories we're telling and the ways we're telling them not only resonates with our buyers but with the product marketing community as well. It's a huge honour."

And for Aubyn, the award came at the perfect time:
"Before I game to G2 I started getting into my own head from a career perspective and questioning whether my gut was right.

"Coming here and seeing that efficiency, watching things launch on time and effectively, finally having that alignment and then getting this third-party validation, it brought me back to earth and made me realise I can love something and be really good at it. This was huge for me."
Seeing off stiff competition

The trio was hand-picked by PMA ambassadors for their commitment to driving results, building strong relationships and prioritising customer experiences, and our panel judged them against their degree of innovation, bottom-line impact, and peer and employer feedback.
To top off their accomplishment, they saw off the likes of SurveyMonkey, Morningstar, Dell Boomi, Cordial and Ingram Micro Cloud to take the top spot.

The key to their success
All three agreed it was down to how they gelled and the implicit trust from in and outside the team.
Yoni reminded:
"Great product marketing doesn't happen in a vacuum and we consider our creative and marketing teams our muses. We give them the messages and guidance as best we can and the work they consistently deliver is the other half of the picture that makes this work so great."
Words of wisdom for the teams of tomorrow
"We've all become very good at telling logic-based product stories, but pretty much all the decisions your brain makes are based on emotion and then afterwards you justify them with logic," Yoni said.
Adding:
"Finding a way to lean into the emotional components and tap into the key themes in stories we like to read in our own personal lives, like the hero's journey, pain, overcoming obstacles, and finding ways to weave those into your stories so people reading them a) resonate with the pain you're presenting to them and b) can put themselves on the hero's journey to get to the solution they need with your product, I think that's going to be the differentiator.
"There's a quote out there that says the most human company's going to win and I whole-heartedly agree with that."

Richard King, Founder of PMA, commented:
"It's amazing to see the calibre of results that have come out of such a compact team and Yoni, Aubyn and Gina are all well-deserved winners of this title.
"With such high standards being set in the first instalment of these awards me and the PMA team are already eager to see what next year's nominees bring to the table."

About PMA
Product Marketing Alliance was founded in March 2019 and unites 1,000s of passionate product marketing managers from around the world, all committed to a common goal; driving demand, adoption and the overall success of their products.
Contact
Richard King
richard@productmarketingalliance.com