Product positioning is a strategic exercise we use as product marketers to find a product or service's place in the market. And what's the best tool to help you find your way? A map, of course! Or in our case, a positioning map.
What is product positioning?
Positioning defines what makes your product different from market alternatives, so you can focus on nailing your product messaging to effectively explain its value to potential customers.
In the words of April Dunford, positioning expert:
"Product positioning describes the specific market you intend to win and why you are uniquely qualified to win it."
As part of the positioning process, PMMs often create a product marketing map – but what are they, and how can they improve your positioning strategy?
In this article, we'll focus on:
What a positioning map is
What a perceptual product positioning map is
Positioning map vs. perceptual product positioning map
Why they're useful
How to create a perceptual product positioning map
As the saying goes "time waits for no man", so without further ado…
---
What is a Positioning Map?
Forget fumbling in the dark, positioning maps shine a light when you need it most. Essentially, a positioning map is a visual tool used to analyze how your product or service compares to competitors in the minds of customers.
These maps plot your brand and key competitors on a graph, with the axes representing important attributes like price, quality, and features. The goal is to identify white space opportunities and areas where you can differentiate.
An effective positioning map highlights the unique value proposition of your offering, which means you can gain actionable insights to craft killer messaging that speaks to your differentiating value. When creating a positioning map, it's critical to focus on the key decision drivers for your target audience.
Thoughtfully selecting attributes to plot will ensure your map provides meaningful competitive insights. When creating your map, laser focus on what your customers truly care about, selecting specific attributes to plot will ensure your map provides the meaningful competitive insights needed to win their hearts and minds.
What is a perceptual product positioning map?
A perceptual product positioning map is a graphical representation of how your product compares with the competition. It's a two-dimensional chart comprising a horizontal and vertical axis that represents key attributes such as price, features, and any relevant criteria that can be used for comparison purposes.
Positioning strategies vary from company to company. But irrespective of the approach you adopt, you need to step into the shoes of your customer, see the buying process through their perspective, and ask: "How does my product compare with market alternatives?"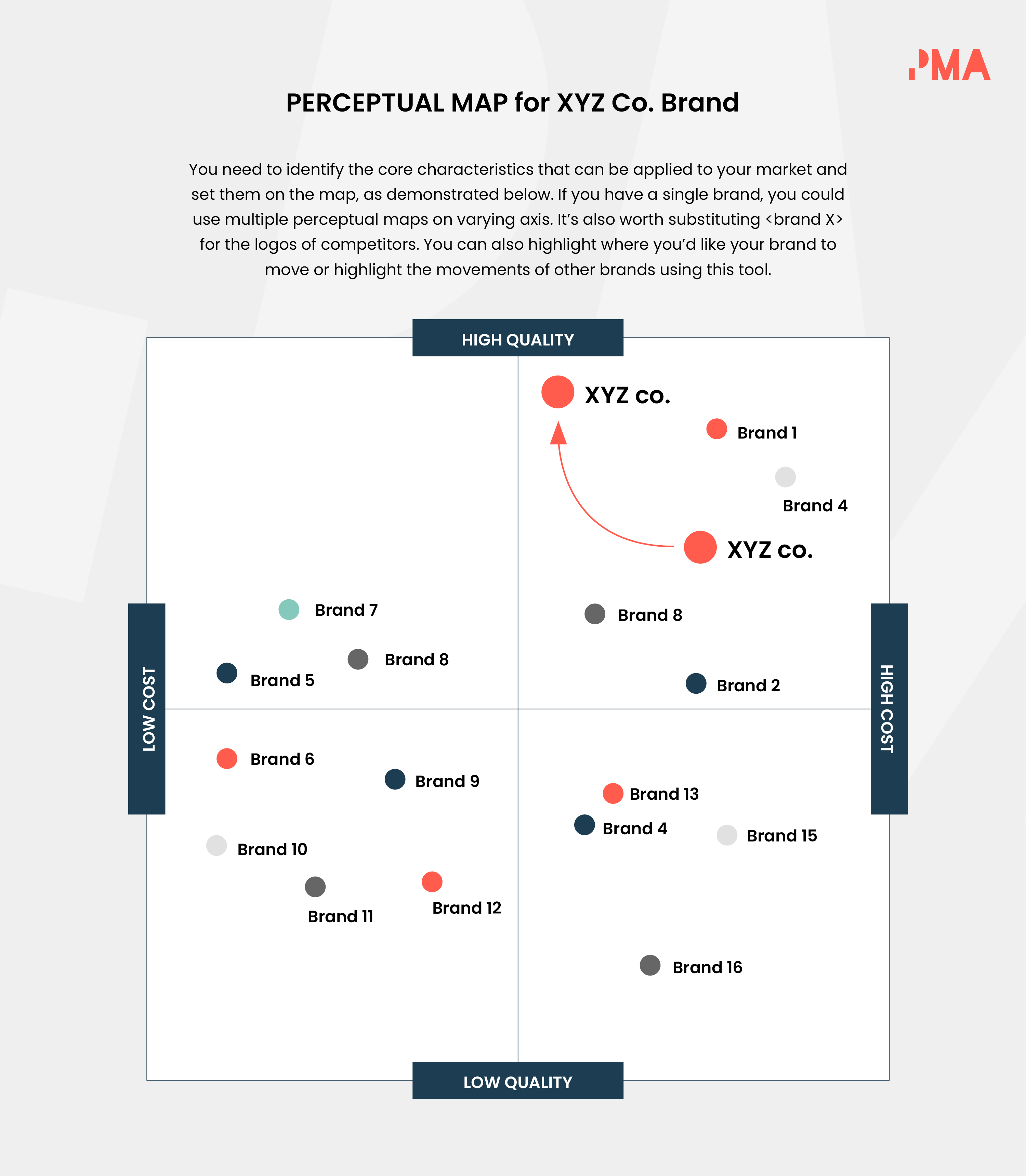 Positioning maps vs. perceptual maps
What you intend and what customers believe may be worlds apart. A positioning map shows your intended position – where you want your product to be perceived. Perceptual maps reveal where customers actually perceive you against your competitors.
Reality check – the two views often clash. But perceptual maps are there to reveal areas where consumer perceptions don't align with your desired positioning. This is no bad thing – it'll inform your messaging and can highlight opportunities to shift perceptions.
Together, positioning maps and perceptual product positioning maps form a dynamic duo to guide strategy. Perceptual maps expose gaps between desired and actual position. This intelligence fuels messaging to shift opinions and correct course. While a positioning map takes a strategy angle, a perceptual map provides an unbiased consumer perspective. Comparing the two gives a complete competitive picture and powerful input for positioning success.
Why do you need a perceptual product positioning map?
A perceptual product positioning map can provide invaluable support for your positioning strategy and play a significant role in helping you achieve your primary target: To identify a niche in the market, exploit it, and create a kick-ass product your competitors can't match.
When completed thoroughly and accurately, they can consolidate your current knowledge about your personas, or better still, provide you with new insights to help you understand consumer behavior, market trends, and gaps in the market.
So, now you know the what, and the why, let's move on to the how.
---
How to create a perceptual product positioning map
There are four general steps that need to be applied when creating a perceptual product positioning map.
Action point #1: Define your target market
To define your target market, you need to understand your customer needs.
Customer needs are what a customer wants when they're interacting with your business, and your competitors, or when they're searching for a product or service you may be able to offer them.
You need to make sure you're in a position where you can cater to the requirements of customers who fit your buyer personas. Let's face it, if you can't offer the solution to their problem, they won't hang around and wait for you to steady the ship. They'll waltz to your nearest competitor, who'll be more than happy to benefit at your expense.
How to identify customer needs
Understanding the needs of your customer isn't a case of throwing mud and seeing what sticks.
There is a range of methods you can use to ensure you're not barking up the wrong tree and offering customers products that are way wide of the mark.
Focus groups
Focus groups are a market research method when you interview a group of people who are representative of your target audience.
Granted, a breadth of valuable information can be gained by using data, but addressing your prospective customers directly brings a whole new perspective on what they want in terms of features, price points, and so on.
You can even grill them on things they don't like about products provided by competitors and use this feedback to either develop an existing product or design an offering that'll blow their socks off.
Focus groups provide the perfect backdrop for a frank, honest discussion with your customers. While you may not necessarily like some of the feedback you receive, in many ways, that's the point of conducting these sessions – it'll help you iron out any imperfections and ensure you're providing a solution your customers love.
Sometimes, it may be difficult to get a sample together to survey a physical location, particularly during the pandemic. Yet this needn't stop you in your tracks; surveys can be sent via email, or post, and with the emergence of video platforms such as Zoom, you could even hold a virtual meeting – the possibilities are endless.
Working on a budget? No worries –Google Forms is an awesome tool you can use for free. So, slap on your thick skin and set the ball rolling.
Social listening
Social media listening allows companies to track and analyze what their prospective customers are saying about them on social media channels, such as Facebook, Twitter, and Instagram.
In 2020, 3.96bn people were using social media platforms – pretty crazy, right? This creates an invaluable pool of feedback for companies whereby they can monitor their customers' social media posts and see what's being said about their company and the services they offer.
Let's say you're a fast-food chain and your brand-new burger prompts a hashtag to start trending on Twitter and the feedback isn't great...
The widespread feedback amongst burger buffs is that the sauce on the burger is too spicy, but otherwise, they love the other elements of your new creation. You could go back to the drawing board, revise the recipe, and start the same burger, with a sauce that won't give diners the sweats.
This is a perfect example of social listening: You've launched a product, listened to the response, and amended your offering to align with the expectations of your customers.
Keyword research
Not only is it important to think about what your customers want, but it's also important to think about what they're searching for.
Google receives over 3.5bn searches a day, all the more reason why you need to make sure your keywords are on point.
Keyword research not only sweetens your SEO ranking, but it can also provide an insight into your customer's requirements, and what they want from your business and the product or service you're offering.
Identifying your customer's online searching habits and more to the point, how they're searching for your company and industry, enables you to establish exactly what they're looking for – i.e. their customer needs.
Using these nuggets of information, you can finetune your strategy to ensure you're giving your customers what they're looking for.
Customer needs analysis survey
A customer needs analysis is used to help companies figure out their position in their respective competitive markets and how they're positioned in terms of meeting their target customers' needs.
The survey should ask questions about your brand as well as competitors, what your customers know about your product, and brand awareness in general. You could ask:
Are there any positive and negative word associations with your brand?
Which brand(s) do you think is similar and/or competes with your brand?
Means-end analysis
Now that you've conducted the customer needs analysis survey, you can use the answers to get a better picture of why your customers are your customers, as well as what makes your product or service stand apart from your competitors.
A means-end analysis uses those answers to determine the reasons why a customer would buy your product. These reasons are then divided into three main groups:
1. Features: Your customer may purchase your product because of a specific feature, if you were buying a new phone, for example, the fact that it has a titanium, indestructible casing might be a draw.
2. Benefits: Your customer buys your product or service because of a benefit, they believe your product will offer them. E.g. the customer might buy your phone because it wirelessly syncs to their other devices easier than competing models.
3. Values: A customer buys a product or service to help them fulfill an individual value. They may feel that by buying this phone they'll communicate more frequently with loved ones who have the same handset.
Reasons for buying a product can be personal to each customer and vary wildly, so it's important to make note of the answers and group them into each category.
From there you can identify exactly which motivating factor your product falls under and which problem it solves.
This is a great way to find areas you need to improve in and discover new ways to one-up your competitors
---
What are the most common customer needs?
Not every single one of the aforementioned customer needs will be particularly applicable to your circumstances. Here's a bite-size list of the most common customer needs:
Reliability and sustainability
Risk reduction
Usability and convenience
Transparency
Control
Empathy
Information
There are a number of ways you can proactively put necessary steps in place to help meet your customer needs. Here are some suggestions:
Develop company-wide messaging,
Provide in-depth instructions for easy adoption,
Always ask for customer feedback,
Nurture customer relationships, and
Create the right buyer personas, to solve problems the right way.
You'll also need to choose the region you want to focus on and use geographic segmentation to structure your marketing campaign.
What is geographic segmentation?
Geographic segmentation is when a company decides to change or focus its marketing campaign based on where its target consumer lives.
If a retailer decides to only market their products in a certain area, or if they decide to change their offering based on region, then this is geographic segmentation at play.
Action point #2: Select your characteristics
After defining your target market and identifying customer needs, it's time to decide which characteristics you're going to compare. These could include:
Price
Product quality
Functionality
Reliability
Safety ratings
Product performance
Though there are options aplenty, be sure to focus on characteristics that are most likely to appeal to your target market.
Action point #3: Identify existing products on the market
Based on the aforementioned characteristics, make a list of alternative products that are available on the market.
To establish how each competitor compares, create a scoring system and get feedback by conducting a survey and/or interviews with your personas.
Analyze the results, earmark the top competitors' strengths and weaknesses, and provide each product with an overall score.
Action point #4: Plot each company on the map
Finally, plot each product in accordance with your data, and hey presto! You'll have a perceptual product positioning map depicting your product's position in relation to your competitors.
For example, here's a product positioning map comparing different brands of chocolate and brands of cars: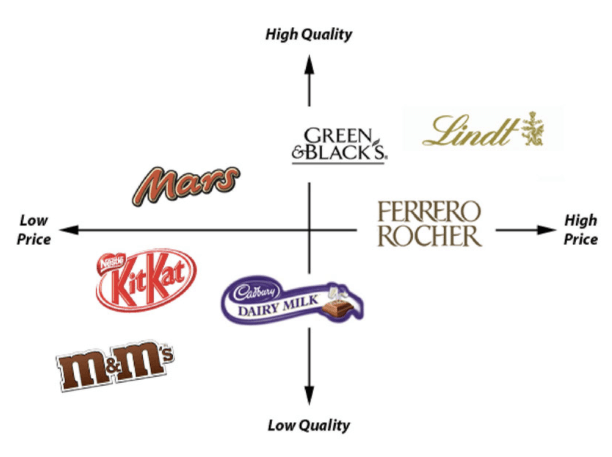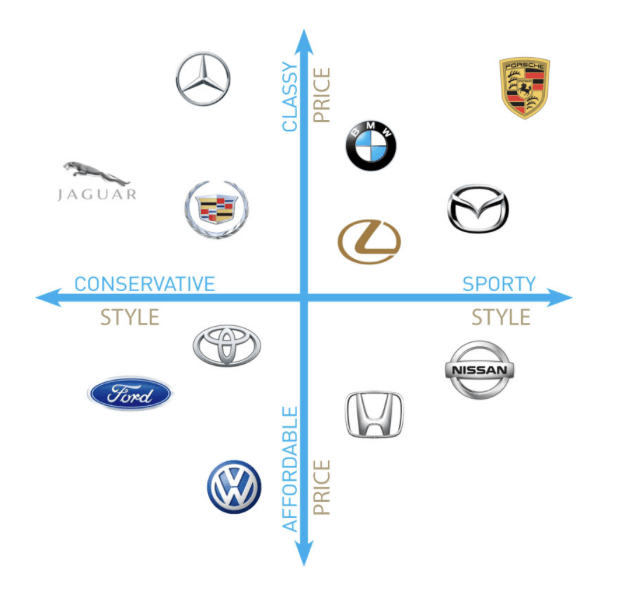 ---
A final note on positioning maps
Firstly, when developing products, maps pinpoint open whitespace so you can differentiate. Plot competition and spot potential to stand out.
Then when executing your plan, revisit your map to keep messaging true to position. Share visual maps to educate stakeholders on your value proposition. Refer back continually to ensure you stay the course.
Perceptual maps provide regular checkups on shifting customer views. Watch as perceptions change over time and fine-tune your approach. With maps as your constant guide, your positioning strategy will continue hitting the mark.
---
Get Positioning Certified
Enroll in our Positioning Masters Certified course, and uncover the essentials of product positioning, a strategic exercise used to find a product or service's place in the market.
Unpack how to define what makes your product different from the others on the market so you can focus on messaging and explain its value to potential customers.
By the end of the course, you'll:
✅ Understand why positioning is so important
✅ Learn the ins and outs of strategic positioning
✅ Know how to position for growth
✅ Appreciate the role of teamwork when positioning your product
✅ Understand the correlation between positioning and cross-functional areas
Get positioning certified