Sales enablement forms a critical part of product marketing, and the tools designed to enhance the process (i.e. sales enablement assets) play a fundamental role in supporting sales teams to convert prospects into customers.
In some cases, product creates sales enablement assets, in others, it's the remit of customer success, while product marketing teams are often entrusted with the responsibility. But which teams are predominantly responsible for the creation of these materials?
And which teams are responsible for putting together these materials?
In this article, we're going to focus on several topics, including:
So, first things first, let's start with the basics...
What is sales enablement?
Sales enablement is when a sales team is given tools that'll enable them to close more deals - it's what it says on the tin.
Whether you book members of your sales team on training courses to fine-tune their skills, give them access to content including articles and videos, or practical tools such as battlecards and templates, all of these serve as a means of enabling your sales team to do their thing, convert more prospects, and increase your revenue.
A company's weapon of choice will vary, depending on their product, industry, market, and there are an array of sales enablement assets available to drive orgs towards their end goal, including:
Battlecards - Battlecards are short, snappy, to-the-point sales docs documents designed to help your sales team gain a firm understanding of a rival's strategy, as well as key sales messages, essential info about your product, and value propositions to oust the competition.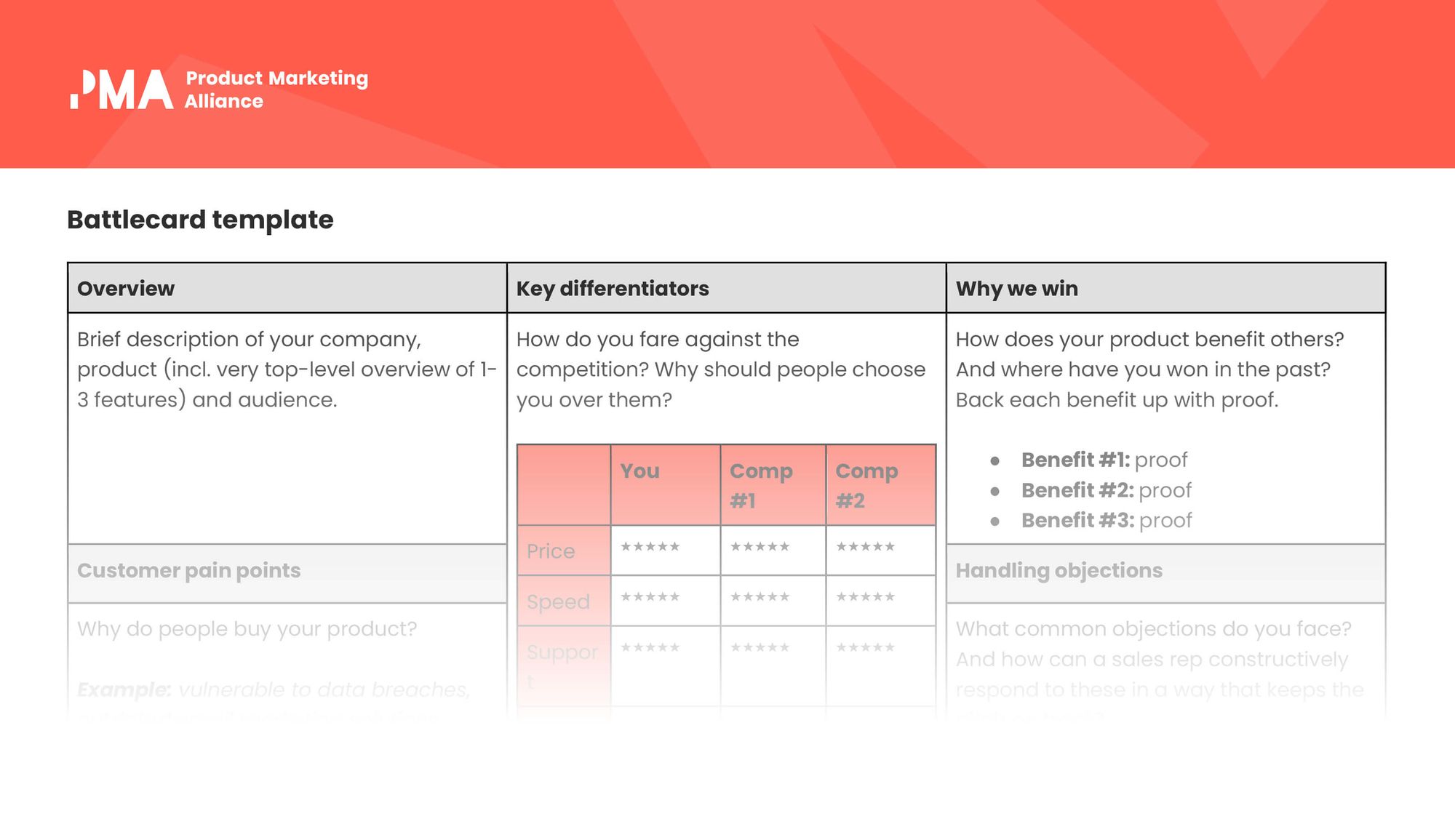 Sales script - Sales scripts provide the perfect opportunity to equip your team with a set of talking points and guidelines to help them navigate the trickiest of scenarios.
Sales one-pager - As the name suggests, a sales one-pager is a one-page document providing an overview of a product, service, or business.
Product sheet - A product sheet serves as a reference point for sales teams if they're asked to explain the more technical features of a product or service.
Which teams create sales enablement assets?
In the Sales Enablement Landscape Vol.2, we asked PMMs which teams create sales enablement assets at their respective companies.
There's been a monumental shift as far as who is responsible for sales enablement is concerned.
An area once owned primarily by marketing, our research suggests the task now falls under the remit of product marketing.
With this in mind, it wasn't a surprise to see an overwhelming majority of product marketers (94%) say they're responsible for creating sales enablement assets, such as battlecards, comparison sheets, one-pagers, etc.
But which other departments are responsible for creating sales enablement assets?
When we posed the question, 4.8% said marketing also creates materials, while just 1.2% said product chips in and plays their part, a far cry from last year, when the load was shared across product, marketing, sales enablement, and customer success.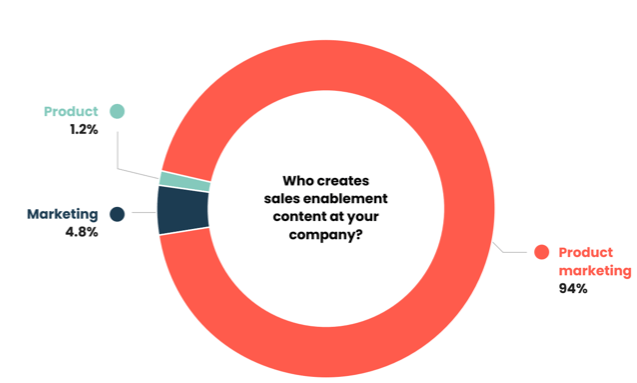 Professionals from within the product marketing industry gave their reaction to the news that an overwhelming majority of PMMs are tasked with creating sales enablement assets within their organizations.
"If 94% collaborate with sales and other stakeholders and don't make the assets from a single point of view, it makes a solid ground for a good enablement program."  
Igor Kranjčec, Head of Marketing at Mediatoolkit
"Product marketing should be the production house for enablement resources. It's the easiest way to keep the go-to-market team speaking with a single voice. However, it should be a collaborative process, in particular those in customer-facing roles."
Spencer Grover, Senior Product Marketing Manager at LevelJump
Why do you need sales enablement assets?
You may think sales enablement assets aren't needed at your company - particularly if your sales figures are through the roof.
If you're unsure whether sales enablement assets are needed at your org, consider:
Are you hitting your sales goals?
Can you confidently say your sales reps know your product, inside and out?
Can you improve seller quota attainment?
If you've answered 'no' to any of these questions, it's time to put on your thinking cap and consider the most suitable sales enablement assets for your company.
Even if you've answered the aforementioned questions with a resounding 'yes', this doesn't necessarily mean you can consider yourself exempt from the world of sales enablement assets. Businesses are notoriously unpredictable, and while everything could be plain-sailing today, there's no guarantee that'll be the case tomorrow.
For example, if you expand your sales team, you may need to formalize your onboarding process. Perhaps your reps have been tasked with selling an ever-changing product or service, in which case, the buying process could become more complicated, or your messaging or go-to-market strategy may need to be amended.
These scenarios aren't beyond the realms of possibility, and having the necessary sales enablement assets in place can help you maintain sales figures during a transition period.
If you're not 100% convinced, check out our sales enablement scorecard, to give you an indication of how strong your current sales enablement setup is.
Expert sales enablement advice
With sales enablement playing an increasingly prevalent role in product marketer's day-to-day tasks, we spoke with Kelly Esten, VP of Product and Partner Marketing at Toast, who offered her invaluable insights on effective sales enablement assets, how to measure the effectiveness of sales enablement, and much more.
Recommended sales enablement assets
Q: What type of sales assets work best for you? Are there any out-of-the-box sales enablement tactics you've tried and had great success with?
A: We use a lot of things, such as battlecards, demo scripts, and video demos. Our sales team leverages a lot of our online content, so it can be used directly by prospects and by our own sales team - things like comparison pages, blog posts, content assets, product pages, etc.
Also, we create some sales playbooks, which have been well received, especially for major segments we target (types of restaurants, for example), or for major product launches. These playbooks have all of the resources related to that segment or product in one place including messaging, links to assets, objection handling, ways to source leads, and so on.
Finally, in a COVID world, we are putting more emphasis on sales decks since most of our meetings are remote. This is new for us since traditionally you wouldn't walk into a restaurant and give a formal PowerPoint conversation.
Benefits of using a dedicated sales enablement team
Q: How does sales enablement work at Toast? Do you have a dedicated sales enablement team? If so, how does that work for you, i.e. where do you and their lines begin and end?
A: We do - there is a dedicated sales enablement team within sales, in addition to a lot of enablement work that happens on my team.
The way we work together is sales enablement is responsible for standing up forums or ways to reach sales (weekly training, team meetings, QBRs, in-person training, etc.), and we plug into those forums with the product, competitive, market intel, and messaging content.
The sales enablement team gives us feedback on the content in development to ensure it will resonate with sales, fits into our sales methodology, and makes sure it's interactive and engaging. They also go out and repeat and amplify our training in smaller group settings.
Finally, they are responsible for some types of training, like sales skills training, where we have input on those types of training (e.g. around objection handling or discovery). We'd be coming up with the answers to objections or the types of discovery questions, but they're developing it as a skill.
How do product marketing and sales collaborate?
Q: How often does product marketing touch base with sales at your org?
A: Daily! We are in constant contact with sales, and there's a bunch of ways we do this and levels we engage at.
From a meeting perspective, we do weekly product training, attend sales leadership weekly calls, and then run a more formal monthly win/loss call where we are sharing insights from our team on what we're seeing in the data and they're sharing back what they're hearing from their reps. We also (in normal times) get together in person once a quarter for QBRs which include business reviews and training.
I've also set a "quota" for our team to do a certain number of ride alongs per month with sales. This allows them to hear their messaging live, hear objections from customers and prospects, and walk a mile in the sales team's shoes. This is a big hit with our team and with sales.
Finally, I'm constantly asking for feedback from top-performing reps and sales leaders on everything we do. The Slack conversations with sales are hourly - answering questions, getting their input on work in progress, etc. Nothing goes out to sales without the input of several reps and managers to make sure it will work for our team.
How to measure sales enablement
Q: How do you go about measuring your sales enablement efforts? A lot of people look at sales asset usage and/or run surveys with their sales guys, but can this be handled in a different way?
A: That's a great, tough question. The gold standard for measuring sales enablement efforts is to tie it directly back to a sales metric, so we try to do this whenever possible (although it's not always clear causation, to be fair).
It could be moving the needle on a new product attach rate or leads generated for a new product immediately following training. It could be something like improvement in demo>quote conversion rate after doing demo training or new demo scripts/videos.
We measure competitive win rate religiously and in a lot of detail - so when we run competitive campaigns or promotions against certain competitors, we can usually see a movement in win rate vs. that competitor after our push. My team is also incentivized on sales productivity and win rate, so we try to tie everything we can back to that where possible.
We don't currently have a measurement of our sales asset usage, but that's something I'd love to be able to do - particularly to tie it to winning opportunities rather than just downloads.
Finally, we do a lot of testing and certifying of our reps after training, so pass rates of reps tell us whether or not our training was effective.
Recommended sales enablement software
Q: What are some software products you recommend for sales enablement? Anything that helps reps get ramped to quota faster?
A: For ramping reps, in particular, we use an LMS (learning management system) to put them through training and quizzes to make sure they are going through and understanding our content.
We also use a weekly quizzing tool that is competitive across the whole sales team so they can stay fresh on their knowledge. Other than that, we're pretty basic, leveraging Google sites and Google Drive, Slack, and email to make sure they have the latest.
We do have a ton of software that optimizes sales productivity and we find we get a great ROI on that, but sales enablement has mostly been done by people to date!
How to measure sales enablement ROI
Q: How do you measure ROI, or in this case impact on sales pipeline, of sales enablement activities? What would be some tactics and best practices you'd recommend?
A: For webinars, we're using those post-training quizzes to understand whether a particular training was effective, and then we're using sales metrics to understand whether a set of tactics (tools, assets, and training combined) are moving the needle on a particular topic.
For broader training programs such as in-person workshops, a weekly training series, etc. we're looking at trends over time. We went through a big growth phase at Toast in our sales team over the past few years, and we were able to continuously improve sales productivity despite dropping tenure and adding lots of new reps. We took this, in addition to feedback from sales, as an indicator that generally our enablement was working.
How to improve your sales enablement assets
When we surveyed product marketers in preparation for the State of Product Marketing Report 2021, 78% identified the creation of sales collateral as a core PMM responsibility.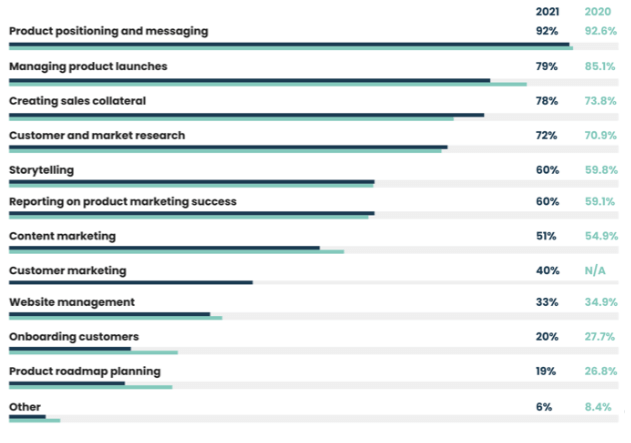 With more product marketers being tasked with creating sales enablement assets, it's essential to understand the essentials of the area; sales enablement certified includes all the tools required to design and launch impactful sales enablement programs for your team.
The jam-packed course is delivered by Sapphire Reels, Senior Manager of Portfolio and Integrated Marketing at Pluralsight, an expert in the field responsible for leading teams and evolving the company's story as a multi-product platform, as well as evolving the company's story as a multi-product platform, and creating/deploying globally integrated marketing programs.
Enroll now and explore a comprehensive insight into key sales enablement topics that'll help you:
👊 Articulate the importance of sales enablement and sell it internally.
🔥 Design a sales enablement program from scratch based on business objectives and sales needs.
🚀 Launch and iterate on sales enablement programs.
🤑 Demonstrate the impact of sales enablement on the business and revenue generation.
It's the perfect prelude to creating perfect sales enablement assets.
Pre-order using coupon code SE-PREORDER and get $100 off.
Get SE Certified