This article derives from a presentation at the Competitive Intelligence Summit, in June 2022. Catch up on presentations from the event using our OnDemand service.
Hello, my name is Ben Hoffman, and I'm the Senior Manager of Competitive intelligence at the Adobe DX Competitive Center of Excellence. I'm absolutely thrilled to be able to share with you why competitive intelligence programs fail and some things that you can do to avoid failure and be successful as a CI function.
I've got a pretty straightforward agenda. I'm going to be kicking things off by talking about the current state of the CI profession. This is intended to set the table as we pivot over to the main part of the article, where I'll be talking about some common CI blindspots and what you can do to avoid them.
Just a quick note: I'll be speaking primarily from the standpoint of an enterprise-level organization, although every now and then, I'll share information that spans the whole gamut from small to midsize businesses all the way up to large enterprises.
In this article, I'll focus on:
The current state of the CI profession
Competitive intelligence blind spots
The current state of the CI profession
To get things started, I want to talk a little bit about the CI profession and much it's grown over the last few years. More companies than ever seem to be hiring for CI roles, often either to build a program from scratch or to elevate an existing program to the next level.
According to Crayon's 2022 State of Competitive Intelligence Report, 42% of all companies are planning to grow their CI headcount in 2022. I believe Klue pegged that at just over 30% for the same period, so you can think of it as 35% – a pretty healthy clip. These numbers may change, given that we're entering an interesting phase of the economy, but for now, they look pretty impressive.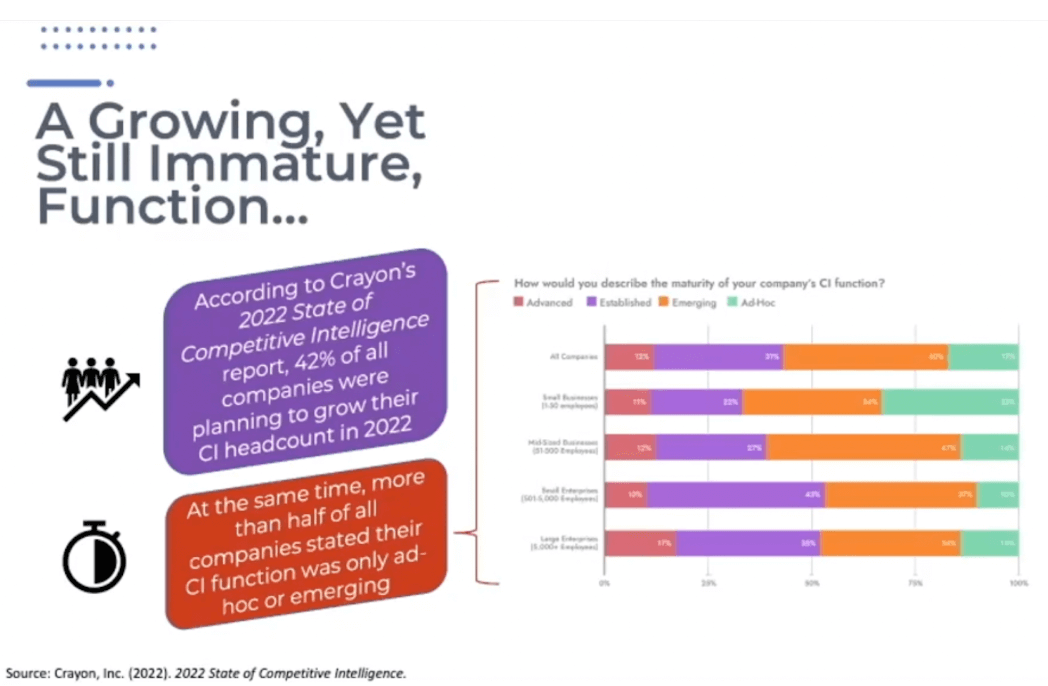 At the same time, more than half of all companies stated that their CI function was only ad hoc or emerging. Although this was especially the case for smaller companies, I was surprised to see that just about half of all large enterprises still have immature CI functions. Clearly, there's still plenty of room for growth when it comes to CI programs within these organizations.
Crayon's report also highlighted the value competitive intel is bringing to today's organizations. In 2022, a whopping 77% of companies reported that CI was either important or absolutely critical to their success.
In fact, the report stated that the number of respondents who cited CI as being absolutely critical to their success has increased by 23% from two years ago. There's not only a growing demand for CI but there's massive value in it. That's a powerful combination.
Simultaneously, the market is growing more and more competitive. In 2022, a whopping 94% of companies claimed that their respective market has gotten more competitive in recent years. More respondents than ever claimed that their market was getting "much more competitive."
Similarly, the Product Marketing Alliance conducted a study with Klue titled The State of Competitive Enablement Report 2022, in which nearly 89% of respondents stated their competitive landscape has become more competitive just in the past year. About 83% claim that their market has become more crowded during that same timeframe. These are pretty remarkable numbers.
So, what does all this mean? It's simple: competitive intelligence is more important than ever.

But there's just one problem, and it's a pretty big one. The issue is this: competitive intelligence is a highly complex function. With complexity comes blind spots, and with blind spots comes the potential for failure. So what types of blind spots are we talking about here? Let's take a look.
Competitive intelligence blind spots
Blind spot #1: Creating a cookie-cutter CI program
The first blind spot is creating a cookie-cutter CI program that ignores the individual needs of different teams and stakeholders. Most CI functions serve a variety of stakeholders. One of the first steps for any CI program is to understand who these key stakeholders are. In most cases that will consist of any or all the following:
Sales: They want to know where your brand or product is differentiated and what your key strengths and weaknesses are.
Marketing, specifically product marketing: They're wondering things like what unique messaging or positioning to use. They want to know your competitors' value propositions so they can be sure to do something different.
Product management: They're hungry for knowledge about any gaps in your product., as well as the latest competitor products and market trends.
Customer success: They need intel on the latest competitor news and announcements around products and pricing. That way, as clients are coming up to their renewal time, CS has the right ammo in place to talk with them.
Solutions consulting and engineering: They're thinking about much more technical aspects of competitive intelligence, like how the UX and UI compare.
The C-suite: They're thinking about big ticket items, like what they need to do to keep the business afloat and the customer base growing.
Customers: Sometimes competitive intelligence can be customer-facing in part. Your customers want to know why they should go with you, and what makes you better than the competition.
Partners: They might be helping you to sell your product, so they're thinking about what they need to know to help your product stand out from the competition.
If we don't create tailored content for each of these different areas, our stakeholders are not going to be happy, so let's look at some of their different needs.
Single stakeholder groups
As a CI function, you might be focused just on a single stakeholder group, though that's pretty rare. Maybe there's a primary focus on sales; even within that, you can still have nuances.
For example, there might be geographical differences – you might have salespeople in Europe, APAC, and North America, and they're all gonna have different needs.
Then there's tenure. The person who joined the company last week straight out of college is going to have a different understanding of the competition, the markets, and the products than the person who's been in the field for 20 years. That really impacts the types of content and intel you should be pushing out.
You also need to consider people's preferences for how and how often to digest intel. Some might want written intel, like battle cards. Others might want weekly podcasts. Others might want quarterly demos.
And you can't forget about individual goals and objectives. If one person is focused on hitting their quota, another might be focused on breaking into new markets or regions. Their needs can vary quite a bit.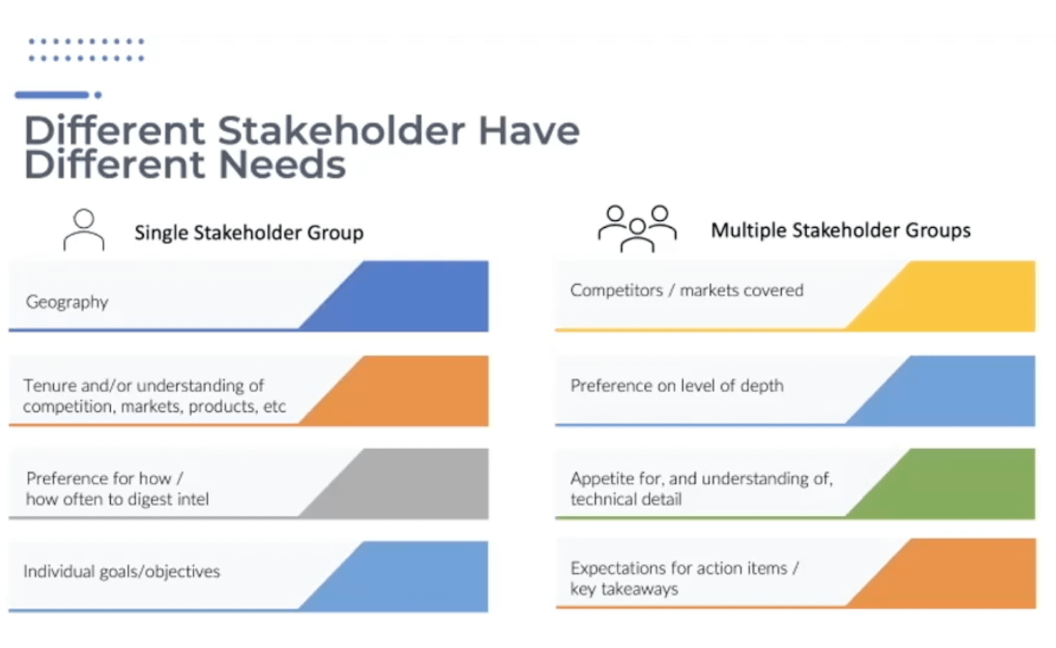 Multiple stakeholder groups
As I mentioned earlier, CI is generally focused on different stakeholder groups. On top of the different needs we see among single stakeholder groups, there are a host of other factors that can vary from group to group. For example, they might want you to cover different types of competitors and markets.
You'll probably also find differences in the level of depth each group needs from your intel. The C-suite probably just wants the key takeaways on the competition, while a solutions consultant might want a long document on the key differences between competitor X and your company.
Similarly, there's probably a different appetite for technical detail. That solutions consultant is going to want that information down to the smallest detail, but the salesperson probably doesn't want all of that.
The last thing is that expectations for action items and key takeaways are going to be different from team to team. The product management team is going to want action items that feed into their product development process.
The sales team is going to want to know what key advantages to highlight when they talk to customers or prospects. The marketing team's going to want to know about unique messaging ideas that they can throw into their content.
How to ensure you're meeting all stakeholders' needs
There's a simple framework you can use to solve that issue pretty nicely and make sure you meet all your stakeholders' needs. It has four stages: Plan, Do, Check, and Act.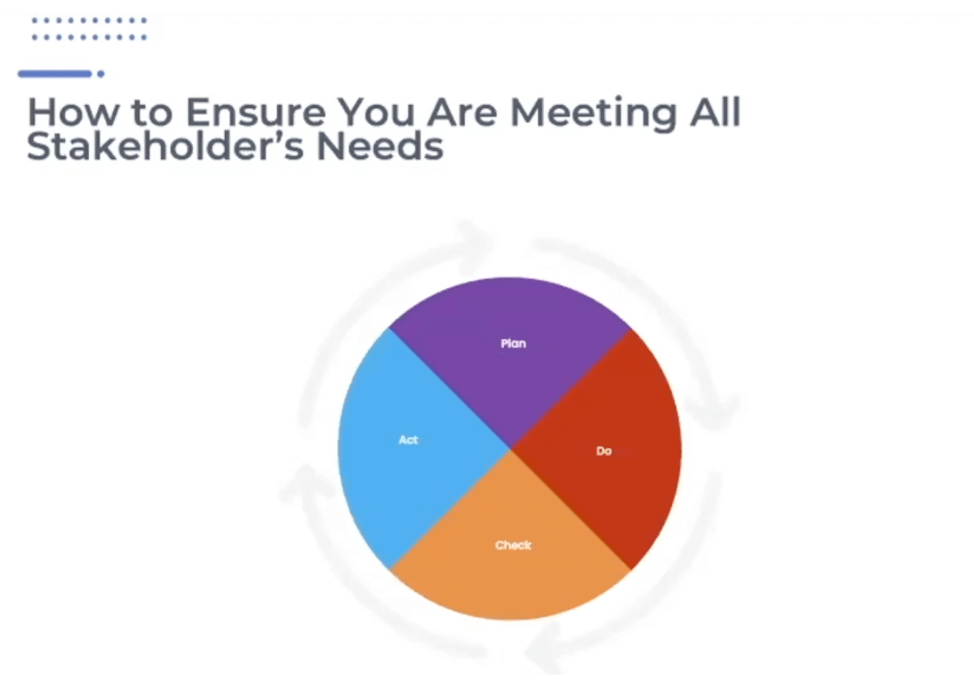 Before we jump into anything new we have to plan. We want to understand our stakeholder's overall business objectives; that way, when we get to the Do phase, we're asking intelligent questions because we know the right things to probe.
Once we get those business objectives, we want to do a segmentation analysis to understand who our stakeholders are. We can run surveys to try to understand who needs competitive intel, who's asking for it most, and which teams might be the best fit to receive it.
The second is the Do phase. That's where we start to meet with and/or survey stakeholders – ideally, we'll meet and have one-on-one conversations. Here's a small sampling of the types of questions we can ask in those conversations.
What are your needs, objectives, and key pain points?
What are your stakeholders' key needs, objectives, and pain points? (It's not always about just your stakeholders – it's about their stakeholders too!)
What types of programs and content would be most helpful to you?
Which competitors do you want us to focus on?
Who do you see as the biggest threat?
From there, we hop over to Check. This is less about asking what people need and more about confirming you're on the right track. You probably already have some competitive intelligence (you might be starting from scratch, but chances are, you've got something out there). To check if this intel is useful, you can ask questions like:
Is this what your team needs?
Is this what you as an individual need?
What sorts of content programs would be useful to you?
Is there enough technical depth there for your needs?
The fourth step, of course, is to act to build those improvements. You need to take a 30,000-foot view of all that feedback you got, parse it out, then start building those improvements into the program. That's not going to happen overnight, but the cool thing is you can start to benchmark this and rinse, repeat, and iterate to get to a really good place with your CI function.
When you've done all this, your stakeholders will be delighted, and that's what you want. The goal is for all your stakeholders to be satisfied with what you're doing as a CI function.
Blind spot #2: Neglecting to put the puzzle pieces together
The second blind spot is having a ton of great intel at your disposal but not putting all the pieces together. You might be looking at competitor news, market trends, internal data from your CRM, competitor product updates, tech trends, and your competitor's financials – all of those elements in isolation provide a nice glimpse into the market, but together they provide a much more powerful picture.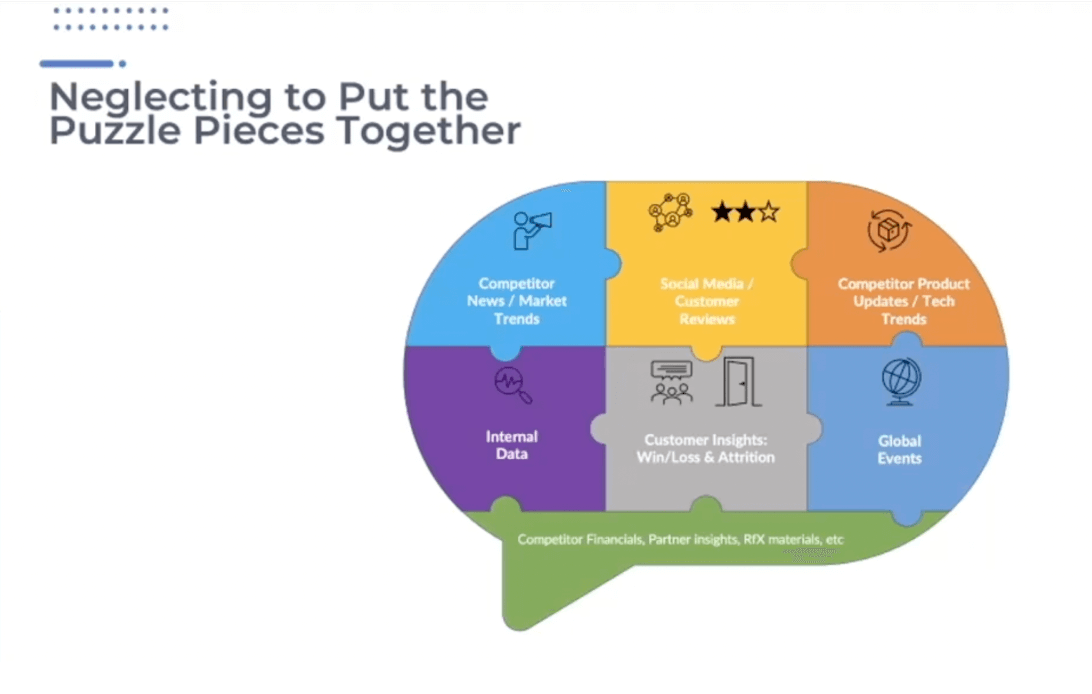 The other thing is that different teams in your organization have probably done some form of competitive intel already. Maybe the sales team has done some; maybe the product management team has too, but it's staying within those teams and not being shared throughout the organization.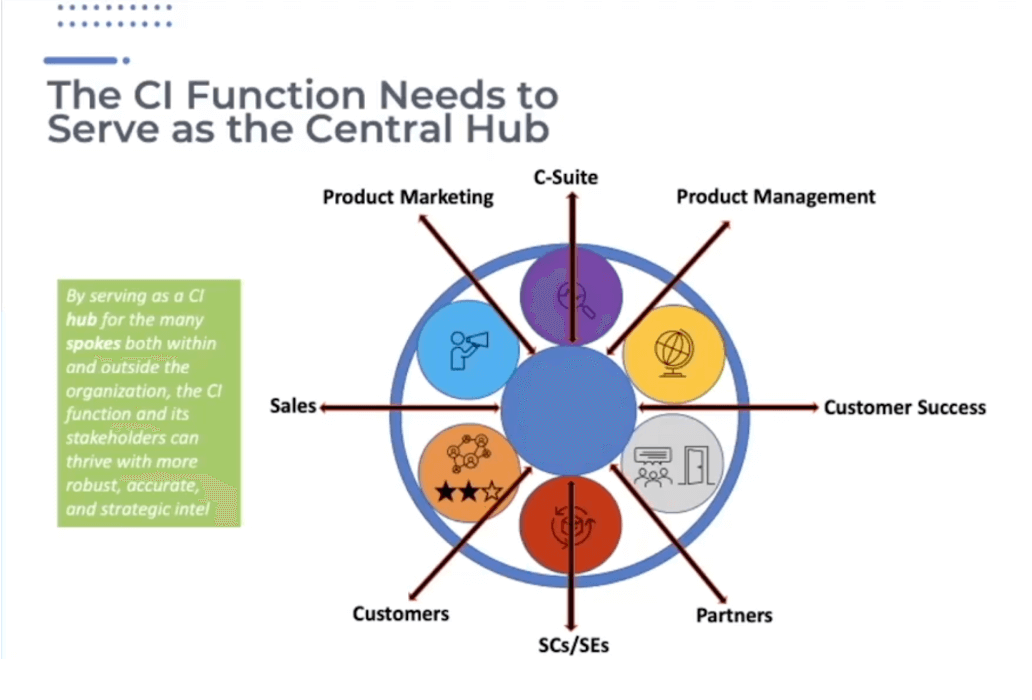 The CI function needs to serve as the central hub for all those disparate forms of intel and all the intel across different teams. You can then take a much richer view of those different areas. You can also vet your data with these different teams to make sure that the content that you're creating from that intel is as robust and strategic as possible.
I think this quote from Peter Mertens of Sprout Social sums it up nicely:
"Across departments, every employee in your organization should be a competitive analysis detective… but they also need a central team of experts to share those clues with. If competitive data is everyone's job, it's no one's job."
Blind spot #3: You don't really know who your competitors are
The third blind spot is not understanding who your competitors are. This usually happens when you or your company haven't done enough to forge the right infrastructure that will allow you to properly get that data.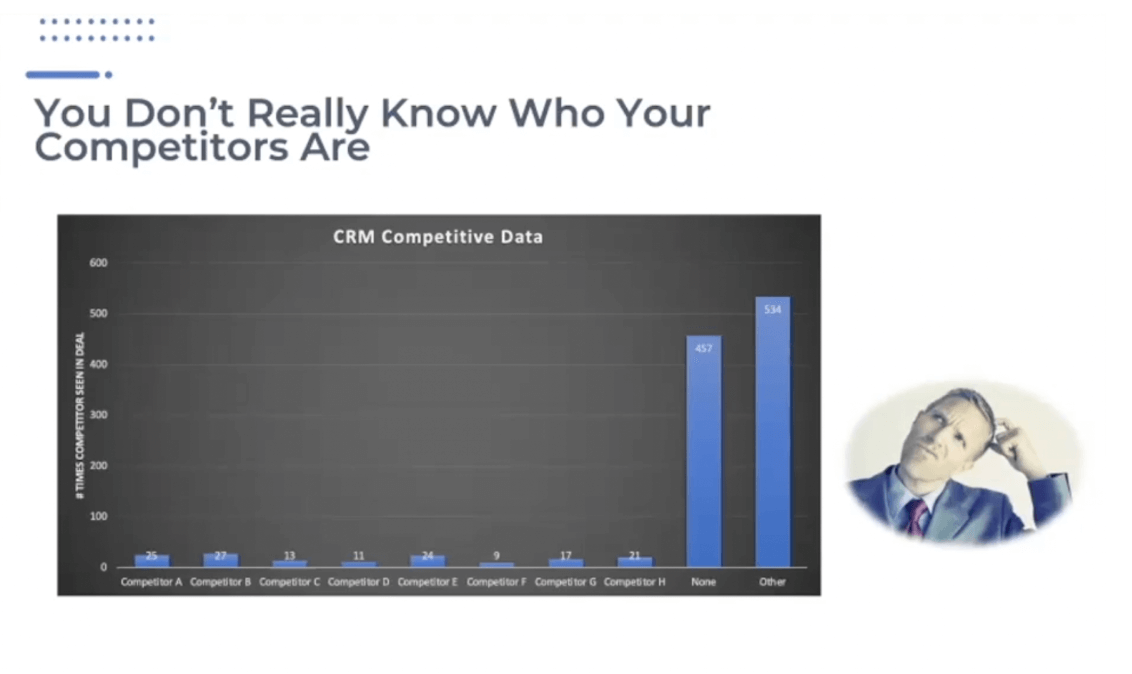 The chart above might be a familiar sight for a lot of you. I know I've seen it time and time again in my CI career. You've got some detail on your competitors, but you've got a lot of data that just says, "Well, it's some other competitor," or, "We don't have any competitors."
What this means is you're probably not tracking that data the right way within your CRM. Maybe it's not enforced. Maybe you're not asking the right questions. Maybe you don't have the right picklists.
Maybe there's no incentive to do it. Whatever the reason, your salespeople aren't inputting that data, so you're left with a data set that's basically useless and doesn't give you the right insights to be able to create powerful content for your stakeholders.
It comes down to this: CRM data is critically important. It should be gold for your CI function, but the unfortunate reality is that, more often than not, it's fool's gold. So how can we reduce the likelihood of this all-too-common scenario? There are six simple steps that will help you to set yourself up for what I call CRM gold.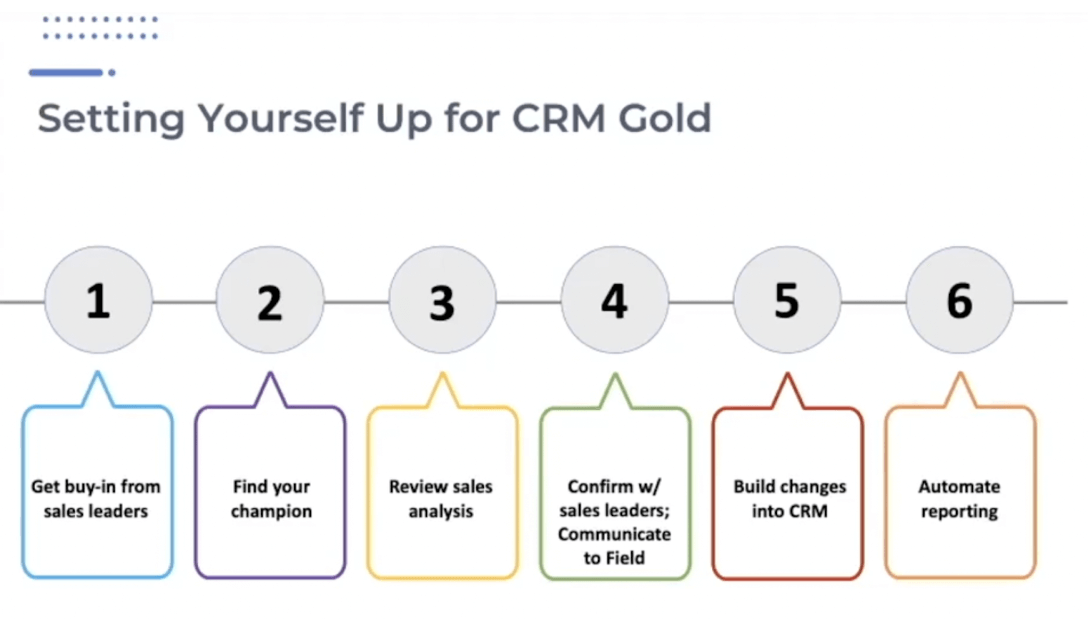 The first step is to get buy-in from the sales leaders. You want them to understand why their teams should take the time to put information into the CRM. They're already spending all day in there, yet they often think they don't have the time. It's up to you to define for them why it's to take a moment to enter competitive information.
You probably want to incentivize your salespeople, especially at first, because this is a little added time on their part. It's crucial that they're putting the right competitive information into the CRM, so whether you offer a Starbucks gift card to the first 100 people who put in competitive information, or you pick a winner out of a hat, you've got to make it worth their while.
Step two is to find a champion – someone in sales ops or a CRM or admin. You want to collaborate with them to develop project goals and plans and develop ways to improve the flow within your CRM so that this data can be richer.
Step three is reviewing sales analysis. That's going to enable you to get information on where in the sales cycle competitors are appearing most often, so you can better understand where in the CRM there should be questions about which competitors are on your customers' radars. This is a very important and informative part of the process.
Step four is taking that information back to the sales leaders, confirming it with them, and making sure that everything looks right. Then you want to work with them to communicate the changes you're going to make to the CRM so that they know what to expect.
The fifth step is to start building a comprehensive pick list of known competitors – your sales analysis and other competitive information can be helpful in knowing who exactly those competitors are – and building that into the CRM.
You need to build in the ability to select multiple competitors, as well as a primary competitor. For closed won or lost deals, salespeople should be able to add a list of reasons why you won or lost.
In some cases, you can add competitive dropdowns in multiple steps of the process so if a competitor drops out or a new one shows up, you have that information. However, you might want to start a little bit simpler so you don't overwhelm the sales teams.
The last step is building reporting into your CRM to automate the capture of this data. That way, every week, month, or quarter, you're getting an update on who the competitors are and why you're winning and losing.
Blind spot #4: Forgetting that CI tools are only half the battle
The final blind spot that can lead to failure is leaning too heavily on your CI tools. There are plenty of great CI tools out there to help you monitor news on your competitors, track changes on their websites, determine the share of voice across social media, and much more.
As great as these tools are, without human intelligence to decipher what it all means, those tools are as good as wasted money. Ideally, the CI function should pair each of these tools with one or more analysts to make sense of the intelligence they gather.
Alok Vasudeva is a good friend and mentor of mine, and he came up with this great quote: "Collection without analysis reverts the analyst to the role of a librarian." Being a librarian is essentially part of the role – you're capturing and curating all that intel – but you also want to be a strategist and an analyst.
The analyst is critical for identifying the competition, making sense of what's happening in the market, drawing together several news articles to figure out what's noise versus what's important, and, of course, sharing insightful updates with recommendations to the right stakeholders.
Key takeaways
That's pretty much it from me. Before I go, let's just recap some of the key takeaways.
You need a captain for your competitive intel ship. Good news! Between sales, marketing, and product management, you probably already have a crew. You just need to be the captain and bring that crew onboard, understand their needs, and work with them to build a world-class competitive intelligence program.
Not every stakeholder wants the same thing. Good news! If you take the time to learn about each stakeholder's needs, you can help build the crew for your CI ship, killing two birds with one stone.
Your CRM data probably isn't great. Good news! You have the tools and resources to improve this. CI software is awesome, but it ain't enough. Good news! The combo of those tools and dedicated analysts is immensely powerful.