"There will be fat years, and there will be lean years - but it's going to rain."
As Mr. Don Draper of Mad Men so aptly put it, while it'd be nice to expect sales and accolades as long as your arm, it's borderline impossible to expect sustained, uninterrupted success, year after year.
However, you can try your damnedest to make sure you're doing all you can to at least try to convert your prospects and rake in the sales. 🙌
So, to nab another phrase from the emperor of advertising: "Stop talking and make something of yourself."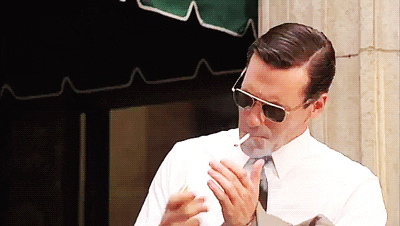 What is the best sales enablement tool?
Whether it's email tips for sales reps, meticulous planning when orchestrating localization strategy, or a greater emphasis on the role of use cases, companies are continuing to invest in their sales enablement efforts.
And you need to, as well.
But sales enablement doesn't stop dead with the implementation of competitive battle cards or survey tools. Companies are making concerted efforts to build the bridge between marketing and sales with the introduction of sales enablement tools.
And it shouldn't come as a surprise that we've seized the initiative, popped on our PMM specs, and scoured the market for the best sales enablement tools on the market.
Only Mad Men would dare doubt our ability to deliver the goods. 😉
🏅
Enroll in
Sales Enablement Certified
and gain key knowledge needed to launch powerful sales enablement programs.
Join highly-distinguished sales enablement expert Sapphire Reels, and discover how to:
👊 Convey the importance of sales enablement and sell it to key stakeholders.
🔥 Design a sales enablement program from scratch in line with business objectives and sales needs.
🚀 Launch and iterate on sales enablement programs.
🤑 Communicate the impact of sales enablement on the business and revenue generation.
Refine your strategies
Gong
Gong gives you insights into the sales conversations that work so you can improve the ones that don't. It tells you what to talk more and less about - based on data, assembles multiple channels in one place - like calls and emails, and puts conversation intelligence at the heart of transforming how you go to market.
Company URL: www.gong.io
PMA Verified: PMA Approved
Price: Not available online
"Set up keyword alerts for the products you own. You'll get alerts for when and how often it's brought up in conversation during opportunities and then you can go and playback how it was positioned - not just the content, but the tone of voice, level of engagement, and salesmanship of the rep. If there's a lack of enthusiasm, there's a role that PMMs can play to highlight the value of the product with sales."
Phill Brougham, Product Marketing Manager at Trint
---
Seva
Seva is a single source of truth for modern go-to-market teams. We're a great fit for teams who rely on apps like Google Drive, Box, Dropbox, Confluence, and Slack to run their sales & marketing operations. Why? With so much knowledge hiding within them, teams spend hours trying to find and verify the information in them. Seva works by unifying the knowledge in each of those applications into a single, searchable, organizable source of truth. And best of all, you and your teams can be productive in days.
Company URL: https://www.hiseva.com
PMA Verified: PMA Approved
Price:

"As soon as we launched Seva at Simulmedia, our sellers began discovering and using more content than ever, allowing them to spend more time in sales motion. It enables sellers to be self-sufficient and gave us in Marketing confidence that our content was being used accurately and quickly. The unique aspect of Seva that turned us on is their differentiated approach to onboarding, which focuses on achieving the lowest time to value of any solution."
Todd Leonard, Digital Marketing Manager, Simulmedia

---
Xactly
Xactly offers a suite of products to cater to the planning, execution, optimization, and data integration of sales teams' incentive compensation. It's powered by AI and, in essence, puts science into the process so decision-makers can maximize the return on incentives. It also aligns sales and finance, ensures accurate forecasting, and automates commission processes.
Company URL: www.xactlycorp.com
PMA Verified: PMA Approved
Pricing: Not available online
---
Folloze
Combining experience, personalization, and orchestration engines, Folloze helps PMMs build engaging campaigns - like content sites, resource centers, newsletters, and event promos, that are tailored to suit visitor, account, and predictive intent data. Then, real-time results are ready for your sales team to deliver kick-ass pitches.
Company URL: www.folloze.com
PMA Verified: PMA Approved
Pricing: Not available online
Refract
Refract helps you learn from your top sales performers so you can take their formula, enhance it, and roll it out across the rest of your reps. It provides key, coachable insights and moments with things like hot and cold words and the number of questions asked per call (no call riding required), and then its coaching platform helps you focus on ensuring everyone's delivering the same standard of quality.
Company URL: www.refract.ai
PMA Verified: PMA Approved
Pricing: Not available online
---
G2
With 100s and 1,000s of validated reviews on everything from marketing and IT infrastructure software to business and translation services, G2 takes the guesswork and risk out of buying decisions. They've also got a whole host of products to help organizations scale with confidence, like:
• Marketplace profiles
• Customer reviews
• Buyer intent data
• Influential content
• Competitor insights, and more.
Company URL: www.g2.com
PMA Verified: PMA Approved
Pricing: Not available online
---
Highspot
Highspot makes it easier for your reps to find the content they need - when they need it, guides them through how to best use said assets, keeps them connected and up-to-date, facilitates interactive training and guidance, and helps sellers stay up-to-speed with today's fast-moving buyer climate. All so you can get the most out of every customer conversation.
Company URL: www.highspot.com
PMA Verified: PMA Approved
Pricing: Not available online
"Highspot's smart pages are a great way to create product kits centralizing all product-related materials and messaging and are especially helpful for companies with large portfolios."
---
Mindtickle
MindTickle puts data at the heart of helping customer-centric companies maximize their team's skills and customer's experiences by engaging employees with things like gamification, role play, and micro-learning to enhance frontline interactions and ensure everyone's doing your product or service justice.
Company URL: www.mindtickle.com
PMA Verified: PMA Approved
Pricing: Not available online
"MindTickle is our sales readiness platform. We use it to push out content and training to the sales team, assess their knowledge retention, and certify them on their pitch. It provides good insight into whether the training you are publishing is being consumed and how well people are retaining the information. MindTickle is an integral part of our sales enablement program."
Daniel Kuperman, Director of Product Marketing, Snowflake
---
Bigtincan
The Bigtincan Hub is an AI-driven, sales enablement automation platform. As well as automating manual tasks with their Forms, simplifying content creation with their Studio and delivering immersive experiences with 3D technology, their Genie acts as a virtual assistant to serve sellers the content they need there and then, and answers questions like "When is my next meeting?"
Company URL: www.bigtincan.com
PMA Verified: PMA Approved
Pricing: Not available online
---
SalesLoft
Created for salespeople, by salespeople, SalesLoft's email service comes packed with templates, account tiering, personalization tools, and A/B testing. Its other products let you record, take notes, transcribe and share calls, gather actionable intelligence, automate multi-touch cadences, optimize sales activity, and so much more.
Company URL: www.salesloft.com
PMA Verified: PMA Approved
Pricing: Not available online
"I use SalesLoft to draft, monitor, and measure BDRs' outbounding. Since we can create mass cadences, I can test and tweak our product messaging and have a gauge on how it's resonating at the top of the funnel. That kind of messaging is massively helpful when it comes to then producing value props and hooks and determining which assets to produce, with what language. It's a great way to quickly test messaging at the top of the funnel."
Phill Brougham, Product Marketing Manager at Trint
---
Pipedrive
Pipedrive is an activity-based sales CRM. It visualizes the sales process in stages, prompts next steps so you stay on top of your pipeline, lets you send and receive emails in-app, automatically bumps tasks that are due or overdue to the top of your lists, and shifts activities down the line with a simple Kanban-style drag-and-drop board.
Company URL: www.pipedrive.com
PMA Verified: PMA Approved
Pricing:

---
Clari
Using automation and AI, Clari streamlines sales forecast processes, spots deal risks, manages pipeline health, drives full-funnel accountability, and gives real-time analytics that drive action. Some of its most highlighted features include enterprise-class configurability, data snapshotting, sales-ready AI, and seamless CRM syncing.
Company URL: www.clari.com
PMA Verified: PMA Approved
Pricing: Not available online
---
GetAccept
From generating leads all the way through to closing deals, GetAccept's an all-in-one B2B sales platform. Just a few of its top features include live chat, video and SMS communication, real-time contract editing without the need to re-send, electronic signatures, proposal templates, and trackable sales collateral.
Company URL: www.getaccept.com
PMA Verified: PMA Approved
Pricing:

---
Dashly
Live chat, visitor tracking, personalized messages, in-app comms, and user data are just some of the features Dashly comes with to increase leads and sales, boost engagement, and improve all-round customer satisfaction.
Company URL: www.dashly.io
PMA Verified: PMA Approved
Pricing:

---
Outreach
Outreach enables sales reps to drive more output with less input by creating best-in-practice sequences that incorporate multi-channel touchpoints, sparking personalized (yet consistent) communication, and delivering the insights you need to build a bank of customer-winning templates.
Company URL: www.outreach.io
PMA Verified: PMA Approved
Pricing: Not available online
"From a PMM perspective, this is a great tool to A/B test your messaging. You can get a small group of reps you feel would be good to test out new subject lines, approaches, or entire sequences altogether. You can see usage rates against all the other types of sequences and campaigns reps are using to find the types of messages that resonate most. I used this data to roll out a new pitch for training and onboarding."
Farhan Manjiyani, Product Specialist at Qu POS
---
Chorus
Do you ever wish you could clone your top sales reps? Well, you could say Chorus is one of the next best things. In brief, it reviews deals based on conversation metrics (like discounting, product and competitor mentions) and lets you know when and how often they were brought up so you can build a deal-winning cheat sheet.
Company URL: www.chorus.io
PMA Verified: PMA Approved
Pricing: Not available online
---
Jiminny
Jiminny captures all your customer conversations so you can understand what is and isn't working, coach your reps, put strategies in place, and, ultimately, seal more sales. With their video conferences, it even picks peoples' brains right after the call giving you on-the-spot feedback to work with.
Company URL: www.jiminny.com
PMA Verified: PMA Approved
Pricing: Not available online
---
Yesware
As well as providing time-saving inbox tools, decision-driving data, and lead-winning multi-touch campaigns, Yesware feeds you with intricate details - like how long a recipient spent on an attachment and which messages were opened, to ensure sales activities are truly personal.
Company URL: www.yesware.com
PMA Verified: PMA Approved
Pricing: Not available online
"Our company uses G Suite so I can only speak to the Gmail integration working well, but Yesware's a pretty solid email automation tool with Salesforce integrations. Templates can be hard to work with and trying to reorganize categories is a bit of a chore, but it's a useful tool."
Alec Pinkham, Director of Product Marketing at AppNeta
---
Cognism
Cognism's all about prospecting and lead gen. It comes with a bank of 400 million business profiles and 10 million companies to slice, dice, and find new ideal customers to target. With event-based triggers (like when a company receives funding or an individual gets a promotion, for example), you can also strike while the iron's hot without any manual intervention.
Company URL: www.cognism.com
PMA Verified: PMA Approved
Pricing: Not available online
---
Showpad
This one comes with two branches: Showpad Content and Showpad Coaching. The former gathers and presents content in one, intuitive location so reps spend less time searching and more time selling. The latter provides the onboarding, training, and coaching materials your reps need to deliver excellent experiences and convert more customers.
Company URL: www.showpad.com
PMA Verified: PMA Approved
Pricing: Not available online
---
DocSend
The name's a bit of a giveaway, but DocSend's all about sending documents - with a difference. You send everything (up to 250MB) via links, have the ability to switch off access at any time, receive real-time feedback, and are given the option to protect your doc with email or passcode verification.
Company URL: www.docsend.com
PMA Verified: PMA Approved
Pricing:

So, there you have it: a full rundown of 21 awesome sales enablement tools you can use to boost your numbers in 2021.
And if you're looking for in-depth insights into elements of sales enablement in the context of product marketing, get your copy of The Sales Enablement Landscape Vol.1, our deep dive into all areas of sales enablement.
Plus, if you want to get product marketing certified, Product Marketing Core includes a whole section devoted entirely to sales enablement.
Why not treat yourself? 😉