I have lost count of the times I've abandoned a product or service. Left for dead, discarded, shot in the head. Pulp Fiction style.
I have no remorse. I am unforgiving. I am a consumer and a buyer. Just like you and your customers.
Yet, so many companies don't seem to get it. They talk the talk, but unlike John Travolta and Samuel L Jackson, they don't walk the walk.
Are they a Royale with Cheese? No, they're more like the 99c menu. Barely satisfactory when it comes to demonstrating value.
In this article, I will discuss the following:
Why features in themselves are not valuable.
The different ways we can demonstrate value.
Why you should never, ever stop demonstrating value.
Before we do get started, here's a sneak peek of my discussion with Product Marketing Alliance's Senior Copywriter, Lawrence Chapman, host of the Product Marketing Insider podcast.
During our chat, I gave other perspectives on how product marketers can communicate the value of their product.
Now, let's set the ball rolling...
The F word is more than a dirty word
Inside most tech companies, the features conveyor belt keeps churning out new things to launch at an alarming rate.
Product marketers can't keep up, the market can't keep up, and your customers can't keep up. No one can keep up!
As a result, the messaging volume ends up like a visceral semi-automatic assault on our senses. Nobody wins. Fortunately, there is a better way.
As we learn about positioning, we understand that it is the value that customers want; that value is defined by the benefit it delivers, enabled by features, in that order. Features are merely a delivery vehicle, an Uber for delivering your benefit.
The benefit ladder is the simplest way to understand the effectiveness of what customers find most valuable.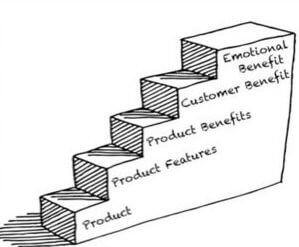 Let's use the Product Marketing Alliance's Pro Membership plan as an example to explain working from the bottom rung (least valuable) to the top rung (most valuable):
Product: Good old plain product.
Product features 100's tools and templates and 100's videos on demand of crucial content for product marketers.
Product benefits: Get the job done with best-in-class product marketing assets available nowhere else.
Customer benefit: You'll be a better product marketer because you have insight and assets that elevate you above your contemporaries.
Emotional benefits: Feel more confident and authoritative in your role.
The higher you can position your product on the ladder, the stronger your position will be.
So ask yourself, do you want to be at the bottom of the ladder? Unfortunately, by design or by default, too many of us are. Look up and start thinking about how you can climb up the benefits ladder, one rung at a time.
I hear it all the time… "Hey Harvey, we're being asked to launch 50 features a week, week in and week out, argh!!"
I get it, don't be depressed. There are some wonderful examples of how value is demonstrated, so let's dive in.
Let the product demonstrate the value
Case study: Grammarly
I am on a massive content creation bender right now and will be for the next six months or more. The amount of writing I'll be doing is more than I've ever done before in a concentrated timeframe. And I need help.
Creating so much written collateral started taking its toll on me. Proofreading, feedback loops, and re-writes for high volumes and frequencies are a burden but an essential part of the process.
But, oh my, it's tedious! The Pulp Fiction Travolta would not doubt pop a cap in it and be done!
Here at Product Marketing Alliance HQ, we're blessed with a stable of top copywriters, and I got a recommendation to try Grammarly.
Within five minutes of using it across all my written outputs from texts to Slack messages, articles (like this) and future course creation, I benefited from its inputs, helping me learn about my writing competency and style as I went.
However, the special sauce was its spontaneous periodic switch to the premium mode, adding more value as I worked. Some premium benefits, such as clarity-focused sentence rewrites, tone adjustments, and word choices, would signal themselves to me.
I benefited from something that would help me with correctness and efficiency in the face of my content bender. I couldn't ignore the benefit as I worked, then had the FOMO!
In less than a week, I was a Premium user, and I consider it one of the best value subscriptions I have.
The customer benefit on the ladder is simple; be a better writer.
The emotional benefit on the ladder; feel more confident and empowered as a writer.
The value shows itself, not just in real-time as I write, but weekly. I learn about my writing each week!
The team at Grammarly nailed the intersection at which and how Premium sells itself. 👏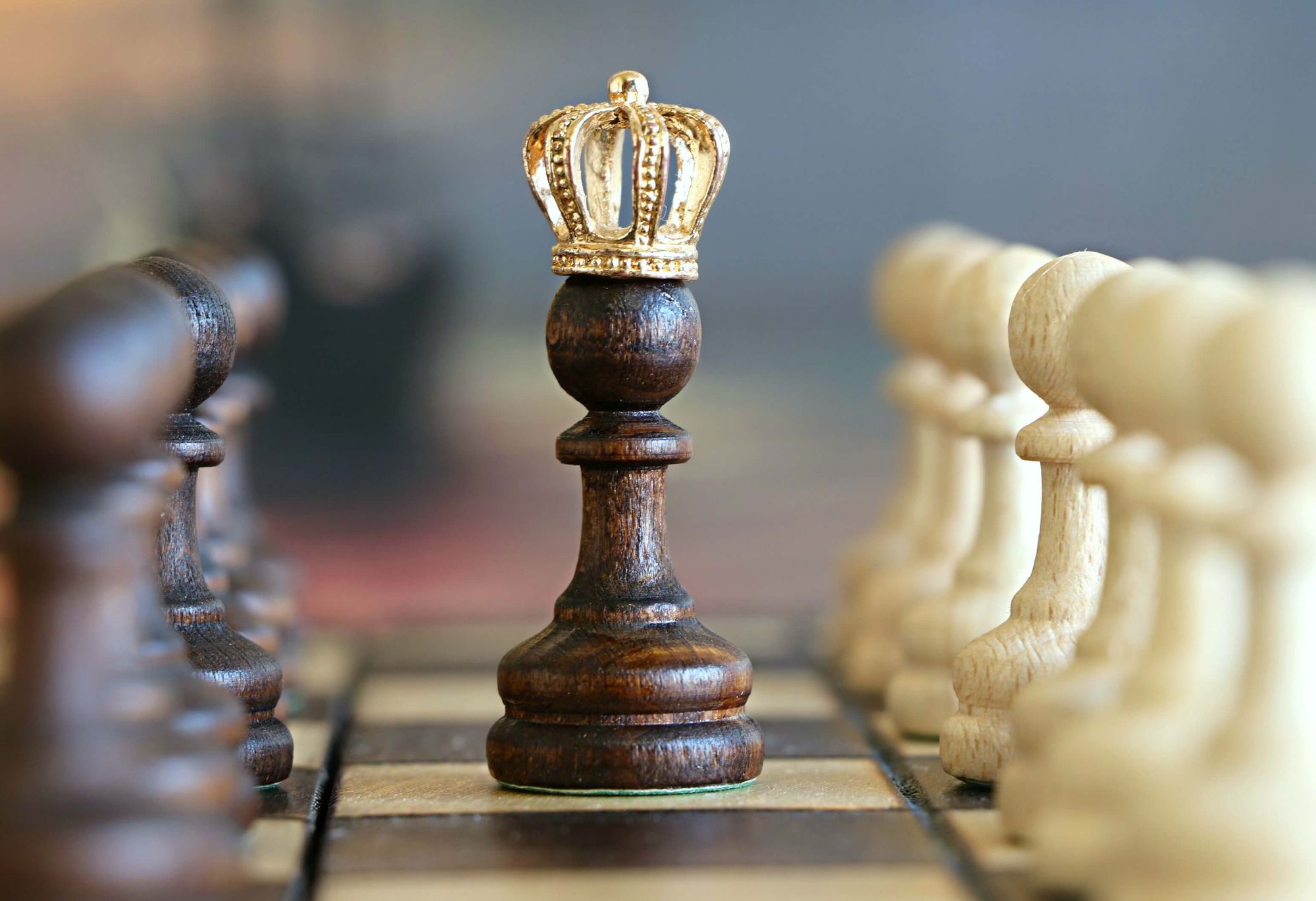 Leverage onboarding to demonstrate product value
Case study: Evernote
Evernote's onboarding is best in class and not just for me, but why? In two words:
Simplicity.
Focus.
Evernote has excellent data and research that shows the critical things in five steps that derive success with the product for its users and thus value.
Day 1 Welcome Email
Day 3 Onboarding Email No. 1 (create your first note)
Day 10 Onboarding Email No. 2 (all your stuff everywhere)
Day 17 Promotional Email No. 1
Day 19 Onboarding Email No. 3 (accomplish more with checklists)
Day 27 Onboarding Email No. 4 (how to email into Evernote)
Day 29 Did you know?
Day 31 Promotional Email No. 2
Day 33 Milestone Email
Day 36 Onboarding Email No. 5 (how to find anything)
The focus on value is clear. But the cadence and momentum are focused—one simple onboarding message with one key action over the first month.
Evernote knows they have a one-month window with users in which to create a dependency on the product. If the user is not getting value by then, they are unlikely to be users much longer.
Here are some tips from writer Marilia Dimitriou, on how you can create great email content.
When drinking from the firehose, you must manage the complexity to deliver simplicity
"I am Winston Wolf; I solve problems."
Actor Harvey Keitel, Pulp Fiction
As Quentin Tarantino and the cast wade through that soup of features your company's kitchen keeps on serving up, let's get practical on how we can manage the volume, frequency and quality of the features you are being inundated with.
There are three key objectives:
Make the benefit and value proposition understandable for your customers in a way they can process.
Make the work manageable for you.
Reduce the chaos. For everyone.
I often recommend my clients to 'cluster and theme' in this use case. What the heck is that? I hear you say! Simply cluster the features together to create a theme that is time-bound.
Let's say you have quite a few new features that support one particular area of your product, they are dropping from the product team each week, and you are drinking them from the firehose.
The controversial part is not to release them as they drop but to put them together, say next quarter and create a customer-oriented theme that your marketing, sales and company communications can rally around.
What you are communicating is the theme; the features are a vehicle to ladder up to benefits that are the constituent parts of the theme.
You can rally around quarterly customer-oriented themed releases with Webinars, PR, pitches, and marketing; there's no shortage of things you could do here. Be creative!
The key is the delivery of the three objectives listed above and putting your customers at the centre of your comms with something they care about. Not a myriad of features that they don't.
There's so much more to this than I can share here. Internal resistance and the fact that not all features are created equal for starters only scrapes the surface of the work you need to do with the product team in selling the value to them, but I hope I lit the touch paper on your thinking.
We can help our PMA consult clients with managing the complexity to deliver simplicity.
As The Fleetwood Mac classic song Says: 'Don't Stop'.
Value can be demonstrated and communicated in many ways. Which way is best is very much a case for you to answer.
However, companies' biggest mistake is that they think their job is done once launched. Looking at the campaign data from some of the best-executed campaigns, you are only about 20% done at launch.
You need to ensure you have more wood to put behind your offering, and key, even once you've made that sale, Don't Stop demonstrating value…your paying customer constantly needs to be reminded of the value of your offering.
Once they fail to get value, it is just a matter of time before you are eating from the 99c menu.
Stay safe. Look after one another.
Harvey.