Stop! Have you heard the big news?
On April 19th we're releasing our first-ever book Product Marketing Misunderstood.
Who's it for? If you've ever felt undervalued and unseen within your product marketing role, then this book is for you. It has been designed specifically to help you gain confidence in establishing yourself within your role, explaining your value to others, and give you the ultimate toolkit you need to go from…
Misunderstood to understood.
But we don't wanna leave you waiting… so we're picking up right where we left off and giving you the rest of chapter five for free - yes, free!
So, without further ado… here it is!
---
Chapter 5: First Impressions Count (cont.)
This is a continuation of chapter five. Click here to read the first part.
Create allies in product
There is a popular notion that product managers "put the product on the shelf," and product marketers "get the product off the shelf" by driving go-to-market strategy.
But this is a misconception and hugely undervalues the involvement of a product marketer. A product marketer's work begins much earlier than a product getting to the shelf.
The way product marketing teams and product teams interact will vary considerably from company to company, but whatever it is like in your company, you must build close-knit relationships with your product counterparts to give yourself a solid foundation.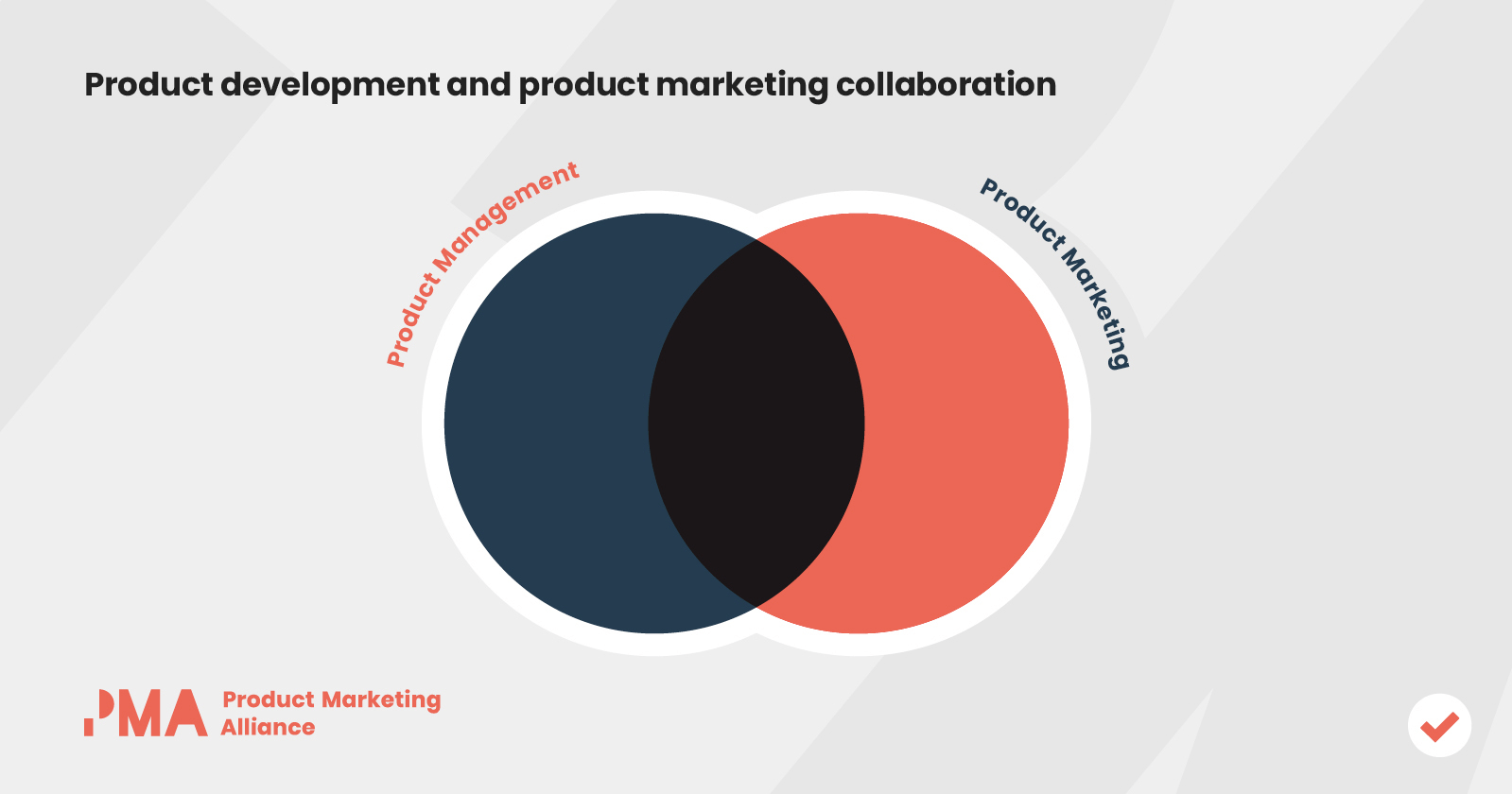 We can't stress how fundamental the relationship with product management is to your success as a product marketer. Pendo's Director of Product Marketing, Marcus Andrews, has eight great tips to share:
Understand your product: be a technical expert, know customer use cases of your product, have a strong demo game (you could jump on a sales call, jump on a support call, and do just as good a job as any salesperson/PM), and speak fluent PM (you know every feature in detail). The PM team knows you know your stuff because you're putting a lot of effort in.
Learn the roadmap: know the future product (what it is today and what it will be in the future), help paint that vision through your creative skills, defer to them rather than trying to dictate the product roadmap, and write about it to bring the vision to life (i.e., a memo or a press release can really help your PMs).
Understand their goals: know a product's goals, help set shared goals as a team so you have goal alignment, and build a shared vision.
Meet regularly: get to know them as individuals, ask questions, get them excited, and communicate in a way that works for both of you (i.e., a weekly meeting/Slack/in person).
Set clear expectations: demonstrate value/impact early and often to build trust, build an equal partnership (don't think that you work for the PM, etc.; you're all supporting the product, and the customers that use the product are the boss), make them aware to share (they won't have 100 percent of your time, all the time), and treat all your PMs equally; don't have favorites.
Learn the market: PM owns the problem they're solving for the customers, PMM owns the market. You're the experts when it comes to competitors, trends you're seeing, topics, etc. Deliver market insights/personas.
Give them the narrative: develop the story with your PMs and really involve them. Help them with words; they might write something super technical, but you can make it more straightforward/easier to read.
Be product-driven: become the voice of product outside of product and engineering, and push the marketing team to be more product-driven to ultimately solve for the customer.
The product team will be one of the core internal departments that you have the most interaction with. Gwendolyn Smith, Senior Manager, Product Marketing at a leading software company, explains: "We talk to the product team all day long, join their sprint reviews, and have a seat at the table for product council. Focused one-on-one time comes in the form of biweekly meetings as we align on market intel, release strategy, messaging, and promotions."
You must do all you can to make a good first impression if you are new to a company. If you have been with your company for a while and you don't have a great relationship with the product team already, perhaps you should make it one of your priorities. You won't be able to thrive and do a good job if you are at loggerheads. You need to get them to understand how valuable you are and that you can help them—especially in areas such as market validation, user research, strategy and business case, product growth/adoption, and user onboarding/journeys.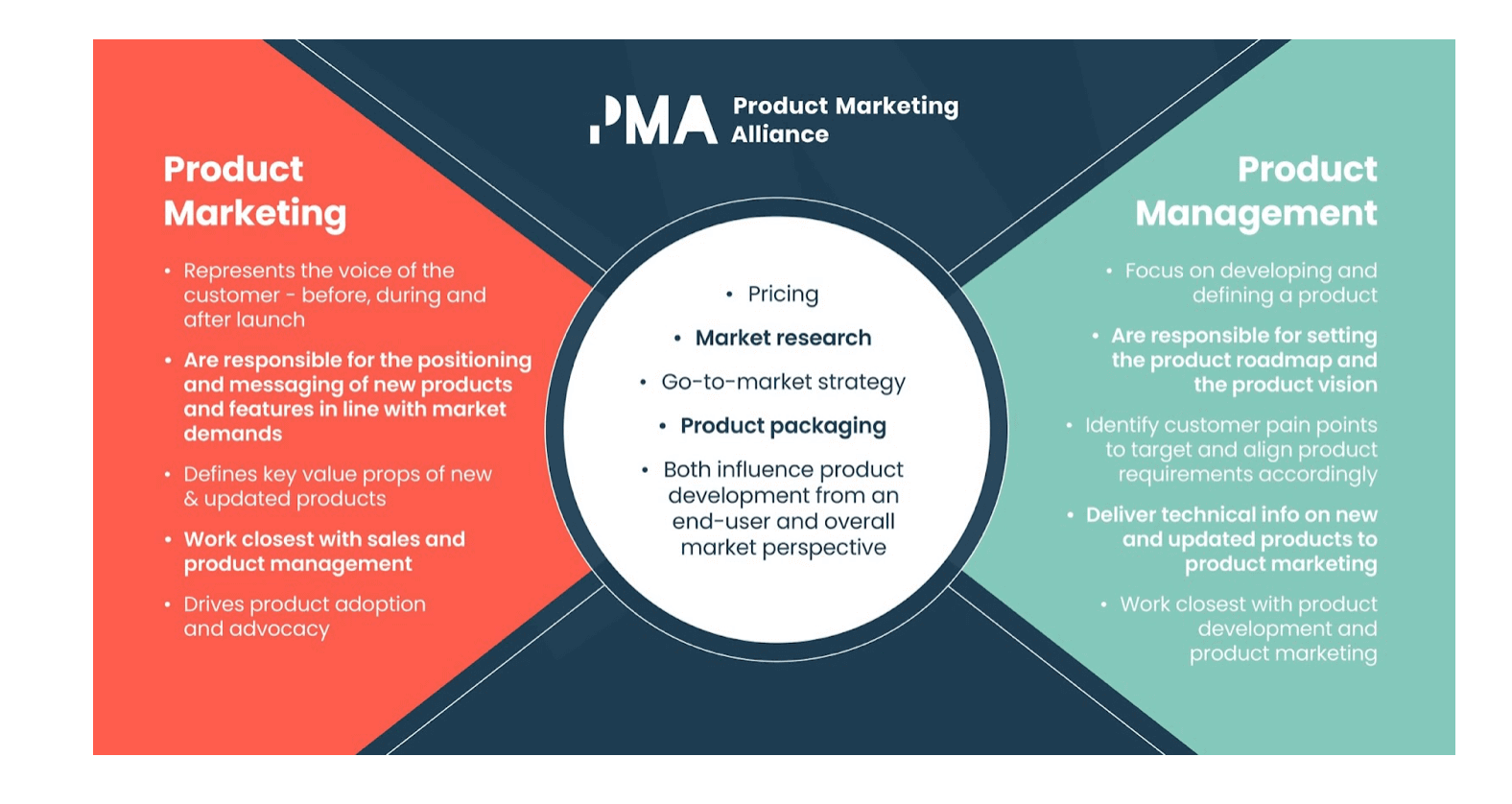 You need to get the balance right, with both teams understanding where you overlap and where you pass over.
There are definitely no blurred lines between the two roles at WeTransfer, as Global Product Marketing Manager Melanie Linehan explains:
"There's definitely an overlap of where we work together, but I would say that the lines are pretty clearly divided in the sense of, you know, the two of us will work together to understand what the proper message is for what this value of a new feature or product is going to deliver to our users and understanding our users. But our product managers are solely focused on understanding the direction of the product and building out the roadmap. I, of course, will work closely with our product managers to make sure we're prioritizing what marketing needs if there's something within that roadmap that will optimize or help to enable marketing, whether it's monetization of a product or optimization based on an experiment. And then of course my side is to then help make sure that consistency of messaging and the value proposition is constantly and consistently communicated properly across the product. So working with our product designers, copywriters, and then also the marketing team, and with experiments, to ensure that we're always optimizing that as well. So I would say there's overlap, but it's clearly divided as well."
Have you ever asked yourself, "Where do you think the line of product marketing and product management should begin and end?" If you haven't, spend a couple of minutes thinking about it now.
Jessica Wright worked with about thirty product managers on forty products at MINDBODY, and she relied on structure to help manage the relationship between product marketing and product management. She says:
"We are really disciplined on where we're working and focusing our time. We make sure that we're focusing our efforts on the initiatives that need the most attention and have the most impact. So when it comes to working with product, marketing, and sales, we assess what is being developed that has a large impact on our customers, our market, and the business. We actually developed a system to score our launches, so that takes into account a bunch of variables. Things like impact on revenue, sales effort, whether it's white space or Greenfield expansion, competition, etc., are considered, and then we give every launch a score. What that score does is it puts that launch in a sort of a T-shirt size that then provides a playbook for all the tactics, artifacts, and ceremonies that are typical for that size of product launch. It helps create a common language, ensure you're working on the right things, and that those things can be adequately resourced."
The launch score system Jessica uses was developed internally at MINDBODY, but many product marketers use their own launch tiers to determine how hard to go with their marketing for different launches. Here's ours: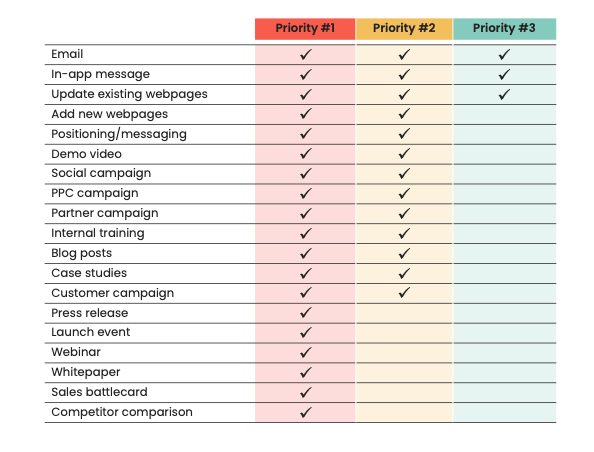 Prior to the launch score system, Jessica and her team found that despite working closely with product owners, there was always something missed when it came to communicating internally or managing expectations. She says, "We wanted to create this process between product management and product marketing to make sure that everything is covered when we have a product launch. It really helps us with preparing downstream, too, as we can better understand and communicate what type of resources or level of effort is needed for a particular launch. It's a collaborative effort and definitely requires a cross-company input."
It's really important you don't step on anyone's toes in product management, especially in the first few weeks and months. You need to build that relationship, friendship, and mutual trust. It can be so hard to repair the relationship later if you move too fast and don't consider product management's viewpoint.
If you are the first product marketer within a company, you need to take baby steps. The product management team has probably been in place for a number of years, and they will have their share of product marketing. They might even think they should continue to own it. That being said, some product management teams might prefer to "rip the Band-Aid off" and remove themselves from anything that falls within your remit as soon as possible. You won't know which scenario you are facing until you have your initial meetings with the team.
How the product manager/team feels will often come down to their personality type. Without a product marketer, it would have been them having to cover the whole gamut of different relationships—working with everyone from engineering to sales themselves. If they come from a marketing background, it might have been something they felt capable of doing and enjoyed…or it might not.
A big bugbear that PMMs have is that product management doesn't bring product marketing into their plans early enough. They find it frustrating because the product team will wait until they've built a product before they throw it over the fence and say something like, "You go market that now." This is far from ideal and reduces the chances of a successful launch.
In getting your relationship with product management solidified early on, you can be confident that your company's product management person/team understands what product marketing does and how it can help them. This will inevitably lead to them bringing you into this kind of process early moving forward.
We asked Madelyn Wing, Director of Product and Customer Marketing at CallRail, how she proved product marketing's value to the product team:
"When a product manager comes to me and says, "We need to launch this new feature," rather than getting into specifics of dates, where we'll promote, etc. I immediately go for the "why are we building this and who is it for?" I then build out a project plan with the PM, but I show them the upstream work that has to be done before we get into the tactical piece—the messaging, personas, data points that prove our market problem. Over time, by repeatedly exposing the product team to this upstream work, I've made it clear that this work needs to happen with every single launch and laid the groundwork for the real value a PMM adds. Doing the valuable work to set a strategy in private only keeps the confusing cloud around what product marketers really do—exposing everything that goes into a GTM plan, and how you made the decisions on tactical outputs, is how you really prove your worth."
---
And there you have it! But that's not all…
Get ready because in no time Product Marketing Misunderstood will be hitting the shelves - April 19th to be exact.
We hope that you had as much fun reading it as we did writing it. We at Product Marketing Alliance can't wait to share these valuable insights with you and help you cross the threshold from being misunderstood… to understood.
Pre-order your copy, and get it the day it's released.
Get the book