"The course so good we filmed the whole thing twice."

After hitting up the studio not once but twice, our much-anticipated (and requested!) Product Marketing Certification is officially on the shelf. If you're a product marketer and you want to knock your product - and career - out of the park and get certified along the way, PMMC® is for you.

So, what d'ya get?

A lot of bang for your buck, that's what.
🤓 11 modules on the A to Z of PMM

Our curriculum covers every core product marketing competency in detail and the top line modules are...🥁

An intro to product marketing
Research
Pricing
OKRs
Personas
Positioning and messaging
Go-to-Market strategies
Communication
Sales enablement
Onboarding and retention
Analysis and optimization

And then within each of those macro modules, we've packed in hyper-focused sessions on everything from win-loss interviews and value-based pricing to launch tier hierarchies and cohort analysis.

Head here to explore each and every chapter >
📙 Total access to tons of templates and frameworks

Throughout the course, we reference various templates and frameworks, like:

Storytelling framework
Win-loss interview questions master list
B2B and B2C buyer personas
Go-to-Market strategy
Jobs-to-be-Done canvas
Competitor intel worksheet
Messaging hierarchy

...to name just a few, and you'll be given access to downloadable and editable versions to use when you want, as much as you want.
🔖 Official PMMC® certification

87 questions are all that stand between you and your paperwork.

All our modules (bar the intro to product marketing) end with a mandatory exam. If you meet the pass criteria for each, you'll be the proud owner of a PMMC® certificate - aside from being brag-worthy, it'll look awesome on your resume, too.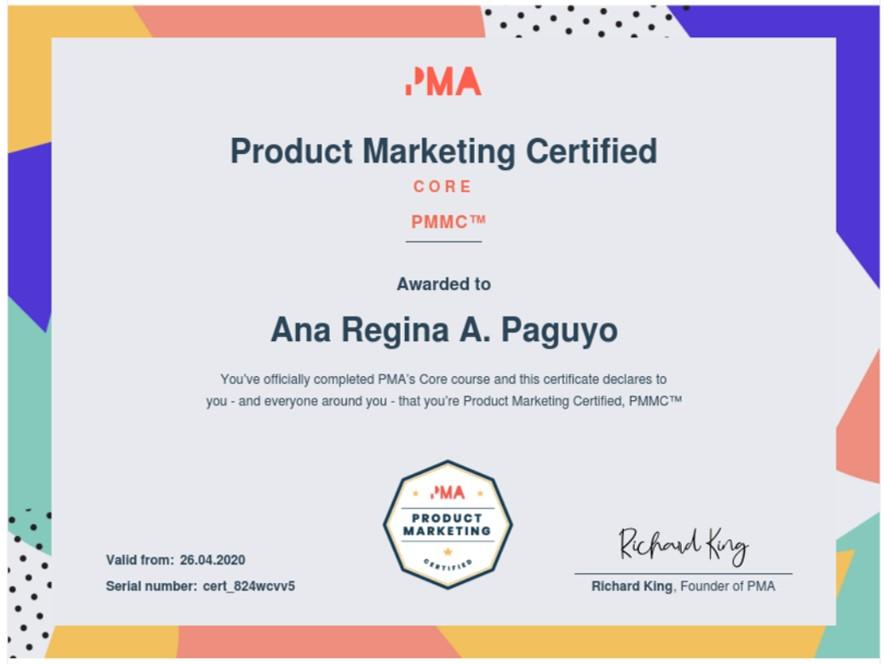 👩🏼‍🏫  Learn from the best of the best

When creating the course material, we teamed up with product marketers from some of the world's biggest businesses. We partnered with the one and only April Dunford for our positioning, messaging and storytelling module and throughout the rest of the content, you can expect:

HubSpot's Principal Product Marketing Manager, Marcus Andrews, on 'How to work with product' and 'An intro to narrative design'
Zuora's Senior Director of Product Marketing, Natalie Louie, on 'Pricing and packaging roadmaps'
Unbounce's Director of Product Marketing, Tamara Grominsky, on 'Turbocharging your growth with customer segmentation'
SurveyMonkey's Director of Product Marketing, Sarah Din, on '7 steps to SurveyMonkey's messaging strategy'
Yelp's Director of Sales Enablement, Darlene Samer, on 'Creating a sales playbook from scratch'
🤑 Discounts all round!

If you're already signed up to our membership plans you'll get 10% off the total cost of Product Marketing Core and if you're not yet a member, you'll be given exclusive access to our early adopter pricing package.

Whichever way you slice and dice it, you get money off.
🎬 LOTS more like this

Here's a quick 10-minute clip from our positioning module. Like what you see? You know what to do. 😉


👨🏽‍💻 Live, weekly sessions

To give you the convenience of a self-paced, online course, without skipping on the benefits of those live, two-way conversations, Product Marketing Core comes with weekly calls with senior-level product marketers.

Why? So you can ask questions on anything you've learned, chat with like-minded PMMs who're also undergoing certification, and soak up extra insights from experienced product marketers who know how to nail all aspects of the industry.

Sold? Then start your certification journey here: