This presentation was delivered by Alex Ruddock, Product Marketing Manager at Influitive, at the Product Marketing Summit, Las Vegas, 2022. Catch up with a variety of talks with our OnDemand service.
My name is Alex Ruddock, and I run Product Marketing at Influitive. At Influitive, we think about advocates all the time.
The way that we think about them is you have a bunch of different types of customers – you have your happy customers, your neutral customers, and your dissatisfied customers. They can all advocate. I'm going to share how best to engage with them.
In this article, I'll focus on:
But first, a quick story
Before we get down to how you can use customer advocacy to boost your product marketing function, let me tell you a quick story.
We had a key customer who was in the middle of implementation and wanted to see some best-in-class work. We didn't want to just show any old demo; we wanted to go beyond our regular demo environment and show as many examples of customers as we possibly could, so we put out an ask to our advocate community via the software we use to communicate with customers.
We had a very tight deadline – the call was the next day. This request took me about two minutes to design and publish, and three hours later I had 32 logos say yes. Not only did they say, "Yes, you can use our logo," but they were happy to let us demo their environments in real time. That was pretty cool.
The key takeaway for me is that an engaged advocate community allows you to rapidly recruit customers when you need them most, and that's awesome.
The modern approach to customer engagement
I'm going to talk a bit about our approach to customer engagement. It's not necessarily a 100% new approach, but it's pretty novel in the post-sale world.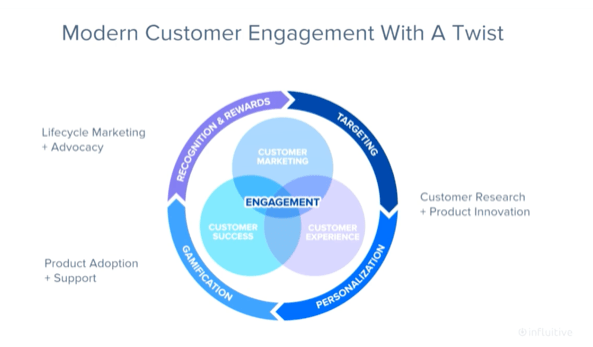 In most companies, customer marketing, customer experience, and customer success are all trying to talk to customers. Customer marketing is involved in lifecycle marketing and advocacy, customer experience is doing research and trying to get information on the product and the customer journey, and then customer success is all about getting people to adopt as quickly and successfully as possible.
All this requires engagement, right? Customers need to engage with you, your content, and your CSM. They need to lean in when you want them to – if they ignore you, how are they going to get better at using the software? We see engagement as the core goal of these different functions, and we approach engagement using a loop made up of these four steps:
Targeting – Making sure that we're presenting content to the right people at the right time.
Personalization – You can't give everybody the same message and positioning.
Gamification – We use some sneaky psychological tricks to get people to engage at a higher rate and in a more habitual way.
Recognition and rewards – I'll tell you a bit about what that looks like shortly.
So how does all this work? The first thing to understand is incentives. The best way to get our customers to engage with us is to present them with some sort of incentive.
Next, there are activities, which customers earn points, rewards, badges, and level progress for performing. We string these activities into journeys and present different people with different journeys, depending on where they are as a customer.
Someone who's just gone through implementation will have a different journey from someone who's been with us for five years. Each persona and group needs different content, and we cater to that as much as possible.
Now let's get into how we do personalization. As an example, we have Alice – she's a data engineer, she works in engineering, and she uses a very specific product: Datakube Pro. But what else do we know about her?
Well, we know that she enjoys competition, she desires mastery, she seeks career advancement, and she loves to learn. These are things that we need to know when designing incentives for her.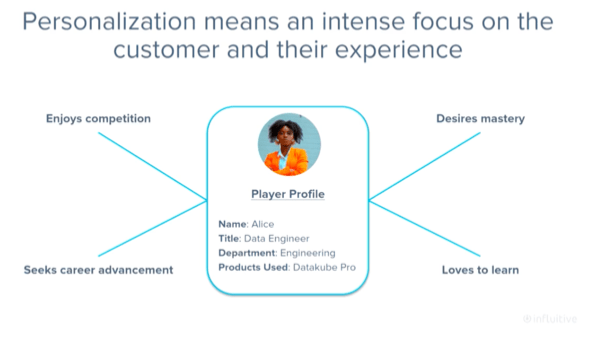 Gamification is another core part of how we get our advocates involved. Marketers typically use gamification for engagement, adoption, and purchases, and game mechanics are a great way to propel these kinds of customer engagement.
You gave us a G2 review last month? That's a badge. You've given five reviews with G2? That's another badge. We've got levels and a leaderboard. Alice loves competition, so she's probably up somewhere near the top.
Finally, the points that customers earn on our engagement platform can be exchanged for rewards. Sometimes these are monetary rewards or gift cards; sometimes they're experiences, books, or discounts. Whatever they like, you can offer it, so get creative.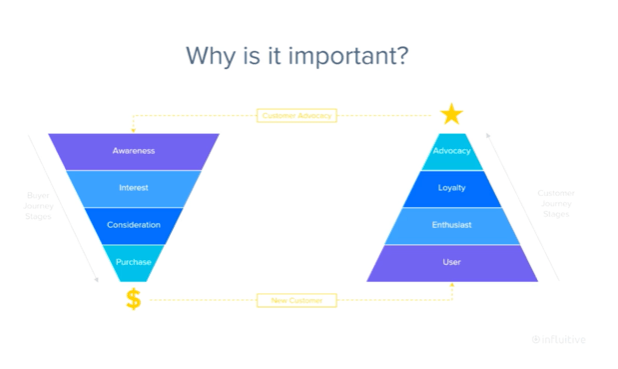 So why is this important? Well, we're all driving towards purchase. That purchase gives you a customer, who hopefully becomes an enthusiast, then a loyal customer, and in the end, you get an evangelist for your product and your brand. And what does the evangelist do? Well, they lure more people into the funnel, creating a cycle.
You can fuel this cycle by adding an advocate – someone who will help move things through the sales cycle, crush objections, and convince people who are hard to convince to buy.
You can also add gamification, and you can use an advocate community, which is what we do. We drive customer engagement, we build community, and we try to enhance the customer experience as much as possible. This helps us deepen loyalty and boost advocacy.
Customer marketing vs. product marketing
I don't know about you, but I literally work alongside a customer marketer. We sit at adjacent desks. I talk to the customer marketer more than anyone else, other than maybe the director of product.
I'm focused on things like messaging, positioning, and competitive intelligence, and my customer marketer's more focused on our reference program and advocacy.
There are some things we partner on, like adoption, retention, expansion, and enablement.
We also collaborate on persona development, customer engagement, marketing, campaigns, messaging, positioning, product launches, collecting customer feedback, generating third-party reviews and testimonials, finding speakers for events, and relaying the voice of customer to key stakeholders.
That voice of the customer part might be the most important. We want to make sure that the CEO knows when people are happy or unhappy and why. Customers can also let us know what's going on in the market and if they're being aggressively targeted by our competitors. They're a great source of information.
Our advocacy platform
There are so many different things that customer marketing and product marketing work together on, and this all happens in one place: Influitive VIP, our engagement platform. Here's a screenshot so you can see what it looks like.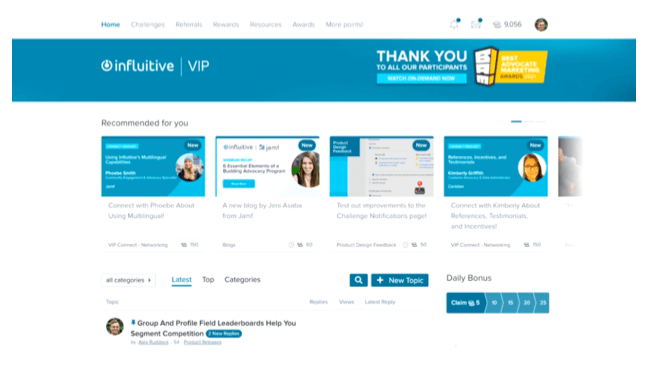 If you click on one of those rectangles in the middle of the screen, that takes you into an activity. The completion of that activity gives you points, which can later be spent on rewards. Another cool thing is the daily bonus; that's an incentive to sign in multiple days in a row.
We also have discussions, and there are three main reasons we use those. The first reason is to talk about product ideas. The second is for making product announcements. And the third reason is getting customers to network and learn from each other and us.
Customer marketing uses the advocate community in a couple of different ways. The first big way is research. They can use the platform for CSAT, NPS, and CX surveys, and gathering company feedback. It's also super handy for persona development.
We also use the community to recruit people for customer advisory boards and user groups and to speak at events and on webinars. It's great for growing the reference pool too and encouraging people to give reviews and testimonials.
Influitive VIP also helps us expand our reach on social media. We want to increase brand awareness and boost shares and retweets of our content. We want to bump up comments and likes on specific posts and measure amplification and engagement. These are all things we can do with the platform.
We also run our reference program here, so anytime a rep is looking for a sales reference, they go through this platform. We automatically populate our community with reference requests, and then we do some further targeting based on vertical, use case, product, location, and all that stuff. And of course, we personalize all of our engagement.
We also do referrals, generate sales leads, recruit new employees, and gather recommendations for new partners through the community. Basically, customer marketing does a lot in this community.
How product marketing leverages advocates
You're probably wondering about product marketing's role in this community and how we use this platform. Well, we use it to leverage customer engagement throughout the product lifecycle, from ideation all the way up to adoption.
We begin the ideation phase with an activity. We tell our customers, "Hey, please submit your ideas to our product team. If you do this, you'll earn 100 points." We then ask our customers to vote on their favorite ideas, which again earns them 100 points. Next, we ask them to take a feedback survey about the items we want to add to our roadmap. Another 100 points.
We also use the platform to invite our advocates to interviews with the design team. They can follow a Calendly link to book a call and earn another 100 points.
When we have a prototype that's ready to be tested, we put a link to it on the platform and award points to those who go and test it. Users can also join beta programs through the platform. The cool thing is that when we do recruitment for beta programs, the moment the hand-raisers say yes, they're automatically added to a group, which I can then target with further content.
Next, we have our launch. When users engage with launch material on the platform or share our new product, they earn more points. And then, if we have additional adoption or enablement content – maybe a webinar – users can earn points for registering and attending.
Making the rewards as unique as your customer
These customers are involved throughout the product development and launch process, and the nice thing is that they don't just get to impact the roadmap and get inside information on new developments; they also get a reward.
There are a lot of different rewards that customers may want, depending on their personality and what type of advocate they are. They can be broadly divided into four main types.
We have our educators; these are the people who are just looking to share ideas and learn. We have our validators, who want to take surveys and give feedback. We have our status seekers, who want to speak at events and be seen as thought leaders. Finally, we have our collaborators.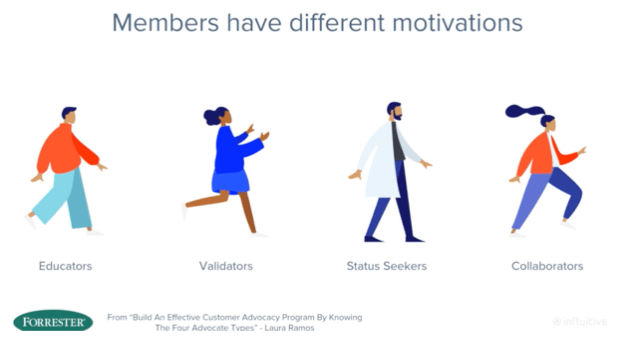 Collaborators tend to be a little bit more senior – they may even belong to their company's C-suite.
They love talking about strategy and markets, and they would love to tell you what they think is about to happen in the next 12 months. Collaborators are really helpful contacts to engage with, especially when you're talking about strategy and market intelligence.
All these different people are here to engage with you for different reasons, and it's good to know what those reasons are.
There are also different types of rewards for different types of people. Some people just want gift cards; others want to donate to charity. Some people would like event tickets; others would just like to read.
They might have had their eye on a certain novel for a while, or maybe they're looking for something that will help them advance in their career.
Whatever it is, you can find out by asking them in the community, storing that information for later, and then targeting a reward to them that matches what they care about. They might even get something a bit more unique to them. Perhaps they're dying to meet the CEO – that could be a great reward.
The wrap-up
The world of B2B tech is more competitive than ever. Everybody's trying to figure out how to deliver the best. In recurring revenue relationships, a great advocacy program can help you achieve just that.