In our latest PMA Member Spotlight, we grab a (virtual) glass of wine with Dublin-born, London-based PMM, Louise Dunne. Louise is Product Marketing Manager at Linnworks and a valued member of the PMA community. Keep scrolling to find out more about what life through Louise's lens looks like, her tips on transatlantic collaboration, and the advice she would give to her teenage self.
"As soon as I signed up I was hooked! The Slack group is my go-to first thing in the morning to check out the latest articles, member resources and discussions in various channels, and it's replaced Google any time I want to research a product marketing topic before I start a project." - Louise Dunne
Wanna bag your very own PMA membership? Sign up and get started.
Now, over to you, Louise! 🎤
---
What does a typical week in the life of PMM at Linnworks look like?
I joined as the first product marketing hire at Linnworks in August 2020, reporting into the marketing team. Like many product marketers, no two days are ever the same but now we're through the initial stage of establishing the function, my focus is on adding value across each pillar of product marketing, which we define as market intelligence, positioning, GTM, field enablement and customer engagement.
What is consistent is that each week I'm spending time with cross-functional stakeholders from every part of the business. I really love Marcus Andrews's description of PMMs as "internal momentum makers" and it's that collaborative aspect where I really thrive as it means every day I'm getting to build my PMM experience as well as building a better understanding of our business, our market and our customers.
---
What would you say are the biggest challenges about your role?
Slack is always there for a quick chat, but I miss quickly catching up with other parts of the business over the coffee machine or shadowing another team's meeting in person.
Now that lockdown restrictions are easing, I'm excited to have a workshop with our global marketing team and to eventually go visit our offices in Estonia and in Austin to spend time with the teams I've been working with remotely for the past nine months.
---
If you could swap places with anyone in your company for the day - who and why?
My first role in a SaaS business was as a pre-sales solution consultant. I really loved that balance of technical knowledge, first-hand knowledge of the buyer and being at the coalface of our sales process.
We have a brilliant global pre-sales team at Linnworks who are true product evangelists so if I could swap places with them and soak up their deep technical knowledge and sales experience that would serve me well as a PMM.
---
Being based in the UK, what are your top tips on transatlantic collaboration?
The marketing team at Linnworks is 'remote-first' and not based at a fixed office location, so we're very focused on how we can be effective as a team spread across time zones and locations.
Being considerate and transparent is what works for us. That meant scrapping a daily 9am UK team stand up in favour of a twice weekly global round table check-in where we discuss progress on weekly goals, blockers and make sure we're getting some virtual face time with everyone.

We have core hours to make sure that we can schedule suitable meeting slots but we're accommodating school pick-ups, early birds and night owls who do their best work at different times. Teammates work adjusted hours so wherever in the world everyone's dialling in from is far less of a consideration, so long as we can all connect where and when we need.
Our goal is to do our best work, not to stick to 9-5, so we also have a lot of flexibility in our schedule. If I am taking a 3pm break to take advantage of good weather to recharge with a walk to the park, I'll happily schedule an after-hours meeting with my US colleagues if that's the best time to have a meeting - but that is 100% a personal choice.
---
How did you come to join Product Marketing Alliance?
In my previous role, one of my colleagues mentioned at a team meeting that they'd seen a local meet-up group for Product Marketers and heard good things, so we decided we'd all dig into the online resources and Slack community and report back on how we could make use of it as a team.
As soon as I signed up I was hooked! The Slack group is my go to first thing in the morning to check out the latest articles, member resources and discussions in various channels, and it's replaced Google any time I want to research a product marketing topic before I start a project. I signed up for membership to get access to the member resources and events, which are a huge added bonus.
---
What is your favourite thing about being part of PMA?
The community is incredibly generous with their time and sharing their expertise. If two heads are better than one, how much is possible with a 10,000 strong group of smart global  professionals? No two PMMs are the same, and the diversity of experience and outlooks is so helpful to get an outside perspective.
I try to repay the invaluable advice and support I've received by contributing to PMA content, chiming in on topics I'm well versed in such as sales enablement, market intelligence and scaling a team. Slack me for my tips on building a PMM portfolio to showcase your best work!
---
Give a shout out to someone awesome you've met through PMA:
There have been so many great contributors, but a special mention has to go to Katherine Brittain. She keeps the UK community engaged by organizing regular PMM meet-ups where different members take turns sharing a typical PMM challenge and she is always willing to make an introduction or jump on a call for a quick discussion. We're long overdue an in-person Aperol Spritz and the first round is on me!
---

Life as a PMM can be pretty full-on - how do you like to relax and unwind?
I'm Dublin born and bred, Londoner by choice and I will never stop being a tourist here. I love to start out with a rough plan of where I'm aiming to end up, go for a wander and see what I find along the way, taking notes for future outings.
---
If you could go back in time and give teenage Louise some advice - what would it be?
Not to worry about the end destination and enjoy the journey. I loved working part time in retail during my business & languages course at university, but I didn't have a clear career path in mind.
I felt the pressure to rise through the ranks and have a stable career trajectory, but my first job in PR evolved into a digital communications role as social media was gaining traction with brands, and being an end user of several marketing tools gave me a foot in the door to a career in SaaS.
I never could have predicted I'd end up in an e-commerce product marketing role but everything has been a stepping stone to where I am now - a fascinating role at a fascinating company that puts me through my paces every single day.
---
Thanks, Louise! We love you too. 🥰
Fancy another? Catch up with Farhan Manjiyani, Technical Product Marketing Manager at Rev. 👇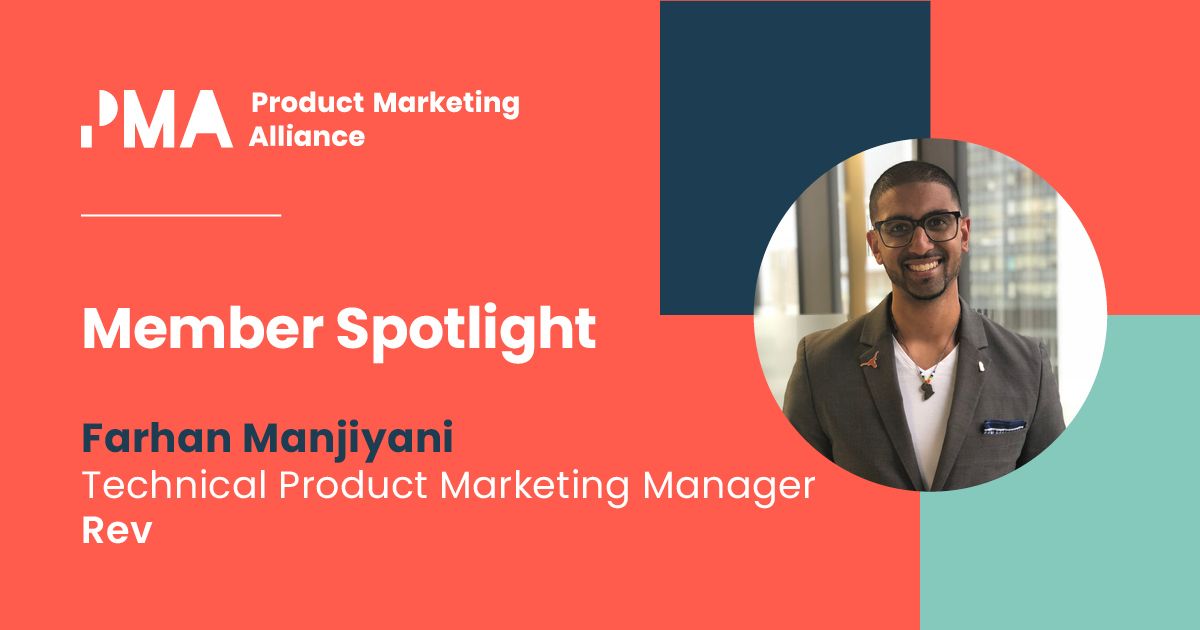 There's plenty more where that came from too. Tap into our hub of PMA Member Spotlights to learn more about the people behind the PMMs.