In 2010, Qatar fought off competition from the likes of the USA, England, and Australia, to secure the honor of hosting the prestigious FIFA World Cup, becoming the first Arab nation to successfully bid for the tournament.
Ahead of the eagerly-awaited kick-off, we caught up with Elliott Rayner, CMO at ARION, who explained why product marketers, as well as football enthusiasts, ought to be excited about the big kick-off.
We discussed the marketability of the World Cup, how product roadmaps are optimized for the World Cup, and focused on the tournament through a product marketing lens, honing in on three product segments:
The marketability of the World Cup
The World Cup has a reputation of being one of the most lucrative sports events on the planet, reaffirmed by figures shared following the previous tournament hosted by Russia.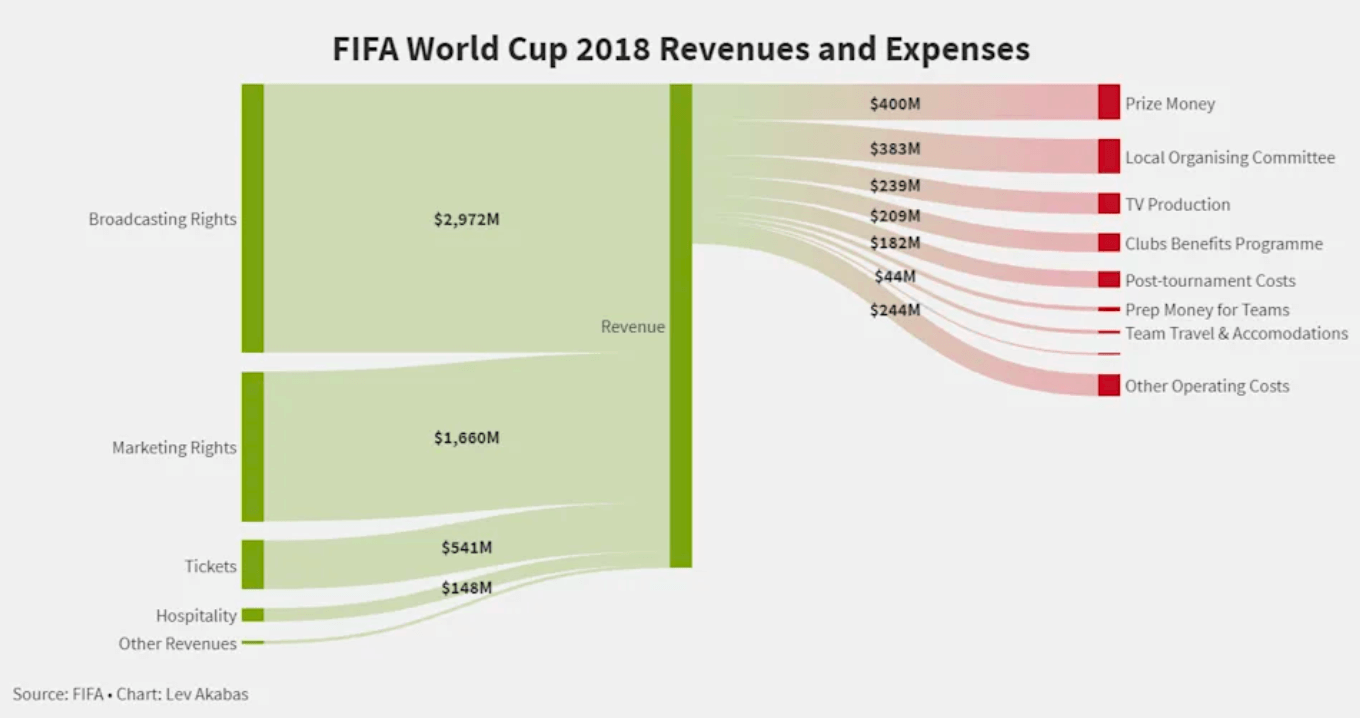 Just shy of $3BN was generated in broadcasting alone, with a further $1.66BN created in marketing rights. $541M was raised by ticket sales, with an additional $148M generated via hospitality.
Elliott gave his insight on why the World Cup is an event product marketers simply cannot afford to ignore, and why sports events are commercially attractive to companies:
"The international reach of football is second to none. It hits so many different continents, and if you're sponsoring the World Cup, then you're going to reach a lot of people.
"What I think's interesting from a product marketing perspective, is a lot of these brands get to highlight their key products on the field of play. A tournament can be used as a platform for a full-blown marketing campaign.
"If you want to say, "we make the best sportswear", what better way to prove it than having the winning goal scored by one of your sponsored players in your sponsored kit, whilst kicking your branded ball, whilst wearing your branded football boots?
"Instead of just saying you're the best, there's an unbelievable opportunity to show on the field that your brand is, in fact, the best in the world.
"The length of the World Cup is another thing that's extremely appealing to brands. The Super Bowl, for example, is a one-off event, but the World Cup lasts three to four weeks. This gives companies a huge amount of time to capture the attention of their target audience.
"I think I'm right in saying a company will pay approximately $200,000 per second for ad space during the Super Bowl. At a World Cup, companies have a huge amount of touchpoints over four weeks, allowing them to tell a much longer and more impactful story during that time."
The timing of the Qatar World Cup will provide a unique opportunity for brands. The tournament is taking place in winter, instead of its more traditional summer schedule, therefore, it coincides with the build-up to the profitable Christmas period.
Optimizing product marketing roadmaps for the World Cup
Elliott has a breadth of experience in the sporting industry and outlined the likely approach companies would take to optimize their product marketing roadmaps, to maximize the commercial potential of the World Cup.
"The roadmaps are quite long. Usually, there's an 18-month roadmap to at least create the kits - the roadmaps for the balls and boots are even longer than that.
"These products have been in development for a long time. However, this year, brands have the opportunity of being able to release all of these things just before the busiest shopping period of the year, and that's a massive financial opportunity that's never happened before.
"It's interesting to see how what effect that'll have on some of those major product brands, but also brands outside of sports. Some of the world's biggest non-sporting brands will also be reaping the rewards of the World Cup. For example, World Cup sponsors such as MasterCard and Budweiser."
Football shirts and product marketing
In the world of football, the connection between fans and their respective teams is paramount. Similarly, in product marketing, storytelling helps create relationships with customers - and there's no greater commercial attraction for football enthusiasts than that of a football shirt.
There's often a story attributed to the product itself, to heighten the appeal of the product to the consumer, and increase product adoption rates.
Communicating product innovation
The release of international football shirts is an exciting part of the World Cup experience, and while designs were once driven purely by aesthetics, product performance is now taking center stage.
We asked Elliott to explain in product marketing terms how the likes of Nike, Puma, and Adidas, are set to benefit from this approach.
"The shirts worn by the players on the pitch have become more technical, to try and give players an advantage on the pitch. With that, the ones on sale to consumers have to match it. That's the number one rule for football fans during a tournament: they want to be wearing a shirt that resembles the one that's being worn by their heroes or their team.
"Shirt design has changed a lot: over the last 10 years, manufacturers have been using lighter fabric, and incorporating quick-drying, lightweight materials. Every brand wants to differentiate itself as being the most innovative.
"That's how position their products amongst their audience; they want prospective buyers to think they make the most technical and highest performing sports products. Product storytelling convinces the audience that their kits are better and more cutting-edge than ever.
"The problem with this approach is it's very repetitive. Every time a new kit the same 'better, stronger, faster, lighter' angle story is pushed, and obviously, that's it's got diminishing returns when it comes to the consumers."
Product positioning in sports marketing
The aforementioned 'better, stronger, faster, lighter' notion is a storytelling motif that's been implemented in Nike's campaign for the England national team's World Cup shirt, with the sports giant emphasizing its dri-fit ADV technology.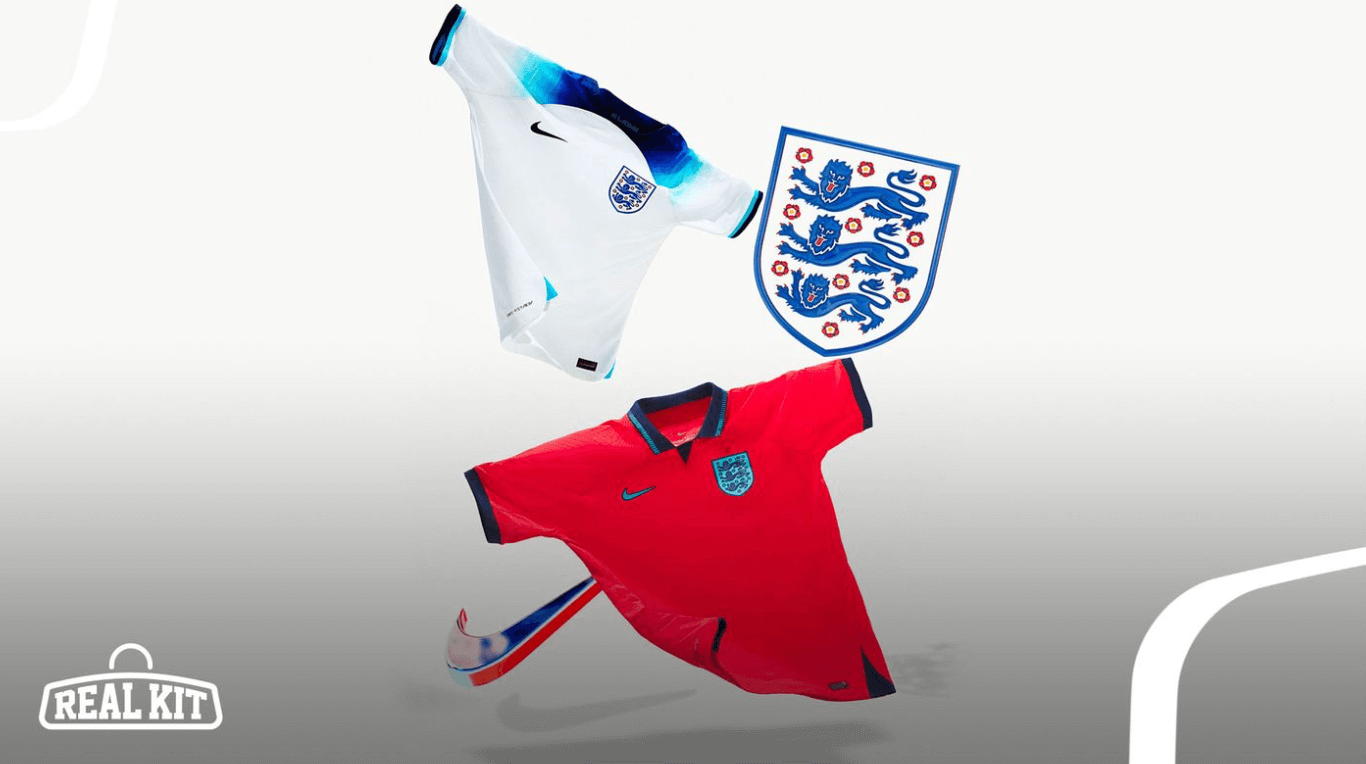 Elliott gave his expert insights into how such technological advancements in kit designs influence how companies like Nike market and position their products.
"It involves a lot of storytelling. Manufacturers are looking for an angle they can use to stand out and position themselves as being the most innovative brand.
"One of the big discussion points since the announcement of Qatar 2022 has been the playing conditions; games are going to be played in hot, humid conditions.
"This in itself has shaped a lot of the brand's storytelling - they're ramping up the message that their kits have temperature management technology.
"Shirts have been designed to keep the players cool, and hydrated, and they'll make the argument that the players who are wearing their kits will perform better.
"Brands like Nike are hoping the press releases pick up on that, so people start to think they have more of an innovative brand. This'll also be the case with the ball and boots.
"Sports companies will be trying to work out the best ways to stand out. The eyes and ears of the world will be watching, and they'll want to be the brand that everyone's talking about.
"There are so many brands and so many products, but only so many articles being written.
"Whether it's Nike, Puma, or Umbro, we're seeing the battle of the different stories of who's got the best innovation, the best designs, and the best technology - they're all craving that free marketing from the event."
Designing football shirts for different audience segments
Football shirts can be divisive. While some fans crave traditional, clean designs, others are keen for companies to experiment with more contemporary styles.
Elliott explained how companies market and design kits to different audience segments, and how a company's approach differs when designing a home, away, and third shirts.
"People see a home kit as representing their national identity, so there's less creative freedom when designing that shirt. Most home kits are pretty close to a flag, and you wouldn't dream of redesigning a country's flag. Therefore, this shirt largely abides by tradition.
"With the away kit, designers have a little more creative freedom and can change the colors and do something different. These kits are aimed at the younger audience segment because the older generation wants the home kit. The away kit's used to do something more exciting, whilst the away kit targets a younger 14 to 19-year-old audience segment.
"The home and away shirts allow you to spread your bets and hit two demographics with two different designs to increase your sales. If there's a third kit, then this is a free hit - people aren't fussed about a country's third shirt. So, if the brand has a design or story that they want to push, they use this shirt's template as the platform to do so.
"International shirts have to be handled sensitively, and their National Federation will have to sign them off. They're the ones who'll say 'yes' or 'no'. Brands work with them for over 18 months on first sketches, and prototypes, and try to convince them to be a little bit more exciting and less traditional."
This emphasis on national identity is particularly evident with Adidas' kit designs for the upcoming World Cup. The designs for Japan, Mexico, and Germany, to name a few, all contain cultural references and tributes to the footballing history of these respective teams.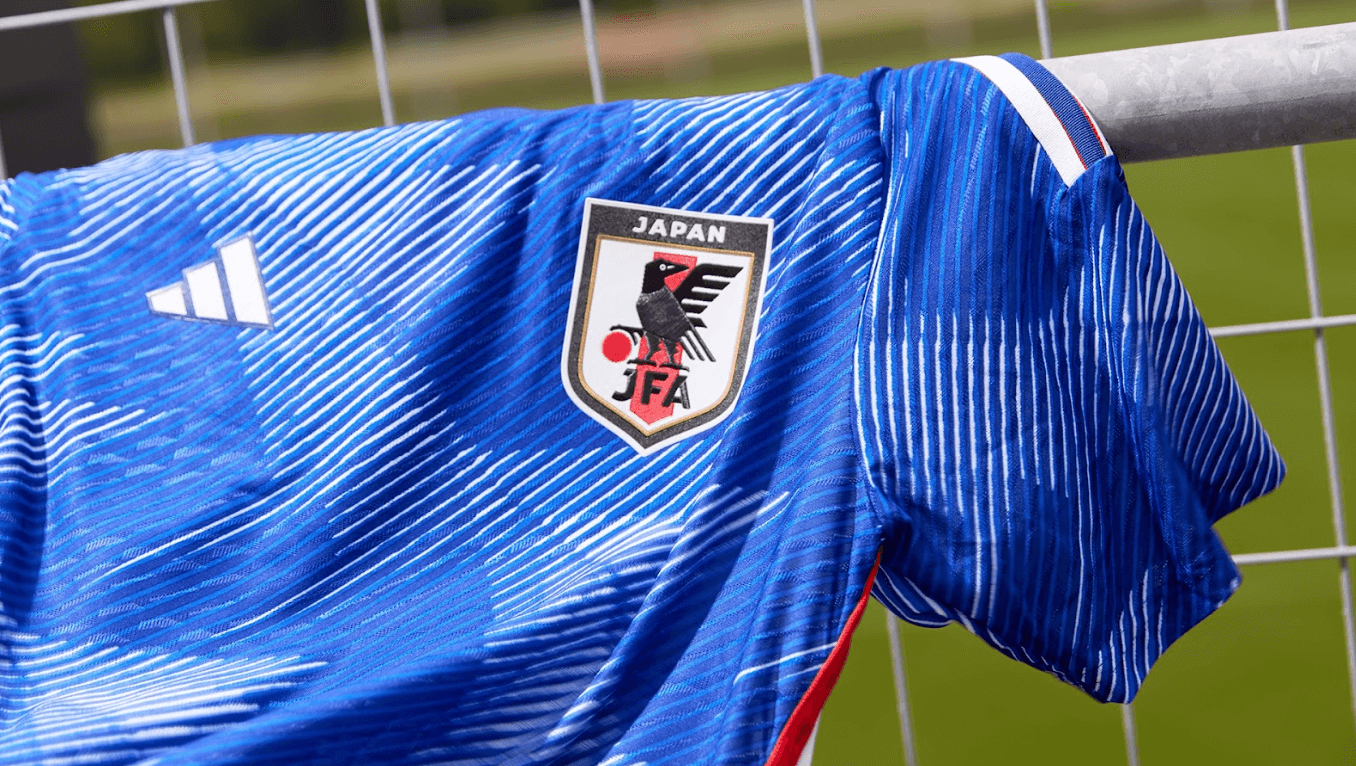 For example, Japan's home kit incorporates the three-legged origami crow into the design, a logo found on the crest of the Japanese federation. In Japanese culture, it's believed that 1,000 origamis will see a wish granted.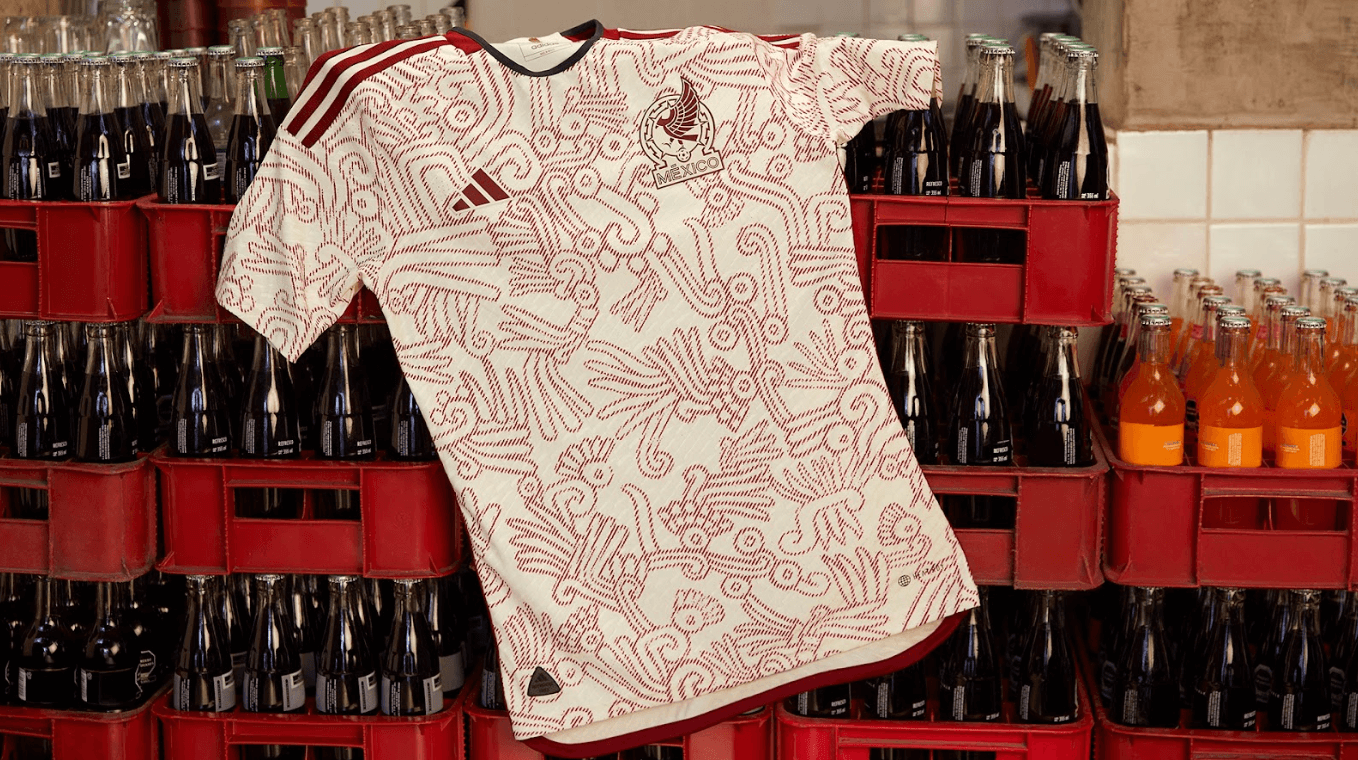 Meanwhile, the design for Mexico's away shirt pays homage to the art of the country's ancient civilizations, whilst the design for Germany's home shirt is inspired by the country's first national kit from 1908.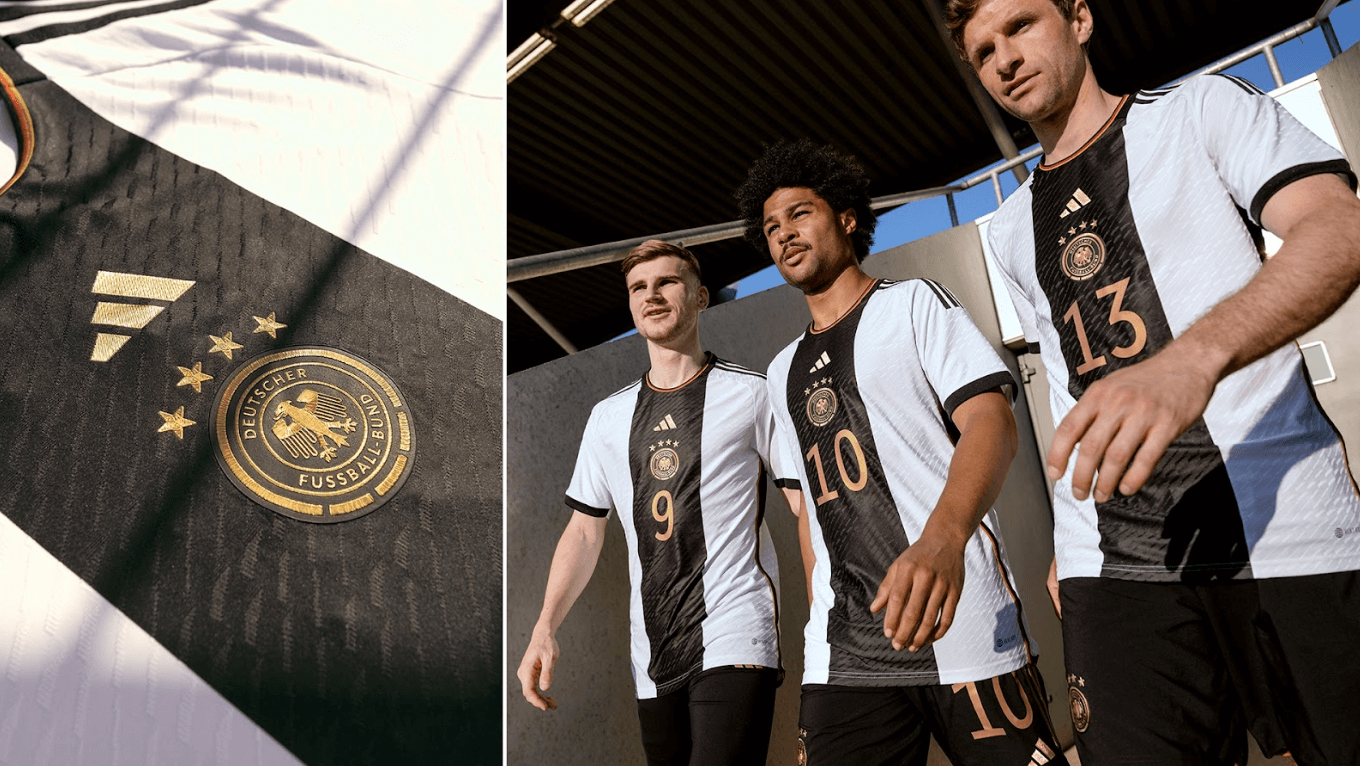 Brand marketing of football shirts
Elliott gave his views on the brand marketing surrounding the shirts, and how they're promoted to appeal to target segments.
"The manufacturer wants to create something different than what's been done before.
"From a brand marketing point of view, they want to be seen as fashionable, forward-thinking, and innovative, but also create a bigger point that it looks different to the previous kits.
"Manufacturers want to make sure fans don't wear the old kit; they want fans to rush to the stores and buy the new one.
"They create a visual point of difference from the shirt from the previous tournament; nobody wants to be that person in the bar with last year's shirt, whilst everyone else is in the new one!"
World Cup football shirts: What does the product design process look like?

The financial opportunities presented by the replica shirt industry are huge.
Therefore, every manufacturer's desperate to design a best-selling, iconic strip, and the opportunities aren't confined to the international market.
Shirts for domestic sides also generate considerable income for sports companies. In 2021, German giants Bayern Munich sold the most football shirts sales on the planet, shipping 3.25 million units. Given the Adidas shirts retail at $70 each (excluding additional costs for shorts, socks, and name printing), it's clear to see why companies are keen to jump on the football shirt bandwagon.
Elliott has extensive experience within the sports industry and has first-hand experience working on the design and development of international shirts. But what processes do companies go through in a bid to conquer the market?
"It's an 18-month calendar and you'll start with a brief. To start, there aren't any designs, but the team asks: what are we trying to achieve here?
"The message for an international jersey will take inspiration from the Federation and its history. In some cases, manufacturers seek the viewpoints of the fans to establish what they want to see.
"Companies also look at which shirts have done well in the past; sometimes, there's an upcoming anniversary that can be incorporated into the design, and if so, that makes life easier.
"For example, in some cases, a design may be needed for a centenary jersey, or to commemorate an anniversary since the country won a tournament. In these cases, the collar, and color palette can be based on the shirt worn for that occasion. Those little stories and intricate details can be crucial.
"Then, it's time for the first sketch. During this stage, teams work with a designer, who'll provide the first designs, and after a couple of initial rounds, proposed designs will be sent to the Federation. Usually, there'll be two or three designs that are presented, with the hope that at least one of them will be signed off.
"There'll be a chance for feedback until there's a mutual agreement on the most suitable design, and then, the prototyping stage begins.
"This is when you'll start to go to the factory, get the prototypes, and begin the testing process. It's also important that the players are happy with it, too. Then, it's ready for production and ready to be worn on the field."
Football shirts and product sustainability
Football shirts are amongst the most popular products in the sports market. The Premier League is the most-watched league in the world, and with that, teams such as Manchester City, Liverpool, and Manchester United are reaping the financial rewards of their global appeal.
However, with many football clubs releasing as many as six shirts per season (home, away, third, and three goalkeeper shirts), while the market is lucrative, sustainability is an issue.
Nonetheless, where there's a problem, there's often a company working on a solution, and Elliott shared the work of one particular company hoping to address this particular issue.
"Every season, there's a constant creation of new kits. These are only worn a few times, and this is a problem from a sustainability point of view because it's harmful to the environment.
"We're all being more conscious of our purchases and our carbon footprint. There's an interesting case saying that you shouldn't be buying a new jersey every time.
"There's a great brand utilizing this and pushing the boundaries, Connected Fanatics; they argue that we should have one football kit for life. Their philosophy is that the design should be kept the same, and other ways to connect and interact with the product will negate the need to manufacture shirts en masse.
"Instead of paying one fixed fee, has suggested that fans pay a subscription fee, and the kit is included within that fee. The shirt is activated with an NFC chip in the crest.
"This transforms a run-of-the-mill kit into something interactive, and special, whilst still maintaining the club's integrity and tradition. You can wear it for one year, five years, 10 years, or 100 years - however long it may be, it's always going to be the same.
"I can see that being a very successful idea and a lot more brands looking at it from a sustainability angle. Every single one of these brands is going to be putting its own sustainability story for all their kits.
"Ultimately, the best way to create sustainability across these football jerseys is to buy less of them. Of course, this isn't something a lot of brands want to hear. However, there are solutions like Connected Fanatics, which I think could be the next evolution of that.
"It's creating more meaning with your football kit, rather than it just being a product that you use and throw away. But something you keep and stay symbolic for a longer time."
Product messaging and football shirts
Since Qatar was awarded the rights to host the 2022 World Cup, the tournament has been engulfed in controversy, so much so, that Hummel and the Danish Football Association (DBU) have unveiled a 'World Cup protest kit', in opposition to like the country's human rights record.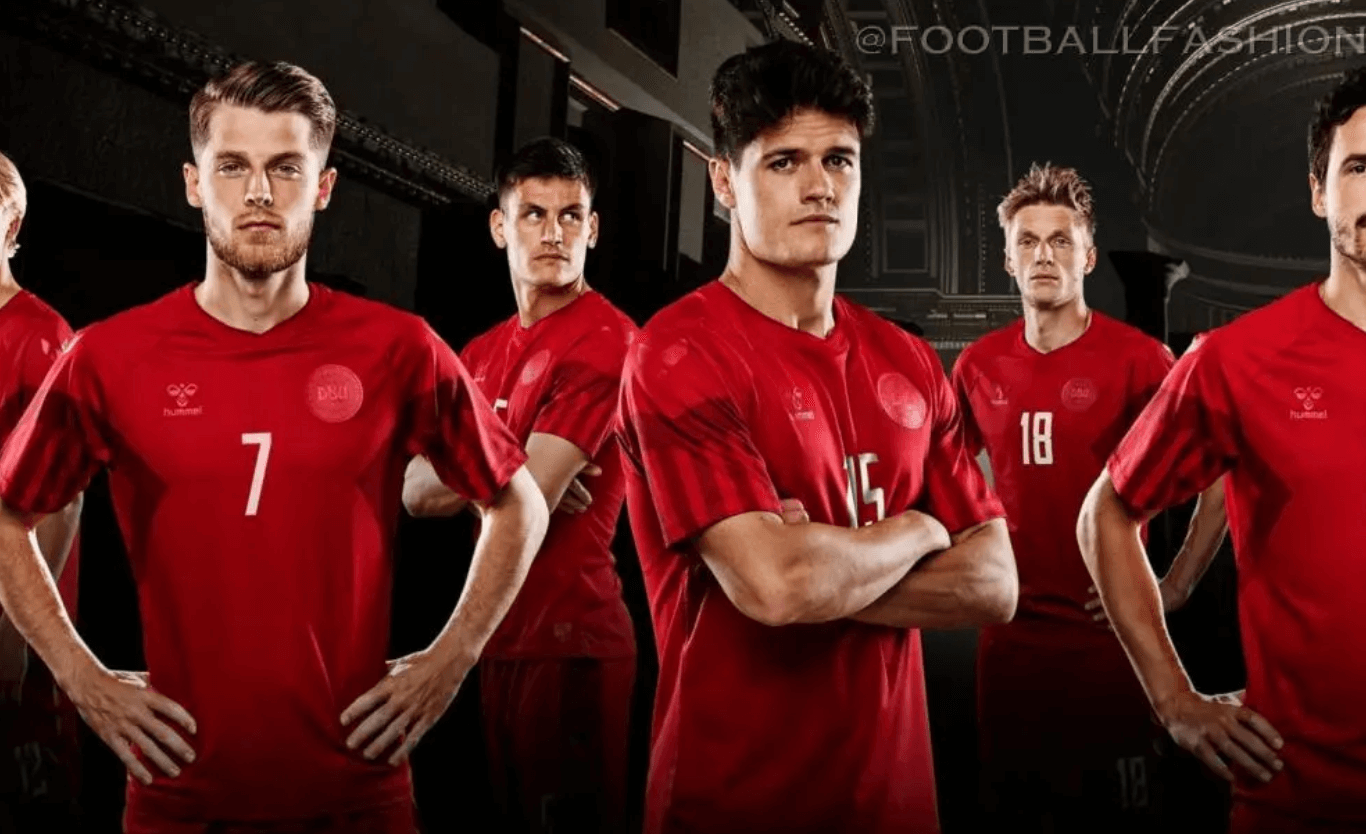 While it may seem that Hummel's decision to remove its trademark branding from the kit, Elliott outlined why he considers the decision to be a stroke of product marketing genius.
"I think it's just an excellent story. As I mentioned earlier, the World Cup is a battle of the stories. There are going to be so many product stories during the tournament, but only so many will be picked up. Hats off to Hummel, they've been the quickest off the mark, and are already doing the rounds across articles.
"The only threat to Hummel's kit design is their brand's hidden. However, I think it's fair to say that, from a brand perspective, the coverage they're getting outweighs having a contrast logo on the kit.
"There's a weird element to it because although they're protesting against the World Cup, their kit design and product story will lead to the sale of more kits."
Shirt manufacturers and sports companies have treated football fans to endless iconic designs down the years, and the marketing surrounding the products plays an equally important role as the shirt itself.
A fanatic Newcastle United fan, it was no surprise that Elliott earmarked the club's famous shirt worn from 1995-1997 as a personal favorite, taking both design and product marketing principles into perspective.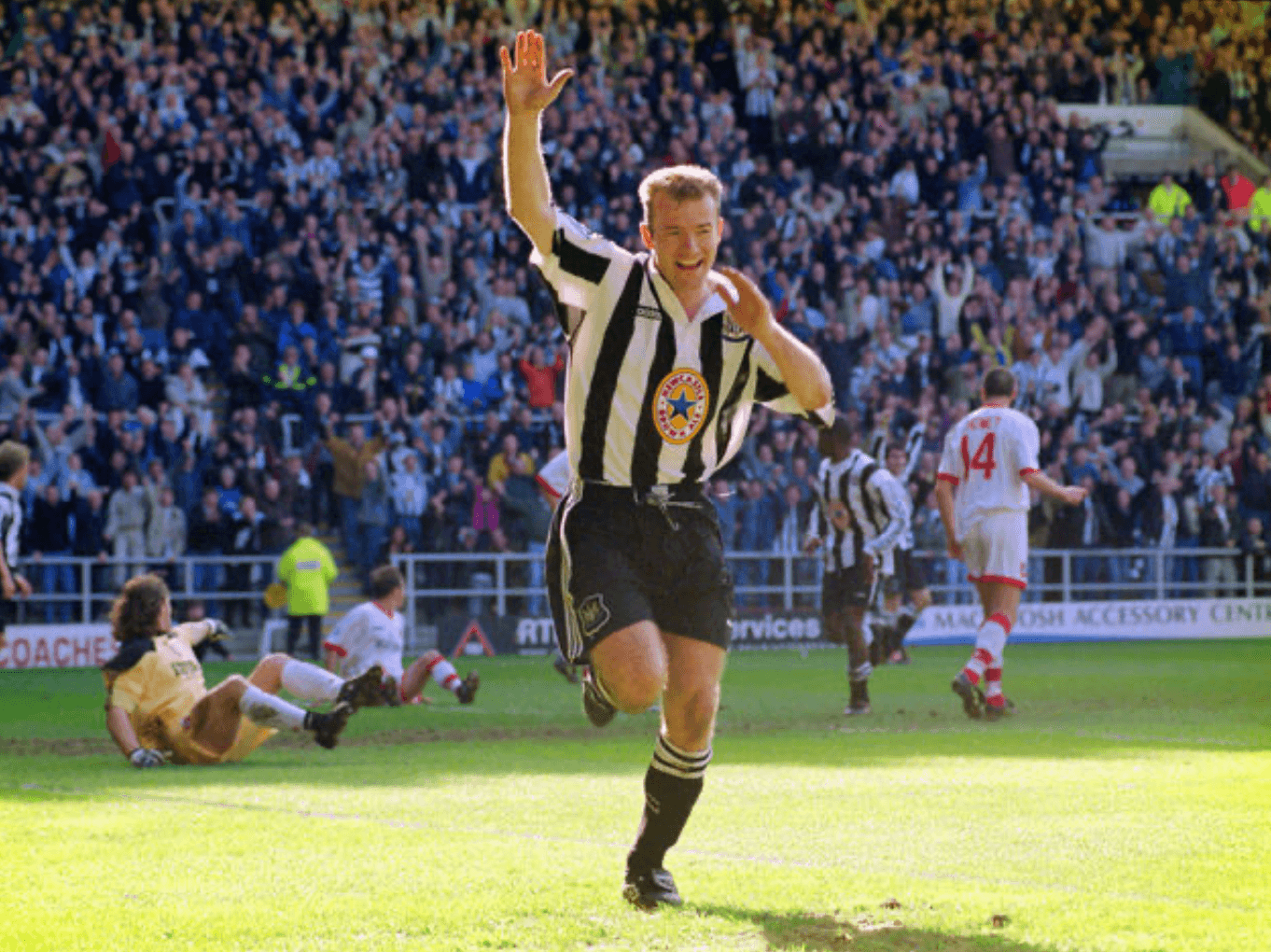 "The Newcastle United home shirt (1995 - 1997) is my favorite, and for a great reason, which brings us back to product marketing.
"It's our retro kit and has the Newcastle Brown Ale sponsor on the front of the shirt. I think most people don't like sponsors on the front of the kit - it takes value down, and I think a lot of people would prefer not to have it.
"However, I think this worked so well and was an integral part of such a great kit because people loved the brand.
"Newcastle Brown Ale is a local product, and they had a picture of the Tyne bridge (a famous Newcastle landmark) on there, so it's iconic. It was an example of a sponsor and a club that connected well, and it became such a memorable kit."
Football boots and product marketing
Having explored football shirts from a product marketing lens, Elliott switched his attention to how product marketing theory can be applied to football boots.
As the CMO at Arion, a company that specializes in footwear, we asked what approach he'd take if he was tasked with designing a football boot for the upcoming World Cup.
Visible technology
"When designing a football boot, the objective is to stand out. There are going to be hundreds of players wearing dozens of different brands or with different styles.
"Every brand uses the World Cup as an opportunity to launch new boots, and there'll be a lot of stories, designs, and new technologies doing the rounds - it's about finding something that's authentic, and a little bit different.
"All of these brands will spread their bets and create four or five different boots at the same time. Some boots will be designed for speed, while some are designed for control, and it's a case of trying to tell that story of 'why' and justifying why the technology used in each boot design matches each player.
"If you're a player that's reliant on pace, a winger, for example, they'll communicate that that particular boot is the lightest on the market. If the player is more technical, the message will be 'this is the best boot for you because it's got traction on the top that'll help you curl free kicks'.
"It's a case of being able to find that technology that's easy to understand and is authentic. Companies all have a shared goal at tournaments like these. They hope that someone will score a key goal, whilst wearing their boot, using their technology."
The role of brand ambassadors at the World Cup  
A string of iconic boots has graced the international stage, with the world's most celebrated footballers synonymous with certain boots, from Brazil legend Ronaldo and his Nike Mercurial Vapor boots to David Beckham's Adidas Predators.
While there's no doubting the importance of the design of the boot, brands also make a concerted effort to tie down the leading names to serve as their brand ambassadors.
"We talk about telling the story, but that's going to be told by whoever is successful on the pitch, and that's why brands spread their bets - it's impossible to successfully predict who'll be the person who is the story of the World Cup.
"At the 2014 World Cup in Brazil, Germany's Mario Goetze scored the winning goal in the final, so the whole story was around him and him taking that shot, so the more you can spread your bets and beyond more players and the more chance you're gonna be able to do that.
"Ultimately, it's about those key players, and how you categorize them. David Beckham, for example, was the perfect ambassador for Predator because of how he was and how he played the game; he was the master of the free kick, and the story for the Predator was that it helped you have more control over the ball.
"The more you can build and find the right person who suits your story, then that's what they're looking for. Brands need to form the right partnership between the right boot and the right sportsmen so they can tell a story together."
The cyclical nature of product design
Consumers often seek familiarity from the products they buy, shying away from designs that subvert their usual expectations.
However, there are instances when the design of products must deviate from the norm, and instill a fresh approach, as is the case with the Adidas Al Rihla, the official Adidas boot for the World Cup.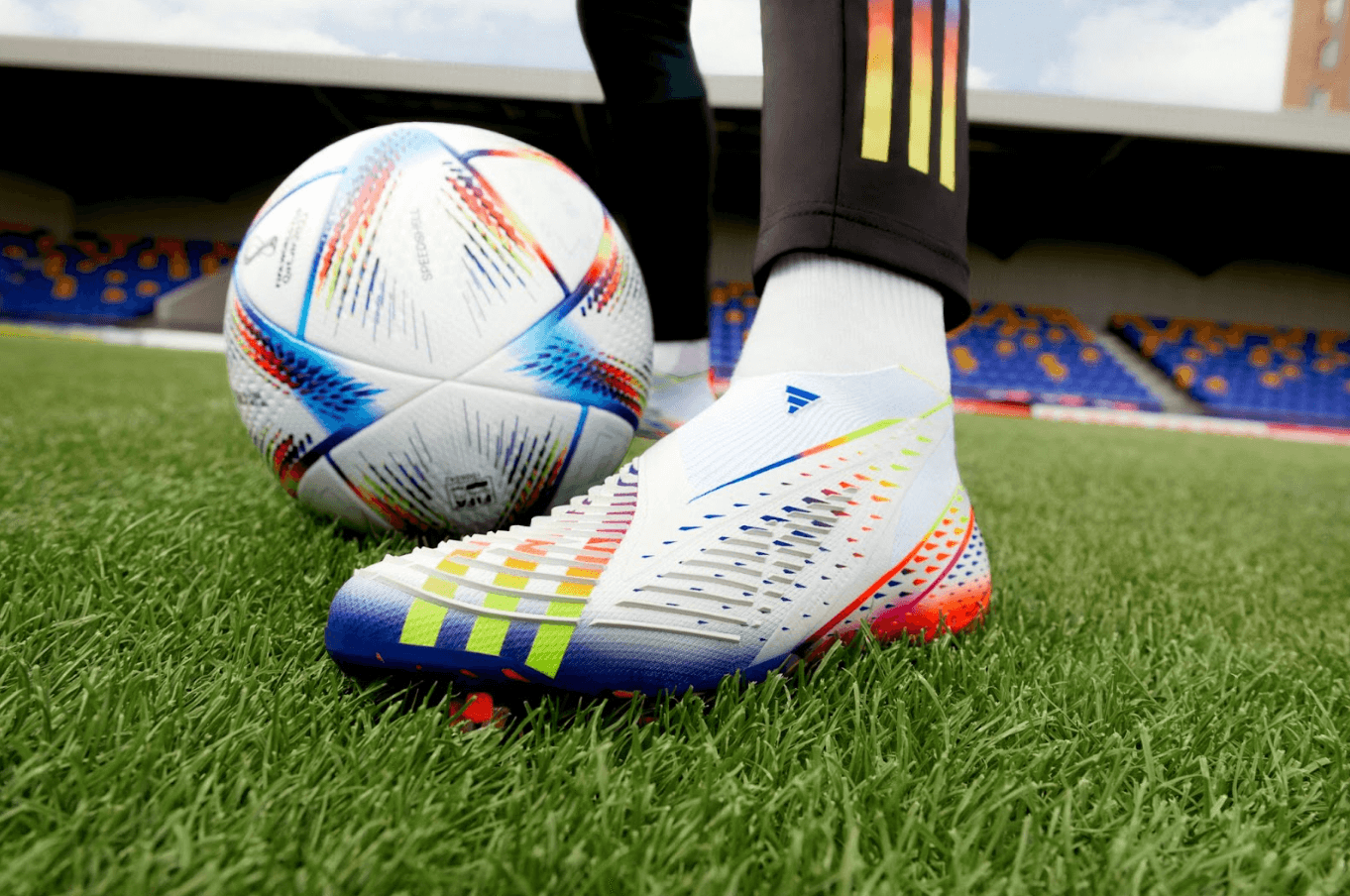 The design of the Adidas Al Rihla boots represents a significant shift from a more conventional Adidas boot, with the company's trademark three stripes relocated from their usual location on the side of the boot to the front of the cleat.
While this does represent a risk, there are product marketing benefits that can be attributed to deviating from a globally recognizable brand aesthetic, and opting for a more dramatic approach to the boot design.
"The thing to remember here is, all things are cyclical. Just because Adidas has chosen a new design for the 2022 World Cup, it isn't necessarily going away, altogether. It creates an opportunity to bring them back, and when an old design is re-released, you build a story around that.
"That's one of the most difficult things that's involved when you're involved with the product marketing process for these things - the seasons never end: There's always another season, another World Cup, another kit, another boot, and another ball. So, how can you keep evolving and telling new stories?
"Sometimes the only thing you can do is leave an old design behind, even if it hurts to lose it. Brands often move away from their most iconic designs to create a new space, so that there's a point of difference for that same reason of, "Well, I need to update my kit, or I need to update my boots because my ones are looking outdated now."
Having identified Newcastle United's jersey from the mid-90s as his 'perfect' football shirt, what does Elliott consider to be a perfect football boot, not only aesthetically, but also from a marketing perspective?
"Visible technology is vital. We've talked about the story, and companies can use technology and design elements to make sure it's the fastest boot, but if you can't see that, then what difference does it make? The only person who'd be experiencing it is the player.
"You need to help people see the benefits of using that particular product. Perhaps the greatest example of all time is the Nike Air trainers, with the bubble being incorporated into the design. You see that feature, and your brain can understand why that may be able to make you jump higher. I think every brand would love to replicate that it's not always possible.
"We talked about the Predator football boots having the traction dots, and if you can find a way to make your technology story visible, then that's golden.
"Technology aside, the other thing is to grab attention, which is why color is the big battle. At one point, everyone wore black boots, whereas now, there are so many colorful boots - it's like a rainbow of color every time a team steps on the pitch. This is because every brand is trying to build a color story.
"You can see that in all the examples from Puma, Nike, and Adidas that they're all got a story that connects so that their boots are a family. So, whether you're buying them for speed, or control, it doesn't matter - there's a connection with color there.
"At Euro 2020, Puma released pairs of boots where the left was blue and the right was pink. Products like this are great examples of the cyclical nature of design, and companies doing things that their competitors aren't doing so that they stand out.
"You're only seeing football through a screen, and you're not going to be able to see something very subtle on a black boot.
"However, if you have a brightly colored boot, or in Puma's case, different colored boots, then you have an identity that people are going to pick up on and notice, and what they want to get noticed and sell more products."
The World Cup ball and product testing
Whether it's the Adidas Fevernova from the 2002 World Cup in South Korea and Japan, Teamgeist from Germany 2006, or the Jabulani from the 2010 South Africa World Cup, the official ball is always a point of interest in the build-up to, and during the tournament.
"I think the World Cup ball is an interesting product because there's probably not many products out there that represent the event like the ball - it becomes iconic for years.
"If we're being honest, there's probably no other product that's going to be photographed and seen more than the ball during the tournament, so from a brand perspective, it's a huge opportunity to tell a story. Once again, the narrative revolves around the design, and the technology used whilst creating the ball.
"The theme is to celebrate that moment in time. The name of the product is usually in the language of the country, and the design usually takes inspiration from the culture.
"The World Cup balls are one of the things you always remember when you go back to different tournaments, and it lives in the mind of the fans and consumers for a long time. This product is always a sought-after piece of merchandise - the sales of the official ball are huge."
The Qatar World Cup will see the official match ball, the Al Rihla, play a huge part in the use of semi-automated offside technology, in a bid to enhance the officiating of games. The use of such technology has necessitated a great deal of testing, something that isn't alien to product marketers.
"It's been around for a while and already done a lot of sports of finding ways to bring technology into the ball.
"I think the interesting thing from a product marketing viewpoint is the amount of testing that's required. We've talked about the kits, but ultimately, the kits shouldn't make too much of a difference on the pitch.
"One thing you may have noticed over time is goalkeeper kits becoming fluorescent. That's become a more common design choice because, after rigorous testing, the consensus is that bright colors can affect a striker's eyesight and put them off. It may only work one time out of 100, but that can make the difference that every team wants.
"The same theory applies to the boots - companies will argue that their products can have a massive impact on the result of the game. However, in the case of the ball, it can have a massive effect on the game, and this is why prototypes for the ball are put through extensive testing before a tournament.
"Every ball might fly, function, and perform differently. From a product marketer's perspective, you can't even imagine how rigorously the World Cup ball is tested in the build-up to a major tournament. Manufacturers, in this case, Adidas, know it's going to be the center of attention, and it can affect what happens on the pitch.
"It's a challenge for the product marketers tasked with designing and testing the new ball for a World Cup. They have the task of innovating and creating a new ball, whilst ensuring it's not so radical that it has a detrimental effect on events on the field."
The eyes of the world will be watching the Qatar World Cup, with football fans from every country hoping their respective team can reign victorious and lift the famous trophy - but who does Elliott see winning the first-ever Winter World Cup?
"I can't look further than Brazil. They've underperformed for a while now, with the international stage being dominated by European teams.
"However, I look at their squad and see how many great players they've got across key positions, so they're my best bet - especially as there are a few representatives from my team, Newcastle United!"
Master the art of product storytelling
Elliott Rayner is the course instructor of Storytelling Certified, a specialist course designed to help product marketers improve their storytelling knowledge and skills.
By the end of the course, you'll be able to confidently:
📚 Construct an actionable storytelling framework
📚 Structure your product story like a pro
📚 Connect better with your customers through an authentic product story
📚 Communicate to your audience with confidence and passion
📚 Use your purpose to ensure your story remains consistent
📚 Have an impactful change on your product's story and success
Understand the science behind telling a story that sells. Master the art of storytelling.