It's true what they say, not all heroes wear capes.

Whilst all our Product Marketing Award winners are heroes in their own way, we wanted to highlight the efforts of those who consistently go the extra mile.

Whether these PMMs have made the shortlist for not being afraid to innovate, collaborate, or put others first or for launching non-profit initiatives or mentorship schemes. Those are the kind of PMM rockstars we are recognizing with the Above & Beyond Award.

So, without further ado, we are delighted to officially confirm the winner of the Above & Beyond Award 2021 is…

🎉 Trevor Pyle, Director, Product Marketing, Quantum Metric 🎉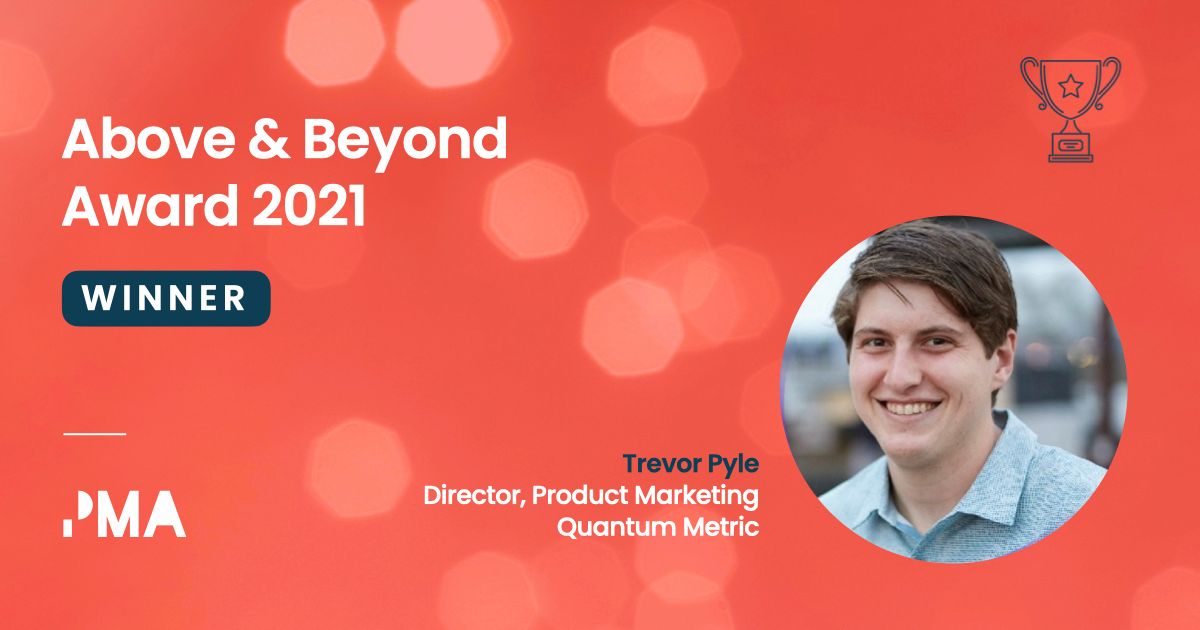 When we asked, "can you tell us about a time when the nominee has gone above and beyond…" Trevor's nomination read:

"One time? How do I pick it? Trevor embodies going above and beyond. Maybe it's because he started in sales enablement. Maybe it's because he has grown with the company from a fledgling startup of 50 to post-product-market fit growth Series B $200 funded startup of 400. Maybe it's because he is super nice, funny, and has the best GIF game in the company.
"It's probably all that and the fact that he crushes all his deliverables, constantly delivers value and is having a massive revenue impact through sharp and differentiated messaging, deeply researched competitive intelligence, and a thorough understanding of our buyer's journey AND our sales motions."
Christine Tran, Senior Director, Product Marketing, Quantum Metric

Wow. We couldn't put that any better ourselves.
Over to you, Trevor:
This category was jam-packed with awesome finalists, let's remind ourselves of who else made the shortlist and offer them our huge congratulations again:

Tershone Phillips, Senior Product Marketing Manager, Comscore
Natalia Godyla, Product Marketing Manager, Microsoft
Madison Silver, Product Marketing Manager, Snap! Raise
Silvia Kiely Frucci, Senior Product Marketing Manager, Castor
Div Manickam, Mentor, PMA
Cheryl Neoh, Group Manager, Product Marketing, Zendesk

The gold rush continues here at PMA right through September 24 as we continue to announce the winners of the Product Marketing Awards 2021. ICYMI you can check out details on who won Product Marketing Newcomer of the Year and Positioning & Messaging Maestro of the Year.
Join us tomorrow as we round out the week announcing the Top Companies to Work in Product Marketing.