In case you missed it (in which case, where have you been?) the Product Marketing Awards are back and bigger and better than ever for 2021.
Yesterday, we were delighted to announce the winner of the Product Marketing Newcomer of the Year Award. Today though is the day that we crown the Positioning & Messaging Maestro of the Year.
Whether it's nailing a USP, consistently leaving competitors in the shadows, or succinctly defining core product benefits, Positioning & Messaging Maestros are masters of their craft. Getting this right is no mean feat and that's why we're delighted to recognize and celebrate their excellence.
It gives us great pleasure to announce that the winner for 2021 is…

James Doman-Pipe, Senior Product Marketing Manager, Remote 🎉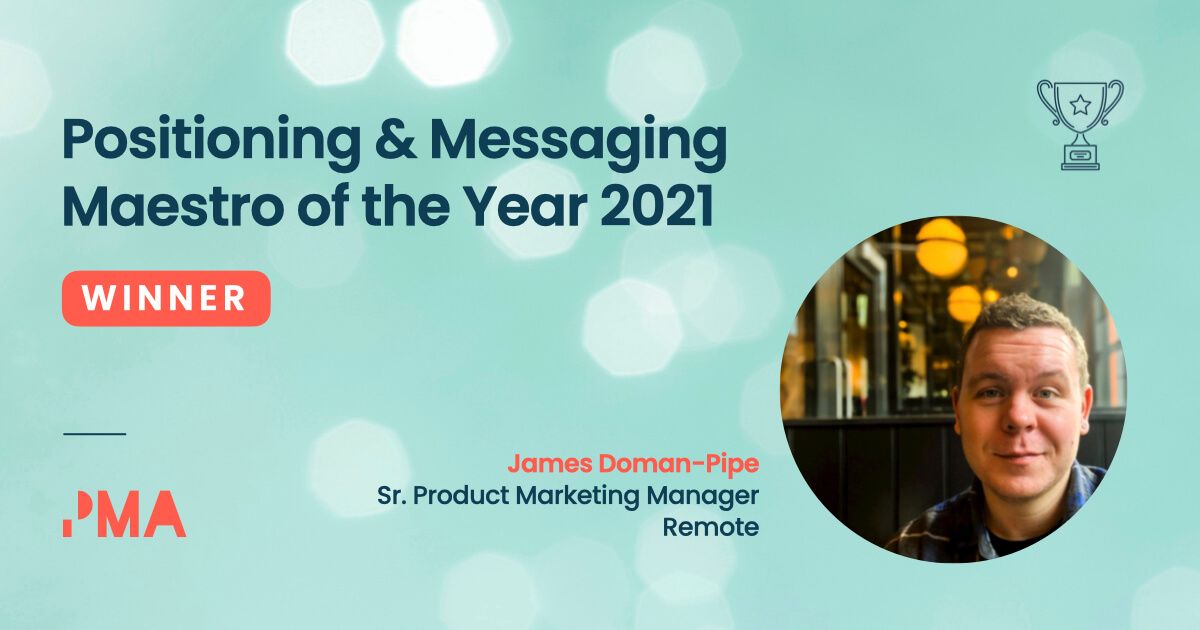 Here is just a snapshot of James' awesome achievements in recent months:

"At my last company, Headstart.io, we undertook a repositioning project to really understand how we could make diversity a priority amongst campus hiring leaders. We did this with a big focus on customer insights, what they valued, and understanding the buyer journey to message appropriately to stakeholders throughout all touchpoints. As a result, we saw a 50% increase in sales opportunities and a 120% increase in TOFU lead generation.
"I've also consulted with other companies to develop their positioning - for example, Shipamax.com, helping them creatively message their machine learning technology to a range of buyer personas, again putting customer insights at the heart of the process.
"I also write a newsletter on Building Momentum with a big focus on positioning and messaging tips for early-stage B2B SaaS startups, which has gained 350+ subscribers in a few months from companies like Twilio, Google, Terminus, and many more."
We would also like to give a massive shout out again to those who made the shortlist:

Darcie Burek Gainer, Product Marketing Manager, Duo Security/Cisco
Elliott Rayner, CMO, ARION
Arjun Desai, Product Marketing Manager, LinkedIn

Come back tomorrow and join us, as we announce the winner of the Above & Beyond Award.

Want to become a Messaging Maestro?
Sign up for our Messaging Certified: Masters course to gain the best possible knowledge on the strategy. The certification is taught by Bryony Pearce, Head of Education here at Product Marketing Alliance, and features insights from James Doman-Pipe himself.
By the end of the Messaging Certified: Masters you'll:
Know how to build foundations for solid messaging and customer engagement,
Be able to get maximum impact from your messaging frameworks,
Be a pro at drafting, layering, and reviewing your messaging,
Understand how to work more effectively with copywriters,
Know how to validate your messaging with prospects and customers, and
Understand message synching and why it matters.
Enroll Now