Whether you're collaborating with key stakeholders or working on a product launch, communication's an integral part of product marketing.
In this article, we'll explore some important things to consider when working alongside different teams in a business:
What does the typical product marketing team look like?
The product marketing function is still in its relative infancy, and there's no set formula for how to structure a team. The team dynamic will differ depending on how the roles and responsibilities of a product marketer have been incorporated into the overall business structure.
In an episode of Product Marketing Insider, we asked Su Simha, Chief Marketing Officer at Morressier, what a product marketing team looks like in terms of numbers and roles. This is what she had to say:
"It varies from company to company, and I think it completely changes from industry to industry. In companies like Microsoft, each product organization operates like its own profit and loss (or at least at the time when I was there.)
"And so naturally, product management and product marketing are working together, and sometimes you have one product marketing manager in individual business units, depending on what the business is. If it's a $1 billion business like service and consulting, I was probably one or two people in product marketing. But if it's a big business like Office, for example, you'd have at least 10 to 15 different product marketers.
"The product marketing team structure is different for a company like Microsoft, and when you look at my roles in Bombardier and the way I've built the team there, again, you have six different product lines. So I had to have a product marketing leader for every single product line and then had the competition, the campaign, and the content exposed.
"With N26, I took a slightly different approach by not knowing what the makeup was in the organization, what different teams existed and how I could complement that and try and duplicate it. So, it's very important to not duplicate, or rather understand if you need to restructure and bring in some of these other responsibilities.
"So I think at the core, I structure the product marketing team based on three things. One is segments, the market segments, or product lines that you're looking at. Often it depends on the product organization in many ways.
"In N26, I replicated the product organization so that we had a product marketing leader for every single product leader. It was across the journey of the product... so there was a product marketing lead for growth or acquisition, engagement, memberships or subscriptions, additional ancillary products (like the insurance one that we launched), and marketplace.
"So, a lot of these things can be defined, and then in addition to product marketing leaders, I also tend to set up a mini team within this product marketing for the segments with a competition expert. But product marketing by default needs to be that champion of understanding what's going on in the market.
"And then with market research analysis, often I tend to have market research within the product marketing organization. Sometimes in companies, I've had to look at whether they may have already had a market research or a user research team. So bringing them onto a dotted line kind of a structure within the team has also worked out very well.
"And lastly, it's important to bring a launch project manager or launch coordinator onto the team. The launch is something that I think is so dramatically important in most companies, and I think if you do the launch right, then you're really setting the tone for the growth of the business or the product adoption in years to go or in months to go.
"So naturally launching, I think, is definitely a very big job in itself. You can't have a product marketing leader do everything. If it's a small company, you can do it, if it's a larger launch project, you sometimes need a launch coordinator in that sense.
"It's kind of like this is a mix of a product marketing leader, a competition expert, a launch coordinator, and then very clearly a market researcher. All of this comprises my product marketing team and that depends from sometimes 12 to 18 to 20 people.
"At Bombardier, we had 15 to start with, and I grew the headcount to 27 eventually, which is what I got the approval for. In companies like N26, I started with an 18 headcount request but eventually, we got a headcount of about 11 people. So it's very much company to company."
Where does product marketing fit in a business?
Because product marketing is still establishing itself in the career field, the roles and responsibilities of a PMM vary in each company, and this is something that needs to be established quickly.
In the 2021 State of Product Marketing Report, we asked PMMs if they felt their colleagues truly understood the role that product marketing plays within their company. Here are the results: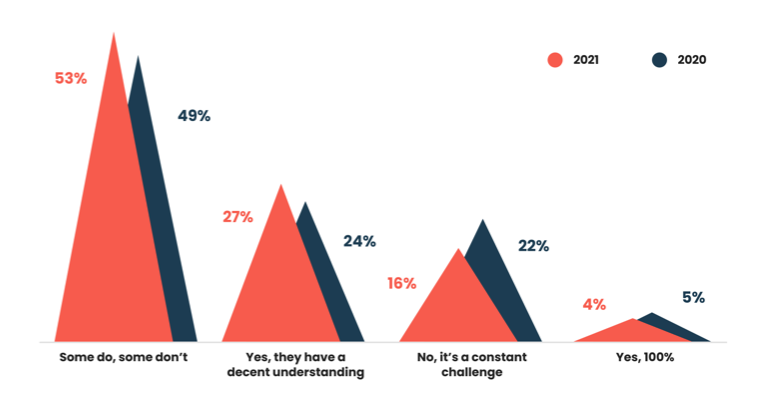 Only 4% of PMMs believed their colleagues completely understood the roles and responsibilities they had within their company. This highlights that we must establish a solid understanding of the product marketing role in order to eliminate any miscommunication of certain roles and responsibilities that each team has.  
We asked some product marketers their views on where they fit within the team structure:
"We shape external communications of our products and share that within the company so it's a unified message."
Reanne Barrette, Associate Product Marketing Manager at Esri

"A product marketing team acts as a conduit between the product team, the marketing team, and sales to ensure that each is aligned. The activities of a product marketer vary from research to email execution for feature adoption. What I don't think it is, is to create the entire product strategy and pricing and GTM strategy for sales and marketing."
Verity Brain, Product Marketing Manager at Tungsten Network

"Product marketers are the connectors inside an organization. They sit at the center of product, marketing, sales, customer success, strategy, and multiple other functions and help connect the dots between them."The product marketer is the company's chief storyteller, responsible for crafting and communicating the value of the product to the customer."
Seiyonne Suriyakumar, Director of Product Marketing at Dropbox

Product marketers sit within an umbrella that overlaps with different departments in the business structure, as highlighted in this diagram:
Because of this overlap, communication between these departments is essential to establish which team's working on which part of the process. A lack of communication presents an opportunity for discrepancies and mistakes. For example, where tasks are overlooked or ignored because each department thought it was allocated to the other, and so on.
Join Div Manickam, Director of Product Marketing at SpotMe, host of the To Team or Not to Team podcast series, and learn how leading practitioners structure their respective teams.
Product marketers' perspective on working with different departments
We asked leading experts within product marketing which departments they interact with most, and which interactions they consider to be most important. Here's what they had to say:
"In essence, product marketing is a central nervous system of companies to a large extent. So the interaction with everybody is equally important. I think product marketing's kind of an aggregator in many ways.
"You're aggregating what's going on from the product side of the world, helping enable the sales teams by doing the sales enablement, talking to customer experience and understanding what's going on with customer experience, what's going on with the consumers and customers, whether it's a B2B buyer, or whether it's a B2C buyer, what are they really giving the feedback on? So every different department is important in this case.
"And so naturally, the most important stakeholders in B2B by default are products on one side, and then the sales on the other side. And then very importantly is the customer experience or the customer feedback, because that's how you really drive that feedback. And then the data team, which is super, super crucial.  I say product, sometimes design and user research can be a part of the product organization, sometimes they can be a separate part of the organization.
"And so working with all these five different entities, just say product, sales, marketing, the markets, also local markets, because often product marketing roles are global roles, so working very closely with the individual markets and understanding what's going on in these spaces, so you can really reflect it back in your planning. And then, of course, the data, user research, user design, all of these elements play a role there in that sense."
Su Simha, Chief Marketing Officer at Morressier.

"I talked to the sales team every single day and lots of different people within the sales organization. Sometimes they are a person with a quota that they're trying to hit and a book of business or it might be sales leadership.
"We also work with sales ops to really try and understand from a business perspective what products are performing the best in terms of adoption or revenue generation. They're really helpful for that. And thinking about our strategic accounts and what those customers need outside of sales.
"We also have a team of technical consultants. So they're the teams that the sales team will go to if there's ever a challenge, a question that's difficult to answer because the salesperson has a question on how the product works or is there a bug and those sorts of things. I have weekly catch-ups with that team as well."
Jennifer Bunting, Head of Product Marketing for EMEA & LATAM at LinkedIn

"I think this fluctuates depending on your role and stage of business growth. But today at Dropbox, and I'd say in the last few roles that I've been in that I've been B2C focused, I've partnered most closely with my product team and my product manager of course. Then, product design engineering, data science, customer support, and customer success... depending on how your work is oriented.
"We also work with market research and UCS research teams. I do think that there are many other teams that come into the mix depending on the initiative that you're working on, but I'd say that that's kind of my core set of partners that I meet with.
"I tend to have standard weekly meetings. Bi-weekly, I have one on ones with my product manager engineering team rushed to engineering leadership product design and data partners.
"As we're normally a core team that's shipping most often, I need to really stay most consistently aligned on a day to day basis. I normally meet with my US research team, market research team, and customer experience partners a little bit less, maybe bi-monthly to monthly. But I'd say that this heavily depends on the stage of the product that we're working on and my priorities at the time.
"If I'm working on a large research project, I may meet with my research partners weekly. It just depends on what we're focused on at the time."
Madison Moyd, Product Marketing Lead at Dropbox

Why are collaboration and internal communication important in product marketing?
Adds value to the role of product marketing
It's important for product marketers to communicate internally with different teams within the company to establish themselves as an integral part of the business structure.
Product marketing is still very much an emerging field within the business industry. So, it's essential to have these conversations with different internal teams to convey a product marketer's roles and responsibilities and why they are an important part of the company.  
We asked PMMs: "on a scale of 0-10, how much do you feel that your role as a product marketer is valued at your company?"
We discovered on average that most felt that they were valued at a 6.9/10. This number would likely increase if each company worked proactively to build stronger relationships between the product marketing team and each of the departments. The simplest way to do this is through having those conversations with your coworkers.
To simplify and improve in-house collaboration
Teamwork is essential when you're putting a new product together and launching it to your target personas - but how can product marketing collaborate with internal teams?.
Oftentimes, there are multiple different departments working on the same project and this can bring forth a lot of miscommunication and misunderstandings of how the process is going to work, which team is working on what aspect, and so forth.
For example, we asked product marketers who owned sales enablement within their company. The majority sat with product marketing (64.6%), some said either marketing or sales and 10.3% said they didn't know.

It can improve your product marketing strategy
To give an insight into this idea, I'll use the example of messaging, as it's a very important strategy within product marketing.
In order to effectively develop your messaging technique, you must first collaborate with the whole company to construct an overall message that your company stands for. This creates a more cohesive overarching theme and structure which you can then use to develop and create more intricate layers within your own teams later on.
Creates a more positive, productive, and engaging environment
If you're consistently communicating internally with each department, everyone's job becomes a lot easier to carry out and manage, and each team will feel more involved in the process and actively want to engage in collaborating in the future.
How to communicate with internal teams
Meet with teams regularly
Having consistent communication helps to avoid confusion and keep everyone up to date on your projects. It also helps to develop a better relationship between you and other departments.
Listen to everyone and be open to feedback
According to Su Simha, "it's very important to be keeping your ears open, wide open to listening to everybody, this is I think the crucial role to really be successful in this role for any product marketer."
Value everyone within your business. Listen to everyone and make sure you're open to the feedback that you receive from them. Their different perspectives and experiences are invaluable to you in improving your product.
Plus, if they see you're actively trying to take their help, they'll be more likely to want to give it in the future. And you never know, you may have certain experiences that'll help boost their projects, too.
Use effective communication tools
There are many effective tools you can use within your business that will make communication with each department that much easier. Here are a few examples:
Slack

Slack is a messaging service that allows you to message your co-workers through chat rooms or direct message, and you can organize it even further by creating different channels for different topics and groups. It's a lot quicker, and more efficient, than email and is a very handy communication tool for your business.
Join our Slack community to have a better understanding of how to use it, and become a larger part of the Product Marketing Alliance community.

Asana
Asana is a team management tool that helps manage internal projects and tasks effectively. You can create different folders and assign certain tasks to certain team members to further organize and keep track of everything that needs to be done.
Additionally, users can also create a private to-do list, to ensure deadlines are met and team members are in sync with activities.
Internal newsletters
Writing a newsletter for your company will help everyone keep up to date with the current projects, announcements, and any other important information that you feel is essential for your co-workers to know. This can be as simple as a mass email, or a more detailed printed publication.
It's just a helpful way of ensuring you are keeping everyone up to speed with important topics surrounding your company and doesn't have to take up a lot of your time.
Lawrence Chapman, Copywriter here at Product Marketing Alliance, dives deeper into the importance of internal communication and how to improve your communication skills in his article 👇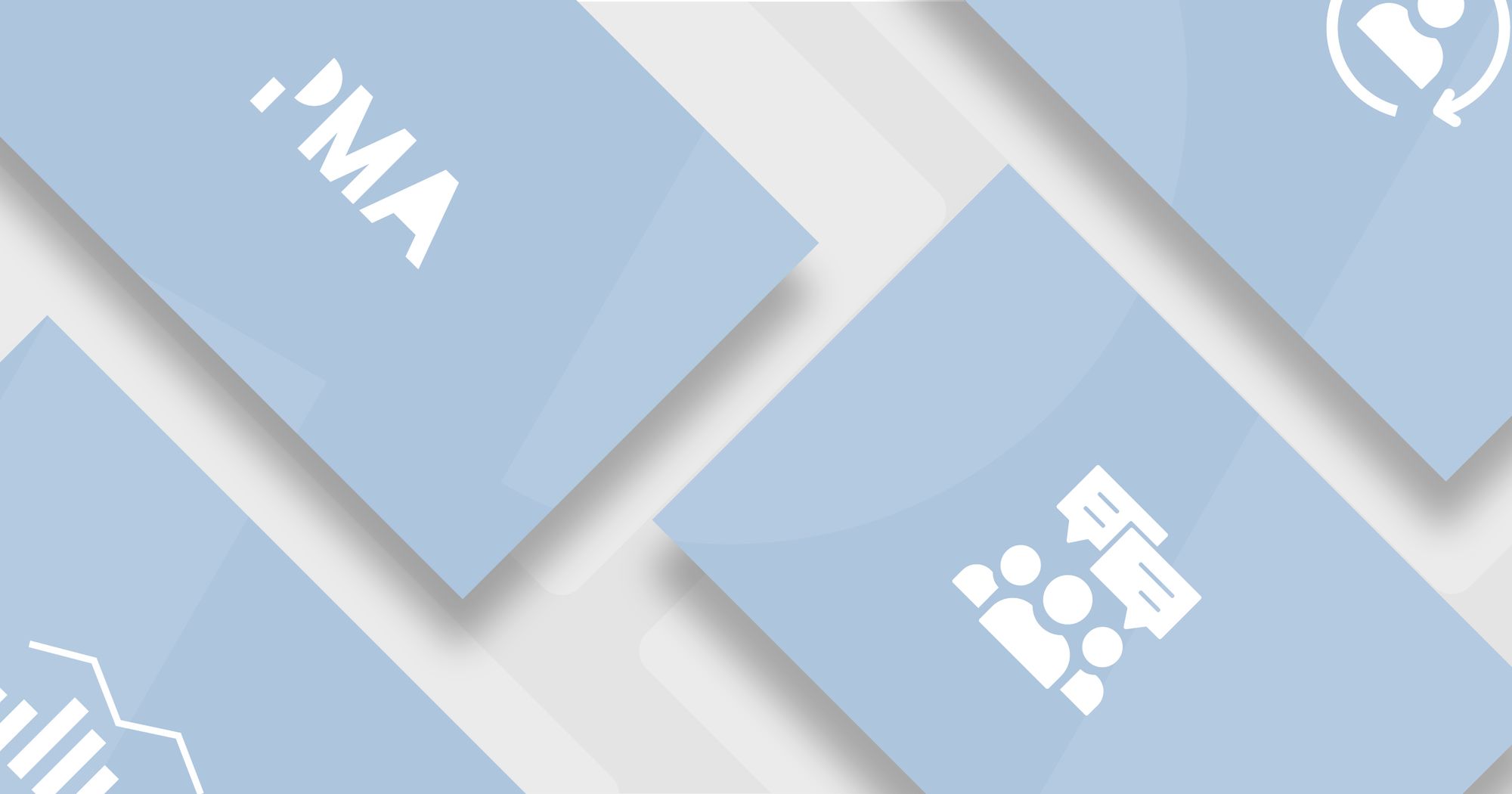 Want to know more?
Learn everything you need to know about working with internal teams through our Product Marketing Certified: Leadership course.
By signing up for this course, you'll gain insight into a vast pool of experience from a variety of leading experts in the industry, and will learn everything to do with how to lead a product marketing team.
By the end of this course, you'll be able to:

🔥 Know what it takes to be a great PMM leader
🧱 Build and scale your own team
👉 Know how to successfully manage an existing team
📊 Clarify how you should leverage data
🗣 Identify how to become the voice of the customer
🙌 Increase your influence and standing within your organization
🎉 Outline how cross-functional teams should work together
🔋 Supercharge and refine your strategic thinking

Get Leadership Certified