The product marketing sphere is inundated with experts who've amassed years of experience in competitive intelligence. Oftentimes, these are exactly the kind of people you need to lean on to cultivate your own skill sets.
As part of our research for the Competitive Intelligence Trends Report 2022, we asked respondents to reveal the following to help product marketers improve their CI programs in 2023:
Competitive intelligence tips
"Crowd-source your competitive intelligence across teams and make it easy to share insights."
"Product support pages have screenshots that help you understand how the product works when it's usually hard to get access."
"Set goals before you gather intelligence, as not every bit of information gathered is needed to achieve that goal. Also, present all intelligence gathered to everyone but then create 'highlight callouts' for specific teams so that they engage in the content better. For example, a competitor running a free giveaway on a social channel might not be impactful to engineering teams (who usually want to just hear about new product innovations), but Marketing teams might find this activity interesting."
"Don't let competitors drive your roadmap; be aware but don't let them drive."
"Devote time to review your competitors and update resources and the team."
"Focus - zero in on which competitor is most impacting your pipeline. Spending your time there will move the needle more."
"Provide as many proof points as possible."
"Learning how to share insights effectively is arguably more important and challenging than learning how to collect them."
"Be aware of what others are doing but don't copy to compete, differentiate yourself."
"Build an internal network - teams in customer-facing roles have a lot of good intel on the competition."
"Speak to customers that have used or evaluated the product."
"Don't try to boil the ocean; focus on a few competitors and a few areas or attributes for each."
"Don't ignore the need to focus. Having 10+ competitors in your list will not bring as much value as focusing on a few of key competitors that you come face to face  with at the end of the sales cycle and go deep in positioning and messaging to win."
"Read the reviews - whether user or employee. They provide a lot of insight into what's working, and what's not. While you have to be mindful that some employees may be disgruntled, they provide an inside view of the company you typically can get anywhere else."
"Competitive intelligence isn't just about gaining the intelligence; it's about what you do with it--and not just for product or marketing, but for your whole org. I'll have to give a shoutout to Brandon Bedford who shared this metaphor: CI is a wall-to-wall activity. Look at their product, their marketing, their sales approach, their hiring practices...everything."
"Enable your selling teams first. This is the fastest path to showing revenue impact, and grants you access to valuable intel you can't find online."
"Hire someone to do it full-time."
"For B2B, prioritize developing an enablement program first before investing in more tools or headcount. Competitive intelligence isn't valuable if it isn't utilized by the end-users effectively."
"For most market leaders, competitors are like an elephant in a room: there is but they don't want to see it."
"Create an internal competitive intelligence brand and start using it in all your communications."
"Don't rely solely on a company's website - look at other sites and reviews for deep intel. A good Google search is invaluable!"
"Distilling a world of information down to the three of the most important things that everyone must know brings more immediate value to an organization than any meticulously detailed or lengthy report."
"It can be overwhelming to know where to start when first building your competitive intelligence program. Once you invest all that time to build materials, make sure to keep updating those materials/checking in on competitors regularly. It's much easier to make updates as changes occur at a competitor than it is to go back months later and try to catch up on everything that has happened."
"Build relationships with individuals on your sales and customer success teams. They're key to getting the best intel and you need their buy-in for a successful CI program."
"Don't get so caught up in providing the latest news that you sacrifice the bigger, longer-term competitive story. I see an overreaction/appetite for having dynamic competitive intelligence content that's updated immediately, but if you can't 100% say there is a baseline level of knowledge in the company, then just pushing out the latest intel as intel, isn't intelligent! A single data point is not an insight."
"Create a table comparing product features and prices, then go in deep into their positioning to understand where they plan on going."
"Use your internal chat system and post 'did you know' and short CI videos. People eat it up and want to help and share what they know."
"Conducting competitive intelligence can put you in an 'us vs. them' mentality where you become hyper-focused on details like head-to-head feature comparisons. But don't forget about your customer and how they're evaluating their issue as a whole, especially in cases where the status quo or a DIY solution is a competitor, as well. Remember, differentiation is about more than features. You need to demonstrate value and understand why your product is best equipped to solve their challenge."
"It's not enough to know what your competitor is building or how they talk about it. Understanding how your target audience perceives these is critical. We always try to complement with qualitative feedback and regular market research for that purpose."
"Focus on the competitor that's taking away the most potential revenue from your business."
"Always check with other teams before making any research to make sure that you are not doing the same work twice. Always have in mind to enrich all the existing data that all teams are probably already gathering."
"Create a scorecard to track your competitors' progress and their threat level against yourself."
"Talk to sellers as often as you can, even those who may not appear to be working competitive opps or have experience at a competitor."
"Make competitive intelligence an inclusive value provider to every department: not just sales. Advice and recommendations on how you win should be presented in a way that it can be implemented in unison across every department."
"Have a point of view on the information you learn and share it, but more importantly, be open to feedback that can evolve your perspectives."
Competitive intelligence tools for 2023
Given the benefits competitive intelligence brings to the table, there's no margin for error when completing these programs; if you let the ball slip, there'll be someone waiting in the wings to punish you for your mistake.
As highlighted in the Product Marketing Tools of Choice, there are plenty of competitive intelligence tools available, so we asked respondents to reveal which tools they use to help them complete competitive intelligence.
Klue, Kompyte, and Crayon were the most popular tools amongst the product marketers we spoke with, while Google Alerts, Owler, Gong, SEMrush, and Slack also received honorable mentions.
Encouragingly, 76.5% of product marketers we spoke with said they use dedicated competitive intelligence tools to support their programs.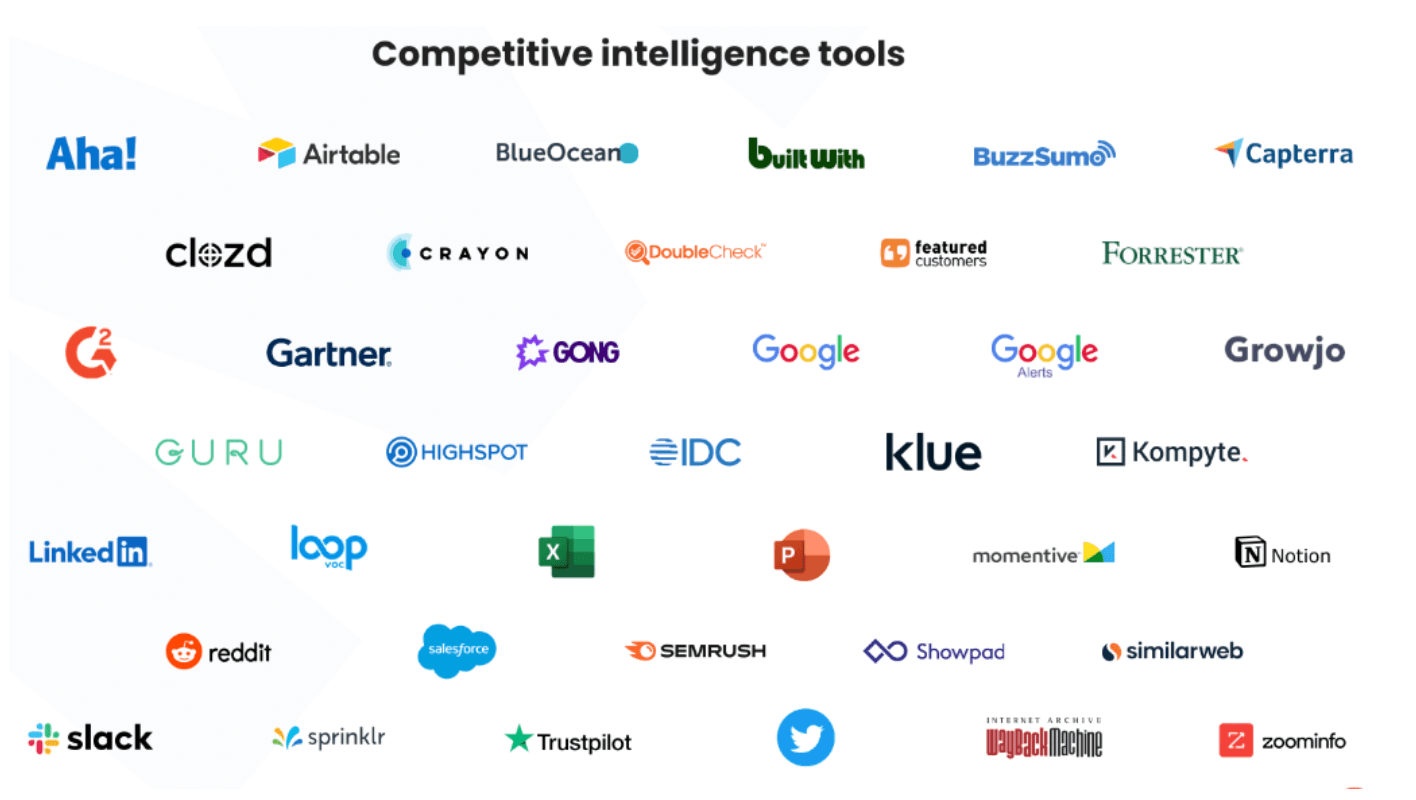 A trio of product marketers explained how their experience of using competitive intelligence tools has supported their CI processes at their respective companies:
"Our competitive intelligence tool ensures up-to-date insights are in the hands of those who need it most, as quickly as possible. This has increased the adoption of our competitive program, making my team a trusted resource much faster than we expected.
"Increased demand for competitive coverage across multiple products, and the growth of other initiatives meant we needed to expand our team to support this work."
Lisa McNeeley, AVP of Sales Operations, and Intelligence at Hyland
"Having a central repository has been the key to keeping all the information organized. The sales team tracks battlecards, the marketing team tracks competitor content and social channels, and visibility between both teams increases."
Fazila Malik, Product Marketing Manager at strongDM
"Dedicated competitive intelligence tools can help create a library function that augments the revenue process.
"By integrating our CI tool and enablement platform together, we can create a repository of internal and external information which can be accessed by Sales as they need it.
"Further integrating CI into the communication channels, helps foster the ability to curate information quickly and efficiently distribute it."
Matt Coblentz, Competitive Intelligence Manager at Workato