Every organization grows to the point where it needs to introduce a product marketing function to continue scaling and stay fast, effective, transparent, consistent, and cohesive. In other words: competitive.
In a nutshell, the goal of product marketing is to dive deep into the customer's jobs and pain points, and implement this knowledge:
Into product development – so the product solves consumers problems and makes them happy;
Into GTM strategy, launches, and communications – so a team is aligned, coordinated, and informed; and customers hear what they want to hear and know exactly how a product will help them achieve their goals.
Get your team on top of its game with a PMA team membership >
"Product marketing plays a crucial role in helping companies successfully market their products to the right audiences. When introduced to an organization, product marketing is the function that will:
Craft a strategic narrative for the company's vision.
Create sales enablement materials to support go-to-market initiatives.
Align sales, marketing, product, and other areas of the organization towards the right markets, channels, message, and execution.
Ensure that all communication and marketing efforts are aligned around the right audience and with the right message.
Boost product adoption with the proper launch plans and tactics."
Daniel Kuperman, Head of Product Marketing for Jira Align at Atlassian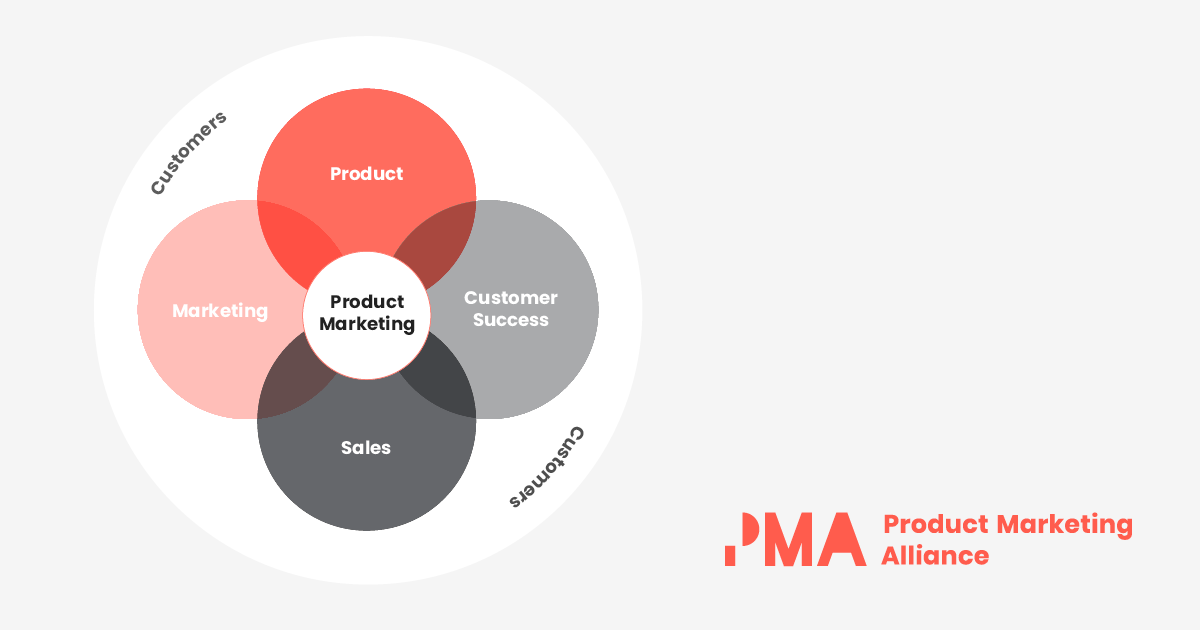 When should a company introduce a product marketing team?
When a company is small and consists of no more than 5-10 people, a product marketing role is often executed naturally by someone from a team, be it a Founder, CMO, Head of Growth, or Head of Product.
At the same time, they usually wear several hats: being sales, customer success manager, and a product lead simultaneously. They're in constant contact with customers,  talking to them during demos and pitching them a product, and supporting them when they have issues, concerns, or ideas regarding a product.
All this knowledge they use to drive product development, GTM-strategy, and launches. So, all expertise, understanding, and knowledge are in the hands of one key person. Everything might work pretty well until a company starts to grow and new team members join the ranks.
When a company starts to have a separate salesperson (or even a whole team of salespeople), customer success managers, product owners, digital marketers, content marketers and creators, HRs, it becomes crucial that they all share the same understanding of a customer, product, message, benefits, and more.
This shared understanding allows the team to steer a company in the same chosen direction, setting, meeting, and exceeding customer expectations. Here the product marketing function comes in with its main goal to collect the expertise, build a strategy on it, and share it with the team, so they execute the strategy focusing on their own part of the customer journey.
What are the benefits of having a product marketing team?
Even though product marketing as a function is quite developed, known, and spread today, some companies haven't introduced it yet. Such companies usually experience hard times, especially if they want to scale and move fast.
On the one hand, it might be a start-up company where one of the senior managers is actually executing a product marketing function along with all other responsibilities and becoming a bottleneck for all processes as their time is so limited.
On the other hand, it might be a mature company, where product marketing responsibilities are spread among other team players. That approach, in general, is not so effective as they are experts in their own roles and are focused on their own staff.  
"Organizations that do not have product marketing as an official function typically have different areas trying to tackle the critical activities as in an ad-hoc fashion, which results in an uncoordinated effort, duplicate work, and falling short of expectations."
Daniel Kuperman, Head of Product Marketing for Jira Align at Atlassian
So, as we can see in both cases, not having a product marketing function leads to ineffectiveness, lack of transparency, and in the worst cases, lack of direction, long-term high-level vision, and strategy.
Let's now look at how companies might benefit from the product marketing function.
Benefit #1. Creating a macro-view strategy
If we look at sales, customer success, product, and digital marketing teams, none of them are focused on studying a customer and developing the high-level GTM-strategy, communications, and messaging. But instead, they all are involved in the strategy execution. They all work with their own fragment of the customer journey, so they have an insight into that part.
"While individual teams will focus on specific aspects of the customer lifecycle, where product marketing can add value is by having a macro view of the wider market landscape. Product marketers bring a mix of strategic insight and execution best practice to help internal teams with the training, content, and assets they need to best position the product to prospects and customers"
Louise Dunne, Product Marketing Manager at Linnworks
Indeed, product marketing adds value to each of the teams, and it is only possible if they have this high-level understanding of a market landscape.
The opposite is also true, product marketers have a complete view of the entire customer journey, only if they are integrated and have insight into all other teams. Here, we start to understand the cross-functional nature of the PMM role.
Product marketers add value to every touch-point because they know what customers want at each and every point, and how to move them down the funnel, what words should be said, what content should be delivered, and what actions are expected.
For example, they might share insights about competitors with sales, and help them highlight main advantages versus competitors, or they can help sales create materials that address customer needs and speak to their pain points. Another example, product marketers can help customer success managers by creating educational materials for much smoother onboarding.
They help involve all stakeholders for more informed and prepared product launches. In addition to that, product marketers utilize insights from sales, customer success, product and market research to help develop a product roadmap; polish the GTM-strategy; constantly improve materials, and inform a content strategy.
It's crucial for organizations today to introduce the product marketing function as soon as possible as we can see it brings a great deal of value and requires a lot of work, expertise, and proficiency.
Benefit #2. Aligned, informed, and coordinated teams
Imagine a company that simply wants to release a new functionality that might happen every two weeks in some companies, or even less often in others. Every company dreams that this process would go as smoothly as possible, which means:
Customers are informed about the important updates and have materials on how to use it.
Sales materials and knowledge are up-to-date.
Customer success knows how a new functionality works and is able to answer all customer questions.
...the list goes on. You've got the idea. It simply means that all stakeholders are informed, aligned, and coordinated.
The good news is that product marketing does exactly that. I won't go into too much detail here, as I highly recommend the article below that explains the point in granular detail. 👇
Benefit #3. Possibility to scale
This is what I personally like so much about product marketing - it can be scaled. Product marketing teams don't necessarily need to consist of only one person, it might include several people who work side-by-side.
Each of them might be focused on their own product if a company has more than one in their portfolio, or they might focus on the concrete function of product marketing be it market research, down the funnel content creation, or onboarding to a product. In the latter case, they share responsibilities and share the results of their work, so everyone is informed.
It is also good news because as we can see, product marketers have lots of things to do, and even more to come.
"I can only imagine that more responsibilities will be added to the average product marketer as time goes on…", says Erik Mansur, VP, Product Marketing at Crayon in the State of Product Marketing Report 2021.
So, companies can invest more and expand the PMM team to avoid employee burnout.
Product marketing introduced right
From my personal experience and from what other PMMs say, I noticed that product marketing might not always function as smoothly as possible.
Sometimes, product marketing does not have enough authority to make crucial decisions; sometimes the function is poorly understood by other departments, so they don't value product marketing much and don't understand how it helps them every day.
Sometimes responsibilities are duplicated, and other teams do the same job as PMMs that leads to a duplication of time and effort spent, etc.
In my opinion, to avoid all such situations, it's crucial to introduce product marketing right from the very beginning, and from my experience, I noticed several factors that help to do that.
Product marketing should be introduced by senior managers
In my opinion, the idea of introducing product marketing as a function might come both from senior or middle management, but the decision has to be made by the seniors only. I mean, if a middle marketer finds out that they are actually a product marketer someday, the true function with all its capacity is not gonna work because nobody is gonna take it seriously, unfortunately.
Oppositely, introduction from the scissors gives product marketing more authority and respect by other teams because a new function is perceived as a strategically important move. So, everyone takes it seriously and starts to learn its importance from the very beginning.
"Product marketing should be introduced as early as possible. In most cases, a marketing leader (Chief Marketing Officer or VP Marketing) introduces it as part of the growth plan for the marketing team and in other cases, a product leader (Chief Product Officer or VP Product) will introduce it to help bring more maturity to product launch activities."
Daniel Kuperman, Head of Product Marketing for Jira Align at Atlassian
Give product marketing a seat at the leadership table
As we know, product marketing is a combination of strategy and tactics. It shapes company vision, product message, and communication, enables sales, shapes a product roadmap, and more.
All of these are very important factors of the success of any organization that usually are decided and approved by senior management. If product marketing does not have enough authority to introduce and make final decisions, it simply cannot be responsible for the results, and cannot learn from its own experience.
Educate other teams and set clear responsibilities
It's crucial to educate other departments on what product marketing is, and what it does for the organization. So, everyone can evaluate its value, and have a clear understanding of how it adds value to every department. When people understand, their natural resistance goes away.
"Product Marketers should sit down with their cross-functional stakeholders to outline product marketing's remit. There are good models available, but at my company, we define product marketing as market intelligence, positioning, GTM, customer knowledge, and field enablement.
"Getting buy-in from these stakeholders on what is or is not in scope helps to prioritize key initiatives. From there, it's a balance of building product marketing best practice as well as assessing requests from the field that tie to company-wide initiatives on a quarterly and monthly basis."
Louise Dunne, Product Marketing Manager at Linnworks
As the role is so cross-functional, it's essential to identify responsibilities across teams while all stakeholders are involved. It will help to agree on boundaries and reduce the risk of duplicate effort.
"When introducing product marketing, some common challenges include conflicts with product managers and confusion among the marketing team. To avoid these problems, you should carefully craft roles and responsibilities and clarify areas of ownership."
Daniel Kuperman, Head of Product Marketing for Jira Align at Atlassian
Set clear priorities
Many product marketers wish they could have 25 hours a day for work. According to the State of Product Marketing 2021 Report , one of the main pain points that product marketers face is "too little time and bandwidth to get everything done". The quotes from the report are below that prove exactly that.
"There simply aren't enough hours in the day which means ruthless prioritization is an essential part of our quarterly and monthly goal setting."
Louise Dunne, Product Marketing Manager at Linnworks
"Sometimes you have to be a little ruthless. If you're supporting a lot of products, not all of them will get the same amount of your time and attention."
Anna Daugherty, Product Marketing Manager at Stoplight
"Proper alignment on KPIs or OKRs are critical for success in defining product marketing success criteria. It's important to have good sync with product marketing and sales to make sure that our goals and objectives are aligned and that we are prioritizing the right initiatives because we will never have enough resources to do it all."
Div Manickam, Director (WW Services Marketing and Portfolio Management) at Lenovo
Priorities cannot be set in stone from the very beginning. Of course, they might change. But the idea here is that they have to always exist in order to avoid employee fatigue, and let all other teams know what priorities are and are not at each particular time.
Conclusion
Literally every company comes to the point when it needs to introduce product marketing. I hope that this article explains and makes more clear why it's important to take several factors into consideration when introducing product marketing as a function from scratch.
It was a long read! Thanks to everyone who has read to the end. I hope that product marketing implementation will be less challenging for you with these tips and insights provided. Good luck and much love to every one of you.