Enthralling insights from the hottest competitor intel report out there
"Keep your friends close, and your enemies closer."
Granted, it's a tired ol' cliche, but heck, we make absolutely no apologies given its relevance to the ruthless world of product marketing.
You may be asking yourself how you can keep a beady eye on your rivals, anticipate their next move, and stay one step ahead.
The answer couldn't be simpler: every product marketer should be rolling up their sleeves, taking a look at what others in their sphere are doing, and completing competitor intel - it's an essential part of the role.
Brought to you in sponsorship with Kompyte, our brand-new report Competitive Intelligence Trends 2020 delves into the detail of competitor intel, and as usual, the results blew our socks clean off.
So sit up, take notice, and grab your copy right here, right now. 👇
First, check out some of our findings and whet your appetite. 👀
The importance of competitor intel
With a string of awesome reports already under our belt, (the Sales Enablement Landscape Vol.1, PMM Salary Survey, and the State of Product Marketing 2020, to name a few) we're blessed with no end of insightful topics we could've cherry-picked and used as the focal point of our latest report.
So, why did we decide to focus on competitor intel? 🤷‍♂️
Long story short, competitor intel is pivotal to the role of a product marketer; it shapes key areas such as pricing strategy, product messaging, and many other areas when creating an offering for your target audience. Yet, despite its undoubted importance, there are instances when the process perhaps doesn't get the attention it warrants.
We viewed this report as an opportunity to explore whether product marketers are spending enough time on competitor intel, how they approach this task, and if not, why this is the case.Without further ado, we've served up a sneak peek of insights from the Competitive Intelligence Trends 2020 to build the excitement. 👇
Product marketers wanna stand out, not fit in
Some people are content with being a part of the furniture - but product marketers aren't run-of-the-mill folk. 😎
We decided to check out the main goals of product marketers completing competitor intel, and found the majority (87.4%) complete the task to identify ways to differentiate themselves. After all, it's boring being like everyone else, right?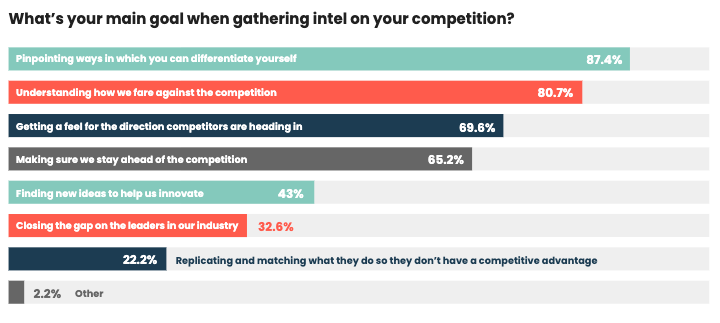 But before you can launch a radical crusade to bring a brand-spanking-new offering to the table, you need to know how you're faring against people you're up against, and it seems the penny's dropped in this sense, with 80.7% of people surveyed saying they complete competitor intel to understand how they fare against the competition.
Two motives working hand in glove, it'd seem.
Product marketing teams are running the show
Every Tom, Dick, and Harry knows product marketing's a multifunctional role; the diverse nature of the role is just one of many reasons 66.5% are staying in the industry, with a further 33.3% joining from other areas, as we discovered in the State of Product Marketing Report 2020.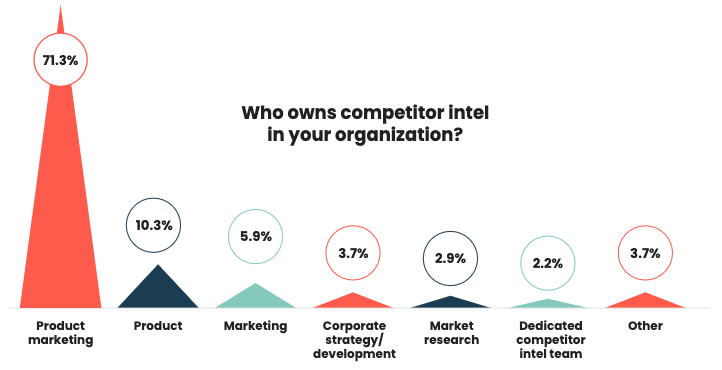 We wanted to get a concrete understanding of who owns competitor intel, and (surprise, surprise), product marketers are adding the competitor intel feather to their elongated bow, taking ownership of the role in 71.3% of cases.
This comes as no surprise; if you want a job doing properly, call for the experts. 😉
Key stakeholders aren't flexing their financial muscle
What do product marketers and Tom Cruise have in common?
They've both picked up the phone, took a deep intake of breath, and pleaded: "Show me the moneyyyyyy!"
Yet, when we did a little digging into budgeting and competitor intel, it seems PMM's requests are falling on deaf ears. The vast majority of those surveyed said little to no money is being spent on competitor intel, while just 2.2% said a specialist team is in place tasked solely with focusing on competitor intel.
It seems it's more a case of Mission Impossible, as opposed to The Color of Money.

We've plenty more up our sleeve…
Ever pick up a Penguin classic, check out the cover and the blurb, and pop it back on the shelf without reading the juicy deets sandwiched between?
If so, you're missing out on the excitement, exhilaration, and elation gracing the pages, and the same applies here - this is merely a snapshot of what you can expect after you've downloaded the full, in-depth report.